How To Make Low Carb Avocado Fries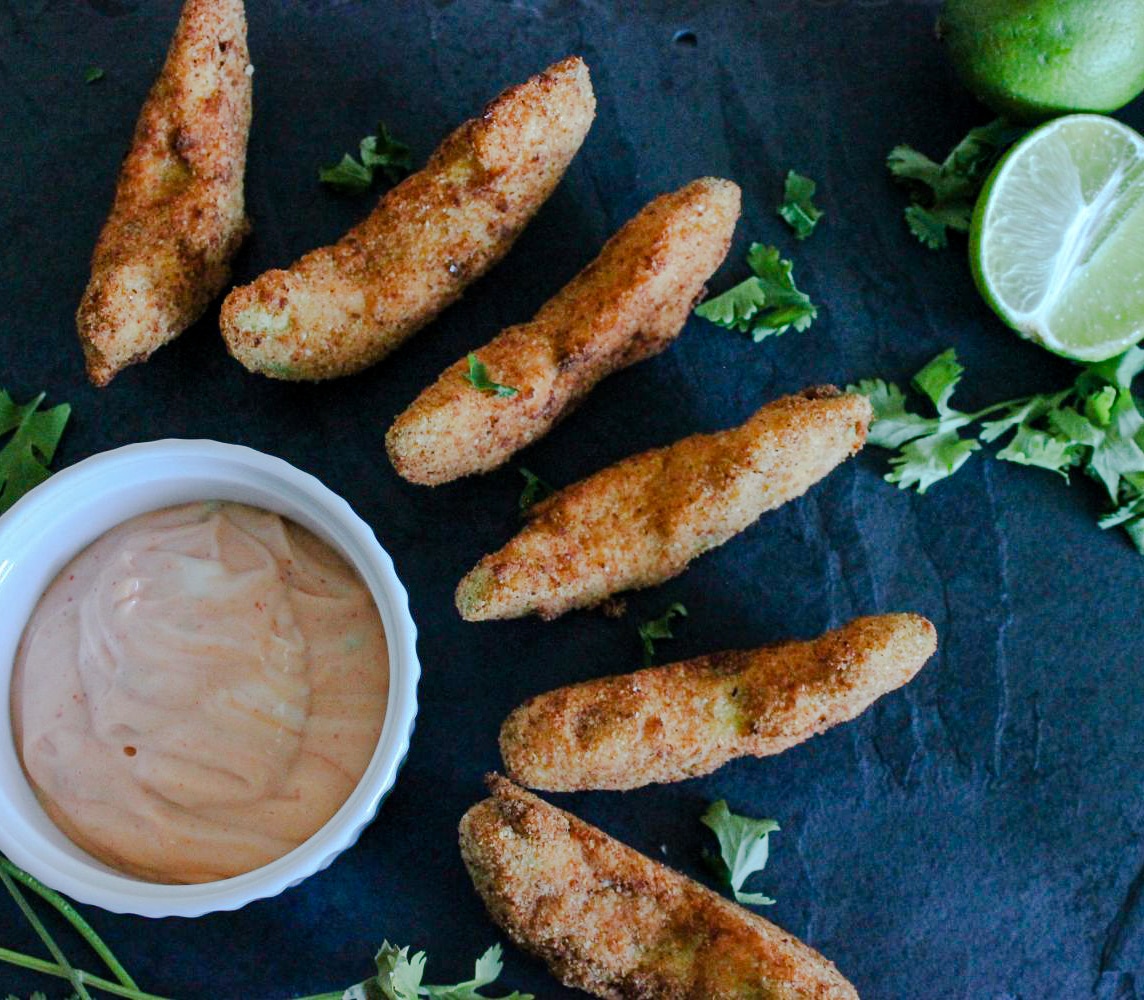 Learn how to make delicious, low carb seasoned almond flour coating over perfectly ripe avocado slices perfect for dipping. The only avocado fries you will be making from here on out!
I love fries. The crinkly kind, the skinny matchstick kind, the wedge kind, the sweet potato kind, and now the avocado kind! When looking for alternatives to this classic favorite comfort food, I wanted to incorporate a few factors.
The first was to find an alternative to a higher carb potato and to incorporate something higher in good quality fats (like avocado… duh!).   The second was to create a crispy crunchy gluten free outside. No one likes a soggy fry, and if you do then well you have bigger problems that eating gluten free… just saying.
I know the idea of a warm avocado might sounds strange, but I would never share something on this website that I didn't 100% stand behind. I think these Low Carb and keto friendly avocado fries are truly delicious and unique, scroll down to find the complete recipe and read on for helpful tips and tricks.
"School" Supplies:
Knife/ Cutting Board
Mixing Bowl
Whisk
Measuring Cup/ Spoons
Pot & Tongs
Cookie Sheet
Paper Towels
"Class" Notes:
These are fairly simple to make. Start by finding the right avocados. If the avocado is too ripe it will fall apart. This is the one time when a slightly under ripe avocado is perfect. Remove the pit and the skin. Slice nice sized wedges (about 1″ thick or so) and set aside.
Create your almond flour seasoned "bread crumb mixture" and beats your eggs (you can also sub with crushed pork rinds but make sure they are very fine). Set up an assembly line so you can dip, "bread," and allow the fries to rest. Depending on how easily the breading sticks, you may want to dip it twice.
I placed mine on a small baking sheet with parchment and popped them in the freezer for about 30 minutes to firm up. You want the breading to be fully adhered to the outside of the avocado or it make break apart when frying. Heat the oil to about 350 degrees F in a semi shallow saucepan. I like to pan fry each side until golden brown and crispy.
The time will vary depending on the heat of your oil. Don't overcrowd the pan and do these in batches (this will lower the oil temperature otherwise). If you aren't comfortable with frying in oil you could try to bake them (I have not tried this specifically with the avocado fries but I have with these Roasted Butternut Squash Parmesan Fries).
My suggestion would be to bake at a slightly higher temperature to help increase crispiness! When your finally ready to eat make sure you also try my easy homemade sriracha mayo dipping sauce.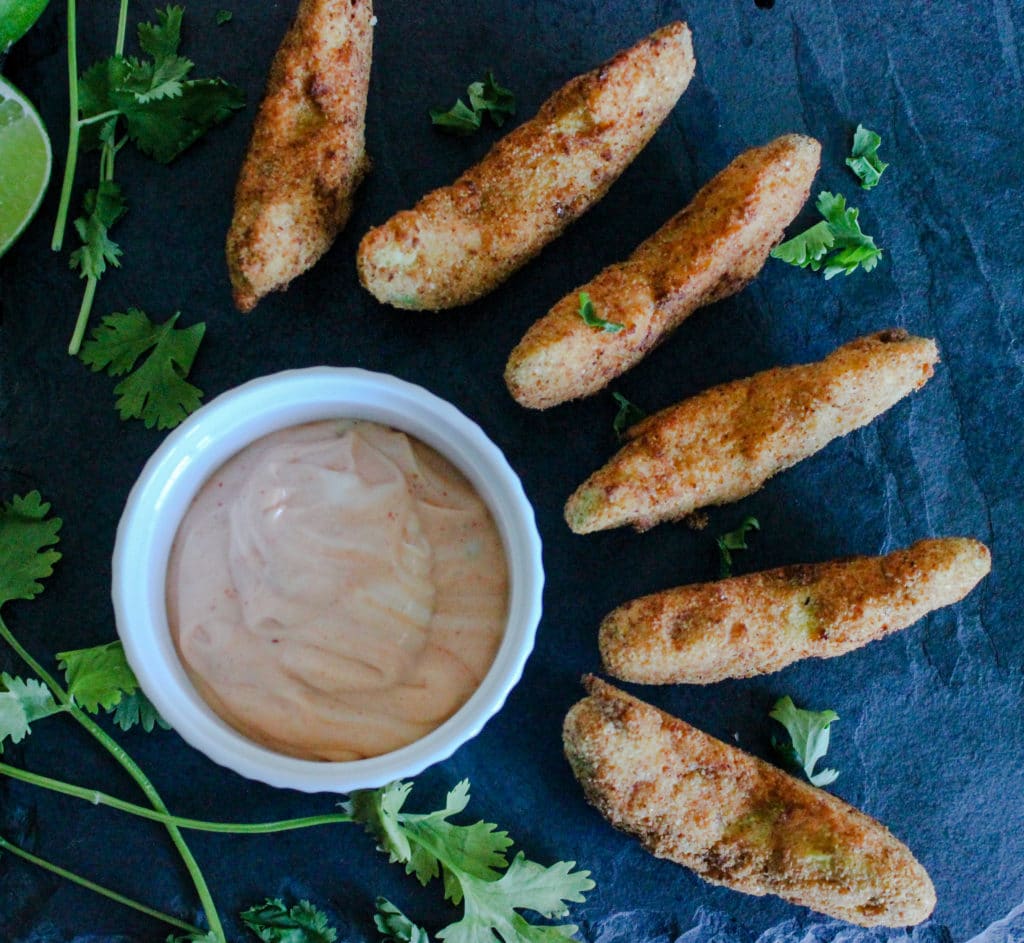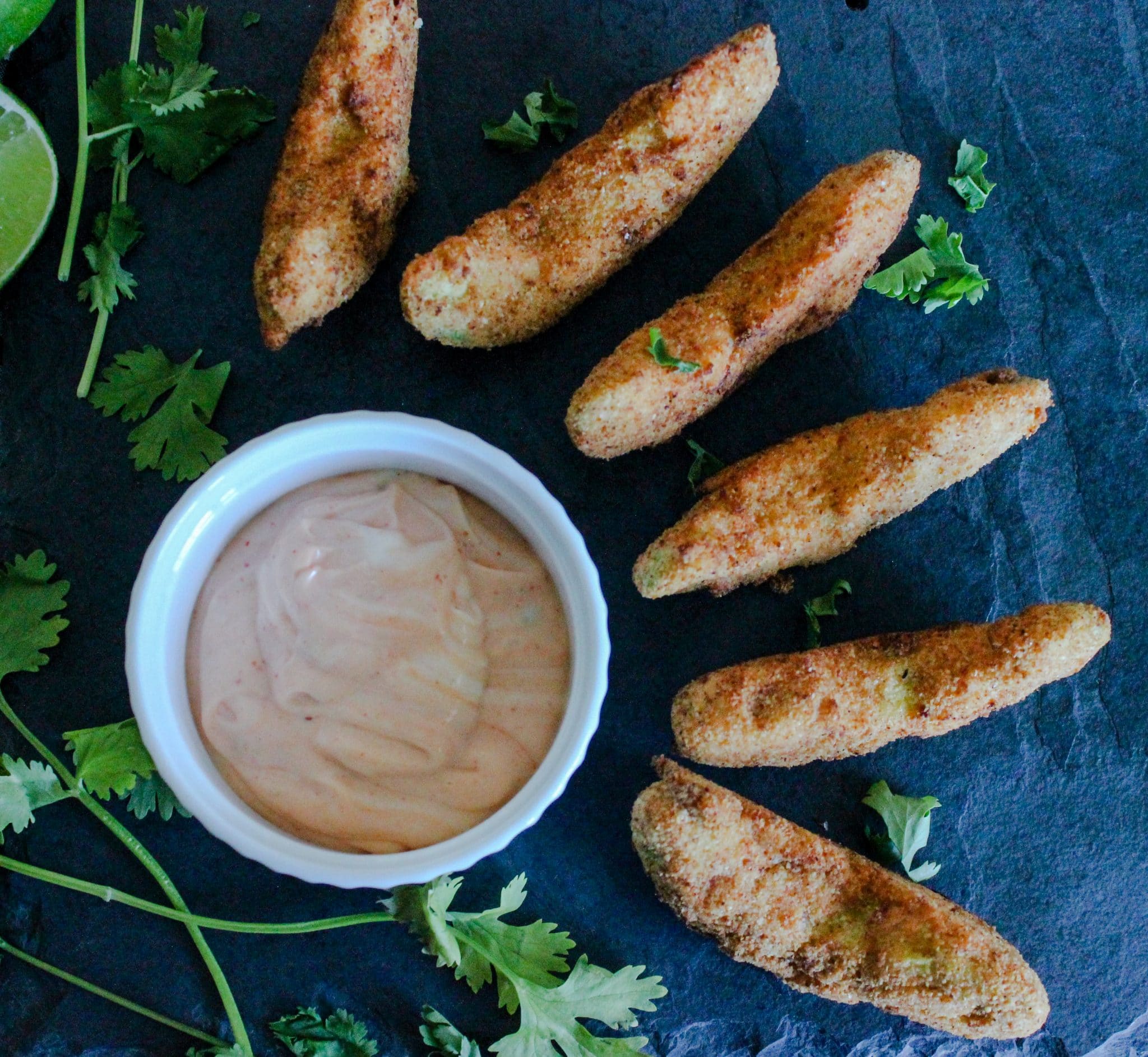 Try these Low Carb Avocado Fries for your next Taco Tuesday and you will definitely forget those lame potato versions of this class favorite! Looking for more Taco Tuesday recipes? Try these fan favorites here at Bon Appeteach-
Low Carb Fajita Chicken Nuggets
Chicken & Cauliflower Taco Pie 
Keto Tortillas (Paleo & Whole 30 too)
Low Carb Strawberry & Lime Margarita 
Ingredients
2-3 Medium Avocados (slightly under ripe works best because they are firmer)

2 cups Almond flour (it may not all get used depending on the size of your avocados)

1 tsp. Cayenne

1 tsp. Salt

1 tbsp. Garlic Powder

2 Eggs, beaten

Oil (your choice) for pan frying

Sriracha Mayo: 1/2 cup mayo and 2-3 tbsp. sriracha
Instructions
1
Begin by slicing you avocados in half and removing the pits. Then peel the skin off of each of the halved avocados carefully.
2
Take a knife and cut about 1" slices or so. Set the avocado aside.
3
In a shallow dish (like a pie plate) combine the almond flour, cayenne, salt, and garlic powder.
4
In another bowl, add the two eggs and beat well.
5
Prepare a plate or baking sheet with parchment paper.
6
Take each avocado slice and dip it in the egg. Then in the almond meal. If you want a nice coating you make want to repeat this step. *TIP* If you feel like the breading is heavy and isn't sticking well carefully use your fingers to press the almond mixture onto the avocado.
7
Set each dipped avocado onto the parchment paper. Repeat with all avocado slices.
8
Freeze for 20-30 minutes. You want the outside coating to be fairly adhered to the avocado. If you begin frying to early, the breading may fall off the avocado.
9
Preheat a shallow pan (medium-high heat) and begin heating the oil. The oil should be a few inches up the side of the shallow pan and should not smoke. Please be safe while frying!
10
Pan fry each side of the avocado slice (I like to test one out to start and adjust the temperature as needed). Time will vary depending on your oil temperature. They should take a few minutes approximately for each side.
11
Serve alongside the sriracha mayo for a spicy flavorful kick!
Notes
You can try baking these (though I have not done this personally). I would suggest baking at a slightly higher temp (maybe 400 degrees). If you want the outside to crisp up a bit more you can spray with an olive oil non stick spray and bake on a raised baking rack. Give it a try!