Keto Chocolate Pumpkin Butter Brownies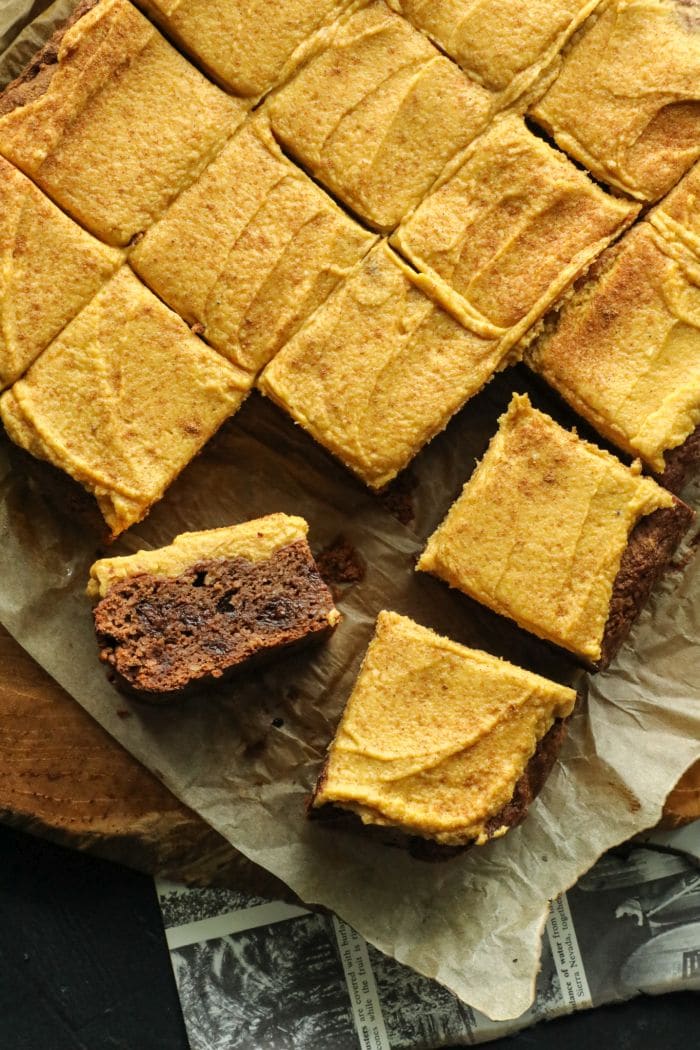 Looking for the perfect keto Halloween recipe that will trick the non-keto eaters that this is the perfect indulgent treat? A rich, moist, chocolate almond flour brownie topped with a keto pumpkin buttercream frosting is the fall keto friendly recipe you'll be making on repeat!
This post contains affiliate links! These links are at no cost to you and help keep free recipes like this cooking along in the Bon Appeteach kitchen. Absolutely appreciate your support. Get more information regarding affiliate links here.
If you follow a low carb keto diet and you want to celebrate the season with some holiday friendly treats that won't break the net carb count, then you came to the right place! While I love these savory keto pizza stuffed sculls, easy keto pumpkin bread cookie bars, keto pumpkin spice syrup, or these keto ghost hand pies, I wanted a chocolatey pumpkin spice infused brownie recipe to round it all out!
I believe in making the flavors in all my recipes delicious, I like to pay attention to texture too. I find the texture of these brownies is moist, rich, and still somewhat cake-like and fluffy. It's the perfect balance between a gooey chocolate brownie without feeling dense or dry.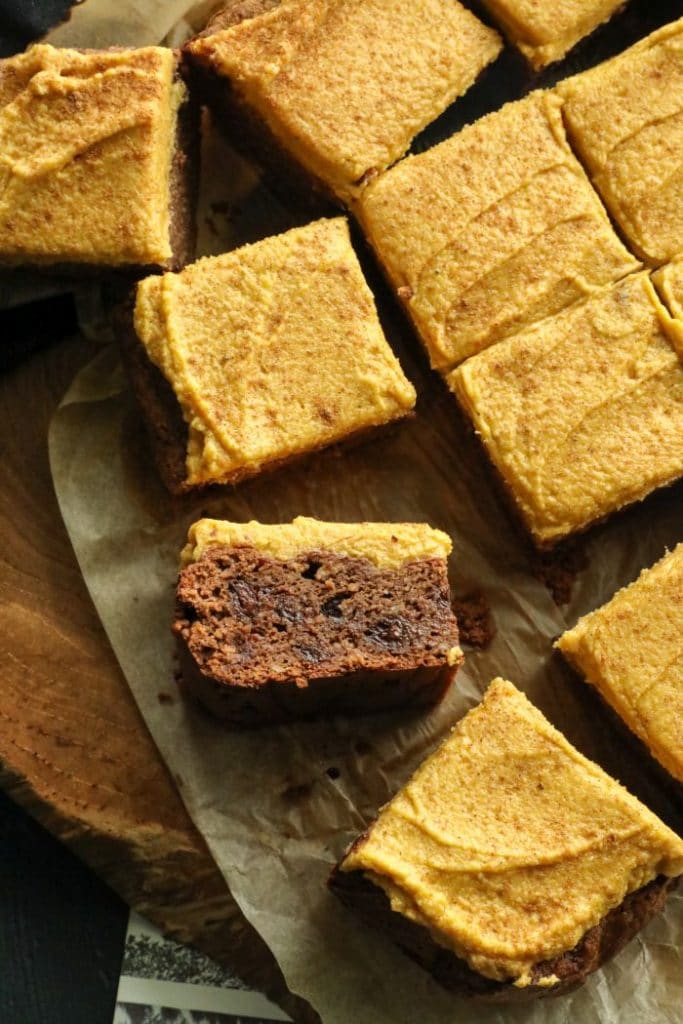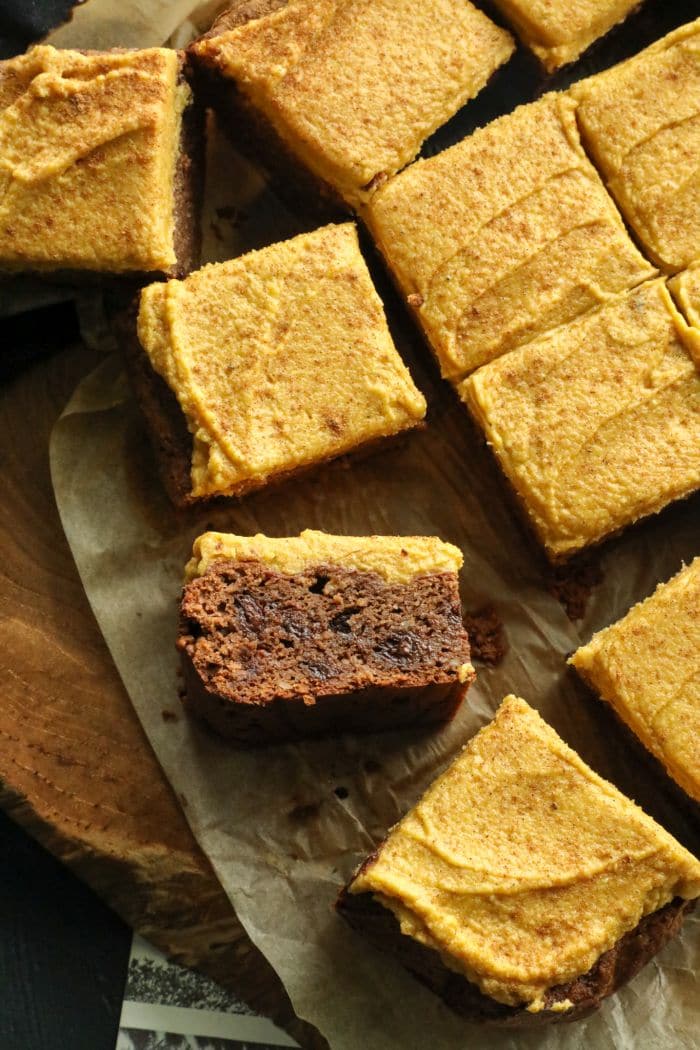 Top it all off with this fun and festive fall pumpkin buttercream using low carb powdered sweetener and you have a beautiful gluten free keto treat for your next family gathering or a healthy Halloween party! Grab the full recipe below and read through for helpful tips and baking techniques too!
"School" Supplies:
Stand Mixer or Hand Mixer
Measuring Cups/ Spoons
9×9 Inch Pan
Parchment Paper
Rubber Spatula
Knife
Cake Spatula
"Class" Notes:
Baking with gluten free or keto friendly ingredients sometimes can feel intimidating, but this is definitely not! Let me break down the ingredients below, share possible substitutions and give some clarification to help you get through this! Let's dive in.
For these keto brownies, I follow standard creaming methods in baking. This means I mix my low carb sweeteners with the butter, then add the other wet ingredients to combine. This helps incorporate air while dissolving the sweetener. Here is a break down of what's in this recipe –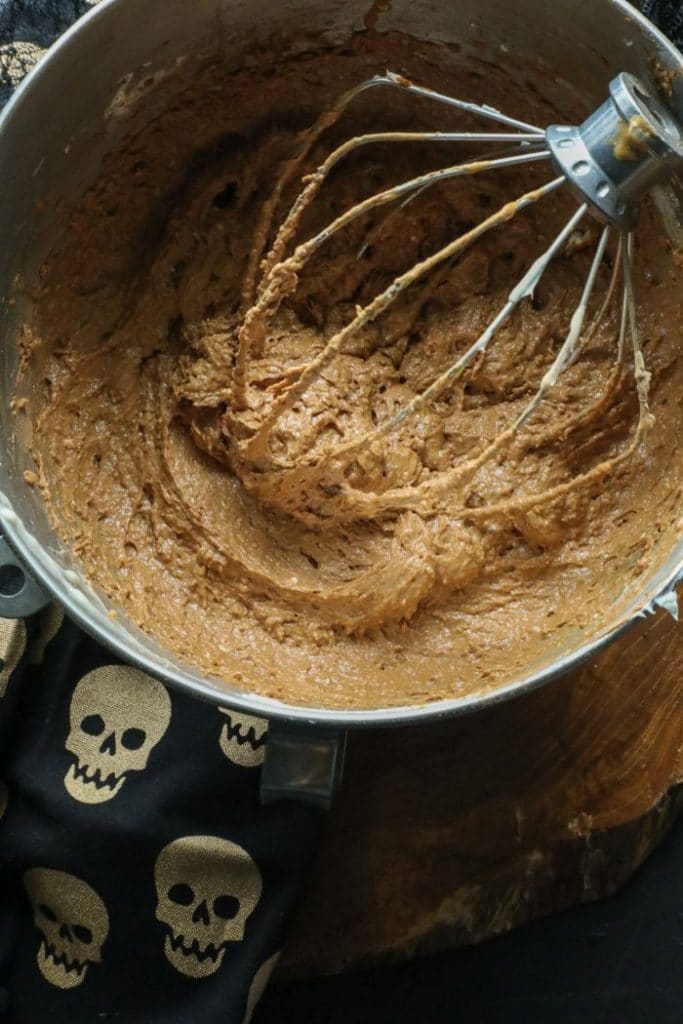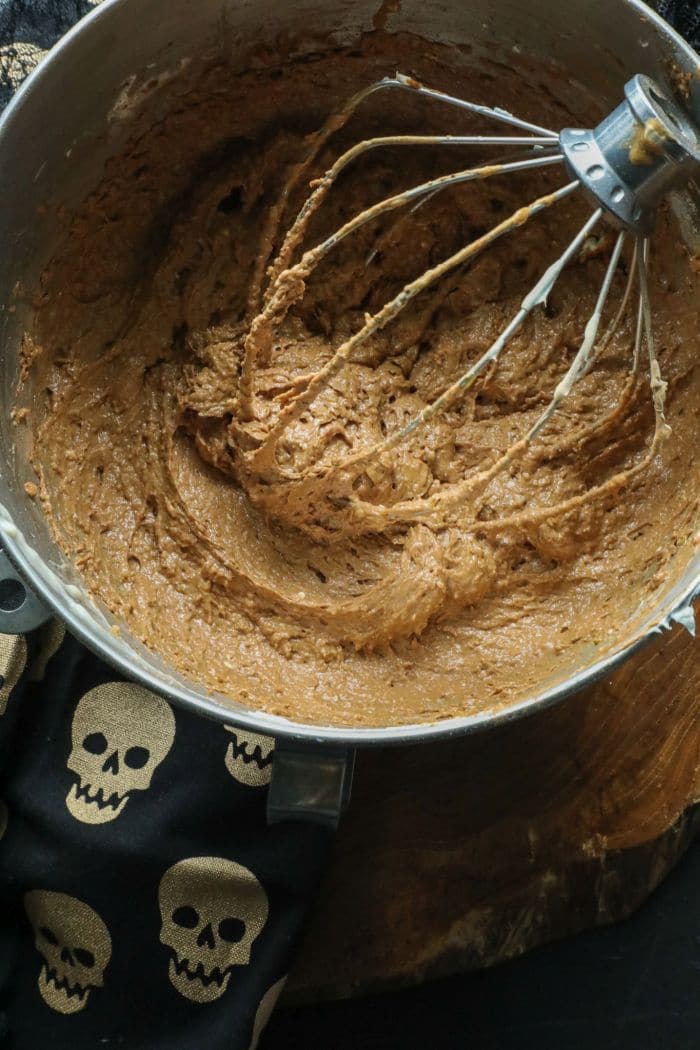 Ingredients-
Softened Butter – Pretty standard in most baked goods. Be sure to use SOFTNED butter here however. Not cold, not melted, softened. Following directions for the butter help ensure the texture and consistency of the batter is where it needs to be. Sub with softened coconut oil for a dairy free alternative!
Low Carb Sweetener – The brownie batter gets a granulated sweetener. My go-to is usually the Lakanto brand or

allulose

. Lakanto is a monk fruit / erythritol mix and when it's in a baked good there is no noticeable after taste. I like

allulose

for color in baked goods and for texture. Use whichever you prefer.
Cream Cheese – This is a great binding agent and adds moisture and helps with structure. If you want to sub this out, you could use a coconut yogurt (though this may add more carbs so be aware).
Pumpkin Puree – It's finally stocked back in stores this time of year (I had the HARDEST time finding it early this fall). I usually choose something organic for my own preference, use what you like. Just be sure to use a puree and not a pumpkin pie mix.
Cocoa Powder – Use a good quality cocoa powder! I never skimp when I purchase mine, because a little goes a long way anyhow so I like to good stuff! I use 1/4 cup which is around 12 net carbs, but this is spread out amongst 16 servings!
Eggs – Room temperature eggs work best if possible, but I often forget! I run mine under some warmer water to take the chill off. Be sure to add your eggs in however, one at a time. This helps with incorporating air (making it light and fluffy), while fully mixing in the eggs.
Vanilla – Yes, vanilla! Vanilla is a flavor enhance and helps amp up both the pumpkin and chocolate flavors!
Pumpkin Spice – Yep, it's not only a chocolate keto brownie but a basic one too. Jokes aside, add the spices to make this perfect for fall!
Almond Flour – This is the main base for making up your brownie's. I haven't tried other flours so I cannot recommend a substitute here. I like

this brand

or

this brand

!
Baking Powder – This is the leavening agent that helps rise your cake. It works when heat is applied and makes your brownies the perfect texture.
(Optional) Keto Chocolate Chips – I couldn't resist and had to mix in some

choc zero

(also love

Lily's

) low carb chocolate chips into this recipe. Also love some dark chocolate chips too!
Salt – If you don't have salted butter, always add salt to help balance out the flavors!
Keto Brownie Baking Tips –
Be sure you're using a hand mixer or stand mixer to combine everything in order.
Fully pre-heat the oven prior to baking to ensure even cooking
Lightly grease your 9×9 inch pan and layer with parchment paper so the paper hangs over the sides. This helps with removing it from the pan cleanly. Otherwise, YOU MUST WAIT until they are mostly cool or it will break.
Bake until the center is set, the edges pull away from the sides, and a toothpick comes out clean.
You can remove when cooled and must wait to add the buttercream after they are room temperature (or the frosting will melt).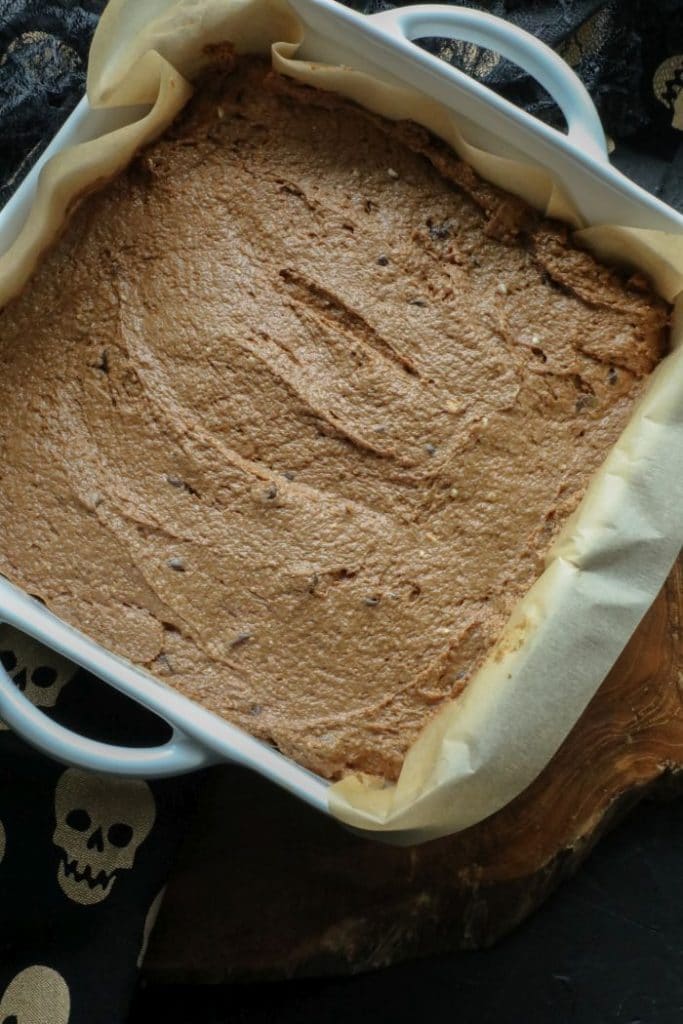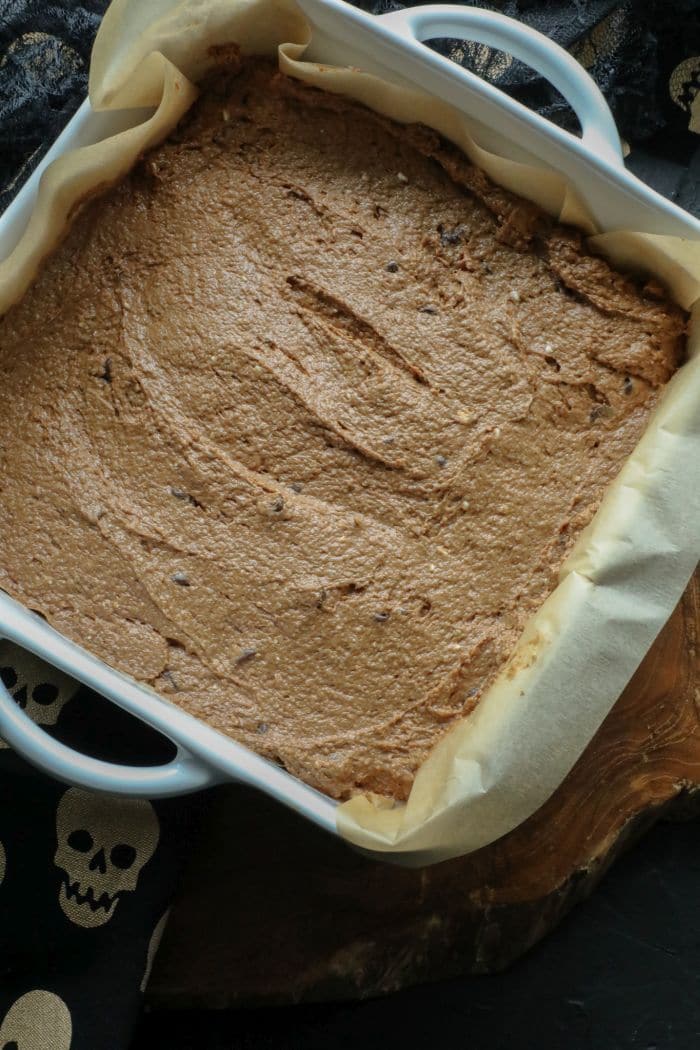 Making Keto Pumpkin Buttercream –
I approach this frosting recipe like I would standard buttercream, but with the addition of low carb powdered sugar and some pumpkin puree of course to make it ketogenic diet friendly of course!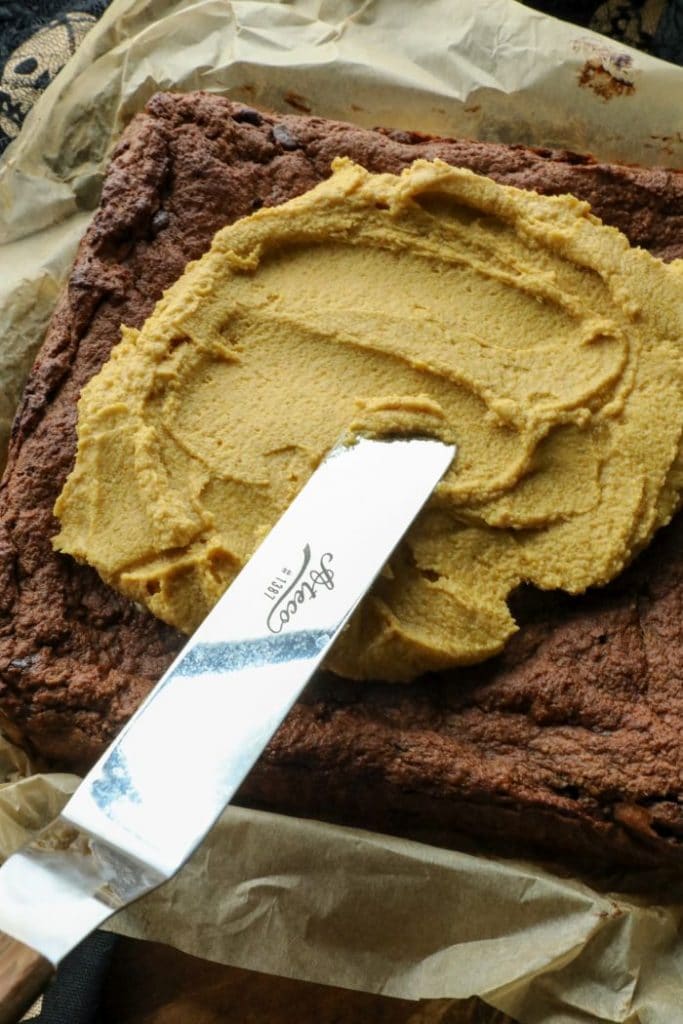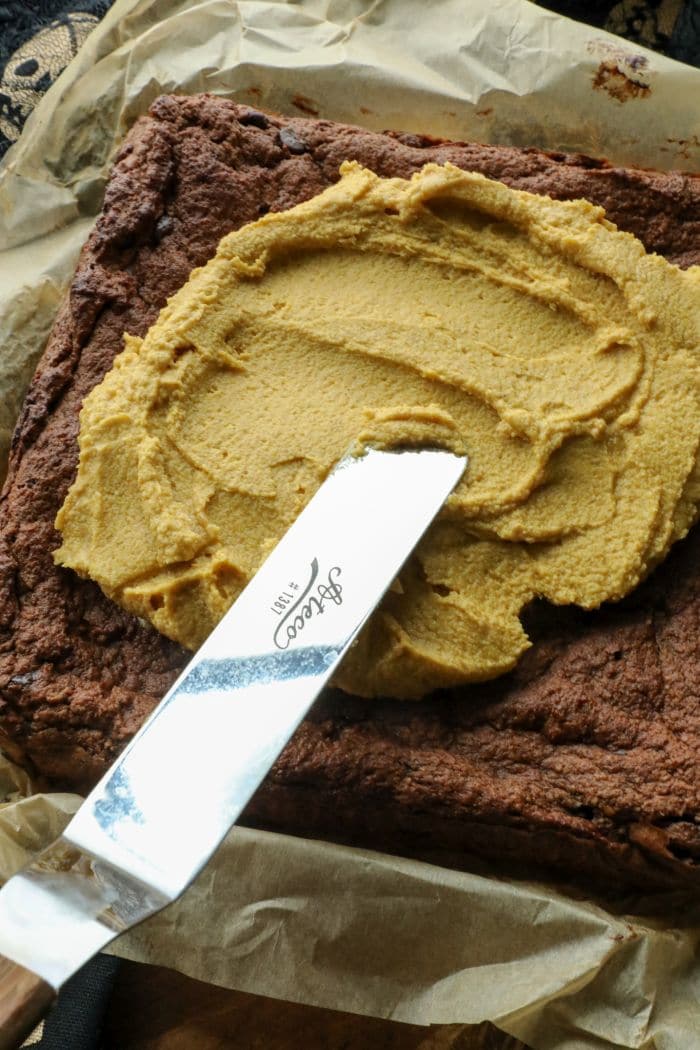 Some tips for making this recipe include:
Using softened butter here (just like with the cake, you need a softer room temperature butter to help for the frosting).
Add pumpkin puree for color and texture and some heavy cream to make the frosting base.
Add a little vanilla for flavor as well as some more pumpkin spice flavor if desired.
Mix well with a whisk attachment to get it light and fluffy.
Use a cake spatula to spread onto the cooled brownies.
Be sure to refrigerate before cutting to make it easier and store in the fridge as well!
So, whether your family is trick or treating this year or just looking to hang out at home with some festive Halloween goodies, grab this recipe and give it a try!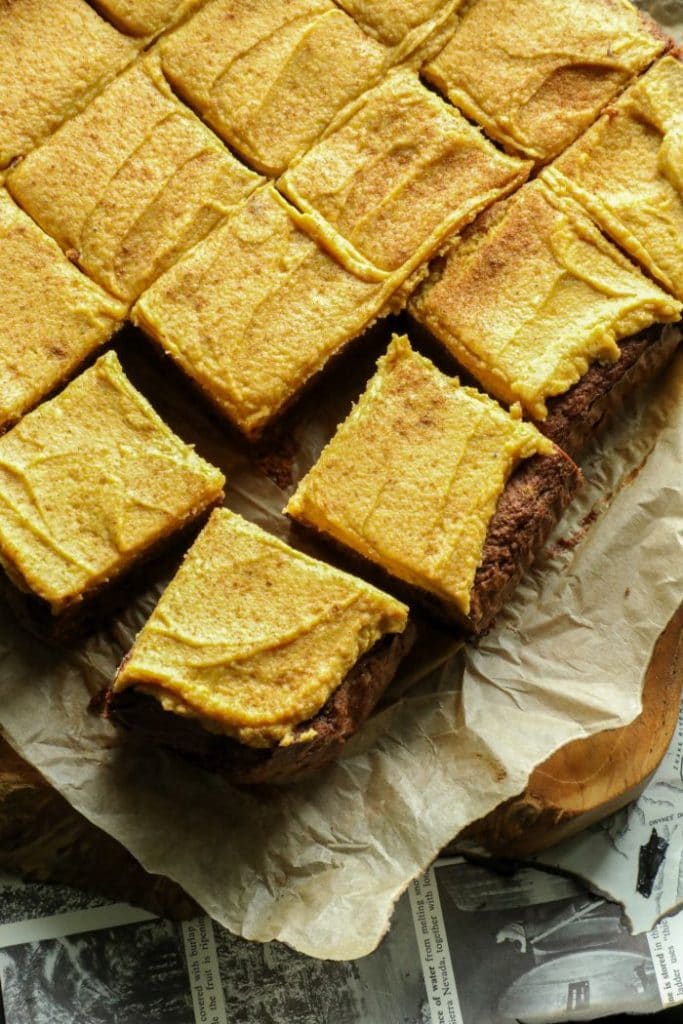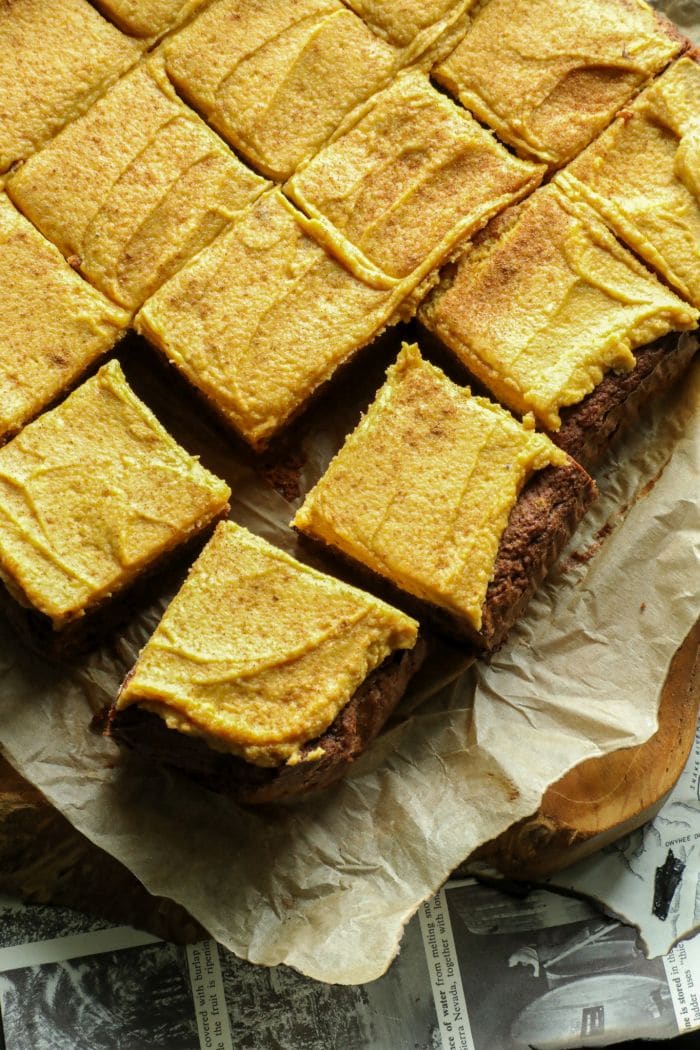 Some other Halloween party favorites are these fun Instant Pot deviled eggs from my friend Tawnie at Krolls Korner, this keto pumpkin sauce pizza, and even my favorite Turkey Pumpkin Chipotle Chile and keto pumpkin cornbread recipe!
Keto Chocolate Pumpkin Butter Brownies
Looking for the perfect keto Halloween recipe that will trick the non-keto eaters that this is the perfect indulgent treat? A rich, moist, chocolate almond flour brownie topped with a keto pumpkin buttercream frosting is the fall keto friendly recipe you'll be making on repeat!
Print
Pin
Rate
Ingredients
Brownie Batter-

1/2

cup

Butter

softened

4

oz.

Softened Cream Cheese

1/2

cup

Pumpkin Puree

5

Eggs

1

tsp.

Vanilla

2

tsp

Pumpkin Pie Spice

1/4

cup

Cocoa Powder

2 1/2

cups

Almond Flour

2

tsp.

Baking Powder

1/2

tsp.

Salt

Pumpkin Buttercream Frosting-

1/2

cup

Softened Butter

2

tbsp.

Pumpkin Puree

1/2

tsp

Vanilla

1

tsp

Pumpkin Pie Spice

1

tbsp.

Heavy Cream
Instructions
Preheat the oven to 350 F. and grease a 9×9 inch pan with nonstick spray. Lay a piece of parchment paper into it as well so it hangs over the sides (trust me this helps so much).

In a mixing bowl, combine the low carb sweetener and butter and cream them together with the whisk attachment. Then mix in the softened cream cheese, pumpkin puree, vanilla, and pumpkin spice.

Next, whisk in each egg one at a time until each one is completely combined.

Add in the almond flour, cocoa powder, salt, and baking powder. Whisk once more until fully mixed. This will be a thicker batter (not the same as a regular brownie batter). Fold in the chocolate chips!

Add the batter to the 9×9 inch pan and spread it evenly with a spatula. Bake for 30 minutes. It should pull away from the sides and be set in the middle. A toothpick should come out clean.

Let the brownie fully cool before lifting out of the pan and adding the frosting.

Once cooled, make the pumpkin butter cream by combining the butter, powdered allulose, pumpkin puree, pumpkin spice, vanilla, and heavy cream together with a mixer and mixed until fluffy!

Use a cake spatula and spread the frosting on over the top of the brownies and let set in the fridge before cutting. Cut into 16 servings.
Notes
Store these brownie's in the fridge for up to 7 days. If you freeze, free them unfrosted!
Nutrition
Serving:
1
g
|
Calories:
213
kcal
|
Carbohydrates:
7
g
|
Protein:
7
g
|
Fat:
19
g
|
Saturated Fat:
6
g
|
Polyunsaturated Fat:
11
g
|
Cholesterol:
82
mg
|
Sodium:
225
mg
|
Fiber:
3
g
|
Sugar:
2
g