Keto Pizza Stuffed Corn Muffins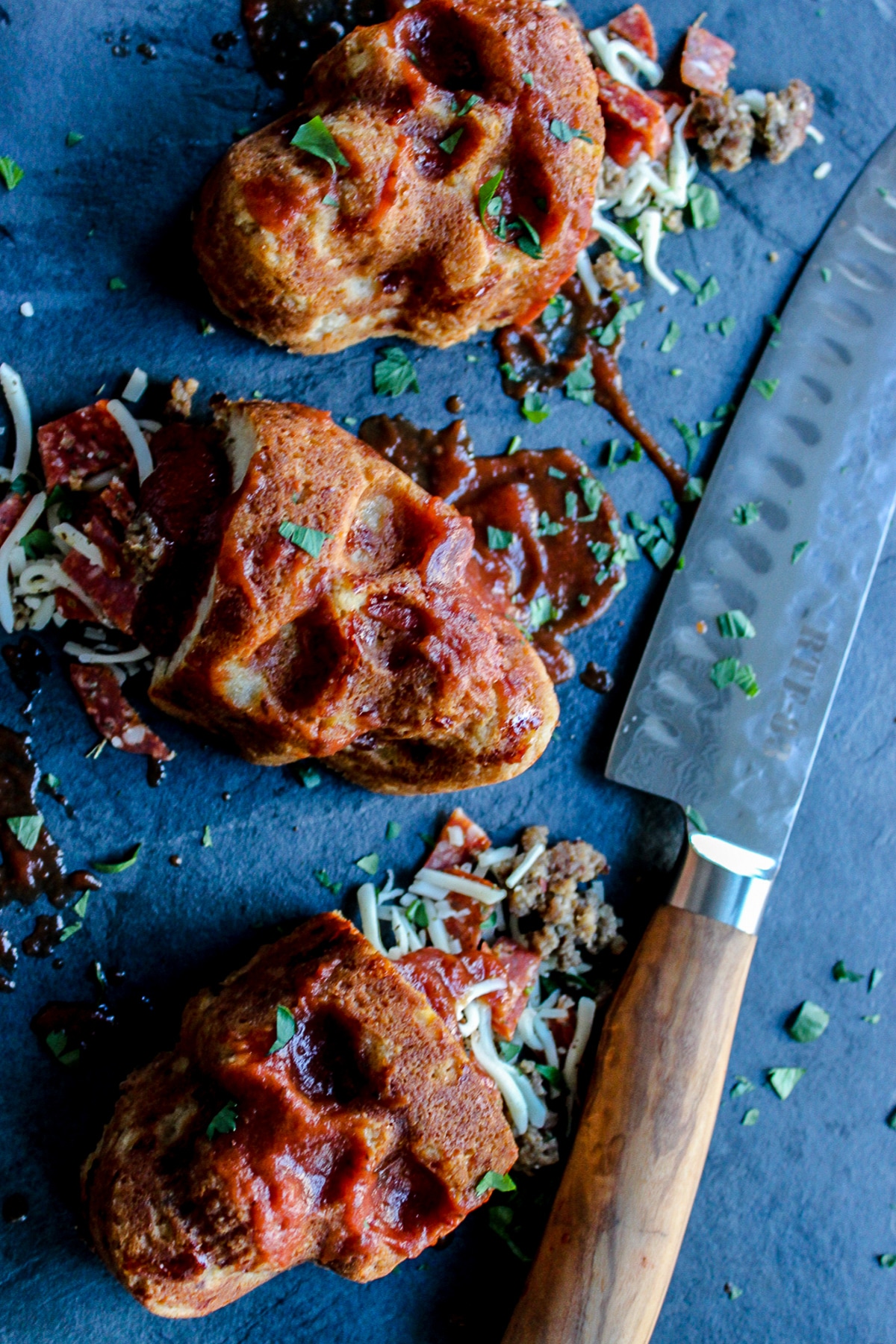 A keto corn muffin stuffed with your favorite pizza toppings, creating the perfect low carb pizza pocket.
Pizza Stuffed Keto Corn Muffins:
I have had a weird fascination with this Skull bundt pan for the last two years. It's definitely not cheap. It's probably only going to get used like 1-2 times a year. But the food lover in me, the passionate baker dying to break free, finally splurged and bought it (with a birthday gift card I'd been saving no less).
Now, to get into the Halloween spirit, I wanted to create something deliciously worthy of this epic pan to share at my annual Halloween party this year. I was also inspired by some non-keto versions I had seen and felt a keto version needed to be created. So, that's exactly what I did.
First, you do not need the pan to make these. In fact, you can use this recipe and steps listed below to make these in a regular muffin tin as well.
They just won't look quite as awesome (but will taste just as delicious). Find the full recipe for my Pizza Stuffed Keto Corn Muffins below and read on for tips and tricks (and ways to do this with a regular muffin tin too).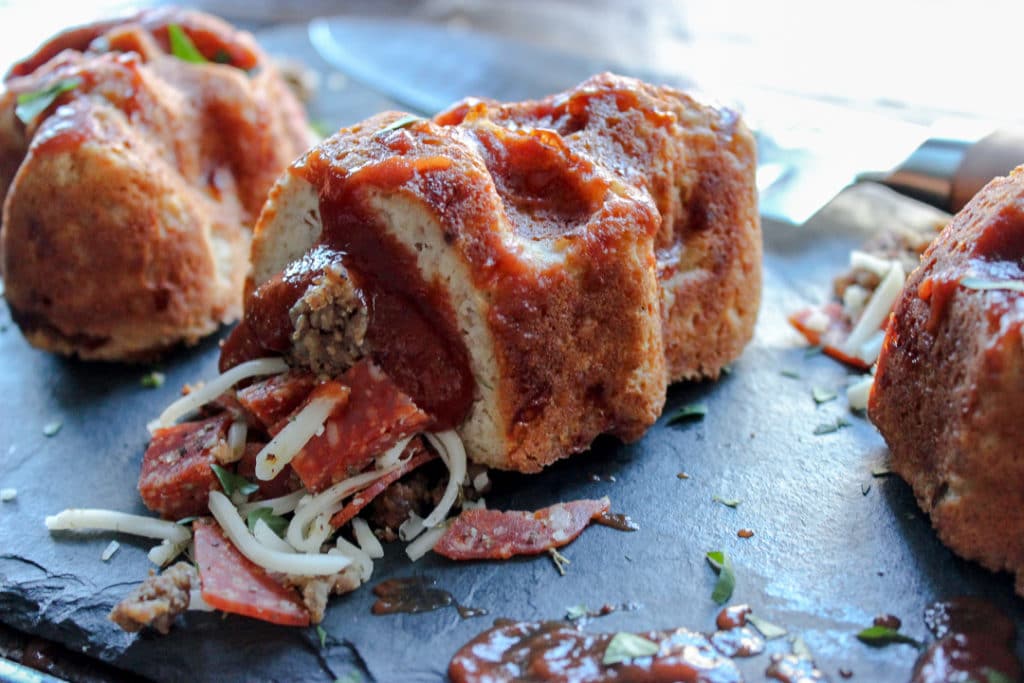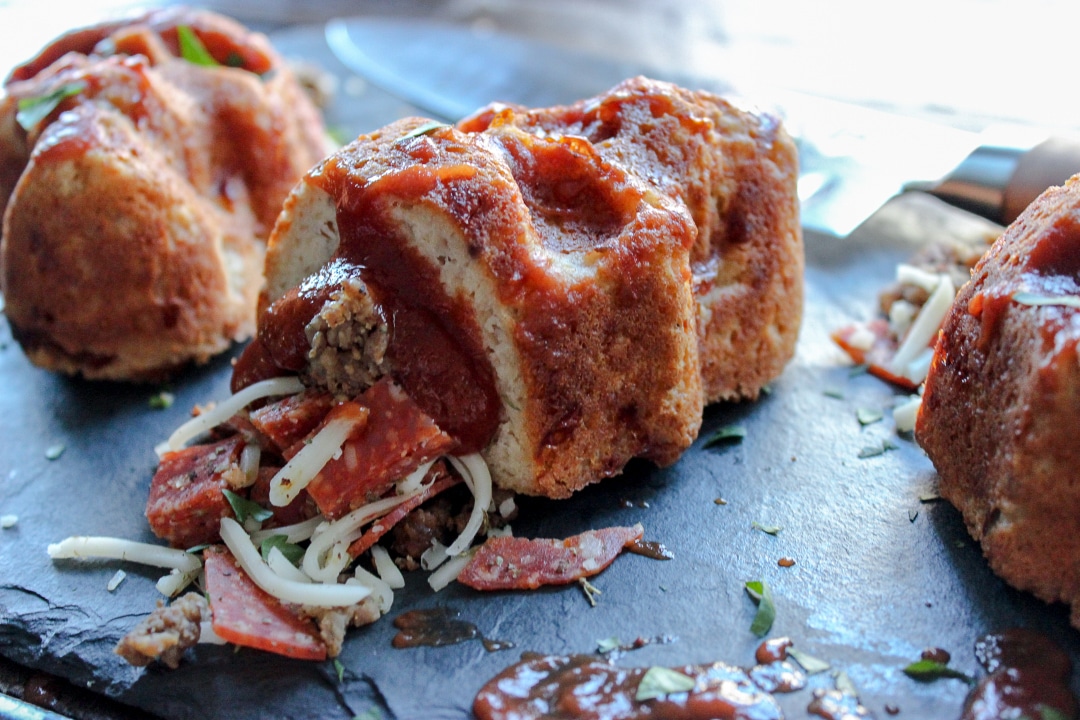 "School" Supplies:
Muffin Tin (I used this skull tin but any muffin tin will work)
Mixing Bowl
Knife & Cutting Board
Spoon
Small frying pan (optional if adding sausage)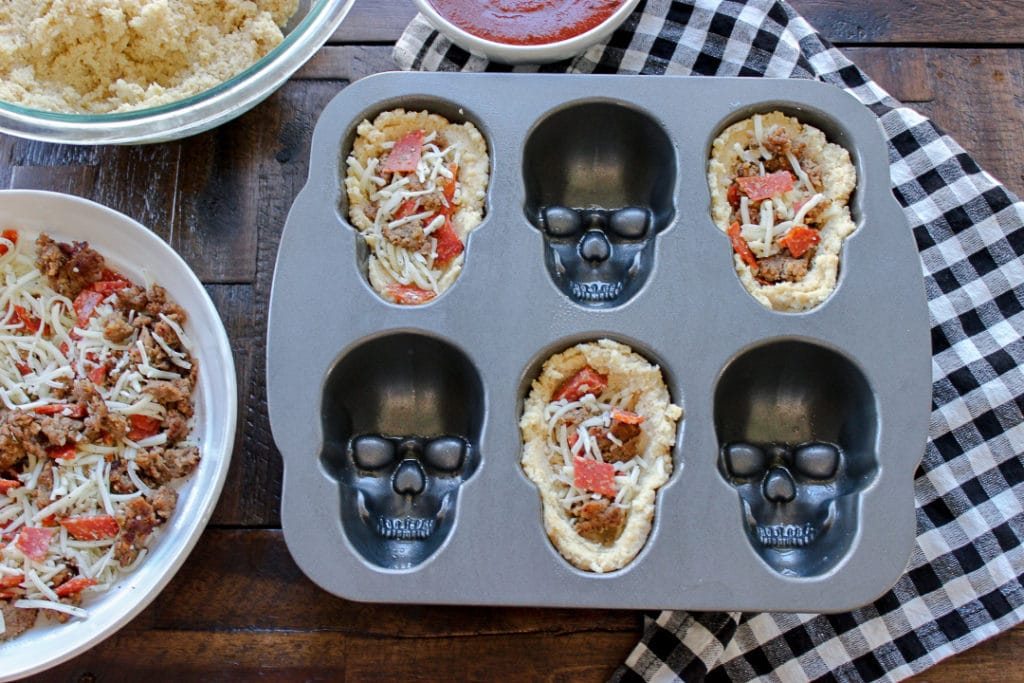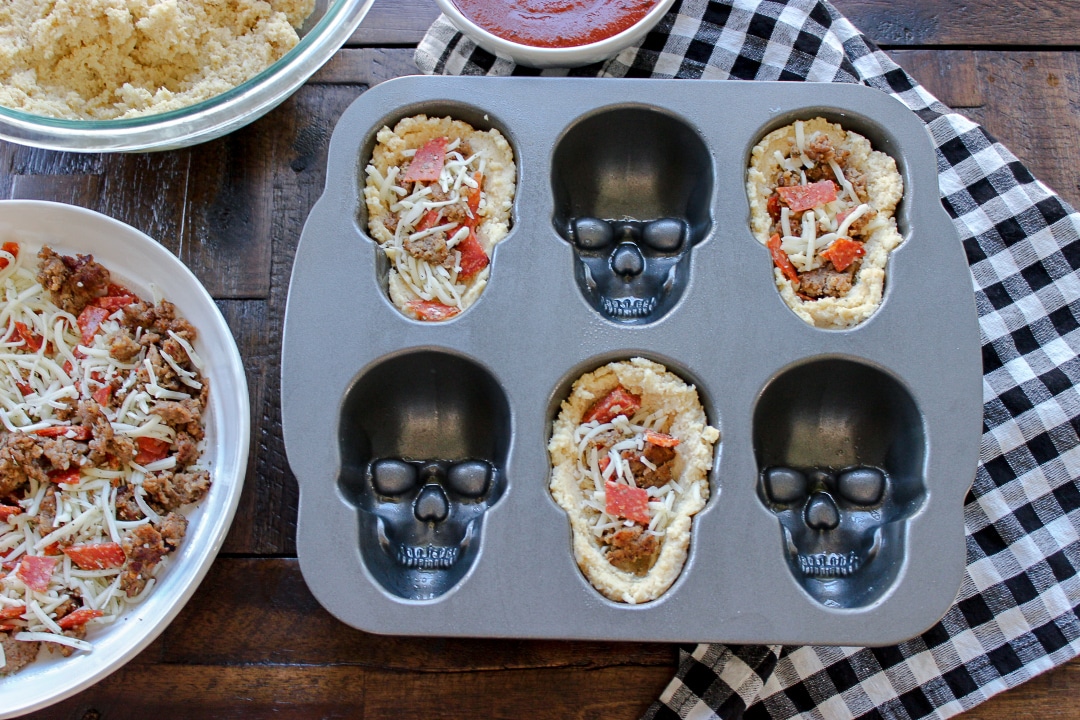 "Class" Notes:
One of my favorite recipes I have here on my website, are these Keto Corn Muffins. They're really versatile and make a great side, can be baked in one massive pan, and you can even make different flavors (sweet or savory) with them too. So why not stuff em with pizza???
I started by making the Keto Corn Muffin Recipe and added some garlic powder and a little Parmesan cheese to it to add in more of a "pizza" flavor profile. For my pizza filling, I made a mixture of mozzarella cheese, cooked Italian sausage, sliced pepperoni, Italian seasonings, and a little homemade pizza sauce (just to add a little moisture). Think of this as a corn muffin calzone of sorts.
Feel free to add additional pizza style toppings to your filling (just avoid any watery vegetables as it may impact how they bake).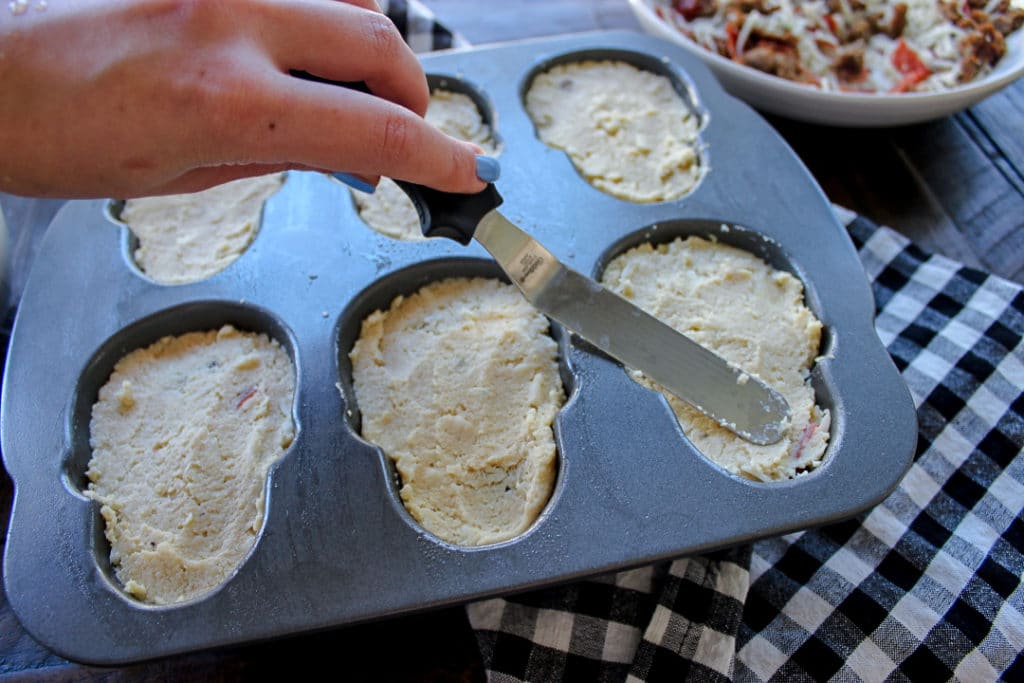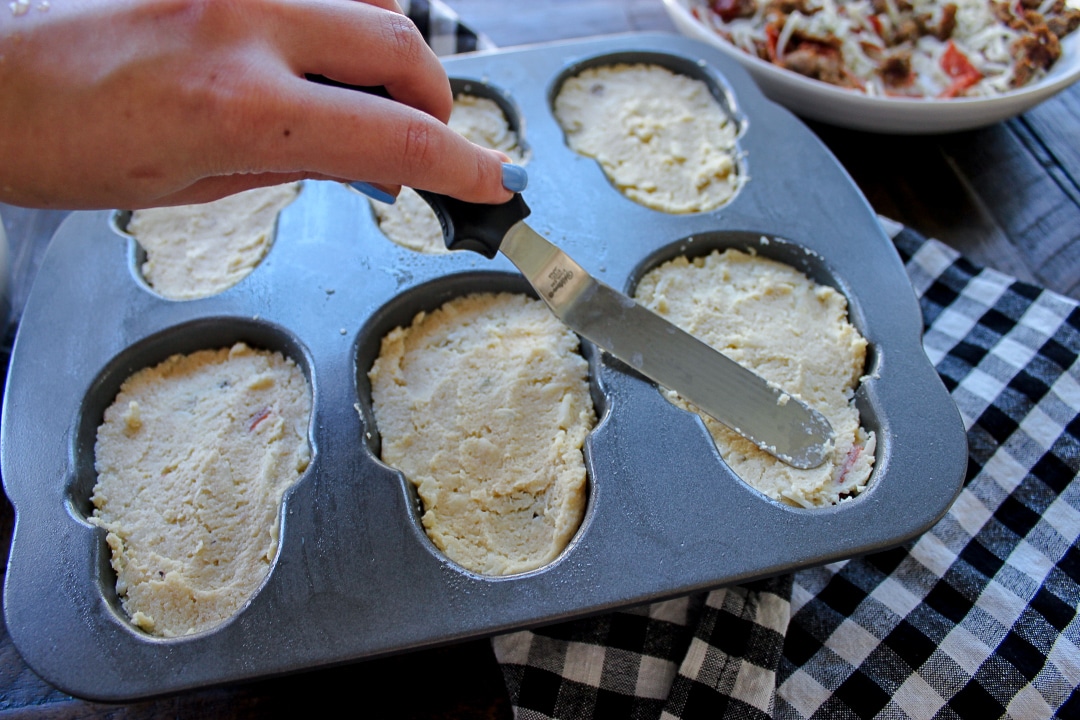 Spray your muffin tin of choice and scoop a small amount of corn muffin batter into each tin. I used the spoon to spread the filling in the bottom and to coat a little up the sides.
I then filled each one with a few heaping spoonfuls of the pizza filling, and then carefully dropped more batter on top and used my fingers and spoon to fill it all in. Depending on the size of your muffin tin, the baking time may vary. For these larger skulls mine took about 30-35 minutes or so.
You want the corn bread to set and not be wet. The tops won't brown too much because of the almond flour, but the bottoms do brown slightly (due to the pan). They were super easy to throw together and taste really yummy too.
If you are doing this for Halloween, I placed them on a platter and splattered more sauce around to make it look a bit terrifying (also add some to a bowl for dipping as well). I'm sure your friends and family will think you really… killed it in the kitchen with this one (get it… ha).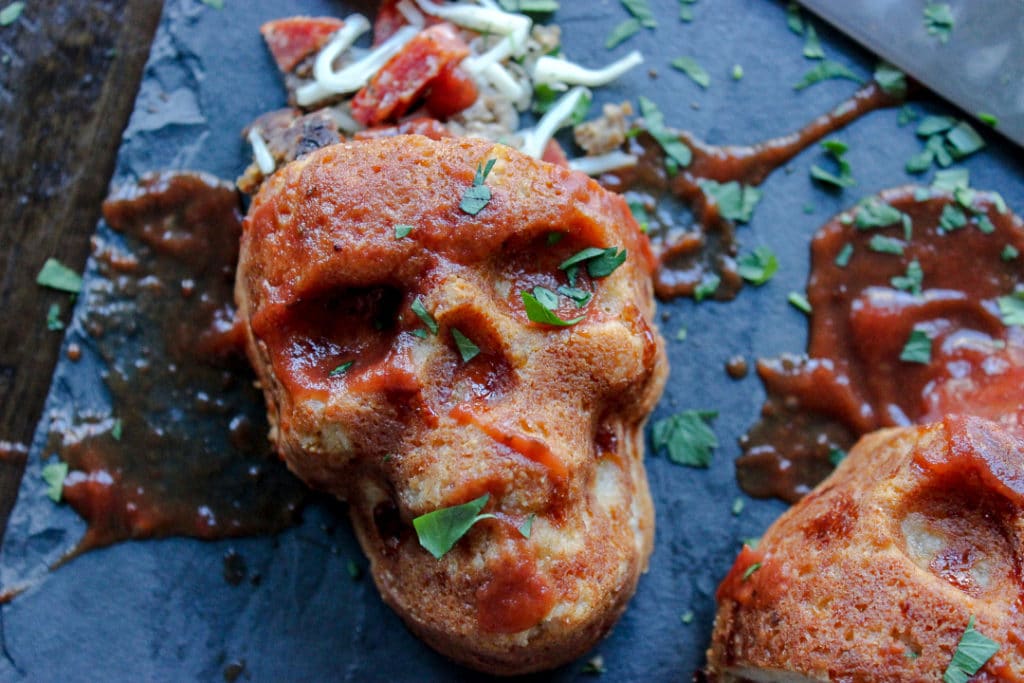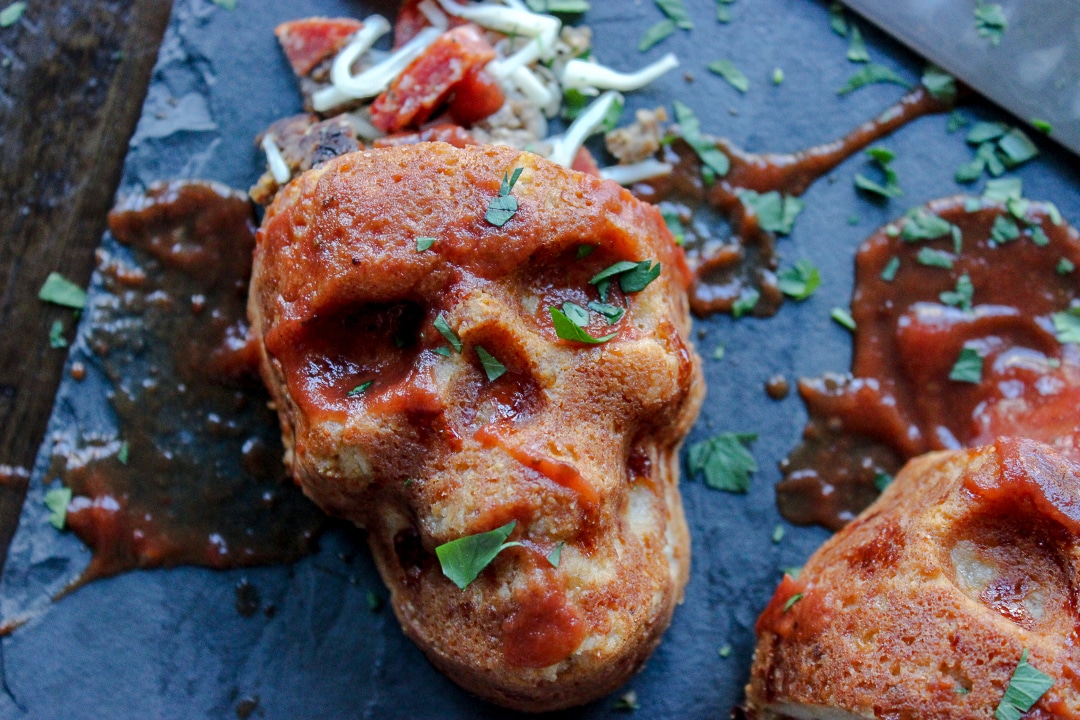 I hope you love this take on a keto friendly pizza option. If you're looking for other Keto Pizza recipes, there are a several other recipes here that definitely can help with those cravings too!
Wishing you all a Happy Halloween! If you make these, please make sure to let me know by leaving a comment below, sharing and tagging them with me on Instagram or on my Facebook page  too!
Bon Appeteach,
-L
Yield: 12
Pizza Stuffed Keto Corn Muffins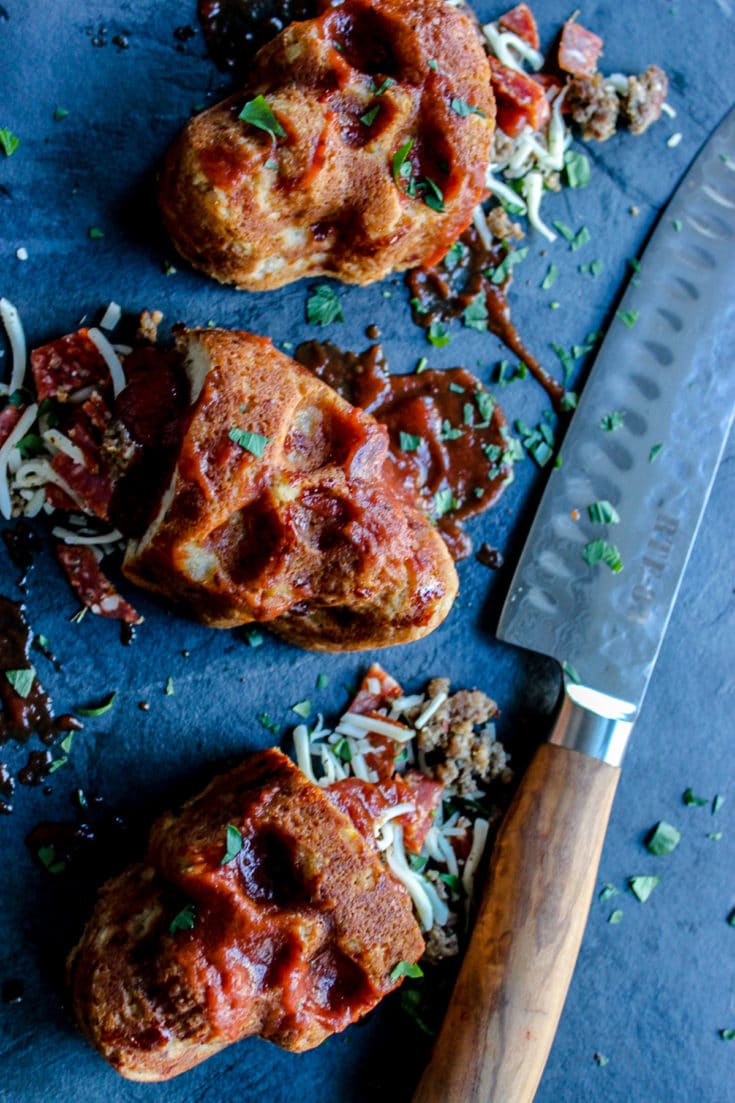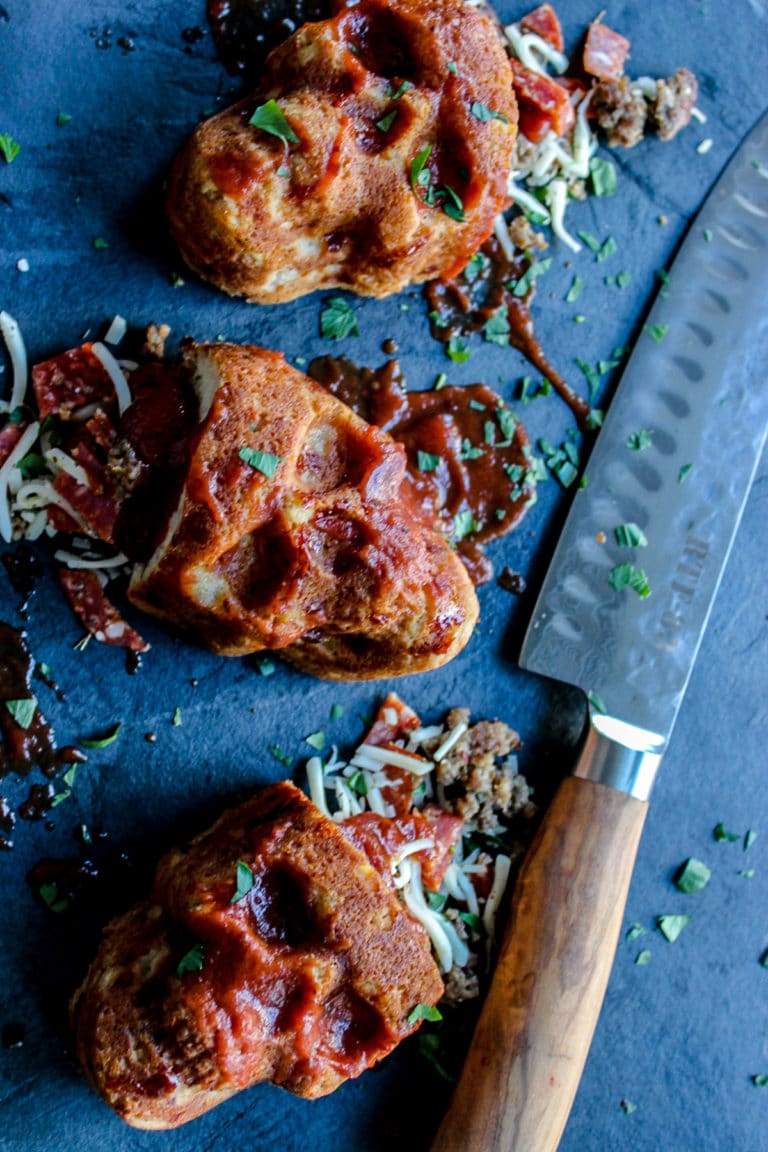 Ingredients
For The Corn Muffins-
3 cups, Almond Flour
1 cup, Sour Cream
1 cup, Shredded Mozzarella
3 Eggs
1/4 cup Butter, melted
1 tbsp. Psyllium Husk Powder (not crucial to the recipe but helps with the texture immensely)
2 tsp, Baking Powder
1 tsp Salt
1 tsp. Garlic Powder
For The Filling-
1 cup Shredded Mozzarella
1 tsp Italian Seasoning
2 oz. Pepperoni, sliced/diced
4 oz. Italian Sausage (cooked and drained of grease)
3 Tbsp Tomato Paste
3-5 Tbsp. Water
Instructions
Preheat your oven to 350 F. Choose a muffin tin of your choice (I used this skull pan) and spray with non stick spray.
In a mixing bowl, combine the dry ingredients for the corn muffin mix (almond flour, baking powder, psyllium husk powder, garlic powder and salt). Mix in the shredded mozzarella cheese.
Next, mix in the sour cream, melted butter, and eggs. Stir until everything is combined well and set it aside.
To make the pizza filling, combine the cheese, cooked sausage, diced pepperoni, and Italian seasoning in a bowl. In a smaller bowl, combine the tomato paste and 1 tsp of water. Mix with a whisk and add water 1 tsp at a time till it reaches your desired thickness (should be similar to a tomato sauce and not too runny or it will water down the batter). Combine the sauce and the pizza filling together in one bowl.
To assemble, Spoon a small amount of batter into the base of your tin and spread it slightly up the sides. You should not see the bottom of the tin showing at all. Next, add your pizza filling (for the skull pan I used approximately 2 spoonfuls of filling). Then top with more muffin batter over the filling. Carefully spread the batter over the top (use an offset spatula, back of a spoon, or your fingers to help with this). The muffins should be filled 3/4 the way to the top overall for reference.
Baking time may vary based on the size of your muffin tin. For a regular tin I suggest baking 25-30 minutes. The skulls took about 32-35 minutes in my oven at home. The corn muffins should look set, not wet, and slightly brown on top (they won't brown a lot on top because they are made of almond flour). Serve with a side of sauce (optional) for dipping!
Nutrition Information:
Yield:
12
Serving Size:
1
Amount Per Serving:
Calories:

370
Total Fat:

32g
Saturated Fat:

10g
Cholesterol:

88mg
Sodium:

295mg
Carbohydrates:

7g
Net Carbohydrates:

4g
Fiber:

3g
Sugar:

1g
Protein:

16g