Homemade Keto Pumpkin Spice Simple Syrup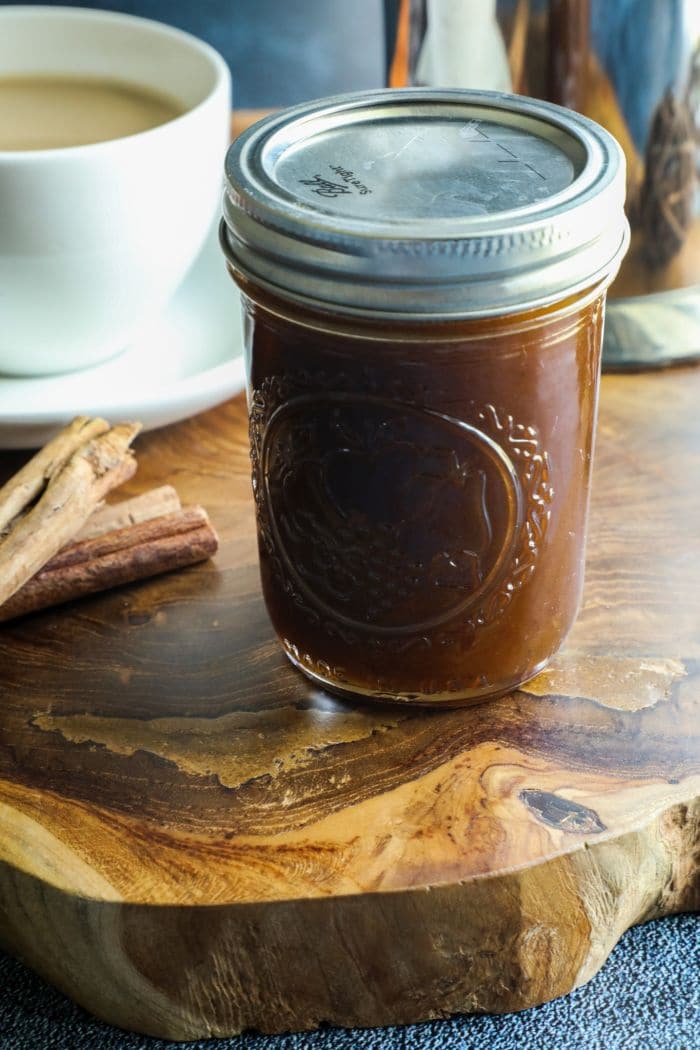 Learn how to make the best keto friendly pumpkin pie spice syrup recipe for all your favorite low carb coffee drinks, cocktails, and more!
Fall cravings and the imminent release of the seasons infamous pumpkin spice latte drink from a certain coffee chain are right around the corner. If you're ready to move on from summers Sugar Free Iced Oat Milk Shaken Espresso, then I have the perfect fall drink for you with this keto friendly pumpkin spice syrup!
While we all know and love a good PSL, it's packed with a minimum of 51 net carbs. Though I admit I am about as basic as they come (I mean, I even have a recipe for grilled pumpkin spice chicken wings), I wanted to find a better way to enjoy this signature drink of the season.
Worry no more! Because I've already got keto simple syrup mastered, I knew I could make the perfect pumpkin spice syrup recipe for all your PSL cravings. With a handful of keto friendly staple ingredients, pumpkin puree, and warm fall spices, you can now learn how to make your own sugar free pumpkin spice syrup at home.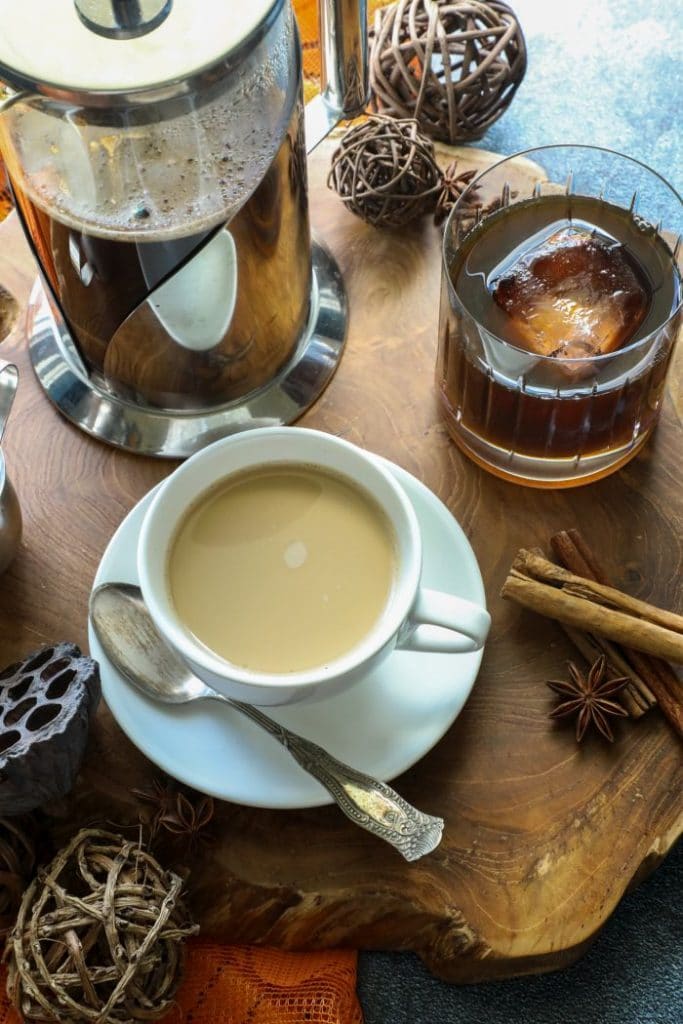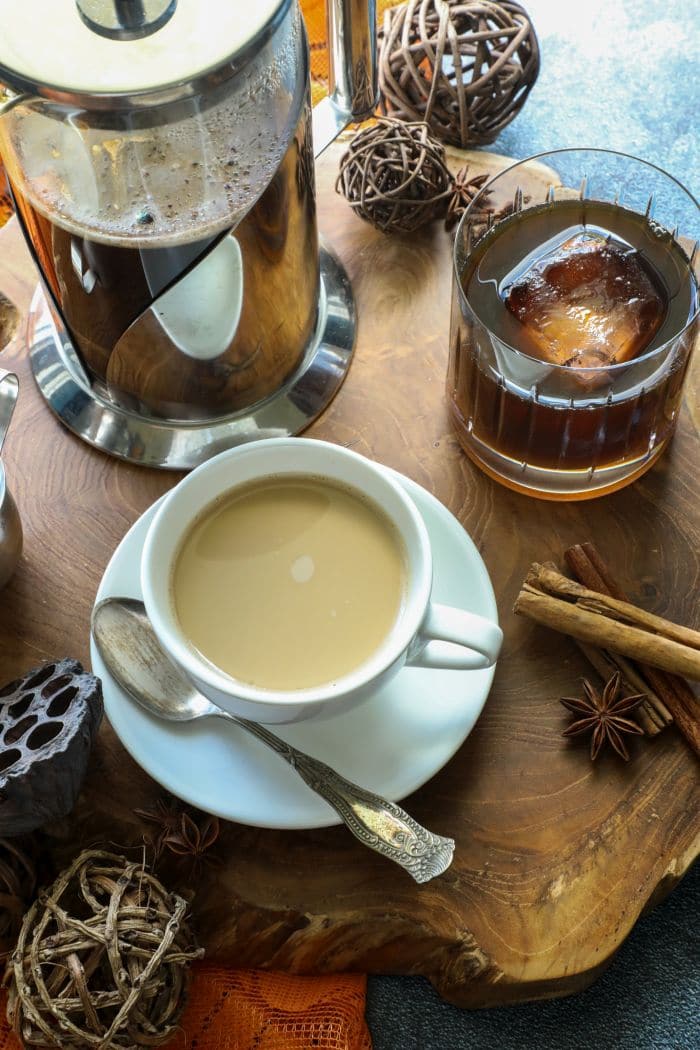 Grab all the tips and techniques for making the perfect keto syrup recipe (trust me, though this is easy the ingredients matter) below!
"School" Supplies:
Small Saucepan
Whisk
Measuring Cups/ Spoons
Small Glass Jar
"Class" Notes
If you've been hoping you could make a keto pumpkin spice latte a reality, well look no further! While there are a handful of sugar free syrups available out there on the market, this is cheap and easy to recreate at home (and you can have it any time of the year too).
In order to get the right consistency for this syrup, it is CRUCIAL that you use the correct low carb sweetener. Not all low carb sweeteners are created equal when it comes to making a sugar free keto friendly simple syrup.
My go-to simple syrup sweetener for a keto diet is allulose. Feel free to read more about this over in this master post on Keto Simple Syrup making. It's a great guide for infusing flavors for cocktails, drinks, and more!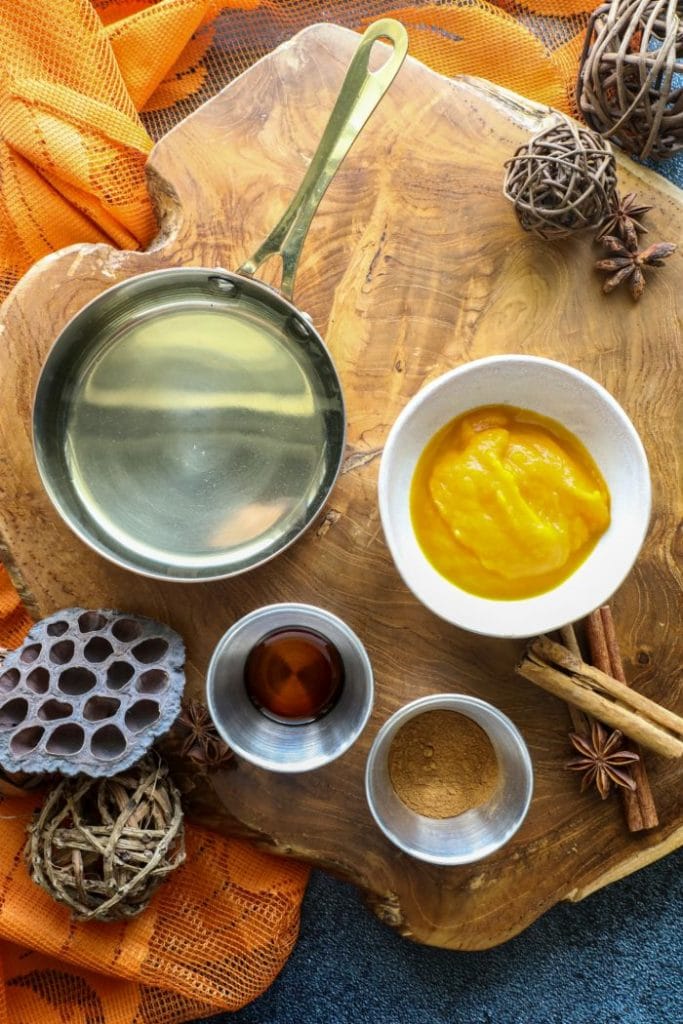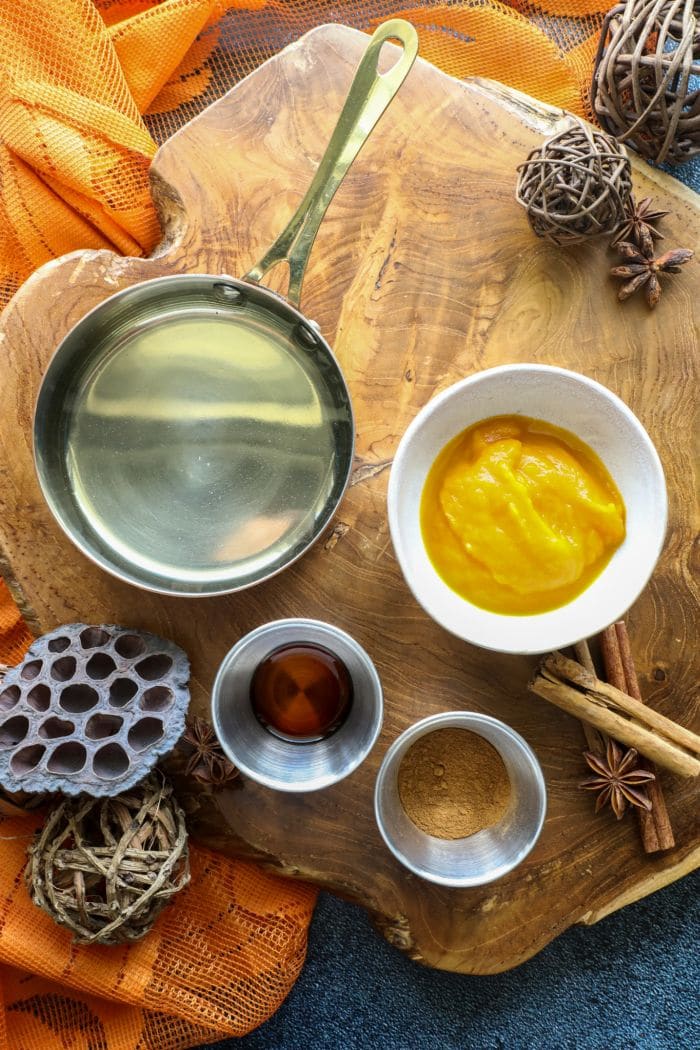 Ingredients-
The base of this syrup consists of:
Keto Simple Syrup- I use my already prepared

allulose

based syrup for this recipe because I always have it in my fridge. If you don't you can make it first, let it cool slightly, then continue on with this recipe.
Pumpkin Puree – Not pie filling. You will cook this down slightly to remove excess moisture and to intensify the pumpkin flavor a bit.
Vanilla Extract – Vanilla is a great way to intensify the pumpkin flavors and rounds everything out.
Pumpkin Pie Spice – While these warm spices can be bought mixed together, you can also easily make your own with spices like cinnamon, all spice, ginger, and nutmeg that you have on hand. Both are great options and work best when cooked with the pumpkin to bring out stronger aromatics.
If you plan on adding this syrup like a creamer to your bulletproof coffee or you are dying to make a low carb pumpkin spice latte, be sure to have items like heavy cream, coconut milk, or almond milk on hand.
I like to keep the syrups separate from the creamer add-in's because as it sits in the fridge it separates slightly over time. If you keep it in a jar and shake it up a bit before using, it works just great. This also allows you to control the sweetness comparatively to how much cream you want in your coffee.
Making The Syrup-
The syrup is easy to make if you already have the plain keto simple syrup on hand. If you do not, you will need to have that pre-made ahead of time before working on this syrup recipe.
Start by lightly cooking and whisking the pumpkin puree and pumpkin pie spices together. You want them to smell fragrant and the extra liquid in the pumpkin to cook down a bit. Add in the vanilla and whisk it together.
Once this is done, then I prefer to slowly pour my keto simple syrup into the mixture. Keep the temperature on a medium low so the pumpkin and spices don't burn. Combine the syrup with the mixture in the pan and allow it to heat through and become one solid mixture.
Whisk it as needed until you see it simmer. Then remove it from the heat and let it cool to room temperature before storing. Storing works best in a glass jar or container. I like to be able to shake it a bit before using in my coffee, cocktails, etc.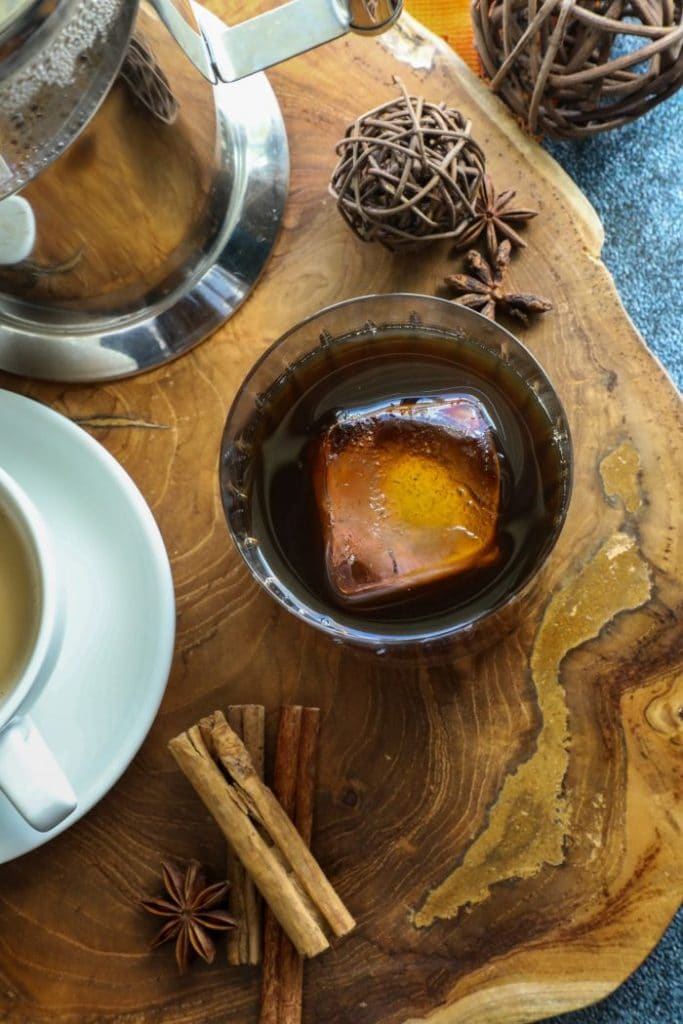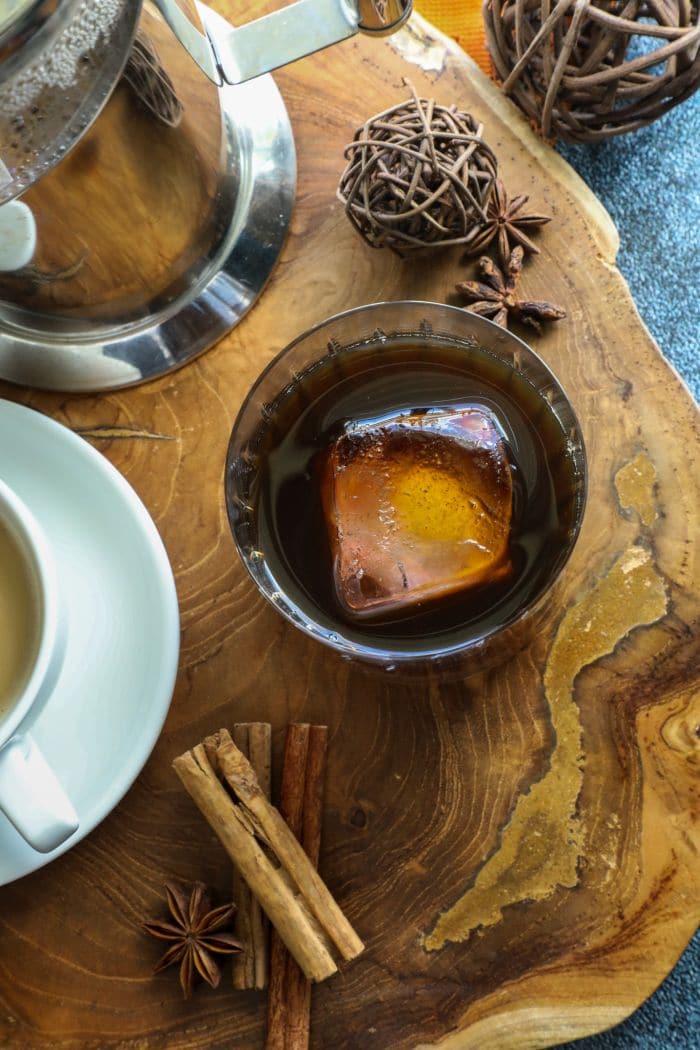 Easy Keto Friendly Ways To Use This Syrup-
The possibilities for creativity go well beyond the basics of coffee, cold brew, and lattes. Try one of these options to use this delicious syrup:
Over

Keto Ice Cream

(Just cause fall is coming doesn't mean ice cream doesn't exist).
Add to Chia Pudding for a sweet and pumpkin pie inspired breakfast
Grab my girl Anna's (Keto In Pearls)

amazing keto pancake recipe

and fall in love with fall when you used this syrup
Put it over your favorite chaffle recipe for a sweet treat or make it a breakfast sandwich for a fun pumpkin take on a sweet savory breakfast combo.
Add it to your favorite whiskey or rum cocktail as a keto friendly option. Try this

pumpkin spiced white Russian

for instance!
Pumpkin lover? You're in luck… Check out these other low carb keto friendly pumpkin recipes:
The best Keto Pumpkin Muffins (no really, these are amazing)
Pumpkin Sauce Pizza (Keto/ Gluten Free)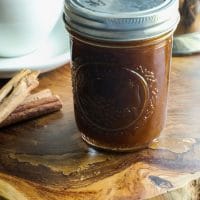 Homemade Keto Pumpkin Spice Simple Syrup
Learn how to make the best keto friendly pumpkin pie spice syrup recipe for all your favorite low carb coffee drinks, cocktails, and more!
Print
Pin
Rate
Ingredients
1/4

cup

Pumpkin Puree

2

tsp.

Pumpkin Pie Spice

1

tsp.

Vanilla Extract
Instructions
1. In a small saucepan over low heat add the pumpkin puree and the pumpkin pie spices and whisk together. Cook for 2 minutes or so to heat it through and lightly reduce the water content in the puree.

2. Whisk in the vanilla then slowly whisk in pre-made keto simple syrup. If you have never made my version of syrup please go check out the recipe for it. Other syrups may not work as well or give you the same result.

3. Whisk everything together over medium low heat until it simmers. Once it comes to a simmer, remove it and let it cool to room temperature.

4. Store in a glass jar in the fridge and shake a little before using. See notes below for adding creamer etc.
Notes
Keep creamers (heavy cream, coconut milk, almond milk etc.) separate. The syrup may slightly separate over time.
Nutrition
Serving:
1
g
|
Calories:
13
kcal