Sweet pumpkin recipes step aside, this easy to make savory pumpkin sauce is the perfect base for a fall pizza. Though you can pair this with any crust, this recipe is a great way to stay keto and gluten free at the same time!
I admittedly love pumpkin. I know, I know… It's basic. But, there is nothing basic about this pumpkin pizza sauce recipe. Whether you're following a lower carb or keto diet, this recipe transcends anything with the word "diet" in it.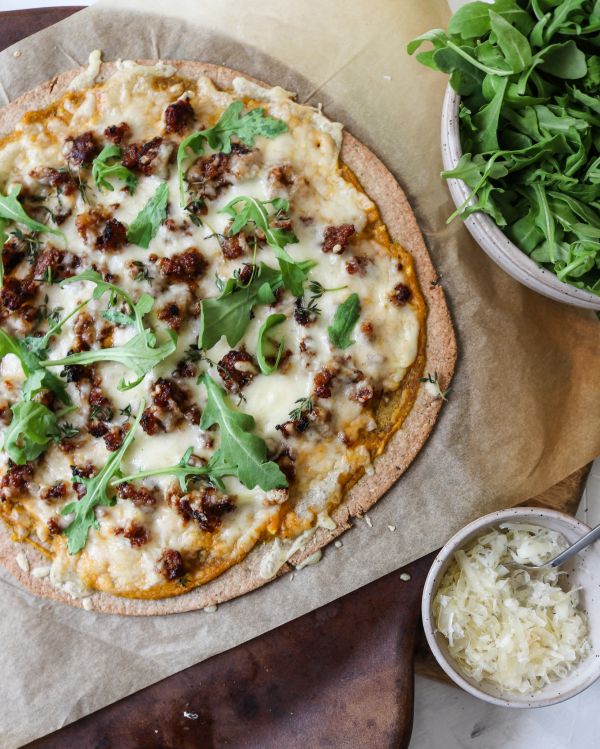 It's smooth, savory, and hits all the perfect comfort food buttons for fall. With notes of garlic, sauted onion, and fresh herbs, this pizza recipe is an easy way to impress this season. Find the full recipe below and read through this post for helpful tips and tricks!
"School" Supplies:
"Class" Notes:
The Pumpkin Pizza Sauce-
This sauce is all about the savory! Because pumpkin puree is naturally on the sweeter side, I like pairing this sauce with fresh garlic, a little onion, fresh herbs like thyme or sage leaves, and a splash of cream.
Start by sauteing the minced onions and garlic in about a tablespoon of olive oil. Cook on lower heat so the garlic doesn't burn but they smell fragrant.
Pro Tip- Season your veggies! Don't forget to season your onions and garlic while they cook with a little salt and pepper.
After the veggies are cooked, add in the pumpkin puree and cook for about a minute or so. This will help heat the mixture through slightly before adding some of the heavy cream. Cream cheese can be an alternative to the heavy cream, but I like the consistency the cream provides overall to this sauce.
Finish the sauce off with some fresh herbs like thyme or sage. I love fresh herbs over dried, but dried will work too if that's all you have! Set the sauce aside and prep the sausage and pizza crust!
The Crust-
You have a few options when it comes to making your low carb pizza crust. Fat head dough's are popular among the keto crowd because of taste and texture, but I prefer this almond flour based thin crust pizza instead.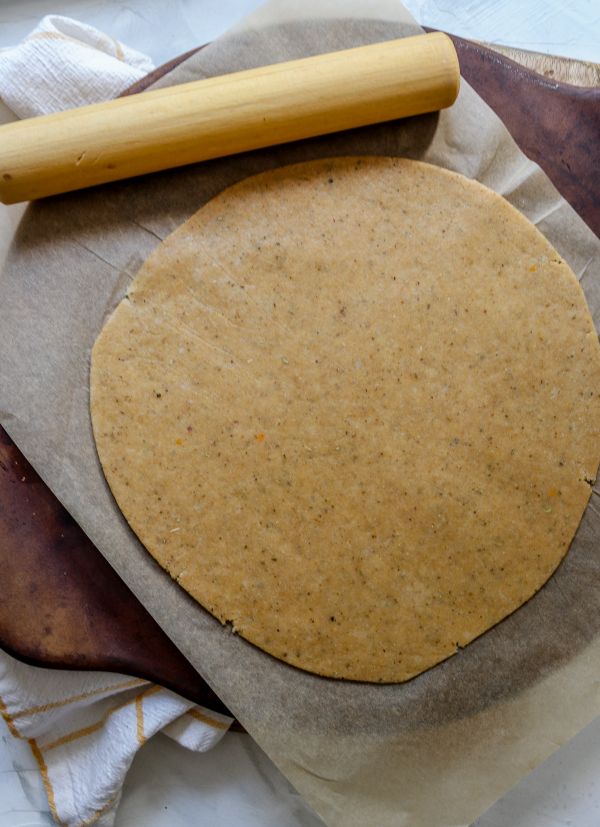 I love this crust recipe because the dough comes together in the food processor, easily rolls out with the help of some parchment paper, and bakes up nice and crispy on a pizza stone!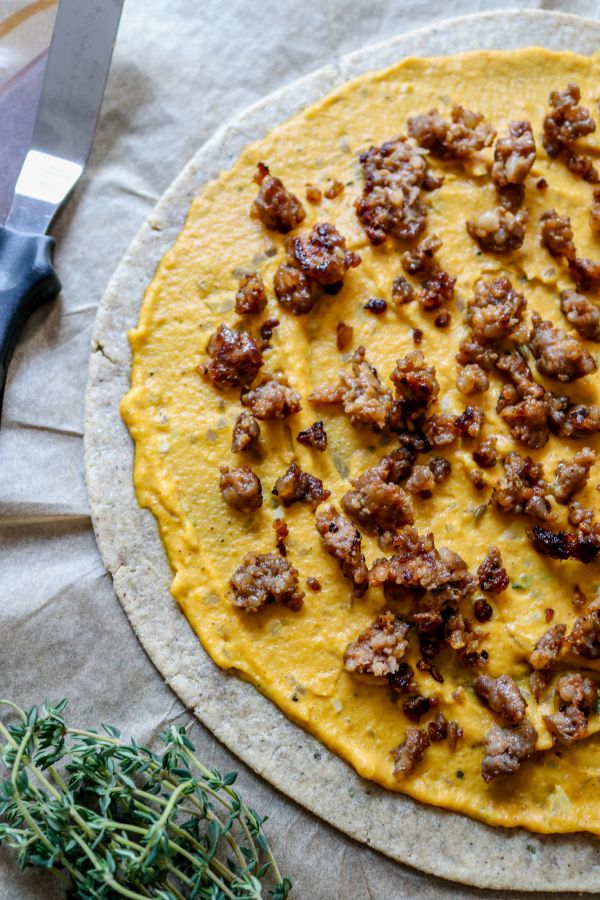 This pumpkin pizza sauce pairs really well with some spicy Italian sausage. The sweet and spicy combination is perfect on this keto pizza. Crispy bacon or prosciutto would also be a delicious substitute as well!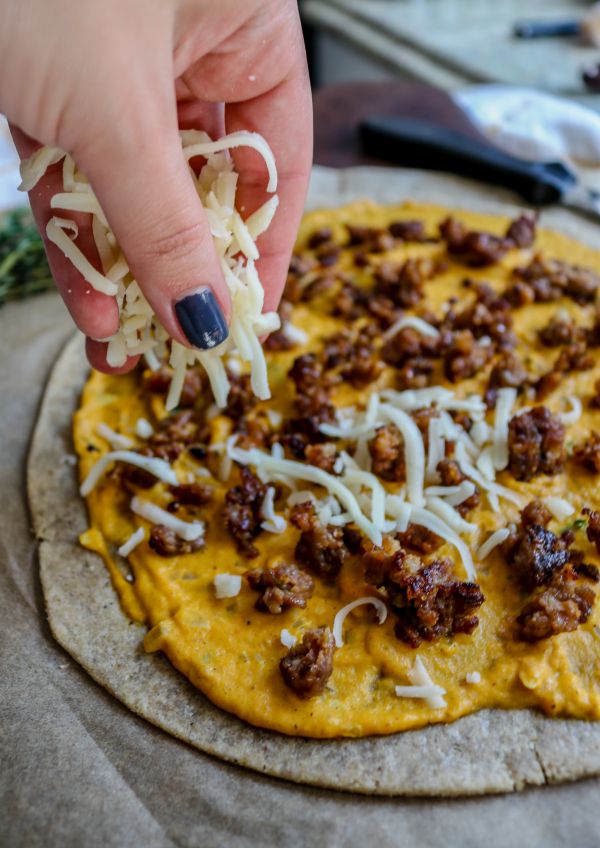 I par bake the crust, add a nice layer of sauce, the crumbled sausage, and some fresh grated mozzarella cheese. Gouda or Swiss would be a great substitute as well with some fresh parm too! Finish baking (or grilling) the pizza until the cheese is bubbly a little golden brown.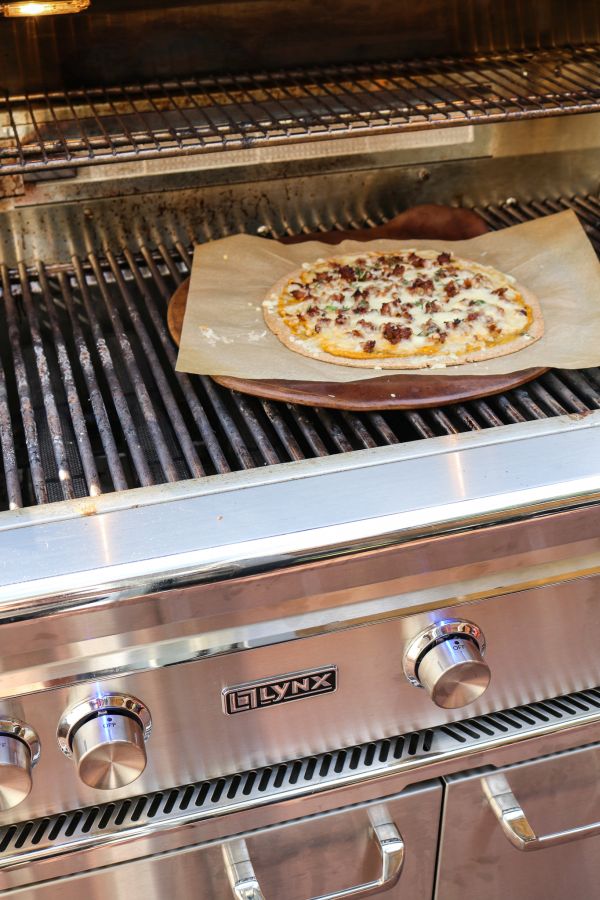 When you remove the pizza from the oven, let it rest about five minutes for the cheese and sauce to set a bit. I love to top mine with a little fresh arugula because it adds a nice spicy freshness to the pizza.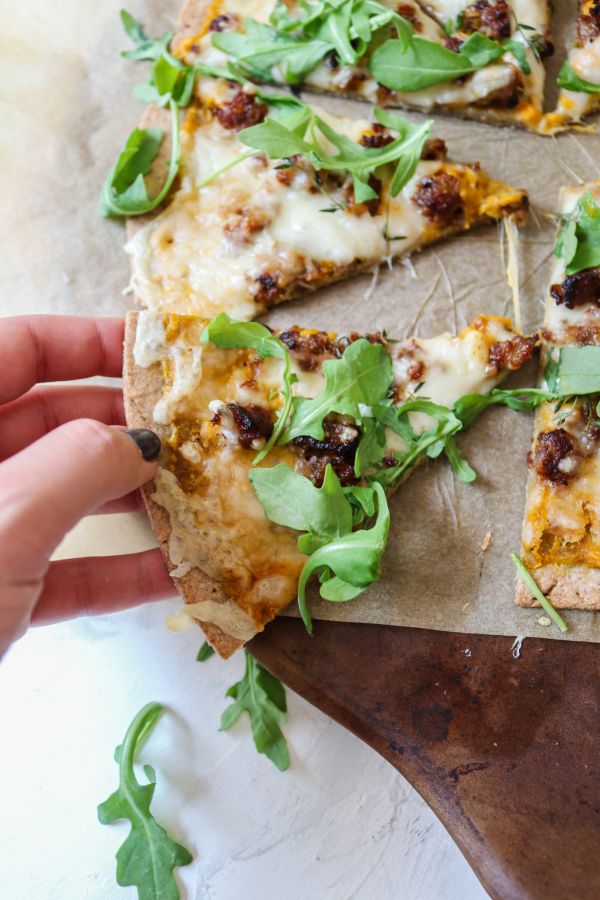 If you love this pizza recipe, make sure to check out my Keto Chicago Deep dish recipe too! Don't forget to share your pizza with me over on Instagram or save this recipe to Pinterest for later!
Bon Appeteach,
-L
Yield: 8
Sausage Pumpkin Sauce Pizza- Keto & Gluten Free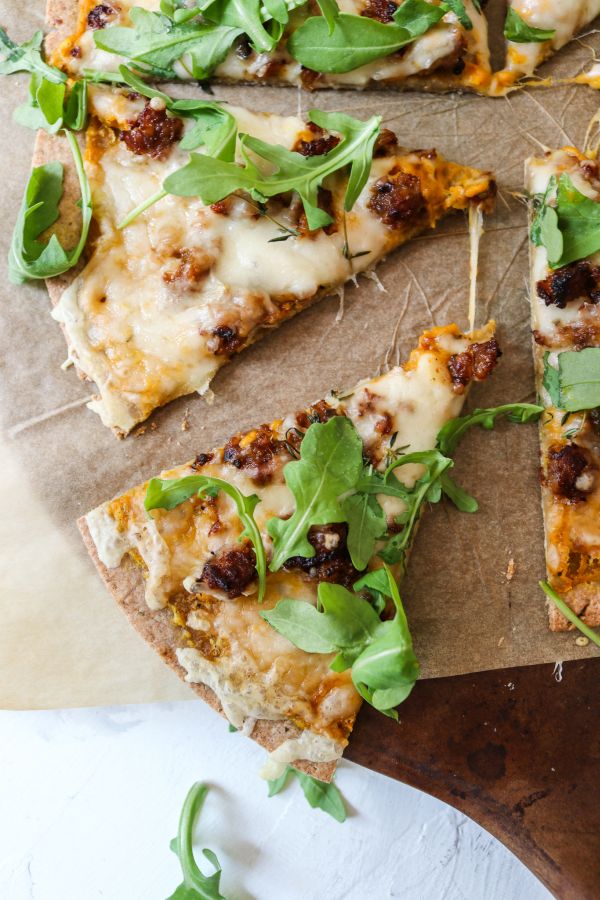 Sweet pumpkin recipes step aside, this easy to make savory pumpkin sauce is the perfect base for a fall pizza. Though you can pair this with any crust, any pasta, or even veggies, this recipe is a great way to stay keto and gluten free at the same time!
Additional Time
5 minutes
Ingredients
1-2 Garlic Cloves, minced
1/4 cup Yellow Onion, minced
1 tsp. Olive Oil
1/3 cup Pumpkin Puree
1/4 cup Heavy Cream
Salt & Pepper
1 tsp Fresh Thyme or Sage Leaves
1/4 lb Spicy Italian Sausage
1 1/2 cups Shredded Mozzarella
Garnish- Arugula (optional) and Red Pepper Flakes
Instructions
Preheat your oven to 425 F. Prep your pizza dough of choice or the Keto Thin Crust Pizza Dough recipe listed above.
In a saute pan over medium low heat, add the olive oil and saute the garlic and onion until fragrant and tender. Season the garlic and onion with salt and pepper. Add in the pumpkin puree and then whisk in the heavy cream until the sauce is heated through and add in the fresh thyme or sage. Set the sauce aside.
Cook your sausage until browned and drain any grease. Assemble the crust and par bake for 5 minutes (if using my recipe), then swirl on the sauce, sprinkle on the sausage, and then top with cheese. Bake for another 5-8 minutes until the crust is cooked, the cheese is bubbly and lightly browned too. Remove from the oven and top with a little arugula and some red pepper flakes if desired.