Keto Cheddar Biscuit Bombs with Beer Cheese Sauce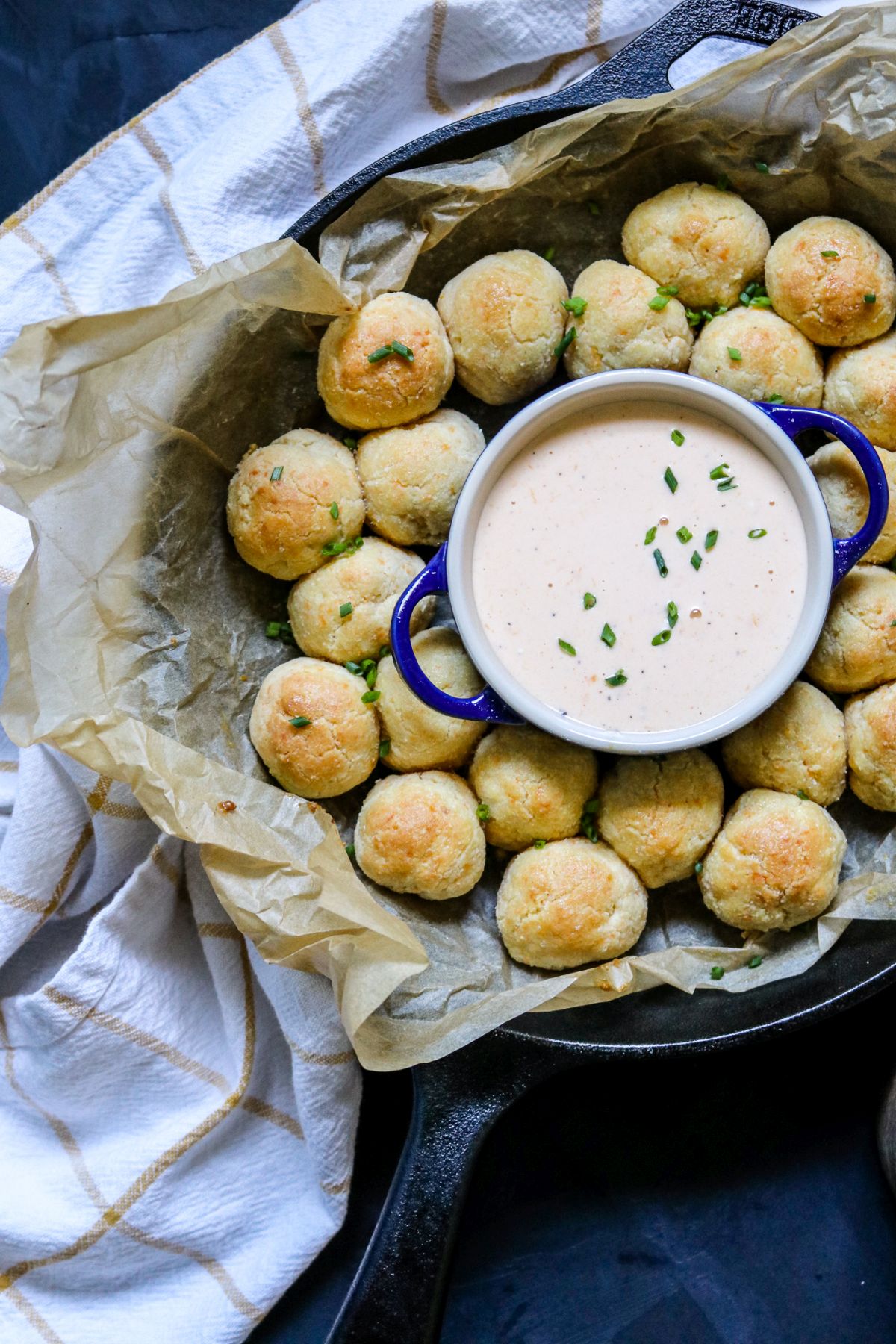 These keto almond flour biscuits bombs are a perfect appetizer because they are easy to make, keto, gluten free, and are dipped in a rich low carb beer cheese sauce. Make a whole batch in 30 minutes or less!
I have to admit that one of my favorite carb addictions is a good soft pretzel with a whole lot of salt and some cheese to dip it in. Don't get me started on how much I love a flaky buttermilk biscuit too!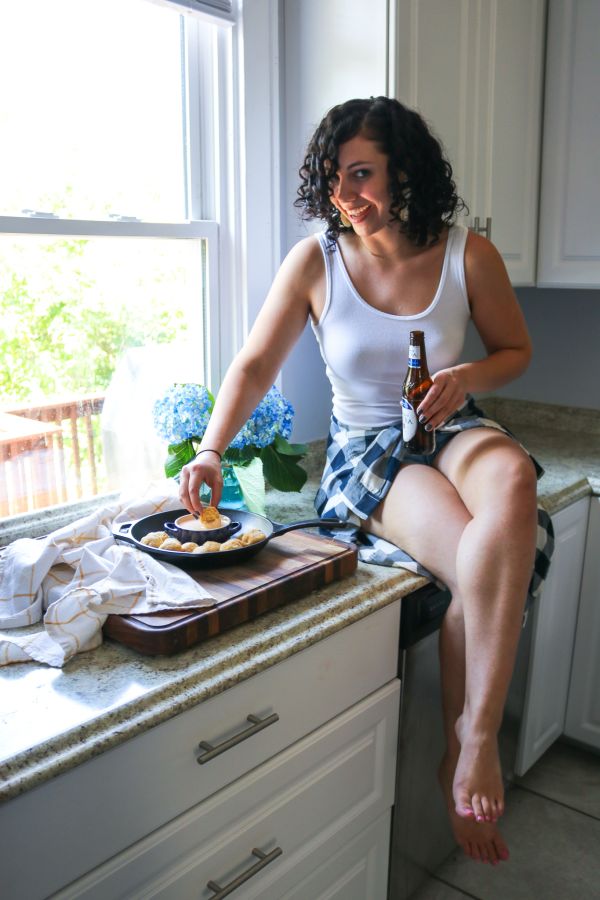 Eating lower carb keto diet (and inadvertently gluten free most of the time) means it's a rare occasion that I indulge in either biscuits or soft pretzels, so I wanted to create a recipe that would be easy to assemble but still curb these common cravings.
I've seen a lot of keto soft pretzel recipes out there and many are made of fathead dough. I think these can be a great option when you have the time, but if I'm honest I just don't always have the patience to melt the cheese, knead everything together, and deal with the mess. That all being said, I obviously love that this recipe is a non-fathead dough biscuit recipe!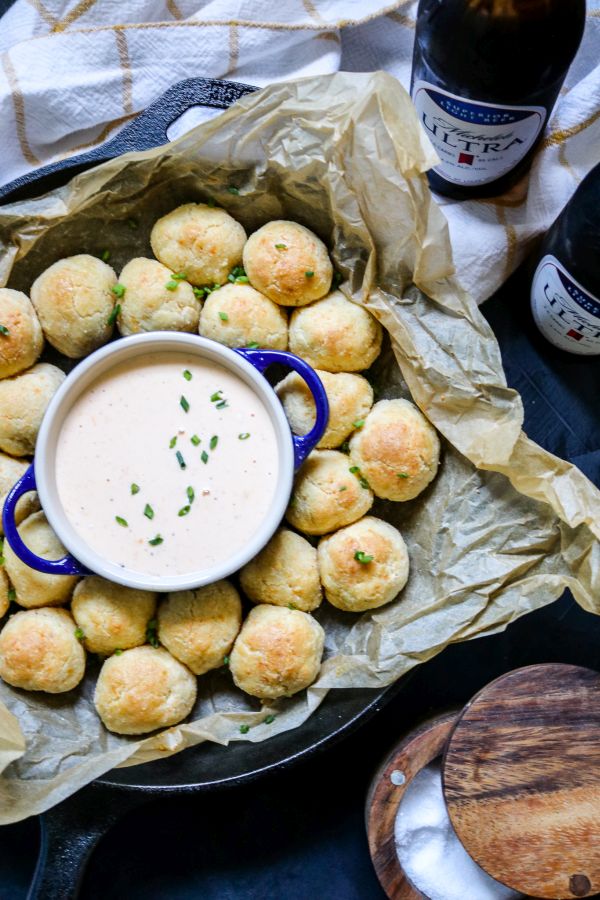 My solution was to create something simple that was based off of my Keto Almond Flour Biscuit Dough Recipe and my Easy Cast Iron Keto Focaccia Bread recipe. Both of these are made up of almond flour as a base (I haven't swapped with coconut flour and would not recommend it… read more below about this).
What I love most is how quickly the dough can come together (about 5 minutes people) in the food processor, rolled out, and baked up in under 30 minutes! They are tender but hold together, keto and low carb, and go so well with my keto low carb beer cheese sauce too!
Jump to the recipe below or read through for all my helpful keto baking tips and tricks to making this recipe easy and fool proof!
"School" Supplies"
· Food Processor
· Baking Sheet or Cast-Iron Pan
· Whisk
· Measuring Cups/ Spoons
· Small Pot
"Class" Notes:
Cheddar Biscuit Bombs-
These keto friendly biscuit bites are savory, popable, and great for sharing (but also don't do that because you will want to eat them all). I use a handful of keto baking staples like almond flour and xanthan gum (do not omit). The other ingredients (cheddar cheese, baking powder, eggs, and cold butter) are common household items, making this recipe even easier to recreate at home!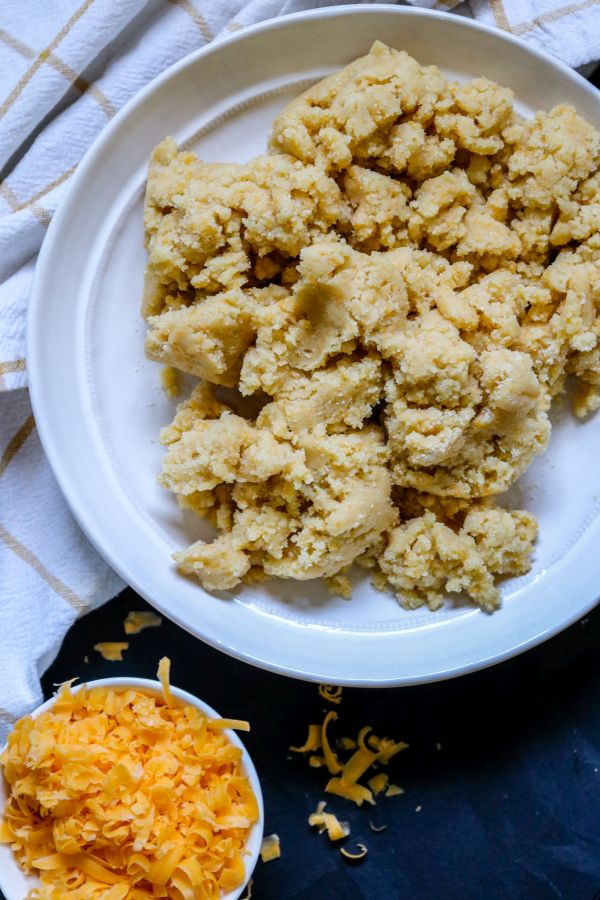 I combine the dry ingredients together first in the food processor to mix well. The baking powder and the cold butter act as the leavening agents (what helps the biscuits to rise and get flaky) in the dough. Melted butter is something to avoid here as well, so make sure you have cold butter only (I even pop mine in the freezer for a few minutes prior to using). Whereas the eggs, cheese, and xanthan gum act as binding agents.
If you make a lot of my keto baked goods (like these popular Keto Blonde Brownies or these Keto Pumpkin Bread Scones for example), you will always find xanthan gum as a standard ingredient. The reason I add this is because as we remove gluten from our recipe (omitting standard flour) we need another ingredient to provide structure.
That ingredient is xanthan gum! A small bag usually won't run more than ten dollars (I buy it often from target or on amazon too). If you plan on doing a lot of keto or gluten free baking it is worth the investment. I find that leaving this ingredient out often cause any almond flour baked good to be a lot crumblier and not hold together as well. So, buy some!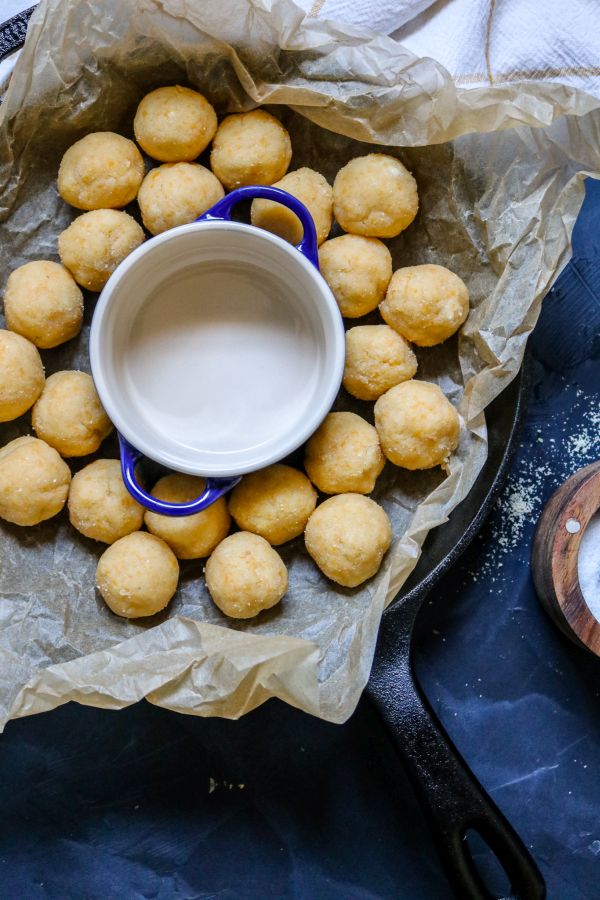 Once you for your dough, use a tablespoon to scoop out the dough and roll in your hands. You can choose to bake these individually on a parchment paper lined baking sheet, or try placing them in a circle like I did using a cast iron pan. Bake the bites until golden brown, about 20-25 minutes!
I liked using the pan for this because it made for an easy way to serve these up to friends and family. I placed an oven safe ceramic dish in the middle of bites as well. This heated up in the oven and made a nice warm holding place for my keto low carb beer cheese sauce too!
Keto Friendly Beer Cheese Sauce-
While the almond flour cheddar bombs are baking get started on the beer cheese dipping sauce! To keep this sauce in the low carb category, you need to use a low carb beer (I like Michelob Ultra personally). This cheese sauce is standard and similar to the way I make my cheese sauce for my Grilled Bacon Cauliflower Mac and Cheese as well as my Low Carb Beer Cheese Soup recipe too.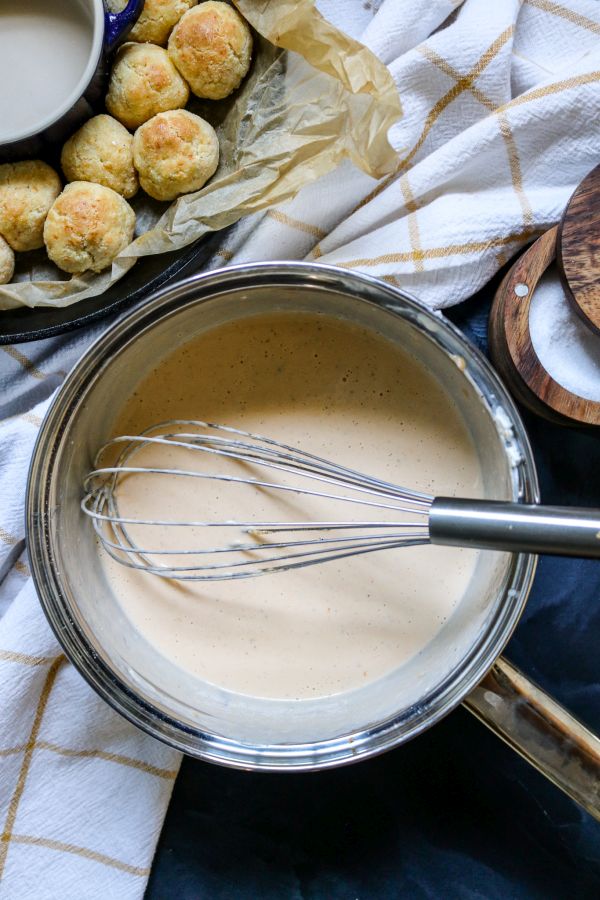 The trick to a smooth sauce is to grate your cheese and to avoid using pre-shredded cheese at all costs. Pre-shredded cheeses are coated in starches to help prevent clumping and sticking while storing. That's great when you want it on your Keto Pulled Pork Tacos and all, but not when you want it to melt well in a sauce.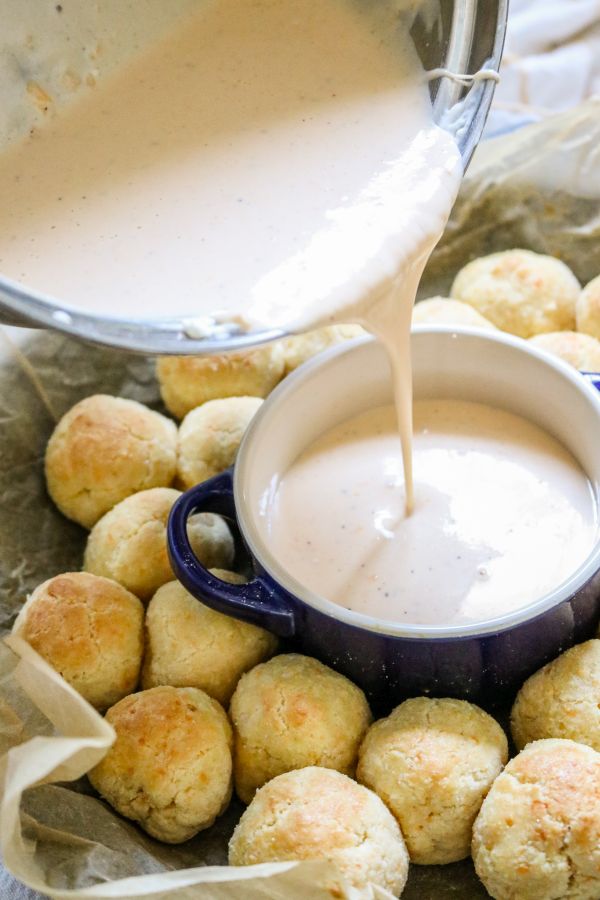 Combine all the ingredients, season well (I love the addition of garlic powder and some Dijon mustard here), and pour in the beer! You will have extra beer left in the bottle, so pour into a glass and serve it up with this dish (because you can)! Place your cheese sauce in a small bowl and your baked biscuit bombs around it to serve.
Keto Biscuit Bomb Variations-
Get creative with your cheese bombs and add old bay seasoning (red lobster inspired) with garlic butter or maybe add a different flavor cheese (like Parmesan or mozzarella and dip in marinara instead). Try adding bacon and chives too, the options are endless!
I personally love serving these keto biscuit bites as an appetizer but I bet they would make a really great meal prep for a side dish too. You really can't beat an easy keto biscuit recipe my friends! Each bite is only 1 net carb too!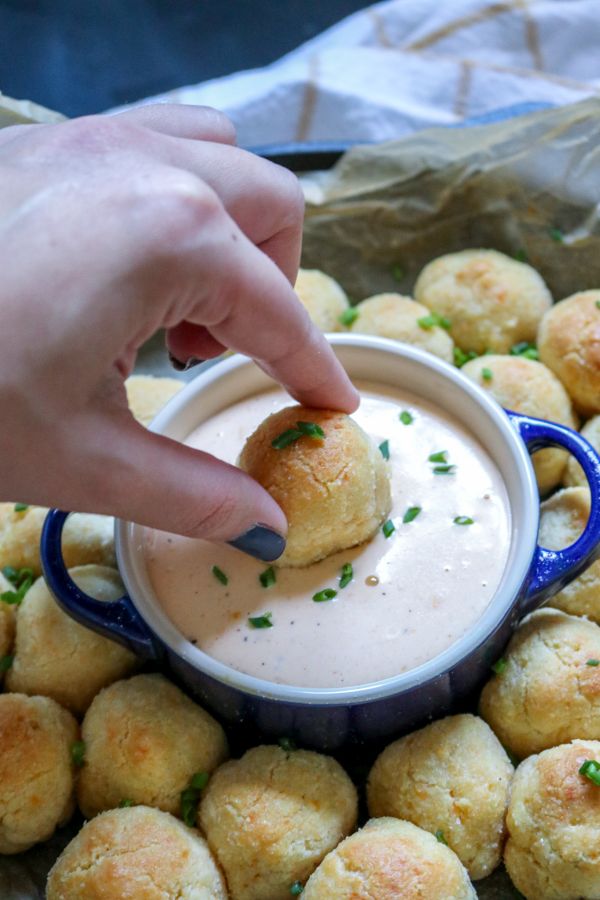 Did you try this keto recipe? Share how you make your Keto Cheddar Biscuit Bombs with Beer Cheese Sauce with me over on Instagram or save this recipe to Pinterest too for later!
Bon Appeteach,
-L
Yield: 20 Biscuit Bombs
Keto Cheddar Biscuit Bombs with Beer Cheese Sauce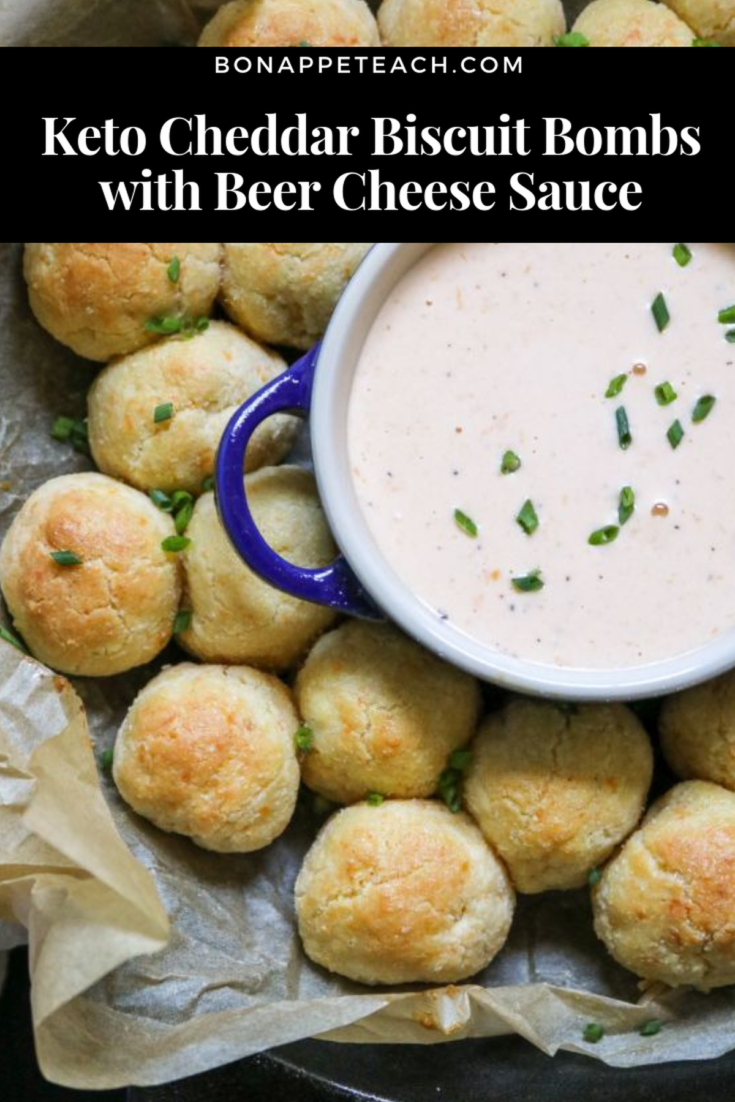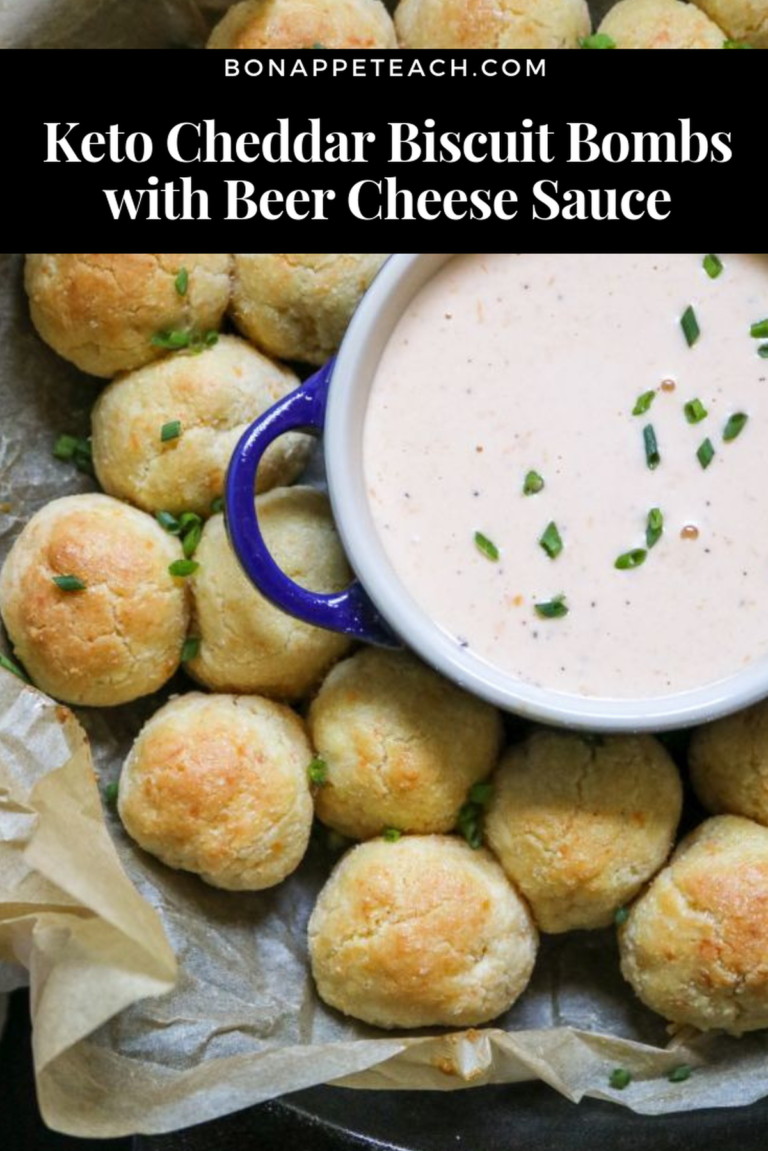 These keto almond flour biscuits bombs are a perfect appetizer because they are easy to make, keto, gluten free, and are dipped in a rich low carb beer cheese sauce. Make a whole batch in 30 minutes or less!
Ingredients
Keto Cheddar Biscuit Bomb Dough-
3 cups Fine Almond Flour
1 tsp Xanthan Gum (DO NOT OMIT)
1 tsp Baking Powder
1 tsp Sea Salt (extra for the top)
4 tbsp Cold Butter, cut into chunks
1.5 cups Freshly Shredded Cheddar
1 Eggs (reserve 1 egg for the egg wash)
Keto Low Carb Beer Cheese Sauce-
2 oz. Softened Cream Cheese
1/4 cup Low Carb Beer (I prefer is Michelob Ultra)
1/2 cup Heavy Cream
1.5 cups Fresh Shredded Cheddar
1 tsp Garlic Salt
1 tsp Dijon Mustard
1 tsp. Worcestershire Sauce
1/2 tsp Paprika
Salt & Pepper
Instructions
Preheat the oven to 425 F. Line a baking sheet or cast iron pan with parchment paper to make for easy clean up.
In a food processor combine the almond flour, xanthan gum, baking powder, and salt together and mix a few times. Add in the cheddar and the cold butter and mix again until the dough looks crumbly. Add in one egg and mix once more until it forms a solid ball of dough.
Use a tablespoon to scoop the dough into balls and roll in your hands. You should get about 20 balls. Place them so they are just touching on a baking sheet or in cast iron skillet (I placed a ceramic oven safe dish in the middle to use for my cheese sauce at the end). Brush with the second egg for egg wash and season the tops with some course salt if desired.
Bake the biscuit bombs until golden brown, about 20-25 minutes.
While the biscuit bombs are baking, make the cheese sauce. Start by melting the 2 oz. of cream cheese in a pot over low heat along with the heavy cream. Add in the seasonings and the beer and whisk well. Keeping the mixture on low heat, slowly whisk in small amounts of the cheddar cheese. Whisk each batch in until melted and smooth before continuing to add additional cheese. Season with salt and pepper to taste.
Serve the cheese sauce in the center of your biscuits in a small bowl. Brush the tops with some melted butter if desired too!
Notes
Store the extra keto biscuit bombs in an air tight container for up to 5 days.
Nutrition Information:
Yield:
20
Serving Size:
1
Amount Per Serving:
Calories:

216
Total Fat:

17g
Saturated Fat:

5g
Trans Fat:

0g
Unsaturated Fat:

11g
Cholesterol:

25mg
Sodium:

283mg
Carbohydrates:

2g
Fiber:

2g
Sugar:

1g
Protein:

6g