Low Carb Beer Cheese Soup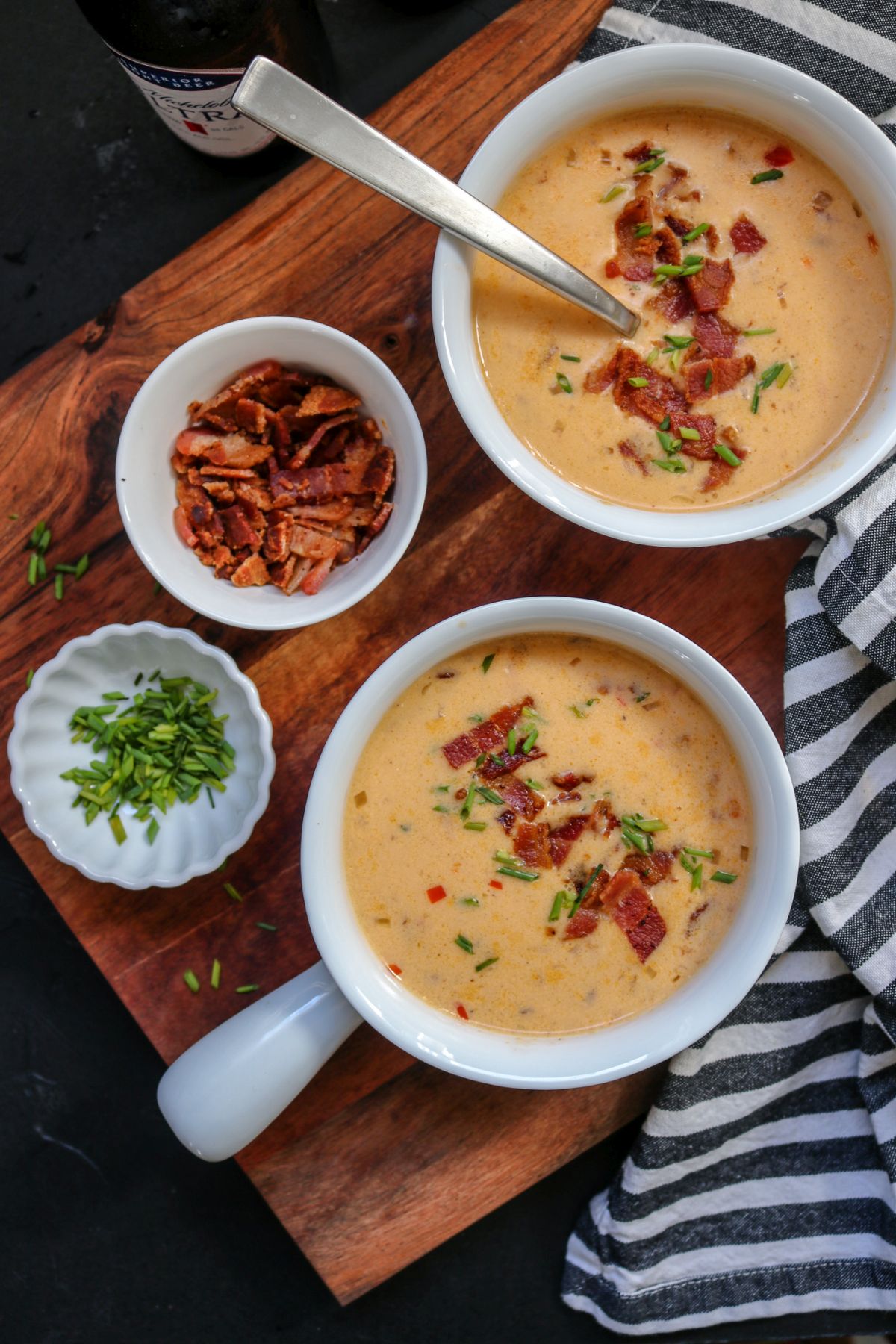 The perfect low carb keto version of a classic fall style beer cheese soup! It's cheesy, creamy, bold and comes with less carbs too!
When fall rolls around and the temperatures drop, I often find myself craving more carbs and more comfort foods (who doesn't). Having a repertoire of stews, chili, and soups in my back pocket definitely comes in handy this time of year.
Though I could honestly eat soup when it's 90 degrees out, I can for sure eat this Three Ingredient Beer Cheese Sauce anytime! So why not combine the two!??
A lot of hearty and creamy soups are filled with potatoes, made with a roux, or maybe have things like rice or noodles too.
Eating a lower carb keto diet makes those hearty, delicious carbs a no go for me (and maybe for you since you're here).
That being said, have you been wondering if beer cheese soup is keto? The answer is yes! If you make this low carb version of a classic beer cheese soup, you will happily find yourself (and your spoon) on the other end of a creamy and flavorful warm bowl of low carb heaven.
What keeps this low carb beer cheese soup keto friendly and ultimately lower in carbs, is the beer I chose to use.
There are several low carb beers on the market and for this recipe, I used Michelob Ultra (this is not sponsored just my preference in low calories beers), which comes out to be only 2.6 net carbs for a 12 oz. bottle.
Feel free to explore which low carb beer you like, or use any other beer you prefer if you're not trying to keep it low carb (again, all my recipes are really versatile for most diets/preferences).
Find the full recipe and video tutorial at the bottom of the page and read through for helpful cooking tips below!
"School" Supplies:
Stock Pot Knife & Cutting Board
Frying Pan
Stock Pot or Dutch Oven
Spoon/Whisk Large
Measuring Cup
Cheese Grater
"Class" Notes:
This keto-friendly soup recipe is quick and easy to make but does need a few base ingredients to really give it some flavor. Obviously, you want the beer taste to come through, but there needs to be a balance so it isn't too overpowering.
A standard soup uses a mirepoix, which is a mixture of onions, celery, and carrots. Many times this is what creates a rounded-out flavor profile for the broth of a soup. For this recipe, I used a little red pepper, some yellow onion, and fresh garlic.
Start by heating your pot over medium heat, add the butter and let it melt. Toss in your pepper, onion, and garlic and cook until fragrant and translucent.
One step many people often overlook is to season their veggies. I like to add a little salt and pepper here to ensure a good flavor profile. Additionally, I like a little Dijon and coconut aminos (or soy sauce) to help add a little punch too!
Once the veggies are cooked, I add in about 4 oz. of cream cheese. Use a wooden spoon to smash down the cream cheese into the cooked veggies to help soften it.
Once the cream cheese is mixed in well, add in the chicken stock and beer, whisking until the cream cheese is dissolved. Finish this step off by bringing it to a boil (the alcohol in the soup will cook off so don't panic if you take leftovers to work and people think you're getting beer drunk at 11:30 am).
Because we eliminated a classic roux (equal parts flour and butter used to thicken soups and sauces), you might be wondering how to thicken a keto soup. Don't stress! Believe it or not, I find that by only adding cream cheese and cheddar cheese, the soup becomes thick enough to be rich and creamy.
If you prefer a slightly thicker soup, add in 1-2 tempered egg yolks as an option or sprinkled in a tiny bit of xanthan gum.
My final tip for making this soup recipe is to grate your own cheddar cheese! Pre-shredded cheese is coated in processed products to help prevent sticking and clumping while it is in the package, making it harder to melt and become cohesive within the soup (you don't want the cheese to separate from the sauce).
The best part about this soup? I can prep it in about 10 minutes and it takes about 15 minutes tops to cook too, making this whole recipe come together in under 30 minutes!
I find that the leftovers make great meal prep and that this soup takes on more flavor the next day (like my chipotle chili or chicken chili recipes too).
Want something delicious to dip into this soup? Try my Easy Cast Iron Keto Focaccia Bread recipe or these Keto Cheddar Biscuit Bombs With Beer Cheese Sauce too, both are pure keto comfort food!
Not ready for a hot soup recipe? Save this one to Pinterest for later and when you do make it, be sure to share it all with me over on Instagram too! I'd love to hear your thoughts! Stay warm but don't stay hungry!