The perfect low carb version of a classic fall style beer cheese soup! It's cheesy, creamy, and full of flavor.
Low Carb Beer Cheese Soup:
Soup season is the best season (though soup season is basically year round for me…). I love a good rich, creamy, hearty soup too.
Some days a brothy soup just doesn't cut it (unless it's Chicken Zoodle Soup made on the grill). What I love about this recipe, is that even though it's made with a low carb beer, the flavors are really well rounded.
There are several low carb beers on the market and for this recipe I used Michelob Ultra (this is not sponsored just my preference in low calories beers), which comes out to be only 2.6 net carbs for a 12 oz. bottle.
Feel free to explore which low carb beer you like, or use any other beer you prefer if you're not trying to keep it low carb (again, all my recipes are really versatile for most diets/preferences). Full recipe is at the bottom and read on for helpful cooking tips below!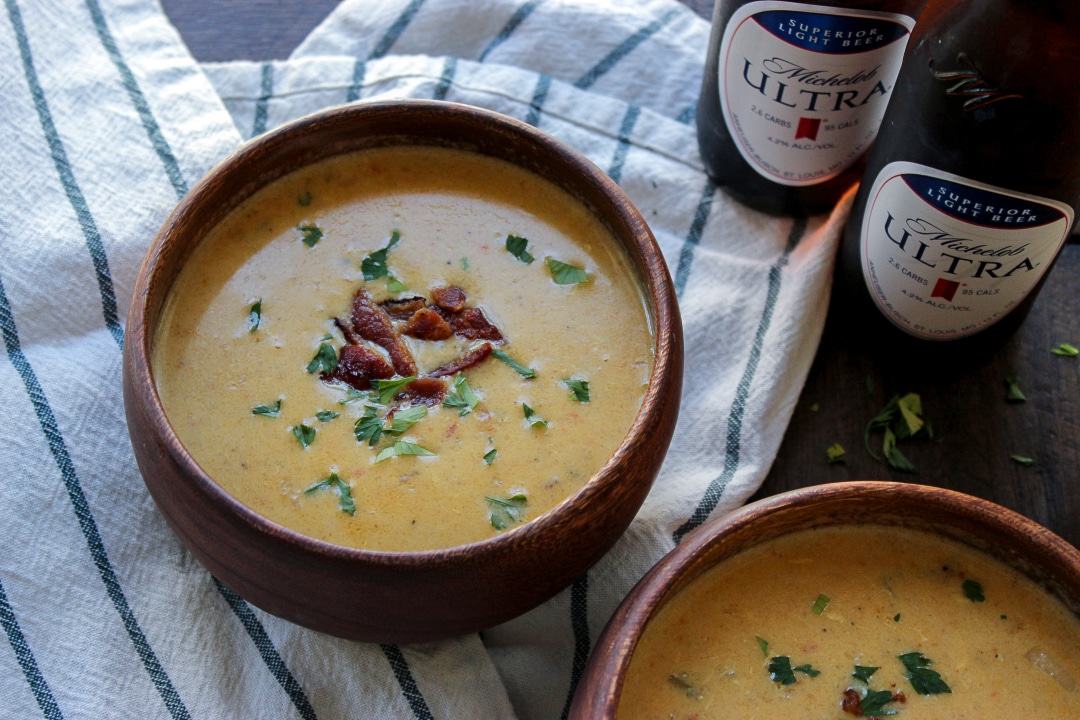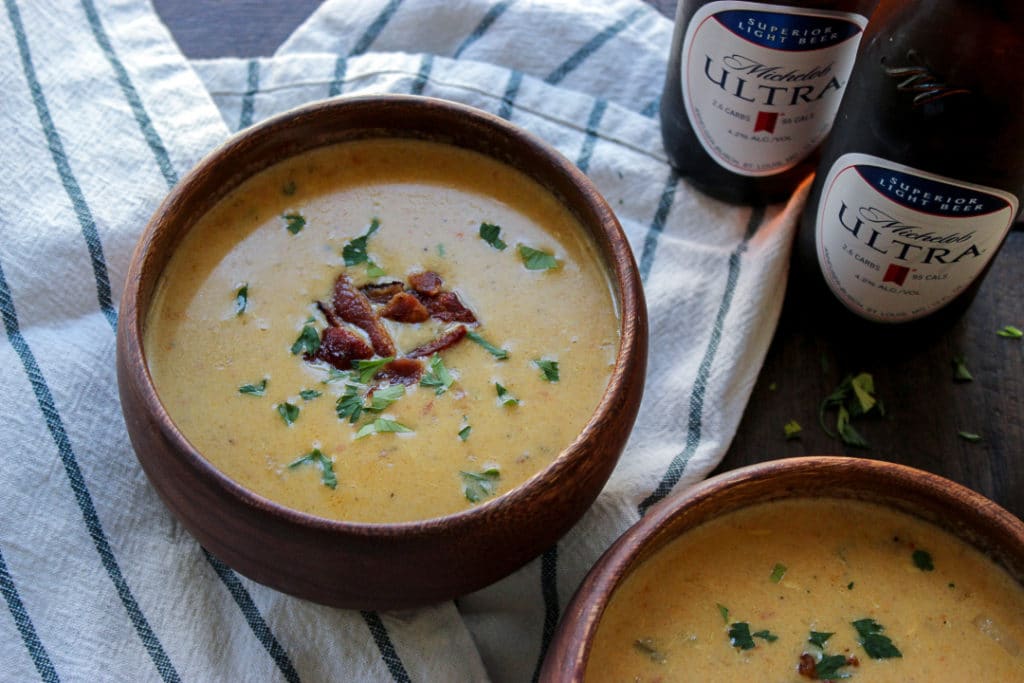 "School" Supplies:
Stock Pot
Knife & Cutting Board
Frying Pan
Spoon/Whisk
Large Measuring Cup
Cheese Grater
"Class" Notes:
Beer cheese soup is rather uncomplicated to make, but does need a few base ingredients to really give it some flavor. Obviously, you want the beer taste to come through but there needs to be a balance so it isn't too overpowering.
There are also a few tricks I use to help thicken my soup and to keep it low carb (no classic roux here guys). The first common keto thickening agent is xanthan gum.
Xanthan gum is low carb, acts similar to corn starch, and a little goes a long way. I purchased a small $6 bag (Bob's Red Mill) from Target over a year ago and I still have most of it despite how often it is used. Definitely worth having on hand.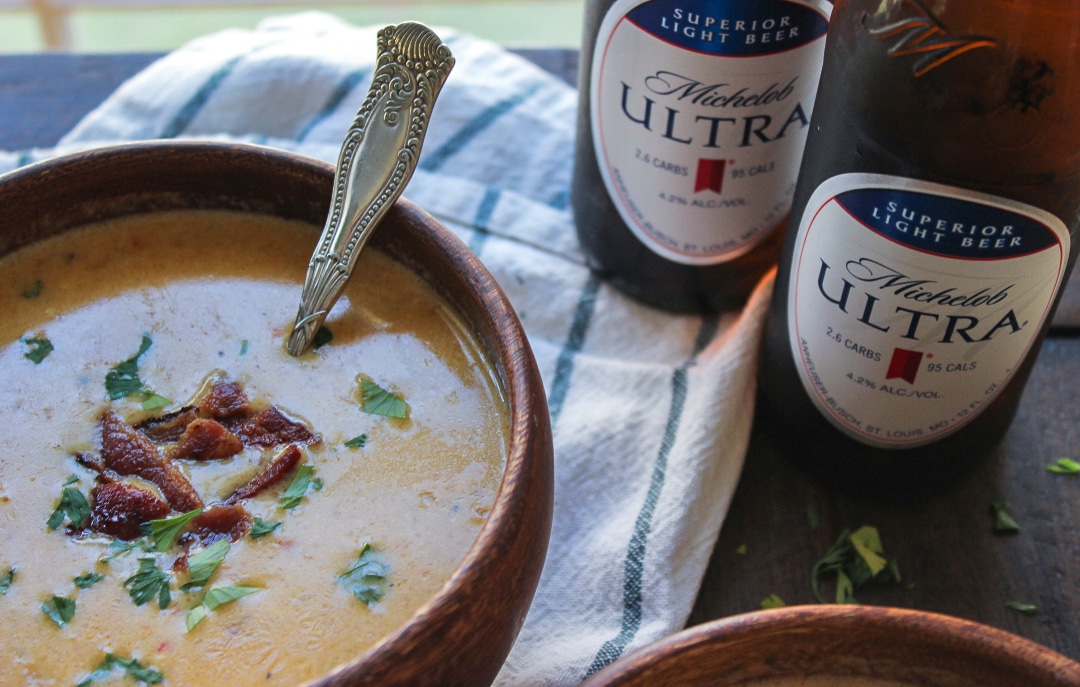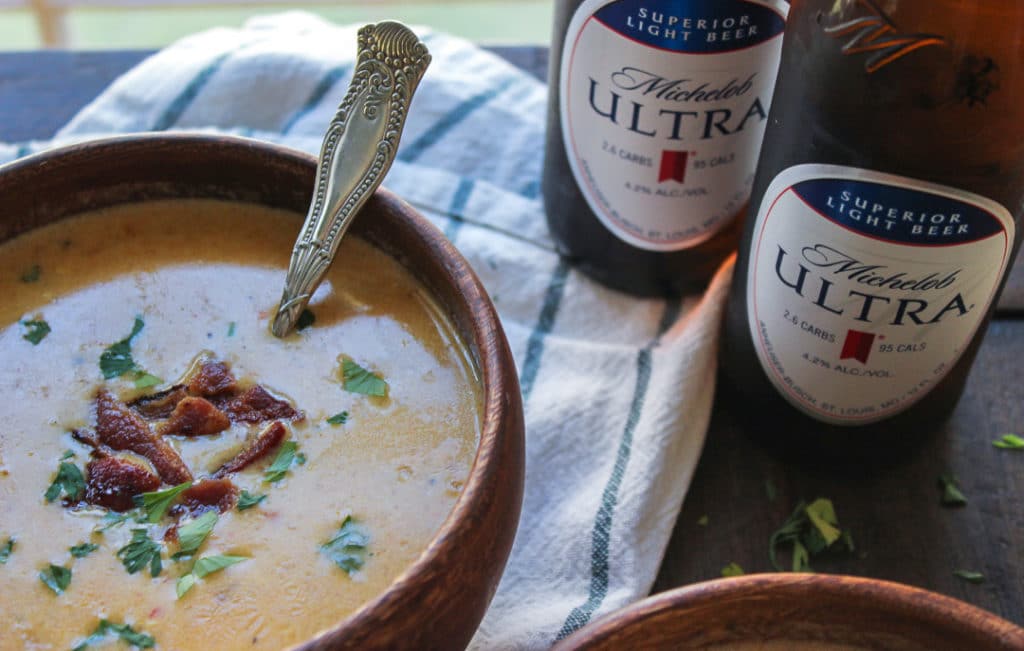 The second trick I like to use is more "natural", and that is to use egg yolks. Egg yolks also act as a binding and thickening agent as well. Now, in order to do this you need to keep a few things in mind.
The first is that the yolks don't thicken the soup quite as much as the xanthan gum does. However, my suggestion if you use this method is to just add less stock if needed and go from there).
Also, egg yolks do best in hot liquids when they are tempered. This means, you bring the raw yolks up to temperature first before adding them to a large pot of hot liquid (and accidentally creating scrambled eggs).
I temper by ladling a cup of the soup broth/liquid into the egg yolks first. This helps bring them to temperature before adding them to the larger pot.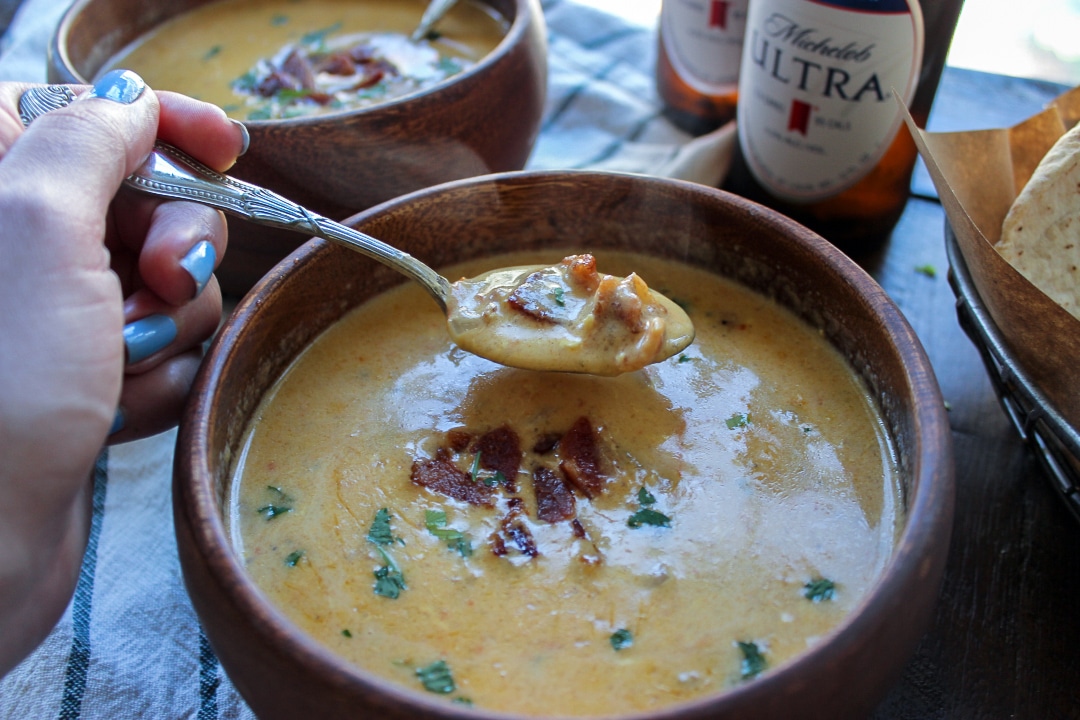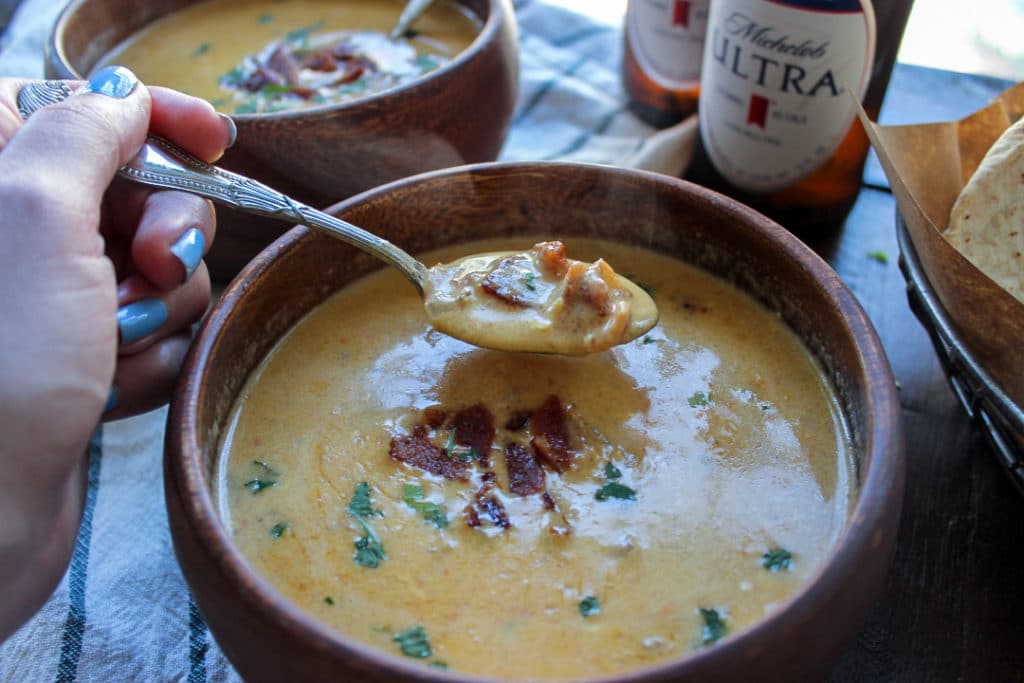 Last tip for today, is to grate your own cheese for the soup. Pre-shredded cheese is coated in processed products to help prevent sticking and clumping while it is in the package.
That's great, however it makes it less ideal for melting and becoming a nice cohesive cheese sauce. The best part about this soup? I made it in under 30 minutes and the leftovers taste even better than the day I first made it. Hope you love this big bowl of low carb comfort food!
Bon Appeteach,
-L
Yield: 6
Low Carb Beer Cheese Soup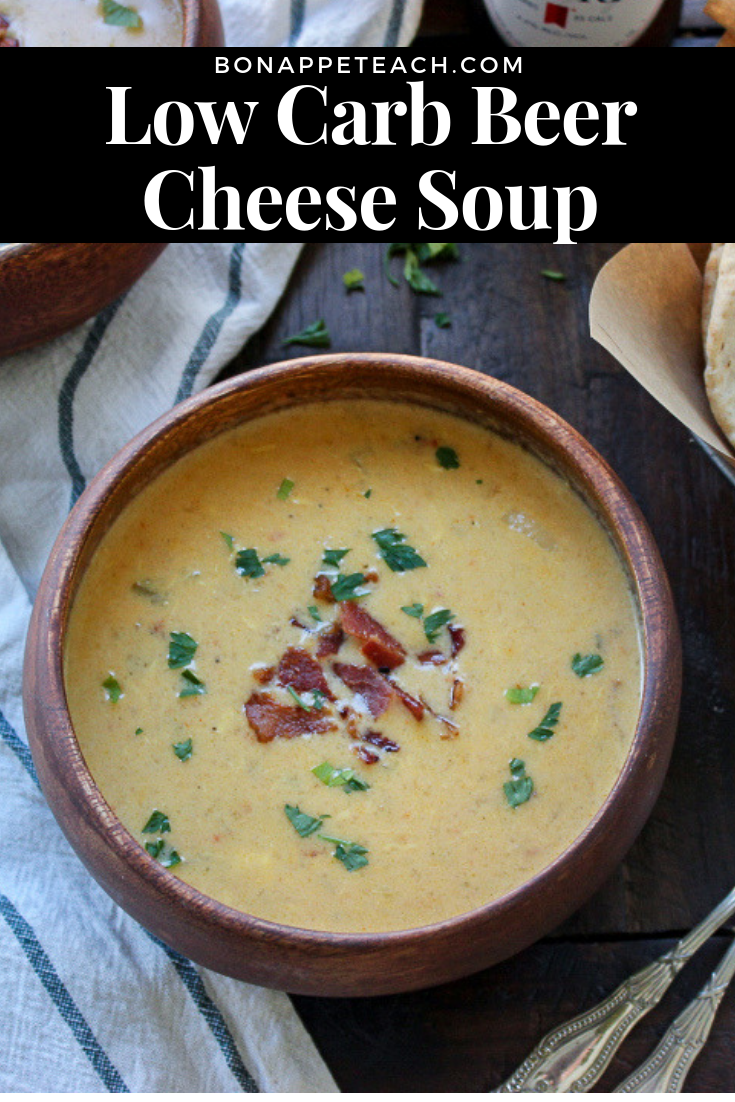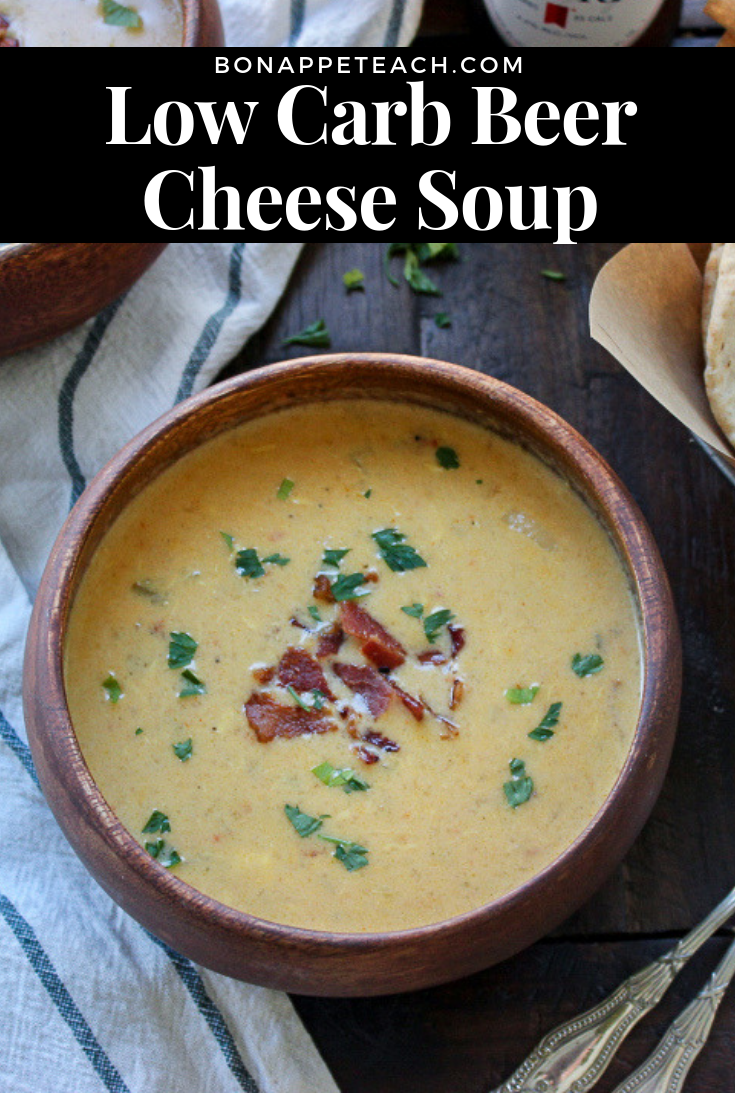 The perfect low carb version of a classic fall style beer cheese soup! It's cheesy, creamy, and full of flavor.
Ingredients
3 cups Chicken Stock (or veggie)
1, 12 oz. Low Carb Beer (I used Michelob Ultra)
1/2 cup Heavy Cream
2 tsp Xanthan Gum (or 4 egg yolks *see note above*)
6 Slices of Cooked Bacon, crumbled
12 oz. Shredded Cheddar
1 tbsp. Butter
1/2 cup Onion, diced small
1-2 Garlic Cloves, minced
1/2 Red Pepper, diced small
1 Tbsp. Dijon Mustard
1 tsp. Celery Salt
1 tsp. Black Pepper
1/2 tsp Paprika
1/4 tsp Cayenne
Instructions
1. Begin by prepping the ingredients so everything is ready when needed, the recipe will move quickly. Cook and crumble the bacon, diced the veggies, and grate the cheese.

2. In a stock pot on medium heat, add the butter (or use bacon grease if preferred) to the pot and saute the pepper and onion for about 5 minutes. Add the garlic and cook for an additional minutes. Season the veggies with a little salt and pepper. Add in the celery salt, black pepper, paprika and cayenne.

3. Next, add in the chicken stock, beer, and heavy cream. Allow the mixture to begin to heat through and stir occasionally.

4. Once the broth base of the soup begins to heat through, add the thickening agent (xanthan gum or egg yolks). If adding xanthan gum, to prevent clumping, add some of the hot liquid into a small bowl with the powder and dissolve it before adding back into the pot. If opting to add egg yolks instead, be sure to temper the mixture as well. Continue to cook the soup and allow it to thicken. Stir continuously.

7. Once the soup begins to thicken, add the grated cheese a handful at a time. Stir and allow each handful to melt before adding more. Serve with crumble bacon over the top and enjoy!