How To Smoke Infuse Simple Syrup (Keto Optional)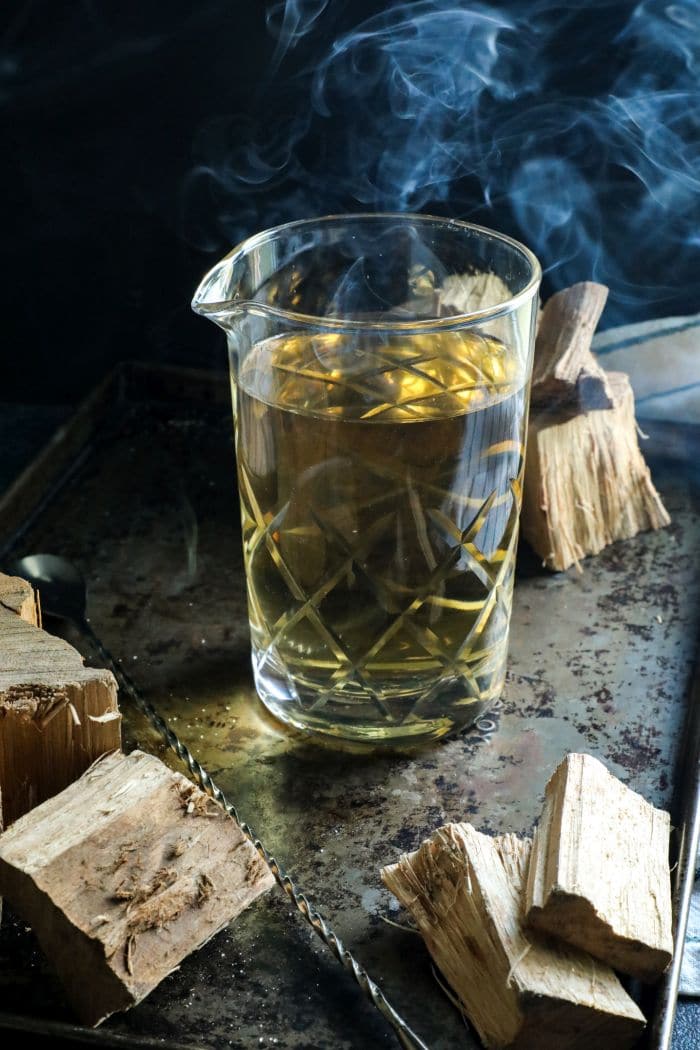 Learn how to infuse your own homemade simple syrups with smoke at home and elevate your favorite cocktails with this easy to follow recipe that's quick and affordable.
I have spent the past two and a half years learning and experimenting with making a variety of craft cocktails, many of which are low carb and keto friendly too. Smoke infusion has been around for several years, but has has gained more popularity for the home bartender with the popularity of items like this smoking gun. While this is a trendy and cook way to make a keto friendly smoked cocktail for instance, its done at a pretty steep price point of up to $150.
Luckily I have a great compromise and a much cheaper solution! Because if you love the idea of a smoked libation, but you don't want to spend hundreds of dollars to achieve it, try making these easy and affordable ways to smoke infuse a cocktail instead.
I already have mastered the art of smoked ice and I also am the self titled queen of Keto Simple Syrup (a great way to lower your carb count and make a sugar free mixed drink), so I knew I could easily recreate a smoked simple syrup too.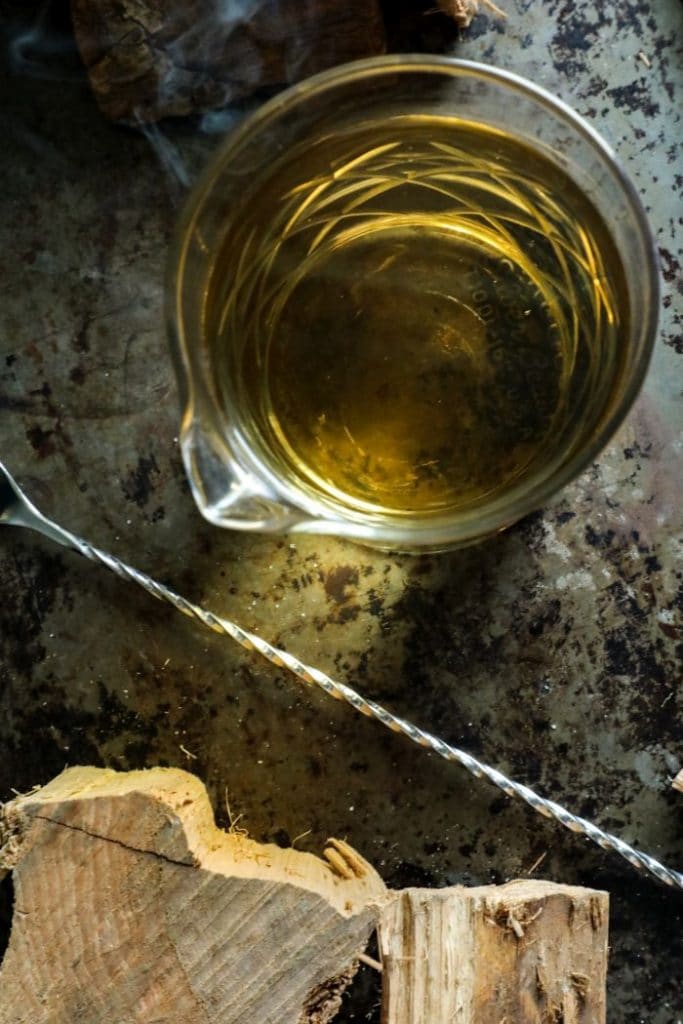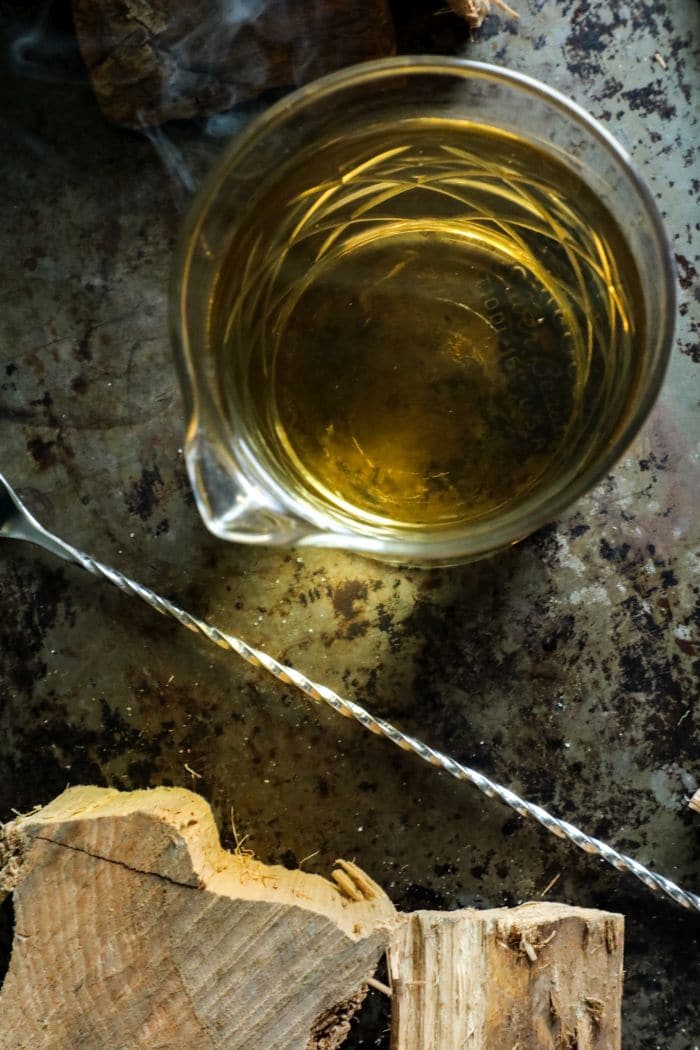 Below you will find a whole tutorial on how you can easily do this at home with your grill and create a rich smoke flavor for any cocktail (whether your on a low carb keto diet or not). Get the tips and techniques from this post and fire up the grill!
"School" Supplies:
Grill
Small Pot
Measuring Cups
Whisk
Wood
Oven Mitts
"Class" Notes:
A smokey, rich, savory cocktail is definitely something worth trying. If you're like me and are into the craft cocktail scene, then maybe you're itching to try your hand at a few of these ways to get a smoky flavored cocktail at home.
The craft component of smoke infusion in my opinion is really all about balance. Too much smoke and the cocktail is completely overpowered (this is especially true if you don't use the right woods to infuse with for example). I personally enjoy smoke infusing other things like ice or syrups for mixers, because it helps layer the cocktail with the smoke flavor and allows for other flavors within the drink to also shine through. Let's dive in!
How to make smoke infused cocktails without a smoking gun?
Whether you have a gas or charcoal grill, smoking is possible. With the help of wood chips and a little know how, and a few hours, you can easily create different infusions all at home.
What is simple syrup? How do I make it keto friendly?
Simple syrup is a 1:1 ratio "syrup" of equal parts sugar to water. This standard mixture is heated together on the stove, simmered, and left to cool before storing and using in a variety of cocktails. Syrups are used to sweetened cocktails over regular granulated sugar because it adds texture and is already dissolved (no one wants gritty undissolved sugar bits in their ice cold cocktail).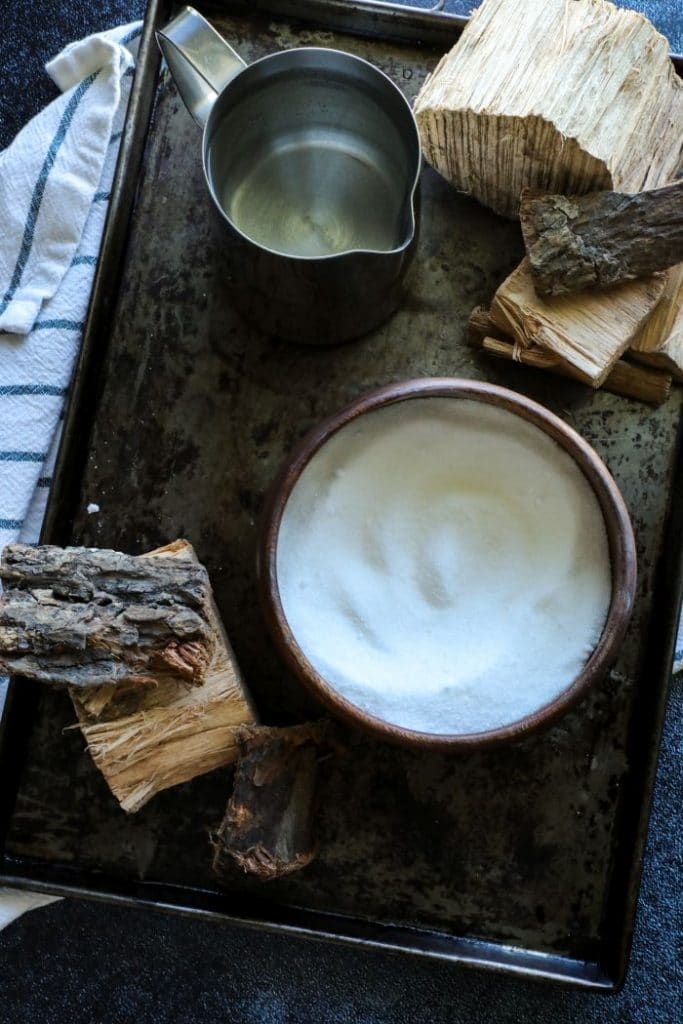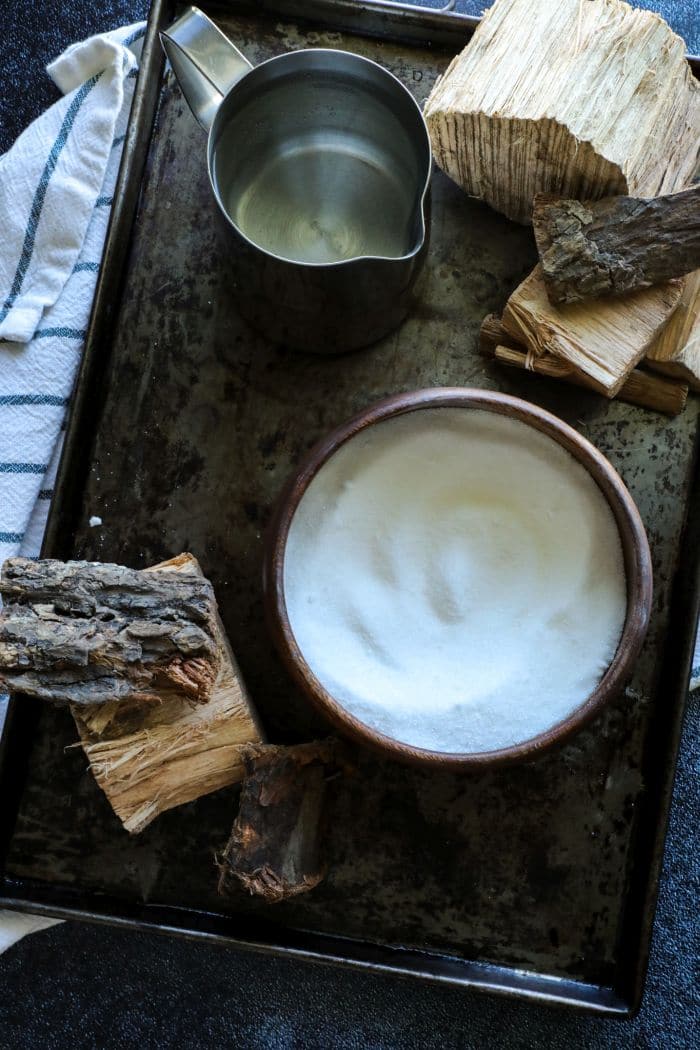 Read more about everything you need to know to making a keto simple syrup that can then be smoke infused in my post here. Not all low carb sweeteners are the same, so check it out before starting to make this a low carb count syrup.
What sweeteners should I use?
For a regular (non-keto syrup) you could use regular granulated sugar, brown sugar, Turbinado, or even honey. If you are a keto low carb follower and you're looking for the right sweetener (mentioned above) then I highly recommend Allulose for a true simple syrup consistency.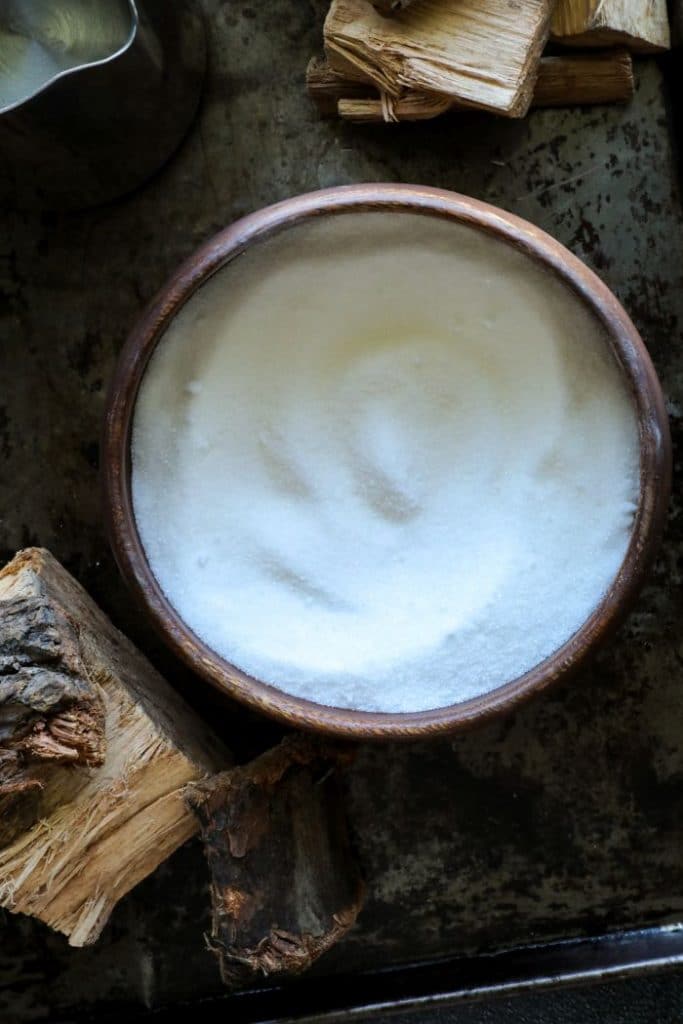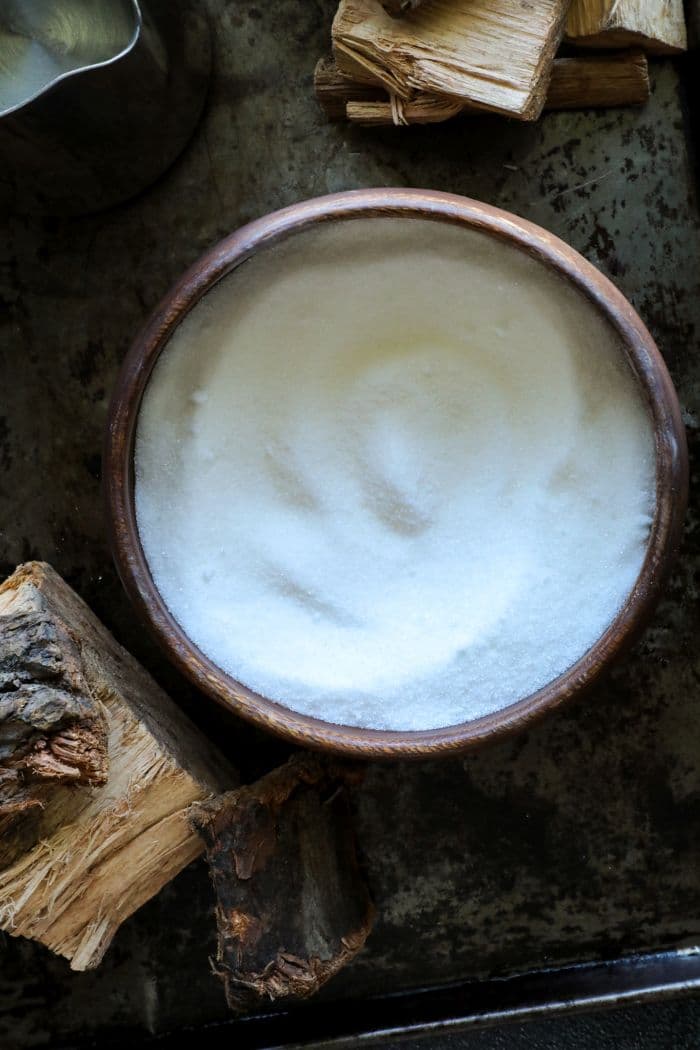 What wood should I use for smoked syrups?
You have a lot of wood options when it comes to smoking food because different types of wood can carry different intensities of smoke. Wood types range in intensity. For this cook however, stick with one type to keep it simple (pun intended) and get a clean smoke flavor to your syrup.
I recommend one of these milder types of wood for this cook:
Cherry Wood
Apple Wood
Pecan Wood
Peach Wood
Alder Wood
How do I smoke infuse the syrup?
While you can make this entirely on the grill start to finish, I think it's easiest to dissolve the sugar first indoors on your stove and then transfer the syrup to the grill after this is done to be infused.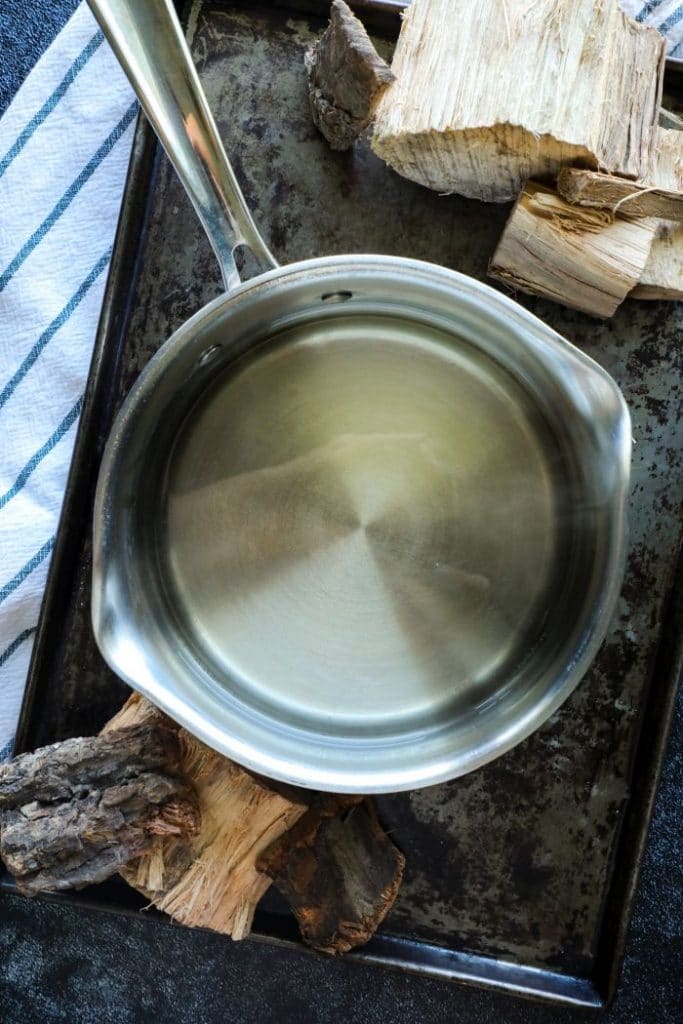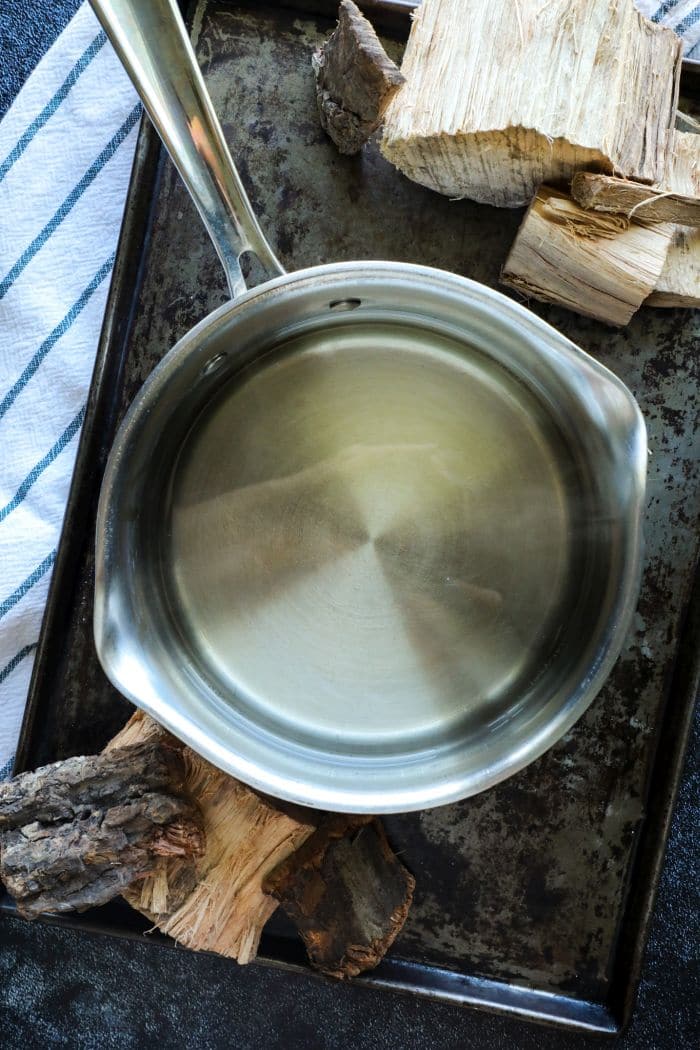 Because you will get some evaporation (not a bad thing either, I actually prefer a thicker syrup personally) I think it's best to work with at least 2 cups of water and 2 cups of the sweetener of your choice. Set your grill for indirect heat with your wood of choice (I used pecan for this cook) and keep the grill around 200 F. Close the lid and let it infuse for around 1-2 hours depending on your desired amount of smoke flavor.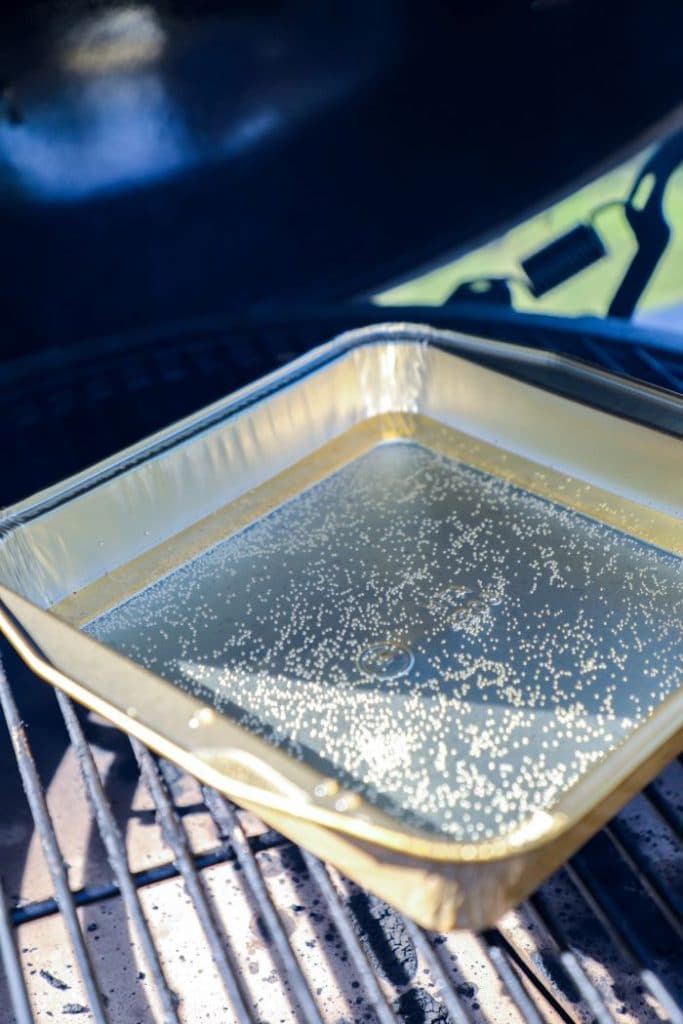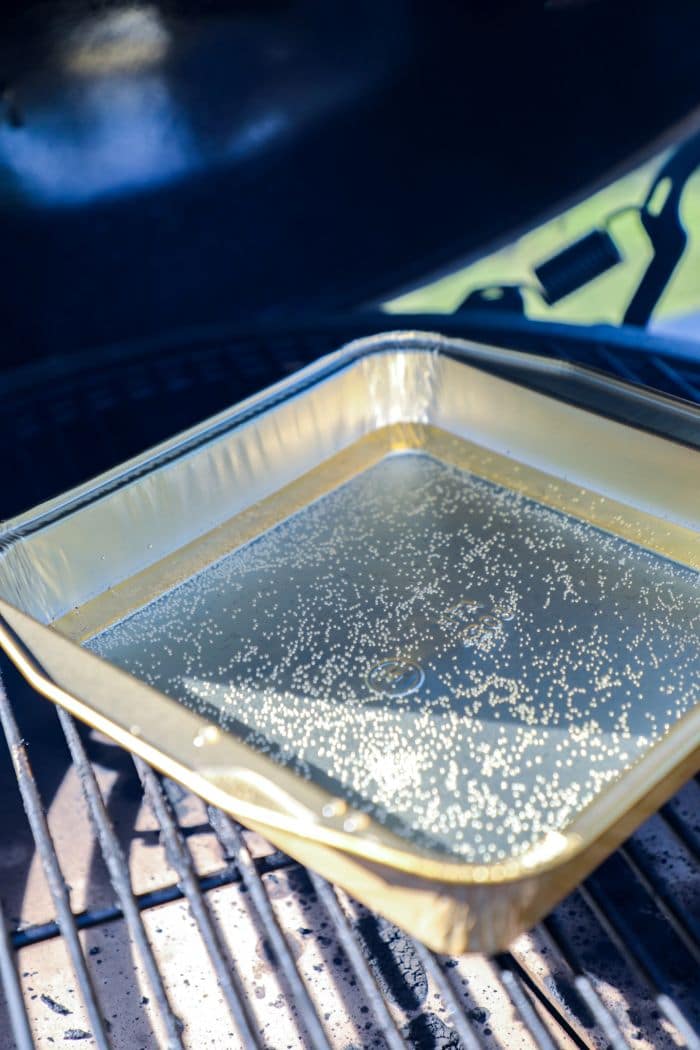 Want to add other flavors? Infuse it with things like smoked fruit, ginger, or make it spicy and flavorful like I did for this Hatch Chili Margarita.
Serving and storing:
Once your syrup is infused, let it cool completely before storing in a sealed jar or container. To use for a drink (like a smoked old fashioned), just simply add it to a cocktail pitcher or cocktail shaker with your other ingredients, mix with ice, and add to your favorite drink!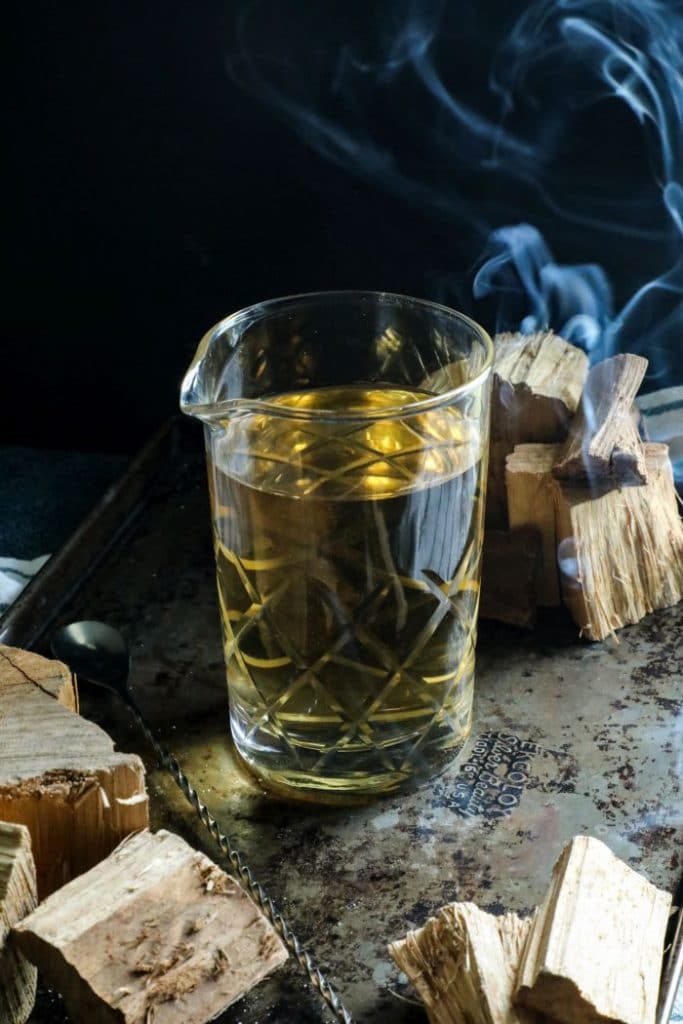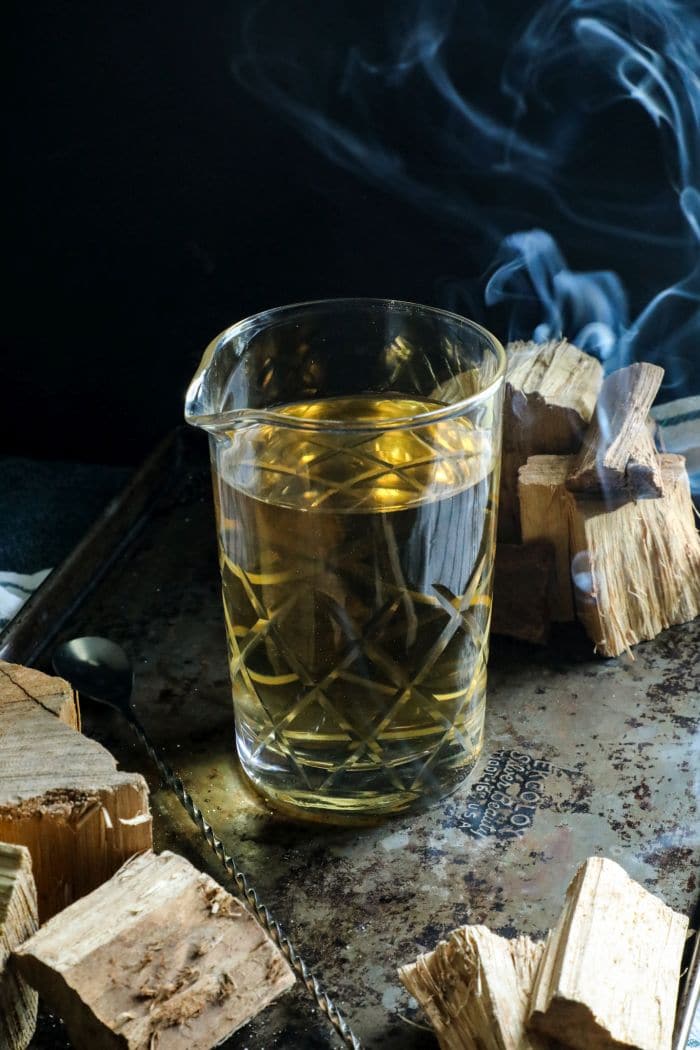 Pro Tip: Want to preserve your syrup longer? I always add a splash of Everclear (or other high proof vodka) to my syrups and homemade mixers to help them last longer in the fridge!
Mix up something delicious with your new syrup and make a fun smokey keto cocktail with one of these drinks:
Bon Appeteach,
-L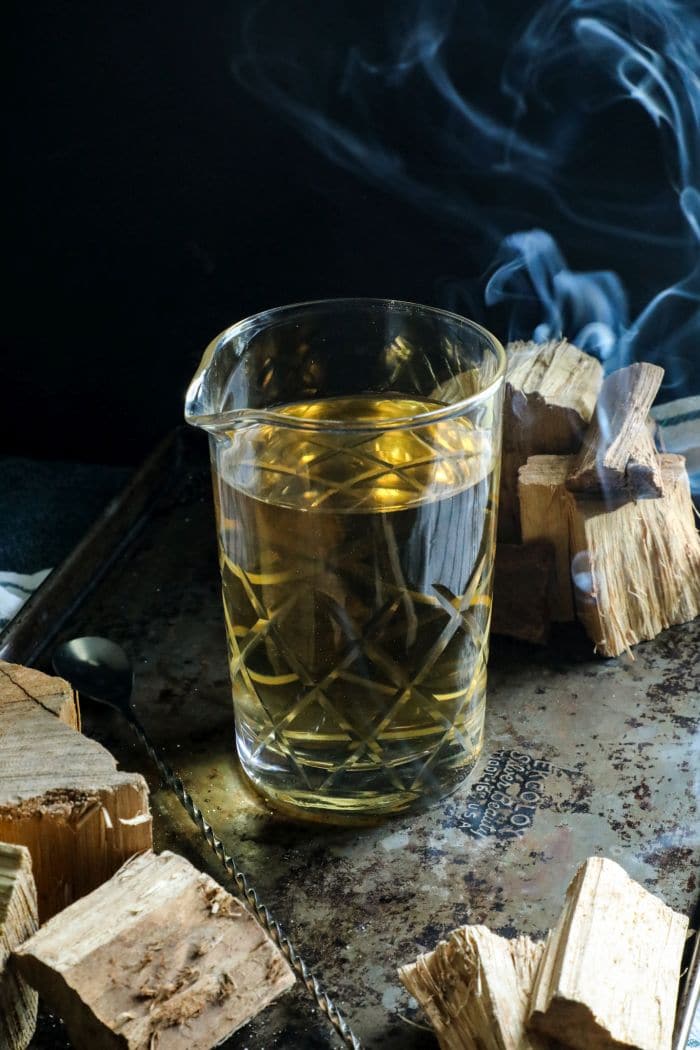 How To Smoke Infuse Simple Syrup (Keto Optional)
Learn how to infuse your own homemade simple syrups with smoke at home and elevate your favorite cocktails with this easy to follow recipe that's quick and affordable.
Print
Pin
Rate
Ingredients
2

Cups

Water

2

Cups

Sweetener of Choice

See post above for sweetener options including low carb sweeteners

Wood Of Choice

mild woods recommended
Instructions
In a pot on the stove, heat your water and add the sweetener of choice and whisk until dissolved. When the water reaches a boil, remove it from the heat.

Set your grill up for indirect cooking and preheat it to 200 F. Add the wood of choice (mild is better) and place your syrup on the grill. Smoke infuse for up to two hours for best results.

Remove it from the heat and let it cool until room temperature. Store in a container or jar and refrigerate until needed.
Notes
Preserve the syrup for a longer period of time by adding a splash of high proof vodka to the mixture before storing.
Nutrition
Serving:
1
g
|
Calories:
10
kcal
|
Carbohydrates:
3
g
|
Sodium:
1
mg
|
Sugar:
2
g