5 Tips For Making Rotisserie Chicken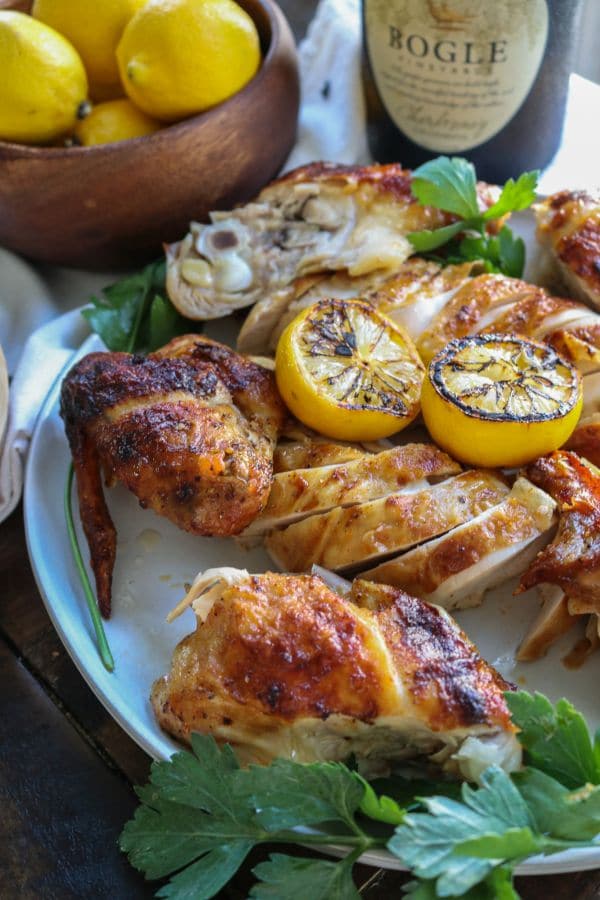 Learn to make the best homemade rotisserie chicken on the grill with these helpful and foolproof tips!
We've all had a store bought rotisserie chicken. Many times these chickens are sitting under a warming lamp for several hours before you buy one.
Is it convenient? Of course.
But with only a small amount of prep work and these 5 helpful tips, you can easily create the most mouthwatering grilled rotisserie chicken right at home.
Below you will find these 5 easy tips for elevating your grilled rotisserie chicken game and taking it to the next level. Make sure you watch the full video too!
Don't have a rotisserie attachment for your grill? Check out my guide for 7 tips to successfully grilling chicken or my favorite easy weeknight roasted chicken or my favorite Low Carb Mojo Chicken recipe too.
Tip #1: Pat The Chicken Dry
In order to achieve crispy chicken skin any time you roast, bake, or grill, you need to remove as much excess moisture from the outside and inside of the bird.
Typically, whole chickens come wrapped in plastic and sit in a lot of it's own juices, take a few papers towels and remove as much of the liquid from the outside of the bird as possible.
This helps ensure you cook and crisp the skin, and not steam it. Try these three methods for drying out the chicken skin:
Pat it dry with paper towels
Leave it on a tray in your fridge, uncovered overnight before cooking to help dry out the skin
Use baking powder or cornstarch in your dry rub and let it rest a few hours to help absorb excess moisture.
Tip #2: Use A Bowl To Assemble
Have you ever tried to put a giant raw chicken onto a rotisserie spit? It's not difficult, but it is AWKWARD!
You're handling raw chicken and trying to maneuver the spit through the chicken and secure it with the forks. This can be messy and tricky if you're trying to assemble it so the weight is also even.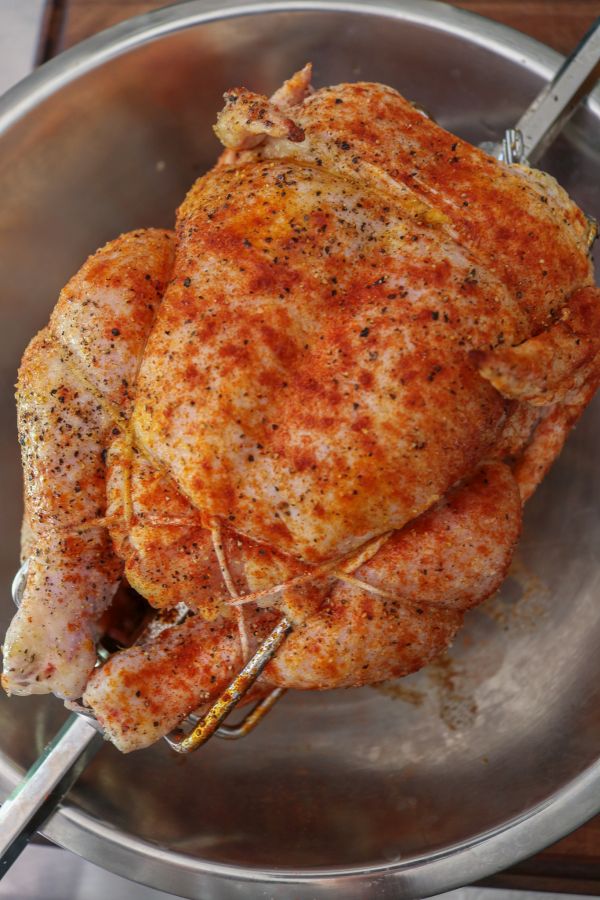 I like to use a large metal bowl to balance the rotisserie spit on. It basically acts as another set of hands and makes it easier to secure the forks that hold the chicken in place.
Tip #3: Season Once It's On The Spit
Once you have the chicken secured to the spit, use that bowl to help you season by rotating it as you go. I like to add my go to sugar free (keto) all purpose BBQ rub.
The beautiful thing about preparing your own rotisserie chicken at home is you have some many ways to customize the flavor profile. So go crazy (on flavor) without making a crazy mess with this tip.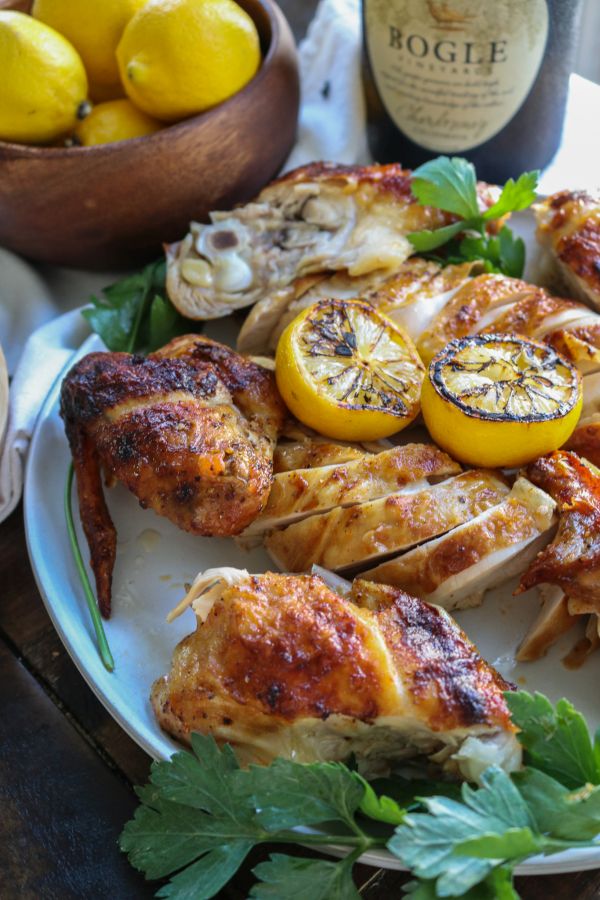 Tip #4: Prepare For Easy Clean Up
Scrubbing off cooked on chicken juice and fat from the drip pan is not exactly how I want to enjoy my night, especially after enjoying such a delicious meal.
Keep clean up quick and easy by lining the drip pan with foil so all you have to do is remove it and toss it away. I'm definitely ok with fewer dishes, aren't you?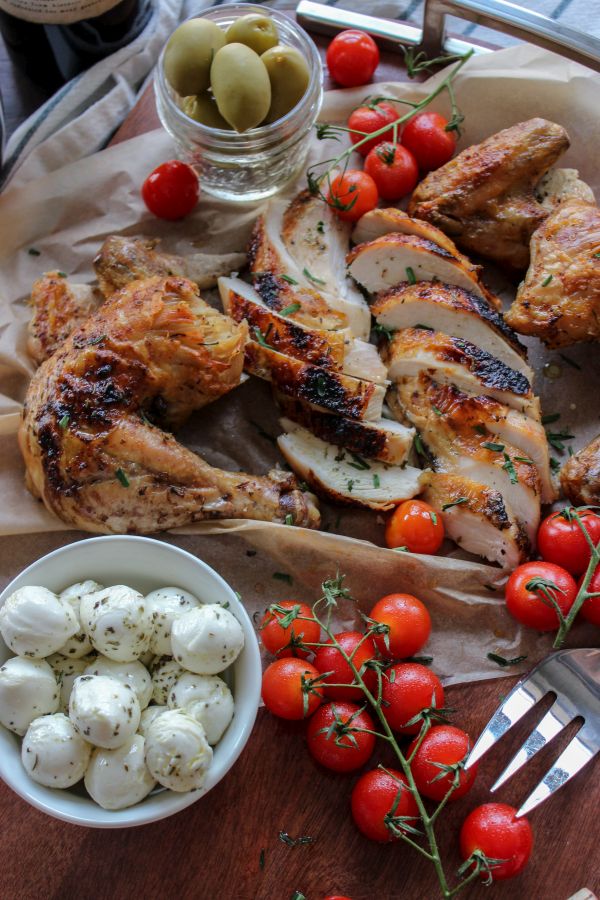 Tip #5: Patience Is Key
Yes, you read that right. Patience. Is. Key. When the chicken comes of the rotisserie, you're going to want to dig in but hold off!
Let the juices settle and redistribute back across the chicken before cutting it. I like to tent the chicken with a small piece of foil and sip some wine for about 10 minutes or so.
Then go crazy (there's that word again) on this chicken dinner! Try pairing your rotisserie chicken with one of these healthy, show stopping sides like grilled cauliflower mac and cheese or my roasted garlic herb butter cauliflower mash.
Yield: 4
How To Grill Rotisserie Chicken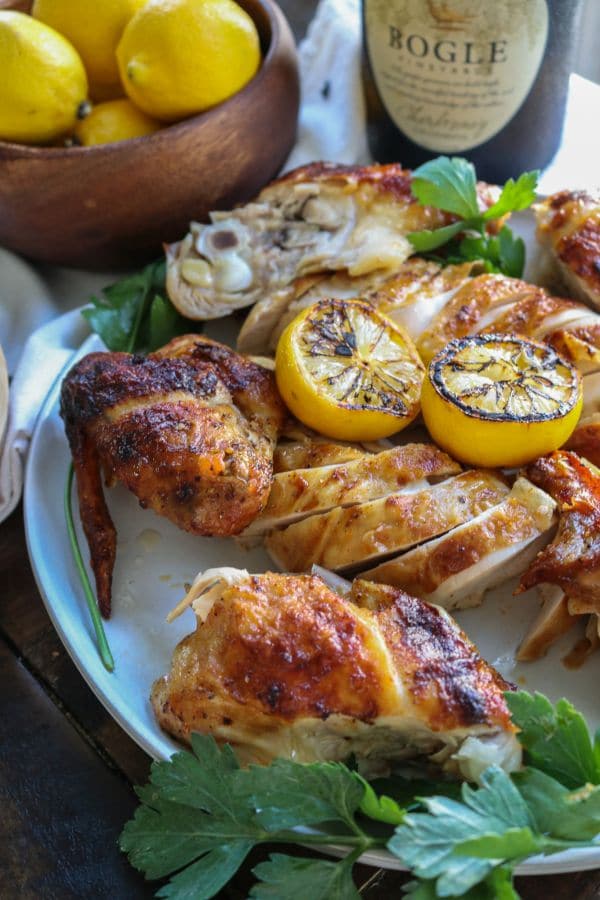 A fool proof recipe guide to making a perfect grilled rotisserie style chicken at home.
Cook Time
1 hour
30 minutes
Additional Time
15 minutes
Total Time
2 hours
15 minutes
Ingredients
1 Whole Chicken (4 lbs. max)
3 tbsp. All Purpose BBQ Rub
Salt & Pepper to taste
1 tbsp. Baking Powder (optional)
Butcher's Twine (as needed)
Instructions
Remove your chicken from the packaging and pat dry with a paper towel to remove the moisture. Leave uncovered overnight in the fridge or add the baking powder to your dry rub and let it sit for a few hours in the fridge to soak up the moisture so the skin gets nice and crispy. Coat the whole chicken (top/bottom and under skin if desired) with the BBQ seasoning listed or of your choice.
Follow the video guide above to help you tie your chicken so the wings and legs are secure before adding to the spit.
Secure your chicken to the spit by placing the spit through the cavity of the chicken and use a bowl (pictured above) to help you balance and center the chicken's weight over the spit while attaching the forks. Tighten and set it aside.
Preheat your grill to medium heat (450 F range) and set your rotisserie motor to medium speed. Cook your chicken roughly 1.5 hours or so. It should reach a final internal temperature of 165 F.
Remove the chicken carefully off the spit and tent with foil for 10-15 minutes before removing the twine and slicing the chicken into servable pieces.
Notes
See the video to help guide you through this process and have fun!
Nutrition Information:
Yield:
4
Serving Size:
1
Amount Per Serving:
Calories:

357
Total Fat:

20g
Saturated Fat:

6g
Trans Fat:

0g
Unsaturated Fat:

12g
Cholesterol:

132mg
Sodium:

123mg
Carbohydrates:

1g
Net Carbohydrates:

1g
Fiber:

0g
Sugar:

0g
Protein:

41g