10+ Popular BBQ Recipes For the 4th of July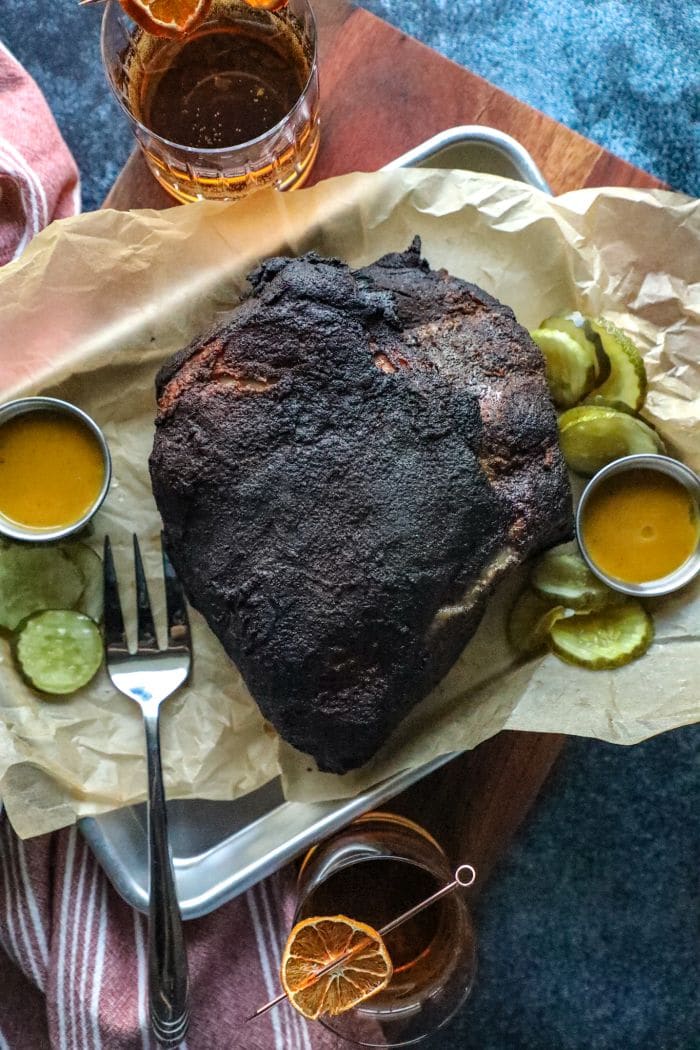 Trying to decide what to smoke for the 4th of July? Check out this list of 10+ popular smoke friendly BBQ recipes that will happily feed a crowd and having them asking for seconds!
Whether you're celebrating with a whole crowd of family and friends or keeping the festivities smaller this year, you need to be prepared to smoke some delicious BBQ for the biggest grilling holiday of the year. Nothing screams "America!", quite as well as a deliciously smoked brisket, a juicy rack of ribs, or even something as classic as hot dogs and hamburgers.
Let me help you plan out and step up your grilling game so you can fire up your pellet, kamado, charcoal, or gas grill and throw down like the BBQ pitmaster you are. Let's dive in!
Don't forget to check out my master posts on How to Reverse Sear a Steak or these need to know 7 tips on making the best grilled chicken too!
How do I know how much meat to cook for a BBQ?
Before you get started on picking a recipe, it's important to have an idea of how much food you need to cook. This may also determine what you decide to make and how much space you have on your grill.
I spent three years catering for crowds of up to 300 people. A good rule of thumb for knowing how much meat to serve your guests is to figure in around 1/2 lb. per person. If you're planning to cook multiple types of BBQ, have a good idea of what you think may be more popular and plan accordingly.
Often times BBQ's are buffet style and guests will want to sample a little of everything. No host ever wants to run out of food either, so I like to err on the side of caution (also, leftovers are always the best part) and prepare a little extra as needed.
BBQ Tips for Entertaining:
Here are some other helpful tips to get you started!
Plan backwards – Meaning, look at what time you want to serve your food and work your way back to giving yourself an approximate time to start your grill and get your food cooking and finished appropriately.
Prep ahead of time- Depending on what type of protein you go with, it may need some additional trimming, brining, or drying out in the fridge. Make sure you give yourself the time to get it done before the day of.
Start with a clean grill- You are already on a timeline the day of, make sure your grills are cleaned, prepped, and ready to be fired up before the actual day to lower the stress and mess.
Give yourself extra time- The awesome thing about BBQ, is that you can easily hold it in a cooler wrapped in a warm towel, or toss it on low in your oven to hold them to temperature when it's fully done. BBQ can be fickle at times, so give yourself some extra space so you're not rushed.
Pick something you've made before- If you're hosting and serving food to a crowd of people, then cook something you feel confident making. Today is NOT the day to try something new on the grill. Have fun and enjoy yourself too!
Below are 10+ BBQ recipes you can recreate on any smoker or grill. Click the links below to guide you to the recipe or save this post to Pinterest or bookmark it for later. Happy smoking friends!
10+ Popular BBQ Recipes For the 4th of July
Love to BBQ for a crowd? Choose a recipe (or multiple) from my favorites below so you can be the best backyard pitmaster on the biggest grilling holiday of the year!