Low Carb Loaded Kansas City Hot Dogs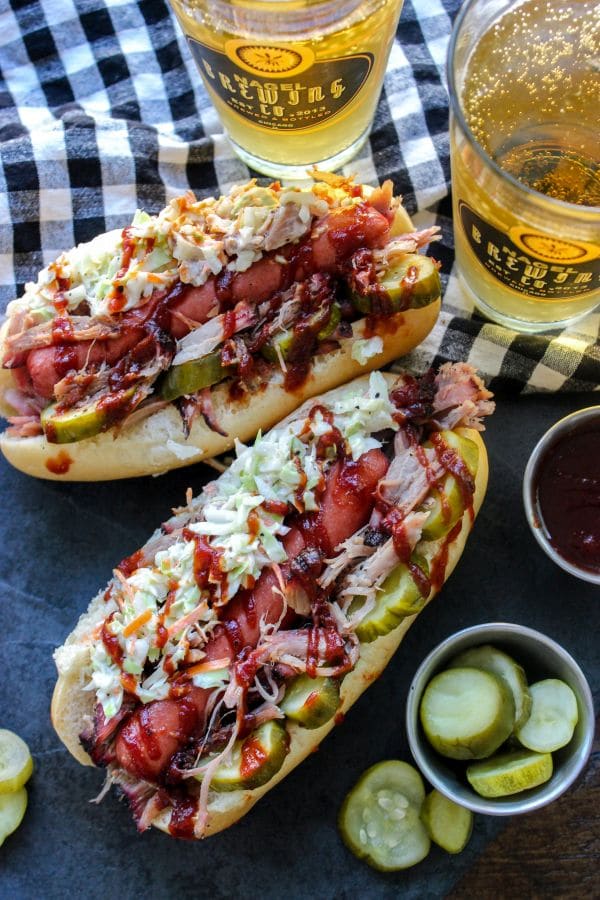 Basic hot dogs stand aside with this fully loaded, low carb version of a Kansas City inspired style hot dog! All beef hot dog, filled with pulled pork, keto coleslaw and a keto KC style BBQ sauce too!
I'm a Chicago girl living in the land of Midwest BBQ my friends. This recipe was bound to happen.
If you've been following me over the last year and a half on the Instagrams, then you know I'm fond of a few things.
I love to grill and BBQ (often find me doing both every week, year round)
I like pickles. This has pickles. Therefore I like this, a lot.
I'm so so fond of a classic Chicago dog… but when in KC, do as the people do!
What I love about this recipe is that it actually is low carb too! That means, keto friendly hot dog buns and homemade pulled pork tossed in my Low Carb Smoky BBQ Sauce and topped with keto coleslaw too.
This may be a bit time intensive just for a hot dog… but it was an epic hot dog. Plus, the pulled pork can be pre-purchased from stores or if you don't have time/don't know how to Que, check out my friend Anna's slow cooker keto pulled pork recipe!
Regardless of your pulled pork approach, you gotta try this hot dog! Put out all the fixings make it a whole big thing for the carb and low carb eaters alike this summer at your next party, picnic, or get together! Find the full recipe below and read on for the tips and tricks!
"School" Supplies:
"Class" Notes:
I'm going to break this doggie down bit by bit and give you a quick overview. The actual recipe will focus more on the assembly of each of the toppings/ parts as everyone has a different approach to their BBQ.
Low Carb Pulled Pork –
I made a classic pulled pork on my smoker from a bone in pork shoulder. The basics here were a simple salt, pepper, and Aleppo pepper spice rub with a mustard binder. I used a heavier blend of pecan to cherry wood and smoked my shoulder at 270 F for roughly 8 hours.
Every piece of meat is different. I do recommend if you smoke your own pork to spray every hour to keep the bark moist after the initial 2 hour mark. I wrapped my pork the last 2 hours as well to really help break down the rest of the connective tissue. You can test the temperature of your pork for doneness (I like it aroun 205-208 F), but really you want to probe it and for it to feel very soft and tender.
Allow a short rest (about 20-30 min) if any carryover cooking is necessary. Pull your pork and set it aside. If you want a slow cooker recipe, I mentioned above how my fellow keto blogger friend Anna has a great slow cooker / instant pot pulled pork recipe too.
The "Keto" Hot Dog Buns-
I recently have been purchasing a few new products to try out from Great Low Carb Bread Co. I miss a traditional hot dog bun, these low carb versions work if you're really in a pinch (pictured).
If you want to opt out of the bun all together, that's totally doable. Check out how I built a Low Carb Gourmet Hot Dog Bar last year for summer entertaining. Provide buns for the carb eaters and bowls/ baskets for the low carbers! Works for everyone!
The Toppings:
Since this is a KC dog, we gotta represent all that is awesome about a good BBQ platter on this dog. That starts with a pile of pulled pork, an all beef grilled or steamed dog, and a whole slathering of toppings.
I went with a nice side of my keto coleslaw, some spicy pickles, and of course some low carb bbq sauce. There are plenty of keto friendly sauces on the market out there too, so don't feel like you have to make everything homemade (but it's also cool if you want to do that too).
Pile it all in a bowl or in a keto friendly hot dog bun and pour yourself a low carb beer or beverage to bring it all home! You seriously will feel so satisfied with this Keto KC style hot dog you won't even miss the carbs. Also, if you find yourself the hostess with the mostess this summer too, be sure to check out this fun Low Carb Hot Dog Bar you can easily create to keep things keto or carb friendly (something for everyone) at your next BBQ!
If you love this recipe, be sure to also check out:
Keto Kansas City Style BBQ Sauce
Bon Appeteach,
-L
Yield: 8
Low Carb Kansas City Hot Dogs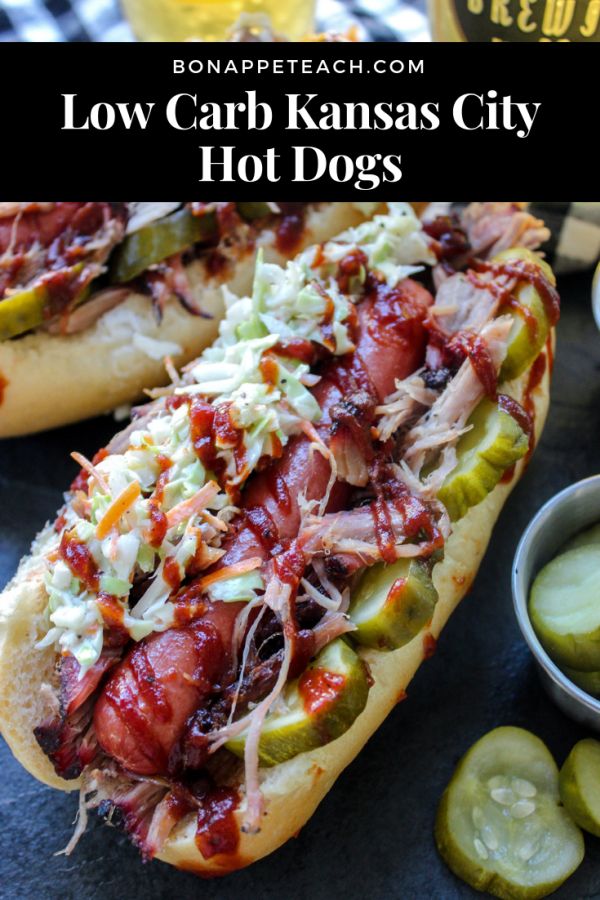 Ingredients
8 Hot Dogs
1/2 lb Pulled Pork
Pickles
Instructions
Prep your pork as desired and steam or grill your hot dogs.
In a bun add the pulled pork, a hot dog, and top with the keto slaw, pickles, and some low carb BBQ sauce as desired.