Smoked Crispy Onion Crusted Pork Tenderloin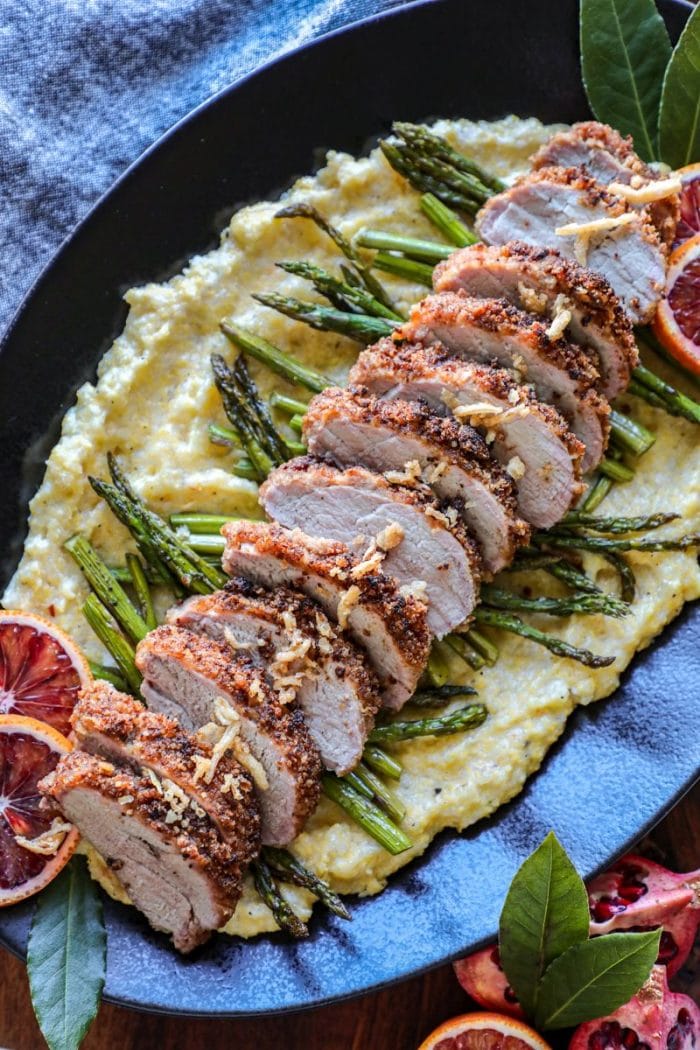 Switch things up with this easy and flavor packed French fried onion "breaded" pork tenderloin recipe you can make on your smoker or grill!
Do you love those crispy canned French fried onions as much as I do? They're truly addictive in my opinion. I often only have them around during the holidays (for that healthier from scratch low carb green bean casserole of course) and for adding onto salads, etc.
If you do find yourself with some leftover crispy onions, you have to try this smoked pork tenderloin recipe! It's a great alternative to a traditional breaded pork chop and is even better if you throw it onto your charcoal or pellet grill too.
I smoked a smaller pork tenderloin for this recipe, but you can follow my guide on how to smoke a whole pork loin roast as well if you prefer. Both cuts (though slightly different) would work very well for this cook and would even be a great alternative to your holiday table as the main dish.
Start by reading through the full outline of this recipe below to help answer commonly asked questions, get ingredient substitutions, and find the best tips and techniques for having a foolproof outcome. Let's dive in!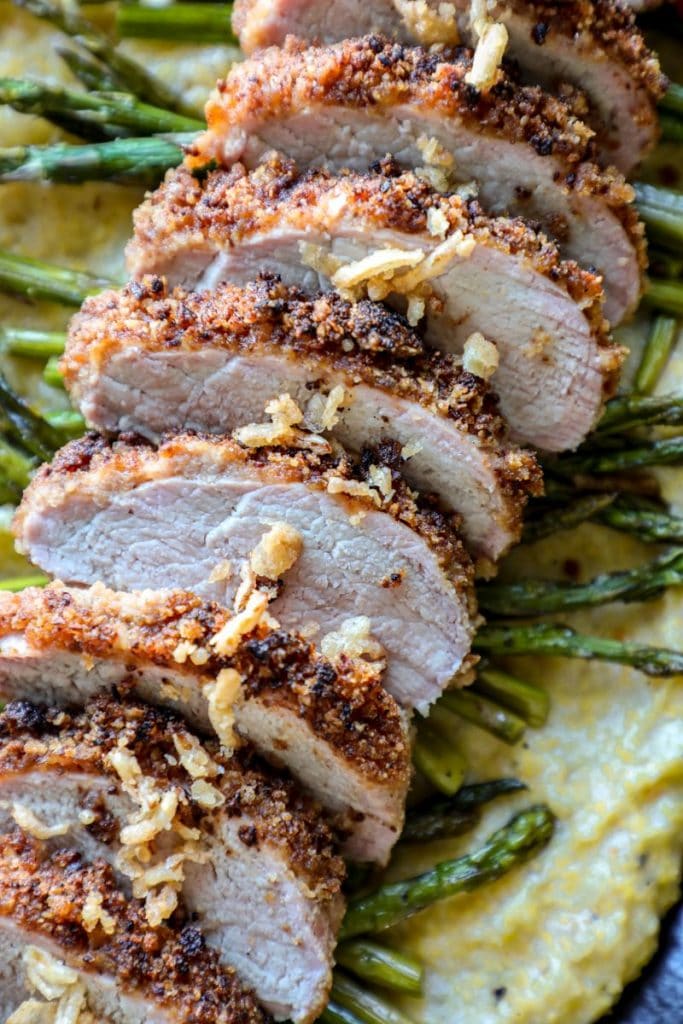 "School" Supplies:
Foil Baking Pan (or baking sheet)
Cooling Rack (for elevating your pork tenderloin so the bottom doesn't get soggy)
Wide, Shallow Bowls
Knife and Cutting Board
Rolling Pin & Plastic Bag
Oven Mitts
"Class" Notes:
I work hard to thoroughly test all the recipes here at Bon Appeteach to help troubleshoot dishes as much as possible. While ingredients, brands, and appliances may vary, use the detailed notes below to help guide you through this recipe with ease.
Feedback is always welcome and helpful to other cooks and readers. I'd love to hear from you, so please leave a rating on the recipe card or a comment regarding your experiences. Feel free to also share your creations or message me over on Instagram.
How to prep the French friend onion bread crumbs:
There are a handful of brands of crispy French fried onions. I like to find a brand that has fewer additives and cleaner ingredients (just my preference). I used the Trader Joe's brand for this.
While the onion pieces generally are very crispy, I find that running them through a food processor to create a bread crumb coating is the faster method for preparing them into a finer bread crumb. You can also just use a rolling pin and a plastic bag to crush them too.
If you find this process makes the fried onion pieces become slightly damp from the natural moisture of the onions, you can opt to dry them out on a baking sheet in the oven for 5-10 minutes at 350 F.
Don't want to use fried onions? Swap with zero carb pork rind crumbs or traditional cracker crumbs if desired.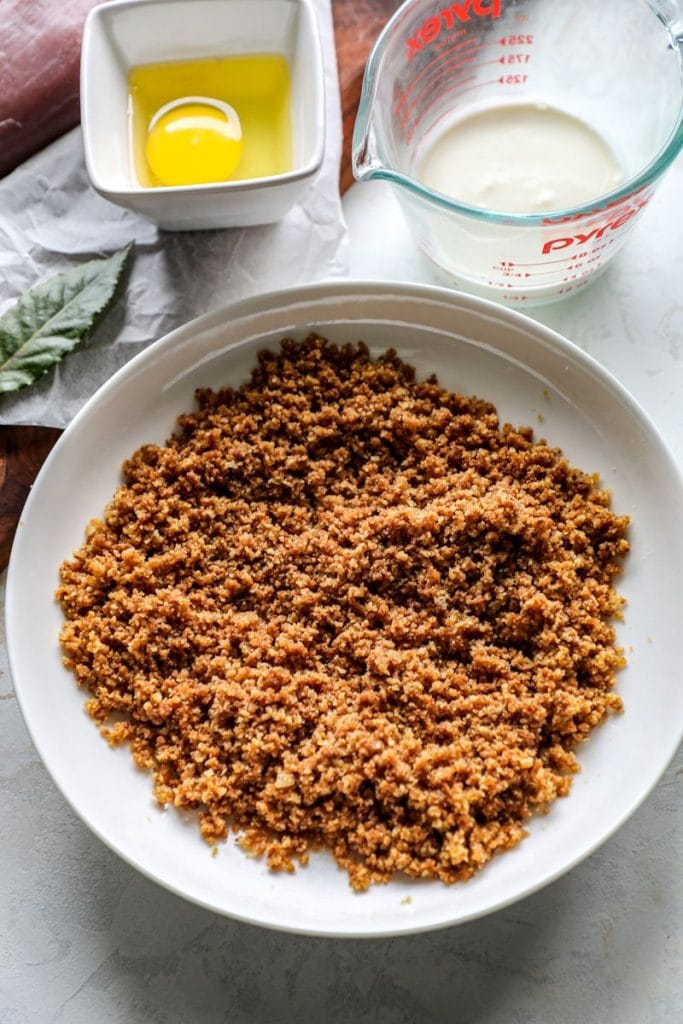 Tips for prepping your pork tenderloin for the grill:
Remove the pork tenderloin from the packaging and pat it dry with paper towels
In on shallow bowl, add the eggs and milk and beat it together. You can season this with a little salt and pepper.
In the other bowl, add your onion crumbs. You can doctor this up with seasonings to add flavor (I like black pepper, paprika, or even a little garlic powder).
Take the piece of pork and dip it into the egg mixture so its nice and coated.
Dredge it into your crispy onion crumbs and pat the crumbs down onto the pork tenderloin so they stick nicely.
Transfer the tenderloin carefully to the cooling rack that can lay over the baking sheet. This allows the bottom to not get soggy and allows smoke to flow around the meat.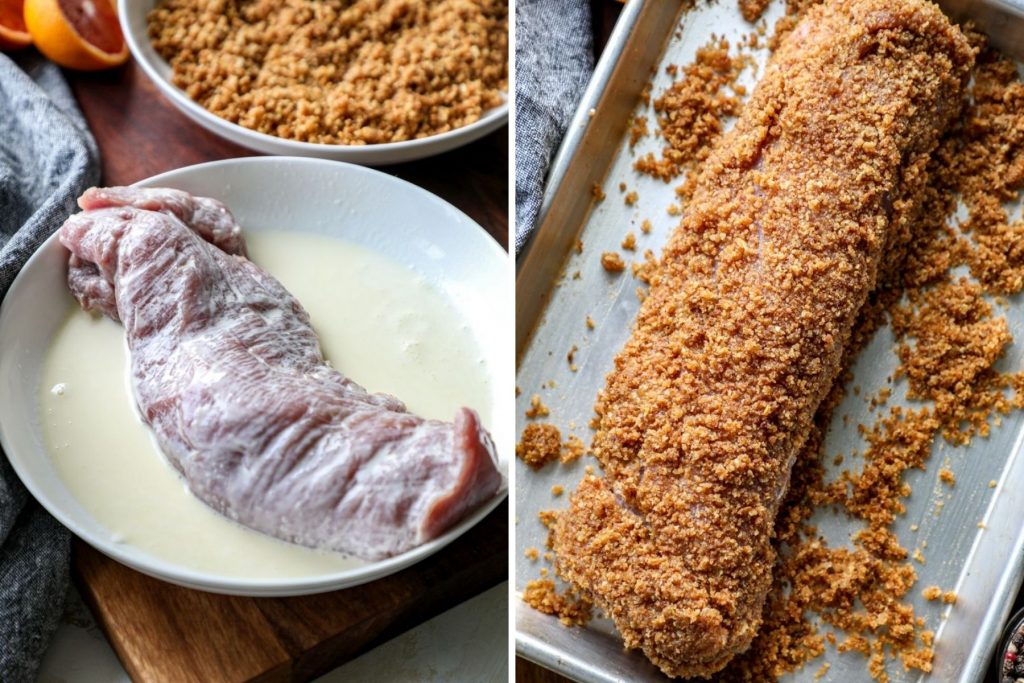 What temperature should I smoke a pork tenderloin at?
I like to do smoke this recipe in two parts (low and slow then hot and fast). Pork tenderloins are very thin and only need to cook to an internal temperature of 145 degrees F. Start with a low and slow temperature of 250 F.
Depending on the size and thickness of your tenderloin (you will need to monitor it with a thermometer), let it come up to about 120-125 F. internally. Then turn up the heat to 450 F. (still on indirect) so that the outside coating can get nice and golden brown.
Let the pork tenderloin come to a final temperature around 140-145 F. before removing. There will be some carryover cooking, so you can pull it slightly early if needed.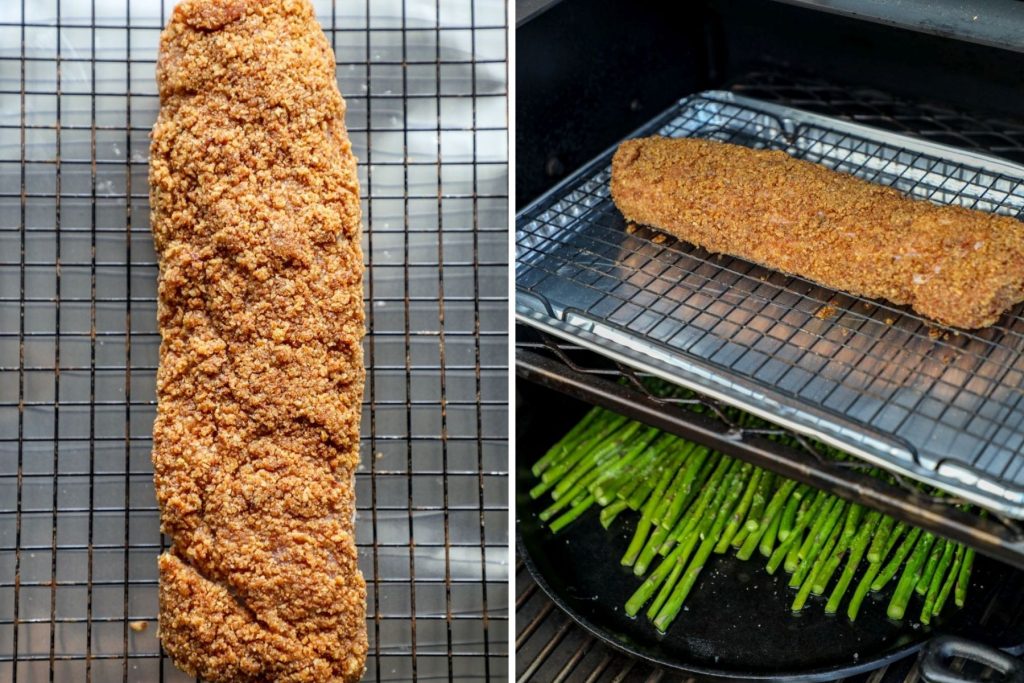 Final Tips for smoking, resting, and slicing:
If you don't want the entire bottom of this roast to get super soggy, you have to let it rest about 10-15 minutes. All the juices will come running out otherwise (plus you want to eat that part).
Leave it on the cooling rack during this time. When ready to slice, use a slicer or serrated knife to cut the pork into one inch medallions.
Fan the meat out on an angle across the platter for a beautiful presentation. I plated this with some smoked asparagus and smoked polenta too (the whole meal on the grill is my favorite).
If you have leftovers, make a pork tenderloin sandwich and load up on other holiday sides to put over the top, like these

smoked sweet potato

or my

keto gluten free stuffing

too!
Can I make this in the oven?
Yes! While I prefer the delicious smoke flavor, there are times when either the weather isn't great for grilling or maybe you don't have access to a smoker.
Because smoking utilizes indirect heat (similar to the oven), you can follow the same steps for temperature below and get a similar result. Make sure to use your meat thermometer still to check your internal temperature for doneness.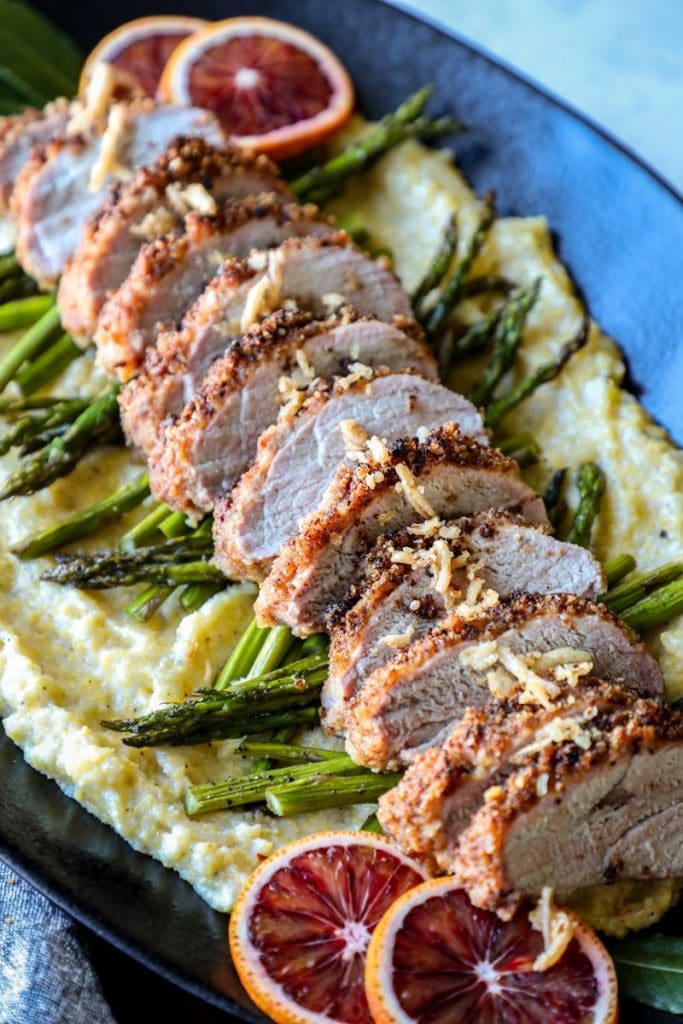 Love smoke pork recipes as much as I do? Try this Smoked Dill Pickle Brined Pork Chop recipe or my Easy Mole Sauce with Pork Tenderloin too.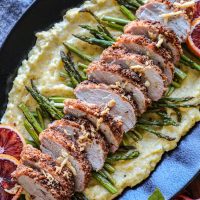 Smoked Crispy Onion Crusted Pork Tenderloin
Switch things up with this easy and flavor packed French fried onion "breaded" pork tenderloin recipe you can make on your smoker or grill!
Print
Pin
Rate
Ingredients
1

Pork Tenderloin

between 1-2 lbs.

1.5

cups

Crushed French Fried Onions

1

Egg

1/4

cup

Heavy Cream or Whole Milk

1/4

tsp

Salt

1

tsp.

Black Pepper
Instructions
Preheat your smoker to 250 F. Line a foil baking pan with a cooling rack and set it aside.

Remove the pork tenderloin from the package and pat it dry with paper towels.

Crush your fried onions in a plastic bag with a rolling pin or in a food processor. They should be fine. Place them in a wide, shallow dish or pan so you can dish the whole pork tenderloin easily into it.

In another shallow bowl, beat the egg and milk together. Add the salt and pepper to this.

Dip the pork tenderloin into the egg mixture to start so it's fully coated, then take the piece of pork and dredge it into the crispy onion bread crumbs and coat it fully by lightly pressing everything into the pork.

Place the pork tenderloin onto the baking sheet lined with a cooling rack and transfer this all to your smoker to cook. This keeps air flow under and around the pork, adding smoke flavor and preventing the bottom from getting soggy.

Smoke at 250 F. until the tenderloin reaches 120-125 F. internally. To get the breading crispy, turn your grill up to 450 F. (indirect) and finish cooking your pork loin until golden brown and the internal temperature reaches 145 F.

Remove the pork tenderloin from the grill and give it a long resting time of 10-15 minutes so the juices settle and don't ruin the bottom of your crust on the pork.

Use a shark slicing knife or serrated knife to cut one inch size medallions of pork tenderloin on a slight angle. Plate them on a platter with your favorite sides and enjoy!
Notes
If you are using a pellet smoker or don't want to stress about higher heat temps, bring your pork tenderloin to 135 F. then place it in the broiler in your oven for a few minutes until it gets crispy and golden and reaches that final 145 F. temperature. You will want to use a slightly lower oven rack to do this (so it doesn't burn) and watch it closely.
Nutrition
Serving:
1
g
|
Calories:
145
kcal
|
Carbohydrates:
9
g
|
Protein:
8
g
|
Fat:
11
g
|
Saturated Fat:
4
g
|
Polyunsaturated Fat:
6
g
|
Cholesterol:
57
mg
|
Sodium:
311
mg
|
Fiber:
1
g
|
Sugar:
4
g