Smoked Dill Pickle Brined Pork Chops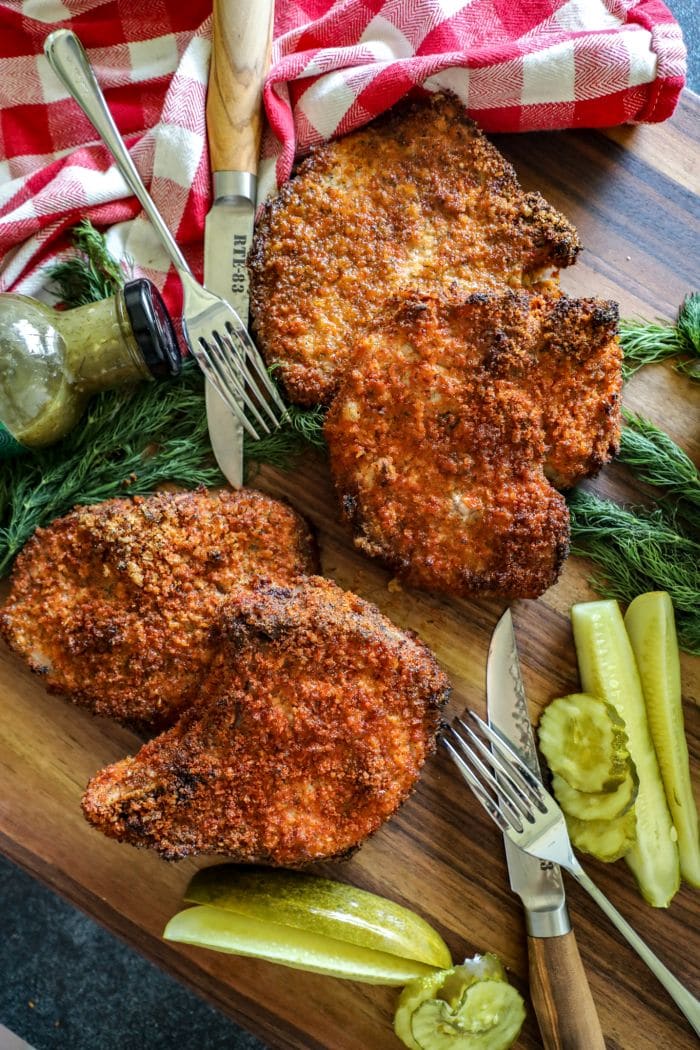 These low carb keto fried pork chops (smoked on the grill) are an indulgent way to enjoy a a thick cut bone in chop that's brined in delicious dill pickle juice or an indulgent healthier tack on a classic meal.
This recipe was created in partnership with Big Green Egg. All opinions are my own! Thanks for supporting the brands that help keep the kitchen going.
Sticking true to my Midwest roots of meat and potatoes dinners, I often find myself loving these keto inspired comfort food meals more than anything. Pork chops were no doubt a staple meal in my home growing up, but they often weren't the most tender or flavor packed. As an avid grill lover and keto recipe developer, put my head down and got my hands to work on this awesome rendition of a breaded and fried pork chop fit for the Big Green Egg.
I'm not stranger to smoking pork. Whether its a large pork butt, pork tenderloin medallions, or even some classic ribs, I find myself always itching to toss pork on the grill. Living back in the Chicago area again also means having access to many family run butcher shops with high quality cuts of meat (swooning over here for real). I saw these insane thick cut, bone in pork chops and I knew I had to create something wonderful.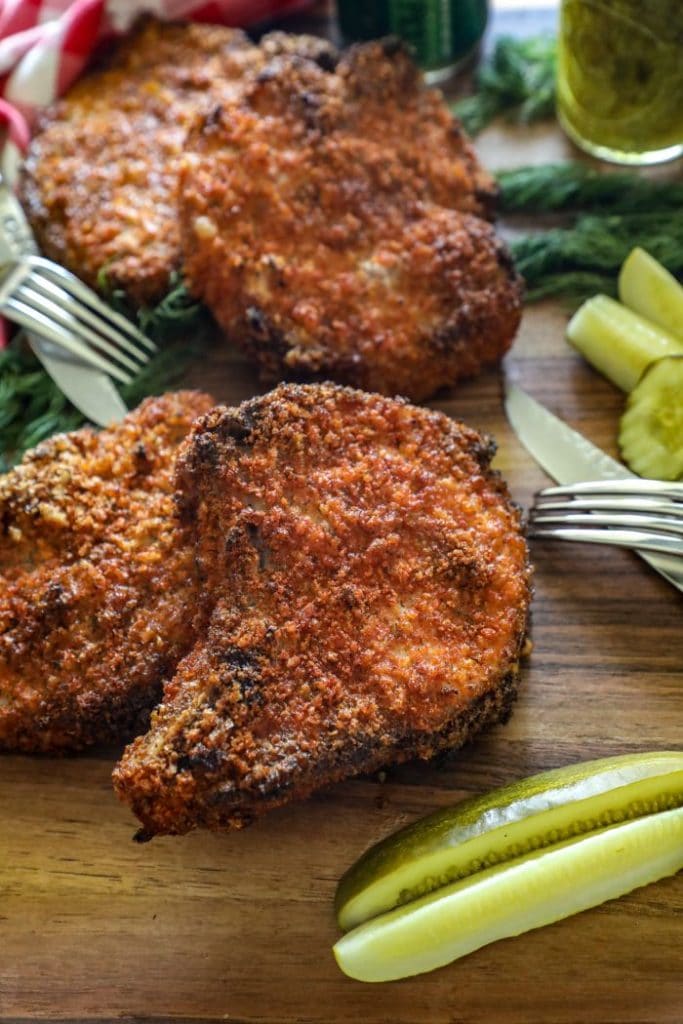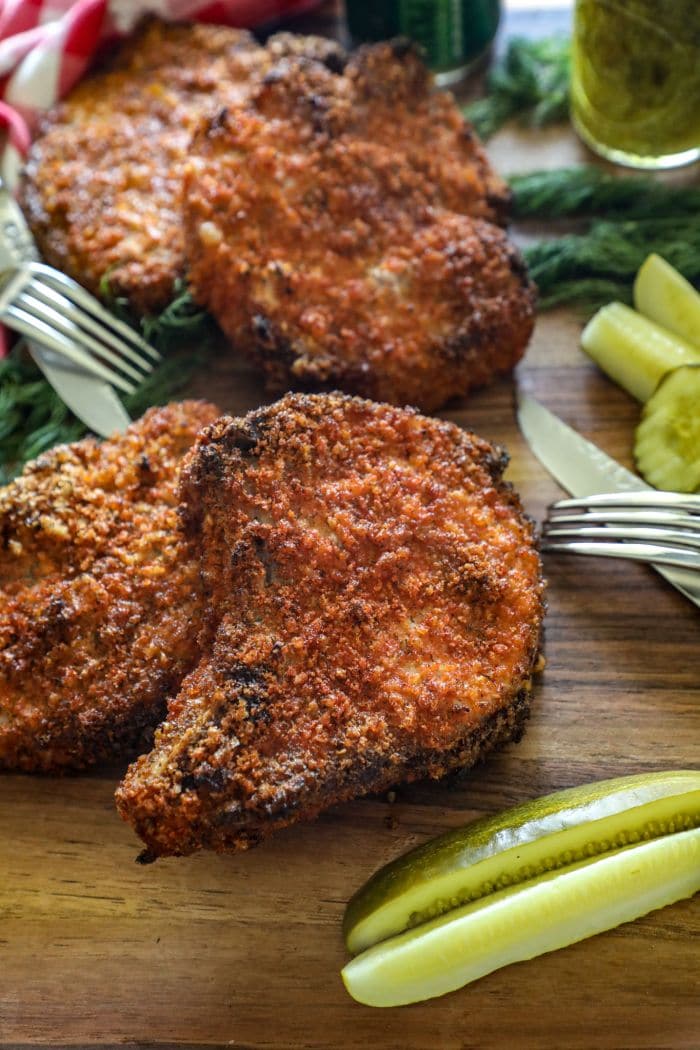 So, pairing my love for all things pickles and pickle juice (if you follow me on Instagram you've probably seen me eat entire dinners made solely of pickles) with my love for smoked pork turned out to be one juicy, delectable dinner winner idea that I couldn't wait to share!
Below I will break down the in's and out's of how to brine pork with pickle juice, smoking thick cut pork chops on the grill, and how I gave these delicious cuts a keto fried pickle inspired feel with the breading. Get the tips and techniques throughout the post or grab the full recipe at the bottom of the page. Now let's get to smokin!
"School" Supplies:
9×13″ Pan for Brining
Two Mixing Bowls
Small Foil Pan or Baking Sheet
Cooling Rack (for elevating and transferring)
Oven Mitts
Measuring cups/ spoons
"Class" Notes:
Alight, since class is virtually in session, I'm going to break down some helpful grilling tips, tips for smoking pork chops, and of course giving you all the details on making this whole meal low carb and keto friendly too. Don't forget to check out the video as well and see it all go down on the BGE!
Brining In Pickle Juice-
Have you ever brined your meat or poultry? Wet brining is a great way to help add extra moisture and flavor to lean cuts of meat that may need more time to cook (i.e brined chicken or turkey or example). Brine's are typically a mixture of vinegar, salt, sugar, and diluted in water and you might find a variety of spices as well.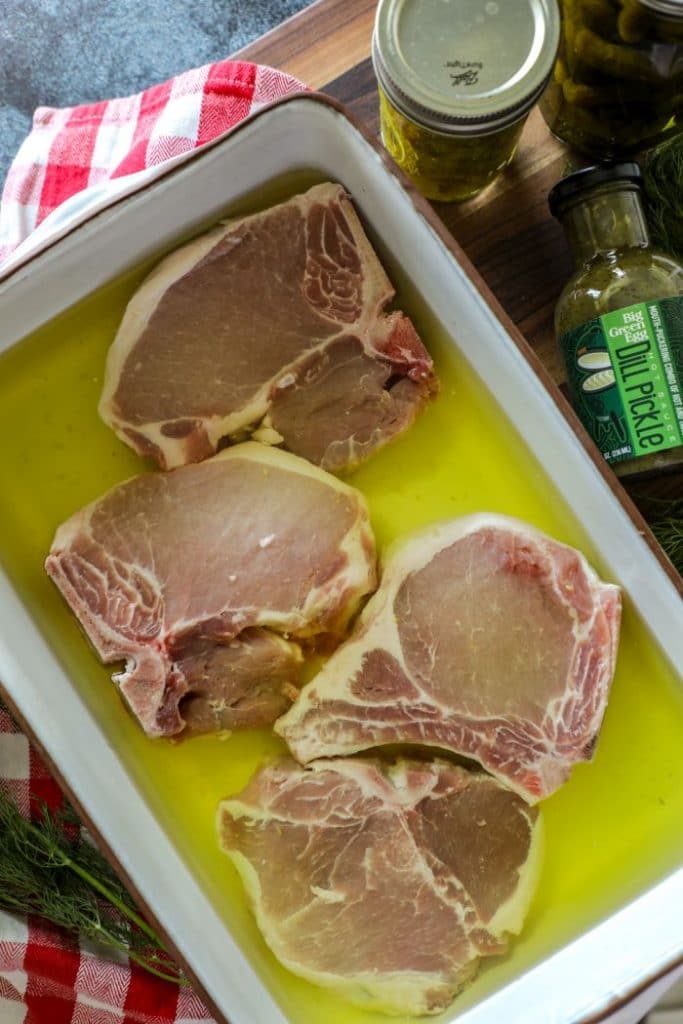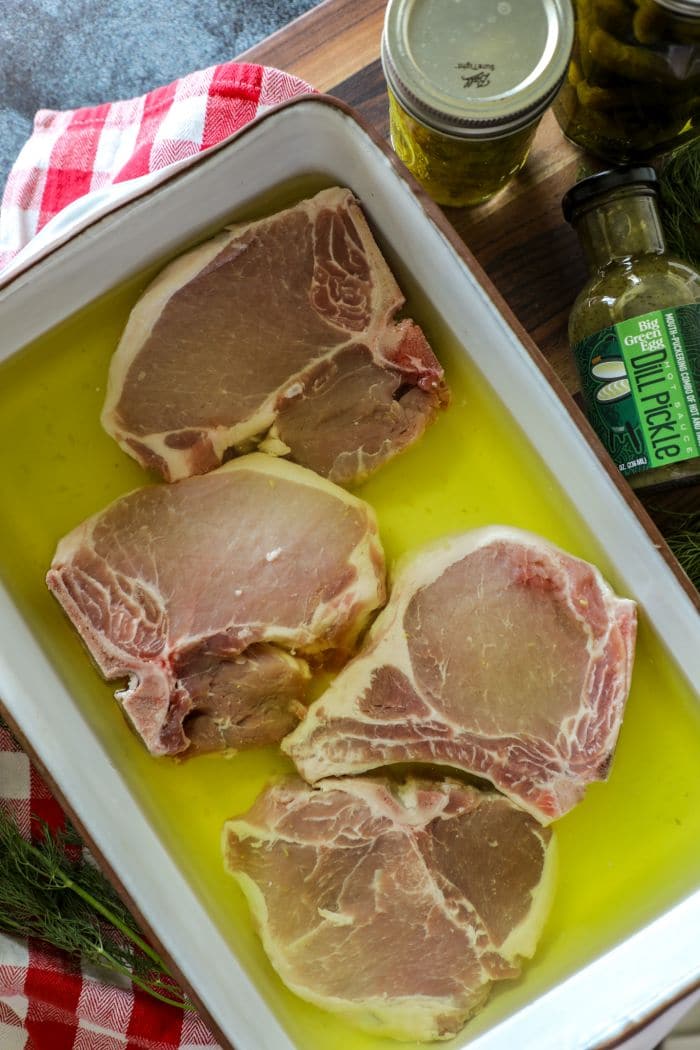 The salty liquid essentially helps the muscle of the meat you're using to absorb more liquid, essentially yielding a juicier outcome. I find brining ribs or these pork chops for instance is a great way to go because they are leaner cuts and it keeps them extra juicy.
The beauty of using already made pickle juice, is that it is a complete brine to begin with. Not to mention you get that delicious dill pickle flavor infusion that's subtle but works so nicely with this pork chop recipe. Save the extra pickle juice from the jars in your fridge and use it to soak the pork a few hours up to an entire day ahead of time. I soaked mine for around 12 hours (you can see the color change here as well).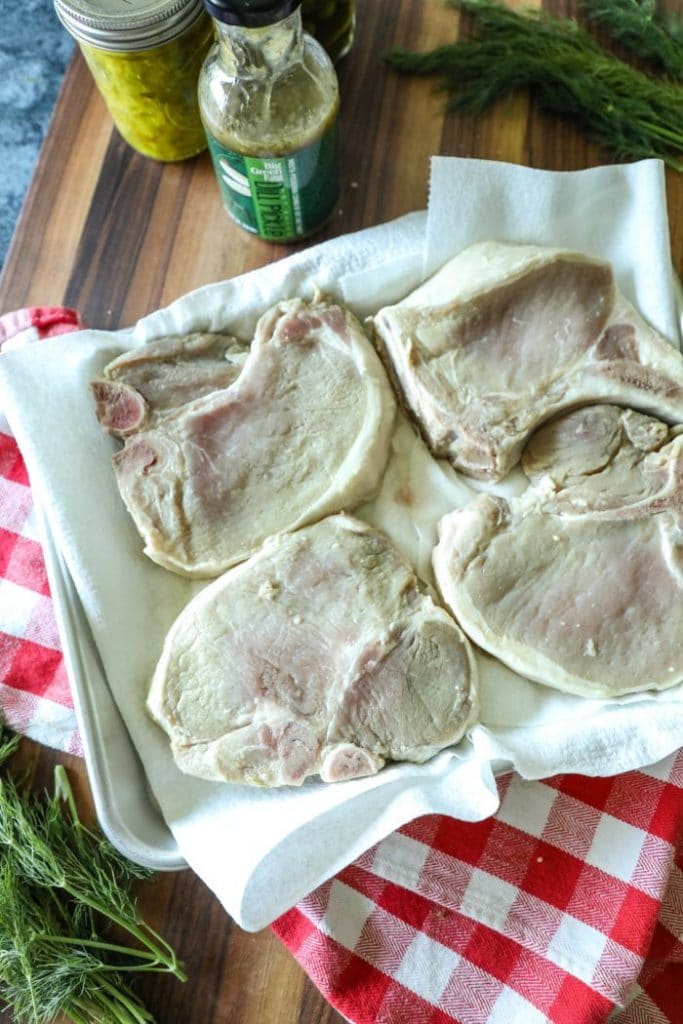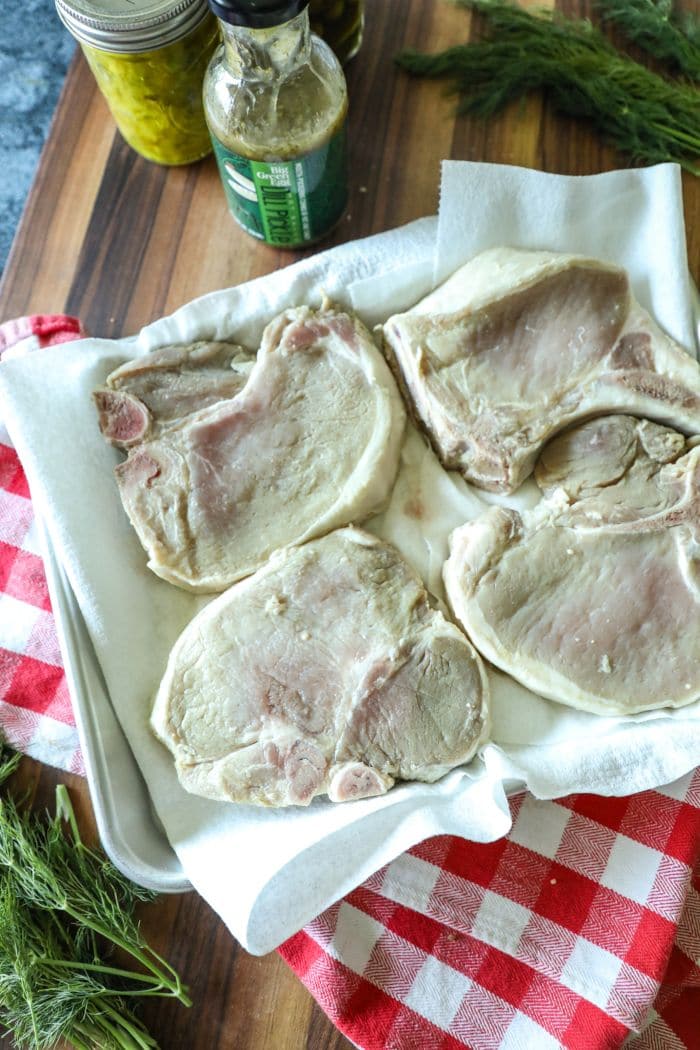 Prep them first by patting them dry and then placing them in a dish that is big enough to let them be submerged in the juice. Place them in the pan in an even layer (not not stack them). You can take a for and prick the meat if preferred, but often times I just leave them. Let them soak, covered and wrapped, and placed in the fridge until read to smoke.
Dredging/ Keto Friendly Breading-
After the brining is complete, I remove them from the pan and give them a good pat down and dry them with a paper towel. If they're wet, the breading won't stick very well! Then, I get out my two bowls and assemble my crumb coating to make the dill pickle fried feel a reality to these chops!
In one bowl, I opted to add two eggs and beat them. To give these an extra kick of flavor I added in a few tablespoons of this dill pickle hot sauce from Big Green Egg. No hot sauce? Just add a splash of water to help break it up a bit.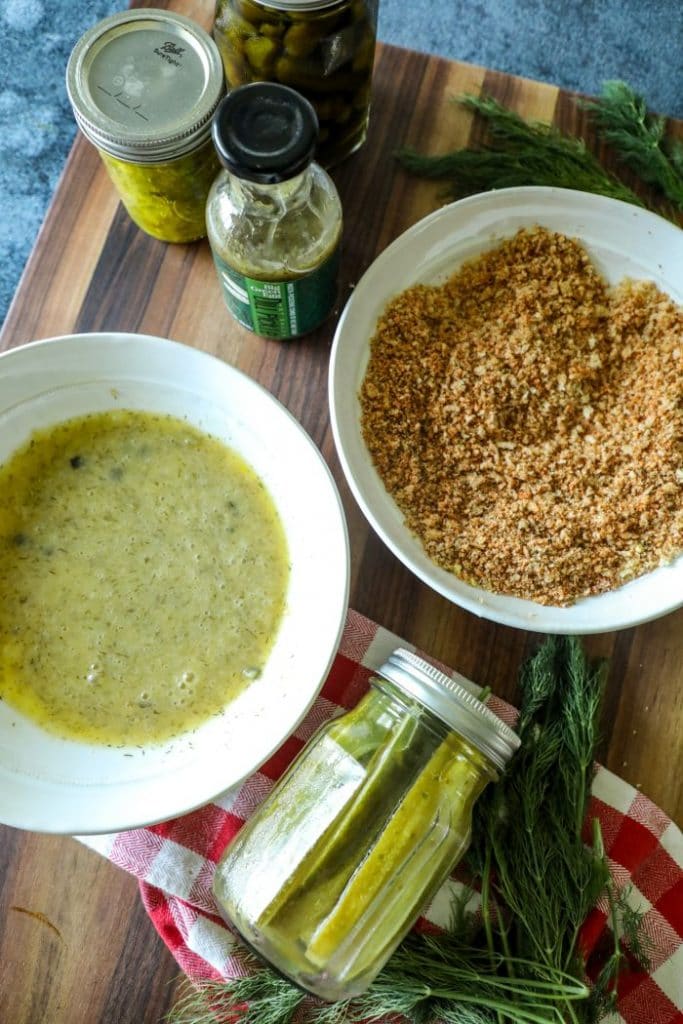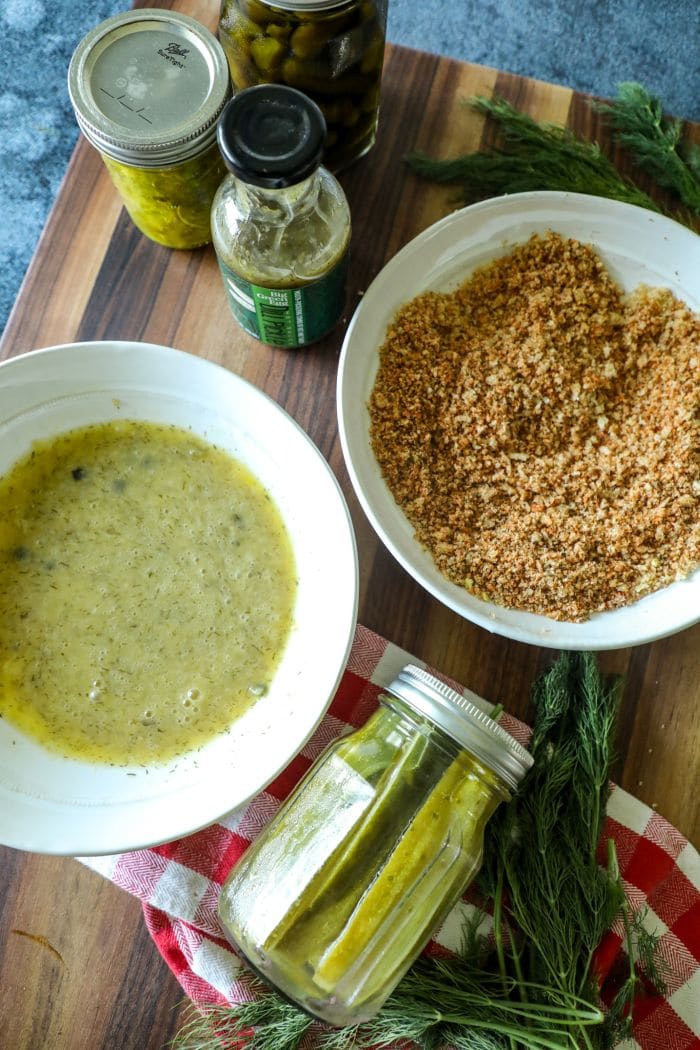 In the other bowl, I add my crush pork rinds (aka pork panko) that act so well as a panko style coating to bread the chops in. This is usually my go to method for breading anything that I want to be gluten free and keto friendly. Pork rinds are zero carb (higher in fat however), crisp up easily, and have a perfectly pan fried like texture to them. Simply add the pork panko, dried dill, smokey paprika, garlic powder, and a little salt and pepper together.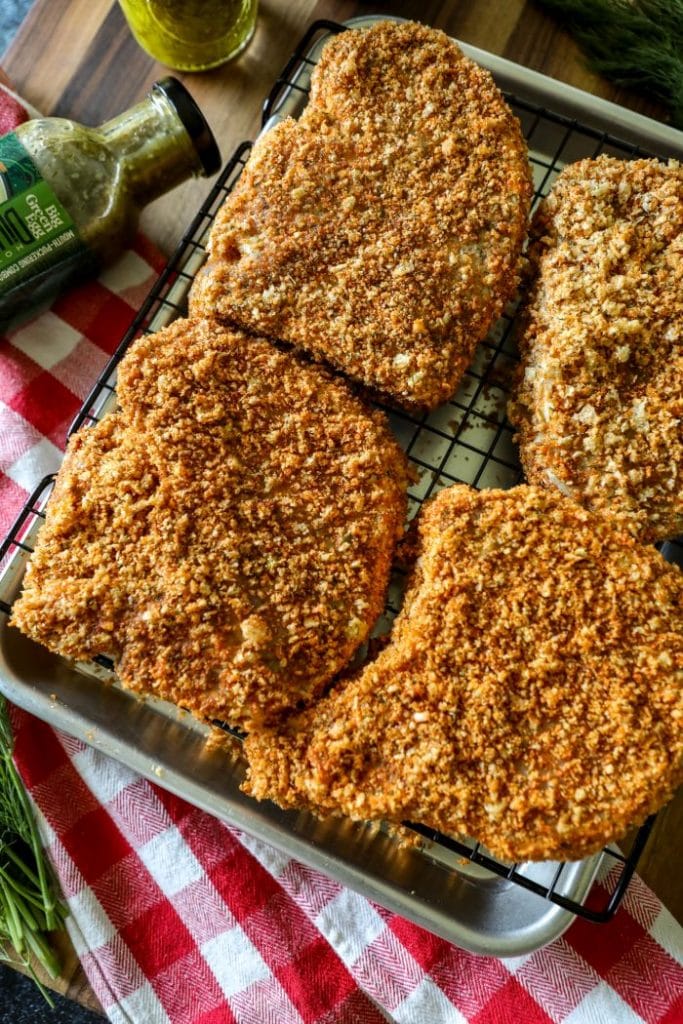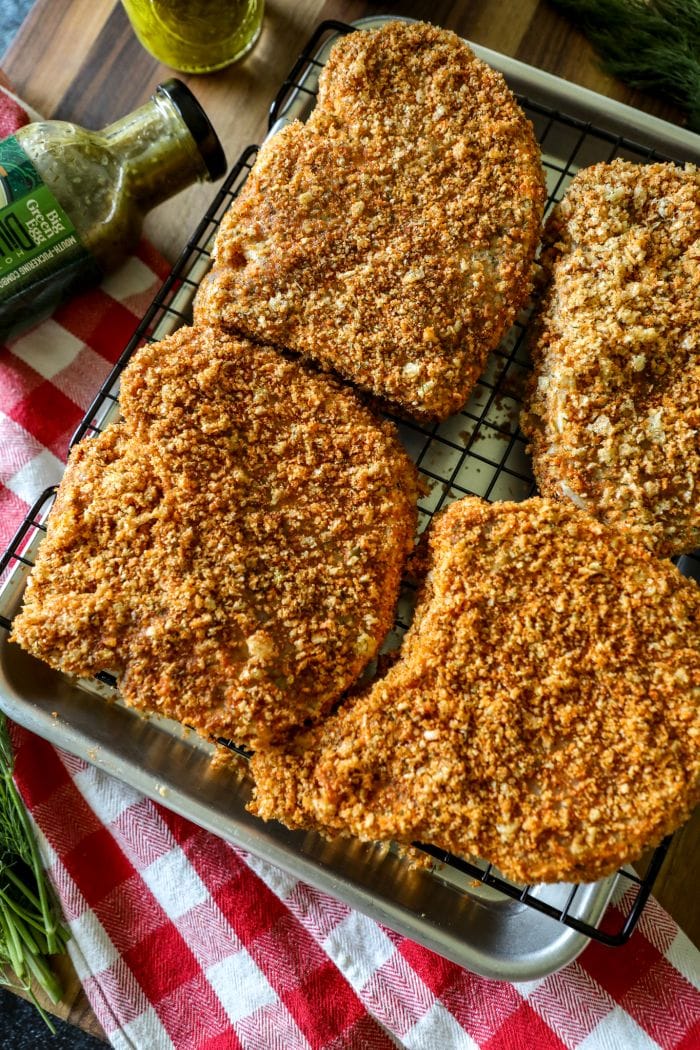 To bread the chops, coat the chop in the dill pickle hot sauce infused egg wash completely. Then place it in the pork panko mixture and coat both sides generously. Use your hands to help press the keto bread coating onto the chop well and set it aside on a wire rack over a baking sheet. Repeat this step with the remaining pork chops.
Setting Up The Grill-
Pork chops are one type of meat that you really really don't want to over cook. Thankfully, the brine is going to add an extra buffer here and lock in some of those juices too. I prefer to smoke these chops to start on a lower to medium heat range on my kamado style charcoal grill (I have a this Big Green Egg).
Start by setting your grill up for indirect cooking and heat it to about 250 F. The nice thing about the indirect set up on my grill is that I can easily remove the ceramic half moon and crack the heat at the end to a medium high heat to allow for that final push to 145 F internal temperature when I want to get the breading nice and crispy too.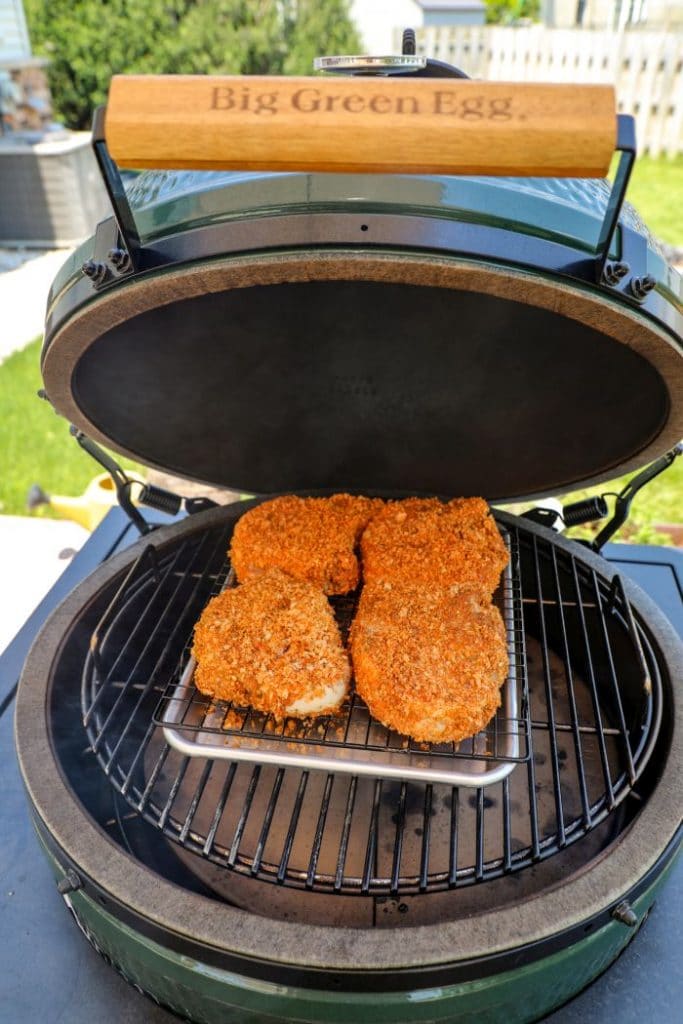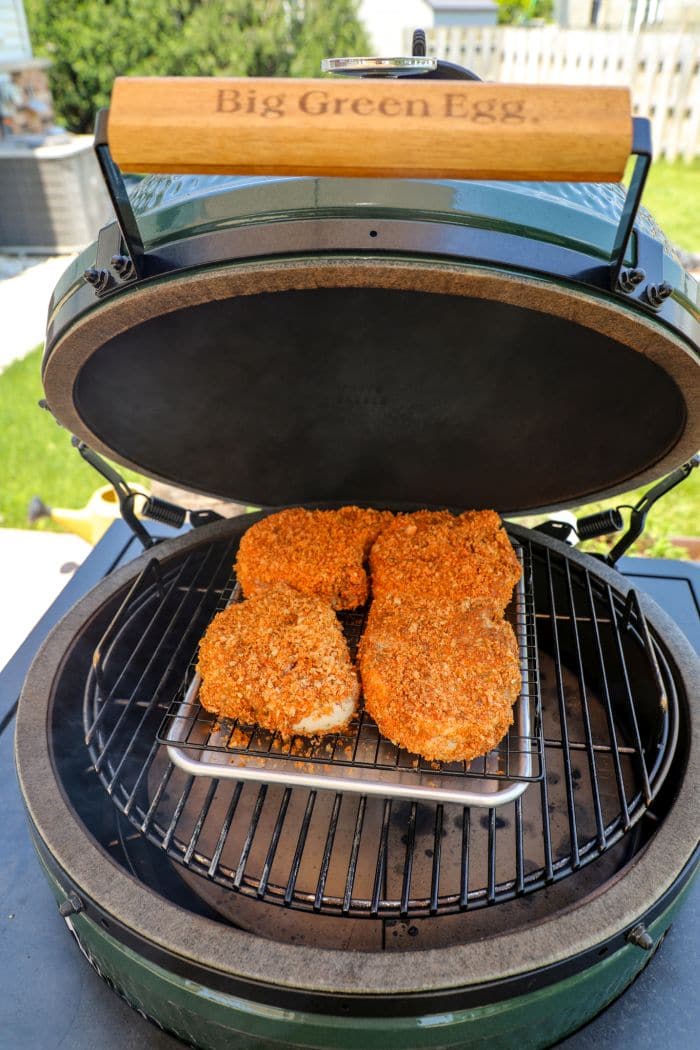 For the smoke flavor, I go for a milder pecan and cherry for this cook. Lighter flavors go better with the pork and don't take away from the subtle dill pickle flavor you get from the brine. Once your grill is rolling get the chops on and close the lid and let them cook!
Indirect To Direct Heat-
Let the pork chops cook on an elevated baking sheet (I use a cooling rack) to help let the heat works its way around the entire pork chop. I prefer to cook on indirect heat to start until the pork chops reach a temperature of around 110 F or so. I remove them briefly from the grill, take off the top rack of the grill and carefully remove one of the ceramic pieces to allow for half indirect and half direct heat.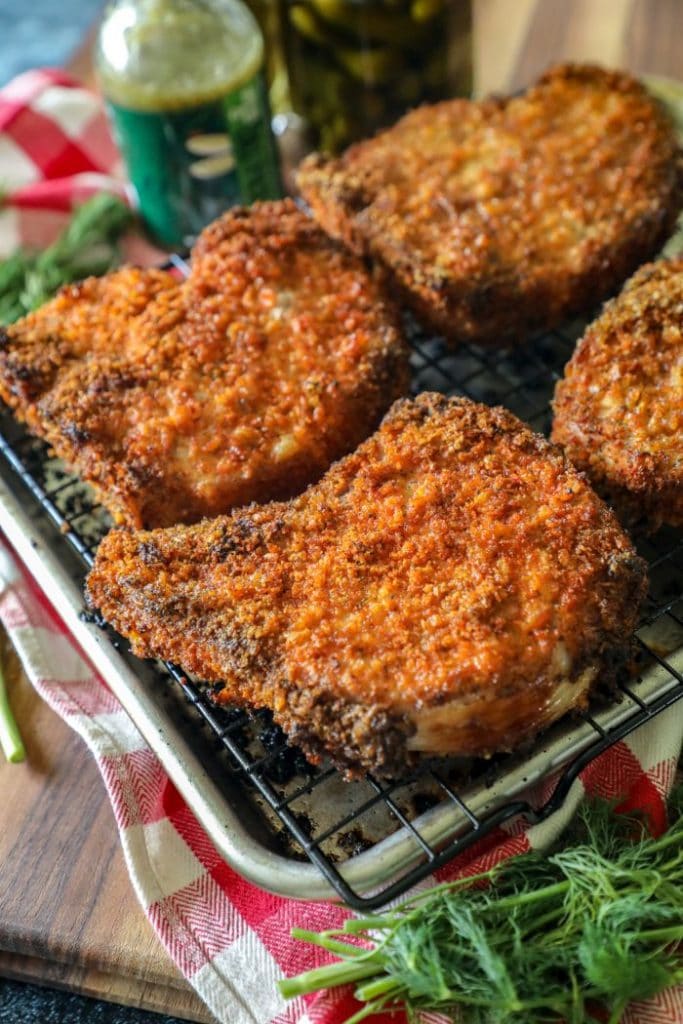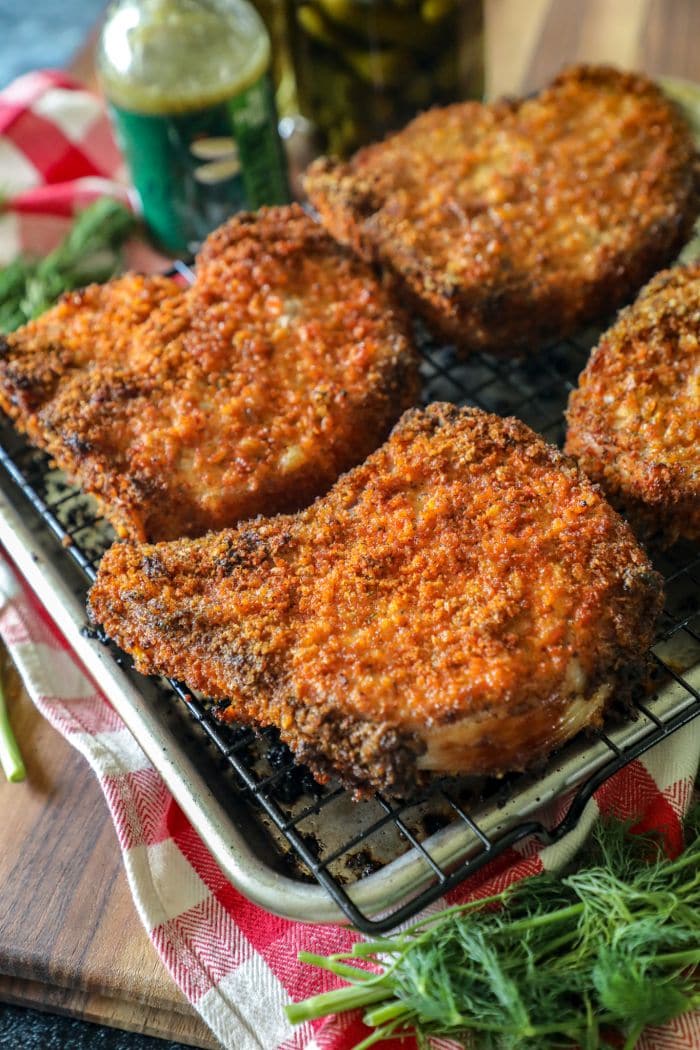 At this point, I like to bring the heat up higher to help crisp the pork rind coating on the outside. Let the pork chops cook like this until they get crispy and reach a final temperature of 140-145 F. Remove them from the grill and let them rest 4-5 minutes tented to help let the juice settle before cutting into them.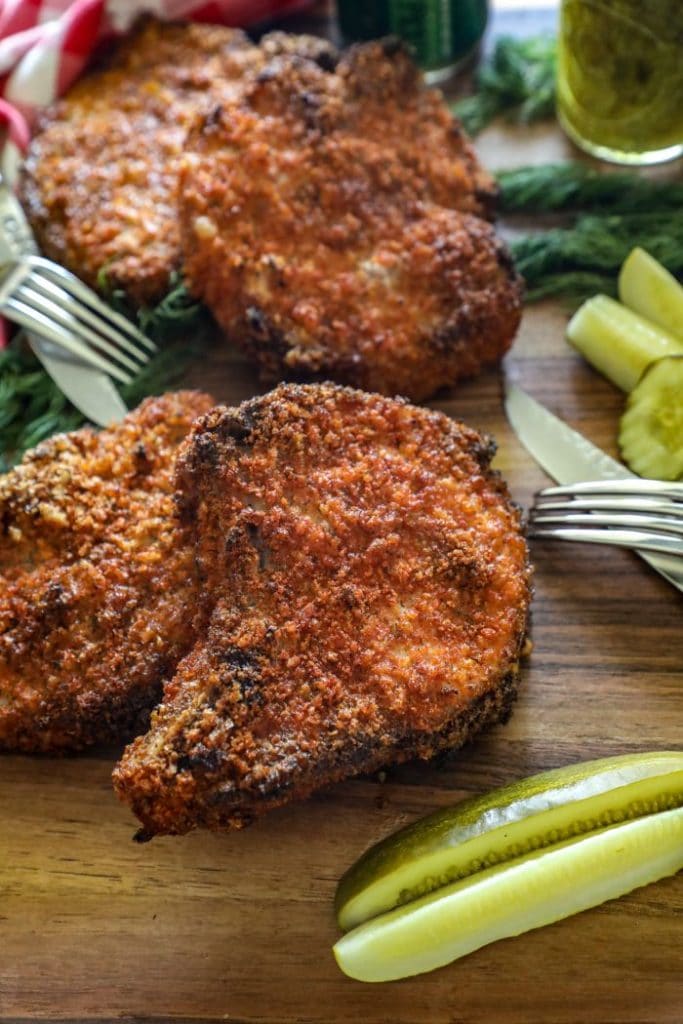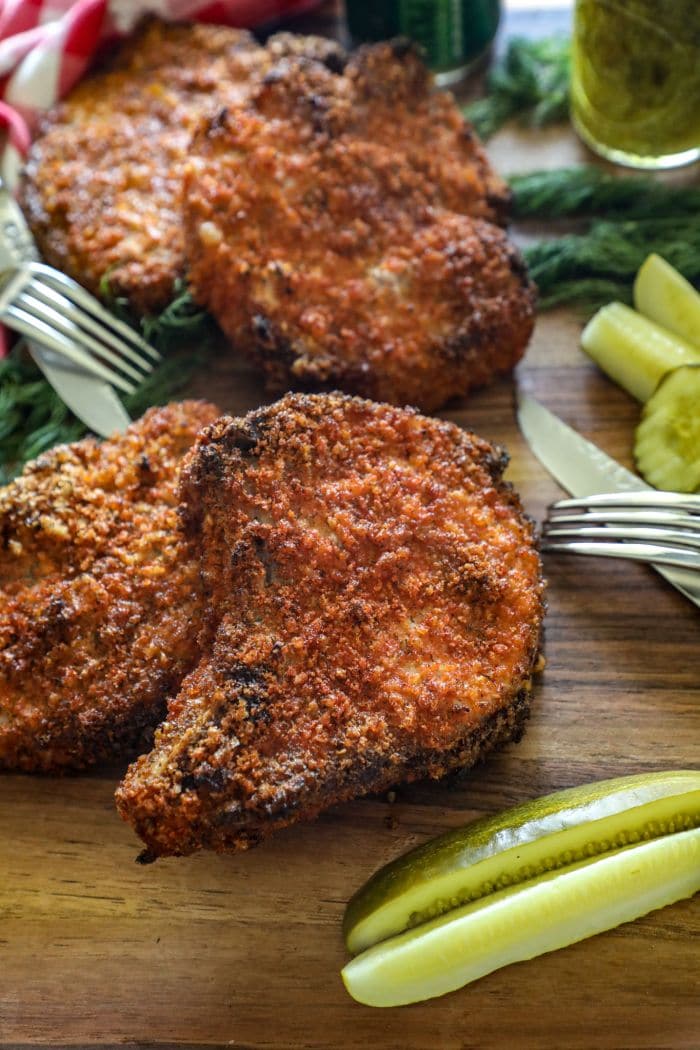 Serving-
Serve the pork chops with a side of pickles and that BGE dill pickle hot sauce if you're feeling it! I love to cook up some grilled radishes or this insanely delicious grilled cauliflower mac and cheese as a low carb side and serve it all up with a good cocktail, like this refreshing low carb Pimm's cup or this keto lemonade whiskey smash.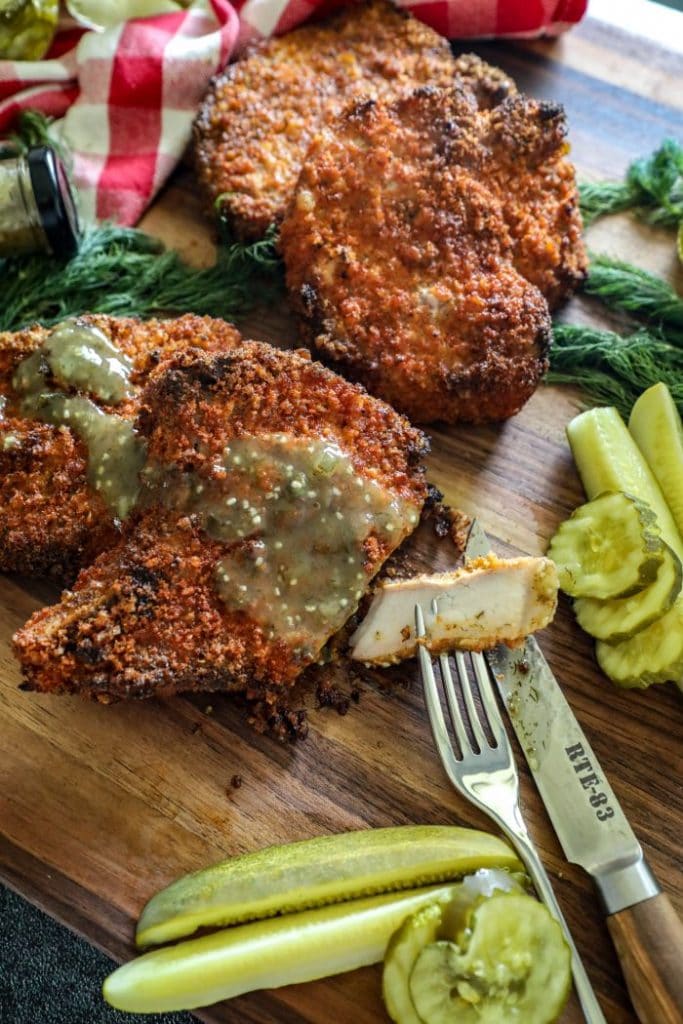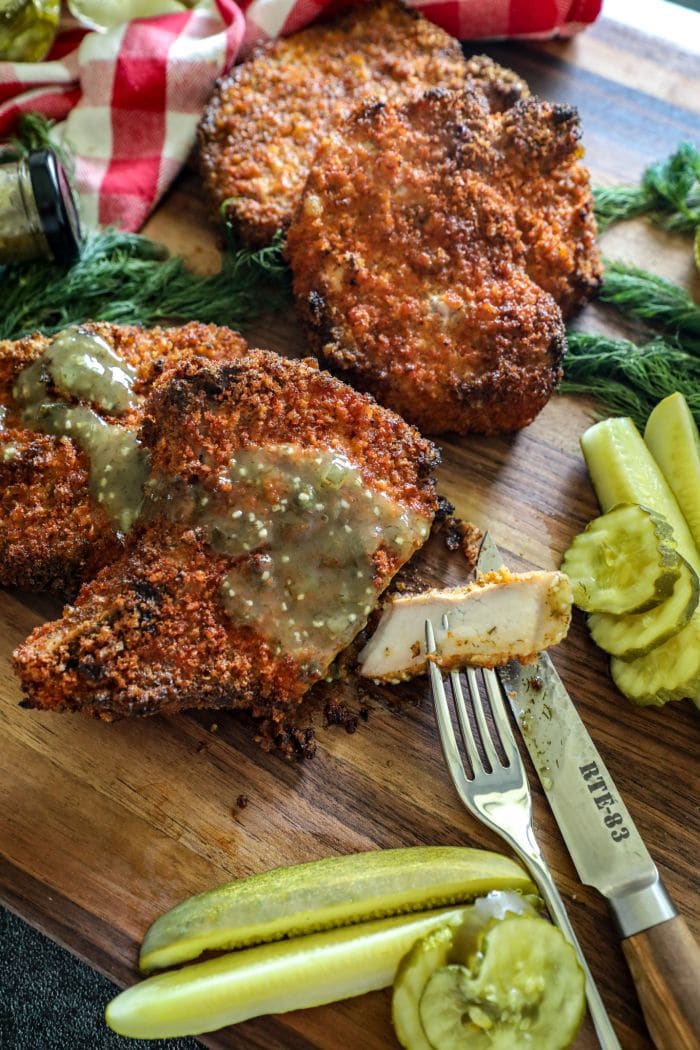 Bon Appeteach,
-L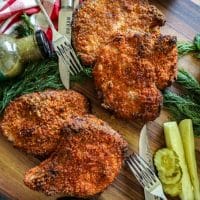 Smoked Dill Pickle Brined Pork Chops
These low carb keto fried pork chops (smoked on the grill) are an indulgent way to enjoy a a thick cut bone in chop that's brined in delicious dill pickle juice or an indulgent healthier tack on a classic meal.
Print
Pin
Rate
Ingredients
4

Bone In Pork Chops

3-4

cups

Dill Pickle Juice

2

Eggs

2

tbsp

Dill Pickle Hot Sauce or Other Hot Sauce

2

cups

Pork Rind

1

tbsp.

Smoked Paprika

1

tsp

Salt

1

tsp.

Black Pepper

1

tsp

Garlic Powder
Instructions
In a large, 9×13" pan place 4 thick cut pork chops into the base (I used bone-in 2" thick cut chops). Cover them completely in the pickle juice and wrap in plastic wrap. Refrigerate for 4-24 hours to allow the brine to soak into the chops.

When ready to smoke, remove from the brine and pat them dry. In a bowl combine the two eggs and the hot sauce for the egg wash. Then in a separate bowl combine the pork rind crumbs and spices and mix until combined. Dredge each cop on both sides in egg wash and then in pork panko mixture. Press down slightly to help the crumbs adhere to the pork chops. Place each chop on a cooling rack over a small metal baking sheet or pan. Repeat on all the pork chops.

Set the grill up for indirect heat and let it reach an internal temperature of 250 F. Add your desired wood for smoking and let the pork chops cook until they reach 110 F. Time may vary here depending on the thickness of the chops and their temperature going onto the grill. This should take between 40-60 minutes roughly.

Once it hits 110 F. remove it from the grill and set the grill for half indirect and half direct heat. Set the baking sheet with the pork chops back on the indirect side but crank the heat on the direct side of the grill to and internal temperature of 450-500 F to allow the pork chops to get a crispier coating along the outside and reach a final temperature of 145 F.

Once it hits 145 F. remove from the grill and let it rest about 5 minutes or so before serving. Serve as is or with some more of that delicious dill pickle hot sauce and a side of pickles.
Notes
No grill? Try baking in the oven or use the air fryer instead!
Nutrition
Serving:
1
g
|
Calories:
460
kcal
|
Carbohydrates:
3
g
|
Protein:
54
g
|
Fat:
25
g
|
Saturated Fat:
8
g
|
Polyunsaturated Fat:
13
g
|
Cholesterol:
240
mg
|
Sodium:
996
mg
|
Fiber:
1
g