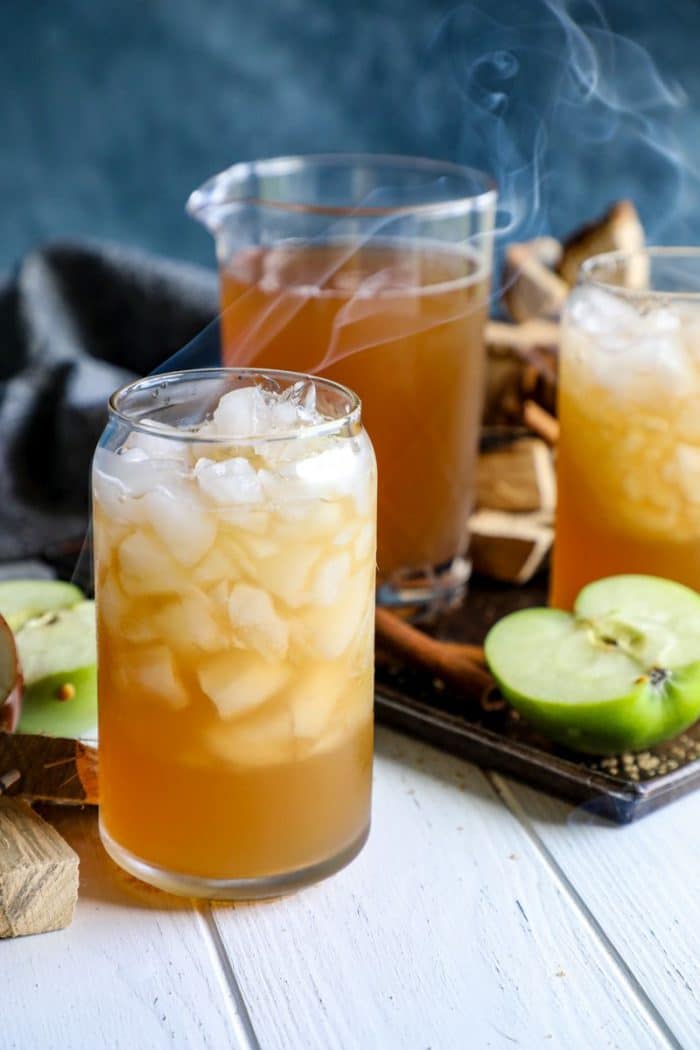 Take a traditional homemade apple cider recipe and add a touch of smoke for a new twist on a fall classic!
We love smoke infusions over here at Bon Appeteach! You can easily add a light touch of smoke to all kinds of foods, including drinks and cocktails (I even make smoked ice).
While it is definitely not the traditional route for this popular fall classic, it is a fun way to switch things up if you want to give it a try.
This homemade cider is easy to make on your grill or smoker using a variety of fresh apples, spices like cinnamon sticks and cloves, and a touch of maple syrup for good measure. Grab all the tips, techniques, and details for this recipe below.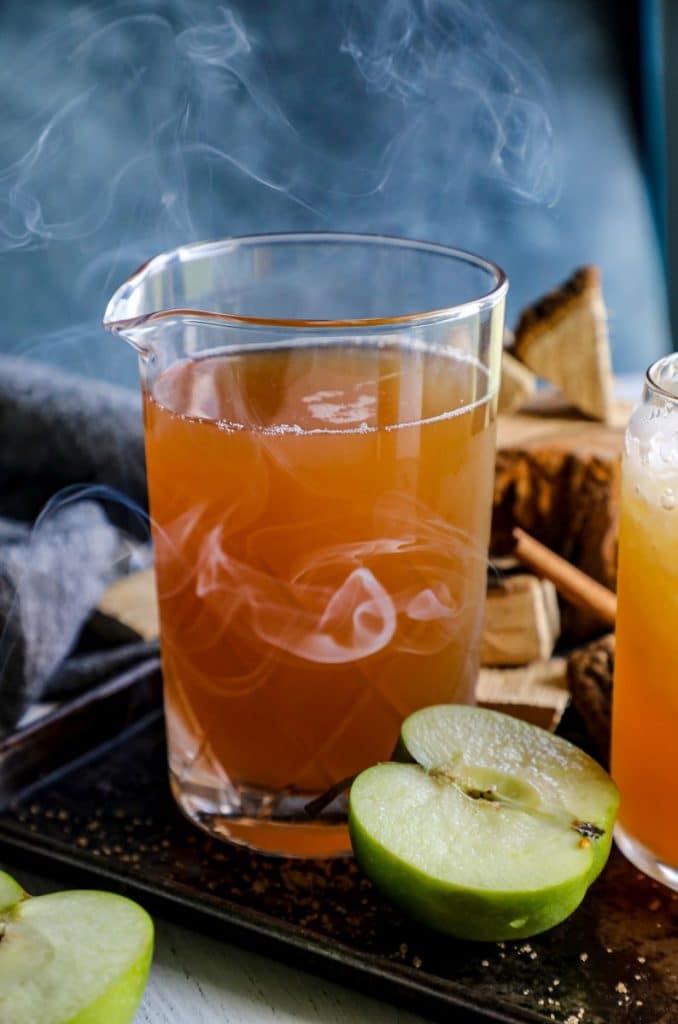 "School" Supplies:
Large Foil Pan
Knife & Cutting Board
Potato Masher
Wooden Spoon
Large Pot
Fine Mesh Strainer or Cheese Cloth
"Class" Notes:
Use the details below to help guide you through this recipe, give you tips for smoking and grilling, and how to properly store and serve your cider. Enjoy!
What apples are best for making homemade apple cider?
The best apples to use for making cider are all of them! Well, not exactly all of them, but really a variety of sweet and tart apples is the best way to get a variety of flavor in your cider.
I like to use a combination of granny smith (for tartness), honey crisp (these are sweet) and other in season apples for the best apple flavor.
Maple Apple Cider Ingredients:
Fresh Apples: As mentioned above, use a variety of fresh apples for the base of your homemade cider. If you want the cider to be less bitter, you can peel them first if desired.
Fresh Oranges: Add a large orange, quartered into pieces into the mixture of apples. Remove the peel to help the mixture be less bitter (I don't mind it because of the other flavors, I left my peels on).
Water: Use enough water to cover the apple and spice mixture. This will range from around 10-12 cups or so. Some of the water over time will evaporate (that's ok, it helps concentrate the flavor).
Cinnamon Sticks: Dried cinnamon sticks work best, but you can use cinnamon powder if necessary as a substitute.
Cloves: Whole dried cloves work best here, you can use the powdered form if needed.
Additional Spices: Traditional ciders don't often add other spices, but I think it can be a great addition to the flavor profile (get that apple pie like taste). I like to add in some nutmeg, a little allspice, and even some powdered ginger.
Maple Syrup: There are a lot of different sweeteners you can use in cider, but using a high quality maple syrup is a great flavor booster. The amount of sweetener you will add depends on how sweet your apples are. Anywhere between 1/4-1/2 cup works best.
Brown Sugar: If you prefer a slightly sweeter cider (similar to one that's often sold in stores), you can add a little brown sugar too or try a low carb brown sugar alternative for fewer carbs.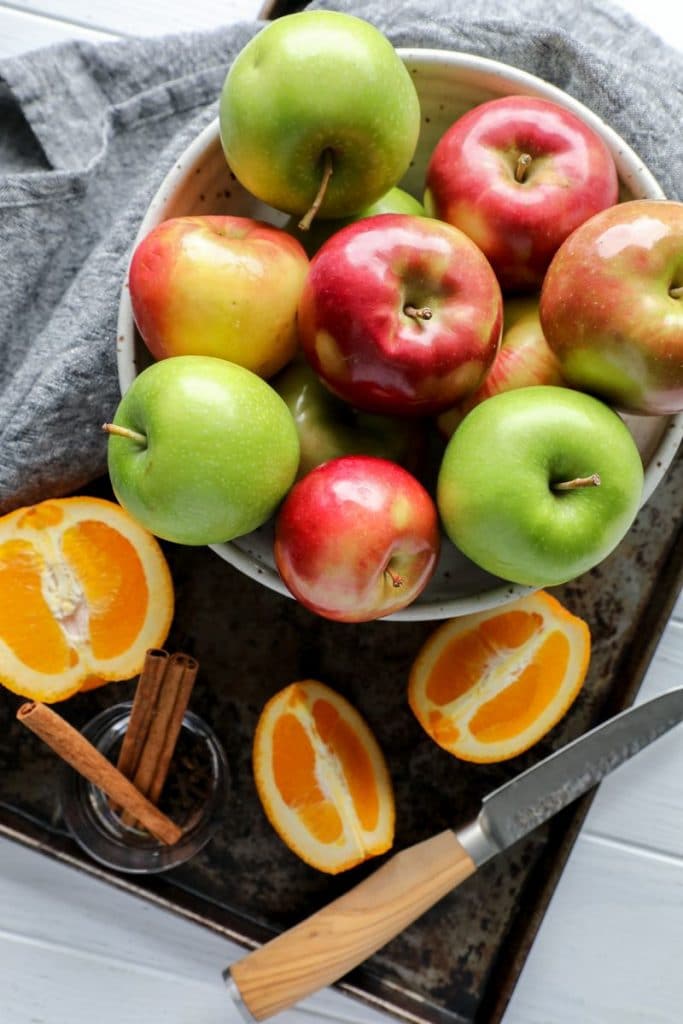 The sweetness level can vary. You can always opt in for other sweeteners that you prefer. I sometimes like to use honey, my keto simple syrup recipe, or for an even more intense smoky flavor, this smoke infused simple syrup.
How to smoke infuse your cider?
The process couldn't be simpler to make your own smoke infused cider, but there are a handful of tips and techniques you should follow for the best results.
For this recipe, I like to use a larger foil pan so you can easily move the cider mixture on and off the grill. Start by adding quartered apples and oranges, and your spices to the pan.
You can smoke infuse on any grill (I used my Yoder 640s Pellet Smoker) as long as it's set for indirect heat. Pre-heat your grill to 250 F.- 275 F. and add your wood. Apple wood works best for this recipe (for obvious reasons).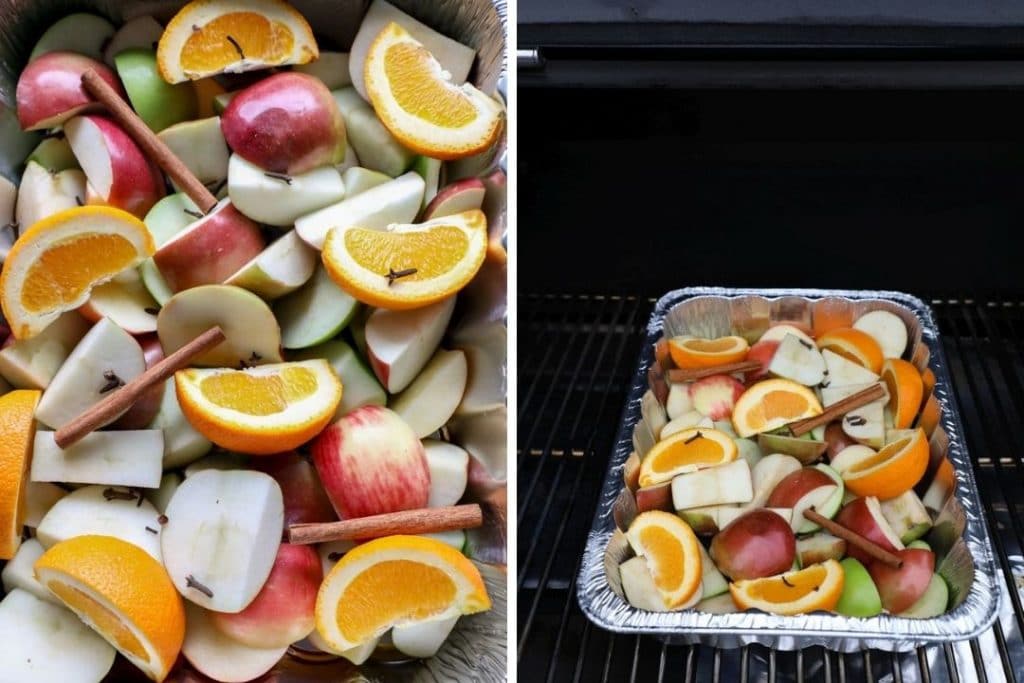 Place the foil pan filled with your ingredients onto the grill. Once its on the grill, I find pouring in boiling hot water just so the fruit is fully covered works best here (much easier than trying to carry hot water out to the grill).
I find that smoking your apple mixture for a few hours to start works best. You want the apples to begin to soften and break down. After a few hours, use a potato masher to smash the apples down to help release the juices.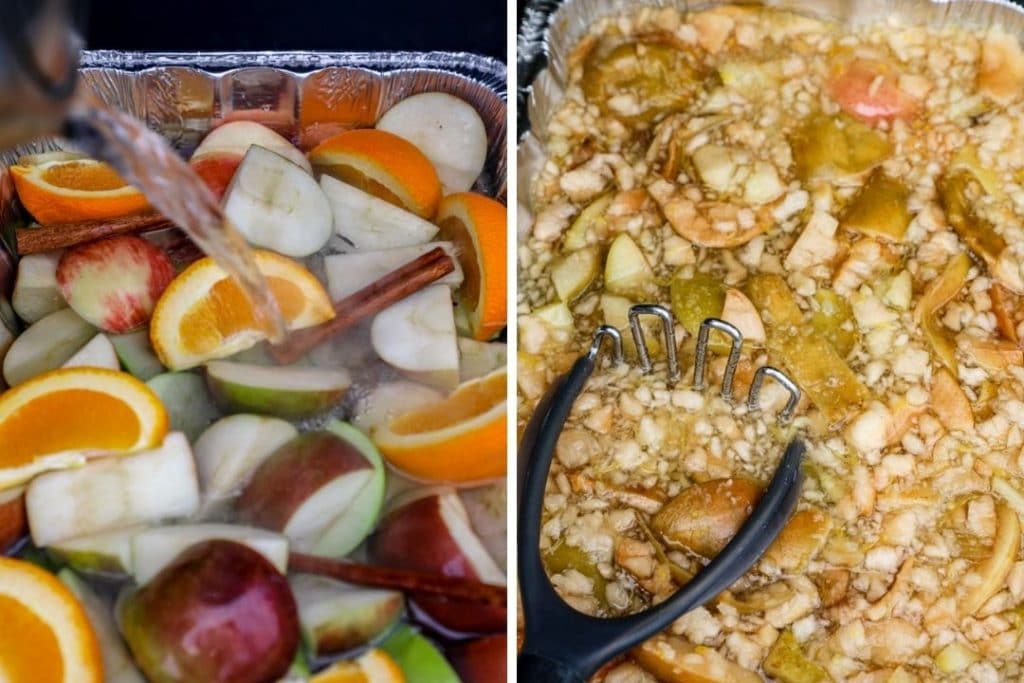 After a few hours and giving the apples a good smash with your potato masher, you can bring the pan in off the grill (use a baking sheet to support your foil pan when your carry it in).
Use a large, fine mesh strainer to remove the fruit and dried spices. Use the potato masher again to finely press out as much juice from the fruit as possible and discard the mixture.
Pour the cider liquid that remains into a large pot and place on the stove and cook on high heat for about 15 minutes. Allow the mixture to simmer and slightly reduce. Once reduced, add in your maple syrup and any additional sweeteners to taste.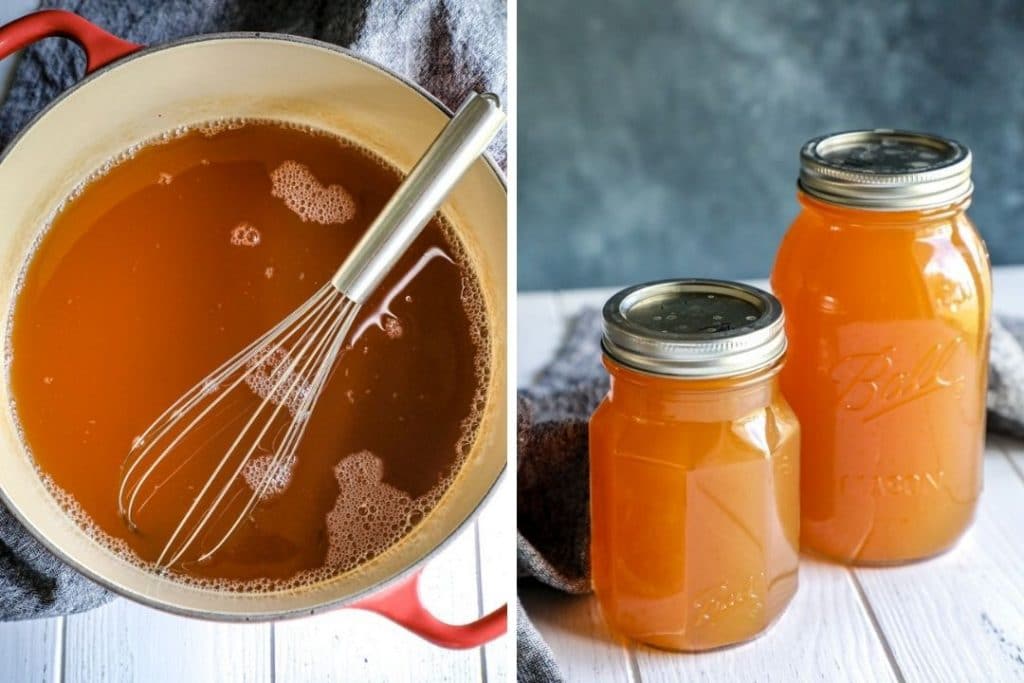 Tips for serving and storing:
This cider recipe tastes amazing when served warm. If you're serving this for a tailgate or party, keep it warm for sharing in a slow cooker on low heat.
Store the remaining cider in jars in your fridge for up to a week. Use for sipping or mix it up in this apple cider whiskey smash cocktail as well!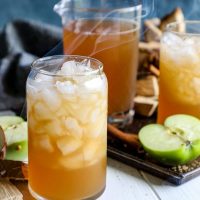 Smoked Apple Cider
Take a traditional homemade apple cider recipe and add a touch of smoke for a new twist on a fall classic!
Print
Pin
Rate
Ingredients
12

Fresh Apples

Use a mix of different apples for the best flavor, quartered

1

Orange

quartered

4

Cinnamon Sticks

1

tbsp.

Whole Cloves

1

tsp.

Nutmeg

1/2

tsp.

Ginger

1/2

tsp.

Allspice

10-12

cups

Boiling Water

1/4-1/2

cup

Maple Syrup

Additional sweeteners

like brown sugar if desired
Instructions
Preheat your grill between 250 F.-275 F. and set it for indirect heat.

In a large foil pan, add the apples, the orange, and your spices. Place the pan onto the grill.

In a large pot, boil your water. Carefully transfer the water to the foil pan on the grill so you completely cover the fruit. Close your lid and allow the mixture to smoke for at least 2-3 hours.

After about 2 hours, check the tenderness of your apples. If they are tender enough, use a potato masher to smash the mixture carefully to allow the mixture to break down and the juices to release more. Allow it to continue to smoke for another 2 hours. *NOTE-If your grill is throwing off a lot of smoke, you may want to remove it and finish cooking the apples down in a pot on the stove on a simmer. I find my pellet smoker is a bit more mild of a smoke flavor compared to my BGE. I think this really just comes down to preference. Your goal here is to however, keep breaking down the apples to release as much flavor as possible.

Place your foil pan onto a baking sheet for easier transfer off your grill. Place a large pot in your sink and add a strainer over it. Carefully strain the liquid from the apples. Be sure to use the potato again to press as much liquid out of the apples in the strainer as possible.

Discard your apple mixture and take the liquid and bring it to a boil over high heat. Let it reduce down for about 15 minutes and then remove it from the heat.

While it's hot, stir in your maple syrup and taste test. If you prefer it sweeter, add in a tablespoon of brown sugar until its your desired sweetness.

Allow it to cool. You can strain an additional time (I use cheese cloth for the second strain) to remove any additional pulp.

Store in jars up to 7 days in the fridge. You can also freeze the mixture as well.
Nutrition
Serving:
1
g
|
Calories:
158
kcal
|
Carbohydrates:
32
g
|
Protein:
1
g
|
Fat:
1
g
|
Sodium:
102
mg
|
Fiber:
5
g
|
Sugar:
32
g