Low Carb Smoked Beef Bourguignon:
So, I admit that I am posting this recipe really late in the grilling season. But, this Low Carb Smoked Beef Bourguignon recipe deserved to have its place on my blog because it is so deliciously hearty, hits all those warm and fuzzy comfort food buttons, and can always be made in the oven instead of the grill (but totally make it on the grill anyways).
I shared the whole step by step process of how I made this recipe over on my Instagram stories and you can still watch the "how-to" in my highlights section as well, if you're a "visual" learner (teacher lingo for you like to watch things to learn haha).
Find the full recipe for this perfect fall and winter dish below and read on for ways I tweaked this classic recipe to be a little lower in carbs too!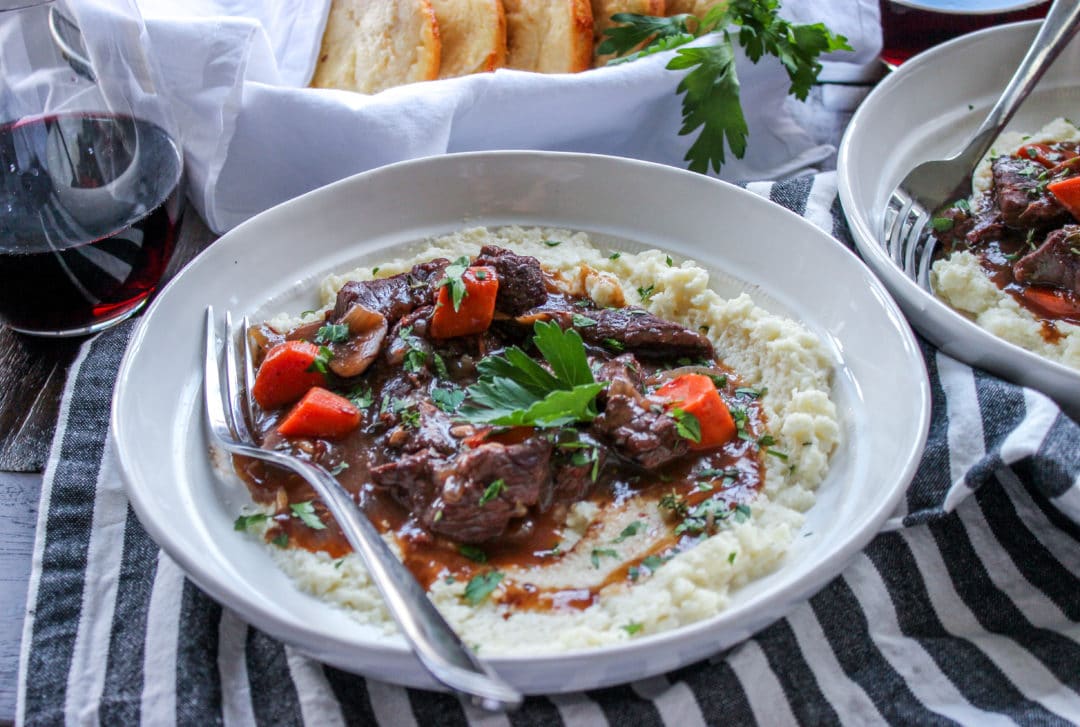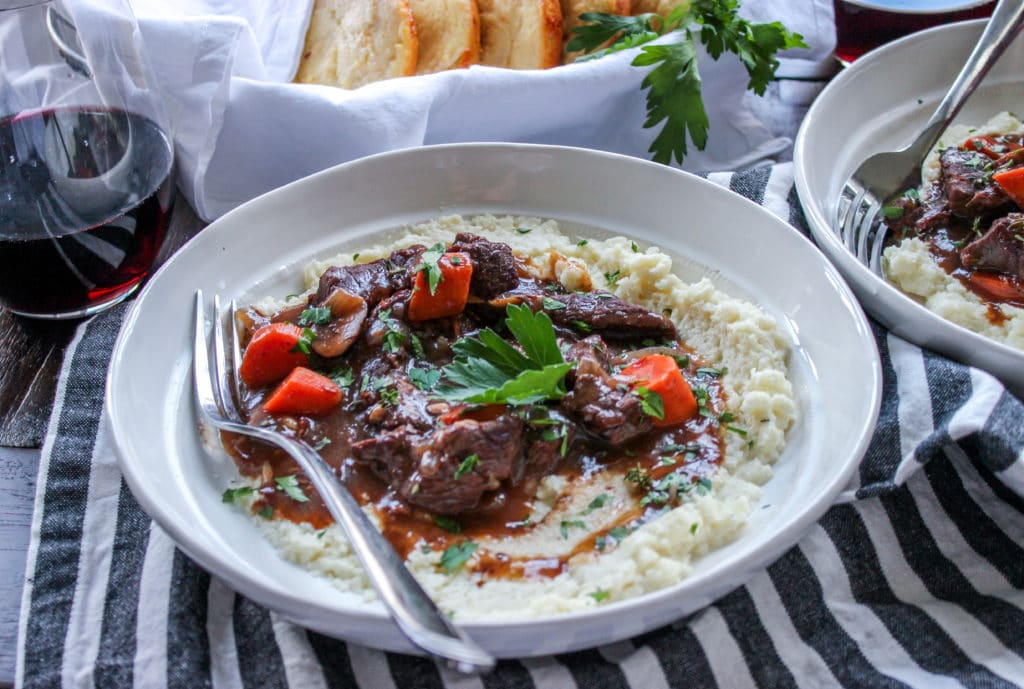 "School" Supplies:
Dutch Oven
Tongs
Knife & Cutting Board
"Class" Notes:
I wanted to incorporate the classic flavors of a beef bourguignon, while at the same time, lowering the carb count a bit (fewer veggies and a little less wine…just means more for drinking later) without compromising the flavor. I was definitely successful and loved how well this turned out.
I start the recipe on my stove top first, and then transfer it to the grill to smoke and tenderize. I find this is easier and lends for more control initially to brown the meat and get a nice deglazed pan (that's where the flavor is my friends).
Begin by cooking some pancetta first in the dutch oven. It releases some fat and adds more flavor as well when you go to sear the meat. Plus, crispy pancetta is so good! If there isn't a whole lot of fat, add a little more oil to the pan.
At this point, I get the pan very hot so I can sear my chuck roast (you can use stew meat if the pieces appear to be even or cut your own 1″ chunks from a chuck roast). I start by patting the meat dry first with a paper towel to remove any moisture on the surface, because if it's too wet it will steam and not brown.
Sear the meat quickly to lock in the juices. I do this in batches typically because crowding the pan all at once never goes well. Set the browned meat aside and begin deglazing the pan.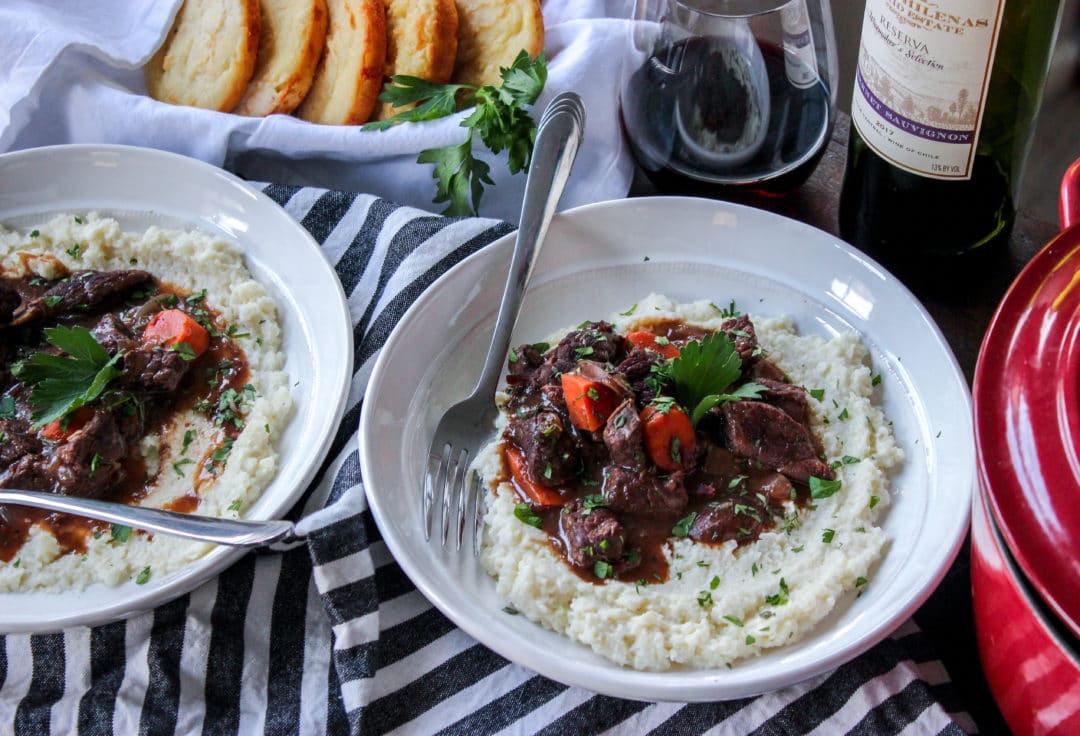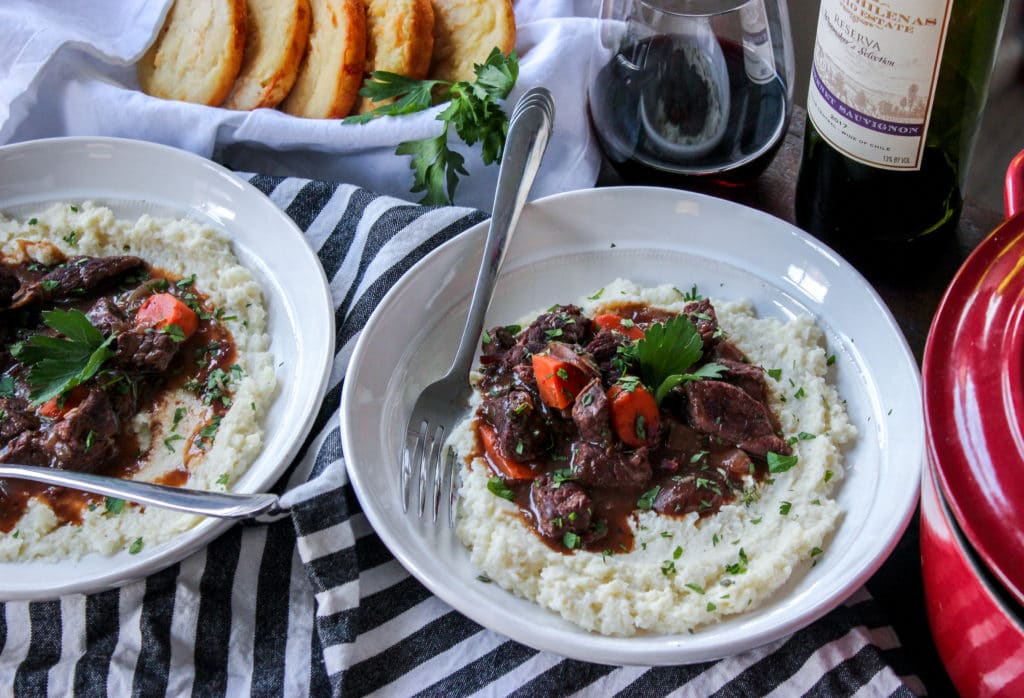 To deglaze the pan, I add a small amount of red wine right into the bottom of the dutch oven. I use a wooden spoon and scrape along the bottom to get the flavors from the fond (fancy term for the yummy cooked on brown bits) back into the dish.
Add everything in (the seared beef, the crispy pancetta, onion, garlic, and a tiny bit of carrot for flavor, and mushrooms). Once that is done pour in more wine and some beef stock. Then, I transfer it to my grill to cook at 300F on indirect heat for about 90 minutes.
Once it hits the hour and a half mark, I like to thicken it slightly so it's almost like a gravy. I use a little xanthan gum (acts like a low carb cornstarch) to do this and mix it in well to dissolve. Serve the Low Carb Smoked Beef Bourguignon over some garlic parmesan cauliflower mash (because if you don't add garlic and parmesan it tastes like farts… #fact).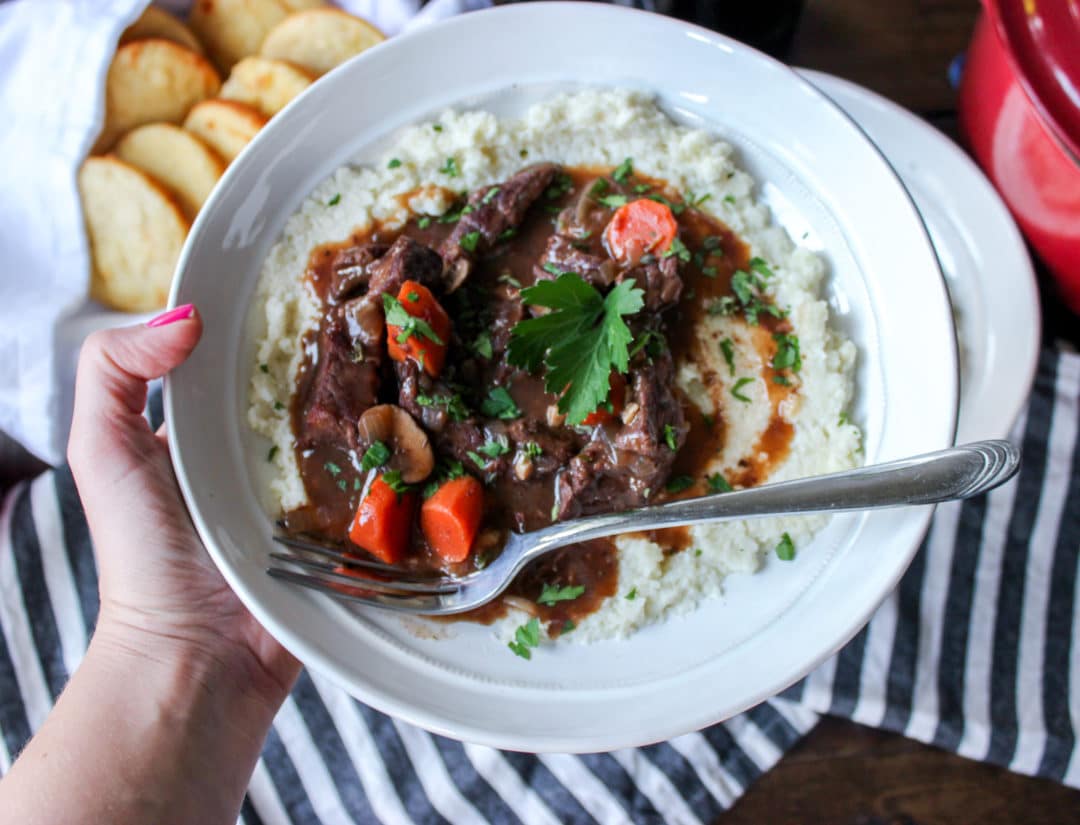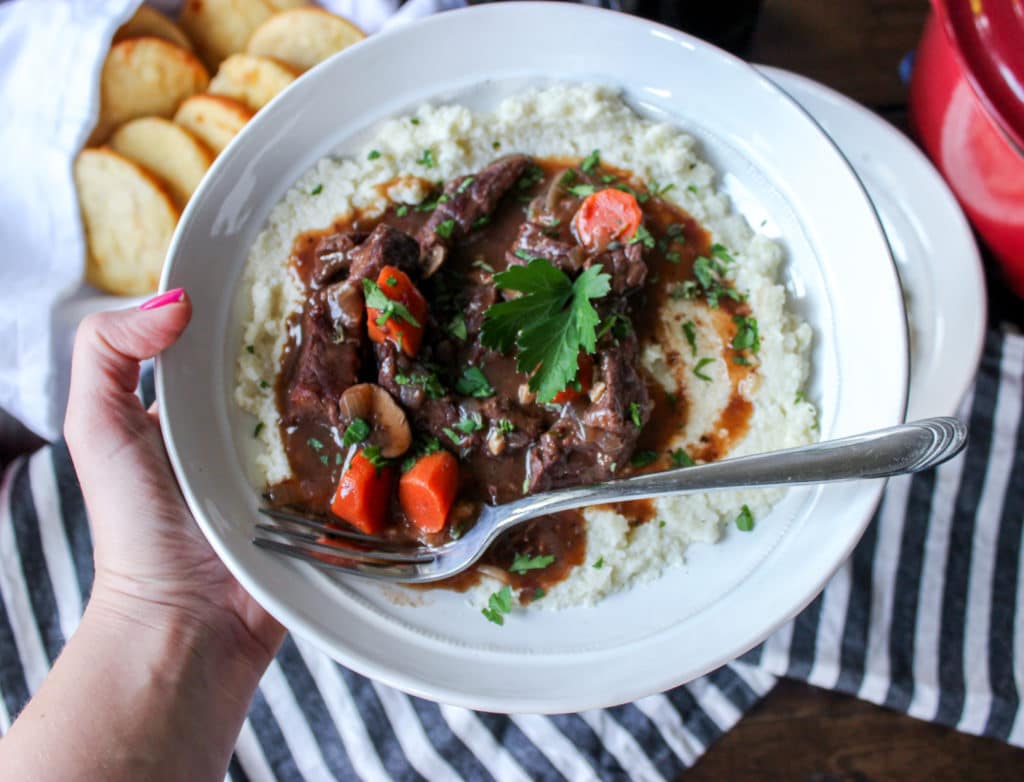 If you love this classic remixed into a lower carb version, check out my Keto Cornbread Chicken Pot Pie too!
Bon Appeteach,
-L
Ingredients
2.5-3 lbs of Chuck Roast, cubed into 1" pieces

1 Tbsp. Olive Oil

1 Small Onion, sliced thin

2 Garlic Cloves

1 Small Carrot, cubed (optional but adds flavor)

8 oz. Bella Mushrooms, sliced thin

8 oz. Pancetta, diced small

2 cups Red Wine (dry wine is best)

2-3 cups Beef Stock

2 tsp. Dried Thyme

Salt & Pepper

1 tsp. Xanthan Gum (helps with thickening)
Instructions
1
Preheat your grill (or oven) to 300F and set it for indirect heat.
2
Begin y cooking the pancetta in the dutch oven on medium heat until crispy. Remove and set aside and leave any remaining fat.
3
Pat the chuck roast cubes dry with a paper towel. Season the meat with salt and pepper and sear quickly on high heat in small batched in the dutch oven. If you need to add more oil, do so to prevent sticking. Set the cooked meat aside as well.
4
Next, deglaze the pan by adding in the wine and reduce the heat back to medium. Use a wooden spoon and scrape along the bottom of the pan to remove any of he yummy brown bits. Return the beef, the pancetta, and all the remaining ingredients (carrots, onion, garlic, mushrooms, and thyme into the pan. Add the beef stock so the meat is fully covered (this may require 2-3 cups of liquid or so). Cover and transfer to the grill.
5
Allow the dish to simmer, covered for about 90 minutes. Remove the cover, and sprinkle in the xanthan gum (you can sub cornstarch or arrowroot powder as well but this is higher in carbs). Stir the mixture well to dissolve fully and allow it thicken slightly. Remove from the heat and serve over cauliflower mashed potatoes.