Low Carb Chipotle Pumpkin Turkey Chili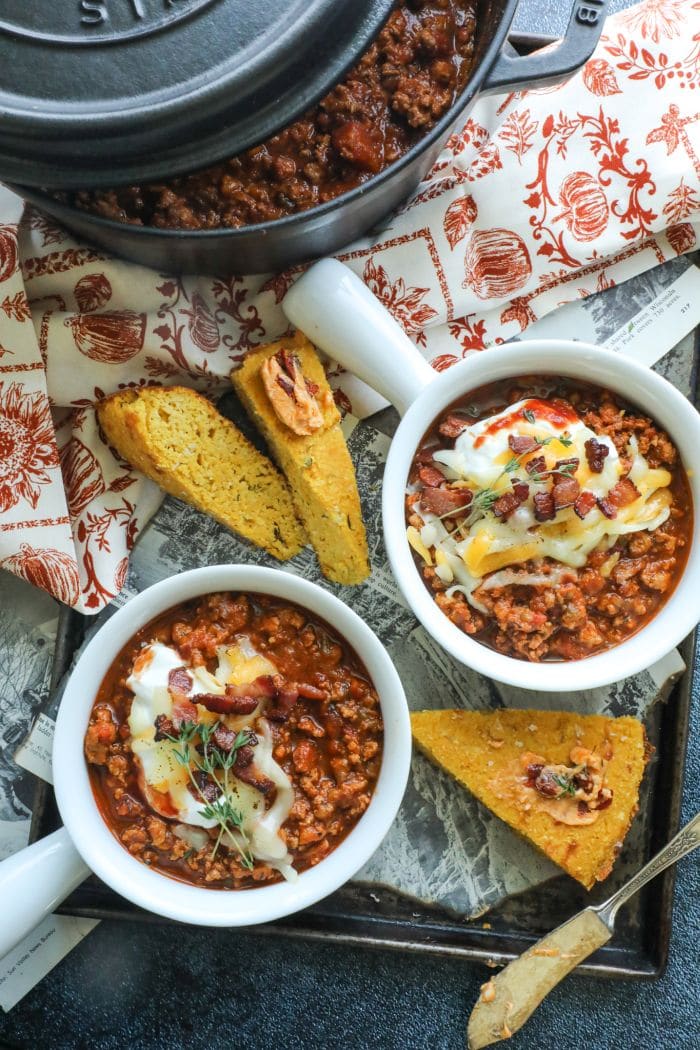 This is the perfect low carb keto turkey chili recipe to indulge in this fall. A delicious savory pumpkin chili without beans, smoky chipotle peppers, and seasoned ground turkey for a low carb keto diet friendly dish!
Chili is an easy, any night of the week kind of meal. It's perfect for a quick dinner after a busy work day or to tuck into for a comfort food filled Sunday night dinner. It's definitely my go-to when the weather starts to get cooler, but frankly I could eat it any time.
While I already have a handful of chili recipes here on my site (low carb beef chili or this low carb chicken chili that I make at least twice a month), I really love the slightly sweet and savory combo of this pumpkin puree based chili. In fact the combination of pumpkin, adobo peppers, and the acidity of the tomato sauce play off each other really well.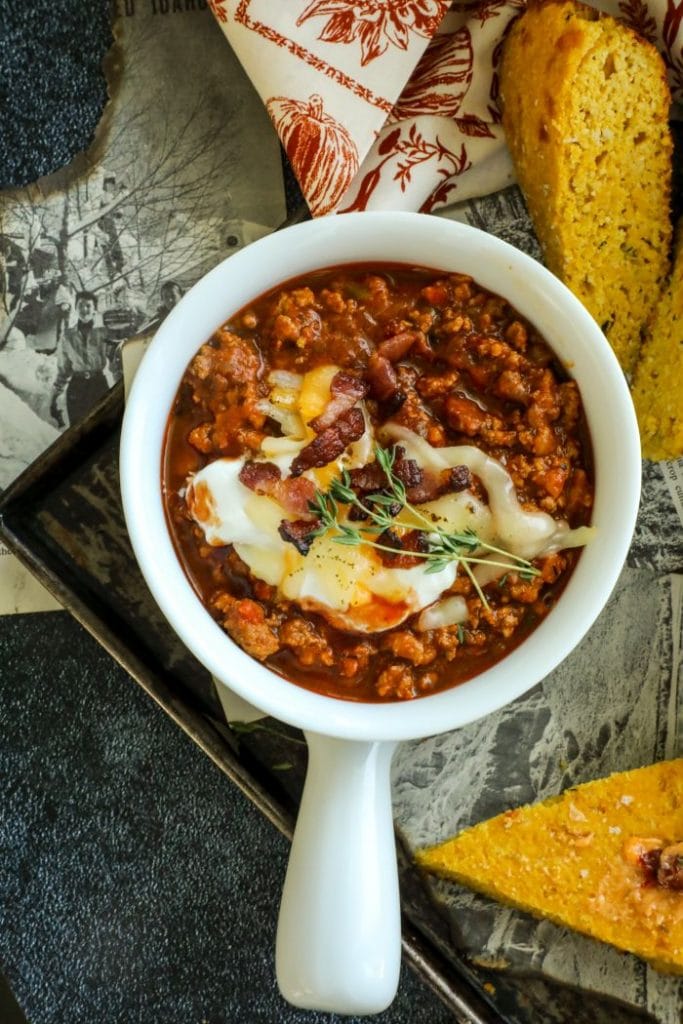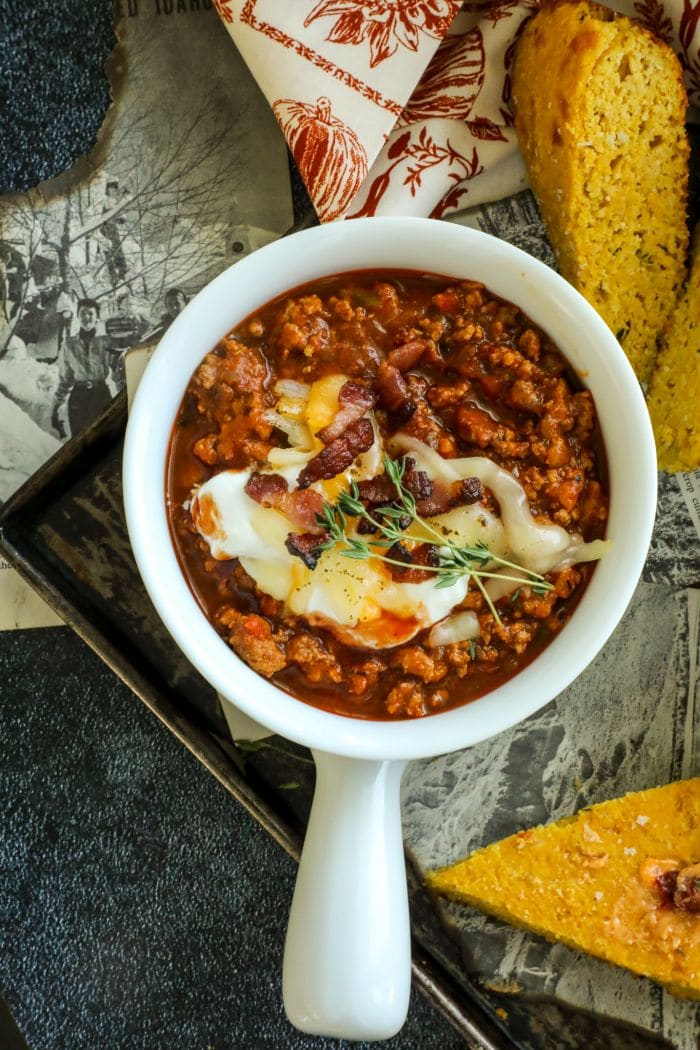 Below you will find a list of ingredients, possible substitutions to fit your diet and lifestyle, as well as tips and cooking methods for this dish (from smoking it on the grill to cooking it in a slow cooker/instant pot, I got you). Because no matter how much time you have or what way you choose to eat, there is something here for everyone. Let's dive in!
"School" Supplies:
Large Pot (I love this go-to 6 qt. for my chili)
Knife & Cutting Board
Small Bullet Blender or Immersion Blender (optional but helpful)
Wooden Spoon/ Spatula
"Class" Notes:
Here is a list of ingredients for this recipe as well as helpful substitutes to make this work for you.
Ingredients:
Ground Turkey: Because I already have ground beef based and a shredded chicken based chili, turkey felt like a good fit for this. It's a leaner meat however, and with less fat, this chili does really well with the seasonings and flavors to help tie it all together.
You could easily sub with any other ground meat however or even leave the meat out and maybe add diced sweet potatoes for a vegetarian option.
Bacon: Like I mentioned above, ground turkey is very lean. In order to add a little more fat and flavor (this is a keto recipe after all), I added some bacon to this recipe. Swap with turkey bacon or omit if desired. I prefer to sliced it into pieces and cook this in the pot first.
Discard most of the fat except a few tablespoons after the bacon is cooked. Then add the ground turkey to the remaining bacon fat to help brown the meat. If you omit the bacon entirely, add a little olive oil into the pot instead to cook your meat and fresh veggies.
Diced Tomatoes: I used one who can of died tomatoes and the sauce for this recipe. I prefer a brand that is fire roasted as well (Muir Glen brand has incredible flavor). If you prefer not to have large pieces of tomato in your chili, sub with crushed tomatoes instead.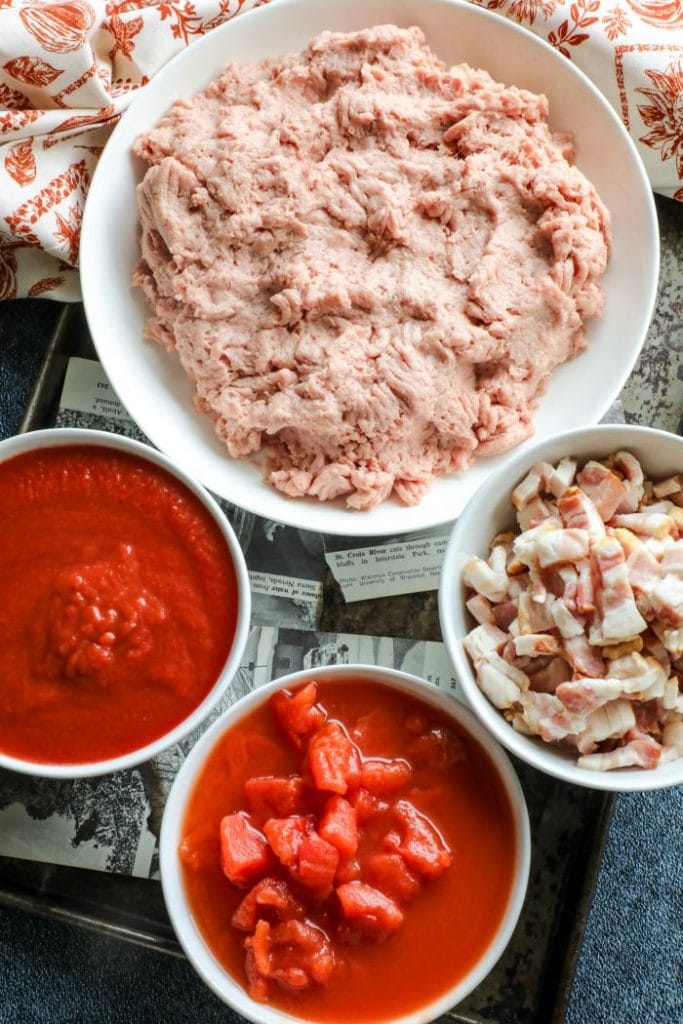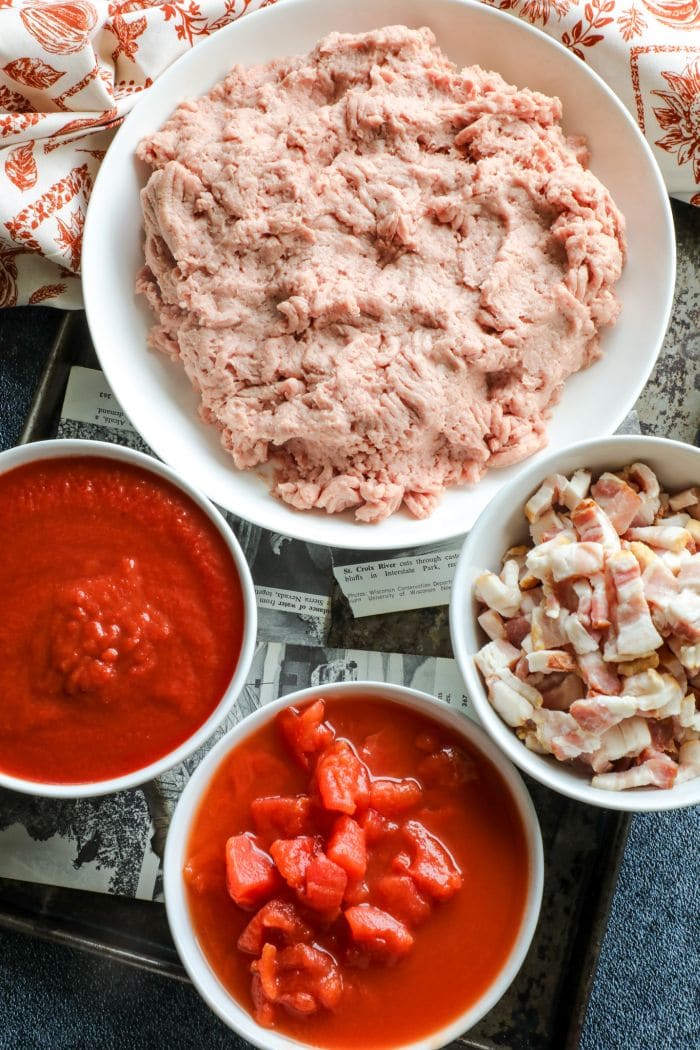 Pumpkin Puree: Make sure to use a standard puree and not a pie filling. I often have some pumpkin leftover from baking up these keto pumpkin muffins or low carb pumpkin chocolate chip cookie bars, so it helps to use it up in a savory recipe too.
Adobo Peppers and Sauce: Depending on how spicy you like your chili will depend on how many peppers you add. I like to add 3-4 peppers and sauce that I pre-blend with my immersion blender or my smaller bullet blender to add into this. The seeds inside the peppers add some heat, but the tomatoes and pumpkin balance it out nicely.
Canned Green Chiles: I love green chiles for flavor and spice. You can substitute with fresh green chiles or jalapenos if desired too. The canned ones are something I often have on hand and are quick and easy for less prep.
Orange Peppers: I like to add a pop of color to this chili with a sweeter bell pepper. You could also sub with yellow or red pepper here as well.
Red Onion: Red onions work well here too (again for color and flavor). Swap with other onions you have on hand if you want.
Chili Spice Blend: I like to use a combo that's heavy with chili powder, smoky paprika, cumin, garlic and onion powders, sea salt and pepper, and a bit of cayenne too.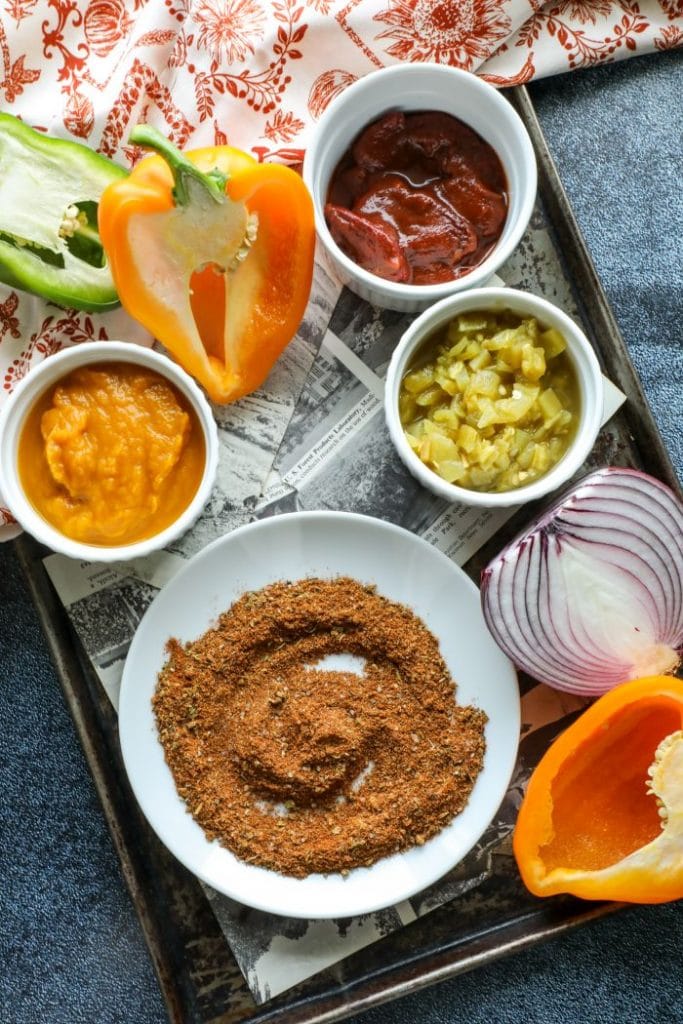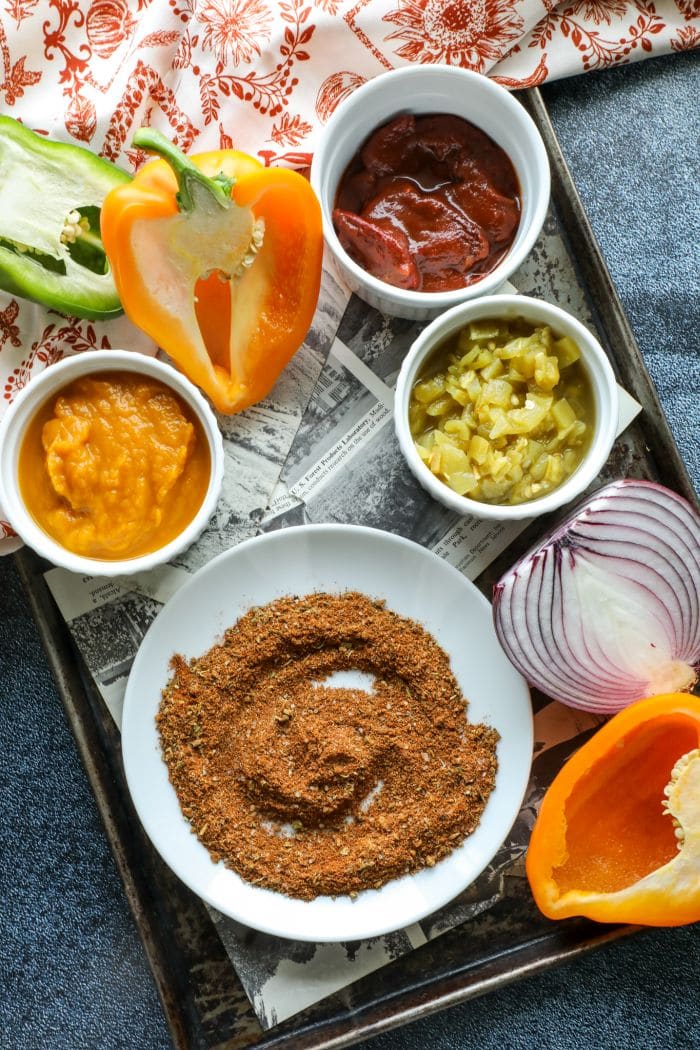 Tips for cooking this chili:
Start by cooking you meats (browning the bacon and cooking the ground turkey in the bacon fat)
Add the spice blend to both the ground turkey to season it while you brown it, but also season the sauce mixture too. Don't get skimpy!
Pre-blend your adobo peppers to help break them up. You can also run a chef's knife through these peppers as well, but it's a little messier.
Chop your fresh vegetables to be the same size, so they cook at the same rate.
Leave the lid off the pot if you want to reduce the amount of natural liquid in the pot if you like a thicker consistency if using a stove top method.
I strongly suggest you cook for a few hours (or even cook ahead of time) on low once it comes together to help break down the turkey, tenderize it, and create a strong chili flavor throughout the mixture. The longer the chili sits the better it always tastes!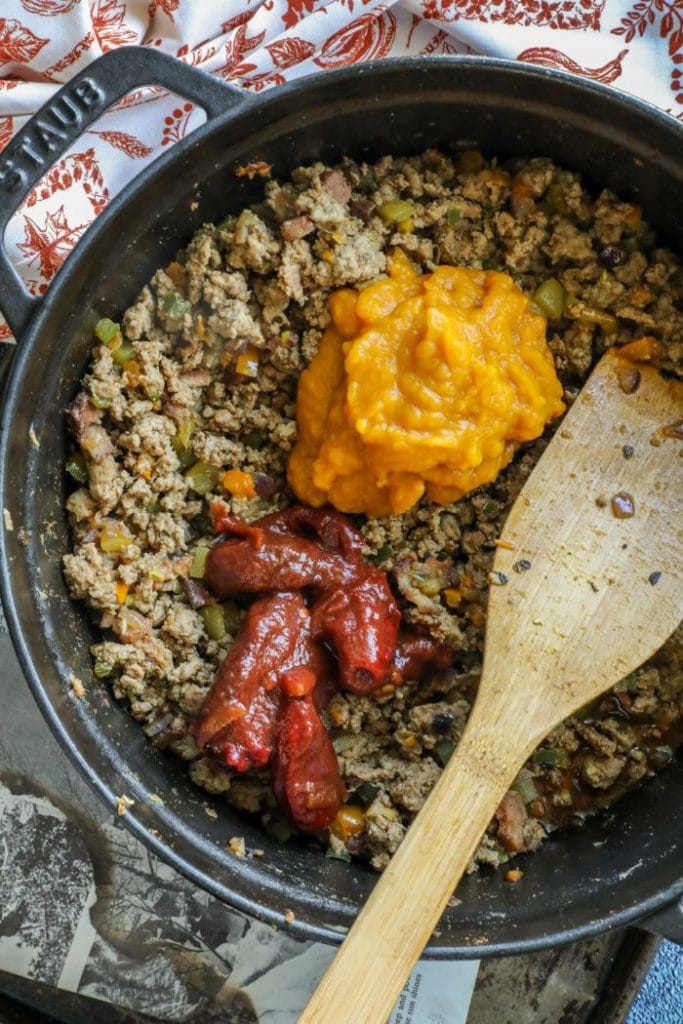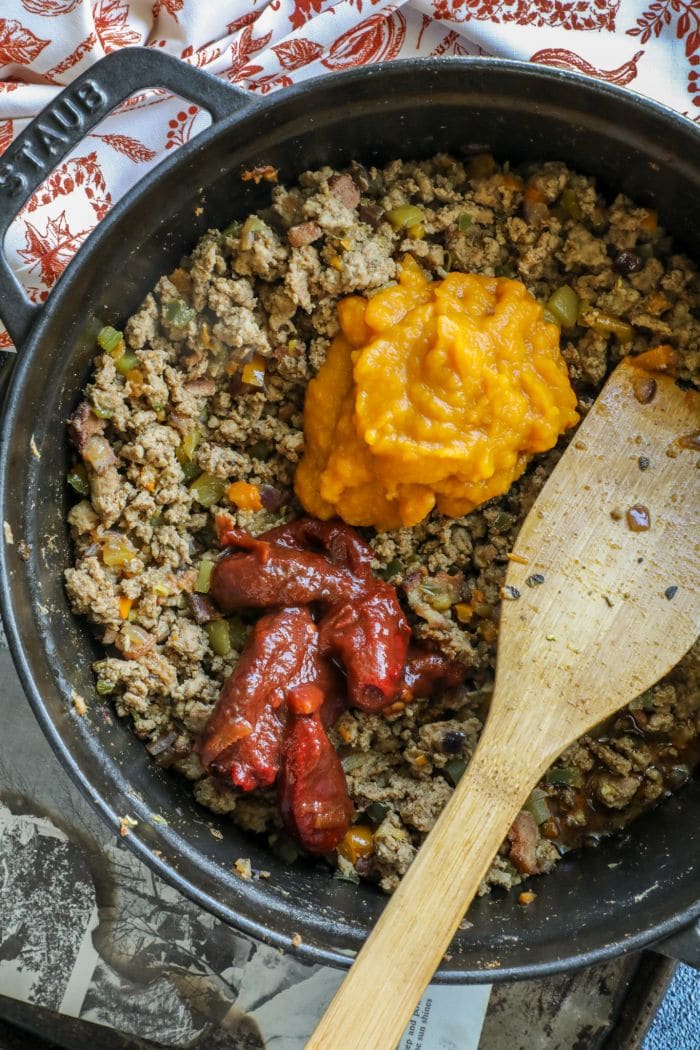 Choose a cooking method:
What makes chili so easy is that it's really just about combining a handful of ingredients together into one pot and letting it do it's magical thing in about a total of 30 minutes. Pick the best method below and grab a few tips along the way. Standard stovetop method will be listed only in the recipe card below.
Standard Stove Top Method: Grab a large pot, start by cooking you meat, adding in your fresh vegetables first to sauté and cook them down, then add in all the canned goods (tomatoes, pumpkin puree, adobo peppers, and green chiles). Once everything is added, let it cook and do it's thing on low temperature until you're ready to eat!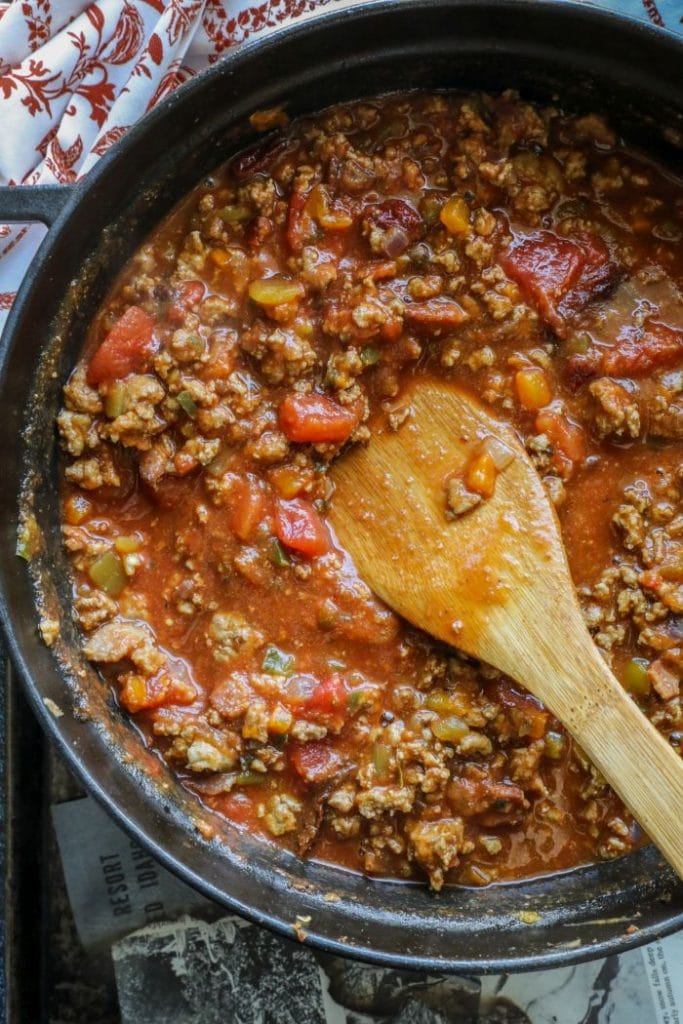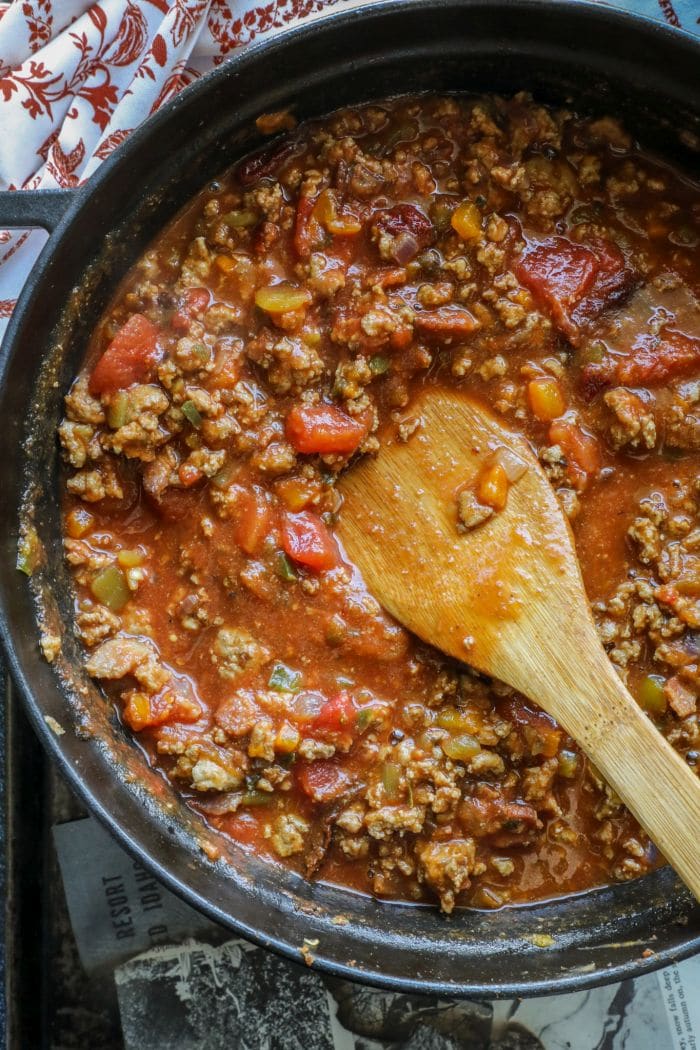 Instant Pot: Use a 6-8 qt. InstantPot for this recipe. Start by using the sauté method to brown the bacon, turkey, and then the vegetables. Make sure to stir occasionally to help cook and evenly brown. Add the remaining canned ingredients and close the lid.
Set the pressure vent to Sealing and press Pressure Cook on HIGH or MANUAL for 15 minutes. Use Quick Release to release the pressure (this takes a few minutes), then open, stir again, and serve.
Crock Pot: To the bottom of the crock pot, add your crispy bacon, the raw ground turkey, and the veggies. Add in the seasonings and canned ingredients and stir it carefully and set it on low for 8 hours or high for 4 hours. If you can stir it and break up the mixture a few times, do so!
Grilled/ Smoked: The best way to get the smoky flavor to infuse into the chili is to smoke the meat and the vegetables prior to assembling the chili in a pot. Here is a great guide to follow on how to do this!
Garnish ideas and toppings:
You have to have some delicious toppings on every bowl of chili. Here are my favorites:
Sour Cream
Shredded Cheese Blends
Green Onion
Extra Crispy Bacon
Keto Tortilla Chips, crushed on top
Side of

Keto Pumpkin Cornbread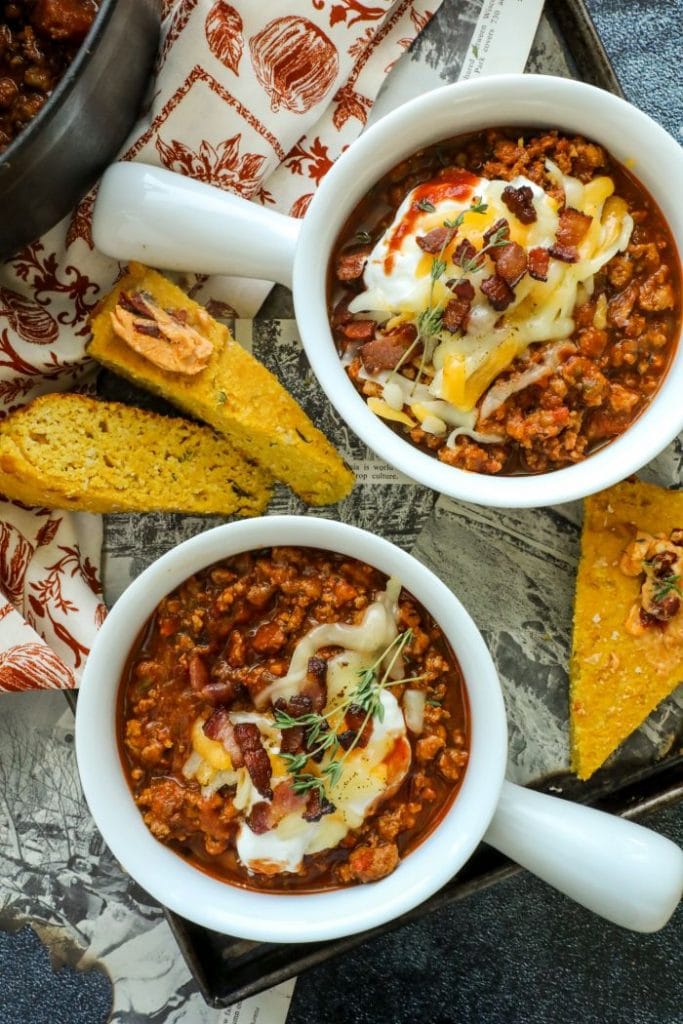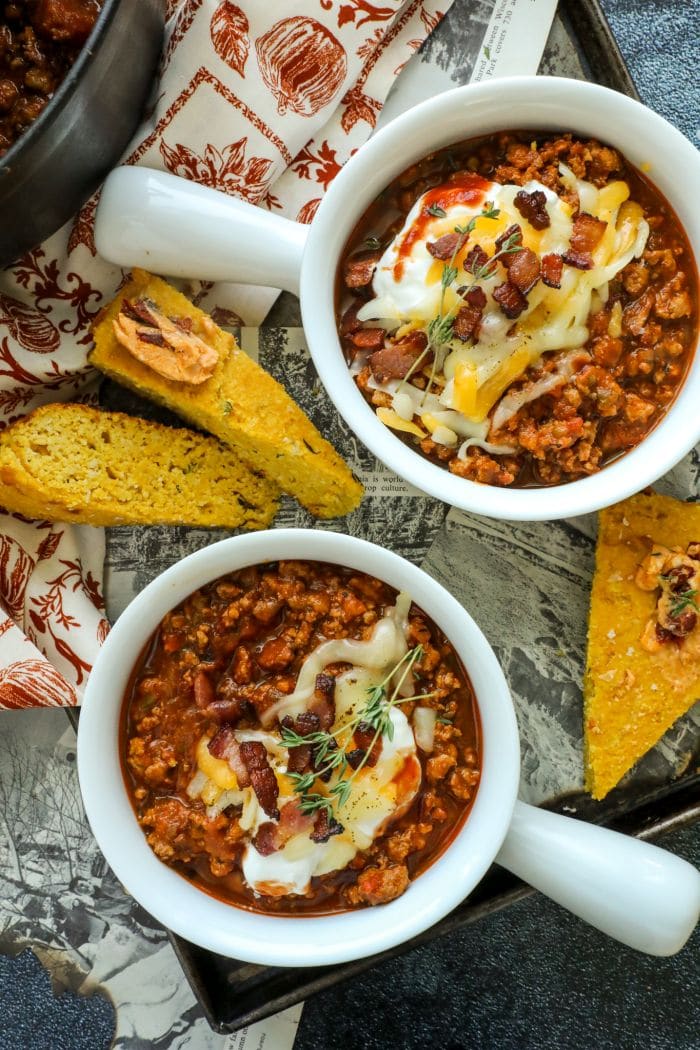 I hope you enjoy this low net carb, keto, gluten free, and paleo pumpkin chili!
Chipotle Pumpkin Turkey Chili
This is the perfect keto turkey chili recipe to indulge in this fall. A delicious savory pumpkin chili without beans, smoky chipotle peppers, and seasoned ground turkey for a low carb keto diet friendly dish!
Print
Pin
Rate
Ingredients
2

lbs.

Ground Turkey

6

Slices

of Bacon

diced small

1

Orange Bell Pepper

1/2

Red Onion

14

oz.

Fire Roasted Can Tomatoes

4.5

oz.

can Green Chiles

3-4

Adobo Peppers

1/3

cup

Pumpkin Puree

4

tbsp.

Chili Powder

1

tbsp.

Smoky Paprika

1

tbsp.

Cumin

1

tsp.

Salt

1

tsp

Pepper

1/2

tsp

Cayenne
Instructions
In a small bowl, combine the spices together (chili powder, paprika, cumin, salt, pepper, and cayenne).

In a large pot, sauté the bacon until mostly crispy. Drain the majority of the bacon fat, leave a few tablespoons remaining,

Add in the ground turkey and break it up with a wooden spoon or spatula. Add 3 tbsp. of the chili seasoning blend to the ground turkey and continue to cook and brown until no longer pink and cooked through.

Add in the diced onion and pepper and cook 5 minutes. Add in the remaining spices and mix well.

Pour in the green chiles, pumpkin puree, adobo peppers and sauce, and the diced tomatoes. Stir until equally mixed and bring the mixture to a simmer. Simmer for 5 minutes.

The chili is cooked, but tastes best when you reduce the temperature and let it cook, covered on low heat for at least a few hours.
Notes
Want to make this in an Instant Pot, Slow Cooker, or on a smoker? Check out the cooking methods tab above in the post and grab details needed to prepare this chili.
Nutrition
Serving:
1
g
|
Calories:
190
kcal
|
Carbohydrates:
12
g
|
Protein:
29
g
|
Fat:
4
g
|
Saturated Fat:
1
g
|
Polyunsaturated Fat:
2
g
|
Monounsaturated Fat:
1
g
|
Trans Fat:
0.02
g
|
Cholesterol:
62
mg
|
Sodium:
635
mg
|
Potassium:
640
mg
|
Fiber:
5
g
|
Sugar:
4
g
|
Vitamin A:
5761
IU
|
Vitamin C:
27
mg
|
Calcium:
77
mg
|
Iron:
5
mg