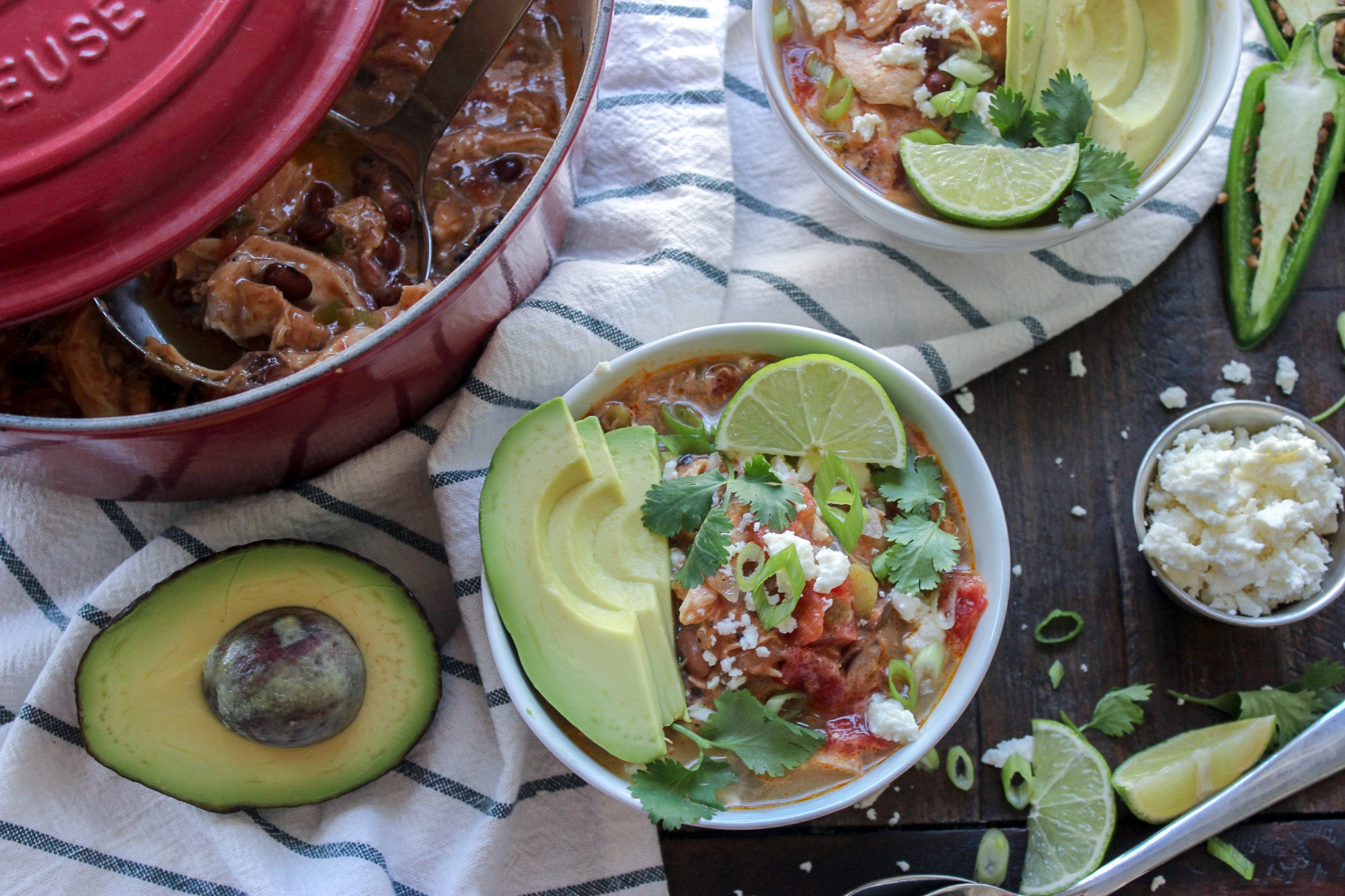 Need an easy weeknight low carb chicken dinner? This Keto friendly chicken chili recipe is my go to that my whole family loves!
There was a time where I made a non-low carb version of this dish weekly. I was addicted. Needless to say, as I started living my low carb life, this chili took a seat on the back burner. One of the reasons why I nixed this Chicken Chili dish was because to me, it really needs the beans to feel like a chili and not a soup.
Beans unfortunately are very high in carbs. Recently, I discovered a low carb black soybean that has been changing my chili game. So I reworked this favorite recipe of mine, pulled out a few other low carb tricks that I had up my sleeve and recreated the perfect Low Carb Chicken Chili.
It's a great dinner for a weeknight, comes together quickly, reheats and freezes perfectly, and is packed with flavor. Find the full recipe for Low Carb Chicken Chili below and read on for the tips and tricks.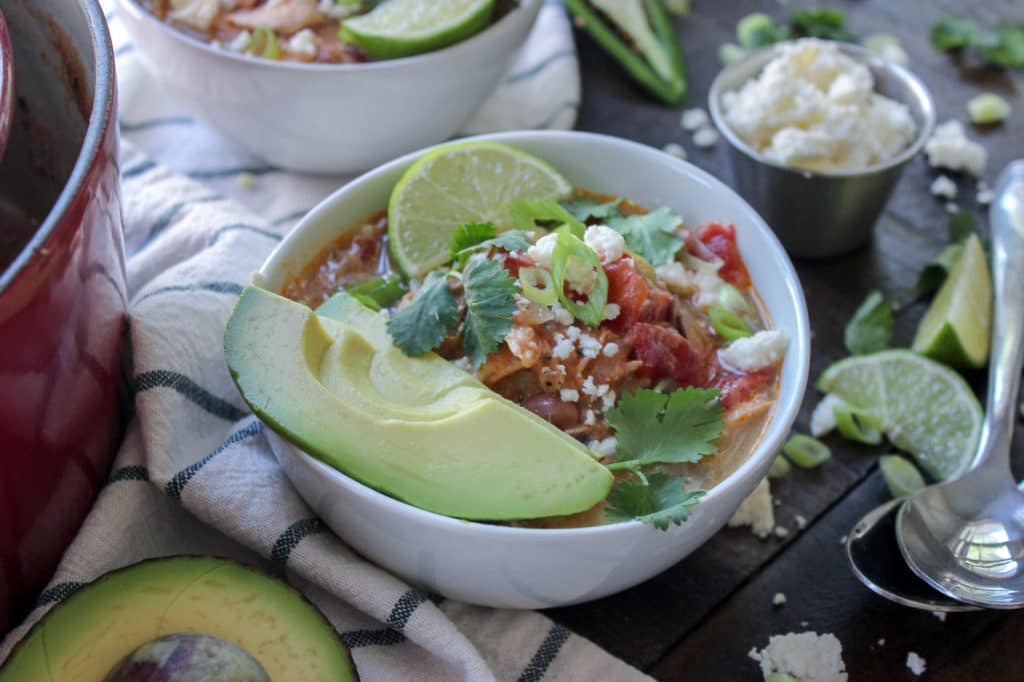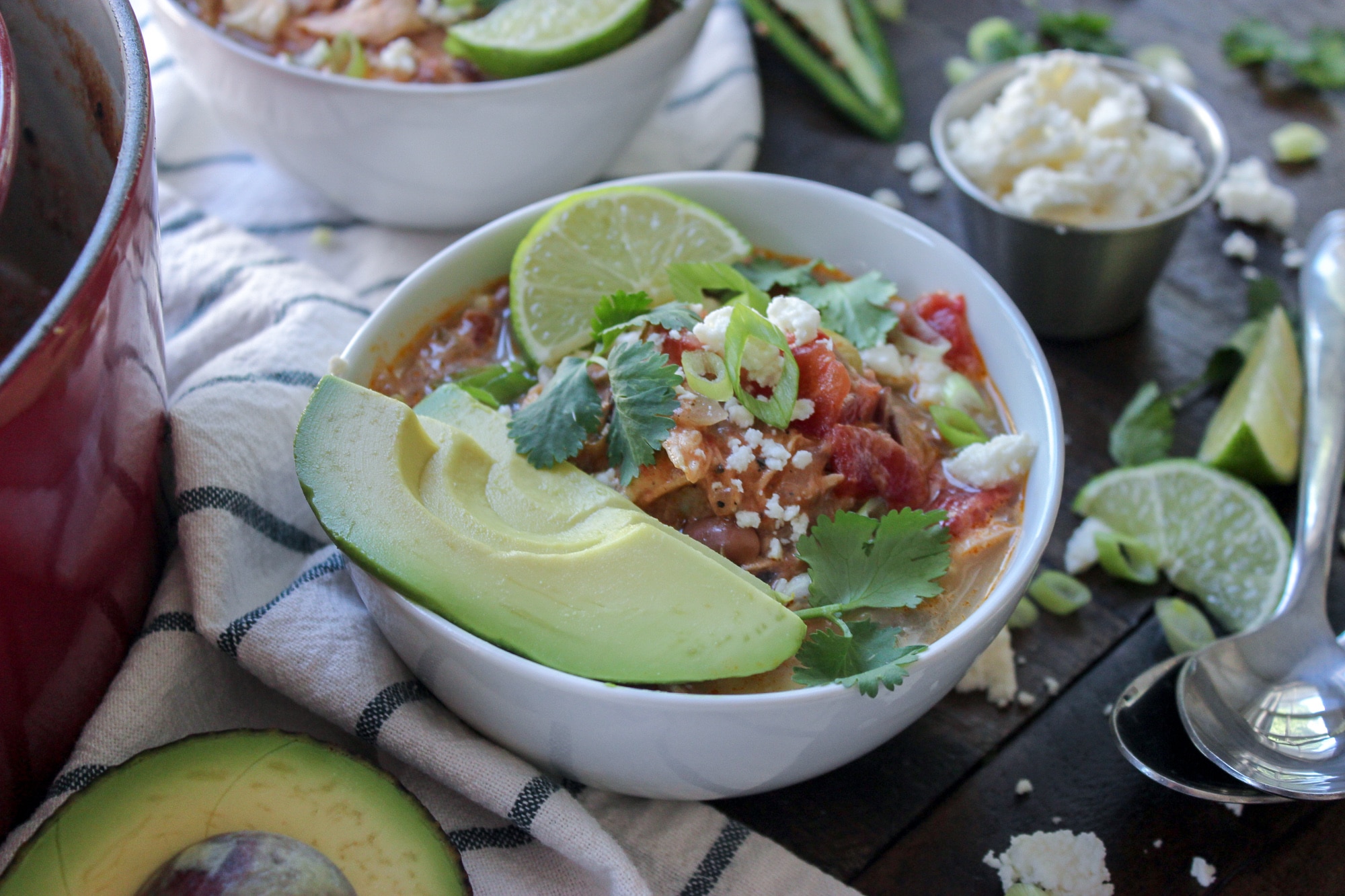 "School" Supplies:
Knife & Cutting Board
Large Pot
Spatula
Forks
Can Opener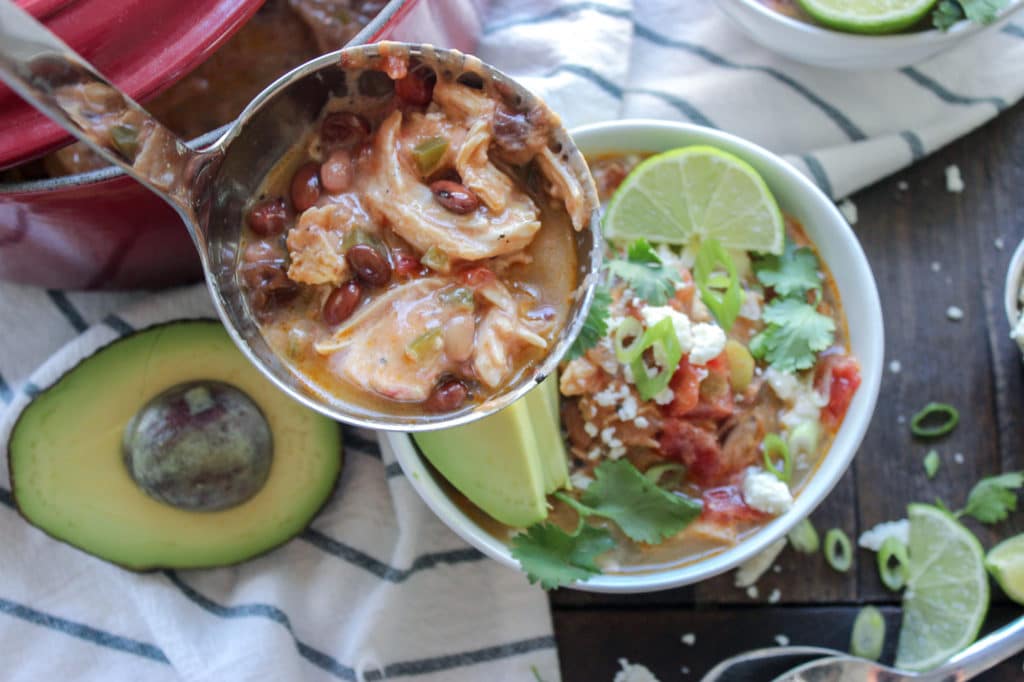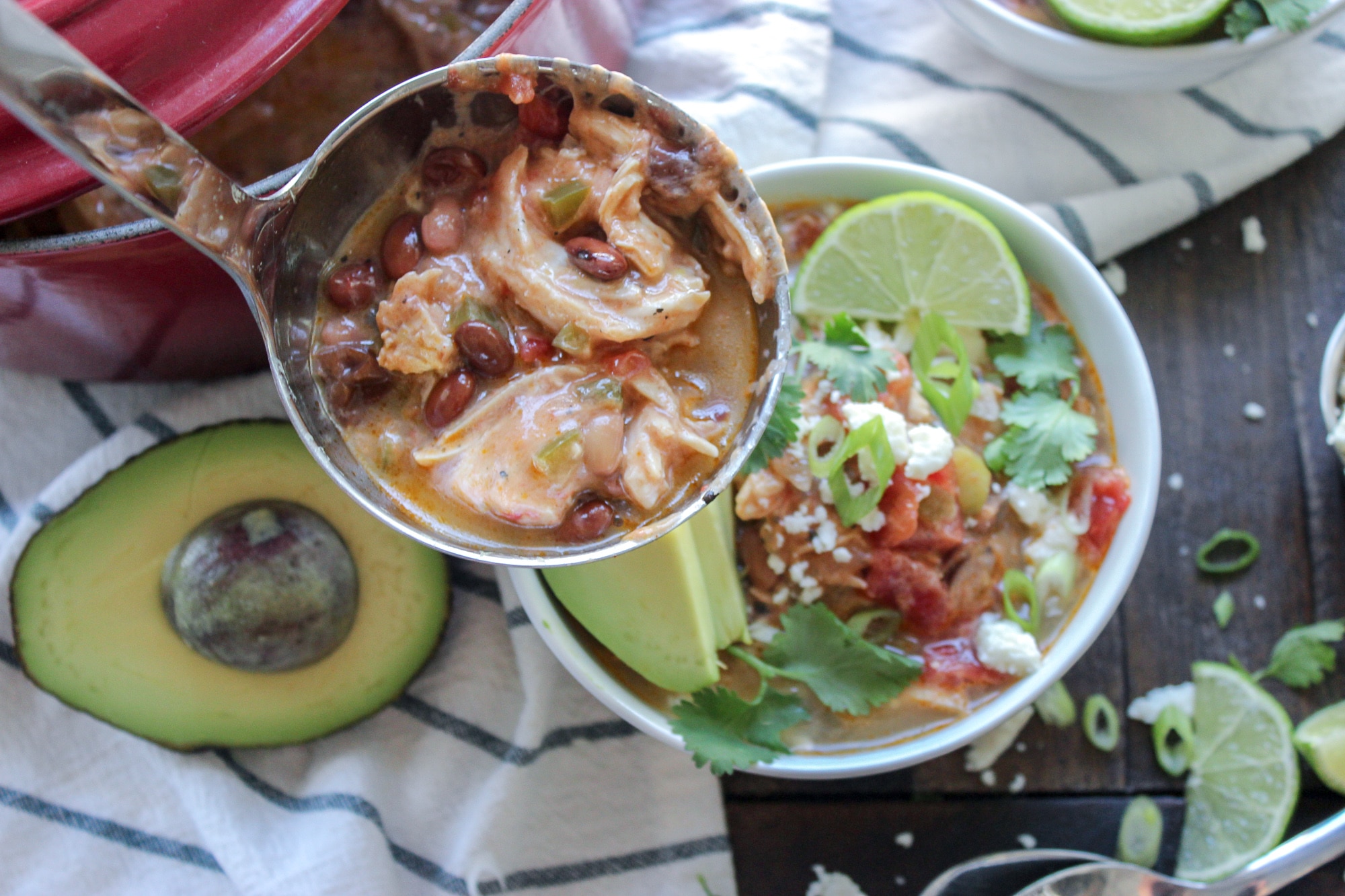 "Class" Notes:
Low Carb Chicken Chili is all made in one pot. Don't ya love it??? I DO! Chop the veggies, get them sauteing and cook till tender. Next, add the seasoning and allow it to cook a bit before adding any liquid. By doing this, it helps toast and bring out more of the flavors.
Finish it off by adding the canned fire roasted tomatoes and the chicken stock. Bring the whole mixture up to a small boil. Add in the raw chicken (or use a rotisserie chicken for an even faster meal). Reduce the heat a bit and allow it to simmer. Let it cook for about 15-20 minutes until the chicken is cooked through. Remove the whole chicken breast and use two forks to shred it.
Add the chicken back in and then add the can of black soy beans. Now here is where we step it up another notch. In my "carbier" version of this dish, I used to add cornmeal to this chili to help thicken the mixture and add texture. To keep this low carb, I added a small amount of Psyllium Husk Powder to this instead.
It mimicked the cornmeal perfectly, thickens the mixture, and adds impeccable texture and mouthfeel. It isn't a necessary part of this dish but it really does something amazing and I cannot recommend it enough. Finally, finish it off with a splash of half and half and a squeeze of fresh lime juice. Serve the chili  with your favorite cheese, a dollop of sour cream, and some diced or sliced avocado.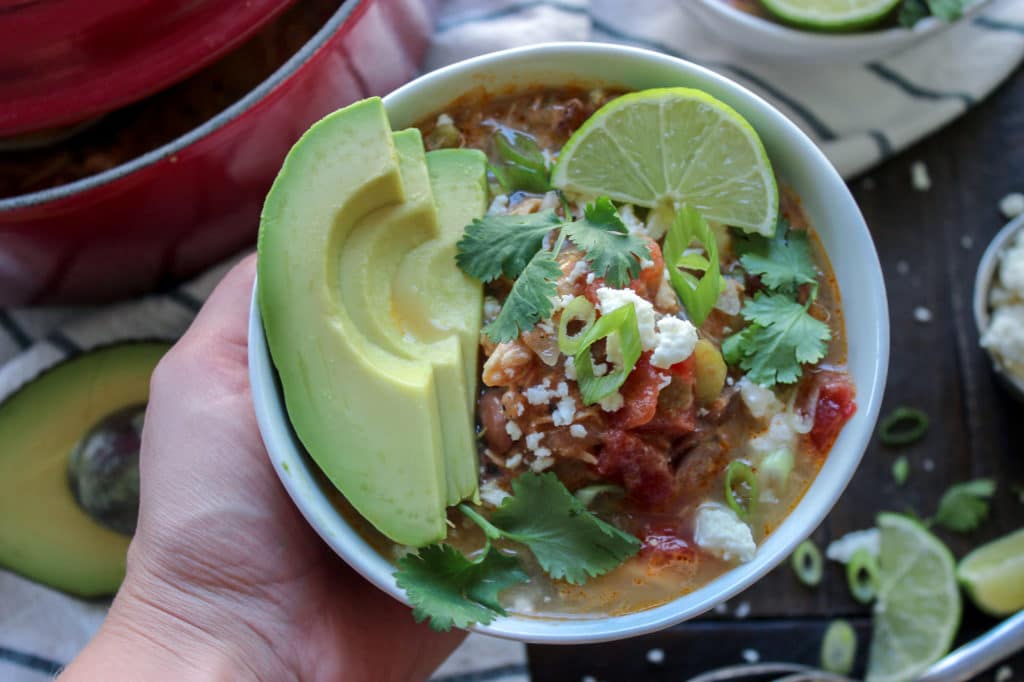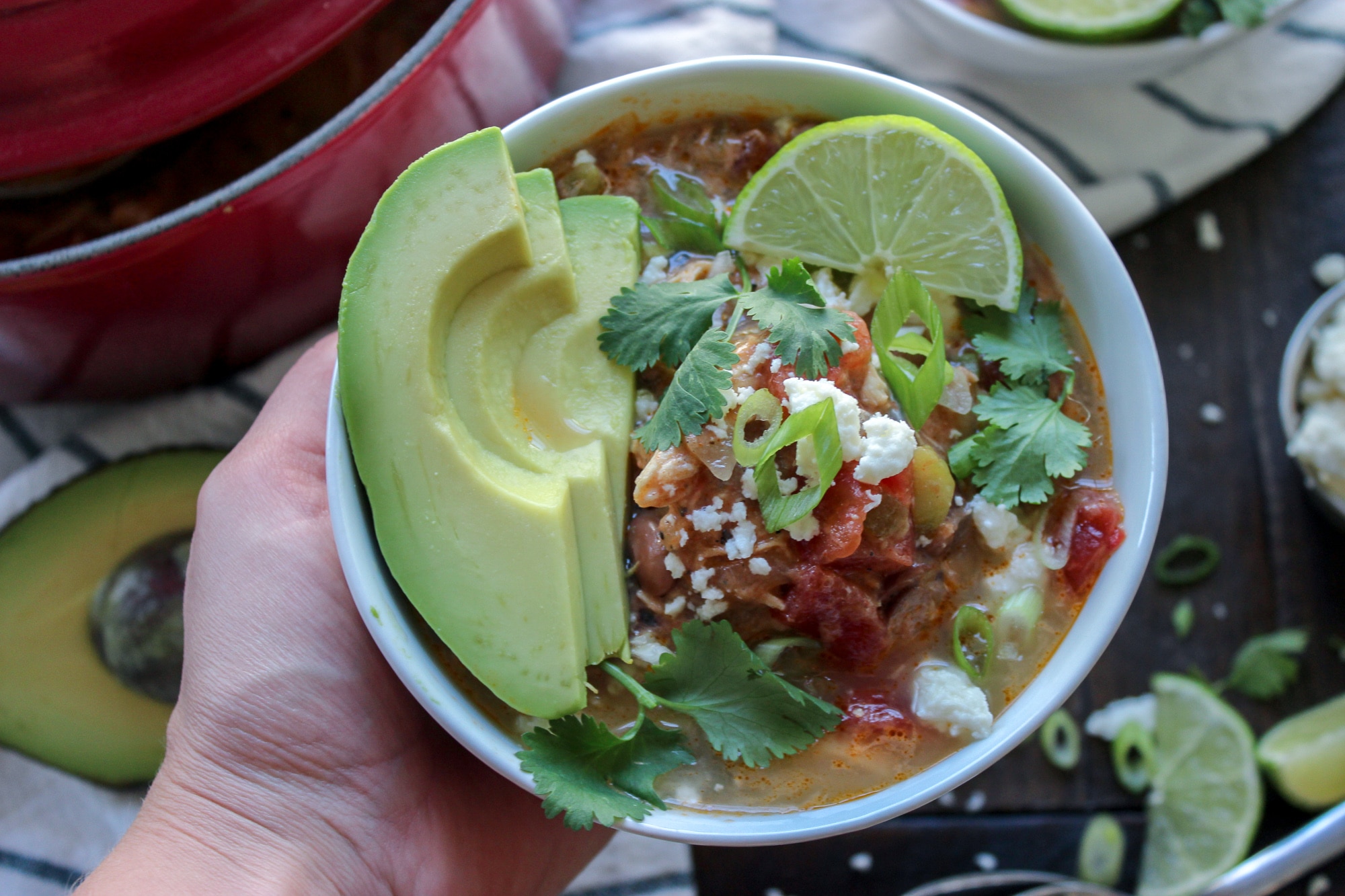 If you low how easy and delicious it is to make a low carb chili like I do, then check out my Low Carb Beef Chili and my Keto Corn Muffins too!
Bon Appeteach,
-L
Yield: 6-8
Low Carb Chicken Chili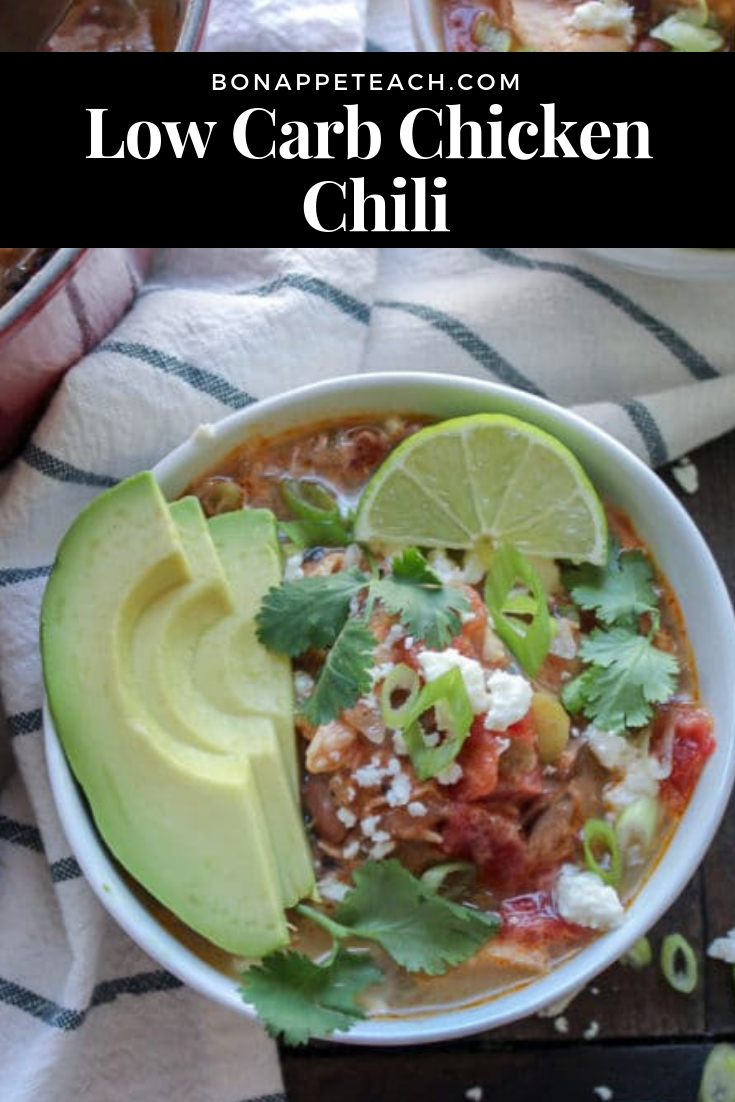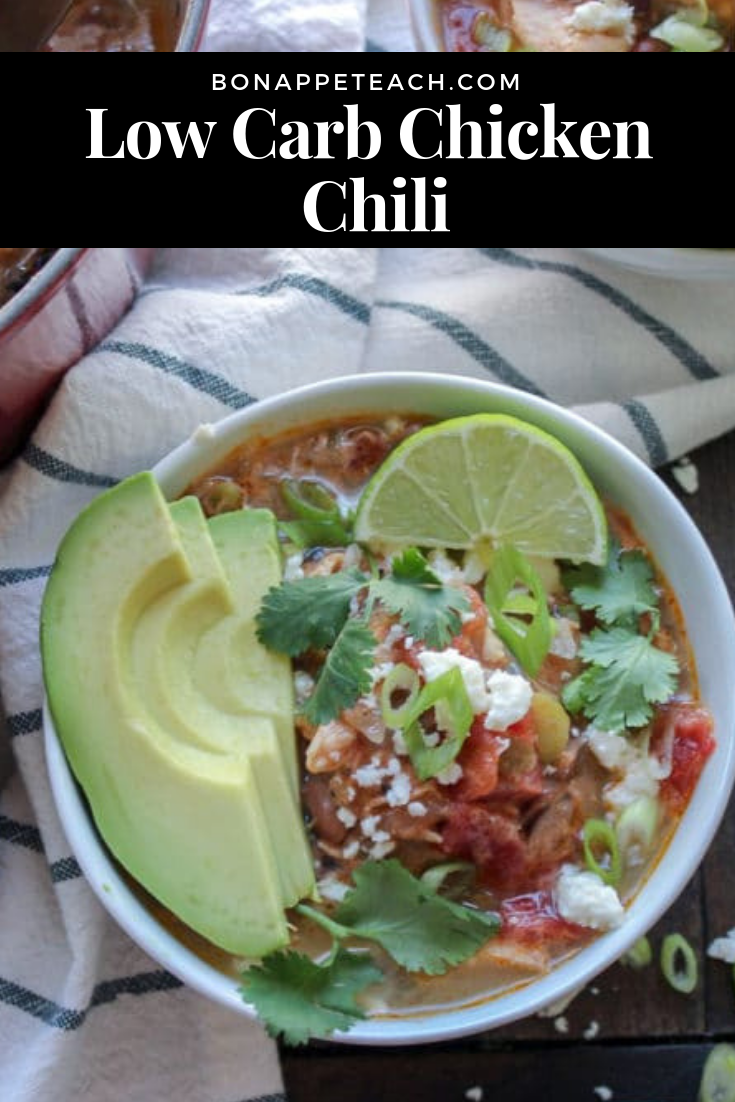 Ingredients
1 Tbsp. Olive Oil (or butter)
1/2 Onion, diced small
1 jalapeno, diced small (seeds removed if desired)
1 Garlic Clove, minced
1 can (14.5 oz) Fire Roasted Tomatoes
1 lb Chicken (around 2 chicken breasts)
1 qt. Chicken Stock
1/2 cup Half & Half (can sub heavy cream or whole milk too)
1/2 Lime, juiced
1 tsp. Salt
1 tsp. Black Pepper
2 tsp. Cumin
1/2 tsp. Cayenne
1 tsp. Paprika
Instructions
1. In a large pot ( I like to use my le creuset), heat the olive oil on medium heat.Add the onion and jalapeno. Cook for 5 minutes until tender and translucent. Then add the garlic and all of the spices.

2. Cook for about 30-45 seconds until the garlic and spices smell fragrant. Add the can of fire roasted tomatoes and the chicken stock. Bring to a small boil.

3. Carefully place the chicken into the pot so it is submerged.

4. Cook on a simmer for 15-20 minutes. Remove the chicken and shred it with two forks. Place back in the liquid.

5. Add the can of black soy beans (optional) and the psyllium husk and stir it in until it dissolves. Allow it to continue to simmer and cook a bit. It will thicken quickly.

6. Finally, stir in the half and half and the lime juice. Serve with cheese, sour cream, and diced avocado.
Nutrition Information:
Yield:
8
Serving Size:
1
Amount Per Serving:
Calories:

102
Total Fat:

5g
Nutrition information was obtained using My Fitness Pal and may not always be 100% accurate. For best results, please calculate your own nutritional data.