Low Carb BBQ Bacon Wrapped Delicata Squash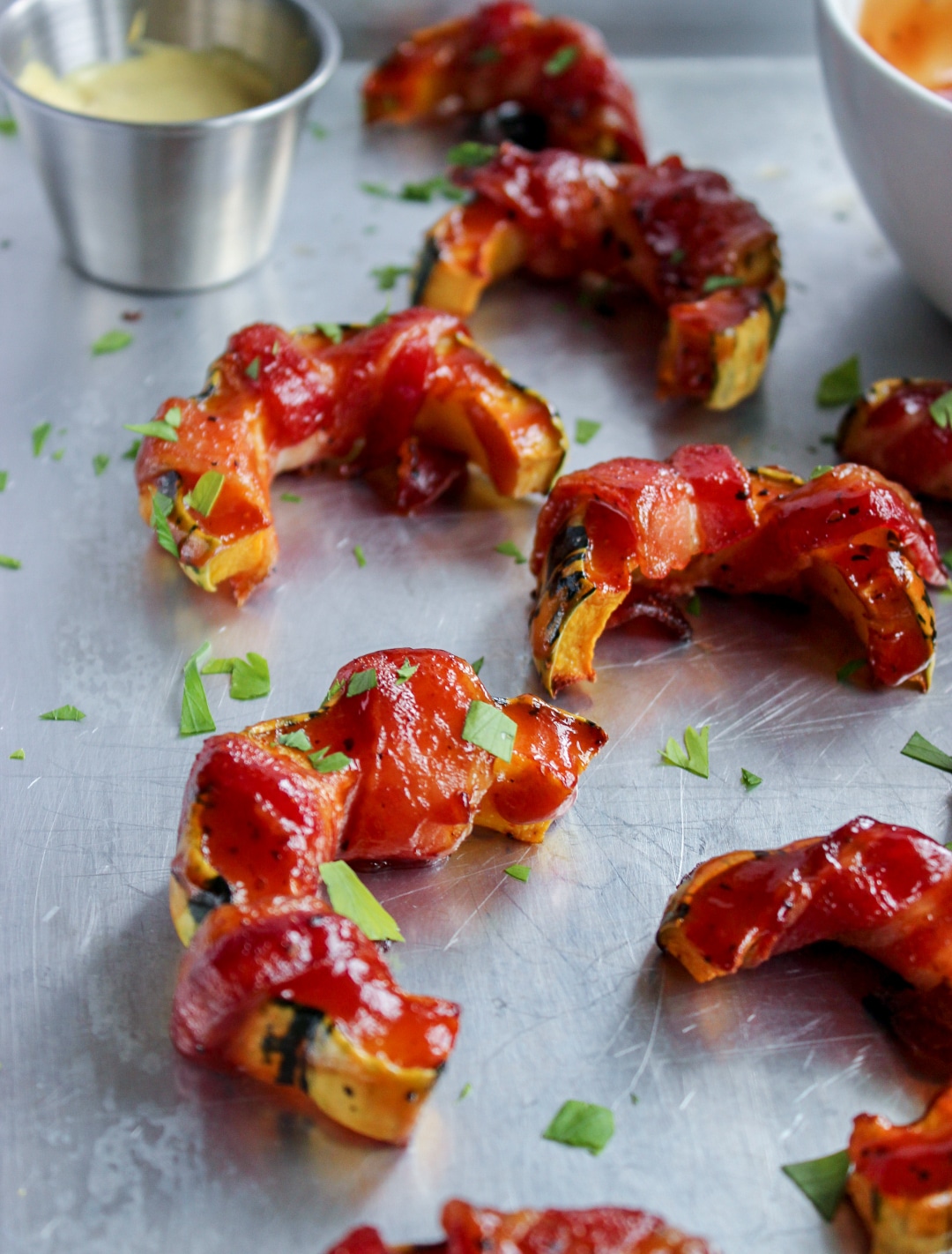 Low Carb BBQ Bacon Wrapped Delicata Squash:
I love squash season. There are so many great ways to prepare squash this fall, and this recipe may be one of my favorites. It helps that its grilled, wrapped in bacon, and covered in some delicious Low Carb BBQ sauce. Don't you agree? Cool. This makes a great fall side dish or holiday appetizer too. Full recipe for Low Carb BBQ Bacon Wrapped Delicata Squash is below and be sure to read on for a few tips and tricks for making these on the grill!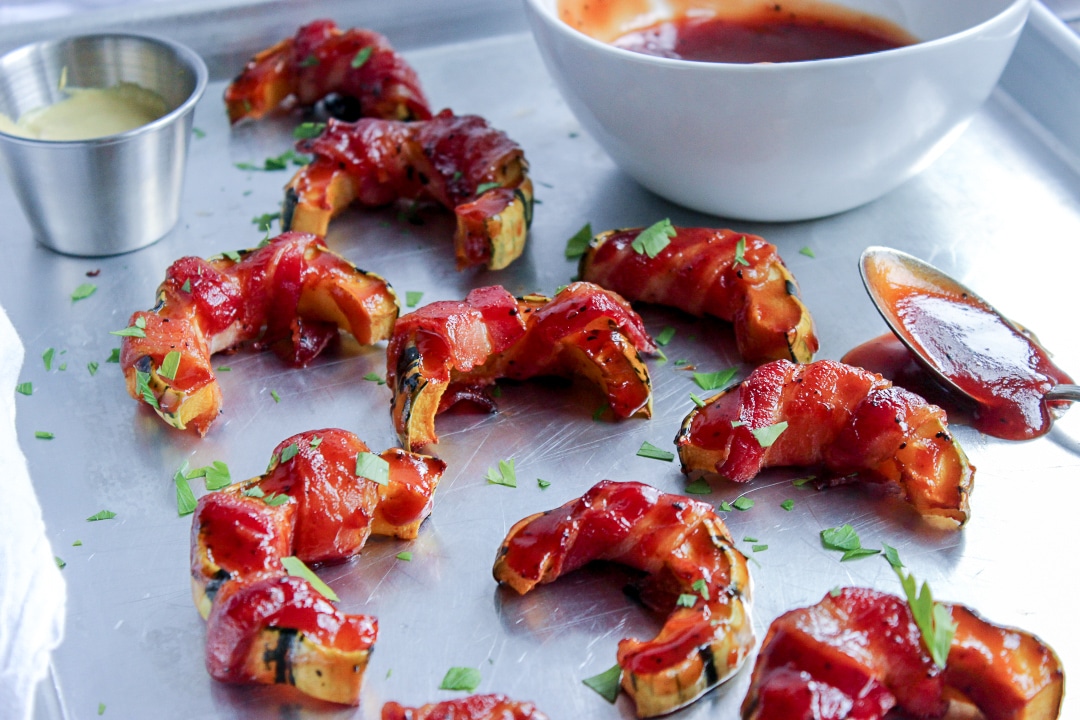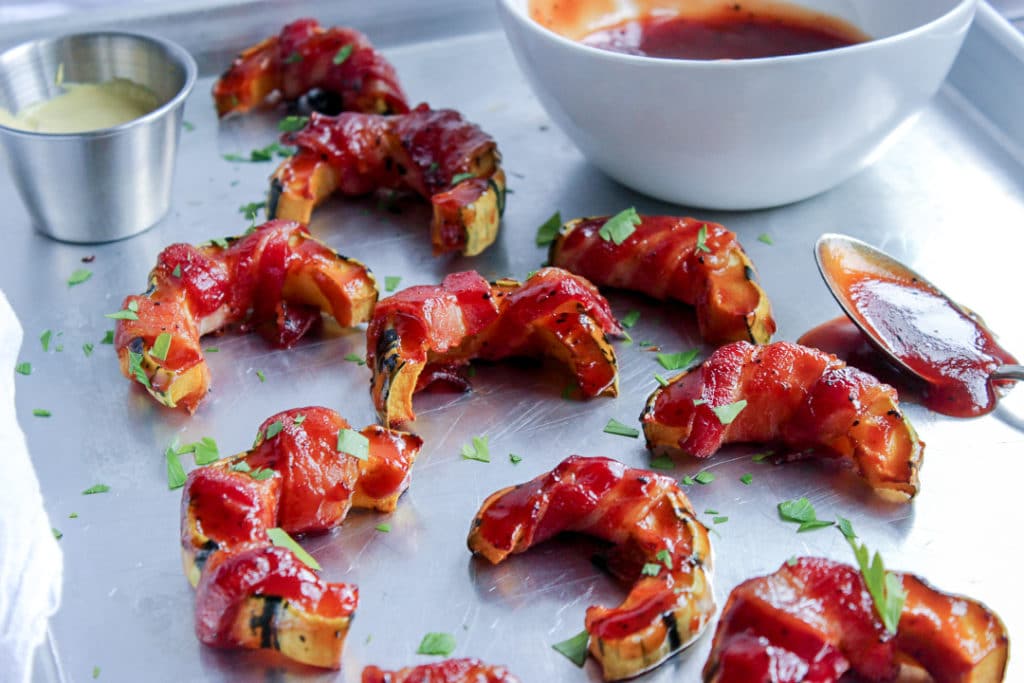 "School" Supplies:
Baking Sheet
Tongs
Pastry Brush
Knife & Cutting Board
"Class" Notes:
What I love most about cooking with delicata squash is that it is super easy to prepare and a very low maintenance veggie. The outside peel for example, can actually be eaten and tastes great after being smoked on the grill (or roasted in the oven). Slice the squash vertically down the center, scoop out the seeds, and slice the squash into 1 1/2″  crescent moons. Brush the squash very lightly in oil and season with salt, pepper, and (optional) your favorite BBQ seasoning. Next, I sliced each piece of bacon in half and wrapped each half around one of the crescent cut squash pieces. Lay them onto a baking sheet with the bacon ends, seam side down. I like to season the bacon with more BBQ rub too.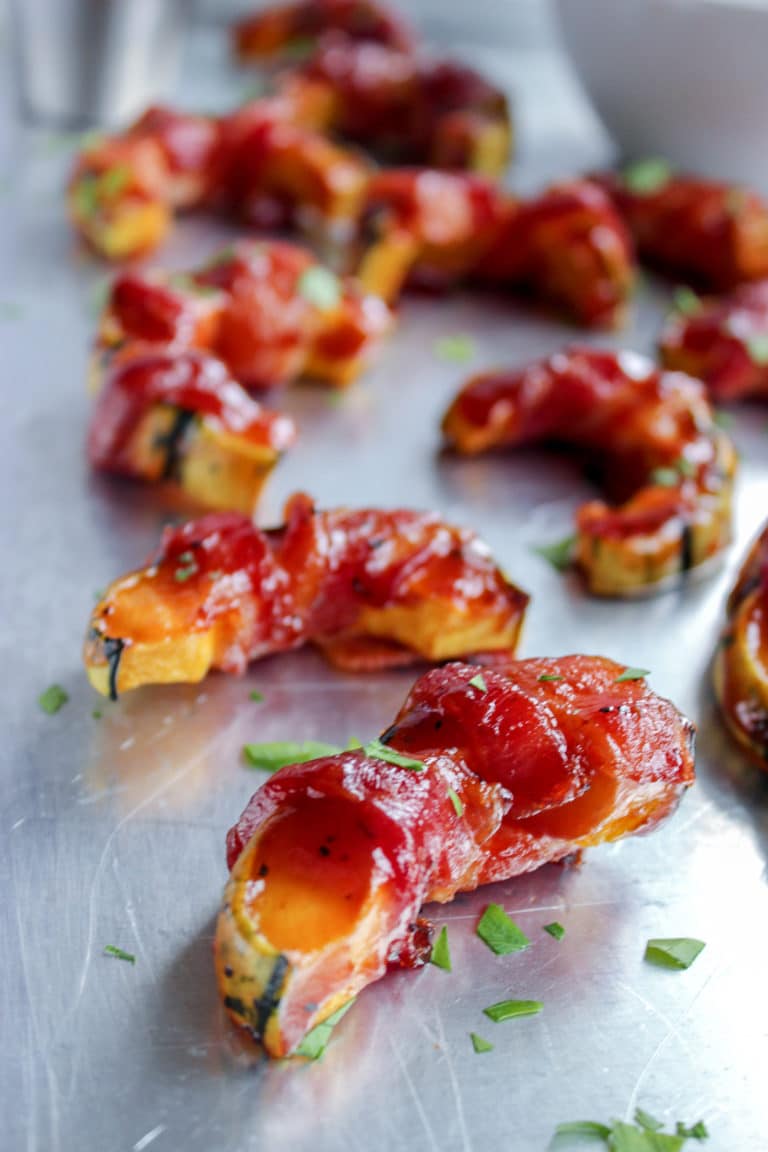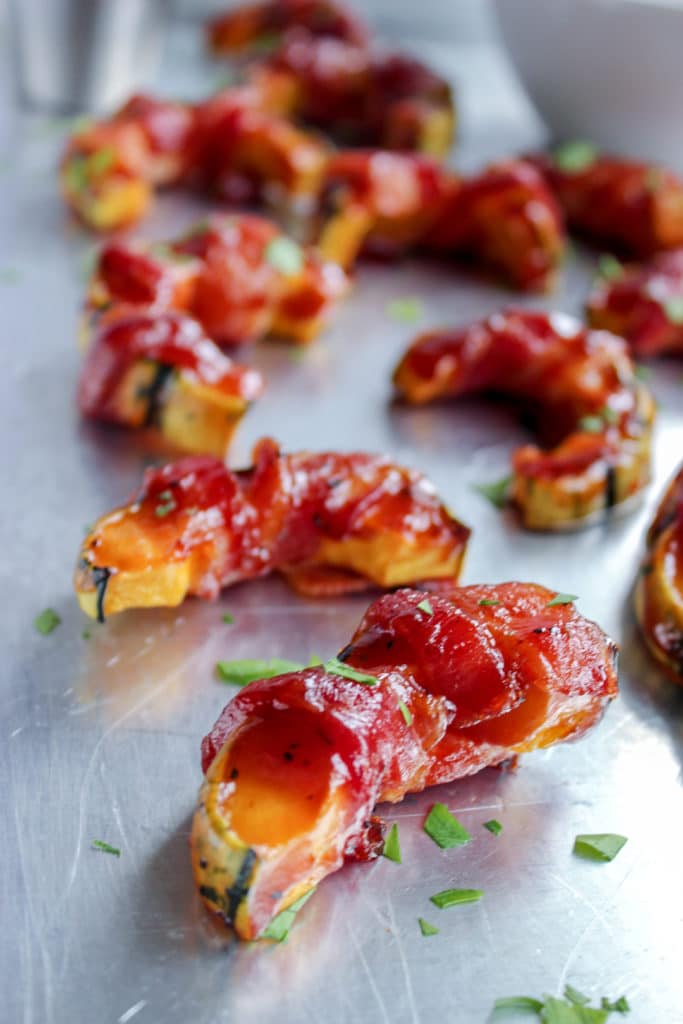 To smoke, I set the grill up for indirect cooking on 350F. I love applewood with this but use what you like. I cook the squash pieces (bacon seam side down) on the grill grates over indirect heat until the bacon is set and begins to lightly crisp (about 25-30 minutes). Towards the last 10 minutes of cooking, I like to brush some BBQ sauce over the squash (not a requirement but a delicious addition). Use your favorite sauce  or try out my Low Carb Smoky BBQ Sauce recipe. Remove from the heat and serve as an appetizer or side this Thanksgiving!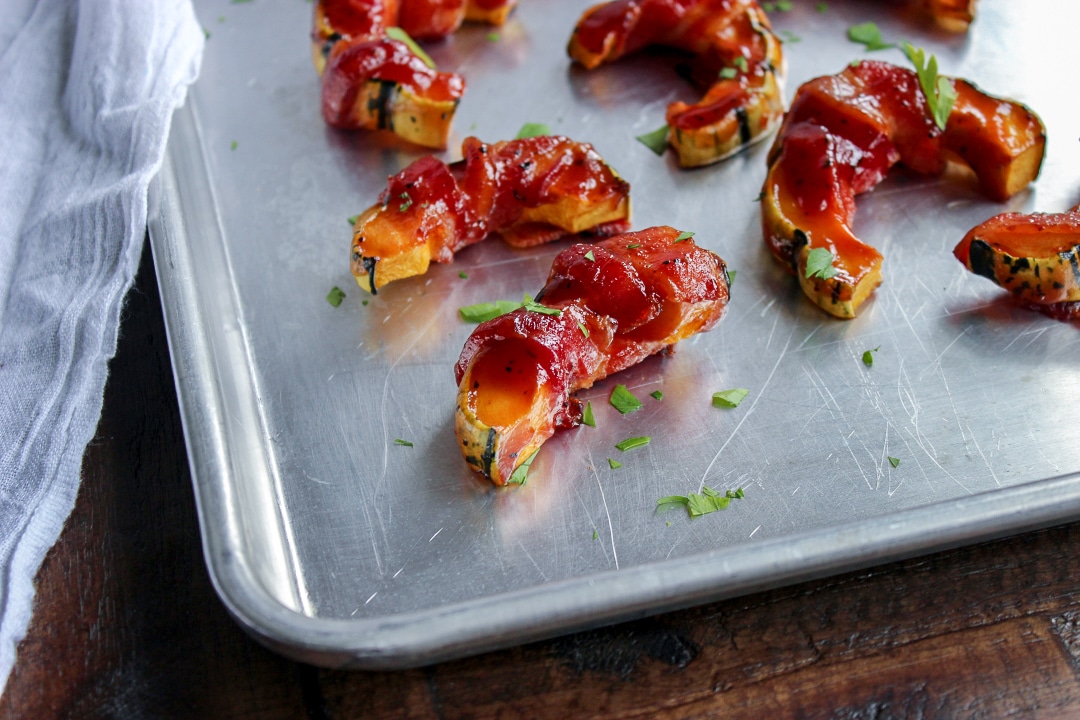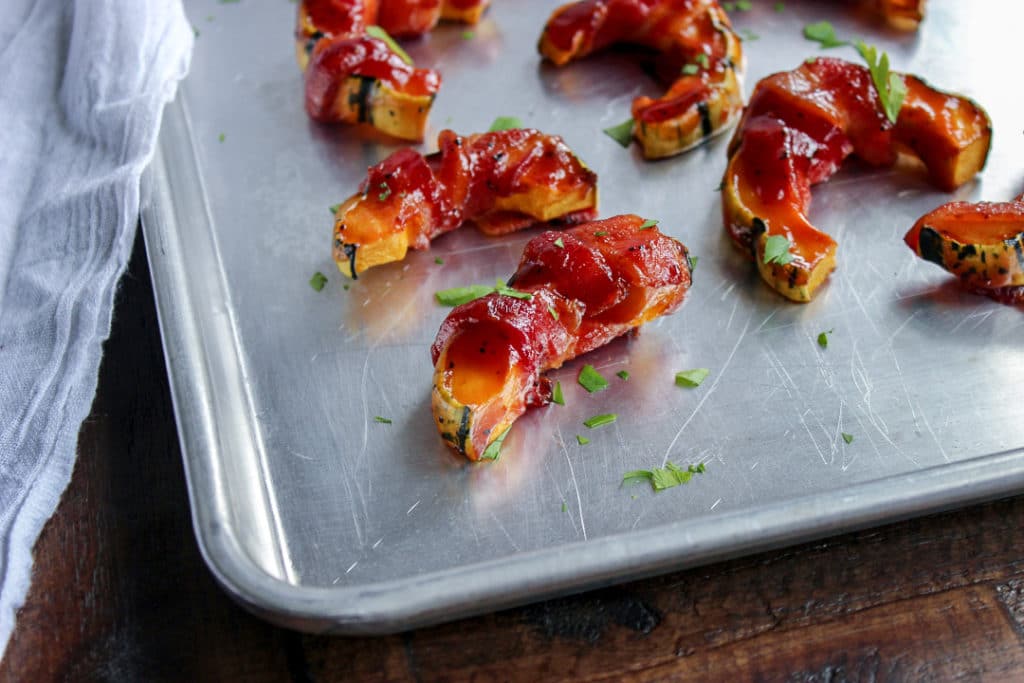 Love squash? Check out these 8 delicious squash recipes too!
Bon Appeteach,
-L
Ingredients
1 Delicata Squash

12 Bacon slices

Salt & Pepper

BBQ Seasoning Blend (optional)

BBQ Sauce (optional- low carb recipe above)
Instructions
1
Slice the squash in half vertically down the middle. Scoop out the inside seeds and discard. Cut the squash into 1 1/2" crescent moon slices.
2
Take the bacon and slice in half. Wrap each half around one slice of squash and set it seam side down on a baking sheet. Sprinkle with salt and pepper and BBQ seasoning (if desired).
3
Set the grill for indirect heat at 350F. Place each piece onto the grates (seam side down) and cook for about 20-25 minutes. Baste with BBQ sauce if desired and cook till the bacon is slightly crispier and the sauce is set.
4
Remove from the heat and place on a plate for serving.
5
Oven Roasting- Preheat the oven to 350F and line a baking sheet with foil. Place baking racks over the baking sheet and place the bacon wrapped squash on the rack. Cook for about 20-25 minutes before basting with BBQ sauce and allow it to cook till squash is tender and bacon is semi-crispy.