Soup is my alkalies heel, especially this coconut curry butternut squash soup with Thai chicken meatballs. Its rich, packed with flavor, and perfectly filling. I find soup to be souper (get it) comforting in the winter. I've gone through a bit of a shell shock the last few months. Growing up a Chicagoan the majority of my life, you would think I could handle a little cold weather in South Eastern Georgia. Well, you would be wrong. Three years of living in South Florida will drastically change your tolerance level. Good news is I can wear jeans and long sleeves in 80 degrees and not break a sweat. Oh, the human body is fascinating…but back to the soup!
Make the Meatballs:
I have taken quite a liking to ground chicken. I find it dries out less than turkey and has a better texture. My inspiration for this soup came from a strong craving for curry. Living in a curry dead zone, I have to get creative with my recipes and make my own. Additionally, its been so cold that soup just sounded fantastic. So why not a curry soup? Am I right? The meatballs were really easy to throw together. I wanted to use a lot of Thai flavors like carrots, jalapenos, fresh ginger, garlic, and cilantro. I use a cookie scoop to help measure out each amount. The two pound mixture made about 30 meatballs. I just place them on a baking sheet and pop them in the oven.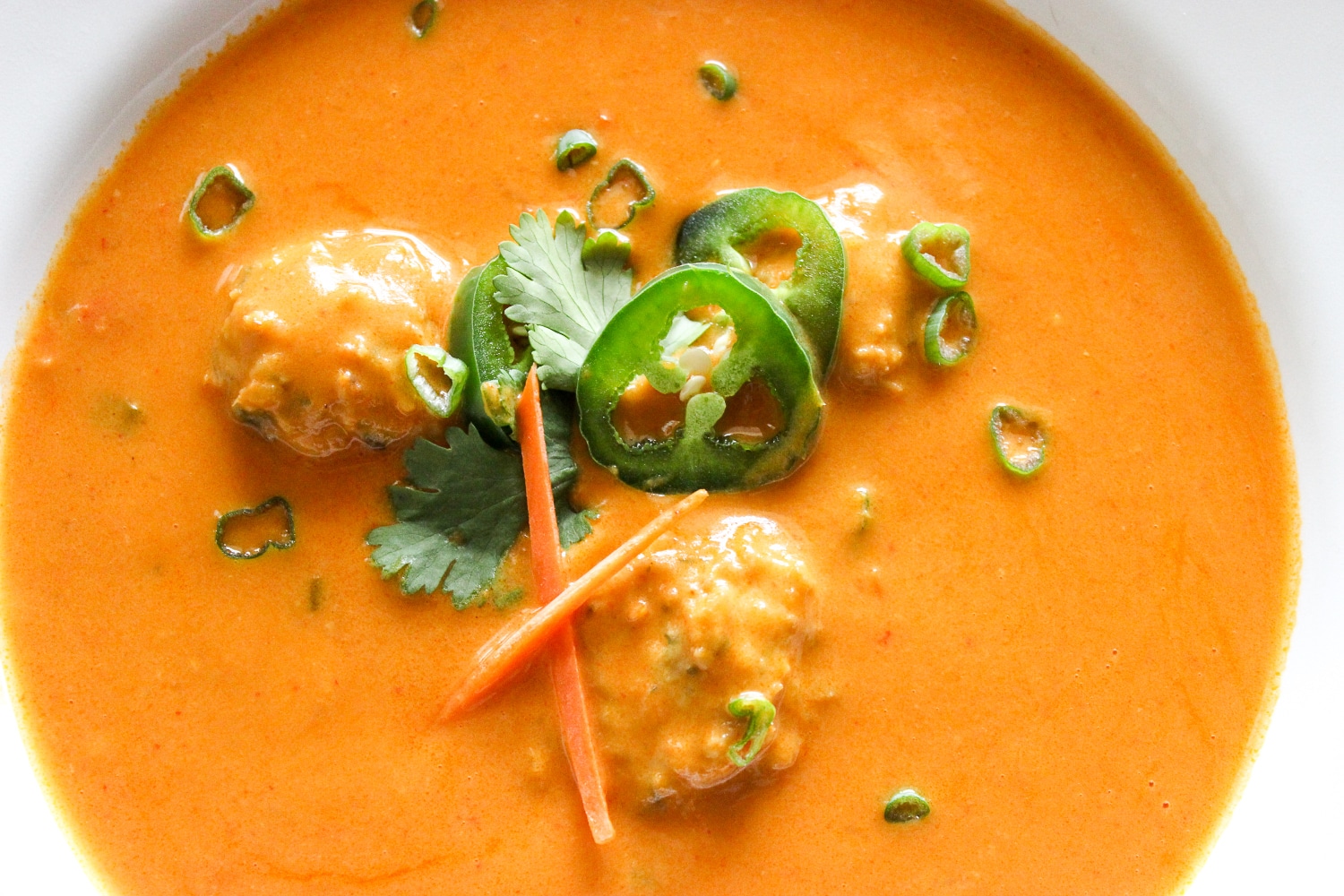 Make the Soup:
I wanted a rich and flavorful soup. Most coconut curries are not very thick but I wanted the texture to be smooth and velvety. That is why I decided to thicken it with the butternut squash. The combination of flavors were so spot on here, I cannot believe I have not done this earlier. I combined the coconut milk, red curry paste, chicken stock, fresh ginger and garlic, and finally the diced butternut squash. Simmer the ingredients together until the squash is very tender. I removed it temporarily from the heat and used my immersion blender to break up the squash and blend everything together till smooth. You could also use a blender for this but you may need to wait fro the mixture to cool a bit more prior to blending. Finally, I tossed in the cooked meatballs, added a few handfuls of shredded carrots, green onion, and diced red pepper. Garnish with a bit of cilantro and get cozy with this big bowl of comforting coconut curry butternut squash soup with Thai chicken meatballs.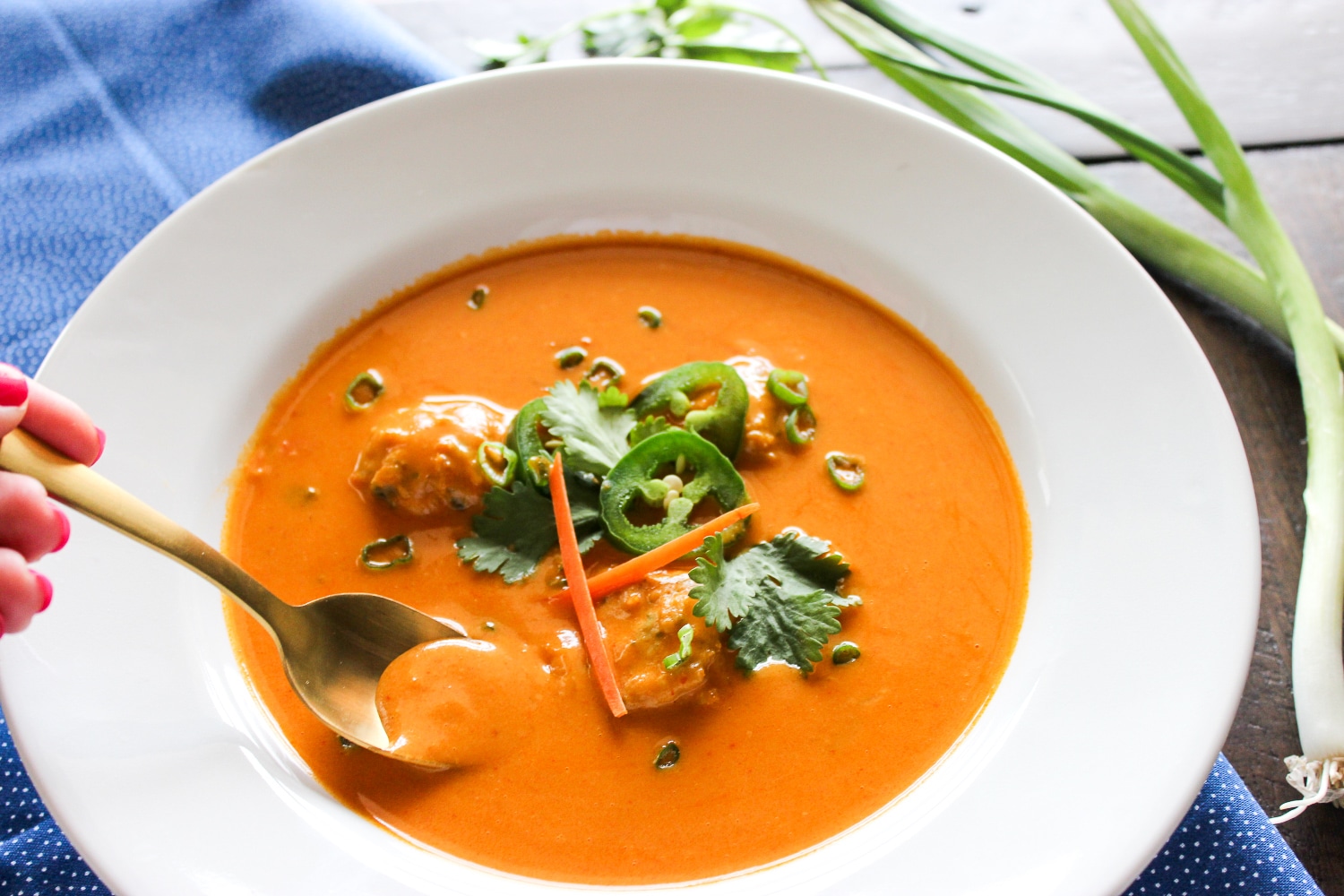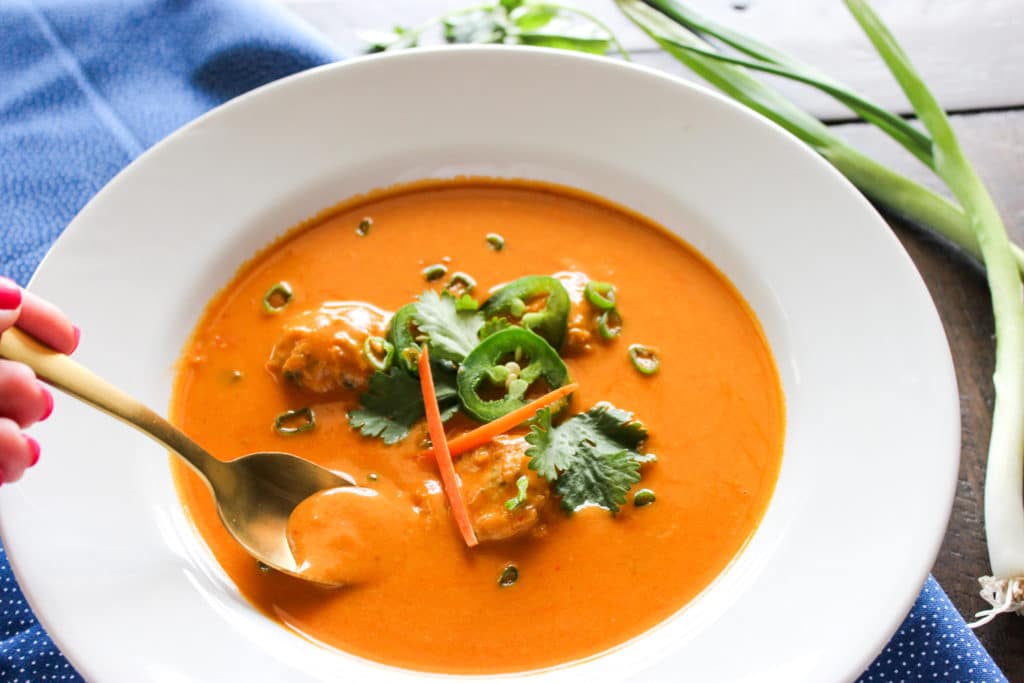 Bon Appeteach,
-L
Coconut Curry Butternut Squash Soup with Thai Chicken Meatballs
Print Recipe
Ingredients
2 lbs, Ground Chicken

2 Jalapenos, seeded and minced

1/2 cup, Shredded Carrot, minced

2 tsp. Fresh Ginger, minced

3 cloves Garlic, minced

2 tsp. Salt

2 tsp. Fresh Black Pepper

1/2 cup, Cilantro, minced

1 tsp. Tumeric

2 Eggs

1/2 large Butternut Squash, medium size chunks

2 cans, Coconut Milk (full fat is best)

4 cups, Chicken Stock or Vegetable Stock

1 tsp. Fresh Ginger, minced

2 cloves, Fresh Garlic, minced

4 oz. Red Curry Paste

3 Green onions

1/2 Red Pepper, diced small

1/2 cup, Shredded Carrots
Instructions
1
Preheat your oven to 350 degrees F.
2
Combine the first 9 ingredients together in a large bowl and mix well with your hands. Spray a baking sheet with non-stick spray.
3
Using a spoon or cookie dough scoop, scoop out individual balls and gently roll the chicken into individual meatballs. Place on the cookie sheet. My mixture made about 30 meatballs.
4
Bake for 25-30 minutes. They should brown slightly and be cooked through.
5
While the meatballs are baking, in a large pot cook the remaining ginger and garlic for 1 minute on medium heat. Add the curry paste and cook for another minute or so.
6
Add the coconut milk and chicken stock. Whisk everything together until full combined.
7
Add the diced up butternut squash (I had about 2- cups worth) and place in the liquid. Bring the liquid to a strong simmer and allow the squash to cook till tender.
8
Once tender, use and immersion blender to smooth out the soup. If you don't have one, remove the soup from the heat and allow it to cool a bit. Then place the mixture in a blender (you may have to do this in batches) until the squash is blended into the soup.
9
The mixture will slowly begin to thicken more as it sits. Add the carrot, green onion, and red pepper.
10
Add the meatballs to the soup.
11
Garnish with additional cilantro.