Low Carb Butter Chicken Meatballs
Low Carb Butter Chicken Meatballs:
There are three foods I regularly crave. Guacamole (I literally just eat this daily with a spoon), basically any Mexican food if I am being honest, and butter chicken.
I could probably live solely off of these three things and be a very satisfied human being. So let's take a look today at how I reimagined one of my favorite dishes into a perfect, easy, weeknight meal!
Classic butter chicken is marinated in a yogurt sauce for a few hours. Then tossed in a butter, tomato, and cream based sauce. The flavors are phenomenal. You taste the curry, the cumin, fresh ginger, and of course the main spice garam masala.
As much as I love the classic version of this dish, I wanted to find a lower carb (no yogurt here y'all) and faster way to recreate this meal for everyday use!
Check out how I made these Low Carb Butter Chicken Meatballs by reading on for a few tips and tricks. The full recipe is located at the bottom of the page!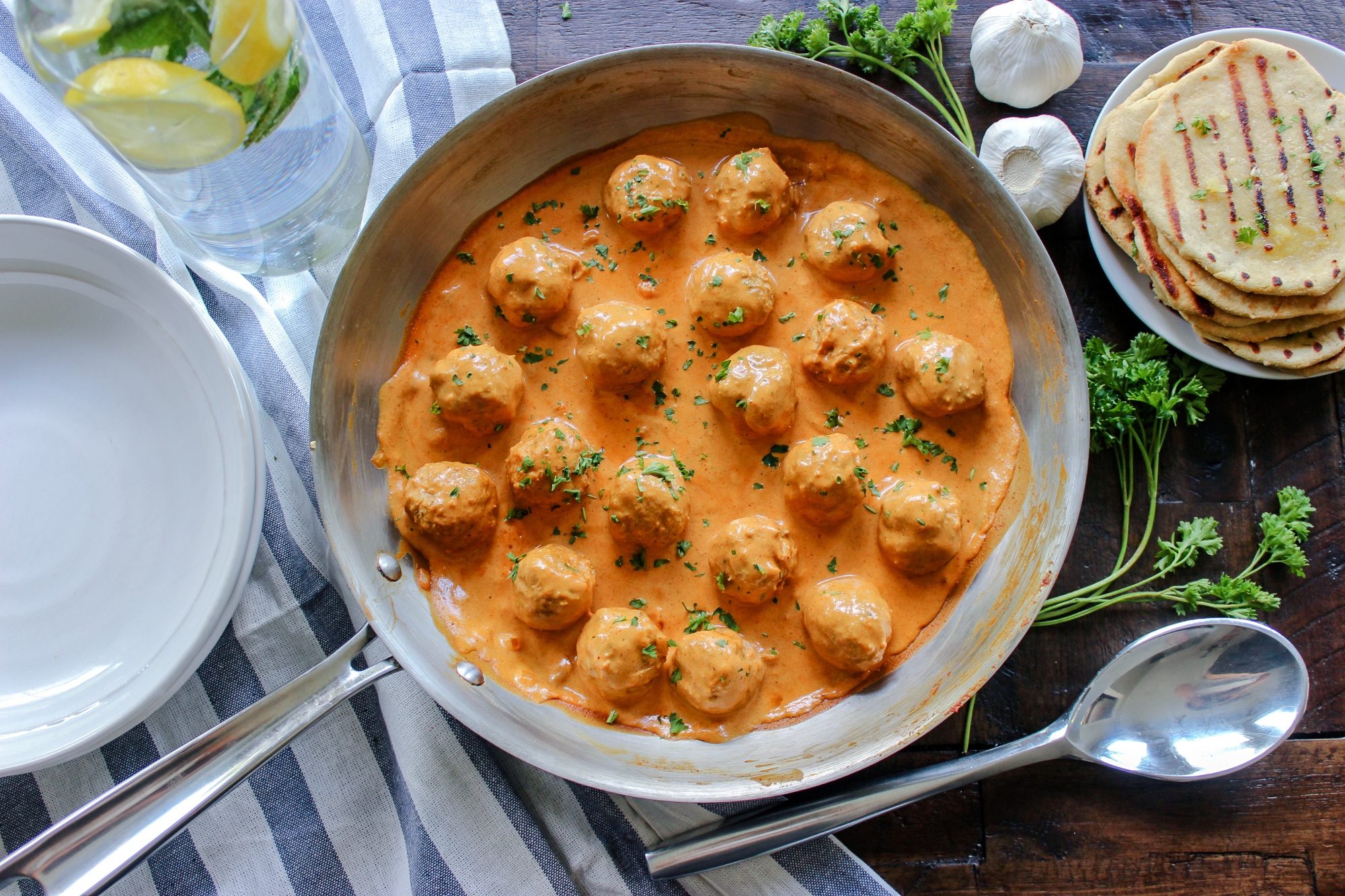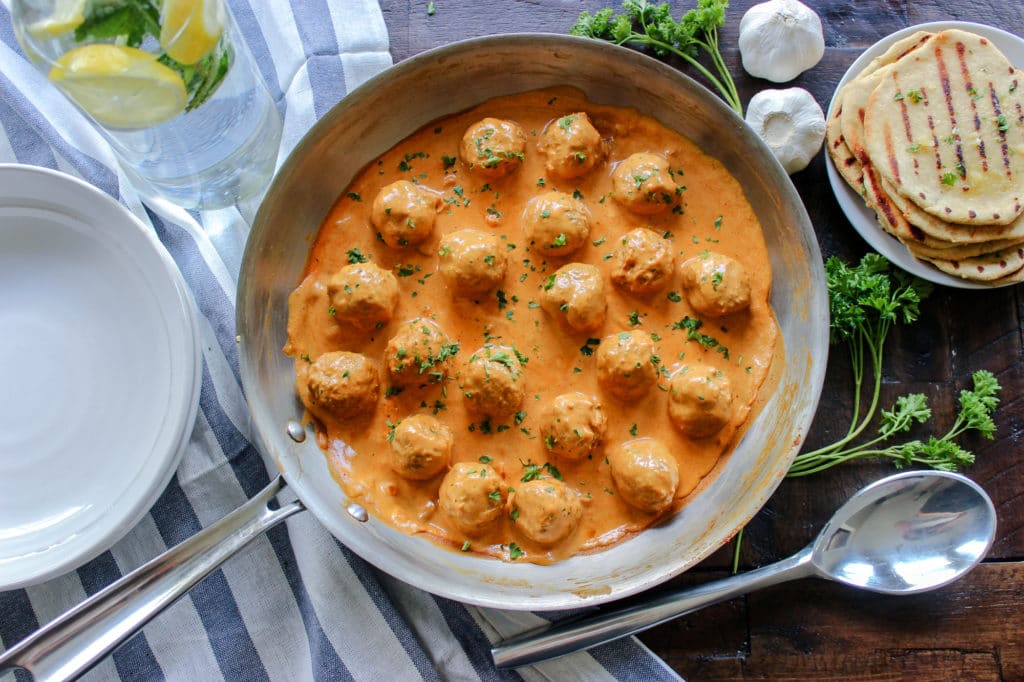 "School" Supplies:
Baking Sheet
Roasting Rack (I use my cooling rack)
Mixing Bowl
Sauce Pan
Whisk
Measuring Cups
"Class" Notes:
I have to first say that I honestly really prefer ground chicken over ground turkey. I find it to hold more moisture and overall it has a better texture too.
You could easily do this with ground turkey however, if that is what your prefer! The meatballs come together in under 10 minutes. I get a large mixing bowl and add my ground chicken, fresh ginger and garlic, egg and coconut flour for binding.
I added a bit of fresh lemon zest because a classic butter chicken uses fresh lemon juice as part of the marinade and of course lots of Indian spices. Use a cookie scoop or measuring spoon to scoop out tablespoon size meatballs. Roll them out and place them on a greased roasting rack on a baking sheet.
Quick Tip: Place foil under the roasting rack to minimize clean up!
While the meatballs are baking, I prep the sauce and the cauliflower rice. In a medium sized saucepan, melt a little bit of butter. Saute the onion on medium/low heat. Then add more fresh ginger and garlic.
I like my sauce to really carry a good punch of flavor. One tip I would suggest is to saute your dry spices a bit before adding the liquid ingredients. Once my onions, garlic, and ginger come together I add the spices and allow them to become fragrant in the pan.
Whisk in a little bit of tomato paste and then whisk in the half and half (you could sub for heavy cream/ whole milk or with coconut milk to be dairy free and Paleo/Whole 30 compliant). I allow this to simmer on low and stir frequently so it doesn't scorch.
Once the meatballs are done, I add them to the pan and toss them in the sauce. Make your cauliflower rice from scratch (or use frozen…because hey, we all have a life).
Quick Tip: If you use frozen cauliflower rice, DO NOT MICROWAVE IT!I spread mine out on a baking sheet and bake at 350F with seasonings till heated through. This prevents mushieness and excess liquid.
Serve the whole dish over cauliflower rice or with a size salad! I love to use my Low Carb Naan Bread (only 2 net carbs) to dip in the extra sauce too (that is truly my favorite part). I hope you all love this fast and easy Low Carb Butter Chicken Meatball recipe!
It's a great addition to your weekly meal prep and truly hits all the comfort food buttons without all the carbs! If you like this Indian inspired dish, be sure to check out my very popular Whole Roasted Chicken Shawarma recipe as well!
Bon Appeteach,
-L
Nutritional Information- Obtained using My Fitness Pal. Please always verify with your own ingredients as brands vary.
Yield: 24 Meatballs
Low Carb Butter Chicken Meatballs
Craving classic butter chicken? Try this easy to make weeknight meal for Low Carb Butter Chicken Meatballs and Cauliflower Rice. It's a quick and easy way to get all the flavors of this classic Indian dish without having to order take out!
Ingredients
Butter Chicken Meatballs
1 lb. Ground Chicken
1/4 cup Coconut Flour
1 Egg
1 Garlic Clove, minced
1/4 tsp. Fresh Ginger, minced
1 tsp. Lemon Zest
1 tsp. Salt
1 tsp. Black Pepper
1 tsp Cumin Powder
1 tsp. Curry Powder
1 tsp. Garam Masala
Butter Chicken Sauce
3 tbsp. Butter
1/4 cup Onion, minced (optional)
1/4 tsp. Fresh Ginger, minced
1 Garlic Clove, minced
1 Tbsp. Tomato Paste
1 1/2 cups Half & Half (sub with coconut milk for dairy free)
1/2 tsp Salt
1/2 tsp. Cumin
1 tsp. Garam Masala
Instructions
Preheat your oven to 350 F and line a baking sheet with foil. Place a cooling rack or roasting rack over the foil and spray with non stick spray.
In a large mixing bowl, combine all the meatball ingredients. Mix well to combine by using your hands.
Use a cookie scoop or measuring spoon to make tablespoon size meatballs. I was able to make 24 meatballs.
Place them on the rack that's placed over you baking sheet and bake for 20 minutes.
While the meatballs are baking, melt the butter in the saucepan on medium low heat. Once melted add in the small diced onion. Saute until translucent.
Add the ginger and garlic and all the remaining spices (salt, cumin, and garam masala). Allow this to cook on low until it smells fragrant.
Whisk in the tomato paste. Then slowly whisk in the half & half. If your heat is too high the half and half can separate, so watch your temperature and whisk often.
Allow it to simmer on low. Then add the cooked meatballs. Serve over cauliflower rice and with low carb naan bread.
Nutrition Information:
Yield:
6
Serving Size:
24
Amount Per Serving:
Calories:

257
Total Fat:

18gg
Saturated Fat:

9gg
Trans Fat:

0gg
Cholesterol:

115mgmg
Sodium:

738mgmg
Carbohydrates:

7gg
Fiber:

2gg
Sugar:

2gg
Protein:

18gg