A Christmas Story inspired 2 net carb tequila shot that is low carb and keto friendly and delicious. Ensuring the only thing you'll be shooting this holiday is a few of these delicious drinks with friends and family!
This post may contain affiliate links. These links help me earn a small commission that make running and operating this website possible at no cost to you. I only share products I actually use and like. Thank you! Bon Appeteach is a participant in the Amazon Services LLC Associates Program, an affiliate advertising program designed to provide a means for sites to earn advertising fees by advertising and linking to amazon.com.
I took a short hiatus this fall to regroup for my popular Instagram weekly cocktail series called, The Bon Appeteach "Book Club".
It's the only book club where we never actually read the books but always make a cocktail named after one. In order to enjoy the season, I opted to start the month of December off right with a mini holiday inspired series of my favorite book club.
However, there will be no book inspiration this month because I am all about the Christmas movies. This week's movie inspired drink is from A Christmas Story. I have never made a shooter "cocktail" for book club so it seemed fitting.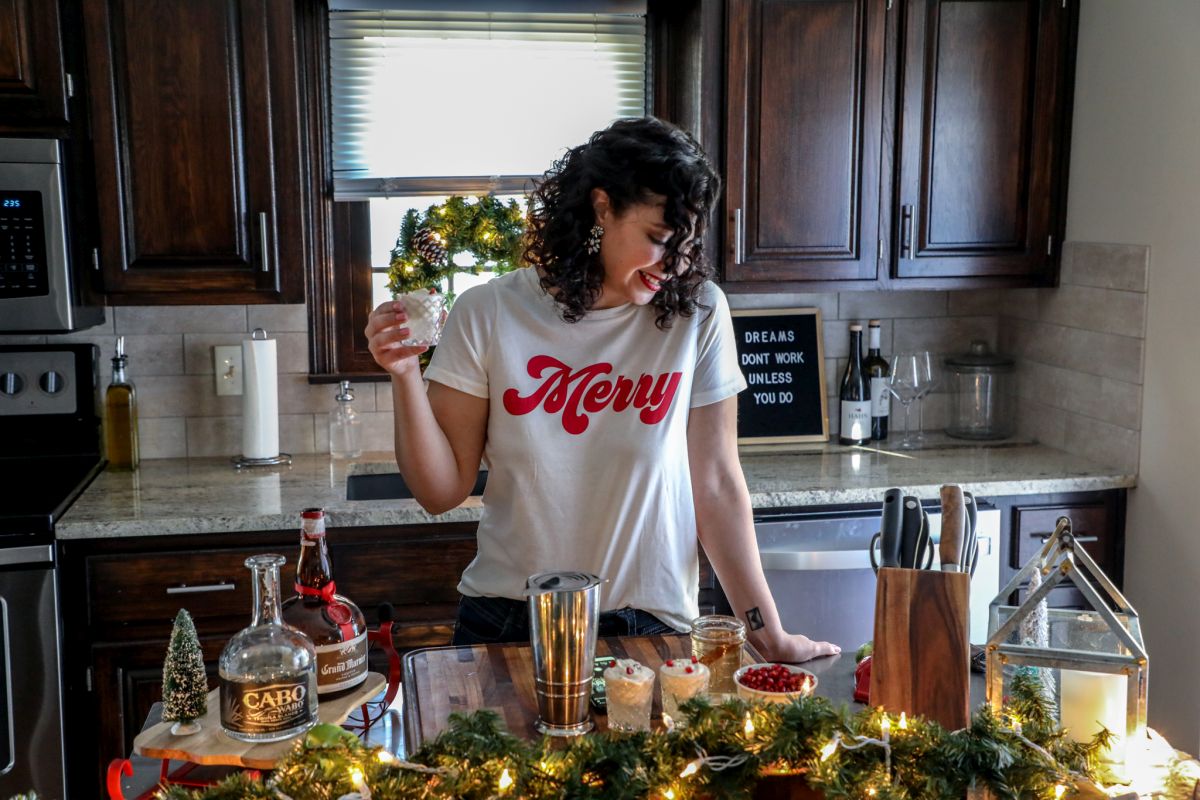 This weeks drink is a mix of silver tequila, a little Grand Marnier (eliminate if strict keto), fresh lime juice, cinnamon Keto Simple Syrup, and a topped with some homemade whipped cream (that's keto too of course). Though I have made this a keto friendlier drink, you can stick to regular ingredients too and it's obviously just as delicious.
Read through the post for an outline of how to make the perfect shooter and check out the video as well so you can recreate this at your next get together!
"School" Supplies:
4 Shot Glasses (I used a double shot glass)
Cocktail Shaker
Jigger
Juicer
Zester
Small Pairing Knife
"Class" Notes:
Shaken, Not Stirred-
This drink goes down real easy! I love the combination of flavors (sort of has pina colada vibes to it from the coconut) and it looks so festive and fun too! It only takes a few short minutes to make and a handful of staple bar ingredients.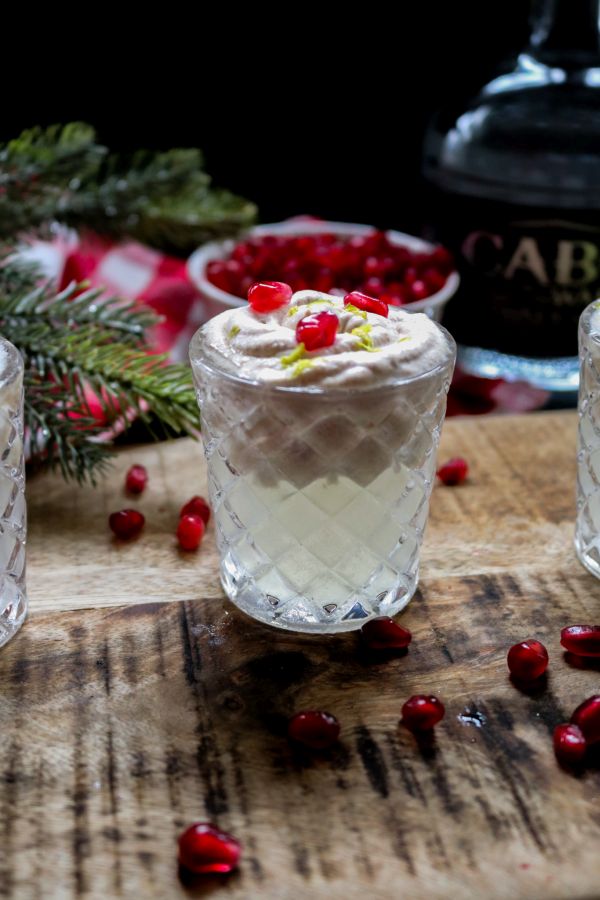 The only outlier here for making this a lot more keto friendly is with the homemade cinnamon Keto Simple Syrup (mentioned above). Keto simple syrup is made best with allulose sweetener (amazon affiliate link). Unfortunately, erythritol and monk fruit powders are not good subs here. Read more about how I made this syrup and even caramel sauce for keto turtles or keto Samoa's with this by going to the link above.
In a cocktail shaker over ice, add the tequila (any basic silver tequila that you enjoy is good here). Next add the Grand Marnier. This is an orange liquor and only a little is used across four servings. Omit the Grand Marnier if you're strictly keto and want to avoid the added sugars.
Squeeze in some fresh lime juice, full fat canned coconut milk, the cinnamon simple syrup and give everything a good shake until chilled. Strain the mixture really well (removes the fat chunks from the coconut milk) and pour into your four larger shot glasses.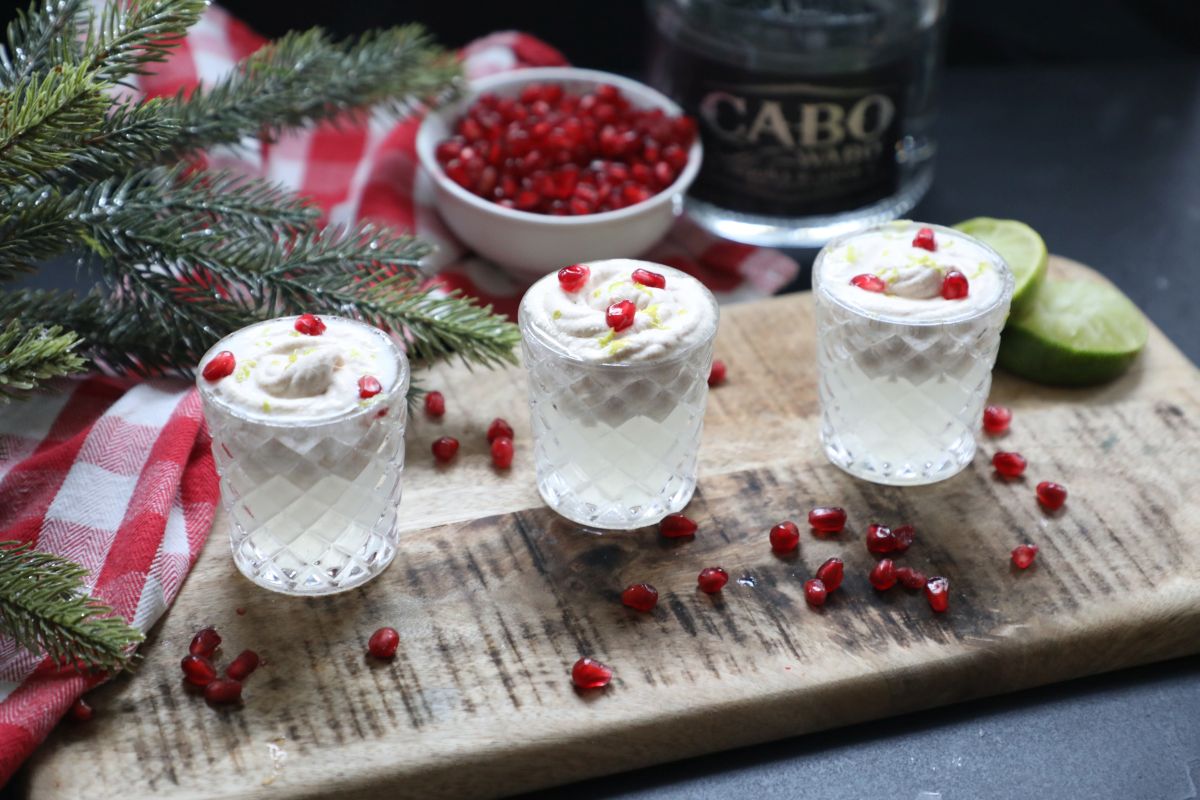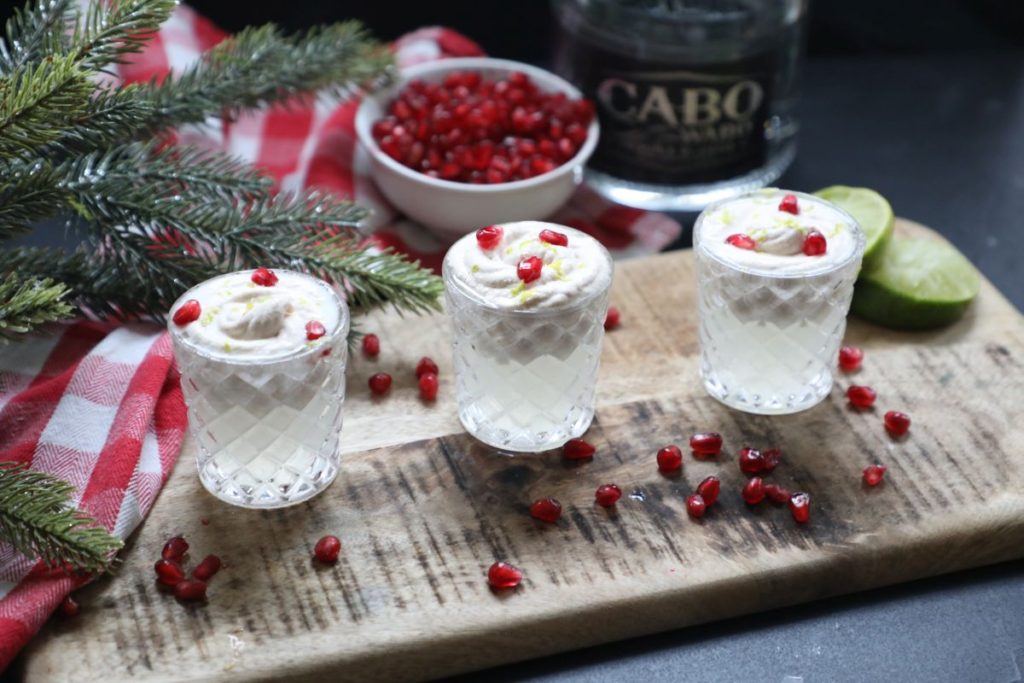 I garnished with keto whipped cream. Just whip heavy cream, add in a splash of vanilla, a dash of cinnamon, and powdered low carb sweetener (Amazon affiliate link). Whisk it all until it holds a still peak and pipe it over the top of the shot glass. Be sure to leave a little room as the volume from the liquid and the whipped cream can cause it to overflow!
To make it extra festive, I added a few pomegranate seeds and lime zest over the top too! Now all that's left is to enjoy it! Don't shoot your eye out!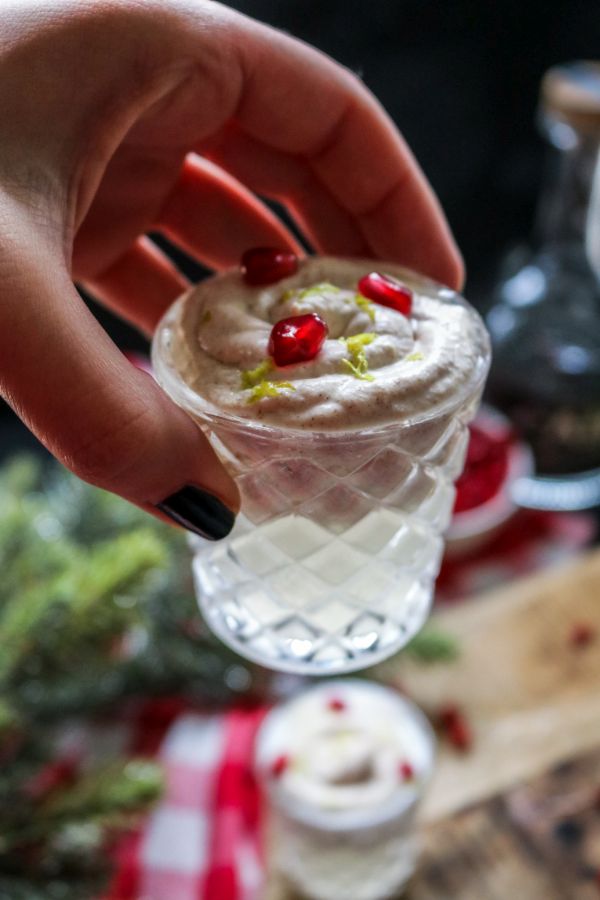 Like making keto drinks and cocktails for the season? Check out my easy Low Carb Hot Cocoa too!
Bon Appeteach,
-L
Yield: 4-8
Keto Tequila Shots-"Shoot Your Eye Out" Shooters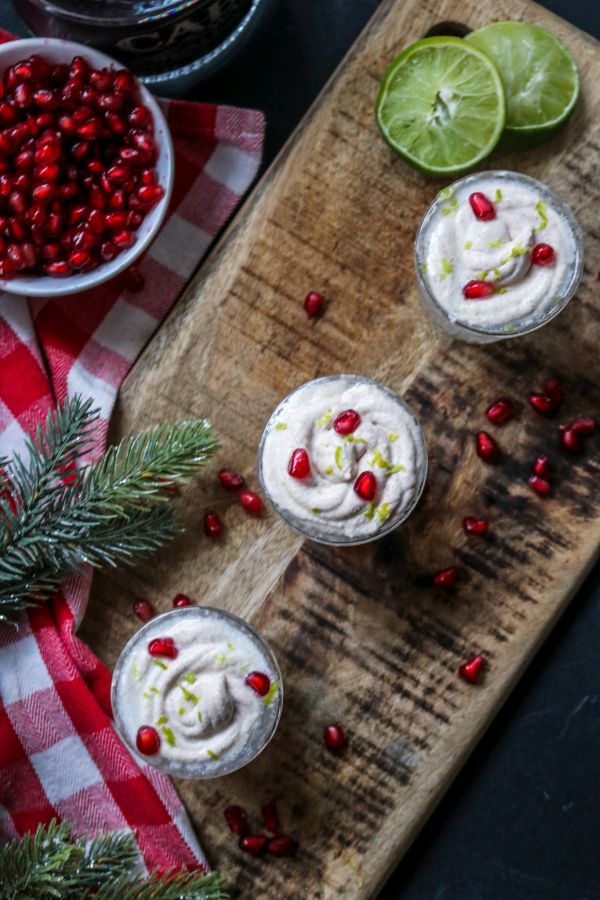 Christmas Story inspired tequila shot that is low carb and keto friendly and delicious. Ensuring the only thing you'll be shooting this holiday is a few of these delicious drinks with friends and family!
Ingredients
8 oz. Coconut Milk
3 oz Silver Tequila
1 Lime, juiced
1 oz. Grand Marnier
Garnish- Cinnamon (keto) whipped cream, lime zest, pomegranate seeds
Instructions
Combine all the cocktails ingredients in a shaker over ice. Shake until chilled.
Strain the mixture into 4 large double shot glasses or 8 smaller ones. Garnish with the whipped cream, lime zest and pomegranate seeds and serve.
Notes
Not a fan of tequila? Sub with any other clear spirit like a white rum or vodka too.
Nutrition Information:
Yield:
4
Serving Size:
1
Amount Per Serving:
Calories:

161
Total Fat:

12g
Saturated Fat:

11g
Trans Fat:

0g
Unsaturated Fat:

1g
Cholesterol:

0mg
Sodium:

8mg
Carbohydrates:

2g
Net Carbohydrates:

0g
Fiber:

0g
Sugar:

0g
Sugar Alcohols:

0g
Protein:

1g