Subtle Art Of Not Giving A Fizz: Keto Creamsicle Gin Fizz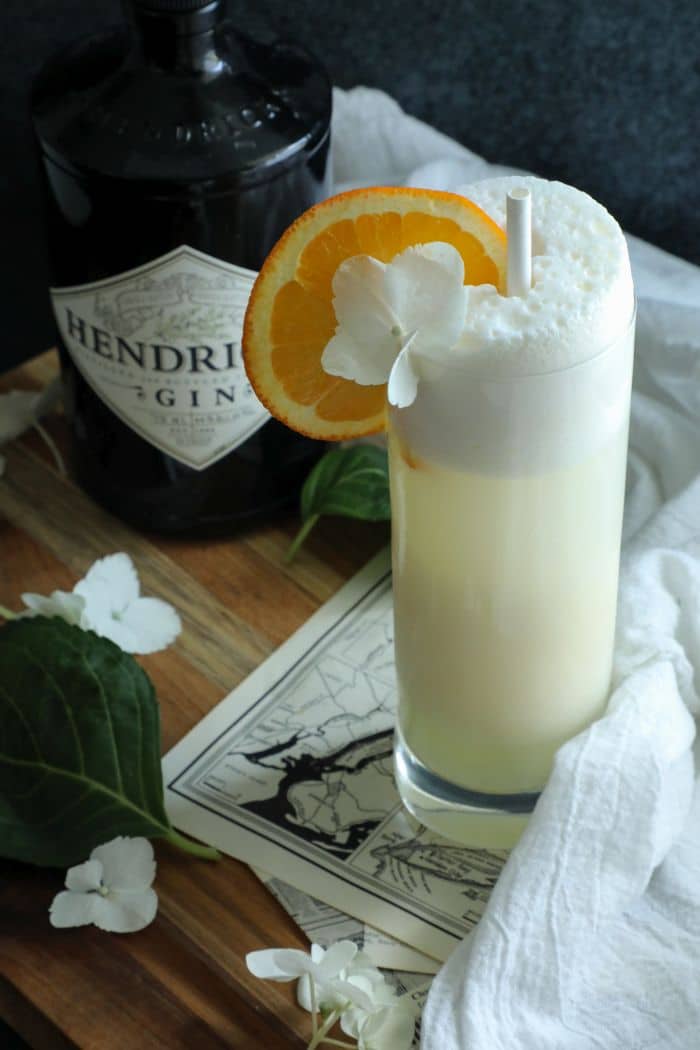 Make a delicious, refreshing, cream and egg white keto gin cocktail inspired by a classic creamsicle! It's light and airy, tangy, a little sweet, and only four net carbs.
This month's Bon Appeteach "Book Club" cocktail is inspired by the self help book, The Subtle Art of Not Giving A F*ck (or in this case FIZZ). I thought the perfect orange creamsicle cocktail was in order and the famous Ramos gin fizz was a great way to bring it all together.
A Ramos gin fizz is classically a lime and lemon based cocktail , paired with dry gin, a little heavy cream, some sweetener (I use keto friendly simple syrup), and the ultra important egg white. The cocktail is rounded out with club soda, giving it the signature white head that's iconic to this classic drink.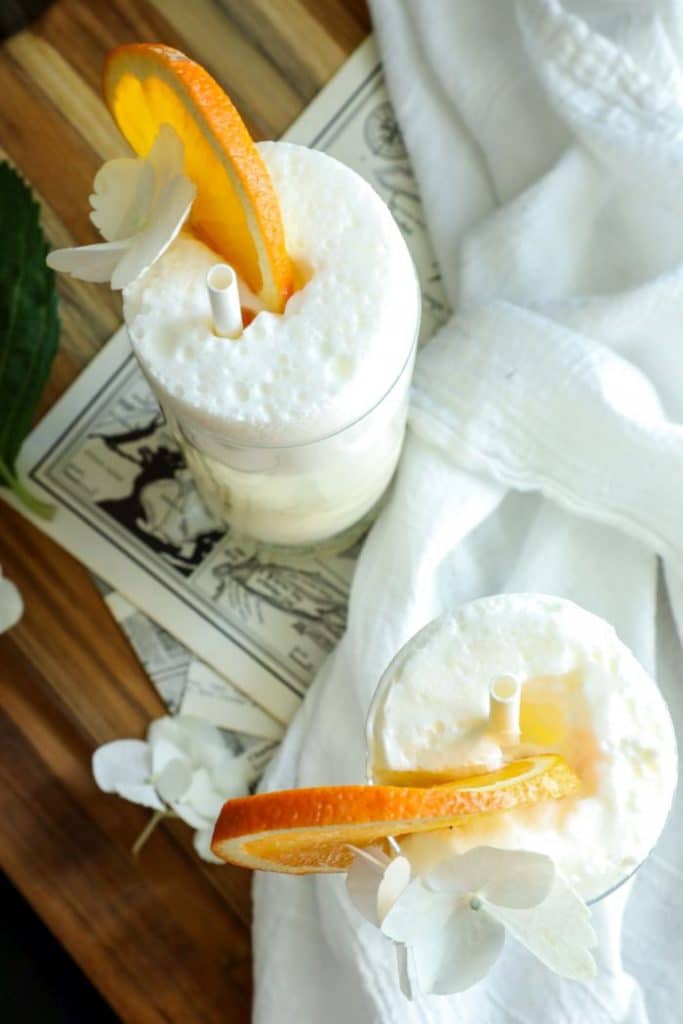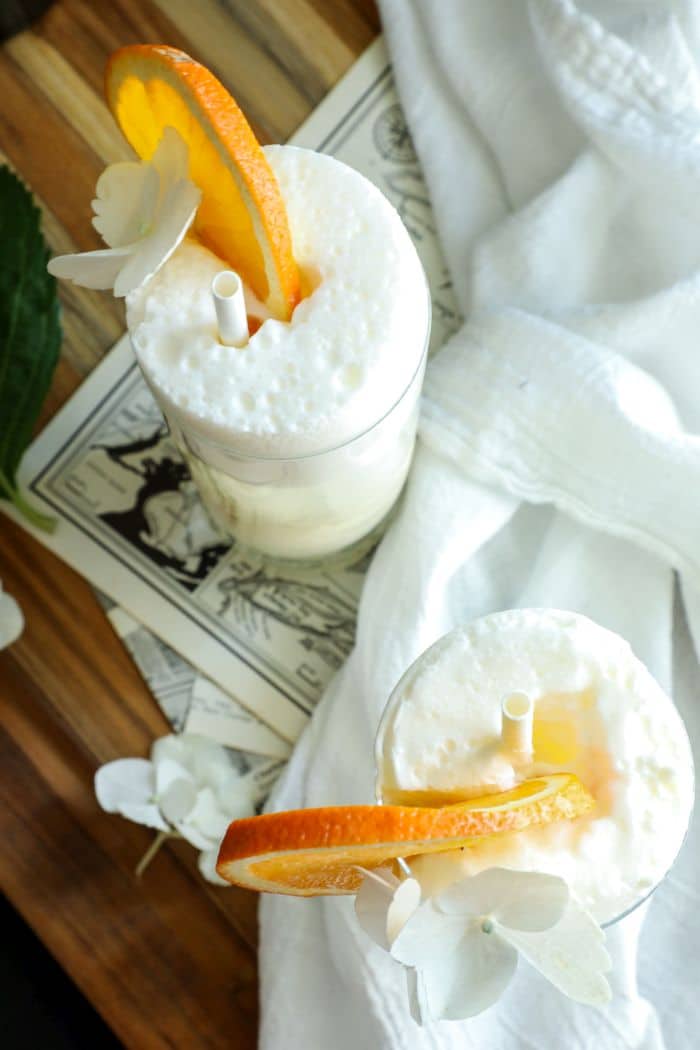 In order to stay lower carb today (but keep flavor in mind), I opted to swap out lime juice for some fresh squeezed orange instead. Thus giving us a low carb orange creamsicle gin fizz.
Want to know how to make this fit a keto diet? Grab all the details below on how to make this low carb cocktail recipe with a few helpful tips, techniques, and be ready to bring some serious elbow grease for this epic drink.
"School" Supplies:
Collins Glass
Shaker Cups
Juicer
Jigger
Pairing Knife
Hawthorn Strainer
"Class" Notes:
Before I dive in, let's go over a few cocktail and keto basics so you know what you're getting in to. here are some common questions I often get regarding keto cocktails-
Can I have gin on a keto diet?
Yes. You can have gin on a keto diet. The biggest take away from indulging responsibly into keto friendly cocktails is understanding how base spirits (while zero carb) can still impact you ability to stay in ketosis (even if they don't impact your blood sugar). While you can drink it, it is important to know how it impacts your weight loss journey.
To help you, I have a whole guide where I break down how to drink alcohol on a keto or low carb diet. If you're newer to this diet or lifestyle, I highly suggest you pop over to this article and then come back to make the drink!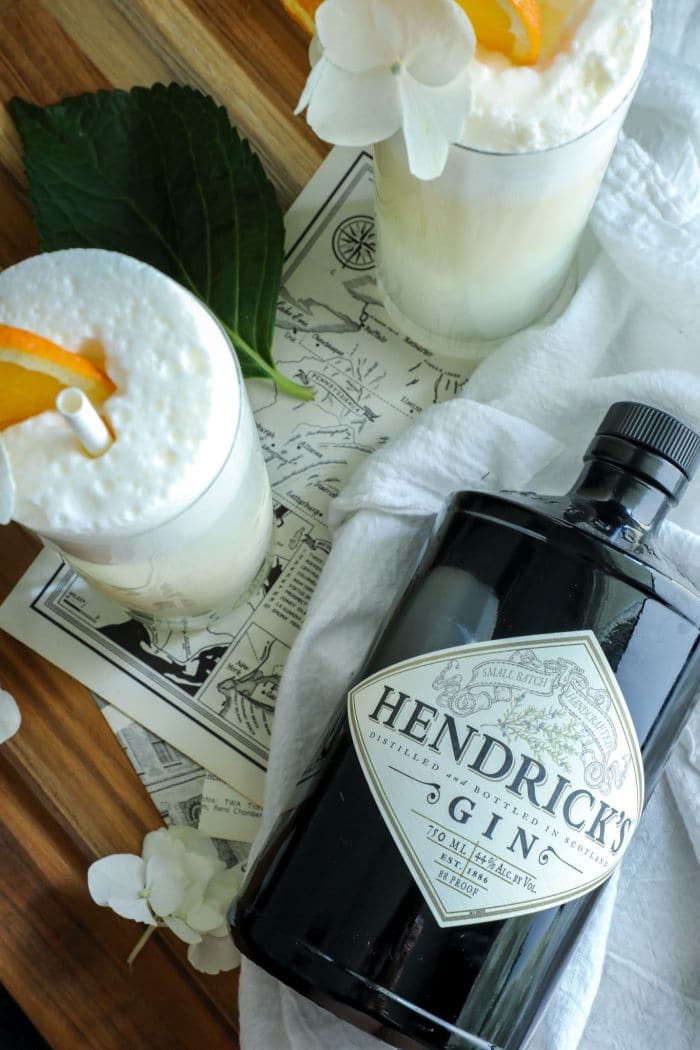 That being said, here are some basics on keto and gin!
How many carbs are in gin? There are zero carbs in gin. That's great right? While there are no carbs present, you body will still need to metabolize and process the alcohol you drink. Therefore, while you can have cocktails on a low carb diet, be aware you may temporarily pause fat burning, to burn the booze instead.
All that aside, this cocktail is pretty darn low carb and really delicious and worth trying!
How do I make a Ramos gin fizz?
The gin fizz is know for it's signature foamy head that rises above the rim of the glass. It's beautiful, elegant, and takes some serious shaking to achieve.
Definitely SHAKEN, not stirred:
In a cocktail shaker cup I added fresh orange juice and lemon juice. I like a good dry gin with this cocktail (I went with Hendrix). While I have made this without an added sugar, I would suggest the addition of my keto simple syrup recipe to add a little sweetness. Going sugar free is doable, but since that syrup recipe is zero carbs I find it's worth the add. Finally, I add in the heavy cream and the egg white.
This cocktail is made with a reverse dry shake. That means, shake on ice first to chill is and then thoroughly strain it (I double strain to remove the pesky broken up ice bits) back into the first shaker cup. Ditch the ice, pour and shake again dry (aka no ice).
This is where you HAVE TO SHAKE A LOT! I shake for close to a minute. If your arms don't hurt by the end, you didn't earn this cocktail! Shake, shake, shake then pour into a chilled Collins glass and let it rest.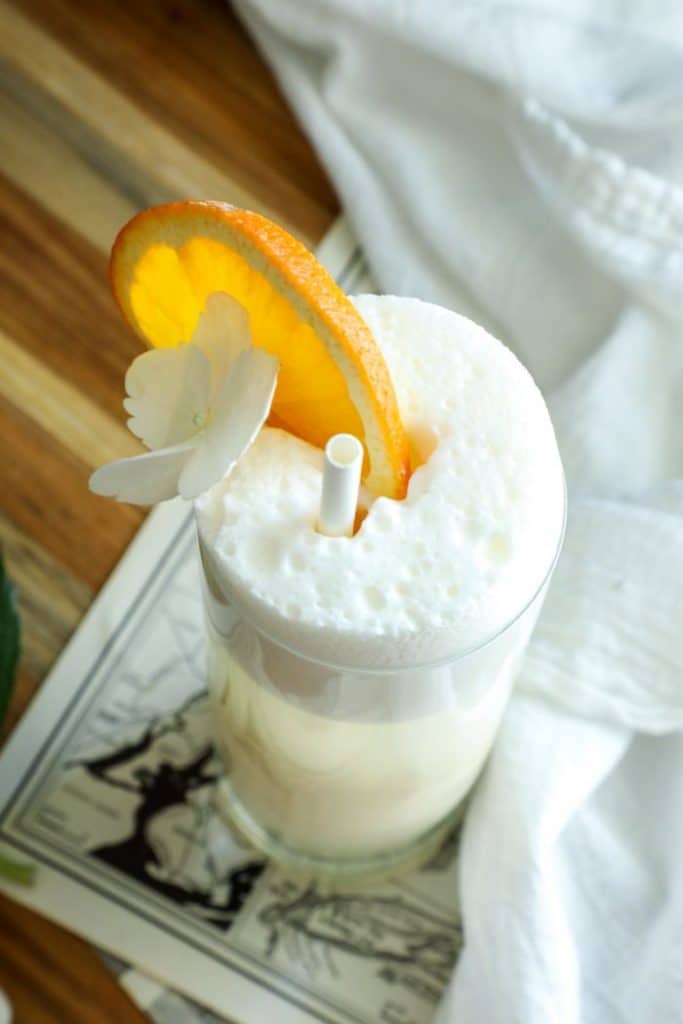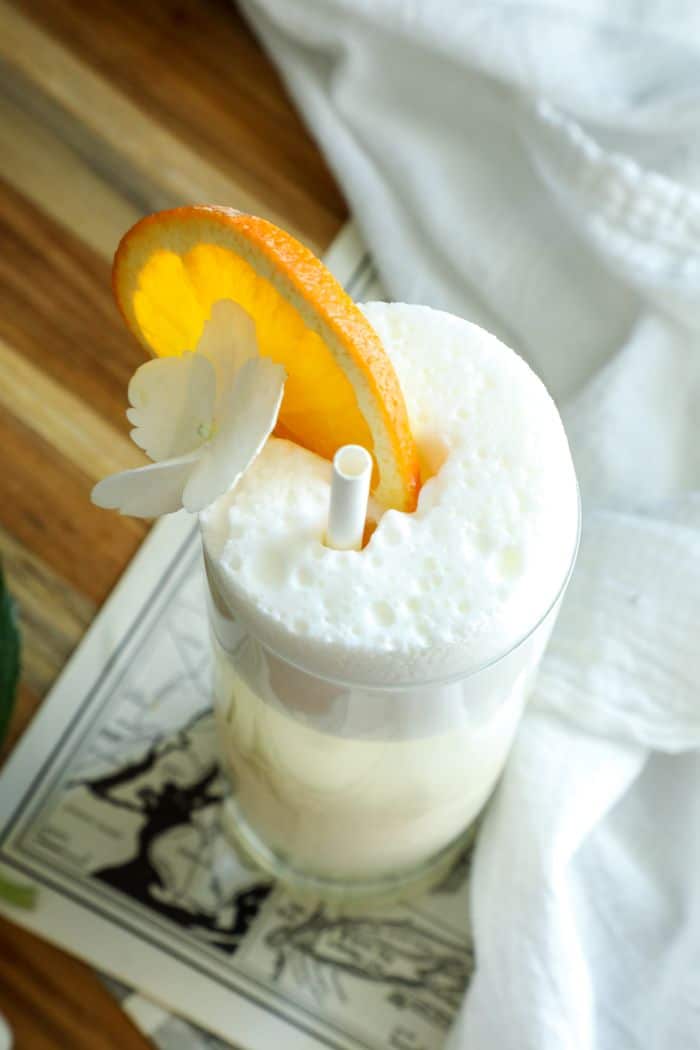 I like to wait for the egg foam to separate from the liquid in the cocktail. Once it has rested 45-60 seconds or so, it's ready for the club soda. Bartenders will tell you to slowly pour the club soda right down the center of the egg foam. As you do this, that signature foam head comes up to the top and slightly above the rim.
I like to pop in a straw, drop on a few drops of orange blossom water (helps with the egg white smell if it needs it), and garnish with an orange wheel and some flowers if I have them on hand.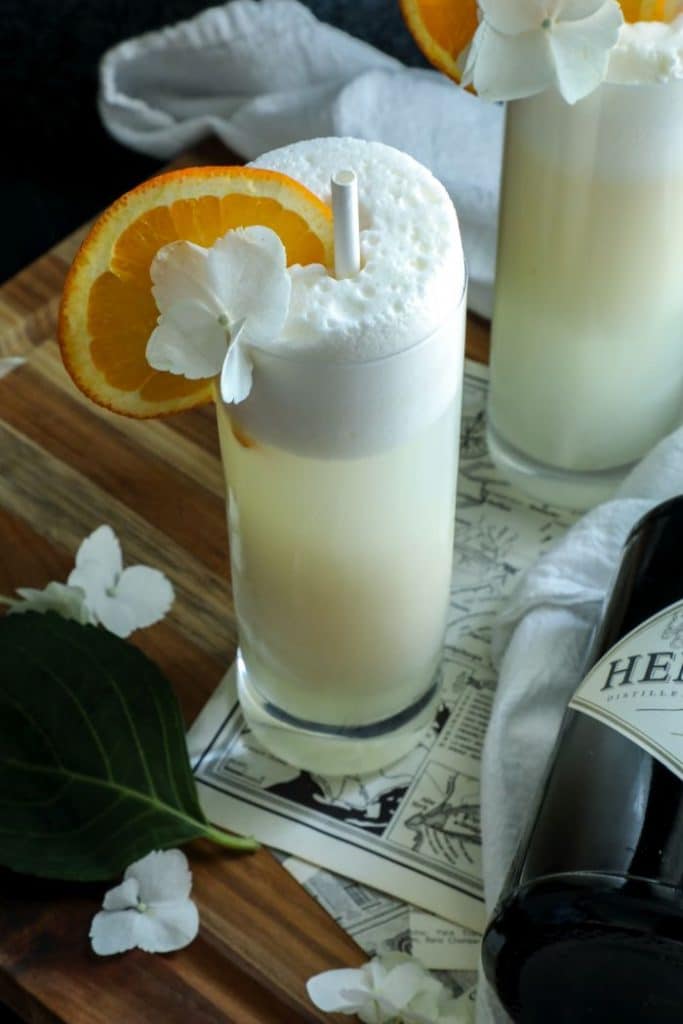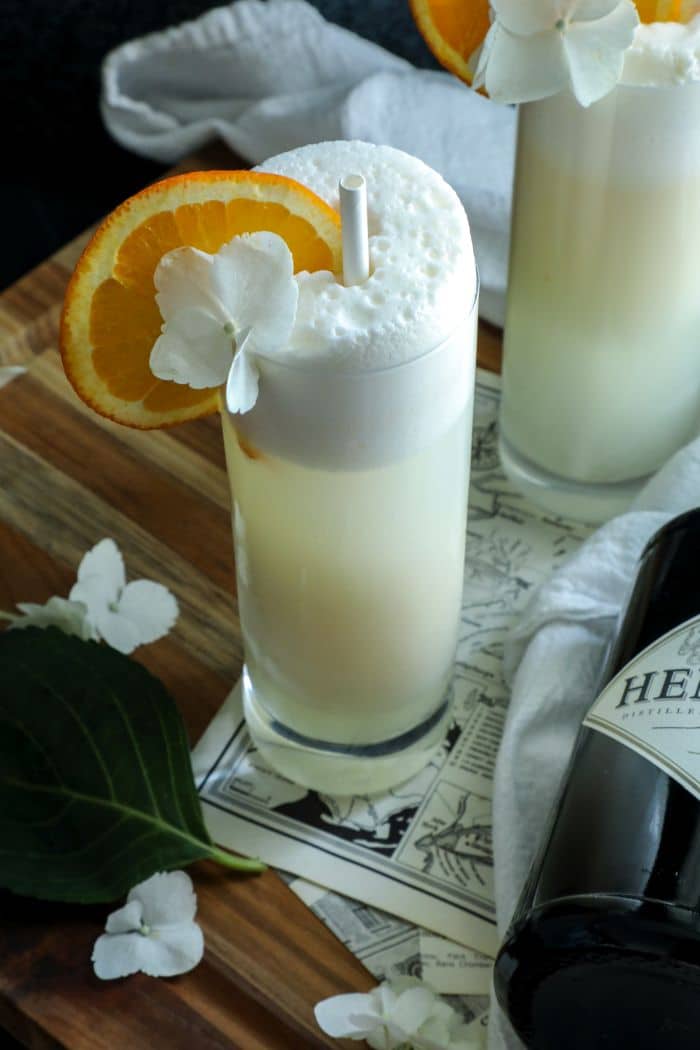 Enjoy this cocktail and more from the Bon Appeteach "Book Club" tab in the search bar or at the top of the page.
Try the other keto friendly gin cocktails:
Bon Appeteach,
-L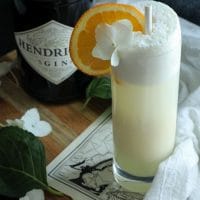 Subtle Art Of Not Giving A Fizz: Keto Creamsicle Gin Fizz
Make a delicious, refreshing, cream and egg white keto gin cocktail inspired by a classic creamsicle! It's light and airy, tangy, a little sweet, and only four net carbs.
Print
Pin
Rate
Ingredients
2

oz.

Dry Gin

1

oz.

Fresh Orange Juice

1/2

oz.

Fresh Lemon Juice

1

oz.

heavy Cream

1/2

oz.

Keto Simple Syrup

1

Egg White

2

oz.

Club Soda

2-3

drops Orange Blossom Water
Instructions
In a cocktail shaker, combine all the ingredients together over ice and shake well. At least 30 seconds.

Double strain back into the shaker cup and remove the ice. Shake the cocktail now "dry" (without ice) for at least 1 minute. If your arms aren't sore you didn't do it right…

Slowly pour the cocktail into a Collins glass and rest 45-60 seconds. Then carefully top the drink off with 2 oz. of club soda down the center of the drink. The head of the egg foam should rise and go about 1/4 inch above the rim.

Garnish with orange blossom water over the egg white, a orange wheel and flowers if desired.
Notes
Try a traditional gin fizz by swapping out the fresh orange juice for lime juice instead.
Nutrition
Serving:
1
g
|
Calories:
268
kcal
|
Carbohydrates:
4
g
|
Protein:
5
g
|
Fat:
11
g
|
Saturated Fat:
7
g
|
Polyunsaturated Fat:
3
g
|
Cholesterol:
34
mg
|
Sodium:
65
mg
|
Sugar:
4
g