Grilled Elote Style Cauliflower Steaks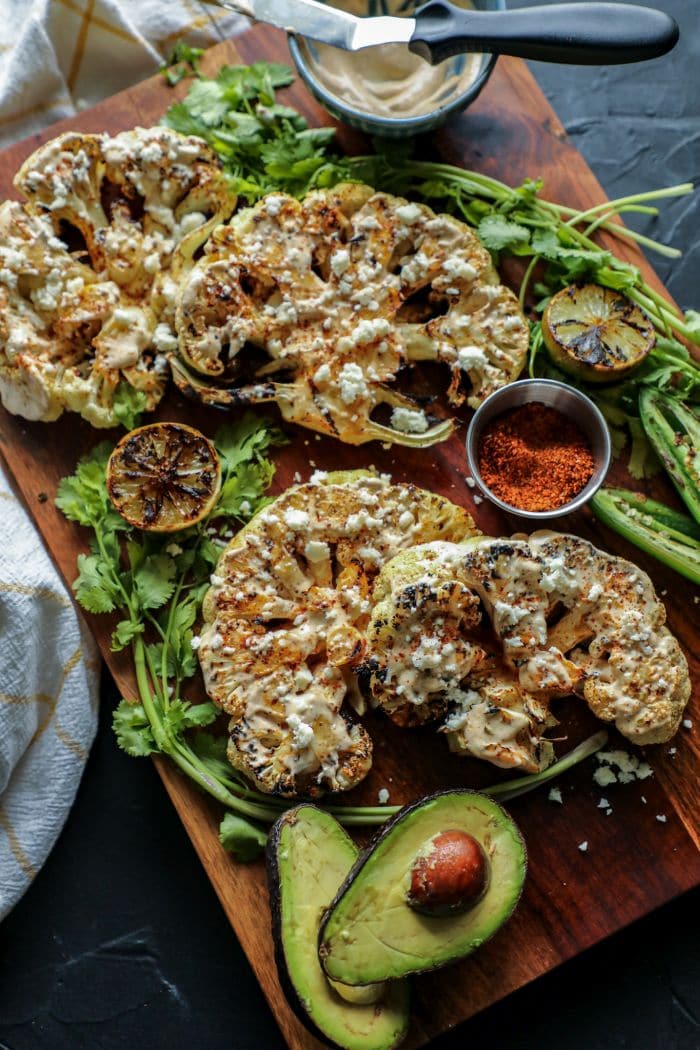 This recipe was created in partnership with my friends at Big Green Egg. All opinions and are solely my own.
Looking for a low carb keto elote that won't throw you out of ketosis? Maybe you just want to find a way to liven up some cauliflower? This cauliflower elote grilled side takes inspiration from the classic Mexican street corn dish to a whole different level.
My oh my if there was ever a cuisine I love and crave frequently, it is without a doubt Mexican food. I mean, if chips and salsa were their own food group I'd happily survive solely on that until the day I died (OK, I lied because I definitely need my classic guacamole recipe though too).
As delicious as Mexican food can be, sadly the majority of it is not great for eating and living a low carb or keto friendly lifestyle. I've found myself over the years finding ways to recreate my favorite Mexican recipes, like I did here with my popular Keto Corn Tortillas, these homemade keto tortilla chips, or these insanely delicious low carb flautas.
With my keto Mexican inspired tacos, dips, and desserts confidently covered, I felt that the lack of Mexican inspired side dishes was in need of improvement. So of course I had to bring on the cauliflower my friends!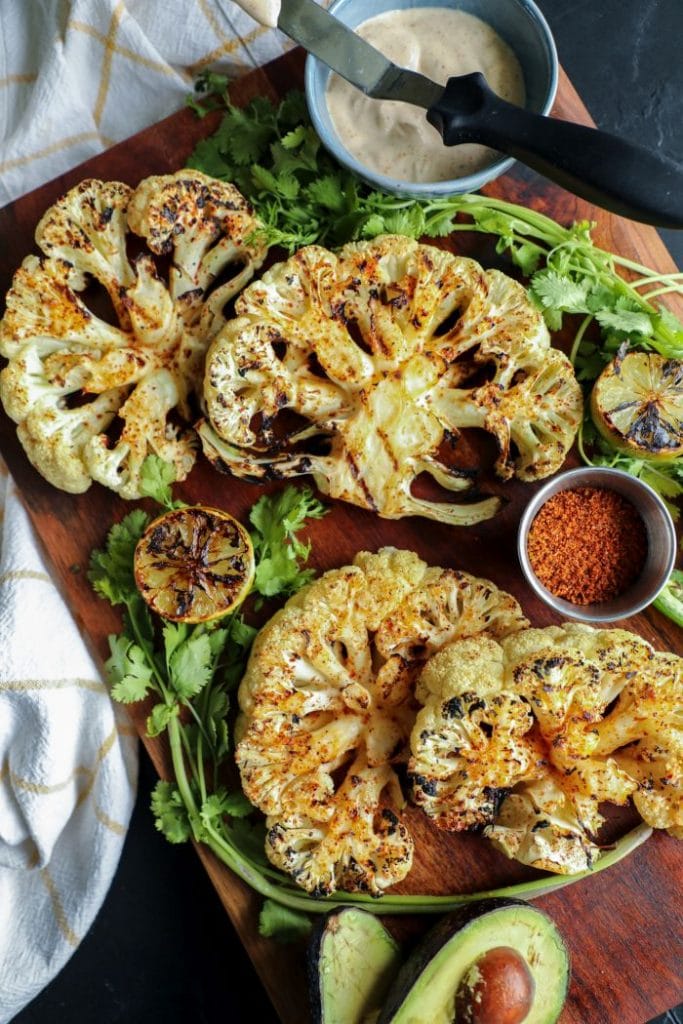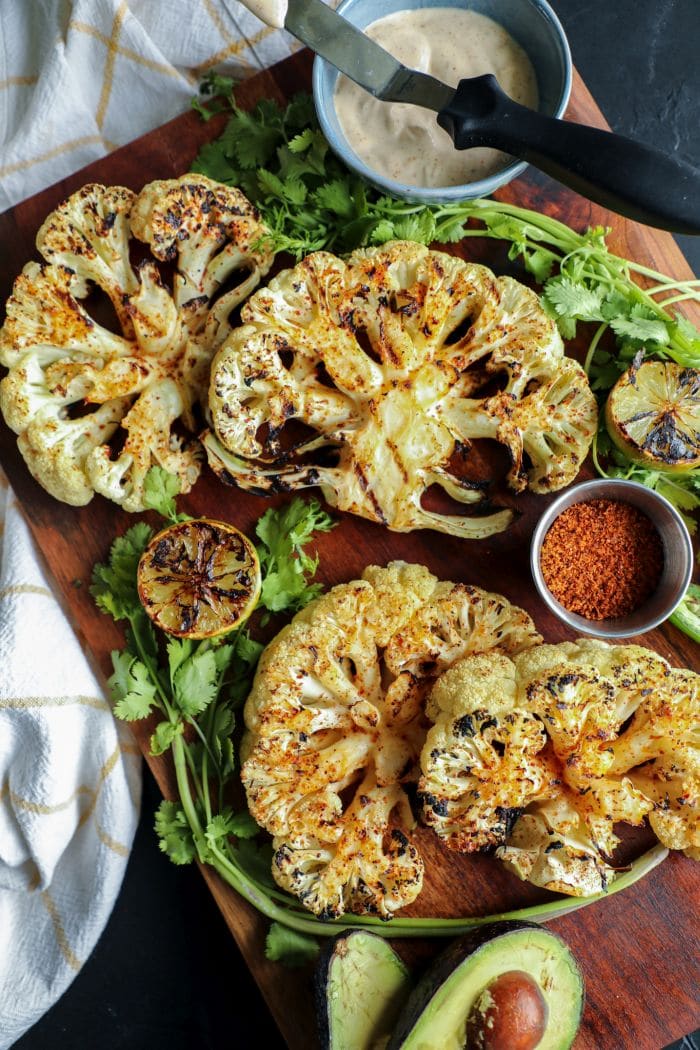 Now, we can all appreciate the incredible flavors of grilled corn (like in a classic elote), but making grilled cauliflower steaks taste as good as it's higher carb original is no easy feat. This recipe is my take on a classic roasted cauliflower, livened up on the grill, topped with chili lime mayo, cotija cheese, cilantro and more!
Get the full recipe below along with all the helpful tips and tricks to making the perfect side!
"School" Supplies:
Knife & Cutting Board
Small Bowl
Whisk
Measuring Spoons
Tongs
"Class" Notes:
This recipe can easily be made in less than 30 minute with only a handful of ingredients. Get the break down of how I pull this off on the grill at home!
How do I make a cauliflower steak?-
Cauliflower steaks are exactly what they sound like and are easy to create from a fresh head of cauliflower. Ideally, you will get 3-4 steaks out of each head, however, depending on how thin or thick your cut them, the cauliflower florets may break apart near the edges, often making the sides of the cauliflower hard to grill up as one solid piece.
I prefer to trim off the sides and then slice the cauliflower into 1 1/2-2 inch thick pieces. This makes it easier to get a nice char on both sides of your cauliflower without it breaking and falling apart. Any side pieces that crumble can be saved and used for cauliflower rice or cauliflower mash too!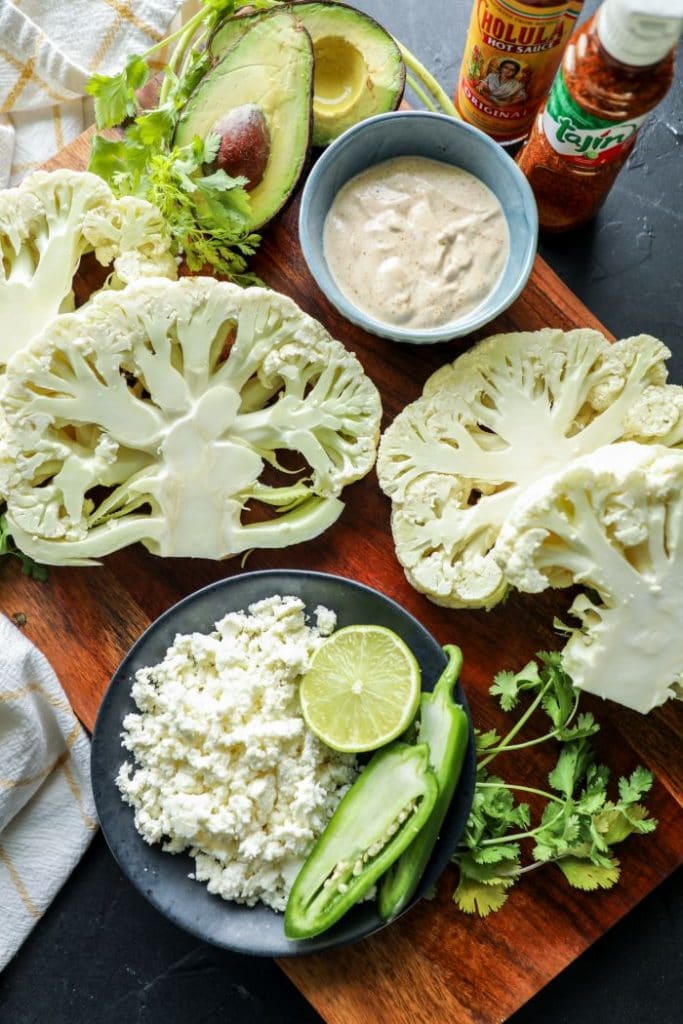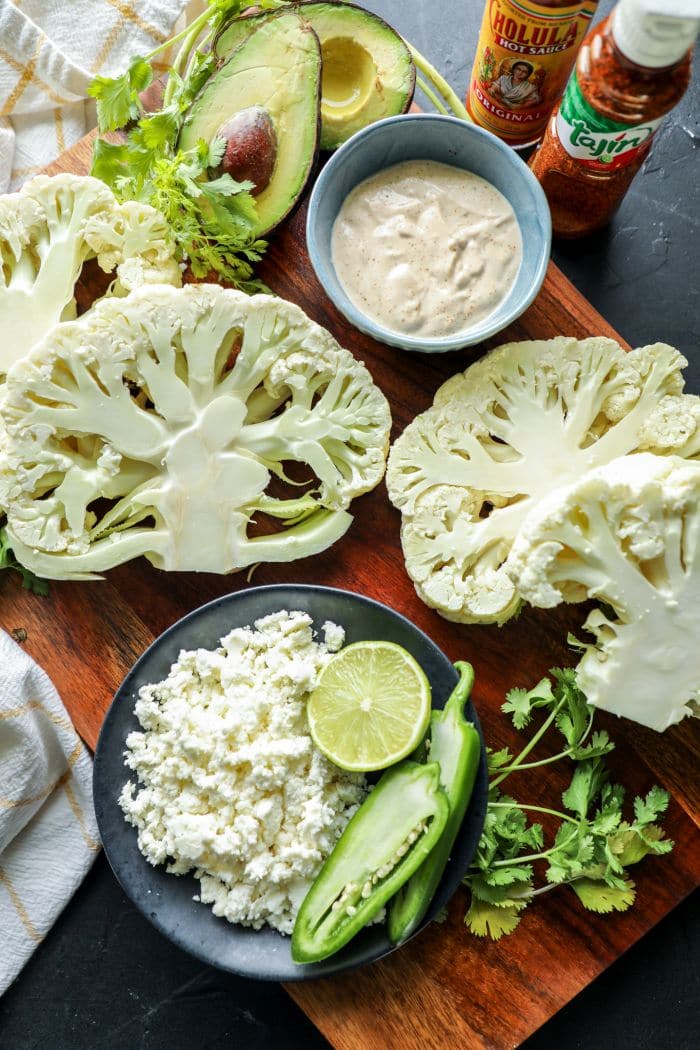 One large steak should easily feed one person when served as a side. Plan accordingly (2-3 steaks per head of cauliflower) and know you will have extra pieces of cauliflower left over.
What are common elote spices and ingredients?
The classic street corn dish features chili powder, lime juice, salt, and often times mayo. For this cooked cauliflower recipe, I wanted to season both the mayo dressing and the cauliflower steaks themselves to really round out the flavors.
While you can easily create a chili, salt, and lime seasoning or dry rub on your own with staple spices, often times you can just pick up a bottle of Tajin from the local grocery store too (if you're looking for a short cut).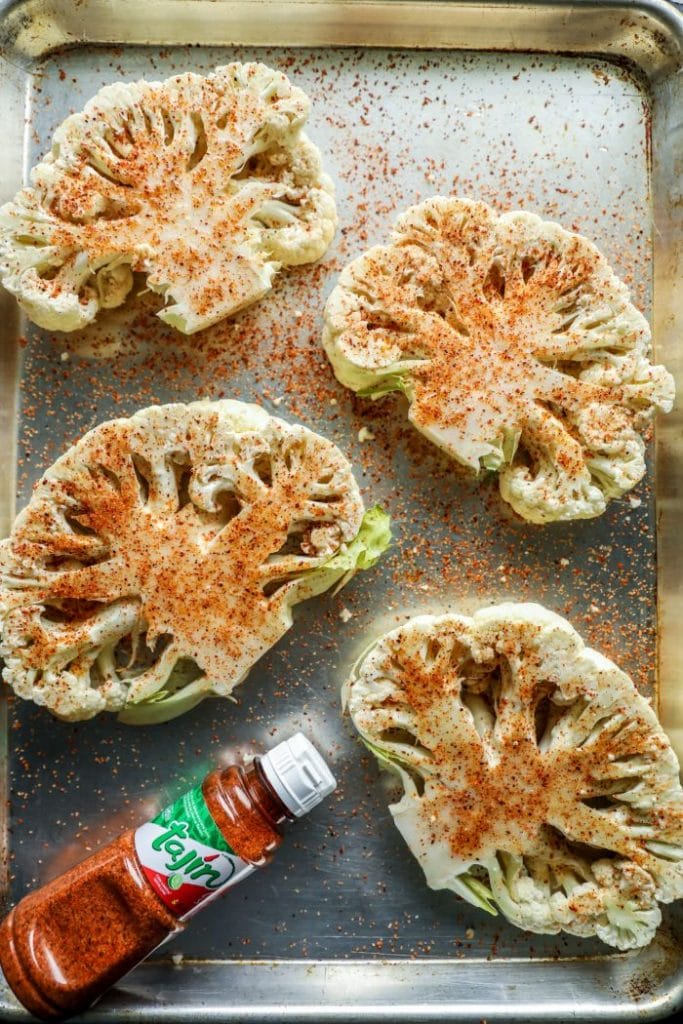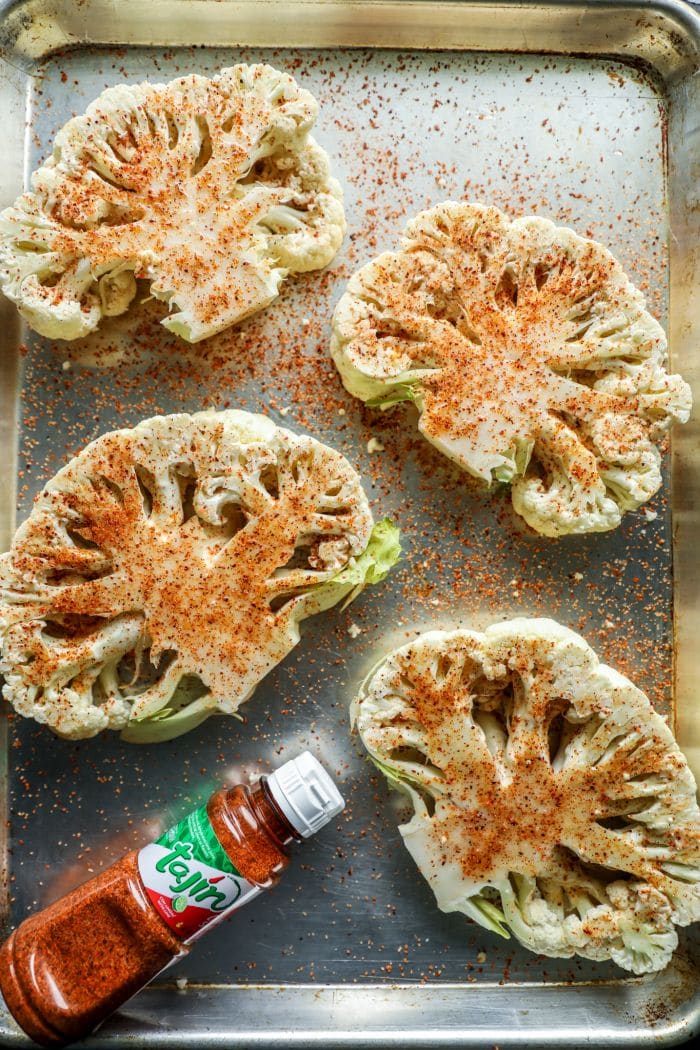 Next, you need to have a chili lime dressing! This is a mayo base (could sub for just some melted butter or sour cream if you prefer), fresh lime juice and zest, a little pepper, hot sauce, tajin, and whisk away. It's fresh and tangy and tastes so great slathered over the grilled cauliflower!
Beside the seasonings and the mayo dressing that make up this elote dish, crumbled cotija cheese is what really ties this street food dish together. Cotija is a saltier, Mexican style cheese that closely resembles Parmesan (for reference to a flavor profile). If you can't find cotija, try a queso fresco cheese as an option too!
How do I directly grill cauliflower steaks?
I opted for direct heat on a charcoal grill for this recipe, but the beautiful thing about cooking is you could use any style grill or even roast or broil in your oven if you don't have access to one. Go for the charcoal though if you can to really amp up the flavor and give it that beautiful char!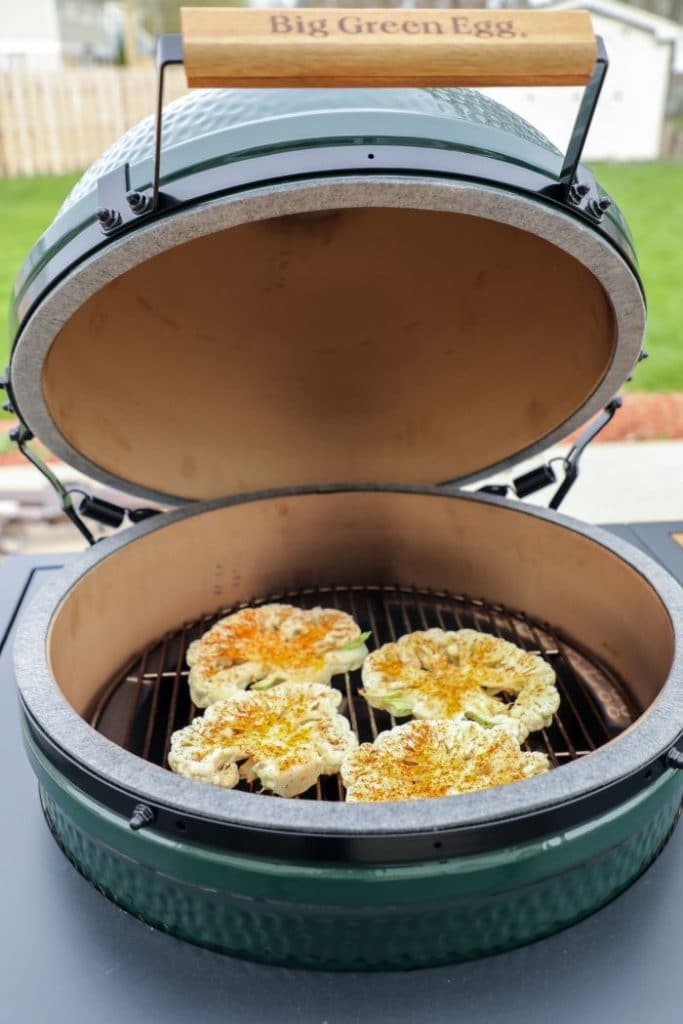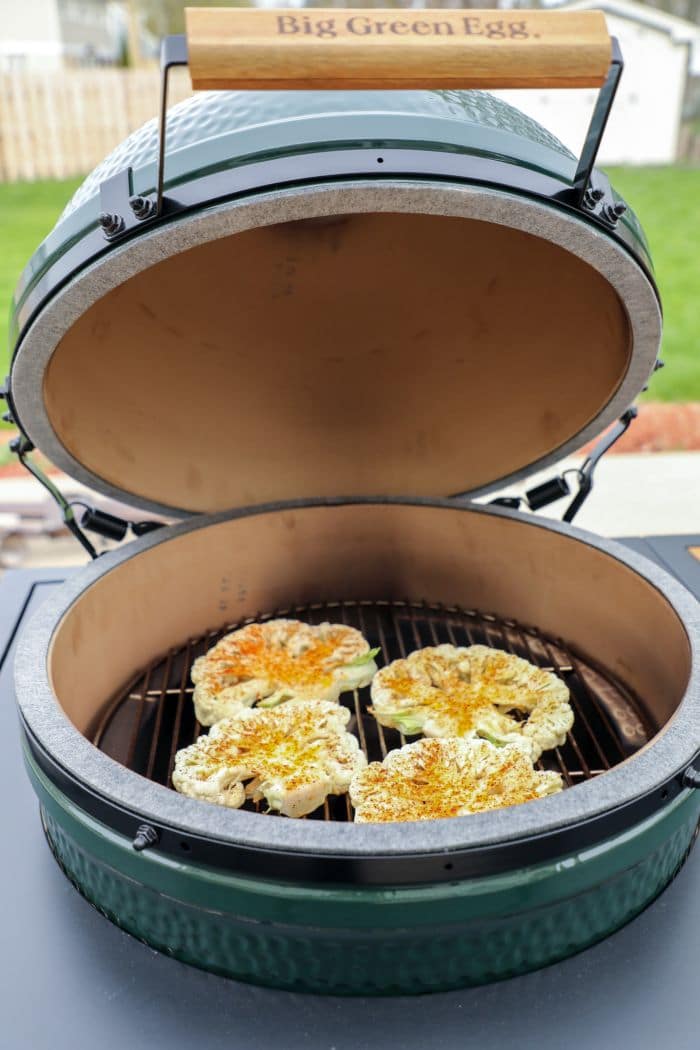 I preheated my grill for direct cooking to round 400-425 degrees. While the grill is heating up, I lightly oiled both sides of the cauliflower steaks with olive oil and added some tajin seasoning to both sides as well. If you're worried about the cauliflower sticking to the grates, you can also lightly oil them as well if needed, I however did not do this on my Big Green Egg.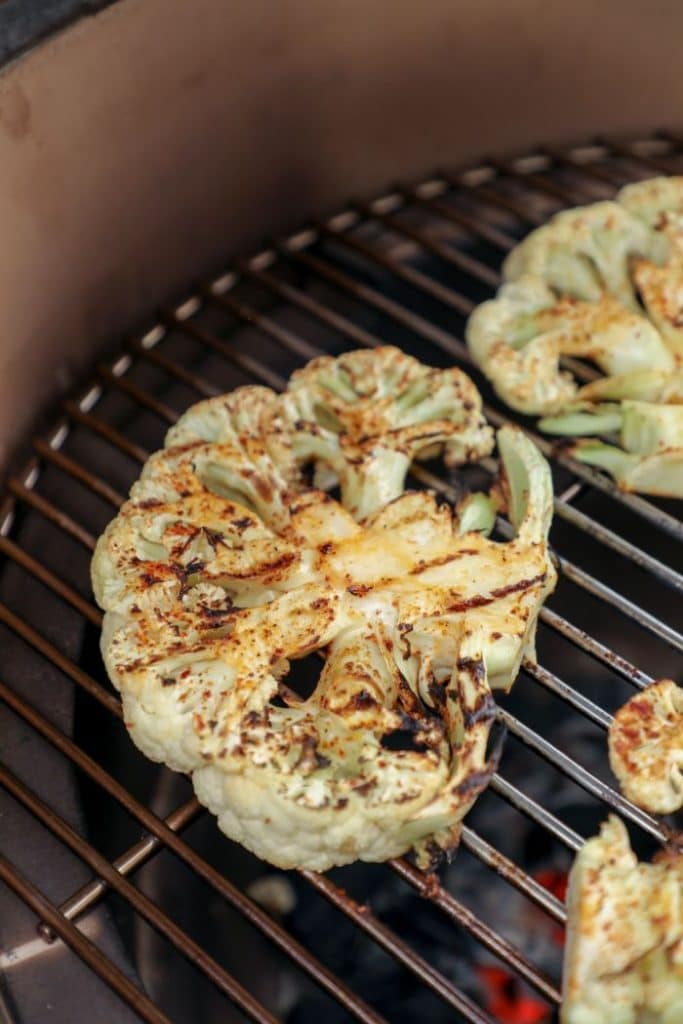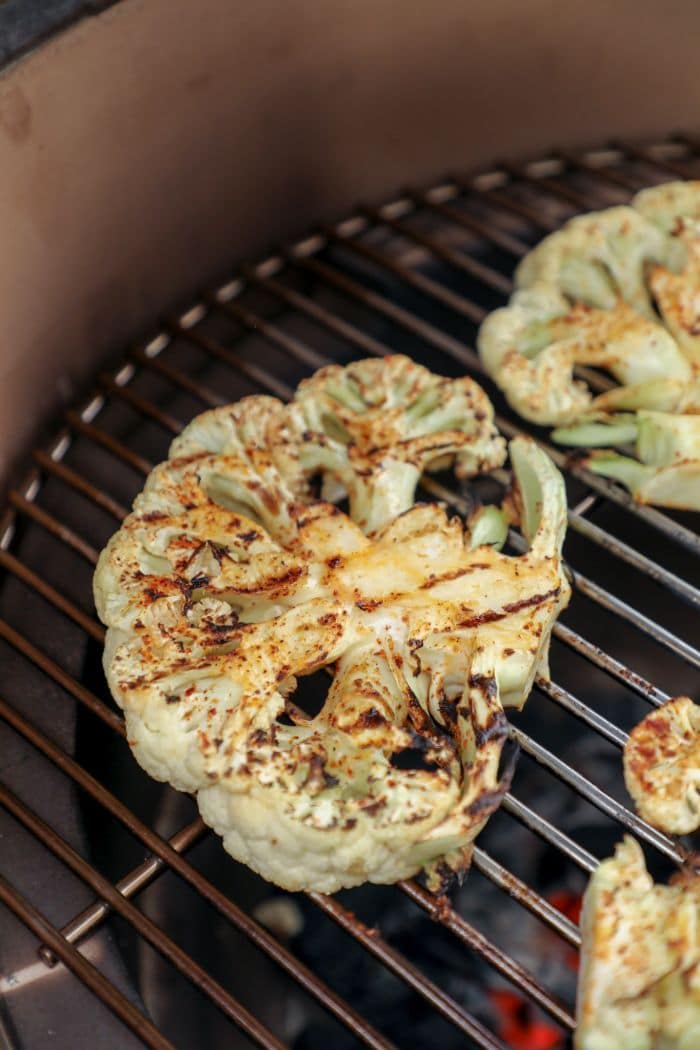 Grill each side for about 4-6 minutes. You want a nice, light char, tender steaks, but not too over cooked or it will fall apart! Think al dente here friends! After that 4-6 minute window, flip them and cook the other side. All of this again is right over the hot coals and a medium grill temperature allowing for cooking and color.
Remove the steaks from the heat and set them aside so you can add all the yummy toppings that make this elote inspired dish.
How to assemble elote cauliflower steaks?
Take that delicious chili lime mayo dressing you made and brush a little on each side of the steaks. Sprinkle a little more of that tajin seasoning if you prefer (I always do), a little cotija and some fresh cilantro or lime zest for flavor and color.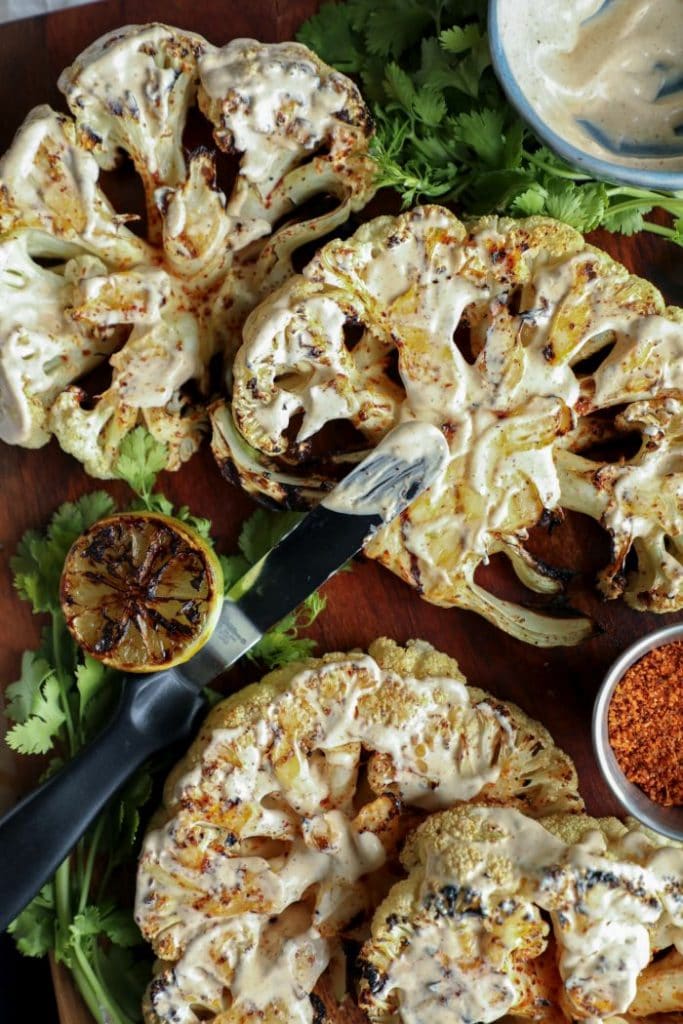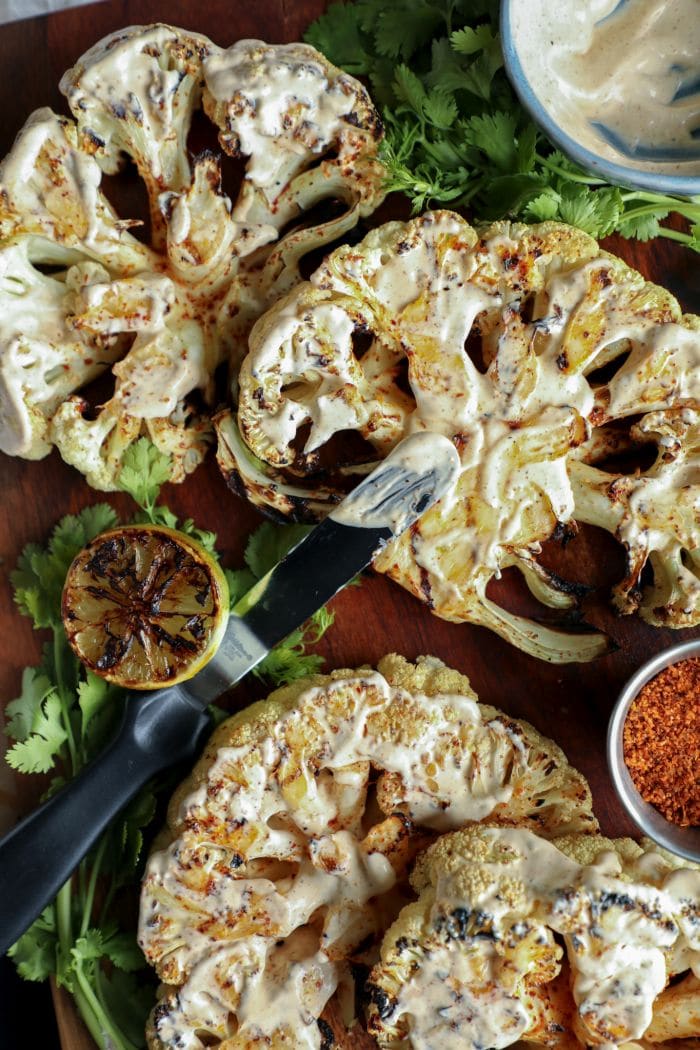 Serve these on a large platter, baking sheet or just right off the grill! You can catch me making the LIVE over on the Big Green Egg Facebook page too if you want to see a fun, full tutorial. I know this recipe is a huge hit for everyone, even those not on a keto diet!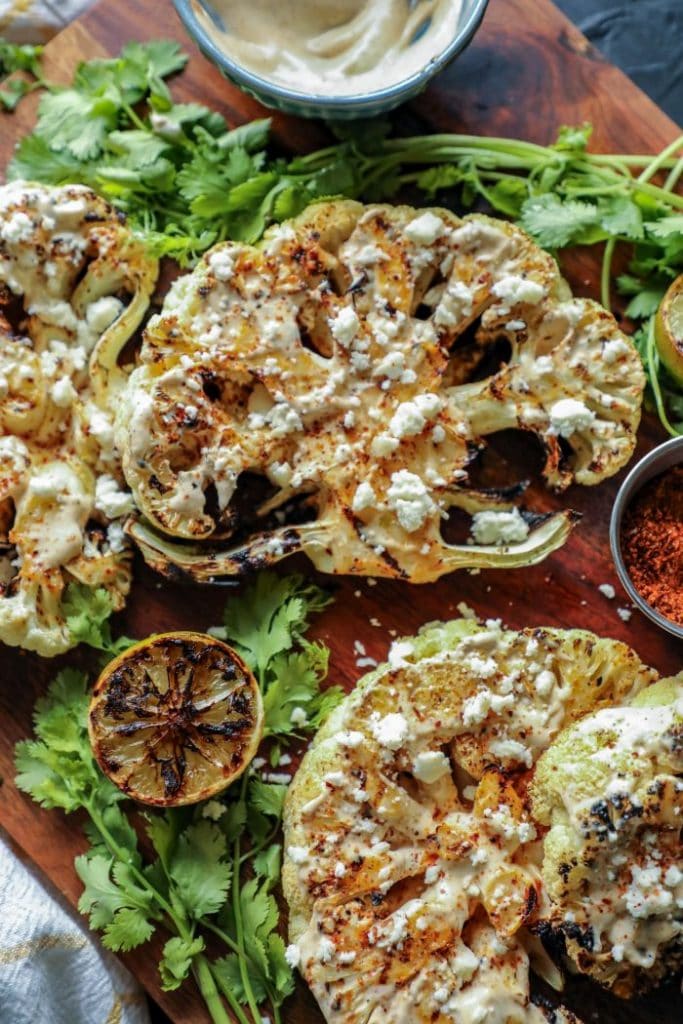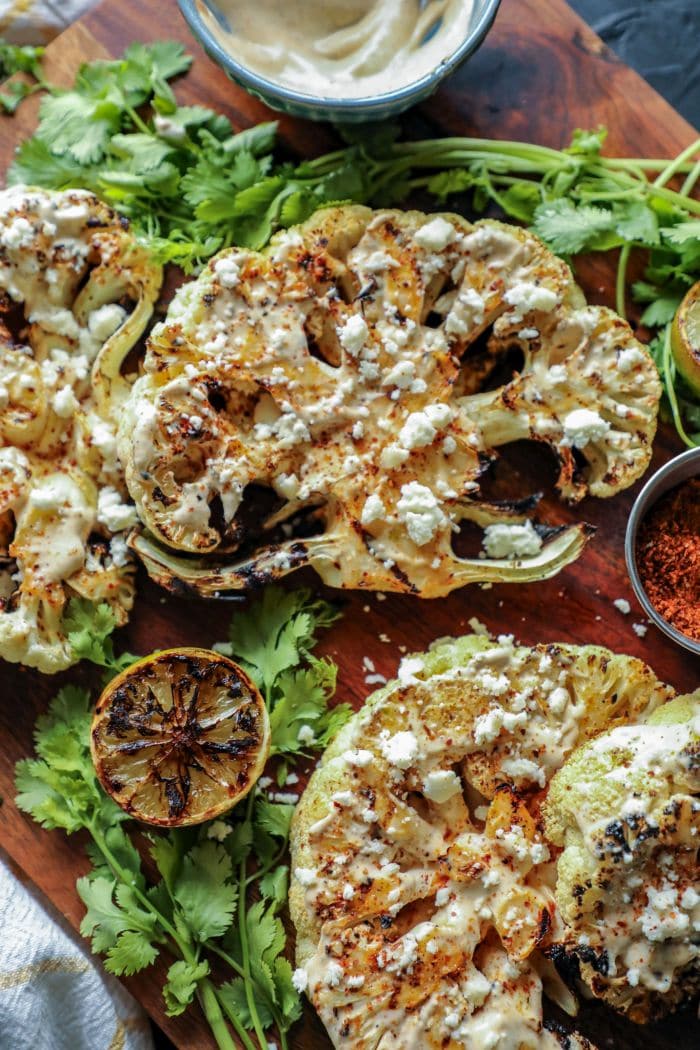 Plan on making these at a later date and want to make sure you save it? Pin it to your pinterest boards or bookmark it on your web browser.
Want to try other popular Mexican inspired recipes from Bon Appeteach? Check these out:
Loaded Cheesy Mexican Cauliflower Rice
Mexican Hot Chocolate Biscotti
Bon Appeteach,
-L
See how I made this LIVE with my friends at Big Green Egg too.
Grilled Elote Style Cauliflower Steaks
Looking for a low carb keto elote that won't throw you out of ketosis? Maybe you just want to find a way to liven up some cauliflower? This cauliflower elote grilled side takes inspiration from the classic Mexican street corn dish to a whole different level.
Print
Pin
Rate
Ingredients
4

Cauliflower Steaks

see notes in post above

2

tbsp.

Olive Oil

1/4

cup

Mayo

1/2

Lime

juiced and zested

2-3

dashes Mexican Hot Sauce

I like Cholula

1

tsp

Tajin Seasoning

or sub chili powder, salt, and lime zest

1/4

cup

Cotija Cheese

Cilantro for garnish
Instructions
Preheat your grill for direct heat around 400-425 degrees.

While the grill is heating up, slice your cauliflower (stem intact) into 2-3 steaks per head of cauliflower. Each steak should be around 1.5 inches thick. The ends tend to fall apart, so use the center slices only. I used two smaller heads of cauliflower (with small pieces left over) for this recipe. See notes in the post above for more tips and info.

In a bowl, combine the mayo, lime juice and zest, hot sauce, and 1 tsp of Tajin to a bowl and whisk until combined. Set it aside. Then, lightly oil both sides of all the cauliflower steaks. Sprinkle on a little Tajin seasoning onto the front and backs of each piece of cauliflower.

Place the cauliflower steaks over direct heat on the grill and close the lid. Let each side cook for 4-6 minutes. Flip the steaks over and repeat! You're looking for some char on each side and for the cauliflower to be tender and al dente. Do not over cook!

Remove the cauliflower steaks off the grill and brush on the chili lime mayo lightly onto each side of the cauliflower steak. Season with more tajin if desired and sprinkle with cotija and cilantro for serving.
Notes
Don't have Tajin? Combine salt, chili powder, and lime zest instead together into a bowl!
Nutrition
Serving:
1
g
|
Calories:
199
kcal
|
Carbohydrates:
4
g
|
Protein:
3
g
|
Fat:
20
g
|
Saturated Fat:
4
g
|
Polyunsaturated Fat:
15
g
|
Cholesterol:
13
mg
|
Sodium:
401
mg
|
Fiber:
2
g
|
Sugar:
2
g