Keto Chorizo Biscuits & Gravy :
After I created those scrumptious Keto Almond Flour Biscuits last week, I knew I had to make a pretty epic gravy to go with it. Because what's a perfect keto biscuit without a perfect keto gravy?
I couldn't just make any ordinary keto gravy either, but a chorizo sausage gravy. And, it didn't disappoint either! Also, the addition of cheddar and jalapeno to the biscuits was pretty damn delicious too.
That settles it, you better go make this.
Find the full recipe for Keto Chorizo Biscuits & Gravy and read on for all the helpful tips and tricks!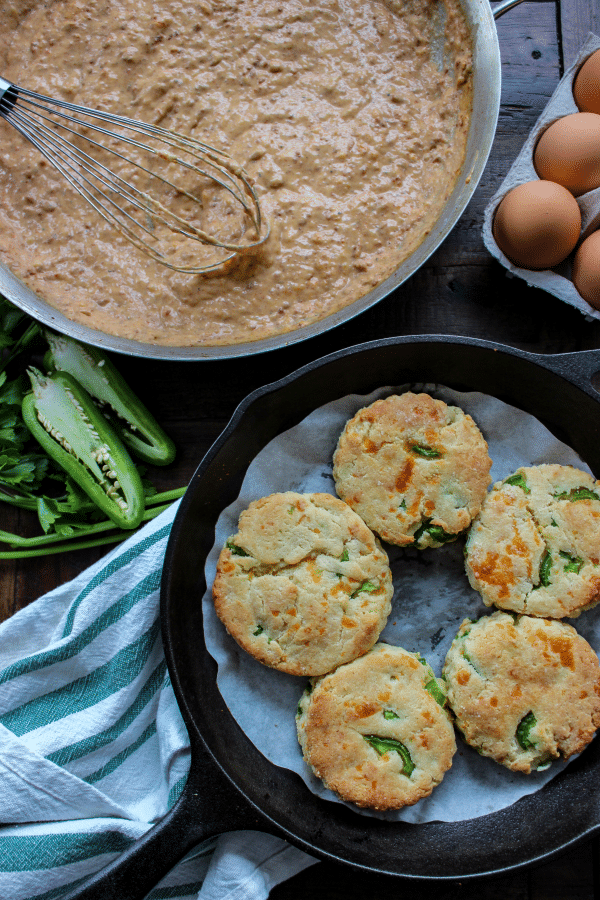 "School" Supplies:
Food Processor / Biscuit Cutter
9″ Round Pan or Cast Iron Skillet
Biscuit Cutter
Sauce Pan
Measuring Cup & Spoons
Wooden Spoon and Whisk
"Class" Notes:
Last week, I shared this recipe for Keto Almond Flour Biscuits. They're light, fluffy, flaky, and buttery. Everything you expect in a good biscuit. Head on over to the link post above to read more about how easy this basic keto style biscuit recipe is!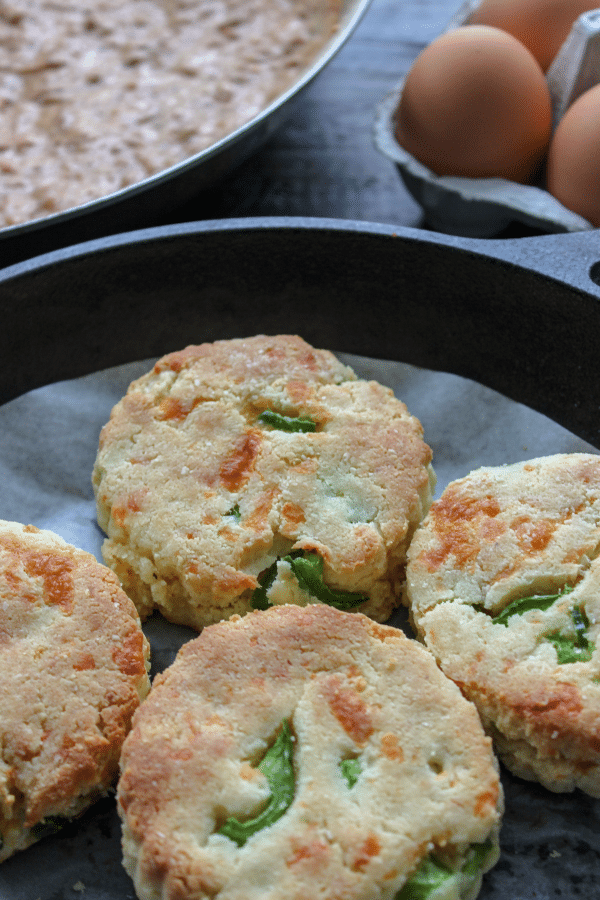 I added some freshly slice jalapenos and fresh grated cheddar to my standard recipe. This resulted in an even more addictive and savory biscuit! Be sure to use fresh grated cheese for a better biscuit consistency too.
While the biscuits are baking, prepare your gravy. I like to use a shallow saucepan for making the sauce personally.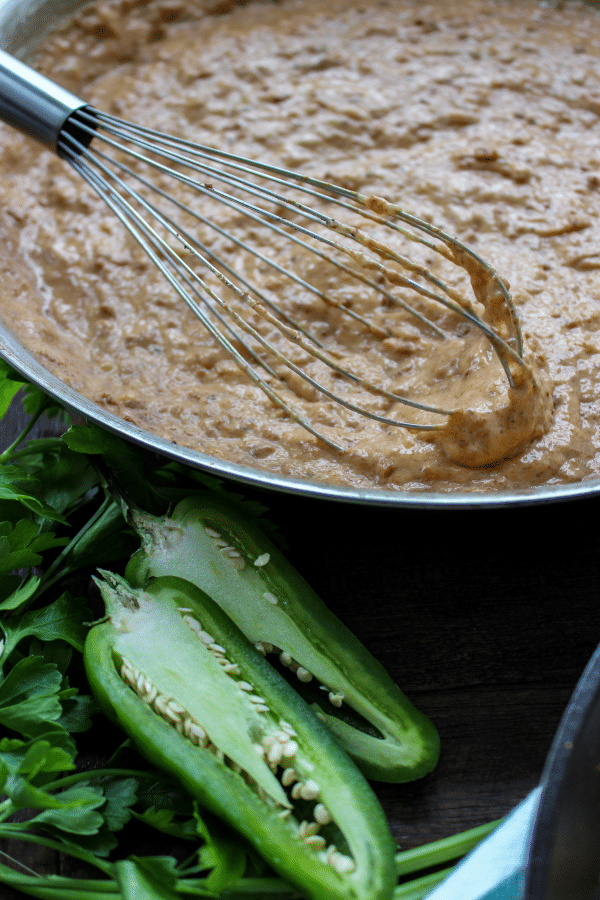 Start by cooking and browning the chorizo. You can use regular breakfast sausage as well if you prefer. The most important step is to drain the sausage and fat onto a paper towel and set it aside before starting the gravy.
My approach to a keto gravy is much like a classic roux. In place of flour however, I like to use xanthan gum. Xanthan gum is a keto thickening agent that works a lot like cornstarch. Sometimes it works too well, so if you use to much it will congeal.
And no one likes a jelly gravy.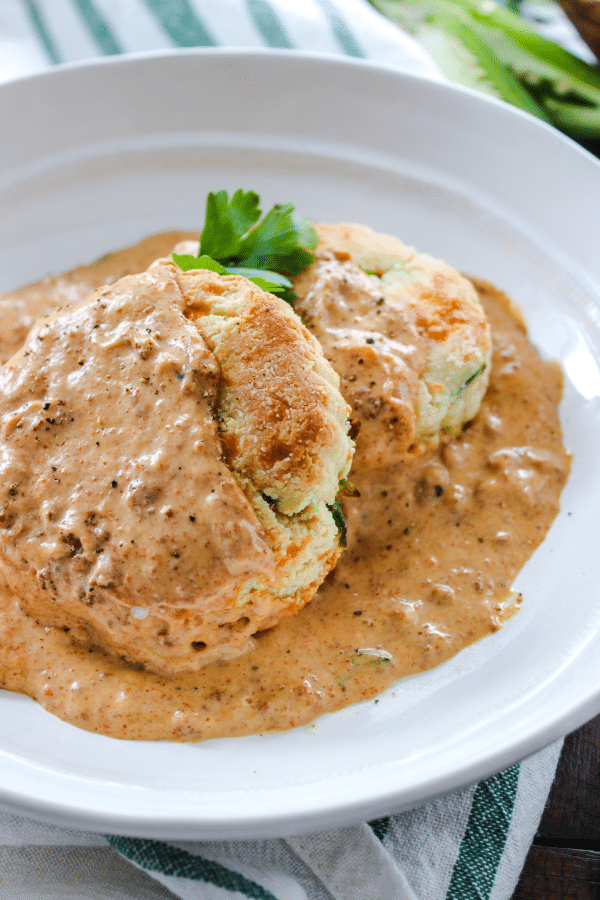 Once the butter dissolves the xanthan gum into a paste, whisk in the half and half. Continue to whisk until the sauce begins to thicken slightly. Return the sausage to the mixture and mix until everything is heated through.
Taste to season if needed. The chorizo is very flavorful and does a lot for the sauce. I usually add pepper and cumin. Serve a ladle full of chorizo gravy over your beautiful cheddar and jalapeno biscuits.
If you love these savory keto friendly biscuit recipes as much as me, check out my Low Carb Nashville Hot Chicken Sliders recipe too!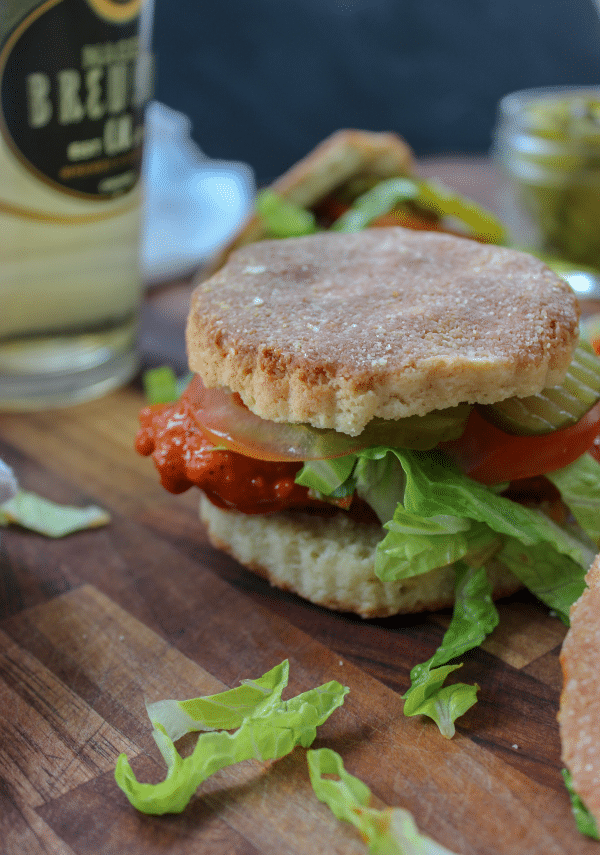 -L
Yield: 7 Servings
Keto Chorizo Biscuits & Gravy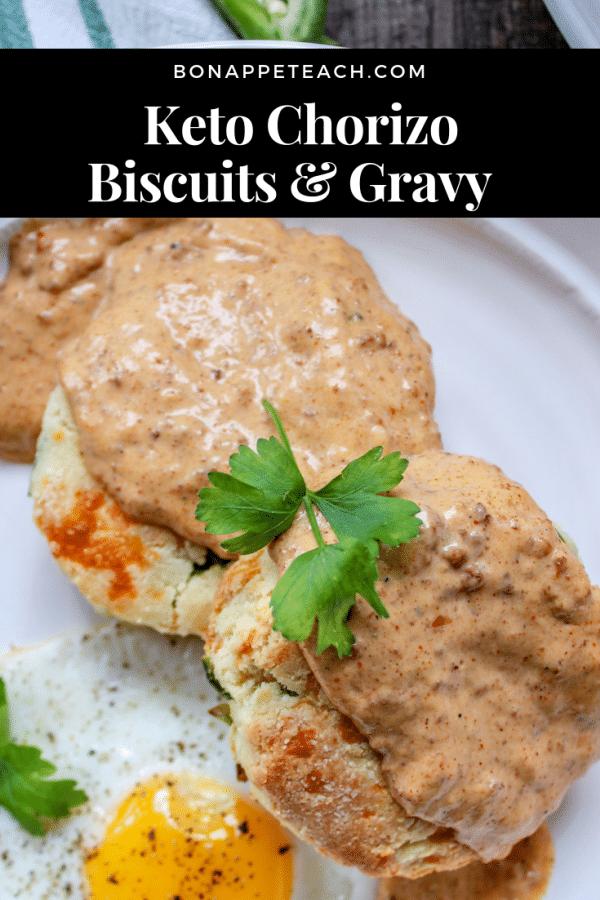 This savory Low Carb Cheddar Jalapeno Biscuits with Chorizo Gravy is easy to make and so very flavorful. Make this for your next keto breakfast or brunch.
Ingredients
1/2 cup Shredded Cheddar
1 Small Jalapeno, sliced thin
2 Cups Half & Half
1 tbsp. Butter
1 tsp Xanthan Gum
8 oz. Ground Chorizo
Optional: Season with black pepper and cumin
Instructions
Make the keto biscuits according to the directions. Then mix in the shredded cheddar and the sliced jalapenos. Cut out the biscuits and bake according to the recipes instructions.
While the biscuits are baking, start your gravy. Begin by cooking the chorizo sausage until it is fully cooked and browned. Drain the mixture onto a plate lined with a paper towel and set it aside.
In the same pan, melt the butter over low heat and add the xanthan gum. Whisk until dissolved.
Slowly add the half and half and whisk until the mixture is dissolved. Keep the heat on medium low and continue to whisk for a few minutes until it thickens. It will thicken more as it cools as well, so do not be tempted to add more xanthan gum (or it gets slimy).
Stir in the chorizo until mixed. Then serve over your biscuits.