Grilled Chicken Zoodle Soup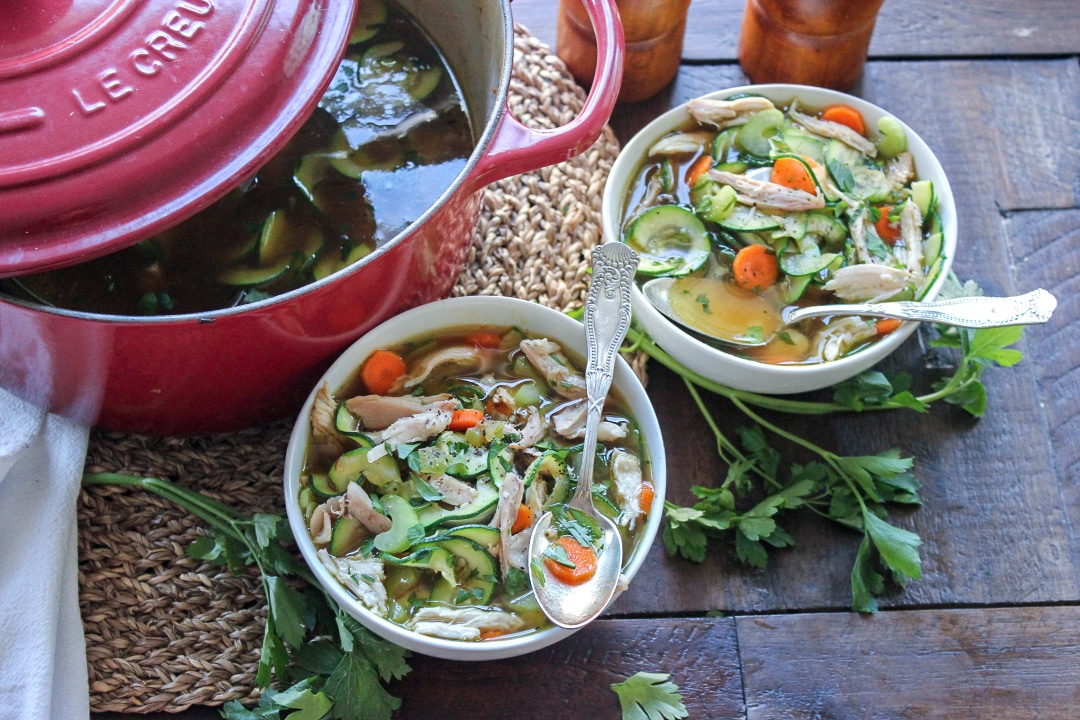 Leftover grilled chicken? Let's make this easy low-carb grilled chicken zoodle soup recipe.
It's packed with smoky grilled chicken and zucchini noodles along with all the other essential veggies you love in a classic chicken noodle soup (but with fewer carbs).
You can get all the ingredients and cooking tips outlined below. Let's dive in!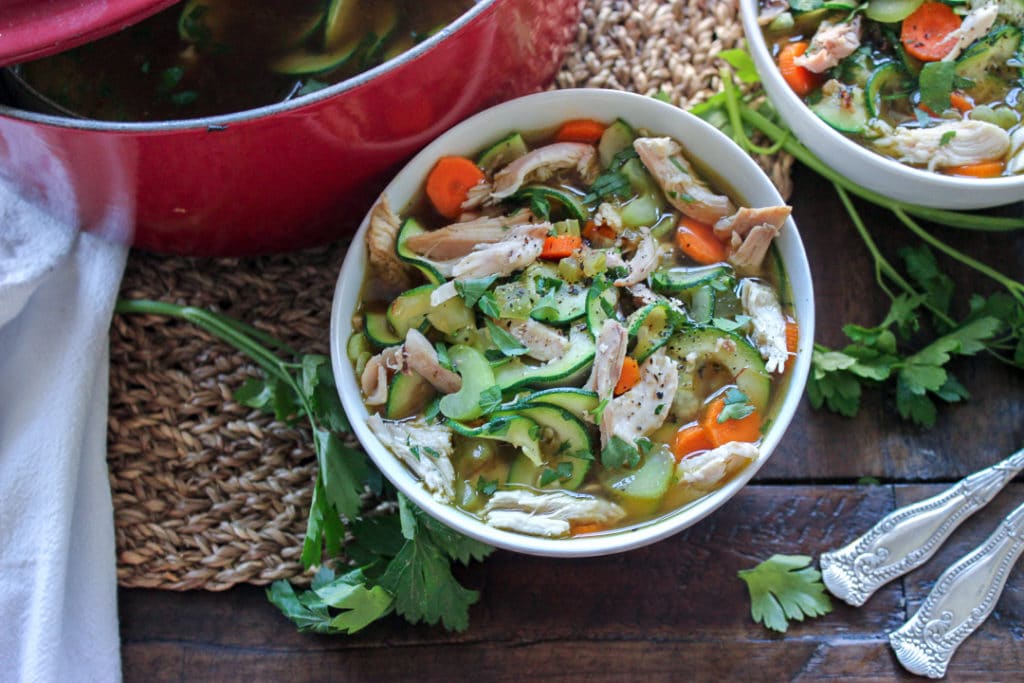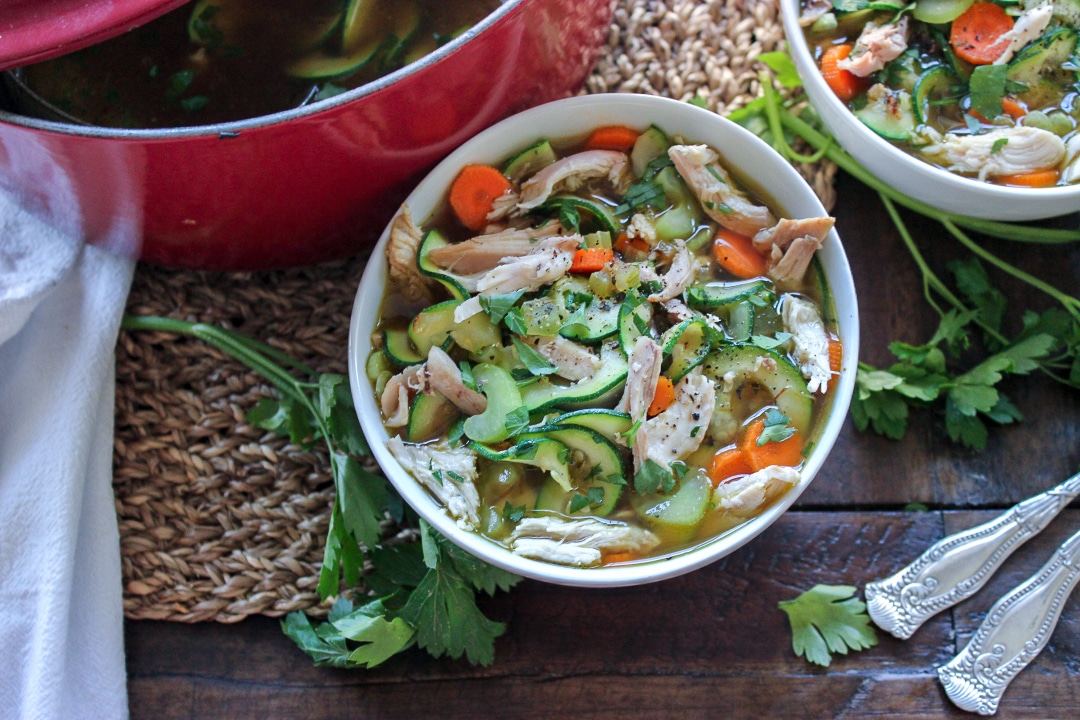 "School" Supplies:
Large Stock Pot (5 qt)
Knife & Cutting Board
Strainer
Spiralizer
"Class" Notes:
For the Stock-
I find the key to any good soup is really in the stock. Chicken stock is fairly straightforward and probably something I don't need to elaborate much on. I will say that even if you are on a keto diet… please, PLEASE add a little carrot. Carrots, celery, and onion are what make up the trifecta of flavors (aka the mirepoix) of a stock. So add a little.
I typically look and see what might be going bad in my fridge and throw in any other veggies or herbs I have left.
The beauty of making the stock on the grill is that the smoke enhances the flavor and makes a beautifully rich broth. Let it simmer for a few hours, remove, strain out the contents and discard everything but the broth.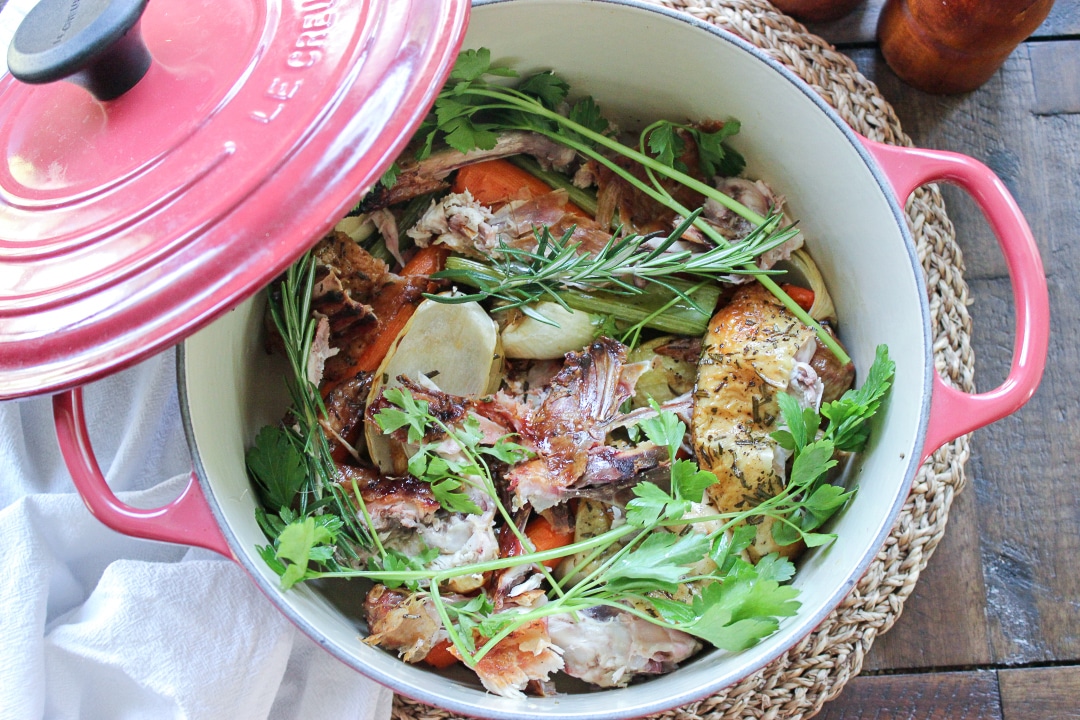 For the soup-
Once the stock is done, you can continue to cook it on the grill or on the stovetop. The stock is infused with the most flavor so it is definitely up to you at this point. I used leftover chicken I had from this Low Carb Chicken Chili recipe and used it for this soup.
Add the mirepoix base again, add the chicken, and the stock. Bring to a simmer, and add your favorite spices (I like garlic, fresh parsley or rosemary, and sometimes a bit of lemon juice or zest).
Spiralize your zoodles and add them in once your soup is ready for serving. Enjoy with a deliciously warm Keto Corn Muffin or delicious Low Carb Naan Bread. Wishing you all a sick-free season and hope you love this hearty low carb Grilled Chicken Zoodle Soup.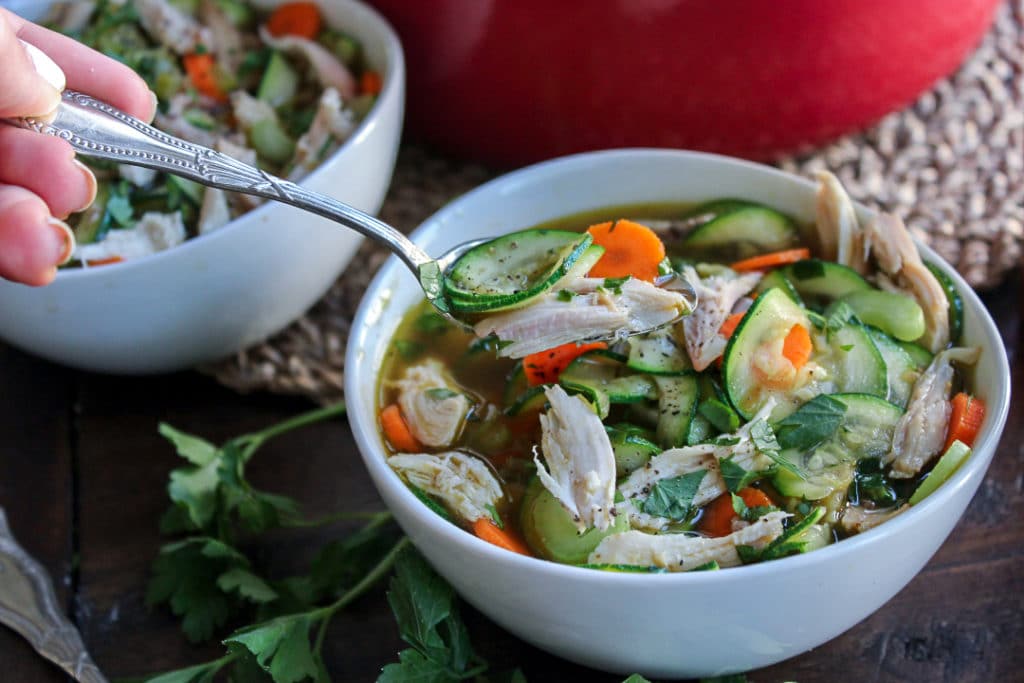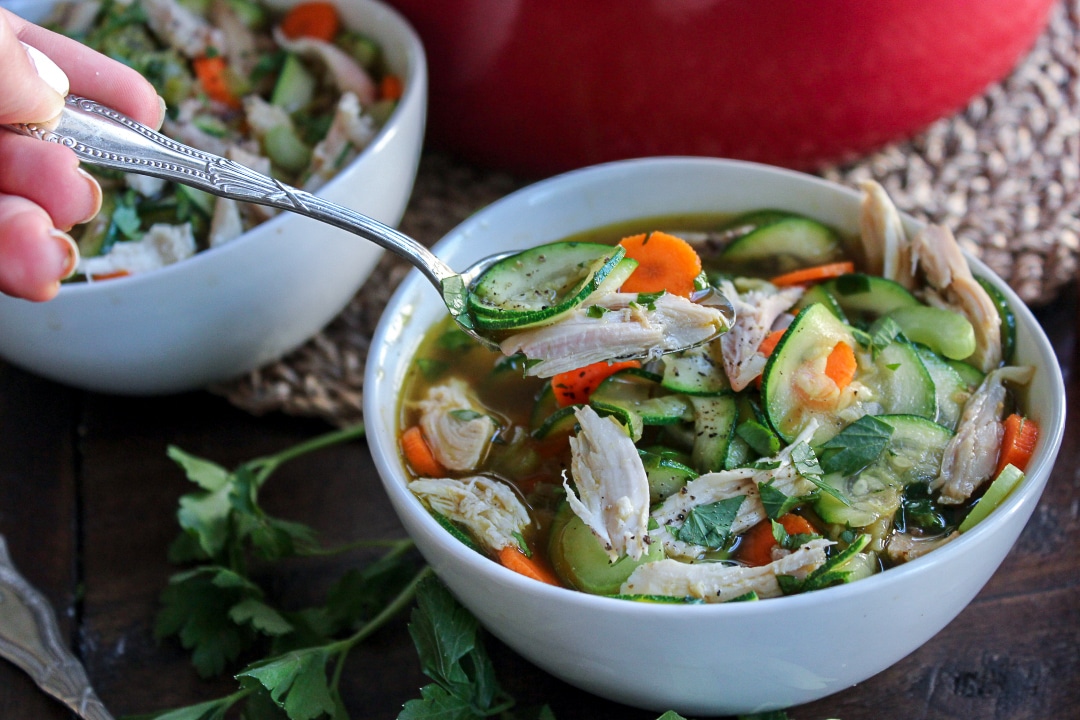 If you love soup season like I do and want a simpler option without sacrificing flavor, then check out this deliciously easy Asian Inspired Chicken Zoodle Soup too!
Ingredients
For the Stock-

Leftover Bones or Whole Raw Chicken

1 Large Carrot, diced into large pieces

2 Celery Stalks, diced into large pieces

1 Yellow Onion, Cut into quarters

Sea Salt & Whole Peppercorns

Water

Optional- Additional veggies (I use what might be going bad in my fridge)

Optional- Herbs (I like to add some parsley or rosemary)

For the Soup-

1 tsp. Olive Oil

1 Medium Zucchini, spiralized

1/2 Carrot, diced small

1 Celery Stalk, diced small

1/2 Yellow Onion, diced small

1-2 Garlic Cloves, minced

1/2 lb Chicken

1/4 cup Parsley, minced

Salt & Pepper
Instructions
1
To make the stock- Start by preheating your grill to medium heat and set it up for half direct and half indirect cooking. In a large pot, place the chicken (bones or whole raw chicken) into your large stock pot. Over direct heat lightly char the large chopped veggies (optional, but adds more grill flavor) then add them to the pot and season with some salt and peppercorns. Cover with water. When the grill is to temp, place the pot over indirect heat and cover with foil until a small boil begins. Allow it to simmer partially covered for 3-4 hours. Once the stock is done, strain through a fine strainer and discard the contents and save the stock. OPTIONAL- If you plan on just making the stock, you can also reduce the stock further to make a richer broth or store/ freeze as well.
2
To make the Soup- Dice up all the veggies and herbs. Saute the vegetables until tender (5-6 minutes). Add in the minced garlic and saute for about 30 seconds. Add the chicken, herbs, and salt and pepper. Allow it to simmer on low heat. Prep the zoodles (or purchase pre-made ones). If you have super long zoodles, cut them smaller so they are easier to eat in the soup. Add them to the broth and serve.