I am a meal prep fanatic! Having food ready for lunch or dinner during those crazy weekdays is so crucial when you eat a modified diet like I do. At the same time, you don't want to compromise on taste or flavor. I love switching up my meals and this recipe for Asian Inspired Chicken Zoodle Soup helps me do just that. This recipe is a take on my favorite Asian soups like ramen noodles and egg drop soup! I always add different vegetable each week depending on whats leftover in my fridge. I love the touch of egg that I add to the chicken broth to add a little extra protein and flavor. Best part? The zoodles of course! Check out the full recipe for this easy Asian Inspired Chicken Zoodle Soup at the bottom of the page!
How To Meal Prep Your Soup:
Every week I throw a few chicken breasts in a crock pot for a few hours and shred it for a variety of recipes (like this Greek Chicken Salad). This makes my week so easy and helps me throw together last minute meals. This Asian Inspired Chicken Zoodle Soup is a perfect way to eat a hearty, hot lunch that will tie your over till the afternoon. I like to assemble this soup in jars so I can easily reheat it as needed when I am at work. There are four parts to this soup and should be assembled in the jars in this order: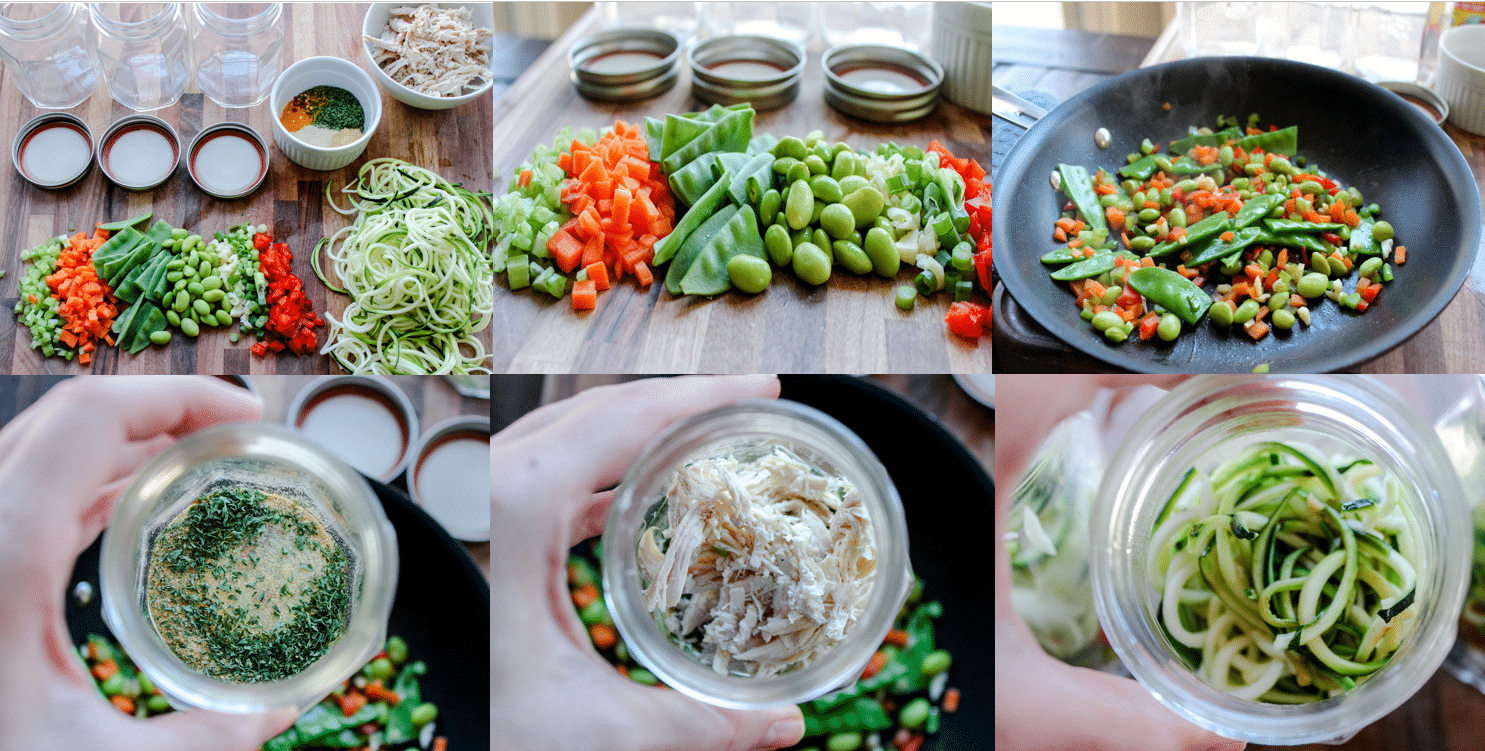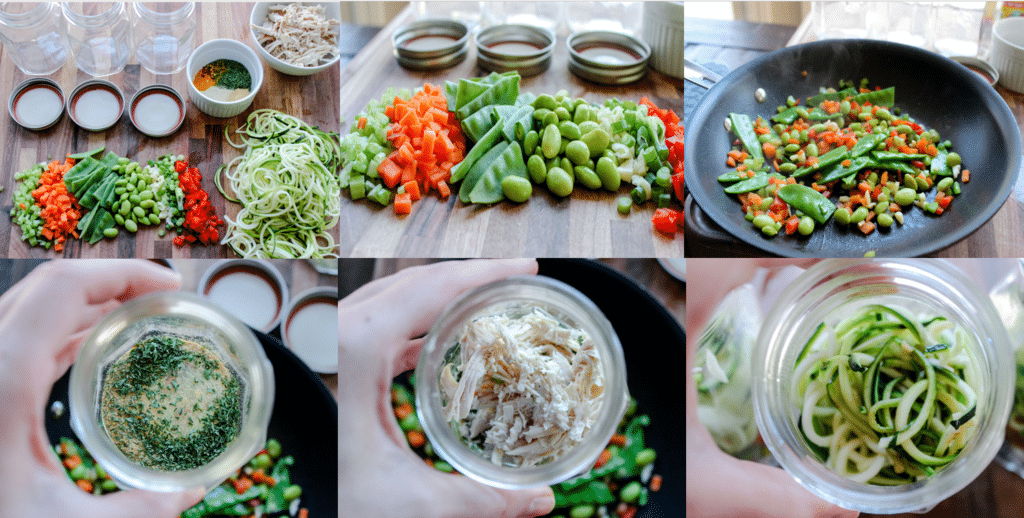 The seasonings: Garlic, Ginger, Parsley, Turmeric, Sea Salt, and Red Pepper Flakes
The Meat & Veggies: I use my pre-cooked chicken, scallions, red pepper, celery, carrots, fresh garlic, and fun add in's like snap peas or edamame (I also sometimes love to add fresh ginger, lemon grass or bamboo shoots, or even some red cabbage).
The Zoodles: Spiralize 1-2 zucchinis depending on how many jars you plan to prepare ahead of time. I do a very light saute on these just to take the "rawness" out of them.
The Broth:  I typically make vegetable broth or chicken stock from leftover vegetable scraps from each week. You can easily purchase organic broths or even use a bouillon base (watch out for the extra sodium).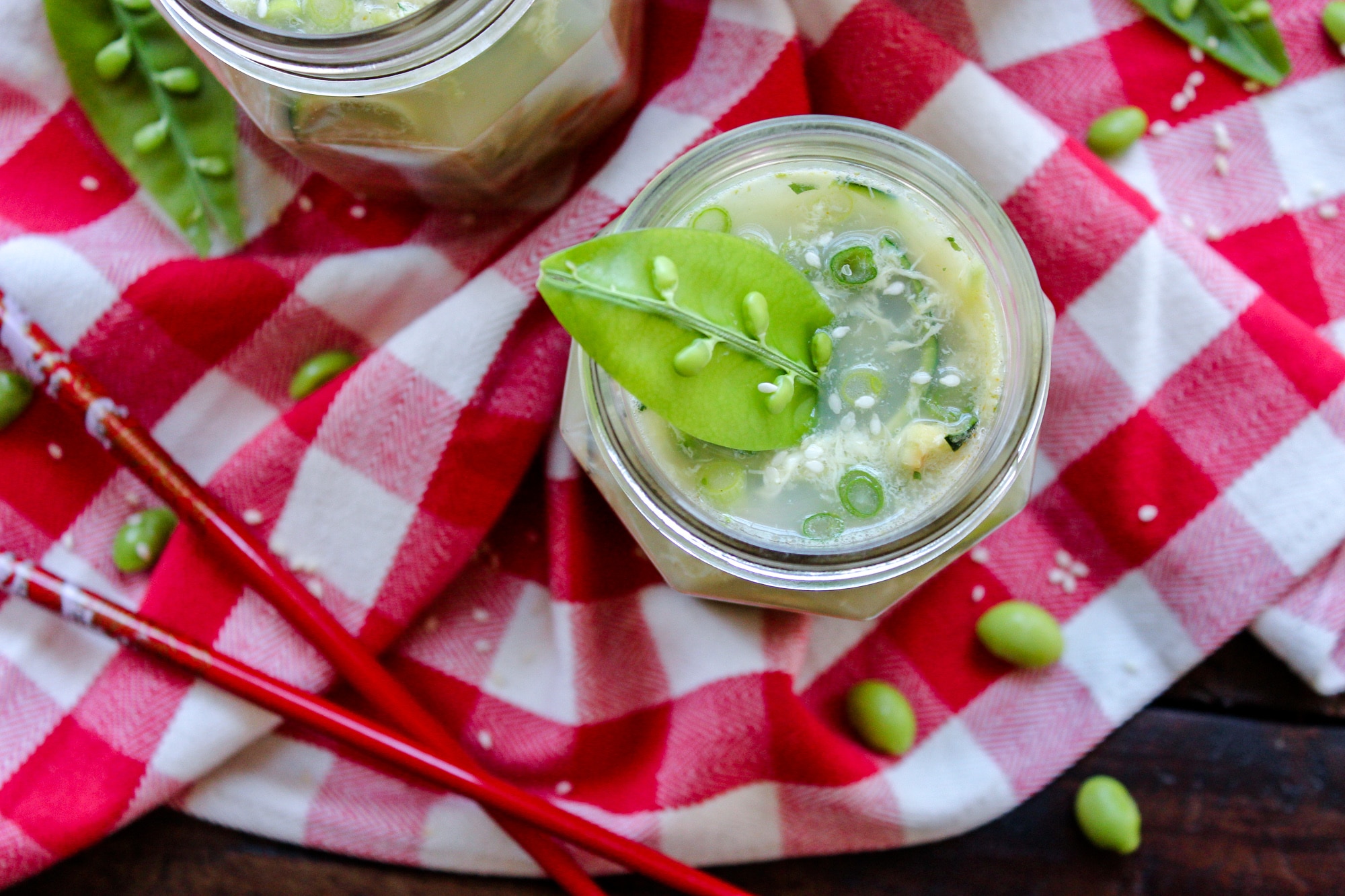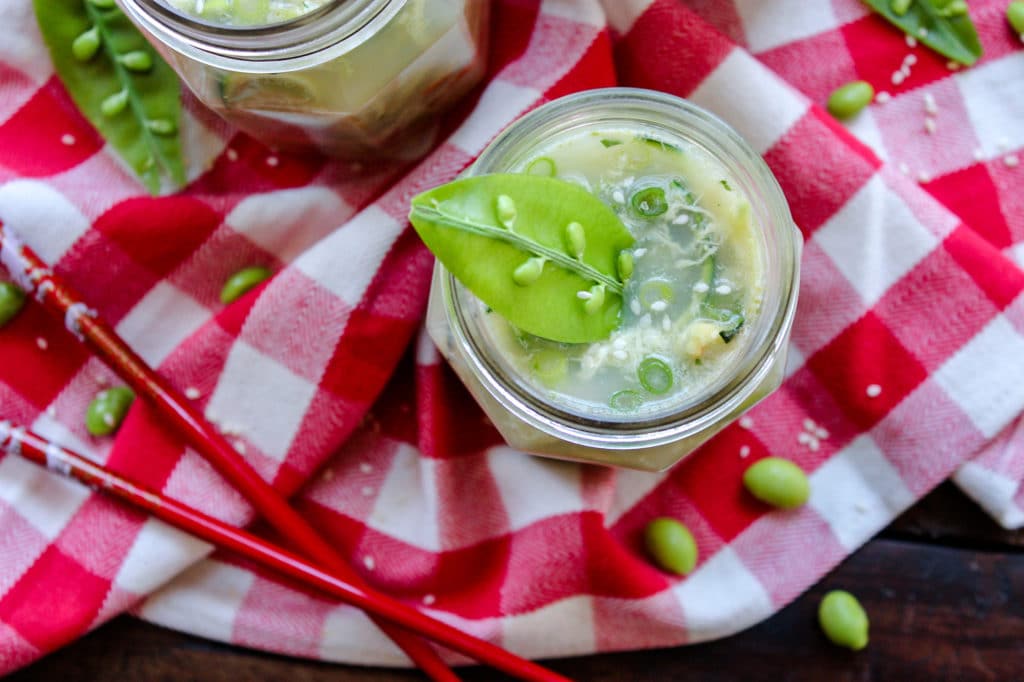 Enjoying Your Soup:
If you are using regular chicken broth you can heat it separately and then add to each individual jar when ready to enjoy or you can have it already added in. The benefit of keeping the broth separate is that you are less likely to over cook your vegetables when reheating…but at the end of the day it is soup, so does it really matter? If using a bouillon base, add the bouillon seasoning to your other seasoning mixture as well. This helps for mixing when you add in the hot water! I hope you enjoy this fun Asian Inspired Chicken Zoodle soup. Happy low carb eating my friends!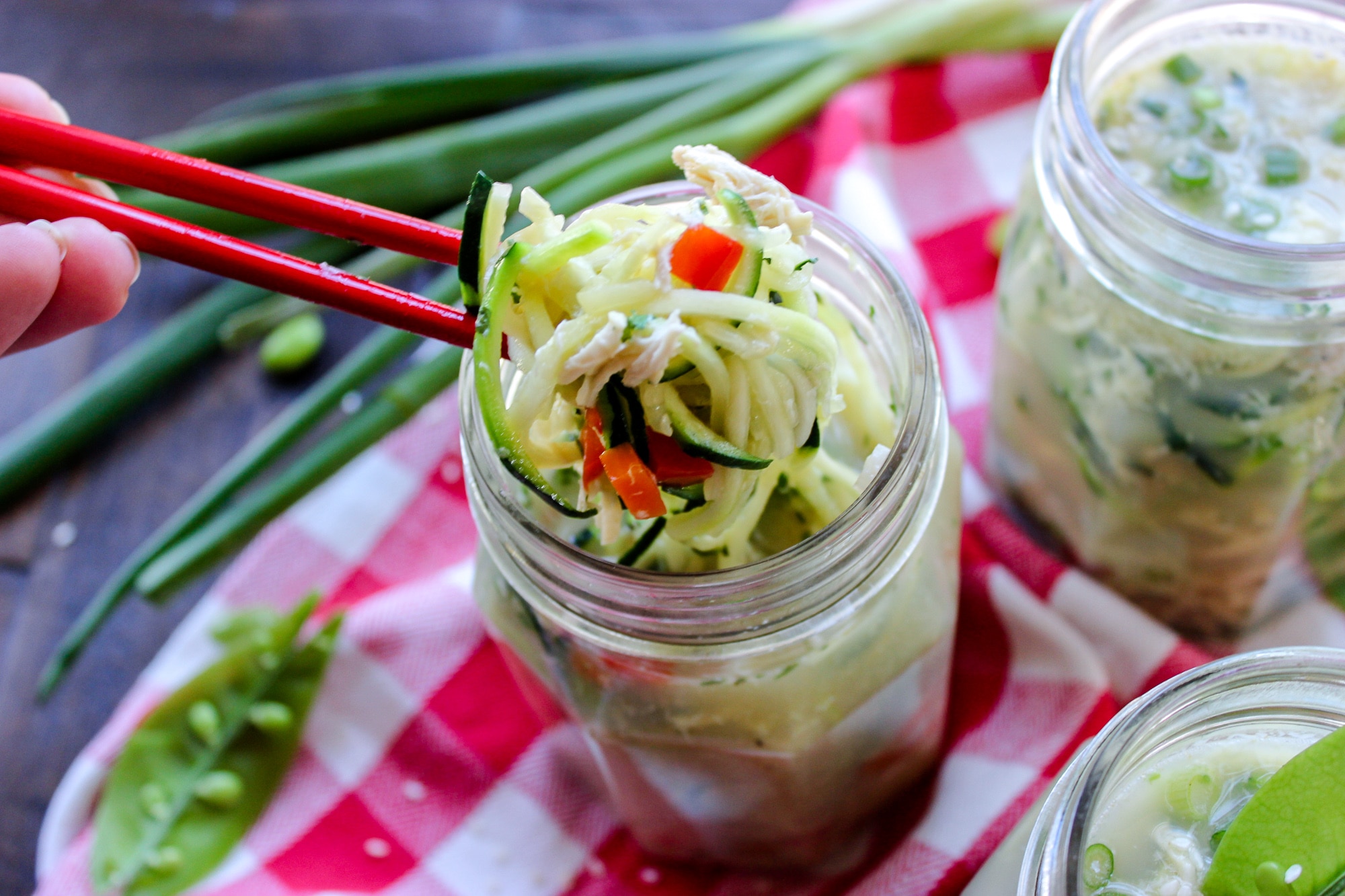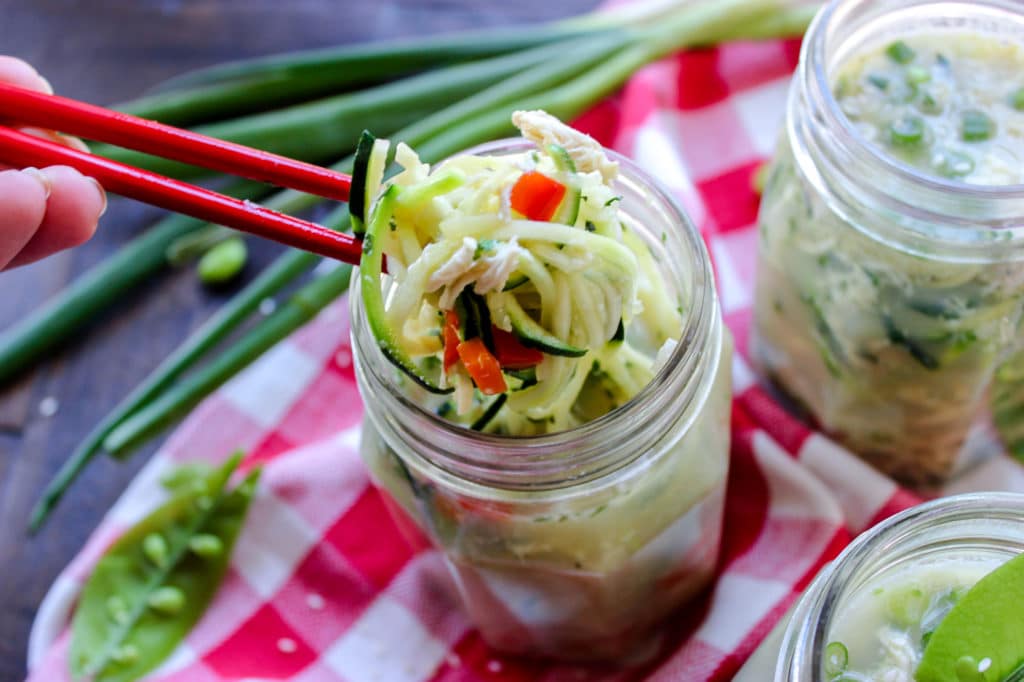 Bon Appeteach,
-L
Ingredients
1 Large Zucchini, spiralized

1/4 cup, Carrots, diced small

2 Green onions, diced small

1/4 cup, Celery, diced small

1/4 cup, Red Pepper, diced small

8 Snap Peas, sliced in half

1/4 cup, Edamame

2 Garlic Cloves, minced

1/2 tsp. Fresh Ginger, minced

2 tsp. Dried Parsley

1 tsp. Dried Ginger Powder

2 tsp. Garlic Powder

1/2 tsp. Turmeric

1 tsp. Salt

1/4- 1/2 Red Pepper Flakes

About 4 cups Chicken Broth/ Vegetable Broth (or bouillon equivalent)

2 Eggs

1 cup Shredded Chicken
Instructions
1
In a pot, add the broth and heat to medium. You need to bring this to a simmer.
2
Crack the two eggs into a dish, whisk together and set aside.
3
In a small bowl, combine the dried parsley, dried ginger garlic powder, turmeric, and salt. Set aside.
4
Cut up and dice the carrots, celery, green onion, red pepper, snap peas, and fresh garlic. Spiralize your zucchini.
5
Saute the veggies for 3-4 minutes and set aside (omit the zucchini).
6
Once the broth comes to a simmer remove it from the heat. Take a spoon and lightly swirl the broth into a clockwise circle while slowly adding the beaten eggs to the broth. It will cook immediately as it hits the liquid. You can put this in separate jars or containers or add it to the veggies. Your choice!
7
Assemble the jars by adding about 2 tsp. of the seasoning mixture to the bottom of each jar.
8
Divide the chicken and the veggies into each jar (about 1/4 cup of each).
9
Add the zoodles over the top of the previous add in's.
10
At this point you can pour in your broth or reserve to reheat and add to the jars right before eating.
11
Once you add your broth, secure the lid and give the jar a nice shake until the seasonings dissolve and everything redistributes throughout the soup!
12
*You can easily just throw everything into one big pot as well if that is easier for you- start by cooking the veggies, add in the seasonings and broth. Heat till it simmers, swirl in the egg, and lastly add the zoodles! Enjoy!