Baking is not forgiving, (but these gluten free and refined sugar free peanut butter dark chocolate cookies will make you feel better). Baking is a science and if I'm being honest, chemistry wasn't my strong suit. That being said, I absolutely love to bake. It comes natural to me and I find so much more joy in it than I do when I cook (but who am I kidding, I love that too). Making dinner recipes is a lot easier and a lot less risky because you can slightly alter aspects of a dish and still save it from totally crashing and burning. Baking is just simply not the same way. Your accuracy with ingredients is crucial to a successful outcome. That is why I am so proud to have made this complete recipe from scratch. I didn't use any other recipe to get inspiration from either (though I am sure there are other gluten free peanut butter dark chocolate cookies out there). This one though, this is mine.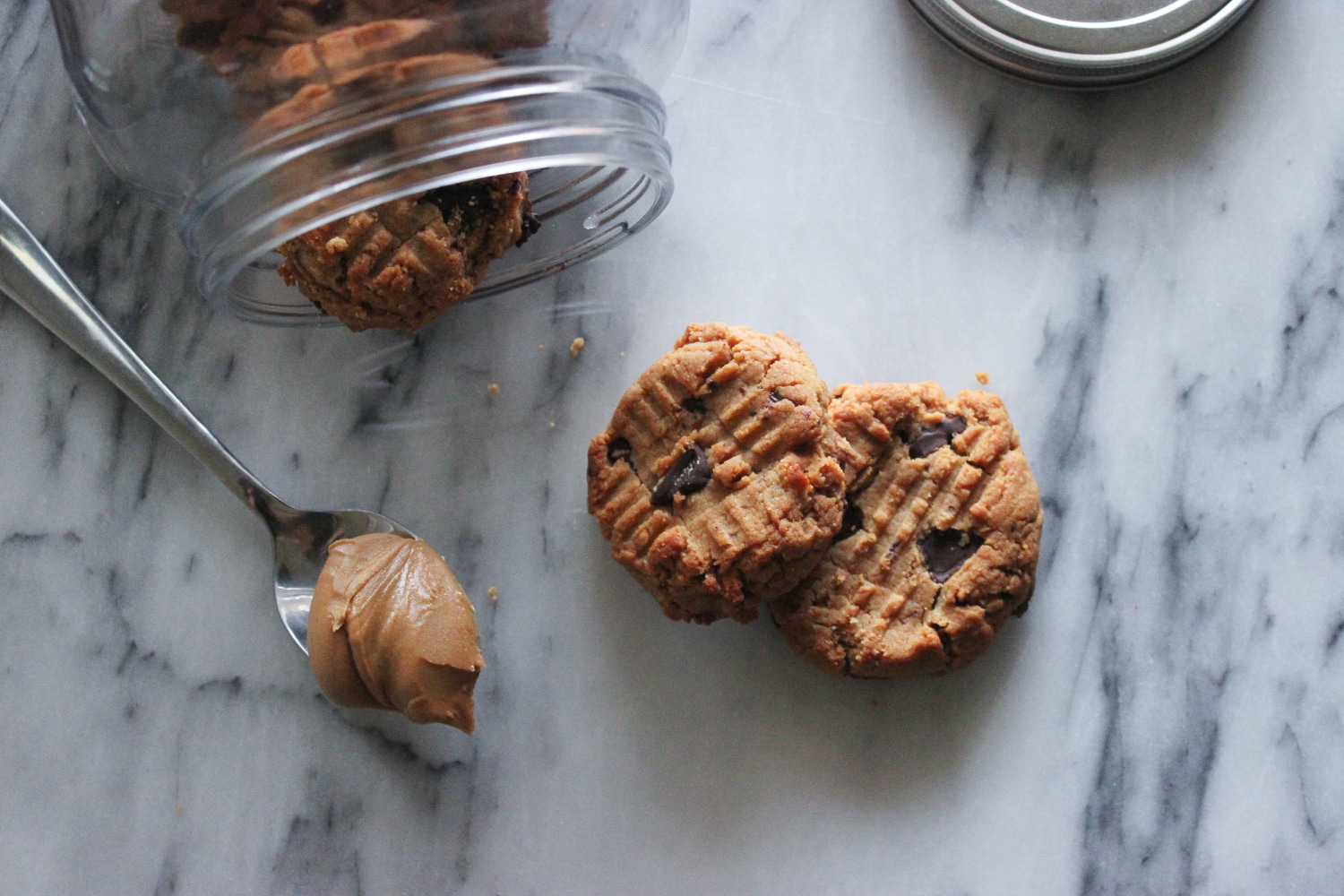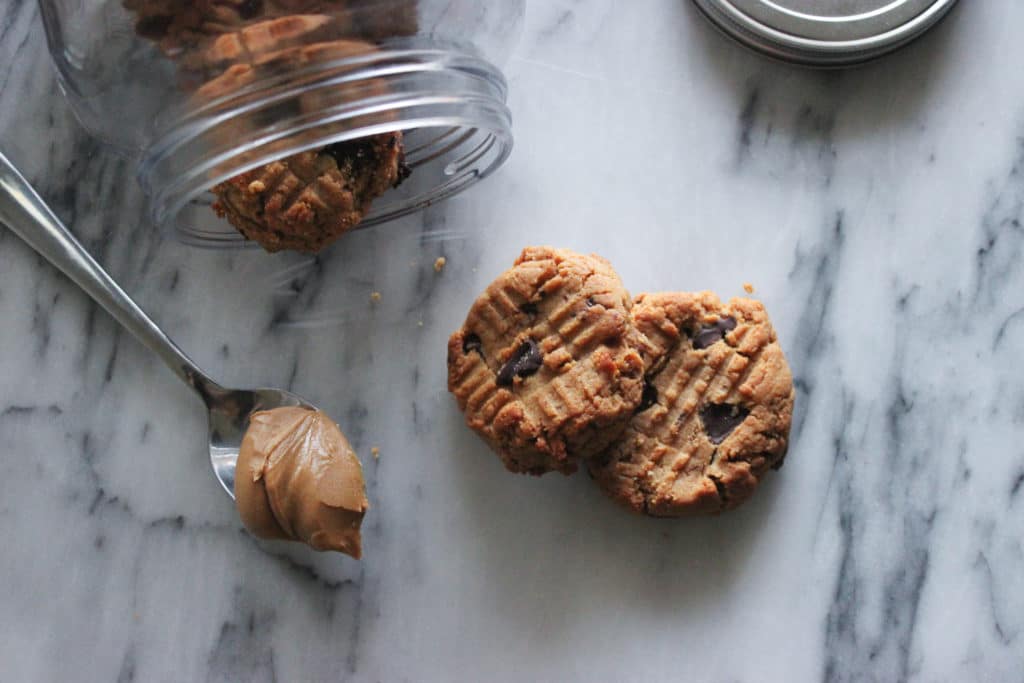 Gluten Free Not Fat Free
I eat low carb 99% of the time. I rarely "cheat" these days in fear of falling back into old habits (kind of hard when you cook for a living). I am however, human and as a human of the female variety I need an occasional delicious chocolaty treat to sustain me. These are made with a mixture of mostly almond flour and a little coconut flour. I like the balance because it makes the cookies less dense. Almond flour and peanut butter are both higher in fat content. Most people who follow a low carb diet (like keto or Atkins) tend to do better with a higher fat content. Just know that this isn't the worlds healthiest cookie just because there are fewer carbs (coming from the girl that totally ate one for breakfast…don't judge me). A lot of low carb desserts use an erythritol sugar substitute. I really do not like sugar substitutes. Personally, I find them to be really artificial tasting and when you eat sugar substitutes like this, your brain still receives the signal that your eating something sweet. In return, your body then begins to produce additional insulin in response to the brain thinking there is incoming sugar to manage. As a general rule, I try an avoid these types of foods and I would rather eat a natural sourced sweetener, like honey. This is just how I feel when it comes to eating real food. You need to do what works best for you. I originally used 1/4 cup of honey but it just wasn't really sweet at all. I liked it, but knew it needed something more. Feel free to try subbing out the honey for maple syrup if you'd like an additional option of a natural source of sweetener. Try out these gluten free & refined sugar free peanut butter dark chocolate cookies (try and say that in one breathe) and let me know what you think! Happy baking!

Bon Appeteach,
-L
Gluten Free & Refined Sugar Free Peanut Butter Dark Chocolate Cookies
Print Recipe
Ingredients
1 cup Peanut Butter (use natural or sugar free if you want no added sugars)

1/4 cup, softened butter

1/2 cup, honey

2 eggs

2 cups Almond flour

1 cup Coconut flour

1/2 tsp. Salt

2 tsp. Baking Powder

1 cup, Dark chocolate chips/ chunks/ or chopped pieces
Instructions
1
Preheat the oven to 350 F.
2
In a mixing bowl combine the peanut butter and the softened butter. Mix together with the paddle attachment on low speed.
3
Add in the honey and mix again. Scrape down the sides if needed until honey is completely combined.
4
Add the eggs and blend till the mixture is smooth.
5
Finally, add in the almond flour, coconut flour, salt, and baking powder.
6
Blend until all combined. Mixture should thicken up a lot.
7
Fold and mix in the dark chocolate pieces.
8
On a parchment paper covered baking sheet, scoop out 12 cookie dough balls with a spoon (about the size of a heaping tablespoon...I used a cookie scoop).
9
With a fork, flatten the cookies a bit and create a crisscross design over the top.
10
Bake for 9-11 minutes. The cookies are fairly soft when they first come out and should be a tiny bit browned on the tops. Do not over bake. It should yield 2 dozen cookies.