Easy Keto Turtle Brownies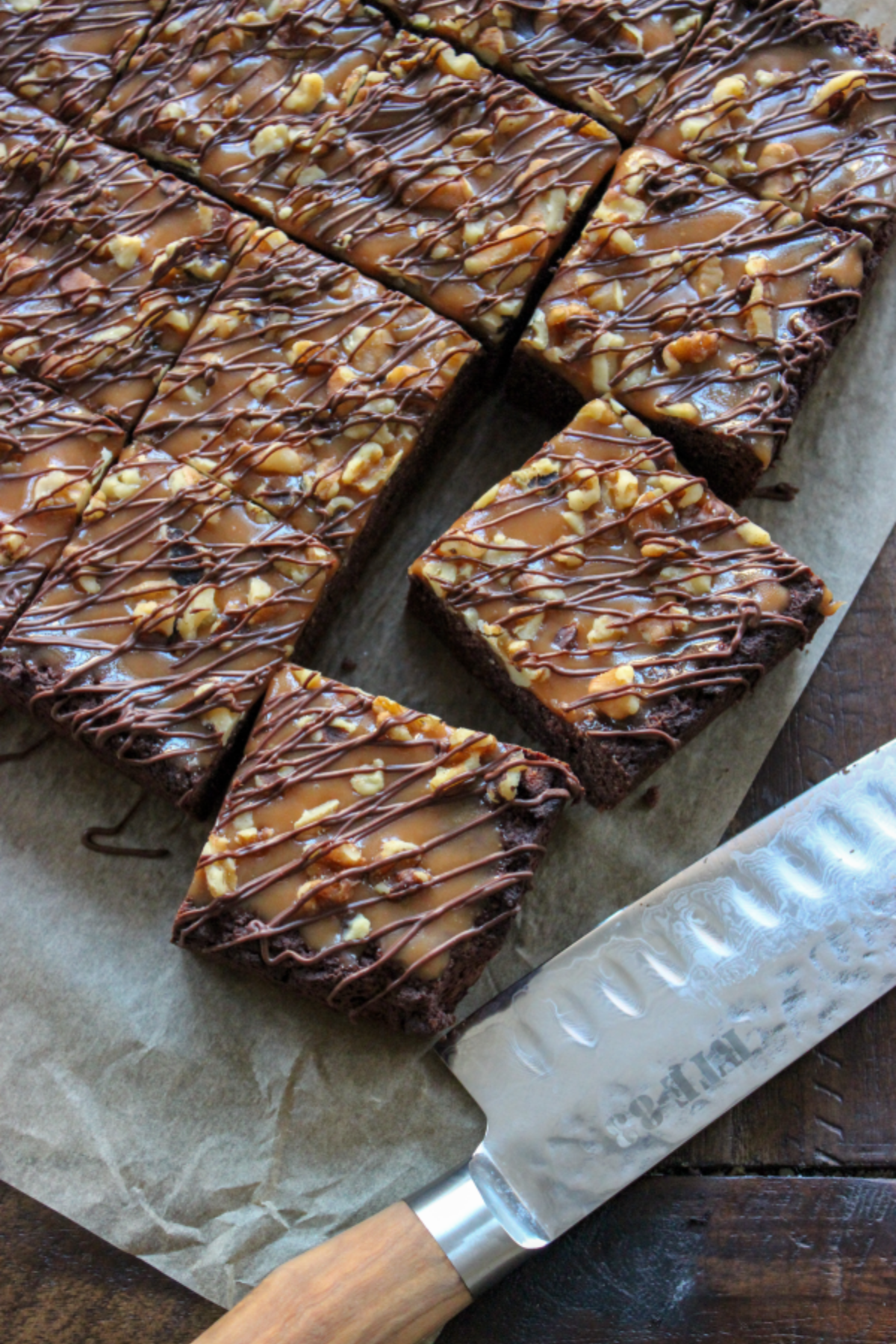 The perfect cakey, low carb brownie, topped with the easiest keto friendly caramel sauce, pecans, and dark chocolate drizzle. So good you would never know they were keto or gluten free!
I've never been a big cake or pie kinda girl. But if I see a brownie or a good ol' chocolate chip cookie, count me in baby! I found a really easy way to make a moist, keto, and gluten free brownie when I first made my popular Keto Blonde Brownies (almost like a toll house pan cookie). I used that method to make my even more popular Keto Irish Cream Brownies. 
I clearly couldn't stop there and had to take it to the next level. Because if anyone is going to out do you, it better be you (but mostly I just love chocolate and brownies and I'm here for it kids). 
Find the full recipe for this simple to make, Keto Turtle Brownie below and read through for some really helpful tips and tricks (especially when it comes to making the ooey-gooey caramel sauce)!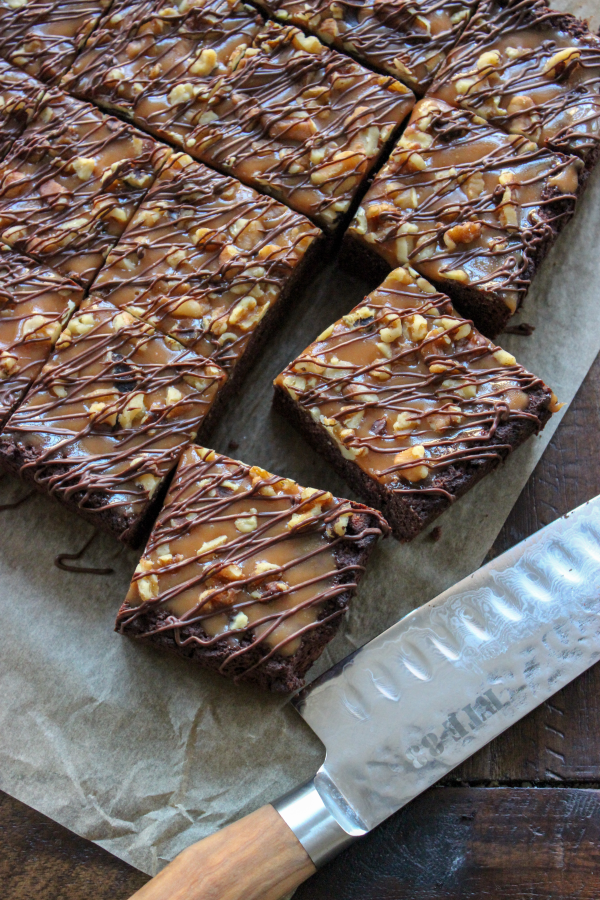 "School" Supplies:
One Large Mixing Bowl
Hand Mixer
Rubber Spatula
Measuring cups/ spoons
9×9″ pan
Small pot
Whisk 
"Class" Notes:
The brownie batter is honestly so simple and modeled off of my keto Irish cream brownies recipe with a few tweaks! You just combine the ingredients in the bowl as if you were making a regular cake, cookie, or brownie batter. The trick here is to make sure you use accurate measurements and allow the butter and cream cheese to be softened thoroughly (but not melted). 
The batter is not going to be a typical brownie batter texture. Almond flour is naturally very dense, but I do find that working with a fine almond flour (I use the Anthony's brand) works best. Don't be thrown off by the texture! Additionally, if you omit one of the eggs, the brownies to be less cakey and more fudgy (I did prefer these to be on the cakey side personally).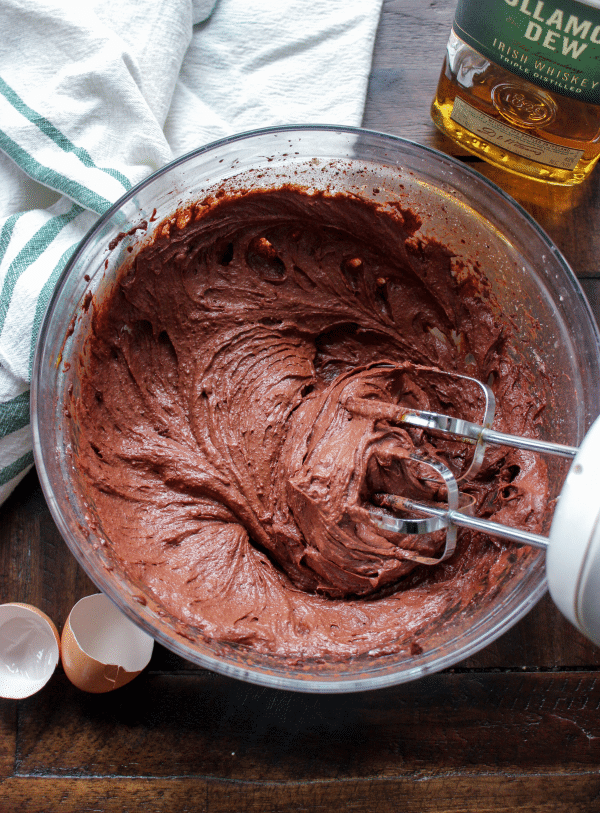 Pour the batter into a 9×9 inch pan. I like to line mine with parchment for easy clean up and for cutting. Do not over bake these, I find that is easy to do when working with a chocolate batter (hard to visually see doneness). As they cool they will continue to set.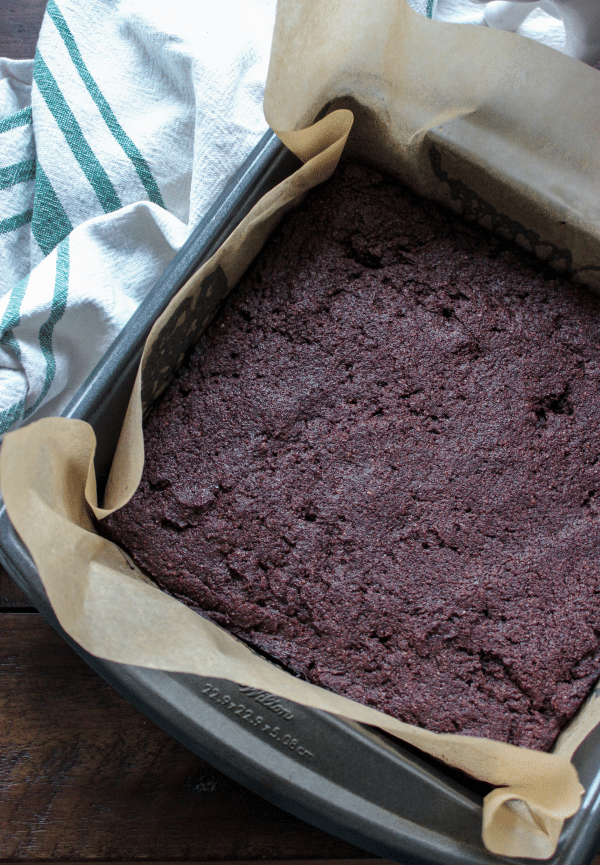 Once the brownies are almost cool, make your keto caramel. If you're unsure or intimidated by making the caramel sauce, check out the full detailed post with a ton of great tips and techniques! I promise it's easy to make!
I used this caramel once already in my actual Homemade Keto Turtle Candies recipe and it was a huge hit. The trick is browning the butter (not burning it) and using a low carb sweetener like allulose or xylitol (be careful with this around pets).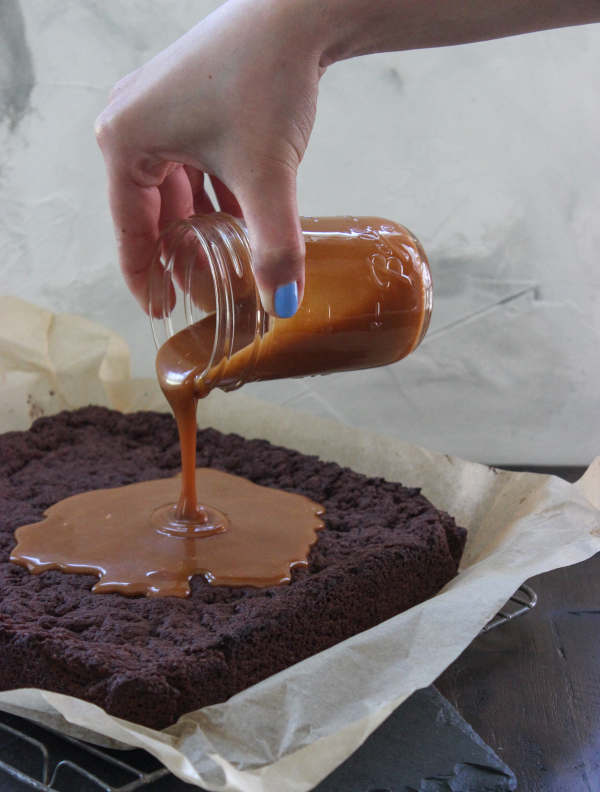 The reason why I advocate for these two sweeteners is because they dissolve easily and do not recrystallize (like erythritol or monk fruit powder does).  This keeps the caramel much more authentic, chewy, and oh so gooey! Once the caramel is done, pour over the top of the brownies and sprinkle the top with the chopped pecan pieces. Allow it to set up for about 10 minutes or so. Once set, pipe a nice drizzle of low carb or dark chocolate over the top. 
I popped mine in the fridge to set the chocolate, cut them into 16 nice sized squares and dug in! These freeze nicely and store fine in a container on the counter for up to a week (if it lasts that long). 
Bon Appeteach,
-L
Yield: 16
Easy Keto Turtle Brownies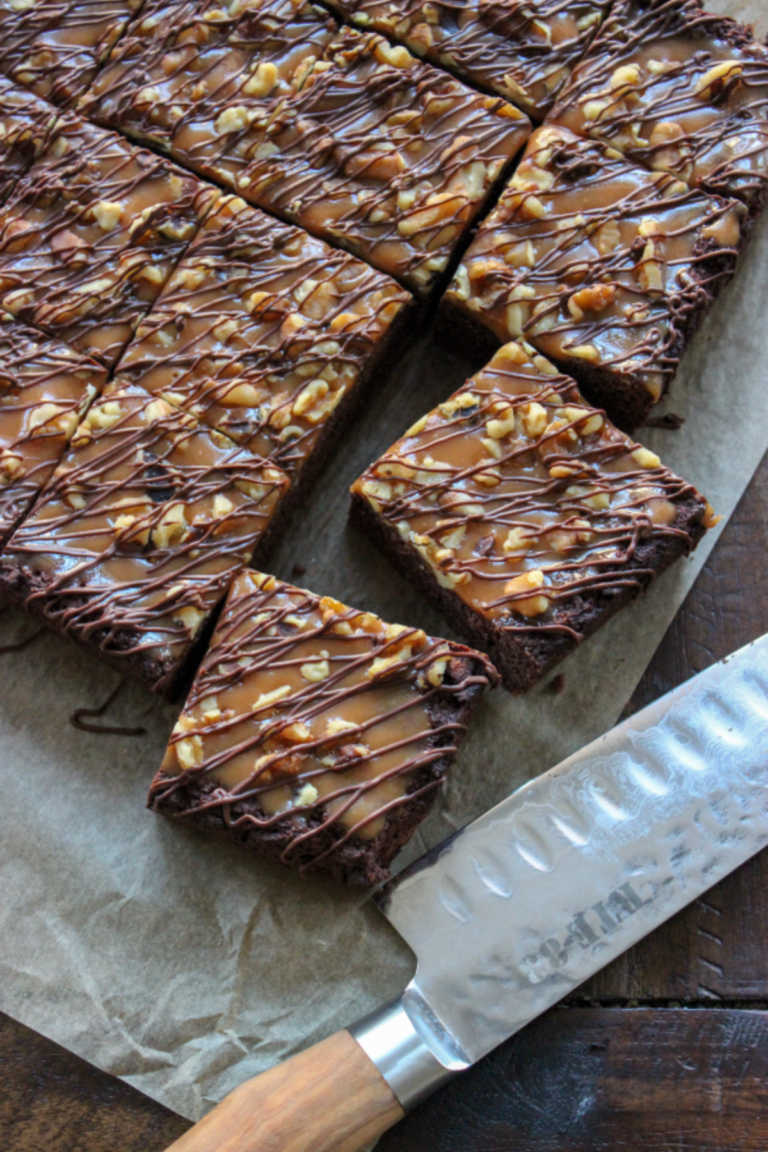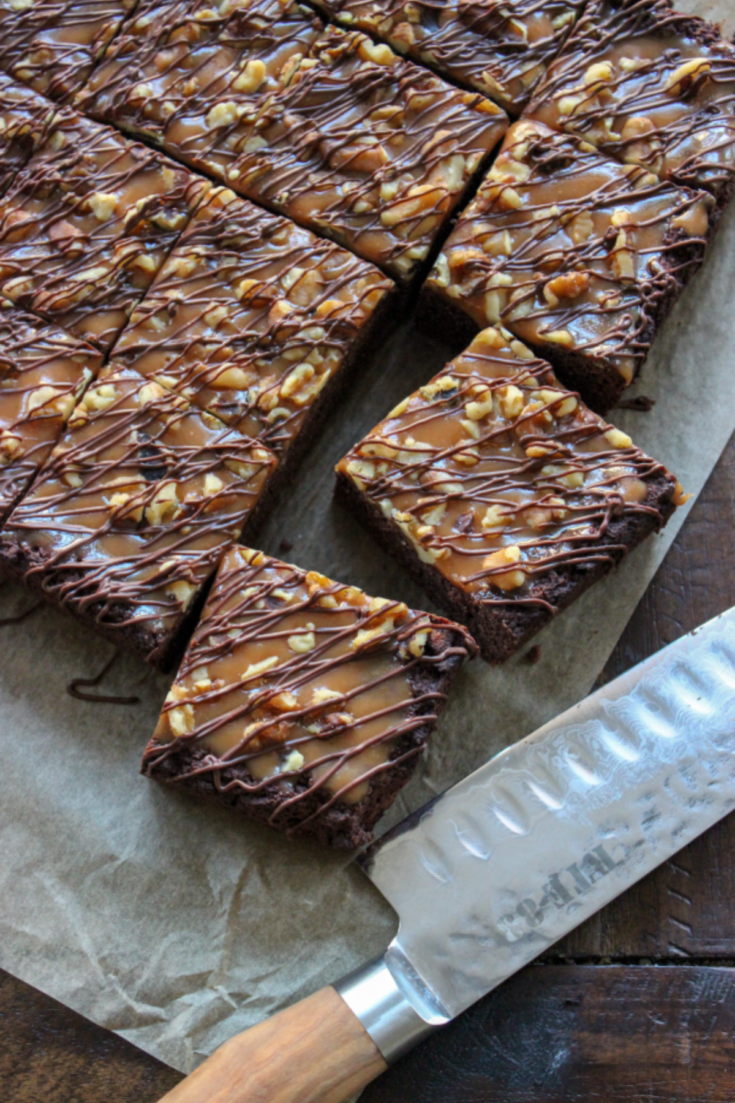 The perfect cakey, low carb brownie, topped with the easiest keto friendly caramel sauce, pecans, and dark chocolate drizzle. So good you would never know they were keto or gluten free!
Ingredients
For the Brownie Batter-
4 oz. Cream Cheese, softened
4 tbsp. Butter, softened
1 cup Low Carb Granulated Sweetener
3 tbsp. Cocoa Powder (Use a high quality one)
1 1/2 cups Almond Flour
3 Eggs
1 tsp. Xanthan Gum
1 tsp. Baking Powder
The Caramel Sauce-
4 tbsp Butter
6 tbsp. Heavy Cream
1/2 cup Allulose based low carb sweetener (see notes in the blog post above)
Pinch of Sea Salt
1/4 cup Melted Sugar Free Chocolate
1/4-1/3 cup Chopped Pecans
Instructions
Preheat the oven to 350 F. Grease a 9X9" pan and place a piece of parchment in the pan if desired.
In a mixing bowl, combine the softened cream cheese, butter, low carb sweetener, and cocoa powder.
Next, mix in the eggs one at a time. Then mix in the remaining dry ingredients (almond flour, baking powder, and xanthan gum).
Once thoroughly mixed, pour the batter into the 9X9" pan. Spread the batter evenly throughout the pan and bake for 20-25 minutes. Chocolate based baked goods are harder to determine when fully cooked, so use a toothpick to check the center and do not over bake! If you use an 8x8" or a glass baking dish, you may have to add additional baking time. Remove the brownies and let them fully cool before adding the caramel
While they are cooling, make the caramel. In a pot over medium-low heat, melt the butter. Once the butter is lightly browned, add in the allulose (see blog post for more information about this type of sweetener) and the heavy cream. Whisk until it is all combined and add a pinch of sea salt. Let it cook on low heat for about 5-7 more minutes. Remove from the heat and allow it to sit for a minute or so before pouring over the top of the brownies.
Add the chopped pecans over the top of the caramel immediately after it is added t the brownies. Then melt some of the low carb chocolate (or dark chocolate) and drizzle it over the top. Let the chocolate set fully before slicing into 16 bars.
Notes
Per the notes in the blog post above, if looking for a chewy, low carb caramel, you can only use allulose or xylitol to achieve the desired texture. Read more above.
Nutritional Information: Obtained using My Fitness Pal. I am not nor do I claim to be a nutritionist, so it is important to always verify the nutritional information as brands vary. I work hard to always provide the most accurate information as possible in hopes of making this easier for you, my readers!
Nutrition Information:
Yield:
16
Serving Size:
1
Amount Per Serving:
Calories:

190
Total Fat:

17g
Saturated Fat:

7g
Cholesterol:

58mg
Sodium:

75mg
Carbohydrates:

4g
Net Carbohydrates:

2g
Fiber:

2g
Sugar:

1g
Protein:

4g