The Winifred Sanderson- The Last Word Cocktail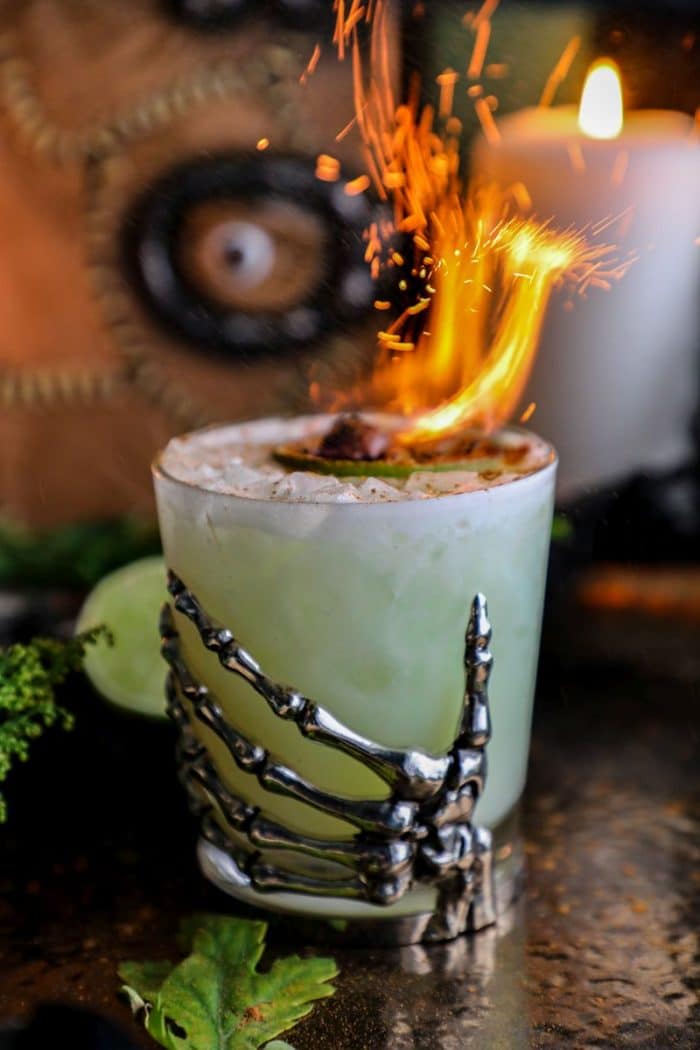 If you're looking to celebrate Halloween in style, try out this classic cocktail inspired by the head witch in charge! A truly delicious gin drink that won't be the last drink, but may give you the last word…
This is part three of my Hocus Pocus themed cocktails. I've officially made three cocktails inspired by each Sanderson sister from the movie and I am so excited to share this LAST drink to finish off the series (pun intended).
If you just got to part three of this epic series, make sure you also check out part one (The Sarah Sanderson – Yellowbird Cocktail) and part two (The Mary Sanderson – A Black Vodka Bloody Mary). If you're ready to get your gin on though, stick around.
I felt like the classic Last Word cocktail would be a great way to pay homage to Winifred. Not only does the green chartreuse liquor match her signature dress color, but I really think she knows how to command a room and get what she wants.
I think you may feel the same way after indulging in this delicious cocktail recipe as well. I think even Frank Fogarty (the man who originally made it famous) would agree that this is the kind of cocktail that will even, "Put a spell on you…".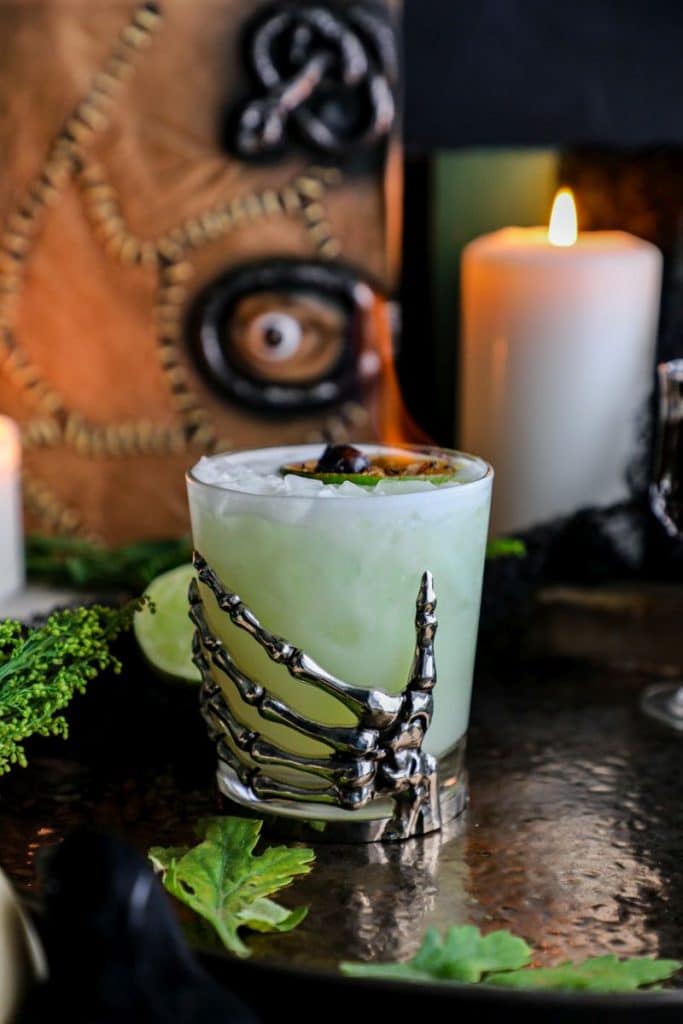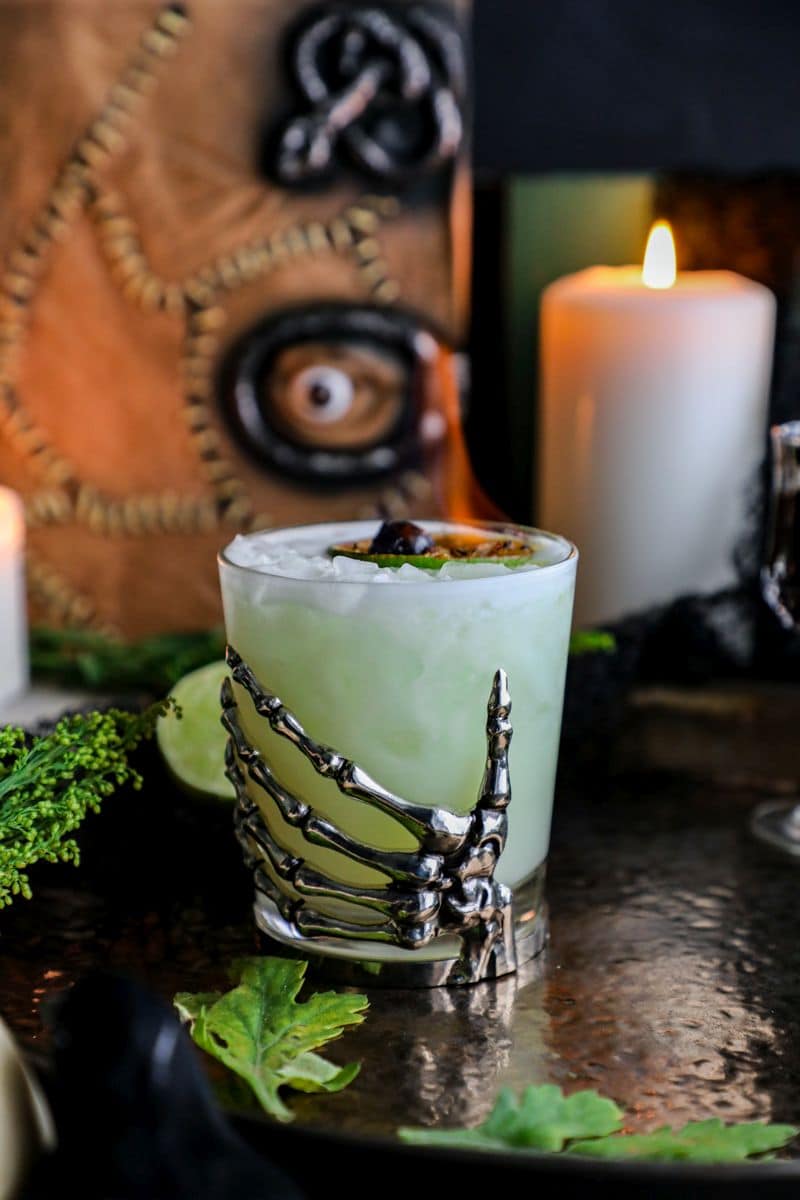 Grab all the recipe details below and let's getting to mixing!
"School" Supplies:
Rocks Glass
Cocktail Shaker
Jigger
Strainer
Kitchen Blow Torch (if you want to light things on fire carefully)
"Class" Notes:
Here are some helpful details below to help guide you through this cocktail recipe for the perfect green chartreuse cocktail.
What is Green Chartreuse?
Green chartreuse is a liquor that's added to a variety of cocktails, most notably the Last Word and it's counterpart the Final Ward as well.
According to the makers of Green Chartreuse, this liqueur is made up of over 130 plants, roots, barks, and spices. Their website notes that the flavor profile is very herbaceous, is minty, with notes of pine sap and even citrus flavors.
That's quite the combination! This liqueur is definitely on the expensive side as well (probably one of the most expensive liqueurs I've invested in, in my home bar). It runs your tab up to around $55-$65 a bottle.
The upside is that will last you a long time on your shelf, and has a much higher alcohol percentage compared to other liqueurs. The price is higher comparatively because they actually age it (similar to it's sister liqueur, yellow chartreuse).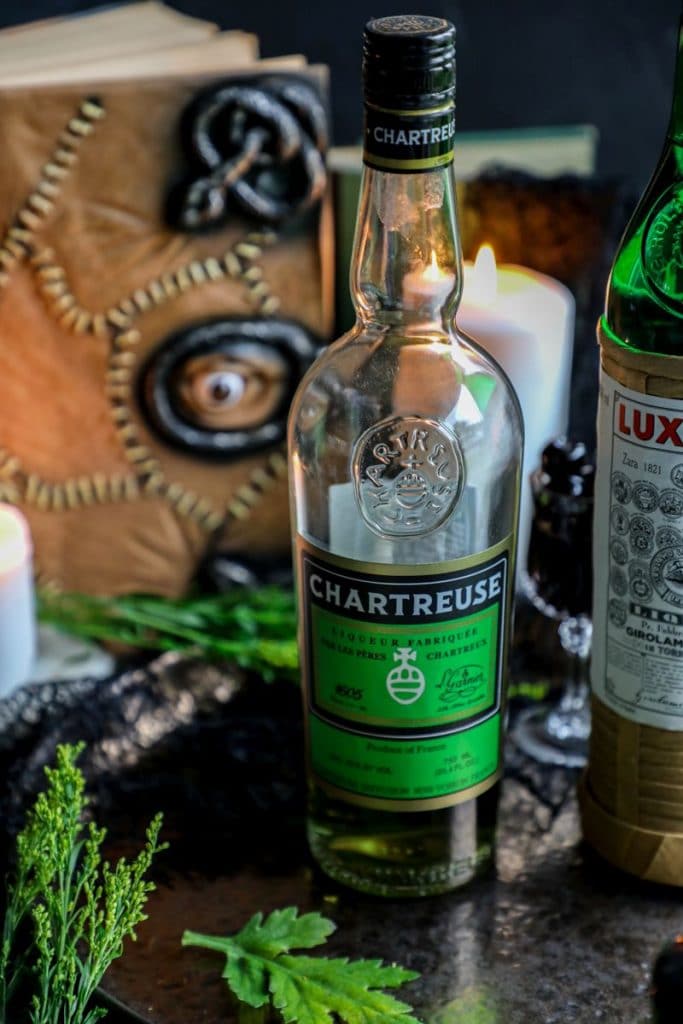 Last Word Cocktail Ingredients:
What I love about this cocktail (besides it being extremely delicious) is it's very easy to remember. All the ingredients are poured in, in equal parts.
1 oz. Gin
1 oz. Green Chartreuse
1 oz. Maraschino Liqueur (or other cherry liqueurs)
1 oz. Fresh Lime Juice
I'm going off book here today from this classic recipe (sorry cocktail world, I do what I want), and decided to add an egg white. Egg whites add texture, froth, and a velvety mouthfeel. They're often used in drinks but you can omit.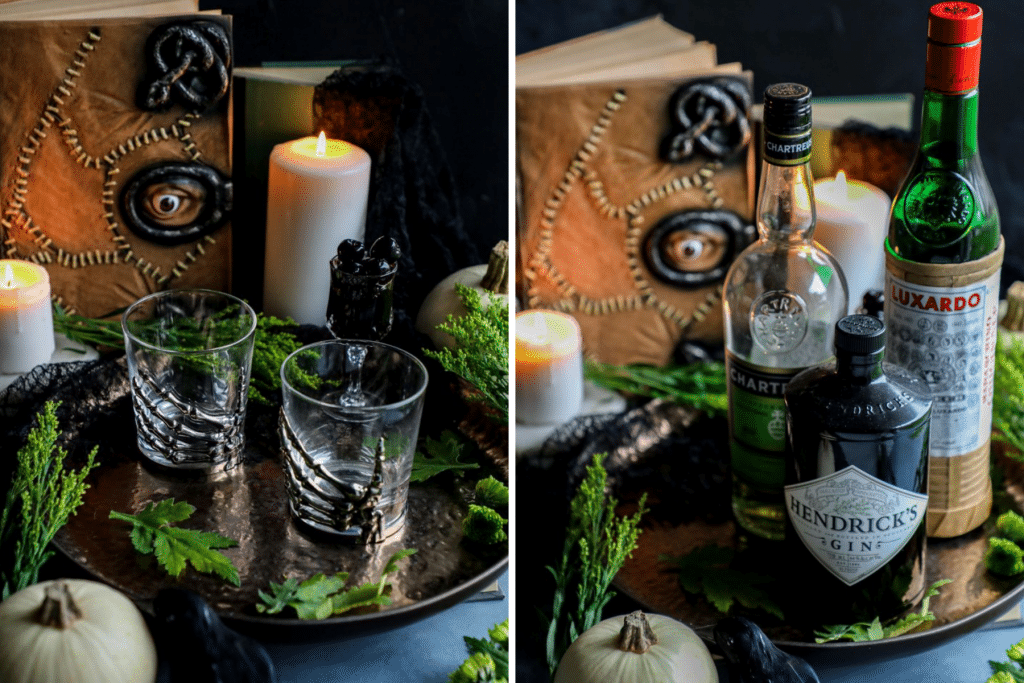 Cocktail Mixing and Garnishes:
This cocktail is a simple one to mix up. Gather your cocktail shaker and measure in one ounce of gin, chartreuse, maraschino liqueur, and the lime juice. Do not yet add ice if you're adding the egg white.
Dry shake your cocktail if you added the egg white for about 15-25 seconds. This gets the egg white frothy and adds air. Then add ice and shake until chilled.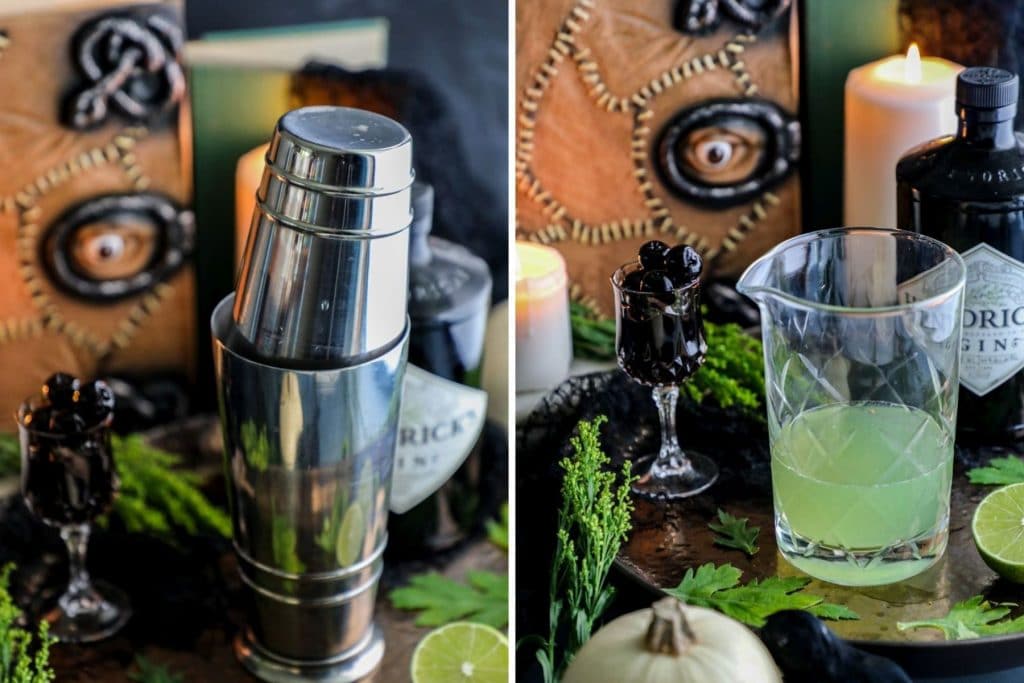 Pour and strain into a chilled rocks glass for this recipe. I went away from the classic prohibition-era cocktail recipe by also switching up the garnish for a cool Halloween effect.
Using the hallowed-out lime, I carefully added high-proof alcohol and lit it on fire for effect. Please take caution when lighting alcohol on fire (I am a trained professional).
If you're not looking to break out the blow torch, simply add a few homemade maraschino cherries and enjoy!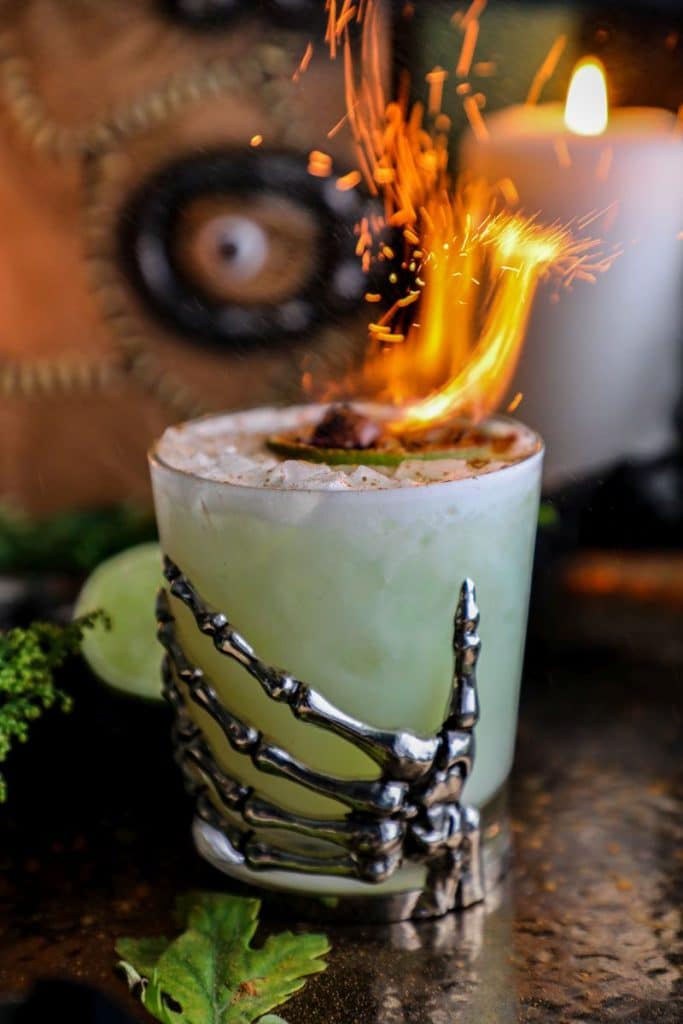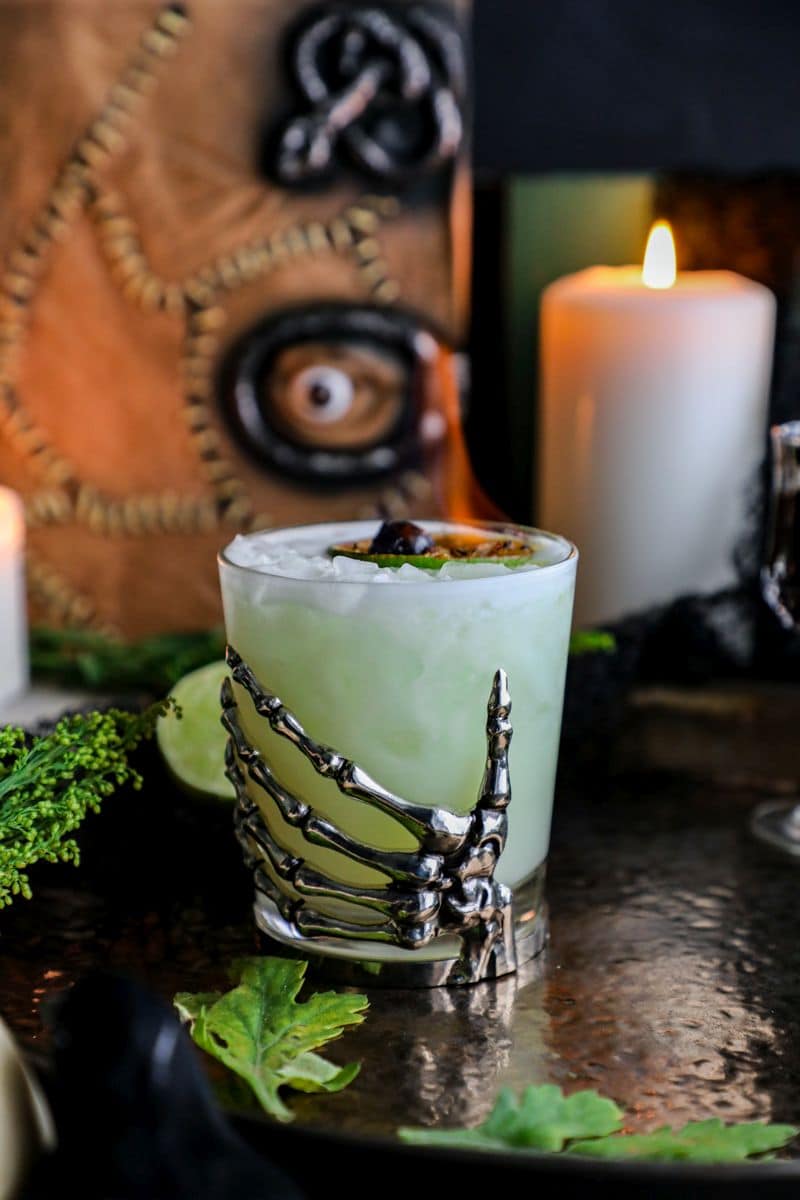 The Winifred Sanderson- The Last Word Cocktail
If you're looking to celebrate Halloween in style, try out this classic cocktail inspired by the head witch in charge! A truly delicious gin drink that won't be the last drink, but may give you the last word…
Print
Pin
Rate
Ingredients
1

oz.

Gin

1

oz.

Green Chartreuse

1

oz.

Maraschino Liqueur

1

oz.

Fresh Lime Juice

Egg White

totally optional, see notes below

Garnish with Lime and maraschino cherries
Instructions
In a cocktail shaker (without ice) add your gin, chartreuse, maraschino liqueur, and lime juice. If adding the egg white, add this in now too.

If you added the egg white, shake the mixture without ice for 15-25 seconds. Then add ice and shake another 10 seconds until chilled.

Pour and strain into your favorite coupe or rocks glass.

Traditional garnish is a

real maraschino cherry.

I use a flaming hallowed out lime with 150 proof rum inside for the fire effect. Please use extreme caution (I am a trained professional) when lighting any alcohol on fire.
Notes
The egg white in this cocktail was for effect and is not a traditional component of the original prohibition era drink. Egg whites are raw and are a common way to add froth and a velvety mouthfeel often in cocktails. Choose to omit or use pasteurized eggs if you're concerned about foodborne illnesses and food safety.
Nutrition
Serving:
1
g
|
Calories:
400
kcal
|
Carbohydrates:
34
g
|
Protein:
6
g
|
Fat:
8
g
|
Saturated Fat:
5
g
|
Polyunsaturated Fat:
3
g
|
Cholesterol:
27
mg
|
Sodium:
102
mg
|
Fiber:
3
g
|
Sugar:
24
g