A low carb and gluten free french toast casserole, stuffed with cream cheese. This is a huge crowd pleaser!
Low Carb Stuffed French Toast Casserole:
This recipe is low carb gold y'all! If you're a lover of my Keto Cinnamon Roll recipe or my Keto Cornbread Stuffing, then this is for you! It's really so easy to make, works best when prepped ahead of time (takes the stress off trying to make for brunch or say Christmas morning breakfast the day of), and tastes like cinnamon french toast!
I truly think even the non-keto eaters would be obsessed with this (didn't taste low carb to us at all) and hope you enjoy it as much as we did!
Find the full recipe for Low Carb Stuffed French Toast Casserole below and read on for the tips and tricks!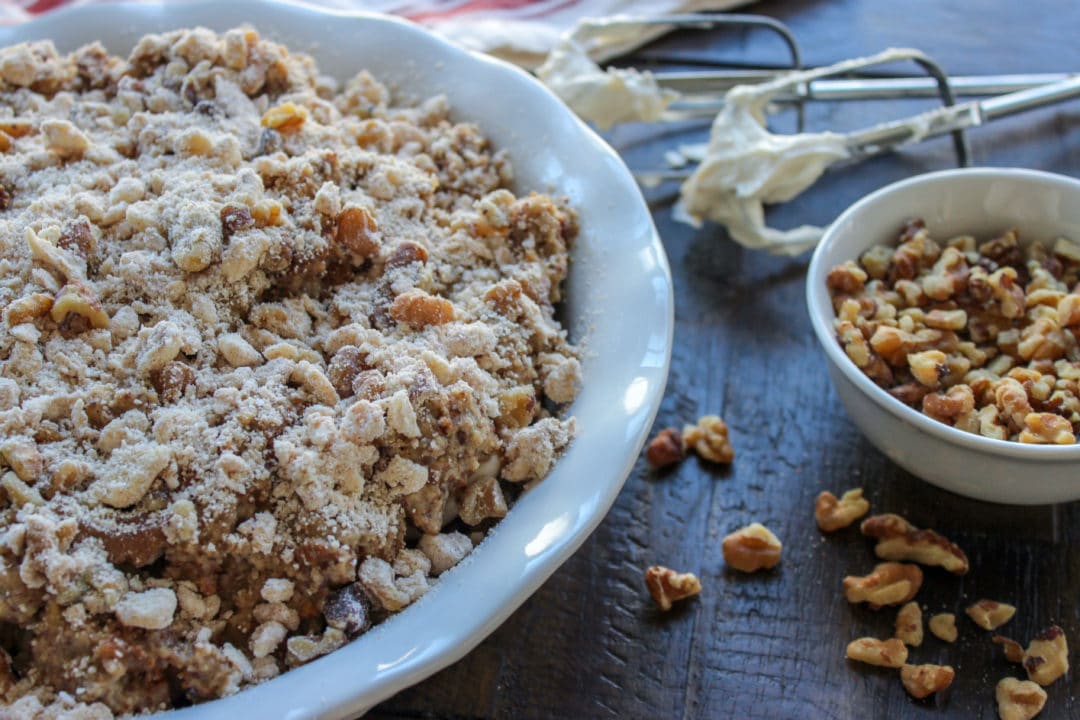 "School" Supplies:
Large Mixing Bowl
8×8″ Pan
Small Mixing Bowl
Whisk
Baking Sheet
Measuring Cups & Spoons
9×13″ Pan, 9″ Cast Iron Skillet, or Casserole Dish
"Class" Notes:
So, if you're familiar with my recipes, you probably know my love for my Keto Corn Muffins. This recipe has truly been a game changer this holiday season and was easily modifiable to make my Keto Cornbread Stuffing and this easy Keto Cornbread Strata recipe too.
Why not make a keto french toast casserole version as well?
Start by making the simple Keto Corn Muffin recipe (I just combine everything in one bowl), add a little vanilla, cinnamon, and low carb sweetener to the batter. This really transforms the dish overall in my opinion. I bake this mixture in an 8×8″ pan, allow it to cool a bit, and then cut it into 1″ cubes.
Let the cubes dry in the oven on a baking sheet (I bake mine for 60 minutes at 225 F). This recipe works so much better when prepped ahead of time because the bread cubes need to be really dry for this to work, so please make sure you plan ahead!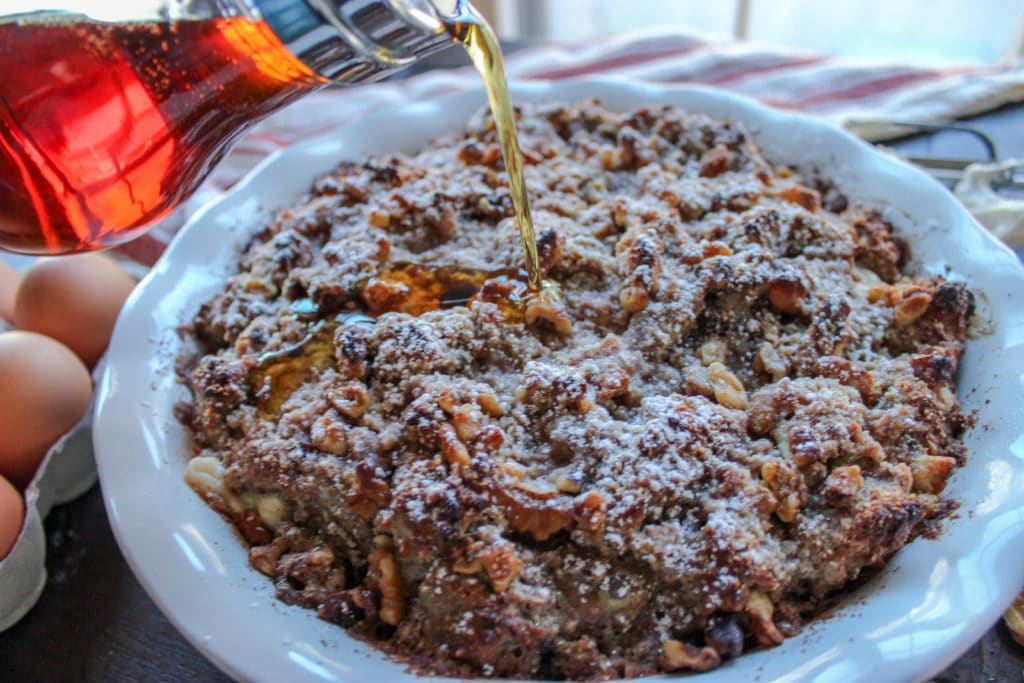 For the Low Carb Stuffed French Toast Casserole to come together, I simply combine my little dried out and sweetened cornbread cubes in a bowl with the beaten eggs, cream, and a little more cinnamon. Because we sweetened the "bread" for this, no extra low carb sweetener was necessary. Just simply let the egg mixture and the bread hang out for a minimum of 4 hours or better yet, prep this the night before and let it soak so you can just bake it the next morning (this is my preferred method).
If you want to make this stuffed like I did, combine the softened cream cheese, vanilla, almond milk, and a little low carb sweetener (I like Lakanto brand) in a bowl and mix until smooth. In my casserole dish, I added half of the soaked bread mixture into the bottom of the dish, added dollops of the cream cheese mixture over the top, then added the remaining bread mixture so the filling was covered.
Finish the Low Carb Stuffed French Toast Casserole off with a delicious streusel topping. I used a pastry blender (or two forks) to create a crumble of cold butter, low carb sweetener, cinnamon, and almond flour. Stir in some chopped walnuts and cover the top of the casserole with the streusel mixture.
I baked my casserole for 30-35. The top should get lightly golden brown and the center should be cooked but soft. Cool briefly before serving with your favorite sugar free syrup! Find the full recipe below.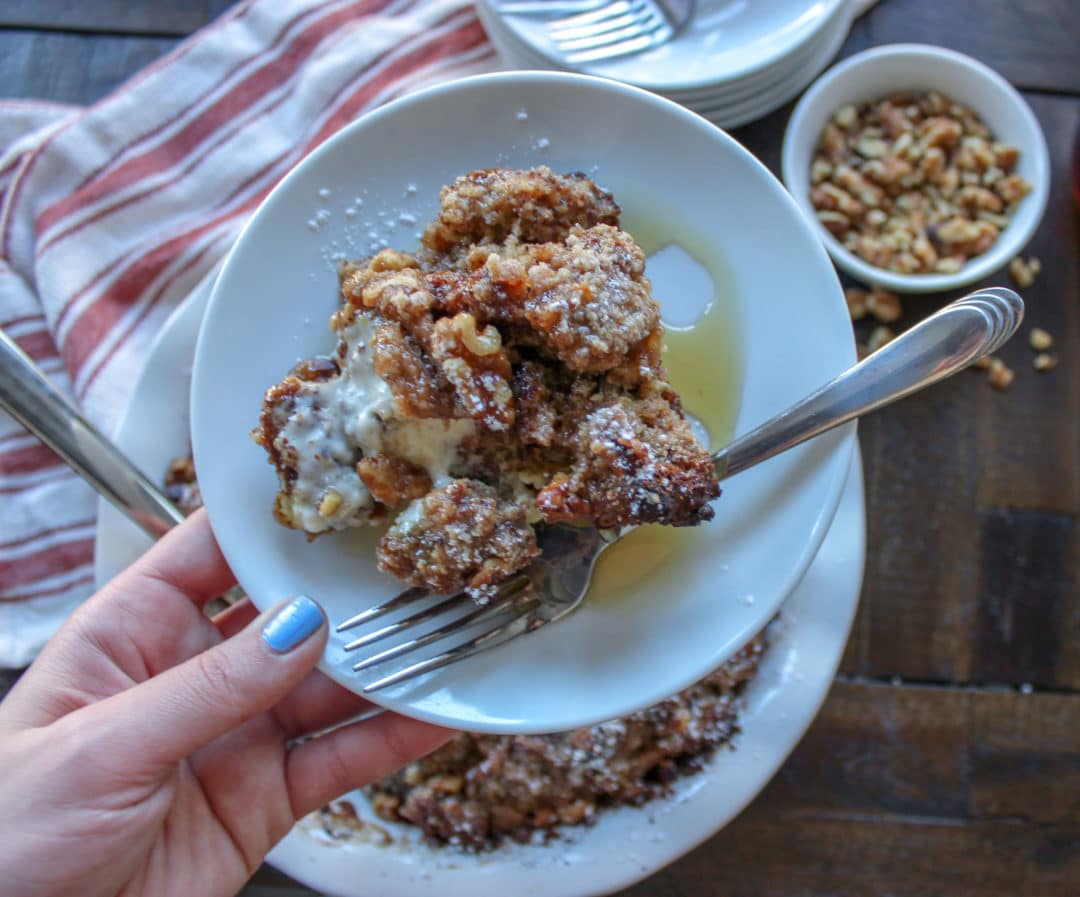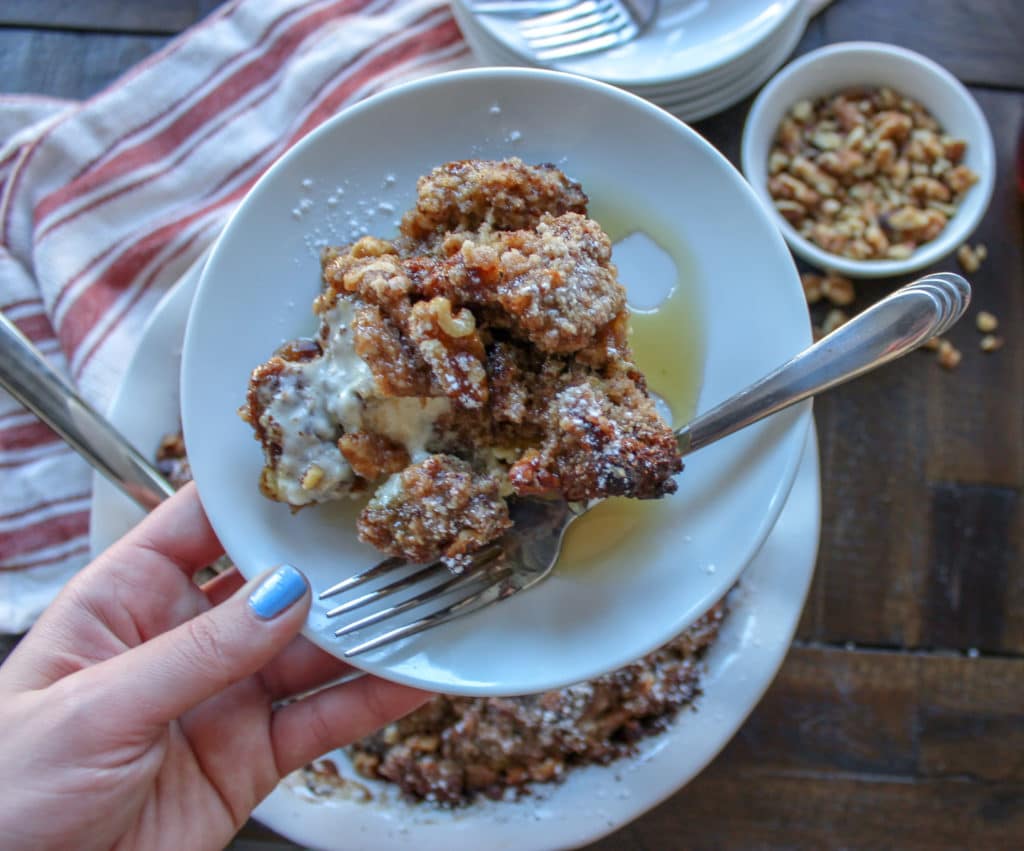 Bon Appeteach,
-L
Yield: 12 Servings
Low Carb Stuffed French Toast Casserole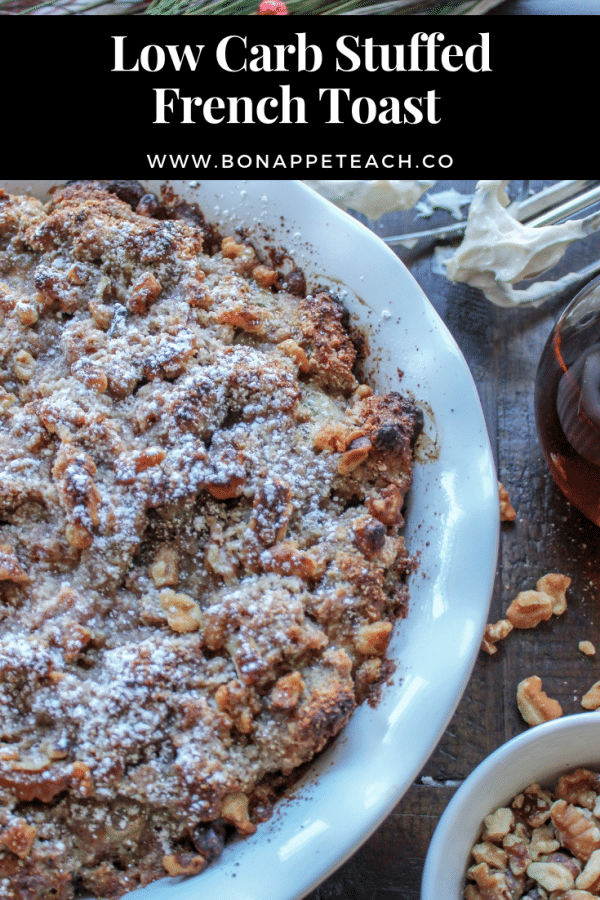 A low carb, gluten free, stuffed french toast casserole that's perfect for holidays, brunches, and get togethers!
Total Time
1 days
1 hour
5 minutes
Ingredients
For the French Toast "Bread":
3 cups Almond Flour
2 tsp. Baking Powder
1 cup Low Carb Sweetener
1 tsp Cinnamon
1 cup Mozzarella Cheese, shredded
1 cup Sour Cream
1/4 cup Melted Butter
1 tsp. Vanilla
3 Eggs
For the Casserole:
6 Eggs
1 cup Heavy Cream or Half & Half
4 oz. Cream Cheese
2 Tbsp. Low Carb Sweetener
1 tsp Vanilla
2 Tbsp. Almond milk or Heavy Cream
For the Streusel Topping:
2 Tbsp. Almond Flour
2 Tbsp. Low Carb Sweetener
1/2 tsp Cinnamon
2 Tbsp. Cold Butter
1/4 cup Chopped Walnuts (optional)
Instructions
To make the french toast bread base (aka sweetened keto cornbread) in a bowl, combine the melted butter, sour cream, vanilla, low carb sweetener and blend together. Add the eggs and blend again with a hand mixer. Add in the almond flour and baking powder and mix until incorporated. Fold in the mozzarella cheese. Bake in a greased 8X8" pan at 350 F for 30-35 minutes. Allow it to cool and then cut it into tiny 1" squares. Place the squares on a baking sheet and bake for 60 minutes at 225 F or until dry. This works best a few days in advance to ensure the "bread" is stale enough for the casserole.
To prep the casserole, in a blender combine the 6 eggs and the 1 cup of heavy cream. In a large mixing bowl combine the stale "bread" cubes and pour the egg mixture over the top. Fold several times to allow the egg mixture to soak into the "bread". Cover with plastic wrap and allow it to soak for at least 4 hours. This works even better if you prep this the night before. Combine the cream cheese, sweetener, vanilla, and almond milk (or heavy cream) together in a bowl and blend until smooth. Place in the fridge as well until needed for assembly the next day.
To assemble and bake the casserole, preheat the oven to 350 F and grease a casserole dish or 9X13" pan. Stir the bread mixture thoroughly to ensure the egg mixture was fully absorbed. Place half of the "bread" mixture in the bottom of the casserole dish. Spoon out the cream cheese mixture in dollops and place across the layer of "bread". Add the remaining "bread" mixture over the top to seal in the cream cheese layer.
In a bowl, use a pastry blender or two forks to for them crumble by cutting in the cold butter, sweetener, cinnamon, and almond flour until it resembles cornmeal. Mix in the chopped walnuts and sprinkle the entire mixture over the top of the casserole. Bake for 30-35 minutes or until the top is golden brown and the center is cooked. Allow it to cool briefly before serving with your favorite sugar free syrup.
Notes
Nutritional Information: Obtained using My Fitness Pal. I am not nor do I claim to be a nutritionist, so it is important to always verify the nutritional information as brands vary. I work hard to always provide the most accurate information as possible in hopes of making this easier for you, my readers!
Nutrition Information:
Yield:
12
Serving Size:
1
Amount Per Serving:
Calories:

470
Total Fat:

44gg
Saturated Fat:

16g
Trans Fat:

0g
Cholesterol:

203mg
Sodium:

197mg
Carbohydrates:

8g
Fiber:

3g
Sugar:

2g
Protein:

15g