Low Carb Gingerbread Cookie Bars:
I'll be honest and tell you that I have never been the biggest fan of gingerbread. I'm more of a peanut butter and chocolate kind of girl. However, I loved how these bars came out. Cookie bars are also so easy to throw together because you don't have to stand there and roll out a bunch of dough and bake pan after pan. Just dump, bake, and you're done! To make these lower in carb I tried to find the lowest carb blackstrap molasses I could find (I used the Plantation brand which is 11 net carbs per tablespoon). Many of my keto followers over on Instagram did mention that yacon syrup is a perfect low carb replacement to molasses. I still used the molasses however because it was cheaper and easier to find. Do what works for you! Find the full recipe for these Low Carb Gingerbread Cookie Bars below and read on for the tips and tricks!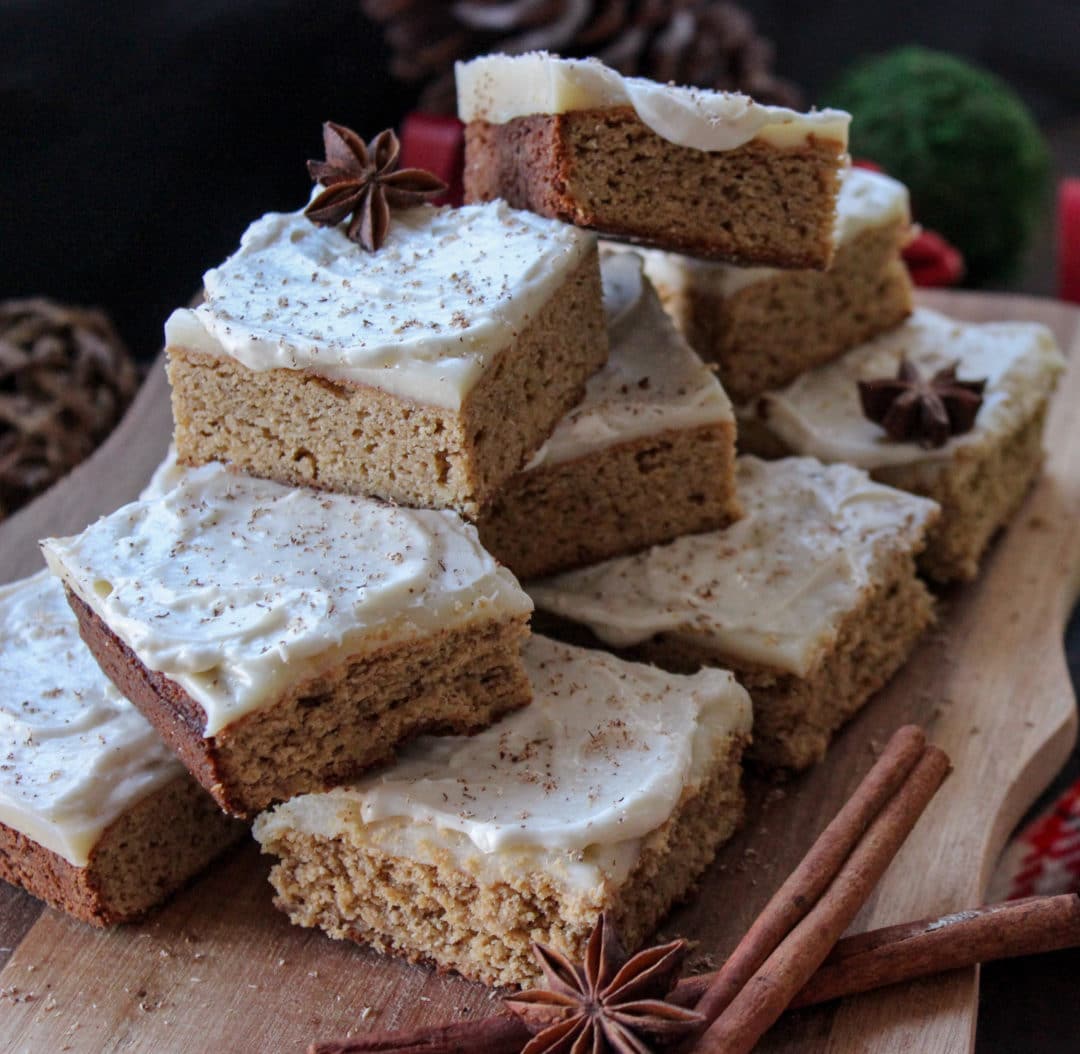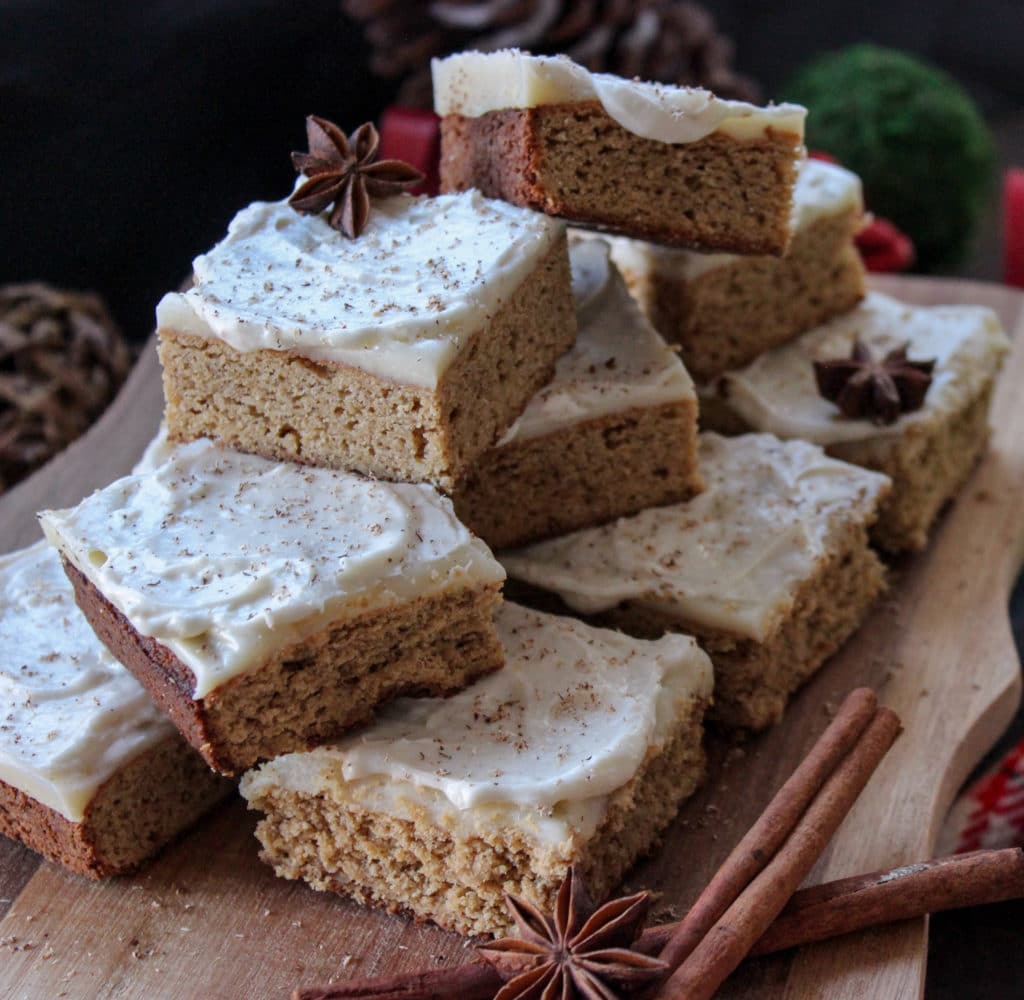 "School" Supplies
Mixing Bowl
Hand Mixer
Measuring Cups & Spoons
8×8″ Baking Pan
Rubber Spatula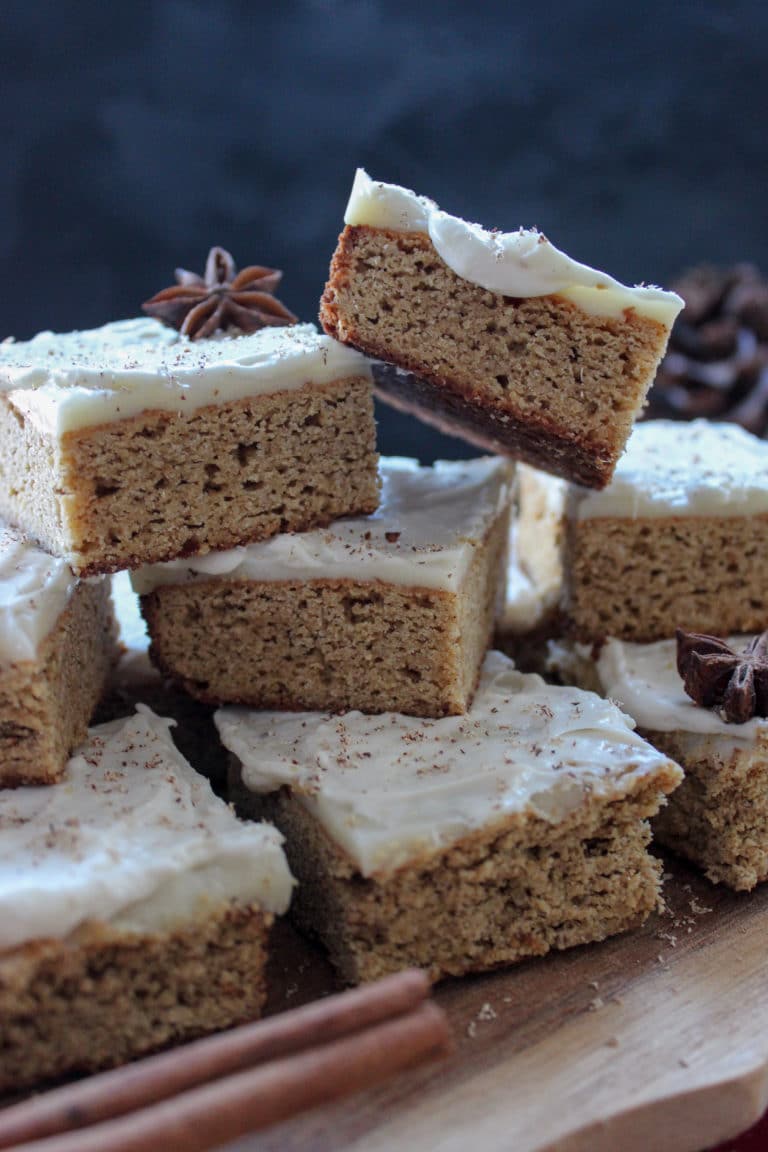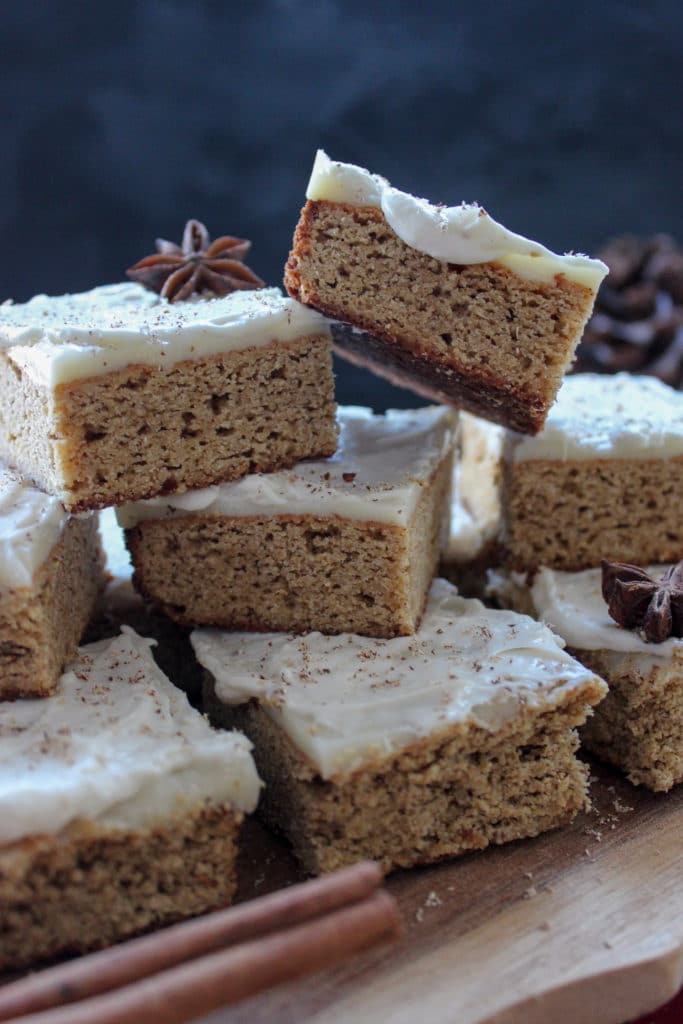 "Class" Notes:
Like I mentioned above, this recipe is so easy and comes together quickly. Simply combine the softened cream cheese, butter, and low carb sweetener (I use the lakanto brand) together in a bowl. Mix in the vanilla, molasses, and the spices (cinnamon, nutmeg, and ginger). Finish it off by adding the almond flour, xanthan gum (really really helps with making the bars tender and not crumbly), baking powder, and a little salt. Once everything is mixed well, simply spread all the dough into a greased 8×8″ pan and bake! Top with cream cheese frosting and share your little heart out (or don't)! If you're looking for other great holiday low carb cookies, be sure to also check out my Keto Peanut Butter Blossoms and my 1 net carb Keto Almond Biscotti!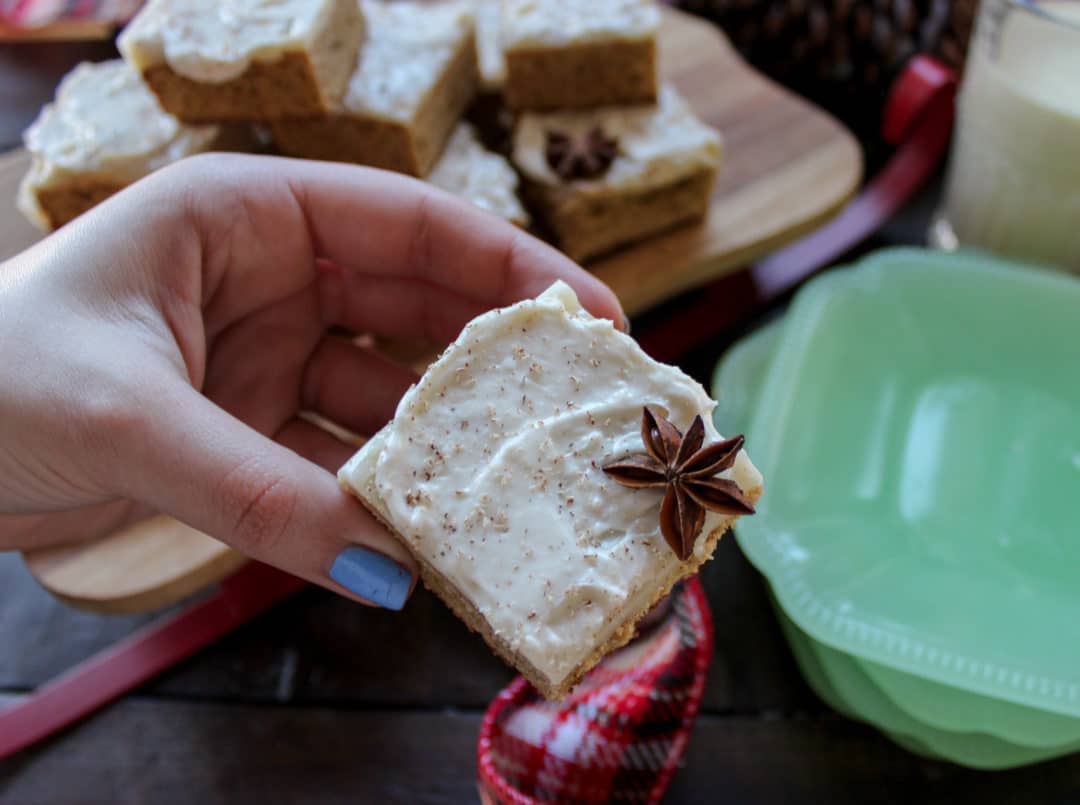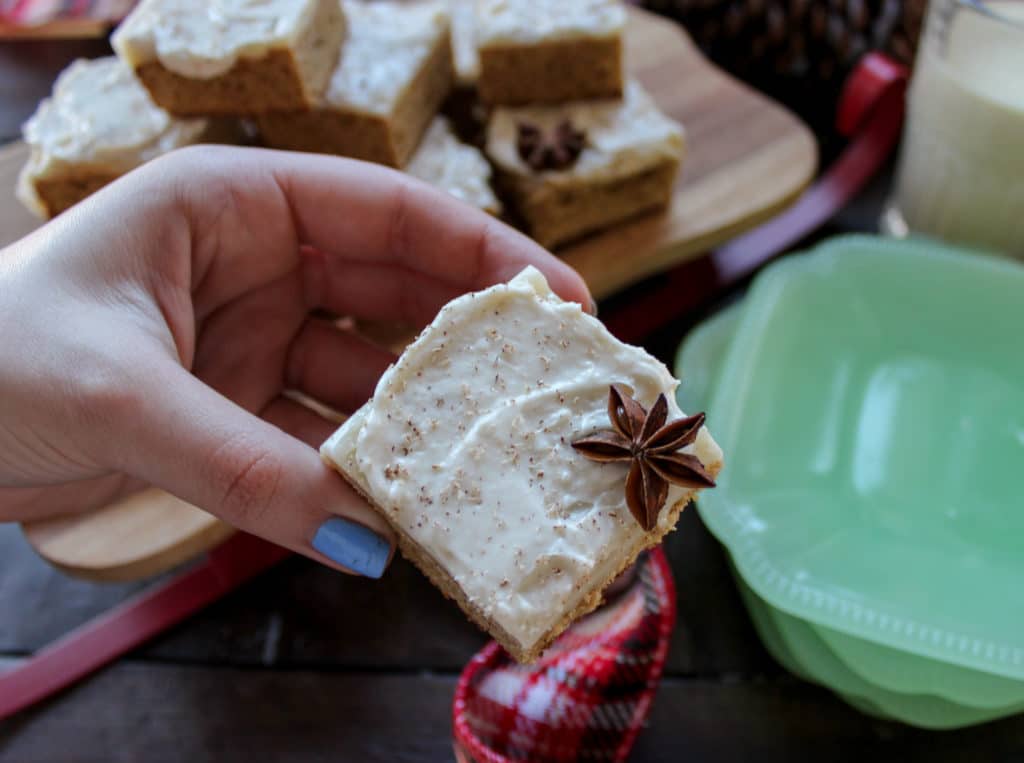 Bon Appeteach,
-L
Ingredients
1/4 cup Softened Butter (NOT MELTED)

4 oz. Cream Cheese, softened

2 Eggs

1 3/4 cups Almond Flour

1/2 cup Monk Fruit Powder (or other low carb sweetener of choice)

2 tsp. Baking Powder

1/2 tsp Xanthan Gum

1 tbsp. Blackstrap Molasses or Yacon Syrup

1 tsp. Cinnamon

1/2 tsp Nutmeg

1/2 tsp Ginger

Frosting-

4 oz Cream Cheese

2 tbsp. Powdered Low Carb Sweetener

1/2 tsp Vanilla

2 tbsp. Almond Milk
Instructions
1
Preheat your oven to 350 degrees. Grease an 8X8" pan with non-stick spray or coconut oil.
2
In a bowl, combine the softened butter and monk fruit powder.
3
Next, add the softened cream cheese and molasses, then the eggs and mix until blended.
4
Add the almond flour, baking powder, xanthan gum, spices, and mix well.
5
Add the whole mixture to an 8X8" pan and spread till it is even.
6
Bake for 18-20 minutes. Allow to cool before frosting.
7
In a mixing bowl combine the frosting ingredients and mix until smooth. Spread over the top of the cooled bars.
8
Cut into 12-15 individual cookies. Optional- Garnish with fresh grated cinnamon or nutmeg
Nutritional Information:
Obtained using My Fitness Pal. I am not nor do I claim to be a nutritionist, so it is important to always verify the nutritional information as brands vary. I work hard to always provide the most accurate information as possible in hopes of making this easier for you, my readers!


Bon Appeteach is a participant in the Amazon Services LLC Associates Program, an affiliate advertising program designed to provide a means for sites to earn advertising fees by advertising and linking to amazon.com. I only share products that I use and stand behind personally.