Keto Peanut Butter Blossoms:
Christmas cookie season is upon us! In fact, I was so tired of cooking and prepping for Thanksgiving  for the three weeks prior to the actual day (recipe developer problems), that I went ahead and made these cookies in protest. It  was glorious and no one was complaining in this house. Furthermore, Peanut Butter Blossoms have always been one of my favorite holiday cookies and I was determined to make an easy no-fuss keto and low carb friendly version. Because, who doesn't love an ooey gooey warm peanut butter cookie with a chocolatey center to top it all off? If you have made my Keto Skillet Peanut Butter Cookies, then you will without a doubt love these too. So, in honor of National Cookie Day today, bake these yummy lil' holiday treats in solidarity and celebration. Because on keto, you can have your cookies and eat them too! Full recipe for the Keto Peanut Butter Blossoms is below.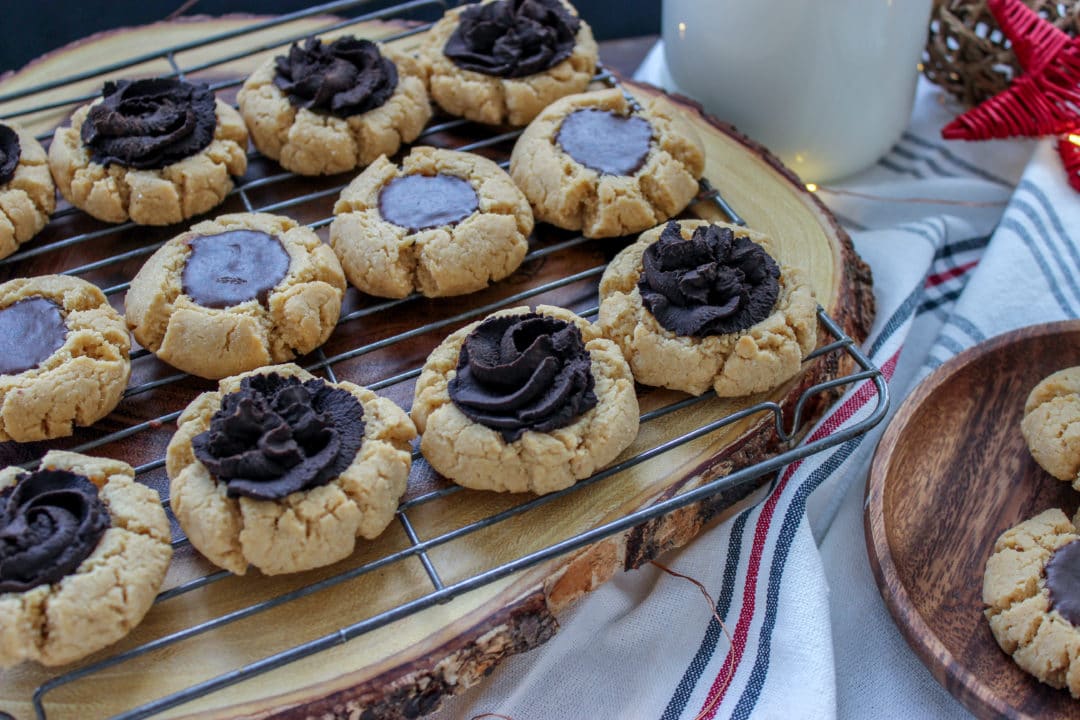 "School" Supplies:
Hand Mixer
Mixing Bowl
Measuring Cups & Spoons
Baking Sheet & Parchment Paper
Whisk & Rubber Spatula
Cookie Scooper (optional but helpful)
"Class" Notes:
Lets chat a hot minute about these cookies. First, I LOVE when I only need one bowl to make something. Less dishes gives me LIFE! This recipe is fairly straightforward (also love this) and totally doable for all baking and cooking levels! The chocolate center is not a classic hershey kiss (though you could make molds for this with melted low carb chocolate), but a sugar free chocolate ganache. I found this to be the easiest way to mimic the flavors in the carb filled classic and felt it was the most economical (and easy) way for everyone to still be keto friendly. The ingredients come together like a normal cookie dough using a hand mixer or stand mixer if you prefer. The biggest trick to these cookies it to keep them even in size so they bake nicely. I used a standard cookie scoop, but a normal even spoonful should do the trick to create a 1″ round ball. I rolled the dough between my palms first to form a nice round sphere. I tested out the "thumbprint" both before and after baking and found creating it before works the best. In fact, I recommend holding the ball of dough in your palm and using your other hand to create a thumbprint in the center. It helps prevent the dough from cracking too much while baking and is better at holding the chocolate ganache. I opted to not roll these in low carb sugar (thought you can) as it melts into the cookies and overall doesn't do much to impact the flavor in my opinion. Finally, place each round onto the baking sheet and bake away!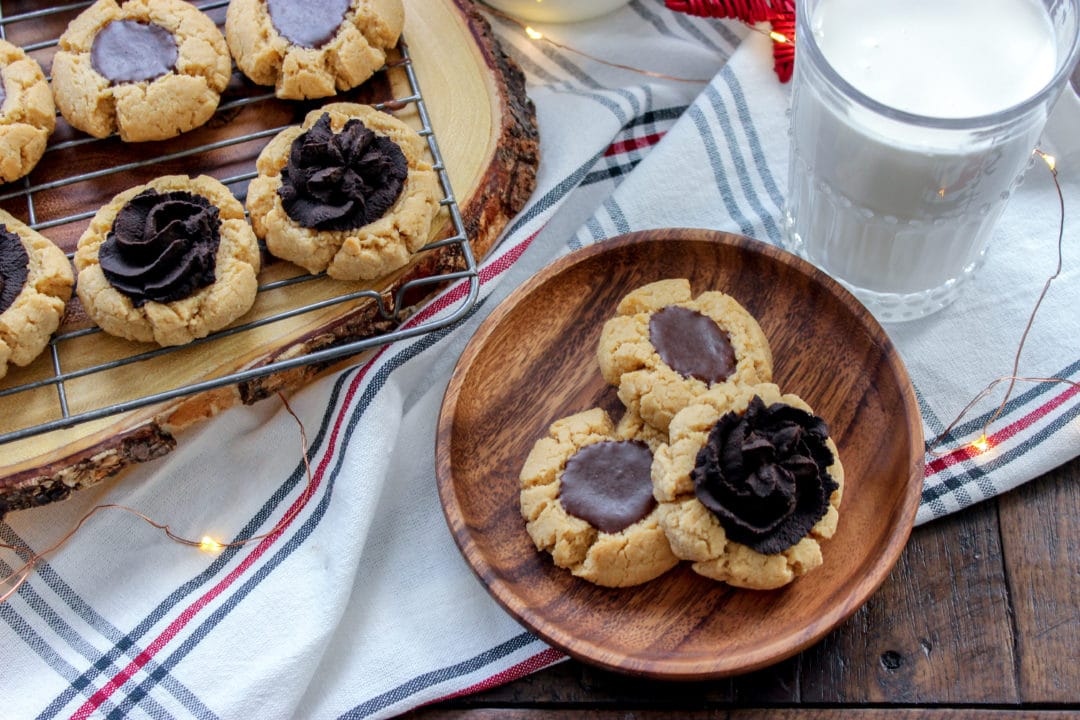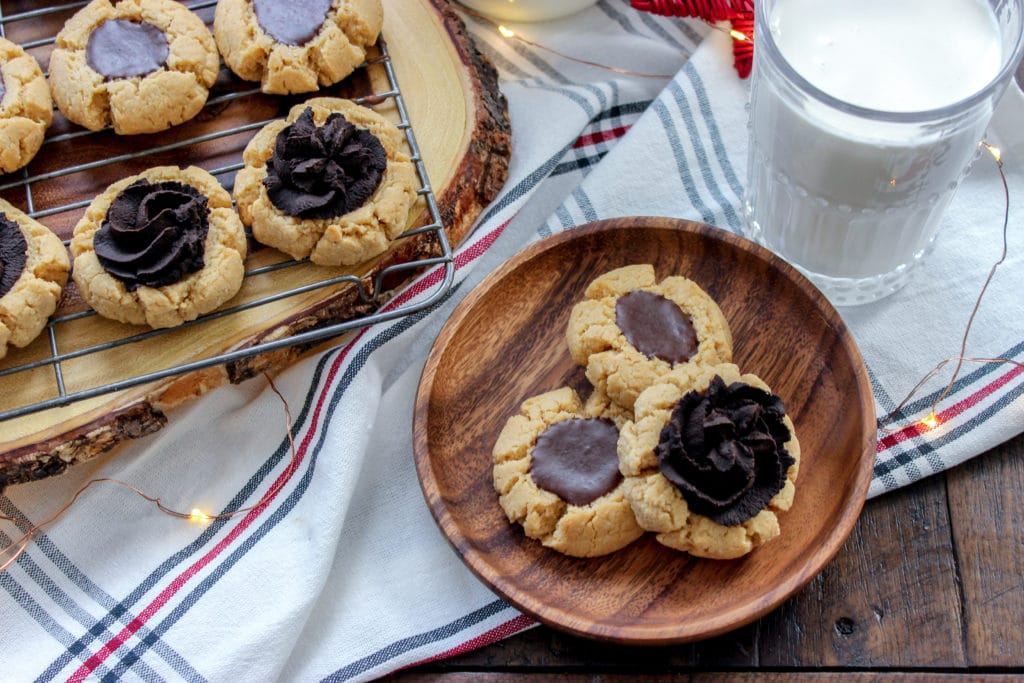 You have a few options for the chocolate center. You can melt sugar free chocolate and use the fancy hershey kiss molds I saw over on Amazon, add a square of sugar free chocolate into the center of the cookie, or make an easy ganache filling (pictured) and pour right into the thumbprint! To make the chocolate ganache, I found a 1:1 ratio of cream to chocolate makes a nice shiny and glossy filling. If you want to pipe the roses (pictured) you will want to make a thicker ganache (similar to that of a truffle) which is usually a 2:1 ratio of chocolate to heavy cream. I personally have been using Lily's chocolate as a sugar free chocolate option. Be aware that some low carb sweeteners and chocolates contain xylitol, which can be a bit rough on the digestive system and are also very toxic to pets. I highly encourage you to read food labels! If all else fails, get a very strong dark chocolate to make the ganache with instead. I use a standard star tip to create the little rosettes to act as the "blossoms" in my Keto Peanut Butter Blossoms, but overall preferred the thinner ganache filling better (plus its super easy too, I just sometimes like to be extra when I experiment). Let the ganache set before storing. Store in plastic container for 5-7 days. They ship great too if you want to send them out to all your lovely keto pals!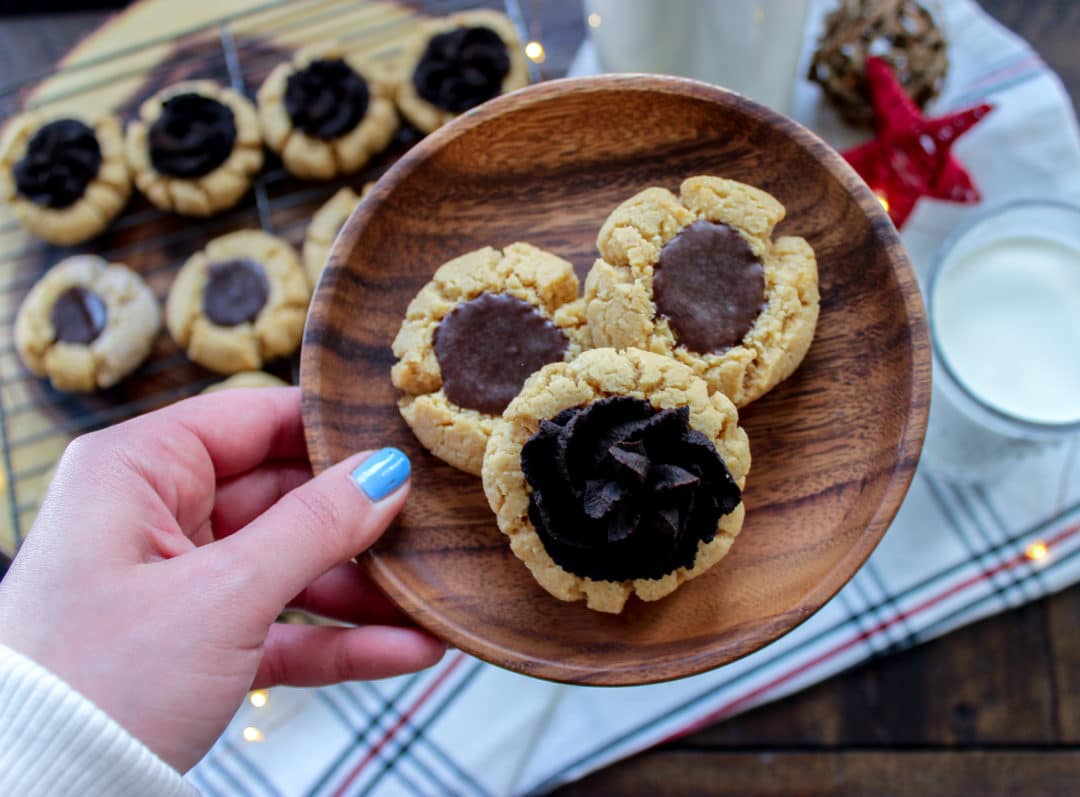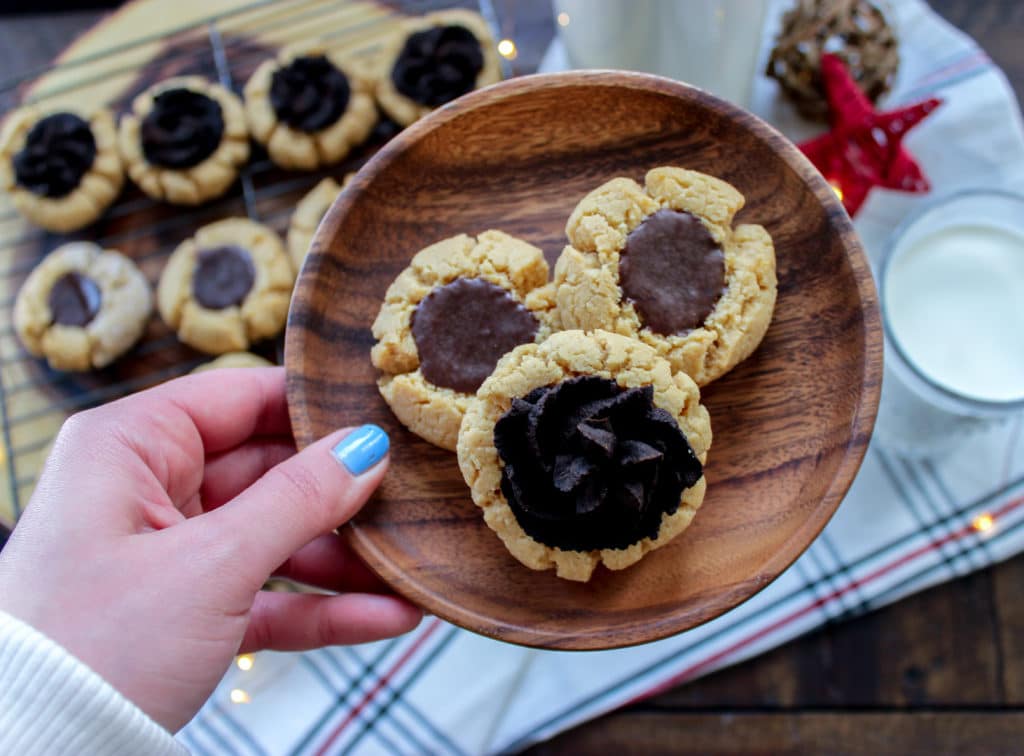 Happy National Cookie Day my friends and happy holiday baking! If you make these cookies this holiday season (or anytime) I'd love to hear from you! Leave a comment below and provide feedback for me and others who may make this in the future or tag me in a post over on Instagram or Facebook too!
Bon Appeteach,
-L
Ingredients
1/2 cup All Natural Peanut Butter (sugar free)

3 cups Almond Flour

2 Eggs

1/4 cup Butter, softened not melted

3/4 -1 cup Low Carb Sweetener (I use 3/4 cup personally add more if you like it a little sweeter)

2 tsp. Baking Powder

1/2 tsp Xanthan Gum (optional but really aids in creating a better texture to the cookie)

For Thin Ganache- 1/2 cup Sugar Free Chocolate + 1/2 cup Heavy Cream (my preference)

For Thicker Ganache Rosettes (truffle texture)- 1/2 cup Sugar Free Chocolate + 1/4 cup Heavy Cream
Instructions
1
Preheat the oven to 350 F. Prep cookie sheets with parchment paper.
2
In a bowl, combine the low carb sweetener (I prefer the Lakanto brand), softened butter, and peanut butter. Mix with a hand mixer.
3
Next, beat in the eggs until the mixture is fluffy.
4
Add in the dry ingredients (almond flour, baking powder, and xanthan gum) and mix until a cookie dough forms.
5
Use a cookie scoop or spoon to evenly create 1" balls. Roll them evenly between your palms. The easiest way to create an thumbprint indentation, is to hold the ball in one palm and slightly cup your hand. Use your other thumb to create a thumbprint in the center. This worked the best for baking.
6
Place the cookies 1" apart on the pan and bake for 8-10" minutes. Allow them too cool before filling with ganache. If option to add a homemade low carb hershey kiss or chocolate bar, add this after a few minutes of rest after baking.
7
For the ganache- In a microwaveable dish (I use a pyrex measuring cup), heat the heavy cream for 40-60 seconds. Chop the chocolate and add it to the hot cream and allow it to sit for 3-4 minutes and melt. Then, use a spoon or a whisk to thoroughly mix the melted chocolate into the cream. Pour the thinner ganache into the thumbprints or pipe a swirl or rosette if using the thicker ganache (but work quickly as this hardens much faster). Allow the cookies to set before storing. Store in a plastic container for 5-7 days.
Nutritional Information:
Obtained using My Fitness Pal. I am not nor do I claim to be a nutritionist, so it is important to always verify the nutritional information as brands vary. I work hard to always provide the most accurate information as possible in hopes of making this easier for you, my readers!