Keto Peanut Butter Blossoms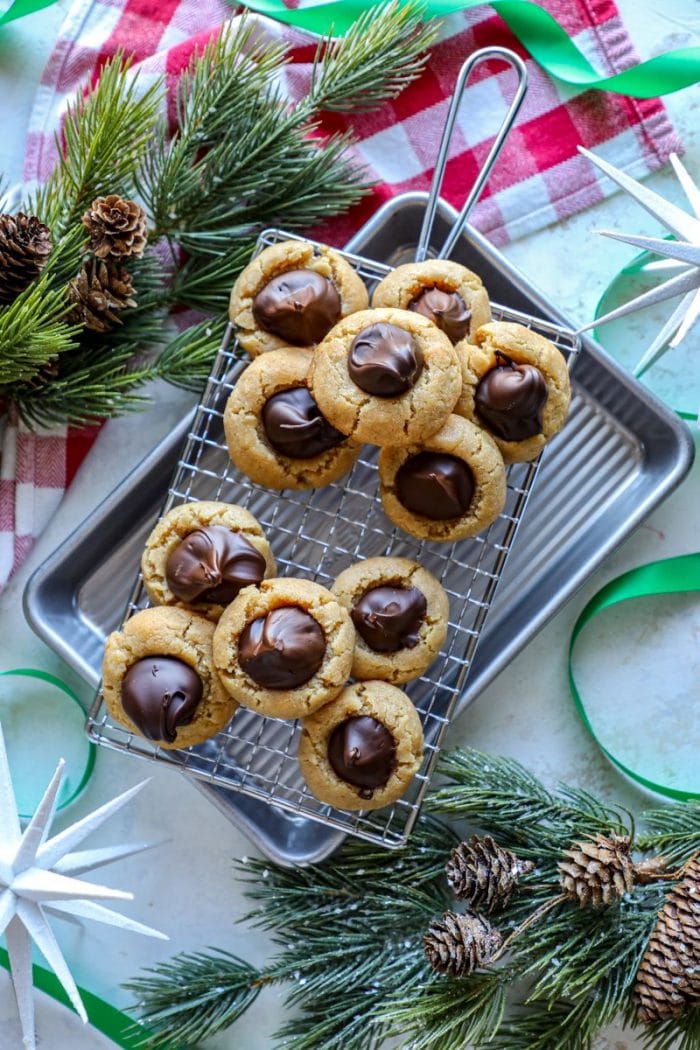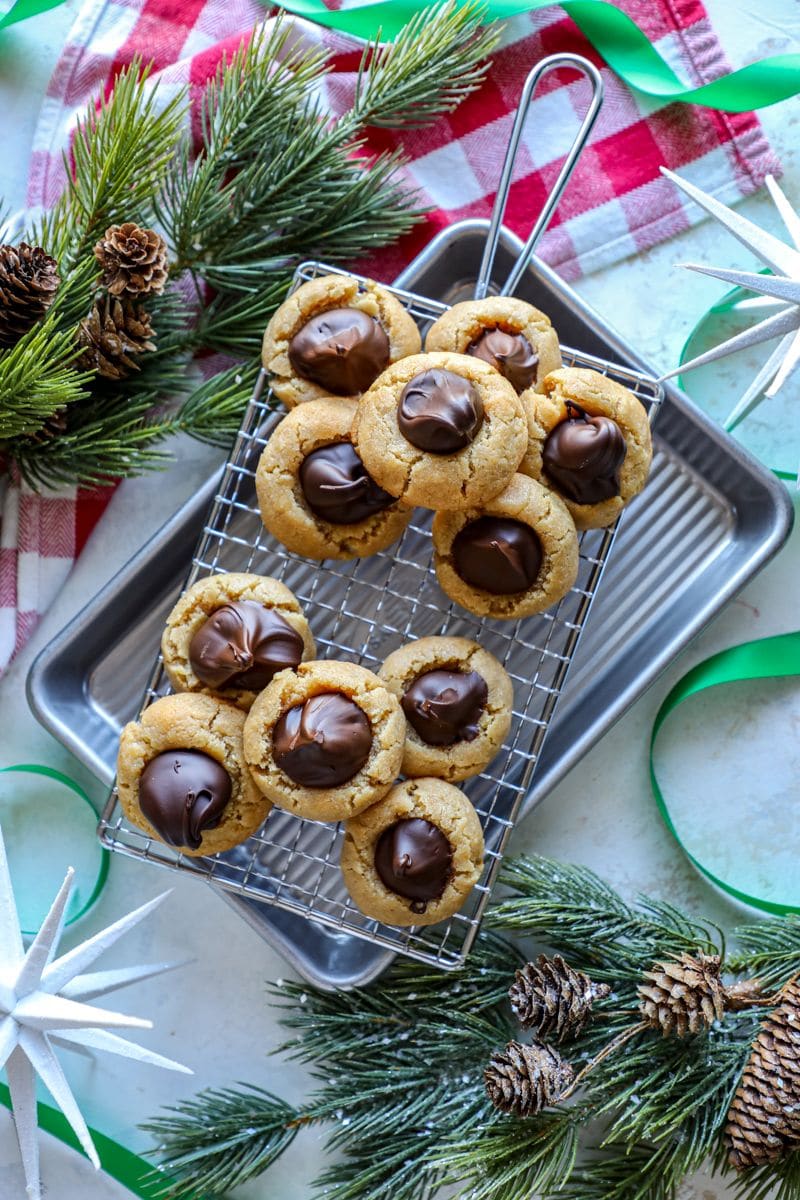 The perfect low carb, keto holiday cookie made with the classic peanut butter blossom in mind. This low carb Christmas classic was recreated to be sugar free, gluten free, and only two net carbs each!
Bon Appeteach is a participant in the Amazon Services LLC Associates Program, an affiliate advertising program designed to provide a means for sites to earn advertising fees by advertising and linking to amazon.com. I only share products that I use and stand behind personally and actually buy myself.
Authors Note: This recipe was updated on 12/12/2021.
Keto Christmas cookie season is upon us ! I was an avid baker long before my low carb and keto eating days and I am so thrilled to share this almond flour based peanut butter blossom cookie recipe with you in hopes it makes your holiday season (keto or not) a little better and a little brighter!
If you're looking to try out a lower carb version of this classic, you won't be disappointed. Because, who doesn't love an ooey-gooey warm peanut butter cookie with a chocolaty center to top it all off? If you have made my Keto Skillet Peanut Butter Cookies, then you will without a doubt love these too.
This cookie uses sugar free, low carb peanut butter and is filled with a dark chocolate center. They come together in one mixing bowl (yay for fewer dishes), roll out easily, and are a tender cookie that melts in your mouth!
Check out the full video tutorial and the full recipe below. Read through this post for helpful tips about common keto baking ingredients, substitutes, and more. Let's dive in!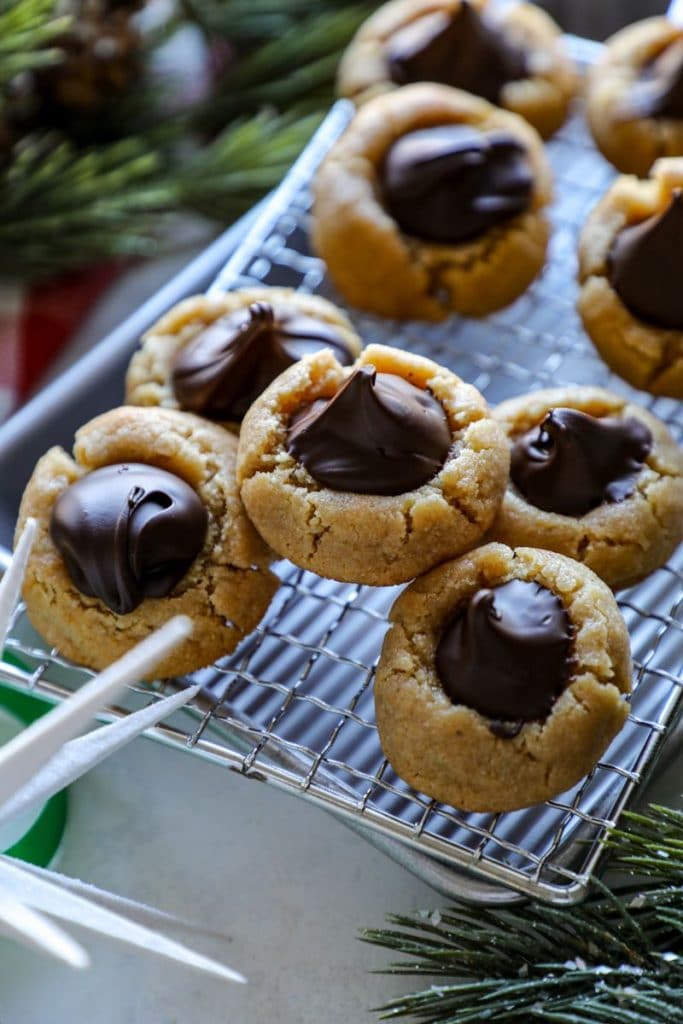 "School" Supplies:
Hand Mixer
Mixing Bowl
Measuring Cups & Spoons
Baking Sheet & Parchment Paper
Rubber Spatula
Cookie Scoop (optional but helpful)
"Class" Notes:
I work hard to thoroughly test all the recipes here at Bon Appeteach to help troubleshoot dishes as much as possible. While ingredients, brands, and appliances may vary, use the detailed notes below to help guide you through this recipe with ease.
Feedback is always welcome and helpful to other cooks and readers. I'd love to hear from you, so please leave a rating on the recipe card or a comment regarding your experiences. Feel free to also share your creations or message me over on Instagram.
Can I have Peanut Butter on a Keto Diet?
Good news! You can absolutely have peanut butter on a keto or low carb diet. The trick is finding the right brand, with the fewest carbs. This recipe yields three dozen cookies and only utilizes a 1/2 cup of sugar free peanut butter.
I prefer to use natural brands of peanut butter that have less or no sugar added. Many health stores and grocery stores allow you to make your own peanut butter (like Whole Foods). You can also use the 365 Brand or the Skippy brand as well (only 4 net carbs for the full batch of keto peanut butter cookies)!
Ingredients:
Here's what you will need to make keto friendly peanut butter blossoms.
Peanut Butter: Choose a peanut butter you enjoy eating. I do not like the super "all natural" peanut butters for this recipe because they tend to separate out and have a different texture. There are some brands listed about I would recommend for lowest number of carbs,
Butter: Softened butter works best and it's also used to combine with the chocolate filling used in the center of the cookie.

Allulose Sweetener

: This is my go-to low carb sweetener. It truly works the best for flavor (no after taste) and bakes like normal, traditional sugar. You can also use other low carb sweeteners that your prefer however.

Sukrin Gold

: You will need a low carb brown sugar substitute as well. Sukrin Gold is my preferred brand for this recipe.
Eggs: You will need two eggs for this recipe.
Almond Flour: Use a fine almond flour (I like the Bob's Red Mill brand for this recipe).
Vanilla Extract:
Baking Powder:
Salt:
Xanthan Gum: This helps act as a binding agent and gives the cookie a traditional "chewiness" (in a good way). Do not omit for the best end results for overall taste and texture.

Low Carb Chocolate chips

: Use your preferred brand of chocolate or dark chocolate for the filling of your cookies in place of a traditional Hershey's kiss.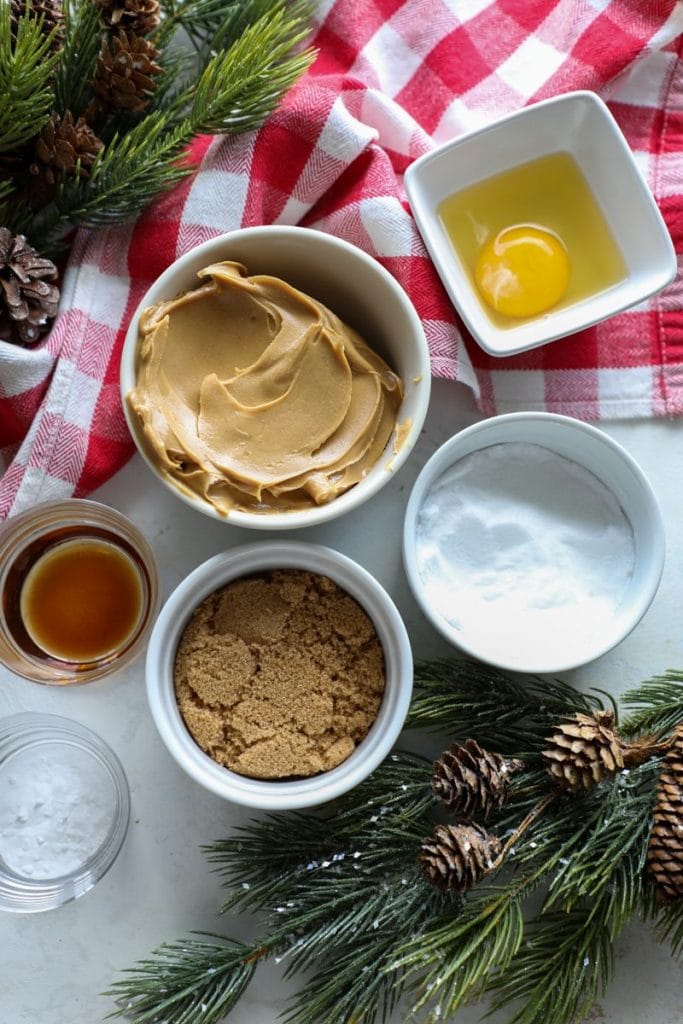 Can I substitute the almond flour for coconut flour?
I have not tested this recipe with coconut flour. Unfortunately, coconut flour is not a good 1:1 substitute in baking. Meaning, you cannot swap it out directly for the almond flour in this recipe and get a good result.
The properties of coconut flour are very different from almond flour. You could try using 1/3 the original amount (so 1 cup of coconut flour) and test as desired. Overall, I recommend sticking to the almond flour for best results.
What chocolate can I eat on a keto diet?
The chocolate center is not a classic chocolate kiss, though you could make them in Hershey kiss molds (Amazon Affiliate Link) if you're feeling extra dedicated! I prefer to make an easy and delicious sugar free chocolate ganache like filling instead.
I found this to be the easiest way to mimic the flavors in the carb filled classic and felt it was the most economical (and easy) way for everyone to still be keto friendly.
I like Lily's chocolate chips or Choc Zero brand. Alternatively, I'll used a very dark unsweetened chocolate chip as well.
Slowly melt your chocolate with the butter at 30 second increments and stir until smooth for best results. You can make a kiss like shape with your spoon or liquid measuring cup too for fun!
How to make keto peanut butter blossoms:
This recipe is a simple one to follow and is made in a similar way to the traditional cookie you know and love. Here is what you need to do:
Start by combining the peanut butter, sweeteners, and softened butter together in your mixing bowl and mix until it is whipped and fluffy.
Add in your eggs and vanilla and continue to mix your dough until everything is fully incorporated.
Finally, add in your almond flour and your baking powder, xanthan gum, and salt. Beat until a cookie dough fully forms.
To form the 36 cookies, you need to make even size round balls around one inch in size. Use a cookie scoop to scoop your dough and roll and form using your hands.
Just like the traditional version, I did toss my cookie balls into some extra low carb sugar (the allulose works best here).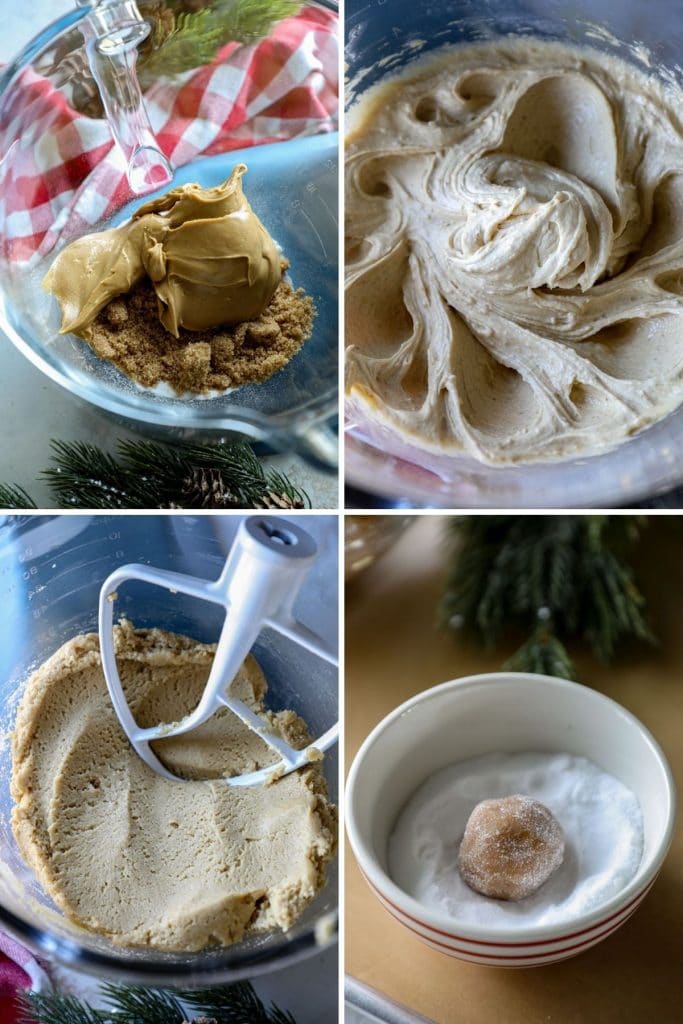 Bake your cookies on a parchment paper lined sheet for about 8-10 minutes (Mine were perfect around 9 1/2-10 min).
Let them cool 1-2 minutes, then use the bottom of a 1 tsp. measuring spoon to light press into the center of the cookie to create an indent for your chocolate filling. I prefer to let my peanut butter blossoms fully cool before filling.
Make your chocolate filling by slowly melting the chips and the butter in increments in the microwave or use a double boiler (so you don't burn your chocolate).
Slowly fill each cookie and pull up on the spoon or measuring cup to get a signature "kiss" look to the cookie if desired.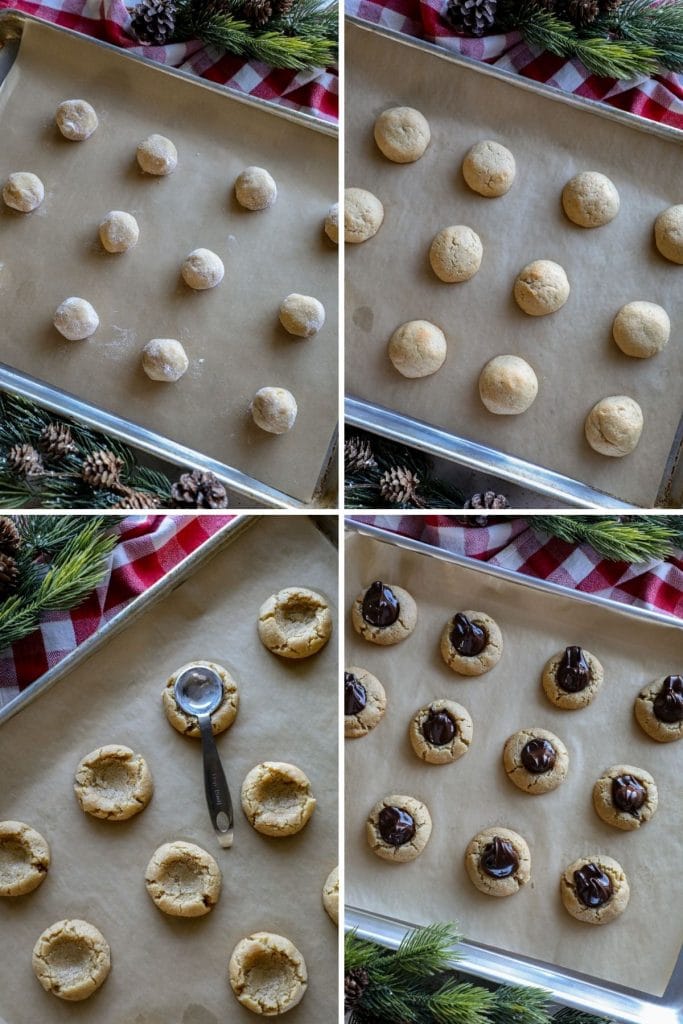 Tips for serving and storing:
Let them cool faster and set up by placing them in the fridge for 15-20 minutes.
If you want to make these ahead of time (I like to do this when I have a lot of holiday cooking to do), place them on a smaller plate individually and free for 45-60 minutes. Then place them into a bag and freeze for 3 months.
Take them out and let them come up to room temperature before serving from the freezer.
Store all extra cookies in an air tight container for 5-7 days (though they are best texture wise within the first 3 days or so).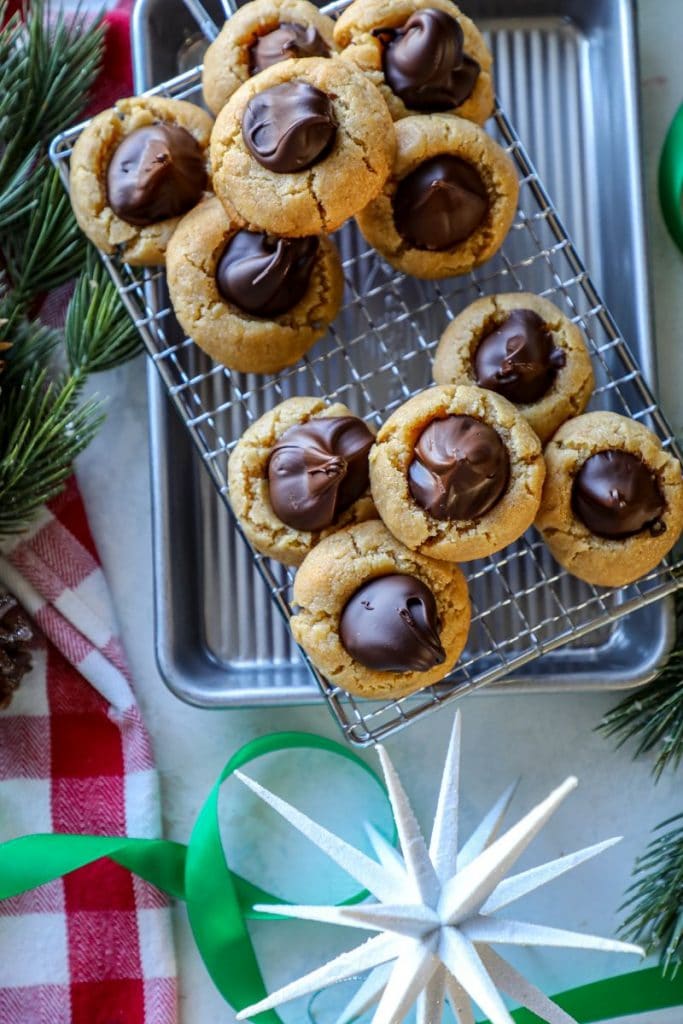 Want other ideas for keto friendly Christmas cookies and treats, check out these popular desserts as well:
Low Carb Gingerbread Cookie Bars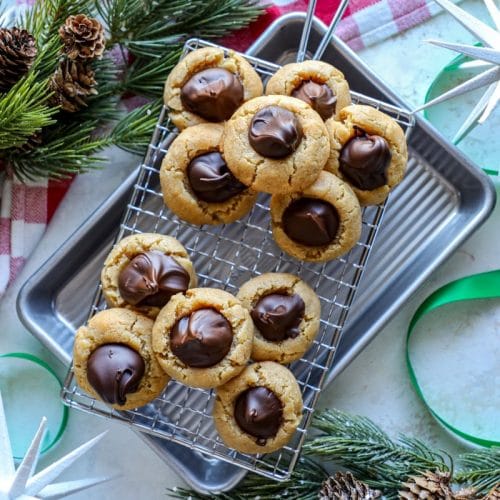 Keto Peanut Butter Blossom Cookies
The perfect low carb, keto holiday cookie made with the classic peanut butter blossom in mind! This low carb Christmas classic was recreated to be sugar free, gluten free, and only 1 net carb each!
Print
Pin
Rate
Ingredients
1/2

cup

All Natural Peanut Butter

sugar free

3

cups

Almond Flour

2

Eggs

1/4

cup

Butter

softened not melted

3/4

cup

Allulose Sweetener

or your preferred sweetener

1/4

cup

Sukrin Gold

or low carb brown sugar sweetener

1/2

tsp.

Vanilla Extract

2

tsp.

Baking Powder

1/2

tsp

Xanthan Gum

Chocolate Filling:

1

cup

Low Carb Chocolate Chips

or dark chocolate

1

tbsp.

Butter

Extra allulose for rolling the dough in
Instructions
Preheat the oven to 350 F. Prep cookie sheets with parchment paper.

In a bowl, combine both low carb sweeteners (allulose and Sukrin gold) softened butter, and peanut butter. Use the paddle attachment on a stand mixer and combine until fluffy.

Next, beat in the eggs and the vanilla until it is fully incorporated.

Add in the dry ingredients (almond flour, baking powder, and xanthan gum, and salt) and mix until a cookie dough fully forms.

Use a cookie scoop or spoon to evenly create 1 inch balls. Do not make them too large, you should be able to get 3 dozen cookies from this recipe (36 total).

Form the cookies by rolling them evenly between your palms. Then tossing them in extra allulose sweetener before placing them a few inches apart on a baking sheet.

Bake 12 cookies at a time for about 8-10 minutes. They might still look the slightest bit soft in the center and have a lightly golden brown edge, do not over bake however or they will be dry.

Remove the pan from the oven and let them cool for 1-2 minutes before using a teaspoon to place an indentation into the center. Press down lightly (it's ok if the cookie cracks a little at the edges).

Allow them to fully cool with the indent in place before filling with the chocolate.

To make your chocolate filling, combine the chips and the butter into a Pyrex liquid measuring cup and microwave for 30 seconds. Stir and repeat until the chips are melted and the mixture is smooth (be cautious not to burn the chocolate).

Carefully fill a teaspoon or so of chocolate into the center of each cookie. You can use the spout of the measuring cup or a spoon to fill and gently lift up off the chocolate to create a "kiss" effect.

Let them cool for a few hours on the counter so the chocolate sets, but I prefer refrigerating for 15-20 minutes to let them set faster.

Place fully cooled cookies in a container and store for up to 5-7 days or freeze if desired.
Notes
Avoid using homemade or super natural peanut butters for this recipe (they tend to separate and are oilier). See preferred ingredients for these cookies outlined in the full article above.
Nutrition
Serving:
1
g
|
Calories:
94
kcal
|
Carbohydrates:
3
g
|
Protein:
3
g
|
Fat:
8
g
|
Saturated Fat:
2
g
|
Polyunsaturated Fat:
6
g
|
Cholesterol:
14
mg
|
Sodium:
54
mg
|
Fiber:
1
g
|
Sugar:
1
g