Kale Pesto Grilled Pork Chops
Kale Pesto Grilled Pork Chops:
I honestly feel like the pork chop is often underrated when it comes to popular grilled meat cuts these days. At least, from everything I often come across on Instagram. A good, bone in pork chop, grilled to perfection is such an easy meal spring through fall. Add this even easier Kale Pesto (keto and low carb friendly) to the top, toss on some grilled veggies, and you have the recipe for an incredible dinner done in under 30 minutes. Full recipe for this Kale Pesto Grilled Pork Chops is below.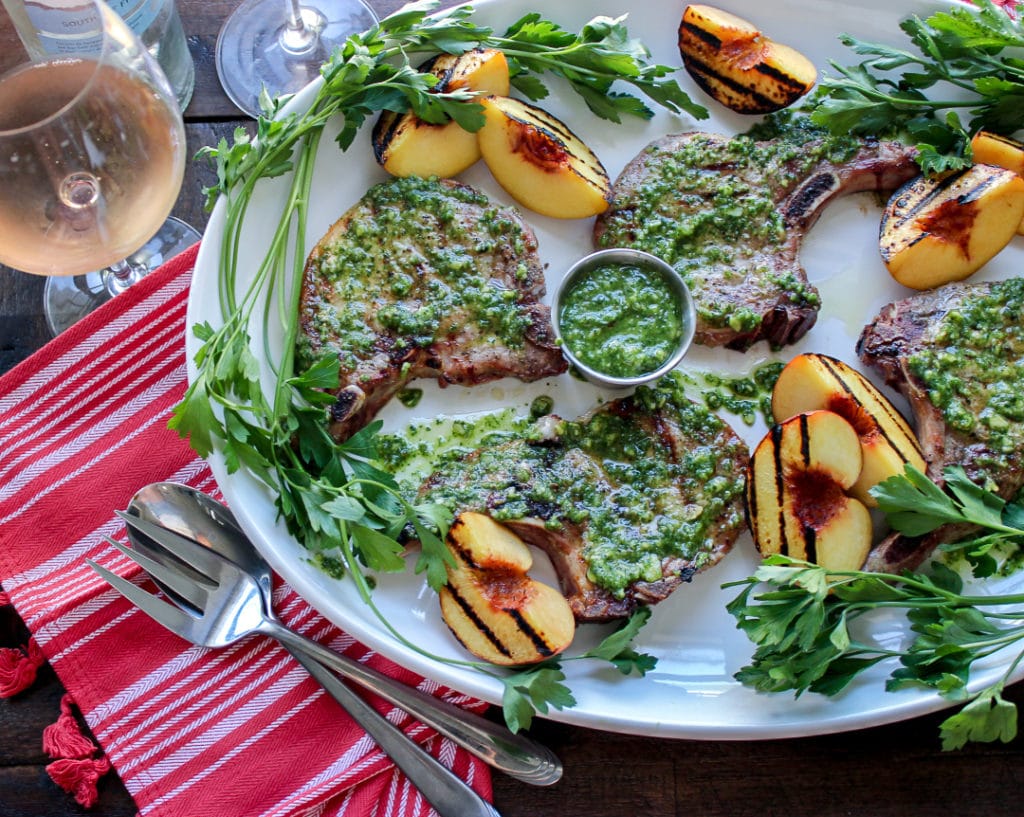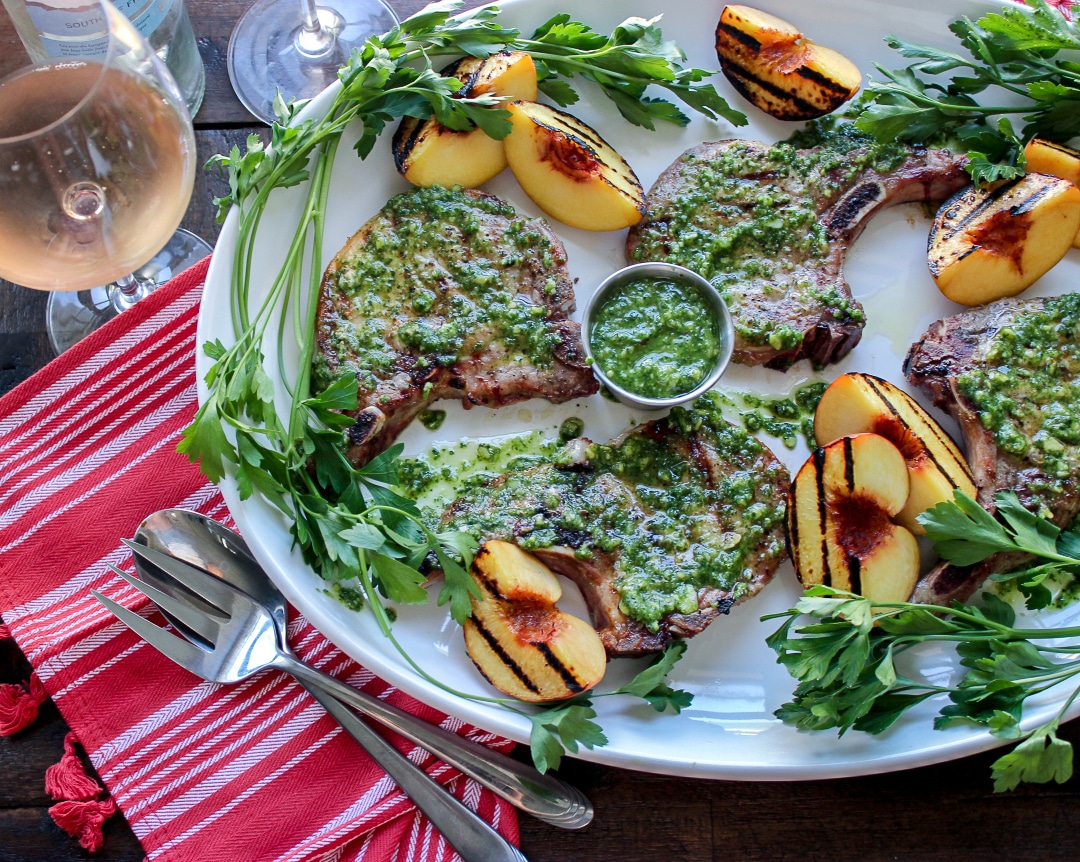 "School" Supplies:
Grill
Tongs
Food Processor
Measuring Cups/ Spoons
Knife & Cutting Board
"Class" Notes:
In order to make the pesto, I highly suggest using a food processor. Remove the kale from the rib of the stalk (this part is too tough and you really don't want to eat it). Pulse the kale and toasted almonds together a few times. Add in the basil, parm, salt, garlic, and pepper. Pulse a bit more to combine then turn it to low and pour the oil in as it blends. Set it aside.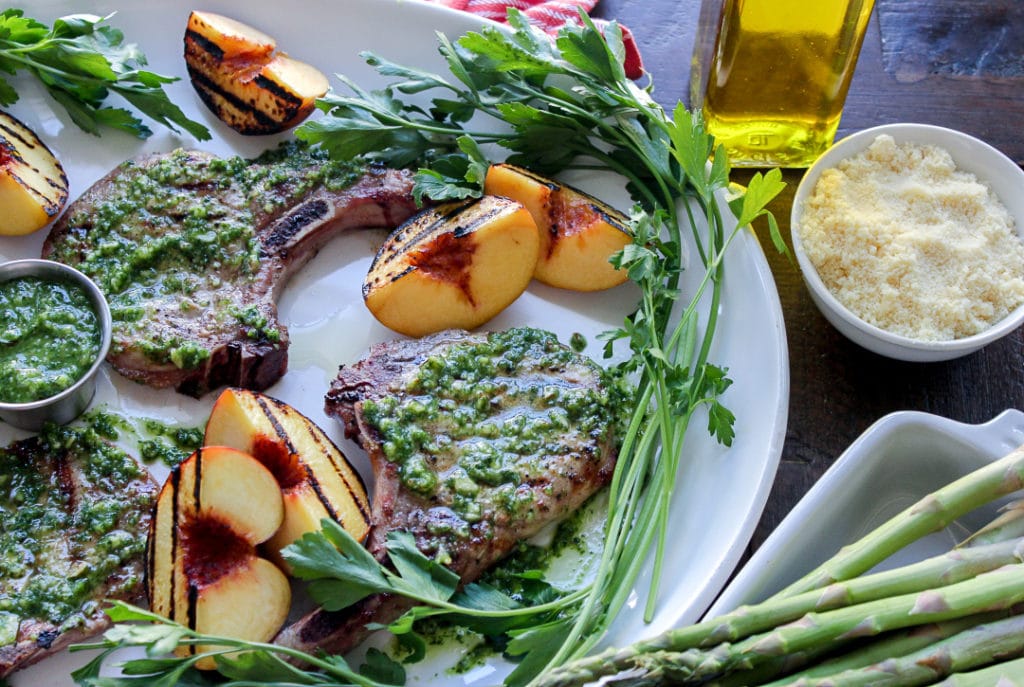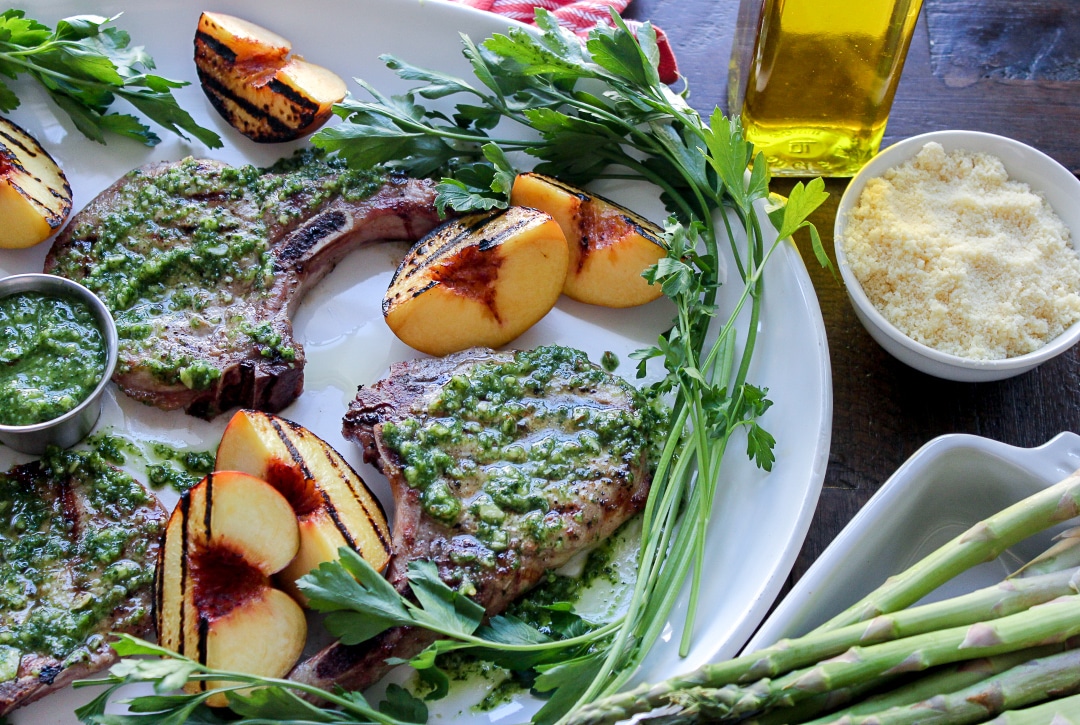 I a medium-high, direct heat to get get a nice char on my pork chops. Prep your grill accordingly. I keep it simple and lightly oil each side of my pork chop and then add sea salt and black pepper. Cook each side 3-4 minutes or so over the flame or until the chop reaches 140 F. Keep an eye on them because they are thin and do cook quickly! Remove from the heat and allow it to rest (it will continue to cook a bit and reach a final resting temp of 145 F.). I grilled a few peaches (grilled fruit is a weakness of mine) and some fresh asparagus as well to complete this meal!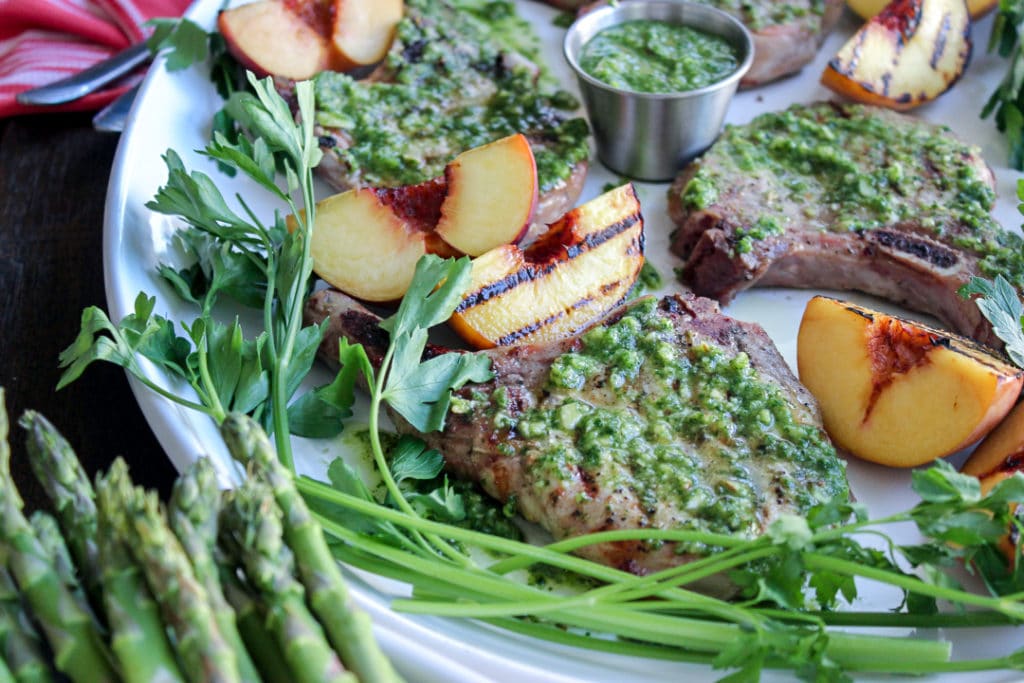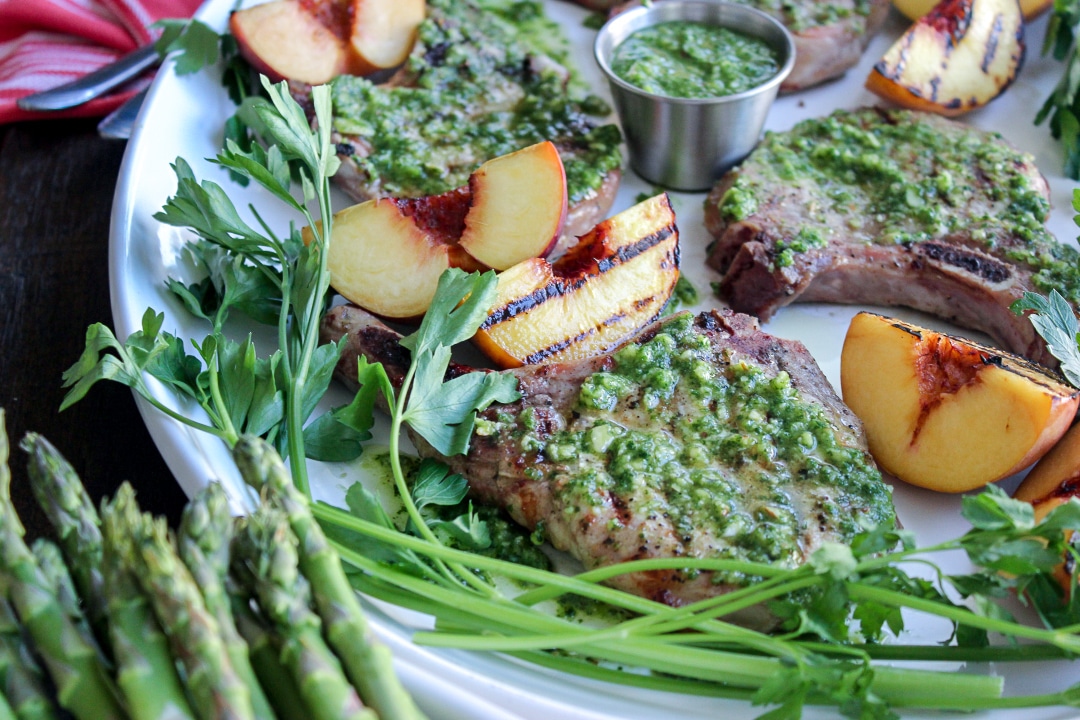 These grilled pork chops would pair beautifully with these Keto Corn Muffins or these Grilled Ratatouille Kebabs. Find the full recipe below!
Bon Appeteach,
-L
Ingredients
4 Bone In Pork Chops

1 1/2 cups Kale

1/4 cup Fresh Basil

1/4 cup Parmesan Cheese

1/4 cup Toasted Slivered Almond

1-2 Cloves, Fresh Garlic

1 tsp Sea Salt

1 tsp Pepper

1/4-1/3 cup Olive Oil
Instructions
1
Preheat your grill to medium-high heat and set the grill up for direct cooking. Lightly oil each side of the pork chop and season with salt and pepper.
2
Remove the kale leaves from the center rib (this part is dense and not the best tasting).
3
In a food processor, pulse the kale, basil, and almonds a few times, Then add in the parmesan cheese, garlic, salt, and pepper. Pulse a few more times.
4
Turn the food processor to low and drizzle in the olive oil until it reaches the desired texture and set aside.
5
Grill the pork chops 3-4 minutes per side. They should get a nice char and reach an internal temperature of 140 F. Set aside to rest (they should reach a resting temp of 145F). Serve each pork chop with a few tbsp. of the kale pesto