Grilled Ratatouille Inspired Kebabs
This recipe is in partnership with Primo Ceramic Grills. All ideas and opinions are my own.
Grilled Ratatouille Inspired Kebabs:
I am spending most of my days out on my patio, drink in one hand and tongs in the other. Firing up the grill is my kinda cooking in the summertime. I know in a few short months I'll be rolling this pretty Primo to the back of the garage and huddling under 16 layers of blankets freezing my patootie off. Me and cold weather are not on the greatest of terms…. But I digress. Grill when you can in my opinion! One of my favorite recipe inspirations lately has been to take classic dishes like a Ratatouille (which normally is made in the oven) and to recreate an easier family friendly summertime version for the grill. So why not make some Grilled Ratatouille Inspired Kebabs? Find the full recipe for this delicious veggie combination below and read on for tips and tricks!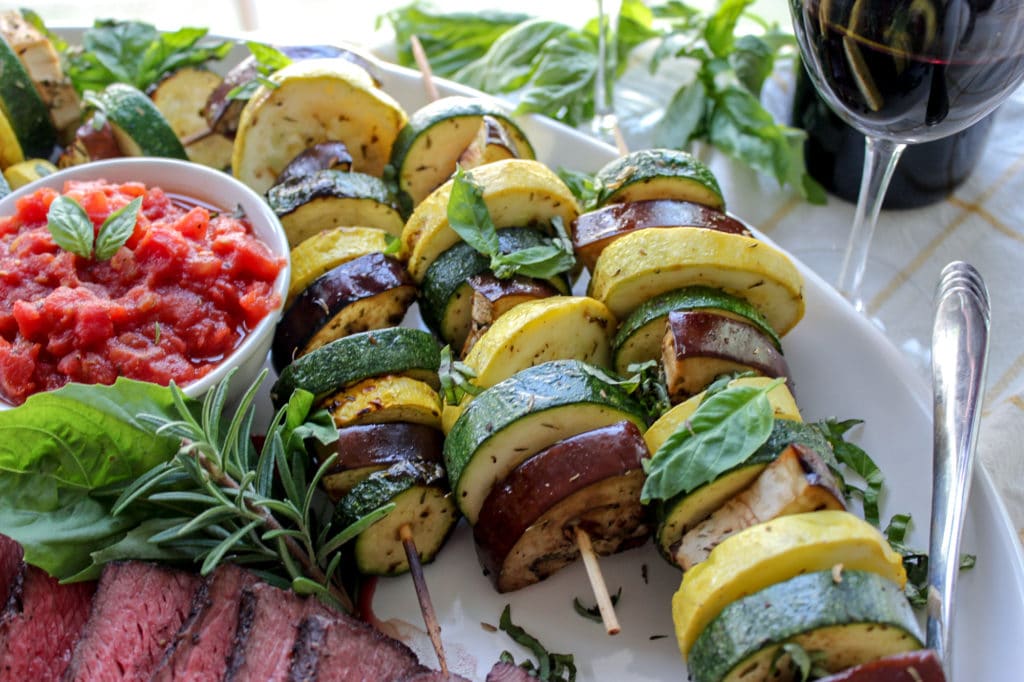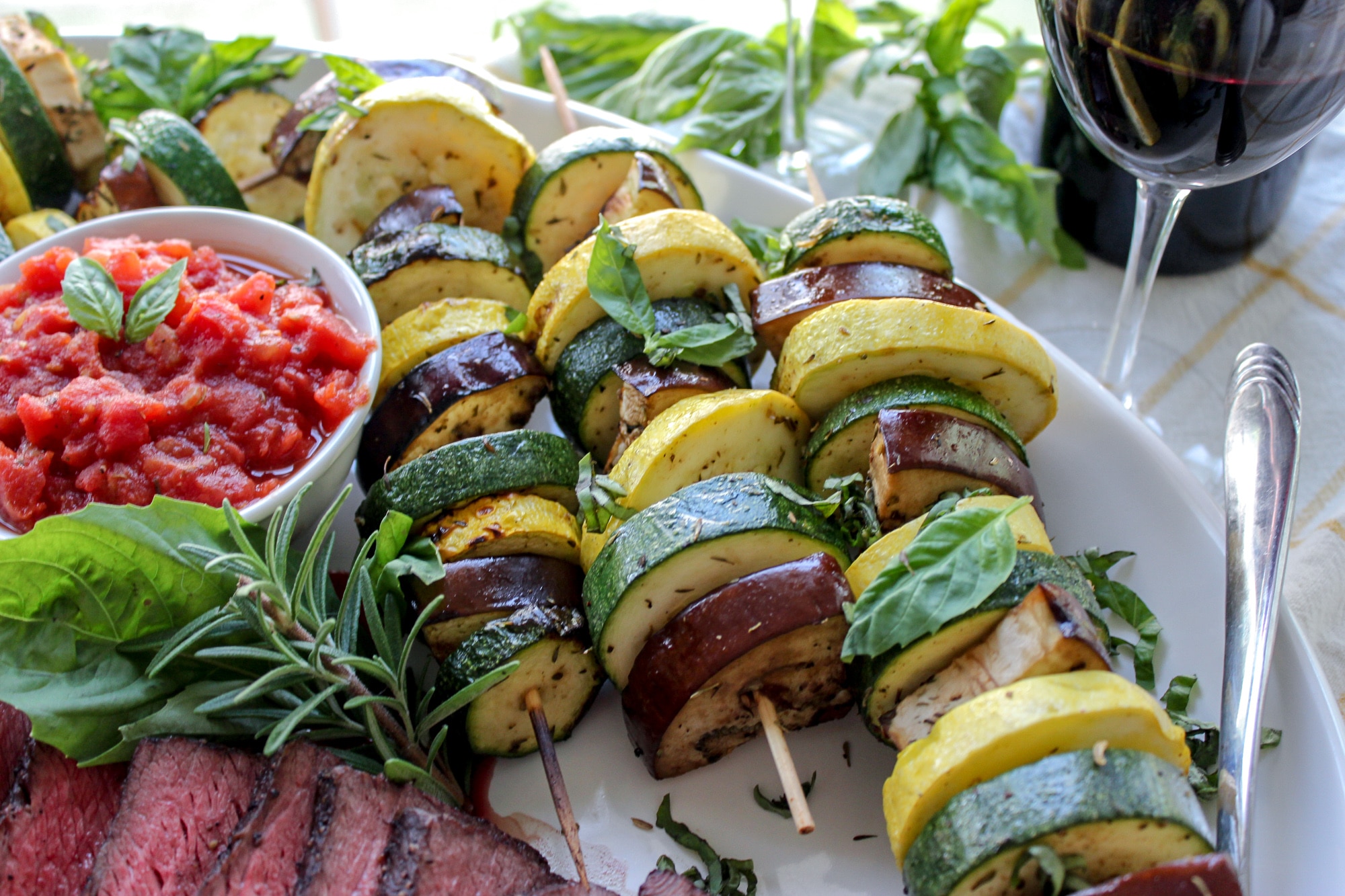 "School" Supplies:
Grill
Tongs
Skewers
Knife & Cutting Board
Mixing Bowl
Whisk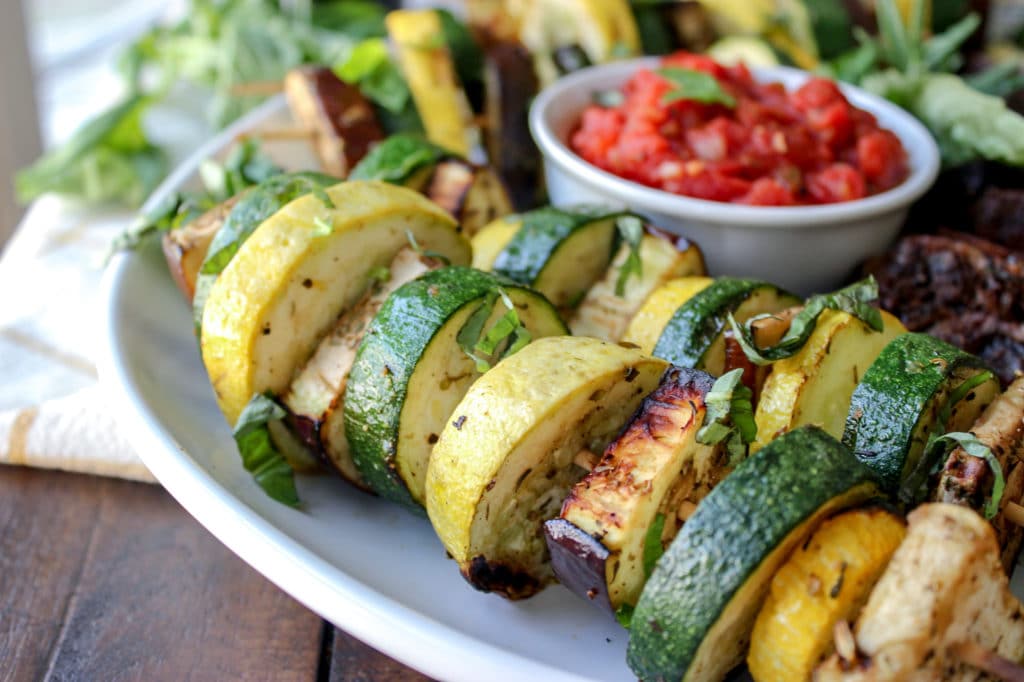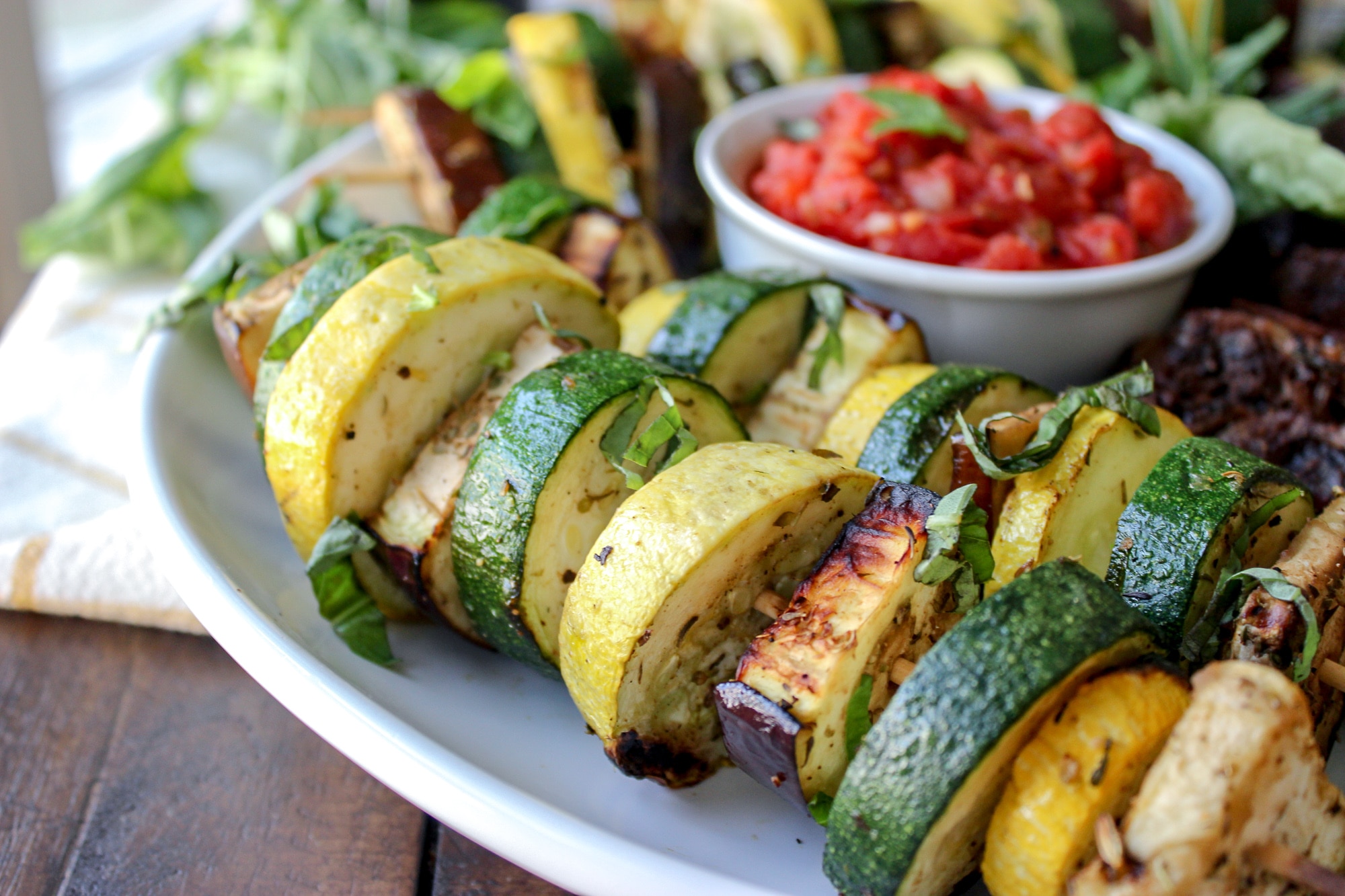 "Class" Notes:
Ratatouille is a classic French dish that is definitely great in the fall and winter months. But let's do a fun inspired version for summer and for the grill (no lovin for the oven when it's 90+ degrees outside). Preheat the grill and soak your wooden skewers to prevent burning. Grab a few zucchini's, a yellow squash, and some eggplant. I sliced them all in similar size and thickness (I quartered the eggplant because it was so large). I tossed mine in a bowl with olive oil, salt, pepper, oregano, thyme, and garlic. Place them on the skewers. The biggest thing about grilling veggies on a skewer is not to over pack them. Cramming them together makes it hard for the heat to cook between them and tends to over cook the outside before they're finished. Give em a little breathing room. Throw them on over direct heat and cook a few minutes. If they turn and spin around, another trick is to use two skewers spaced out to help prevent this. While they grill, I like to take a little tomato puree, add some water and mix away till the sauce is the right thickness. Add some seasonings and microwave till warm (again…no stove here people). Place everything on a platter and sprinkle a heavy helping of fresh basil over the top! These pair perfect with my Slow Cooker Chuck Roast recipe too or my easy Weeknight Roasted Chicken.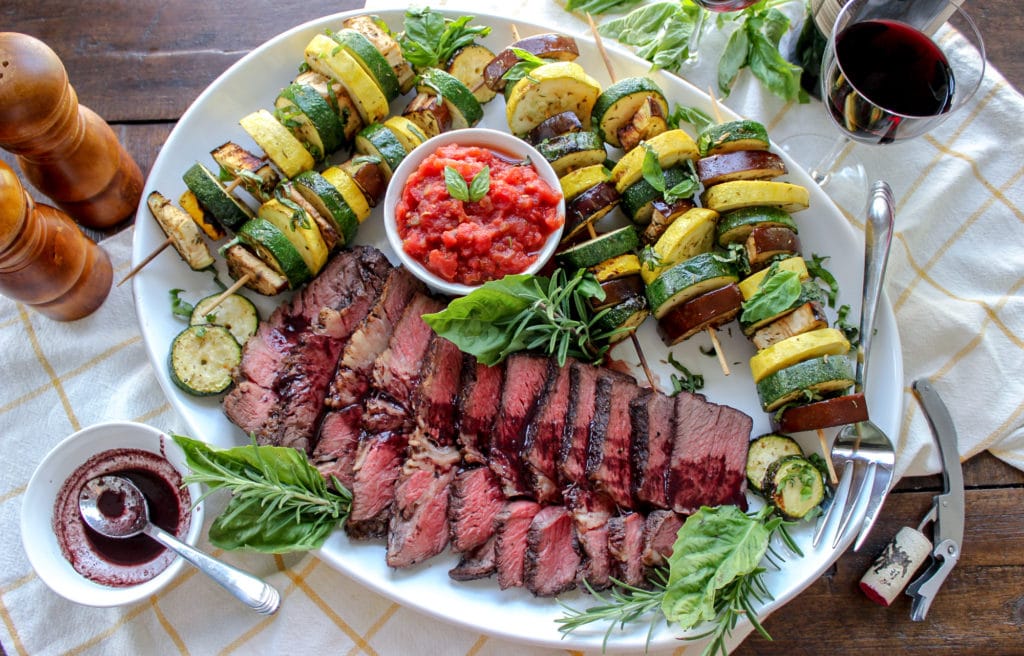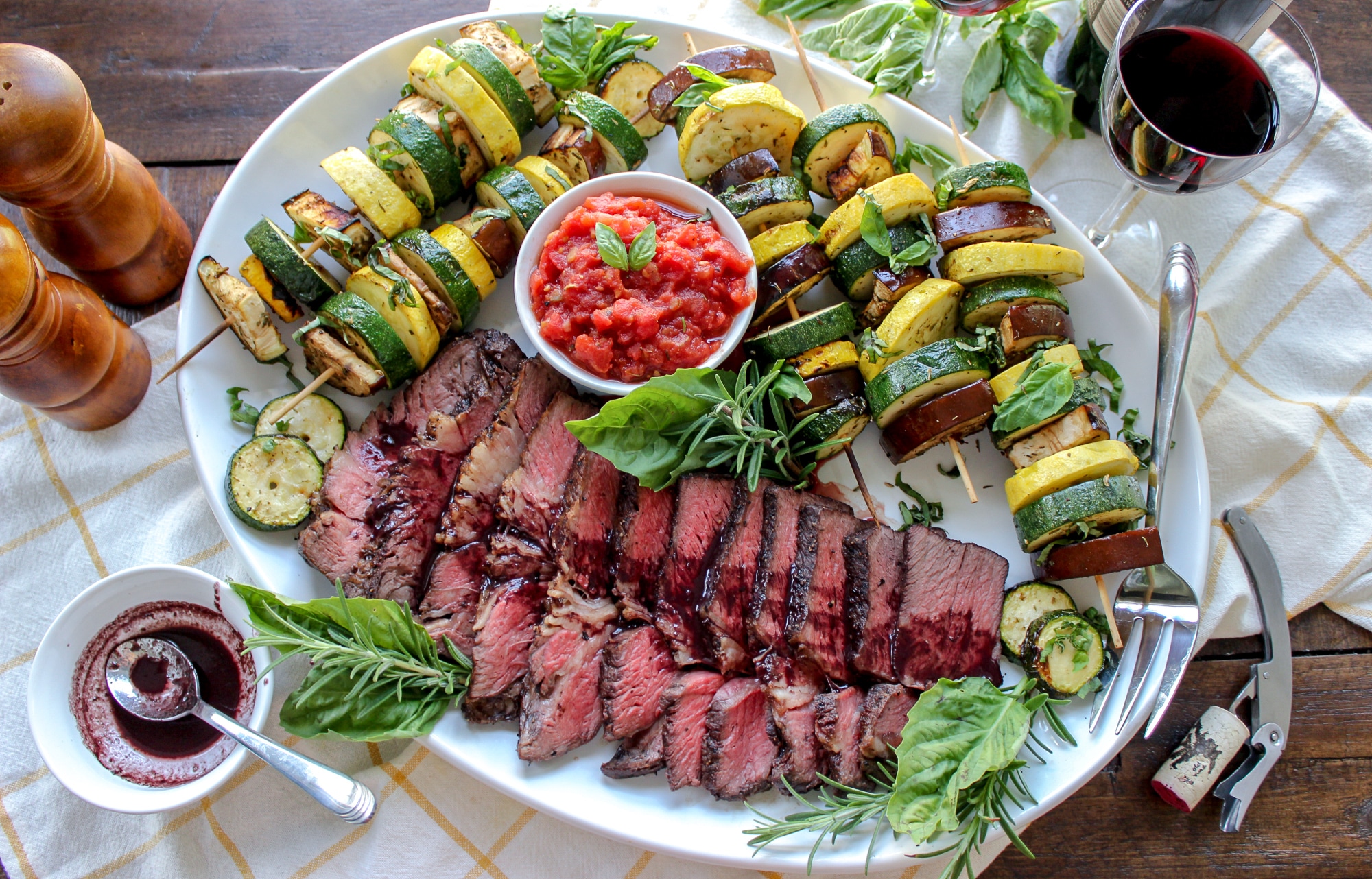 Bon Appeteach,
-L
Ingredients
2 Medium Zucchinis

1 Large Yellow Squash

1 Medium Eggplant

1/4 cup Basil, sliced thin (chiffonade)

1 /2 tsp Dried Thyme

1/2 tsp Dried Oregano

1/4 cup Olive Oil

2 Garlic Cloves, minced

Salt & pepper

6 oz. Tomato Paste

1 tsp. Italian Seasoning

4-6 tbsp. Water (more may need to be added)
Instructions
1
Soak your skewers in water (if using wood).
2
Begin by slicing the squash and zucchini into 1/2" rounds. Depending on the size and width of the eggplant, I have found cutting the eggplant first into rounds and then into quarters fits best on the skewer.
3
Place the sliced veggies into a bowl and mix with the olive oil, dried thyme, dried oregano, garlic, salt, and pepper.
4
If you decide to let these marinade, place in the fridge in a ziplock bag for at least an hour.
5
Skewer the vegetables alternating and leaving a gap between each one. This allows for heat to penetrate between the rounds and cooks more evenly.
6
In a mixing bowl, add the tomato paste and add about 4-6 tbsp. of water and the Italian seasoning mixture. Whisk until smooth. If mixture is thick, continue to add one tablespoon at a time till you reach the desired thickness. Microwave for 30 seconds and stir, repeat if needed till warmed through.
7
Heat the grill to a medium heat and prepare it for direct cooking.
8
Place the skewers over direct heat and grill about 5-7 minutes per side. They should have a light char/caramelization and be tender.
9
Remove from heat and place on a platter with the sauce. Sprinkle with the thinly sliced chiffonade basil and serve.