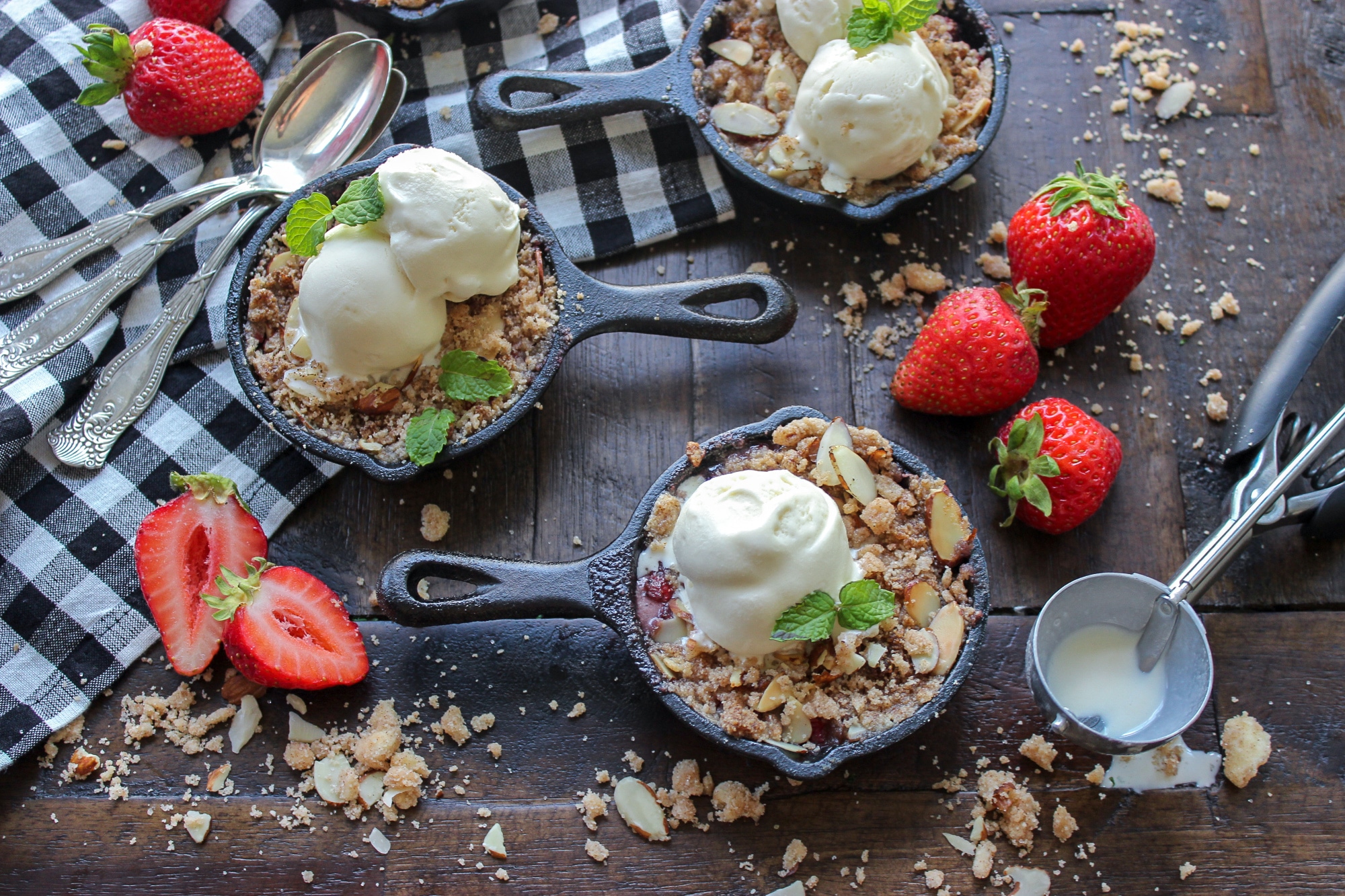 Bon Appeteach is a participant in the Amazon Services LLC Associates Program, an affiliate advertising program designed to provide a means for sites to earn advertising fees by advertising and linking to amazon.com. I only share products that I use and stand behind personally.
One of my favorite culinary labs I always did with my Culinary I students during the fall, was Apple Crisp. It was a great lab for students who were just starting out, because it was fairly simple, made a lot of food (which they always liked), and helped focus on knife skills and following basic directions.
As we embark on the pre-fall season, I cannot help but think of this delicious crisp. The memory alone of how delicious my classroom would smell during this lab makes my mouth water.
This recipe (and this time of year) has inspired me to come up with a keto and gluten-free friendly dish that had a similar appeal but was just as easy (if not easier).
Swap out the apples for your favorite seasonal berries (I used strawberries), make the crispy crumble topping, bake, and top it all off with your favorite (optional… but not really) low-carb ice cream. It's heavenly and sinful all in one bite.
Find the full recipe for Easy Keto Berry Crisp below and read on for tips, tricks, and pretty pictures.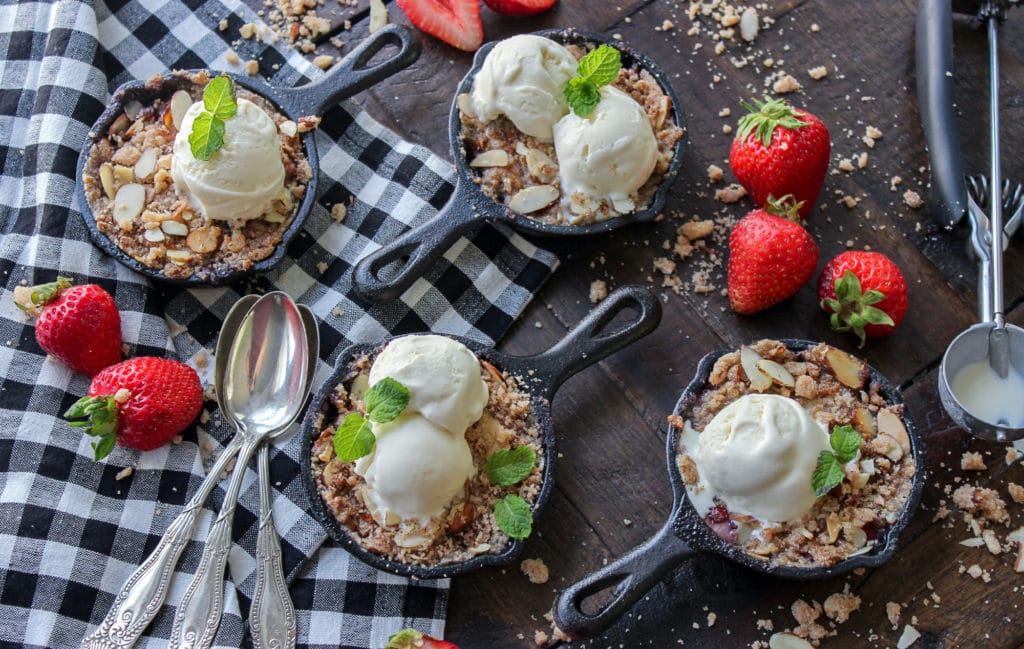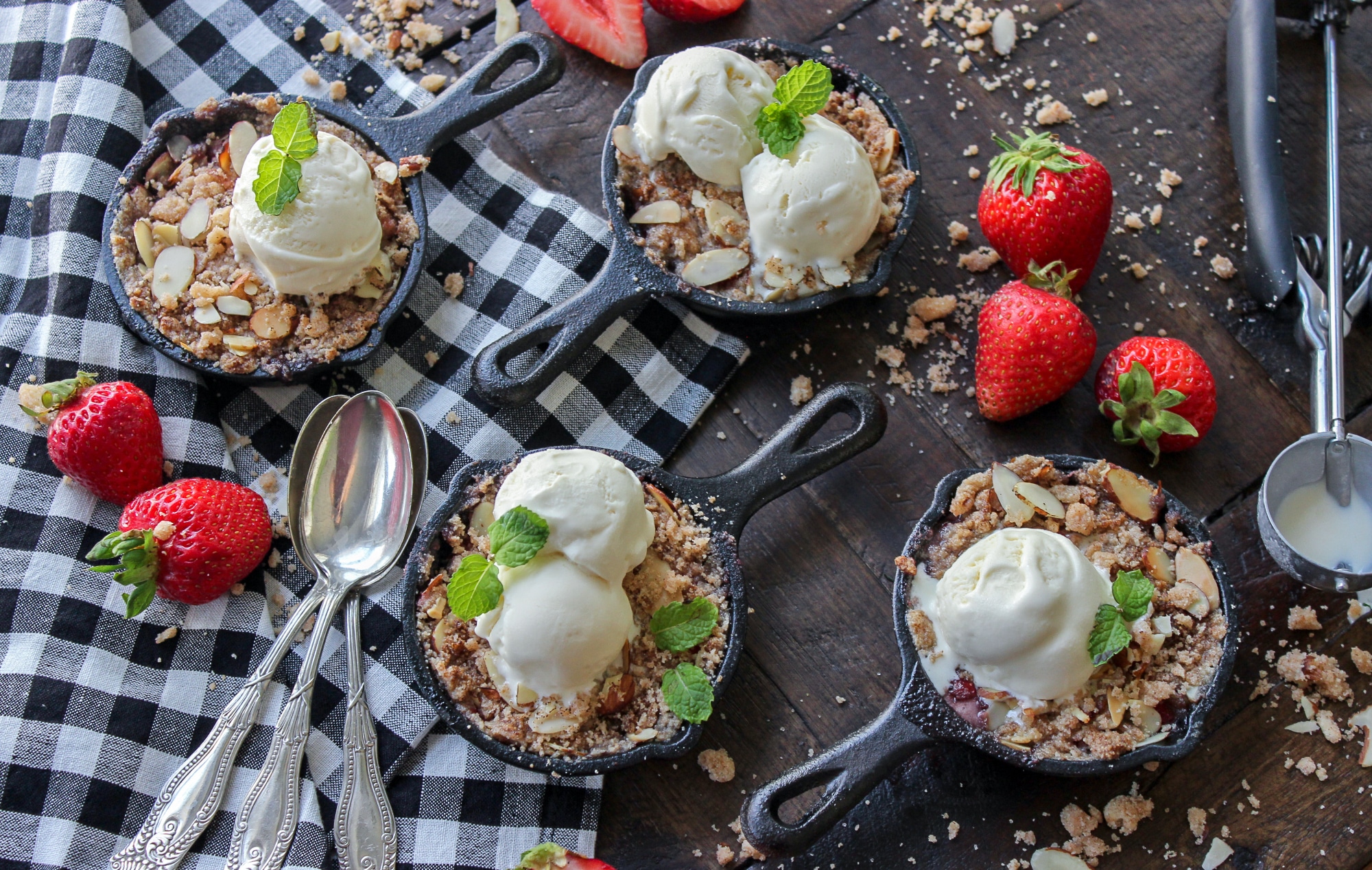 "School" Supplies:
Lodge 3.5″ Skillet or Small Ramekin (can also use a smaller casserole dish and make one large version)
Knife & Cutting Board
Measuring Cups/ Spoons
Mixing Bowl
Pastry Blender
"Class" Notes:
What I like about using berries in place of the classic apples for this dish is that there is no cooking needed prior to baking. I simply slice up a few strawberries and place the cut pieces into my mini Lodge skillets. I used about two medium sized berries or three small berries to fill each. This doesn't seem like a lot, but it is filling especially when the topping is added.
The topping takes about 5 minutes or so to throw together. In a bowl, I diced up small pieces of very cold butter. Next, add the almond flour, baking powder, low-carb sweetener (I prefer this Lakanto Monkfruit), and a little bit of cinnamon.
Use a pastry blender or fork to crumble the mixture. It should resemble cornmeal when you are finished. Finally, stir in a few sliced almonds.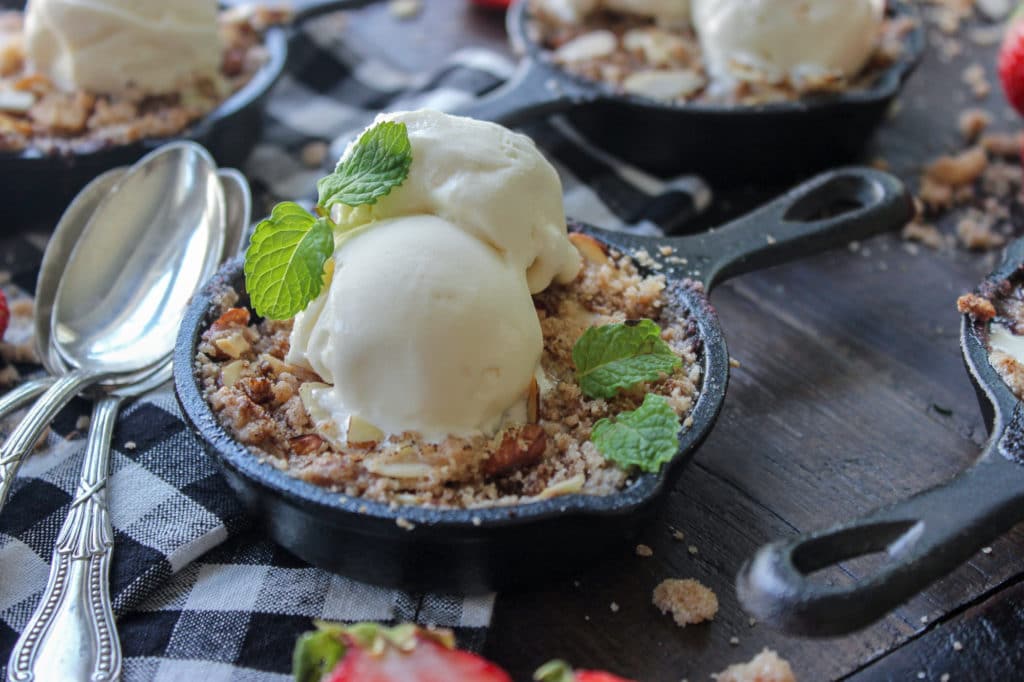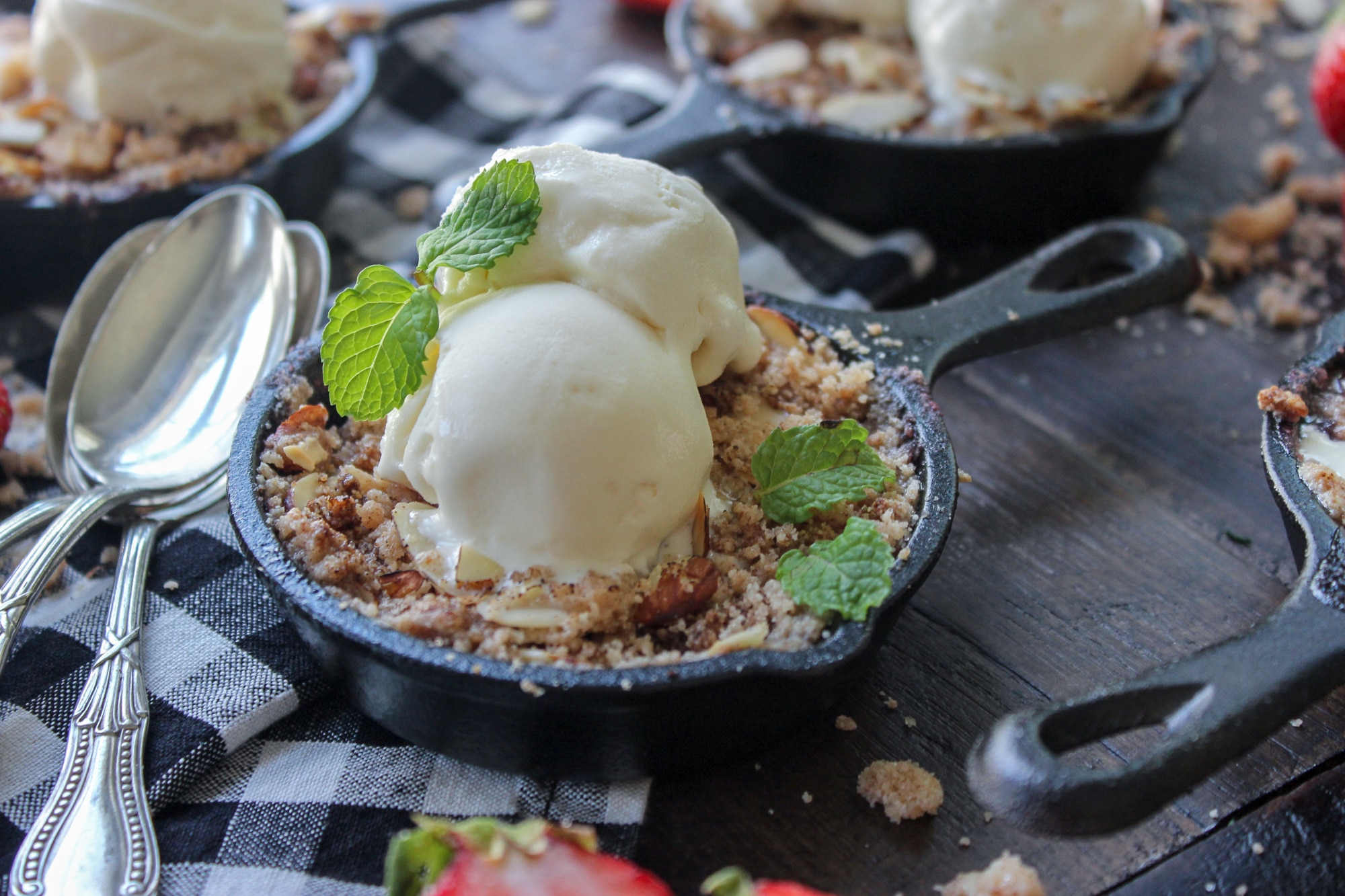 Assembly is easy, but you have a few options. I prefer the personal sized portions in the Lodge skillets (this helps me not eat 6 at a time) and the faster baking time that comes with it.
If you don't have this as an option you could also use an oven safe ramekin, or make one larger batch and use a pie plate or other oven safe dish.
Place the diced strawberries into each mini skillet, cover with the topping, and add a few extra sliced almonds to the top. I place all the skillets onto a parchment covered baking sheet to help prevent any spillage and to make it easier to get in and out of the oven.
Bake until the strawberry filling is bubbly, and the topping begins to brown slightly. It won't look as dark as a regular flour/sugar based crisp topping, so keep that in mind. Top with a little scoop of your favorite low carb ice cream and dive in!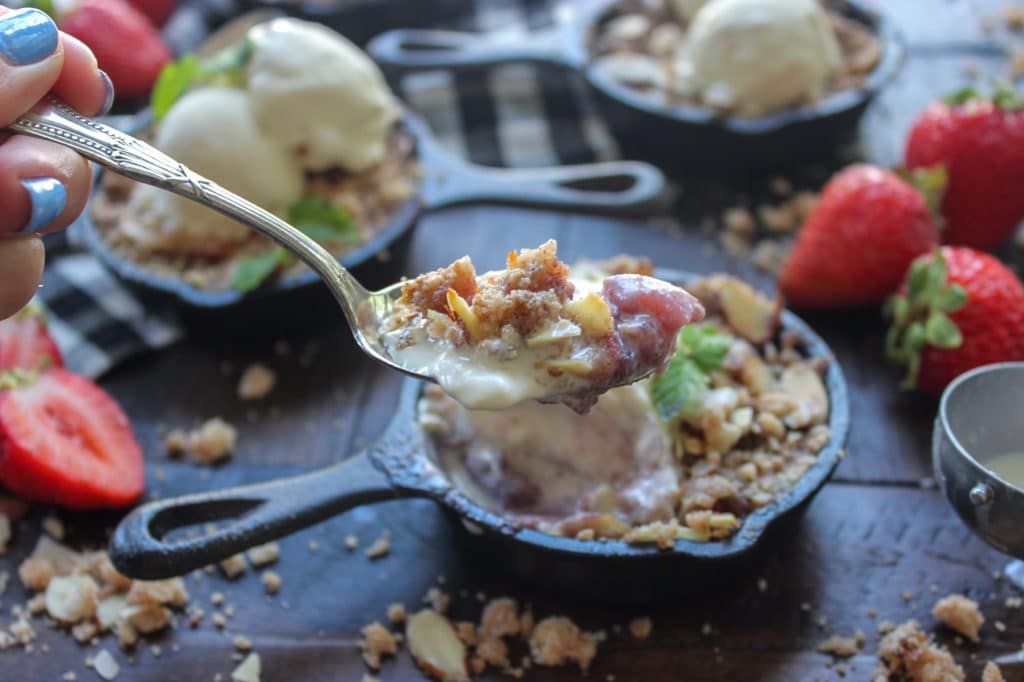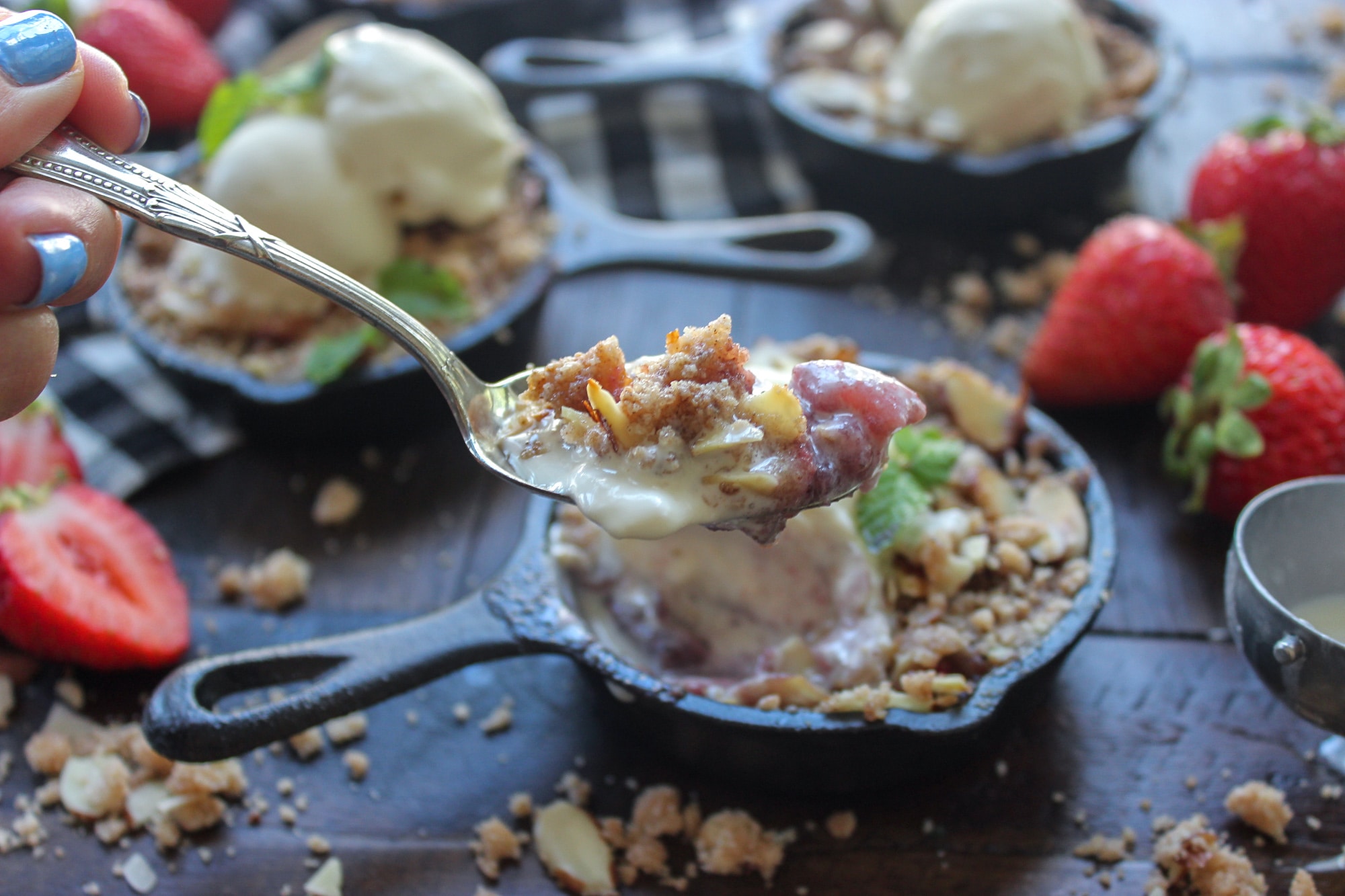 This is so so easy, tastes amazing, and can even be scaled down to make a single serving if have that craving for something sweet!
Swap out the strawberries I used with any other berry or even use mixed berries. Just make sure to adjust the macros accordingly if you track for a low carb diet!
I hope you all love this fun treat inspired by my classroom recipes! Want more berry-inspired treats? Try these amazing Keto Blueberry Muffins or this incredible Keto Sugar Cookie Fruit Pizza!
Ingredients
8 Strawberries, diced

1/4 cup Butter, diced into pieces

1/2 cup Almond Flour

1 tsp. Baking Powder

1/2 tsp Cinnamon

2 tbsp. Sliced Almonds

2 tbsp. Monk Fruit Sweetener (or other low carb sweetener of choice)
Instructions
1
Preheat your oven to 400 degrees F. If using smaller skillets or ramekins you make also want to use a baking sheet to help you remove the skillets from the oven and to prevent any spillage. I cover a baking sheet with foil or parchment paper and set it aside.
2
I quarter each strawberry and place two strawberries in each 3.5" sized ramekins. This may vary depending on the size of the berry and the size of your ramekin. The berries I used were of a medium size (3 smaller berries may need to be used).
3
In a bowl, combine the cold, diced butter with the almond flour, baking powder, cinnamon, and low carb sweetener (the link I use to the Monk Fruit Sweetener is listed above).
4
Use a pastry blender or fork to create the crumble topping. Crumble the mixture until it is semi-fine and resembles corn meal. Stir in the sliced almonds (reserve a few if you want to add a little bit to the top at the end for garnish).
5
Place on the baking sheet or straight into the oven. Bake until lightly golden brown (these won't get too brown because there is no real sugar in it to help with caramelization). I suggest baking it for about 6-7 minutes and checking it. The top should start to get a little crispy and the filling should bubble.
6
Turn the oven to broil and let it brown the top slightly for a minute or so. Be sure to watch it so it doesn't burn!
7
Remove from the oven and set aside to cool slightly. Serve as is, with fresh whipped cream, or with a scoop of vanilla low carb ice cream!