Easy to make, easy to bake! These keto friendly, low carb egg rolls are the perfect replacement for those Chinese take out cravings!
Baked Keto Egg Rolls:
Friday night (and the weekends in general) have often been my take out nights. Take out on a keto or low carb diet often seems daunting, if not impossible.
It's not, it's just a lot trickier.
Sure, you can go the bunless burger route or the chicken curry (hold the rice) route. But sometimes, I just get that crazy craving for crab rangoon, a crispy crunchy egg roll and some stir fry or pad thai!
My egg roll cravings have been off the charts the last few weeks. I had to do something about this otherwise it was going to get ugly. By ugly, I mean you might find me face first in a carton of egg rolls. Egg roll in a bowl just wasn't quite cutting it either.
Luckily, I have this miracle dough that I have made Keto Tortillas with, Hot Pockets, Pizza and even desserts (like these Chocolate Peanut Butter Tarts)!
It's very versatile and easy to tweak to fit different types of recipes. I hope you enjoy these Baked Keto Egg Rolls as much as I have. Find the full recipe below and read on for additional tips and tricks.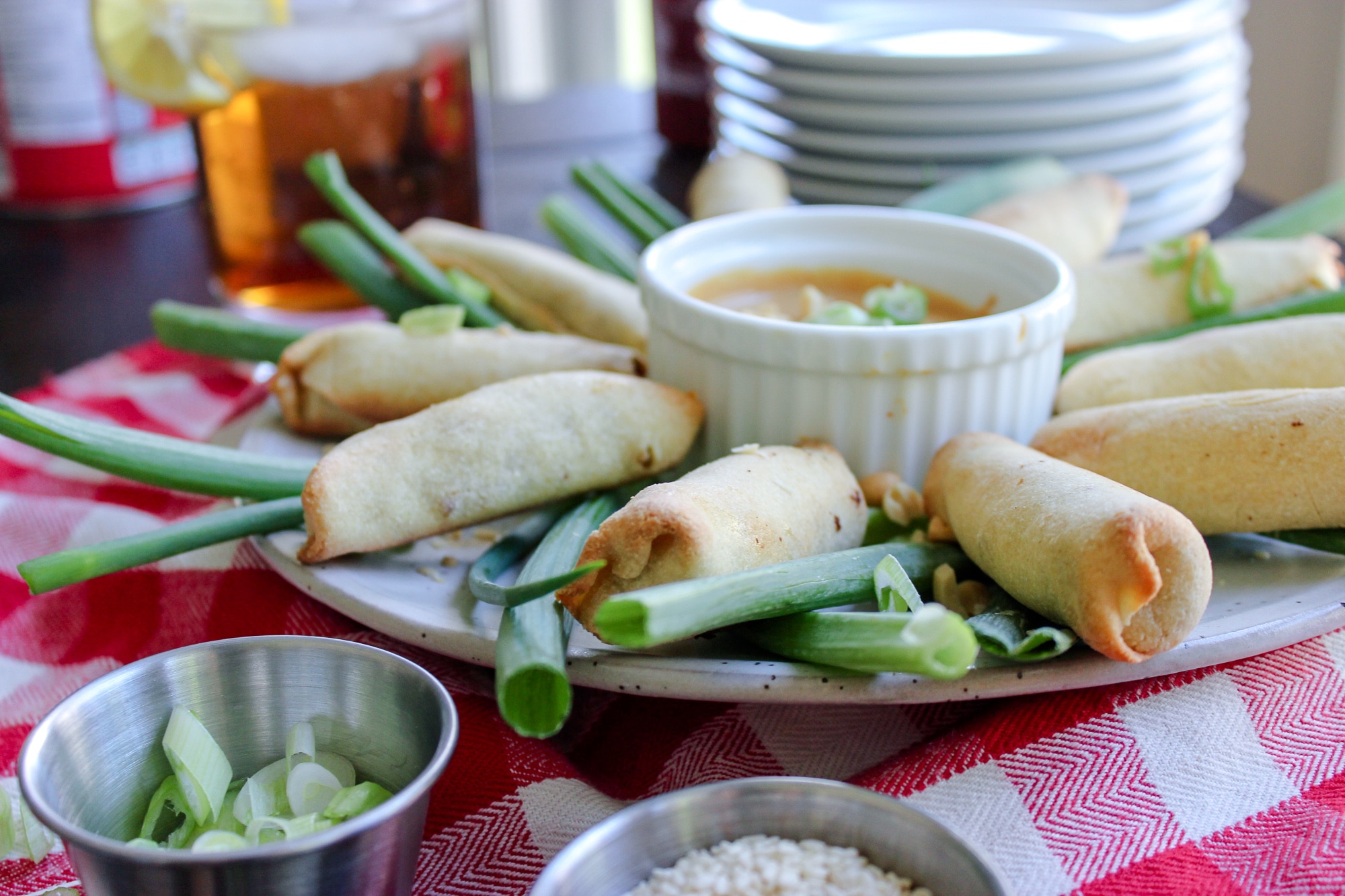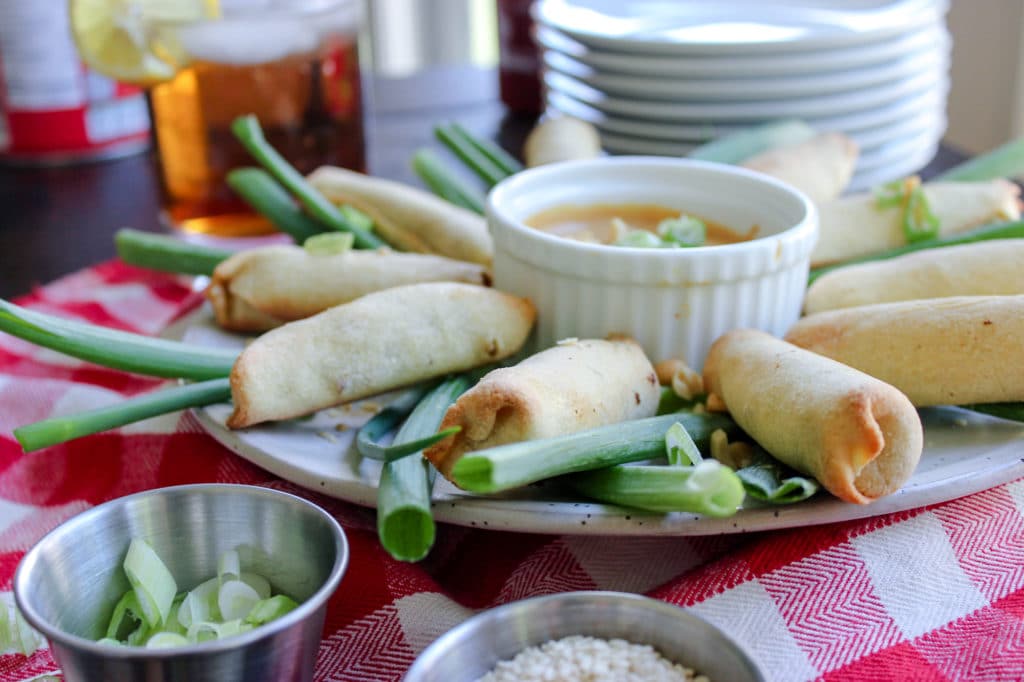 "School" Supplies:
Food Processor
Baking Sheet
Parchment Paper
Rolling Pin
3″ Cookie Cutter
Frying Pan
Spatula
Knife/ Cutting Board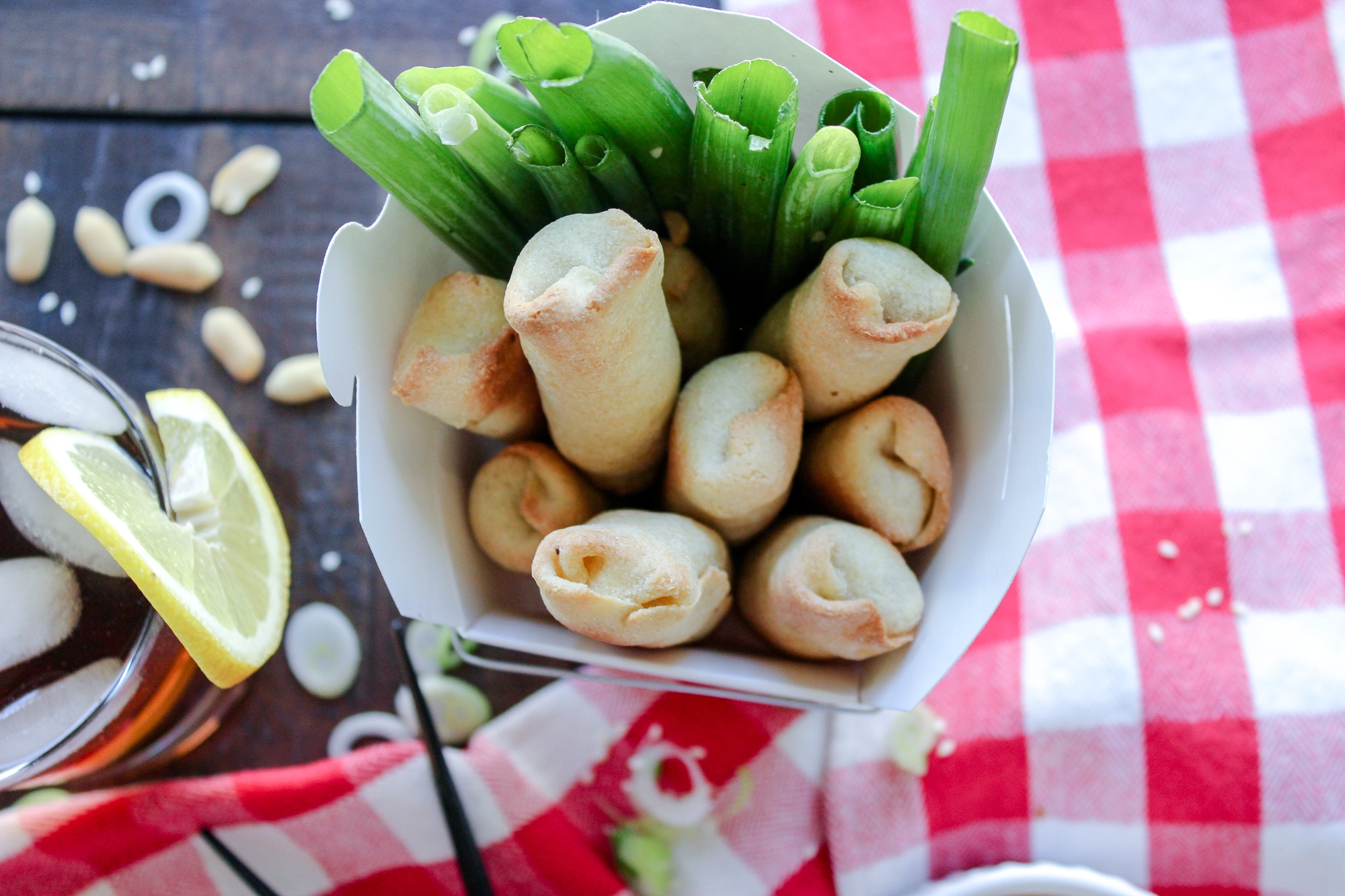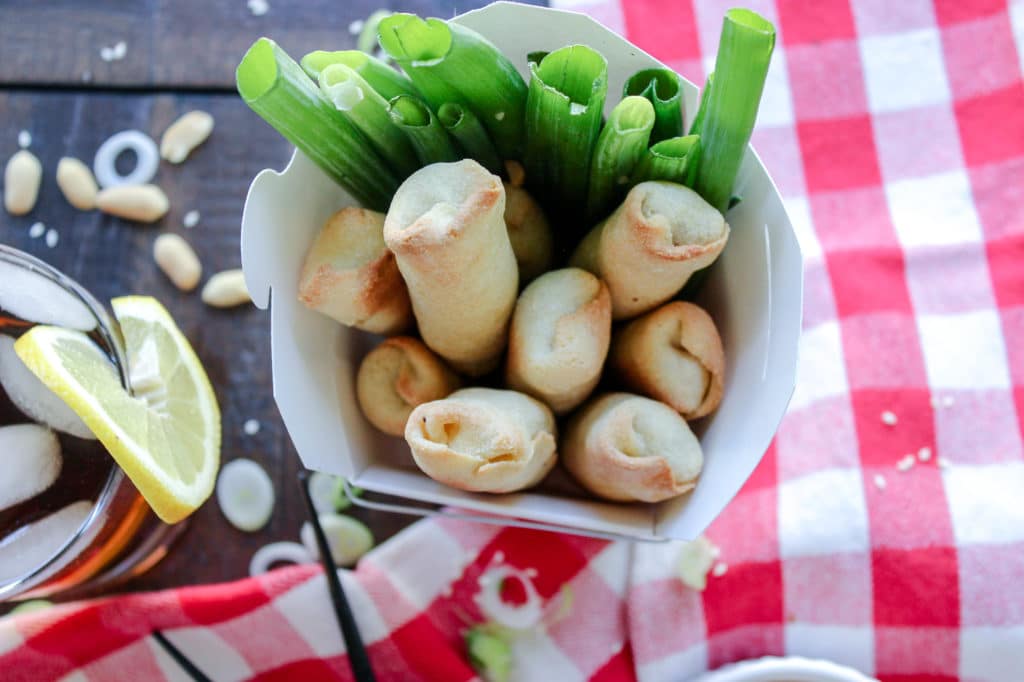 "Class" Notes:
Keto Egg Roll "Wrappers":
I've mentioned how I make this dough a few times by now. Everything gets added to the food processor and pulsed until it comes together. So Easy!
Place the dough out onto tsome parchment paper, this prevents it from sticking. I roll out the dough between two pieces of parchment paper, cut out circles with a biscuit cutter, and then slightly re-roll each one to help make it easier for the filling to fit.
UPDATE: I recently discovered the wonders of a tortilla press. I got this one on Amazon and love it. Simply divide the dough, press between two pieces of parchment or plastic, and tada! keto egg roll wrappers!
Egg Roll Filling:
The number one trick to making any egg roll (keto or regular) is to NEVER overfill them. Large egg rolls are soggy, mushy, and in my opinion, unappetizing. I like my egg rolls to be a little smaller so they stay crunchy and crispy.
So, let's talk filling.
Filling options vary. To keep this simple I like to use a bag of cabbage coleslaw mix, add in some fresh ginger, scallions, and any protein (ground pork, chicken, turkey, or even shrimp).
Everything is sauted in a little bit of sesame oil and some coconut aminos (or sub with soy sauce). Now, my favorite little add in is a small bit of peanut butter, this is optional but it was something my Grandma did (don't worry there is no hour long story to read about this haha). I just like the flavor and how it helps everything stick together a bit!
Let the filling cool completely before adding to your "egg roll wrappers".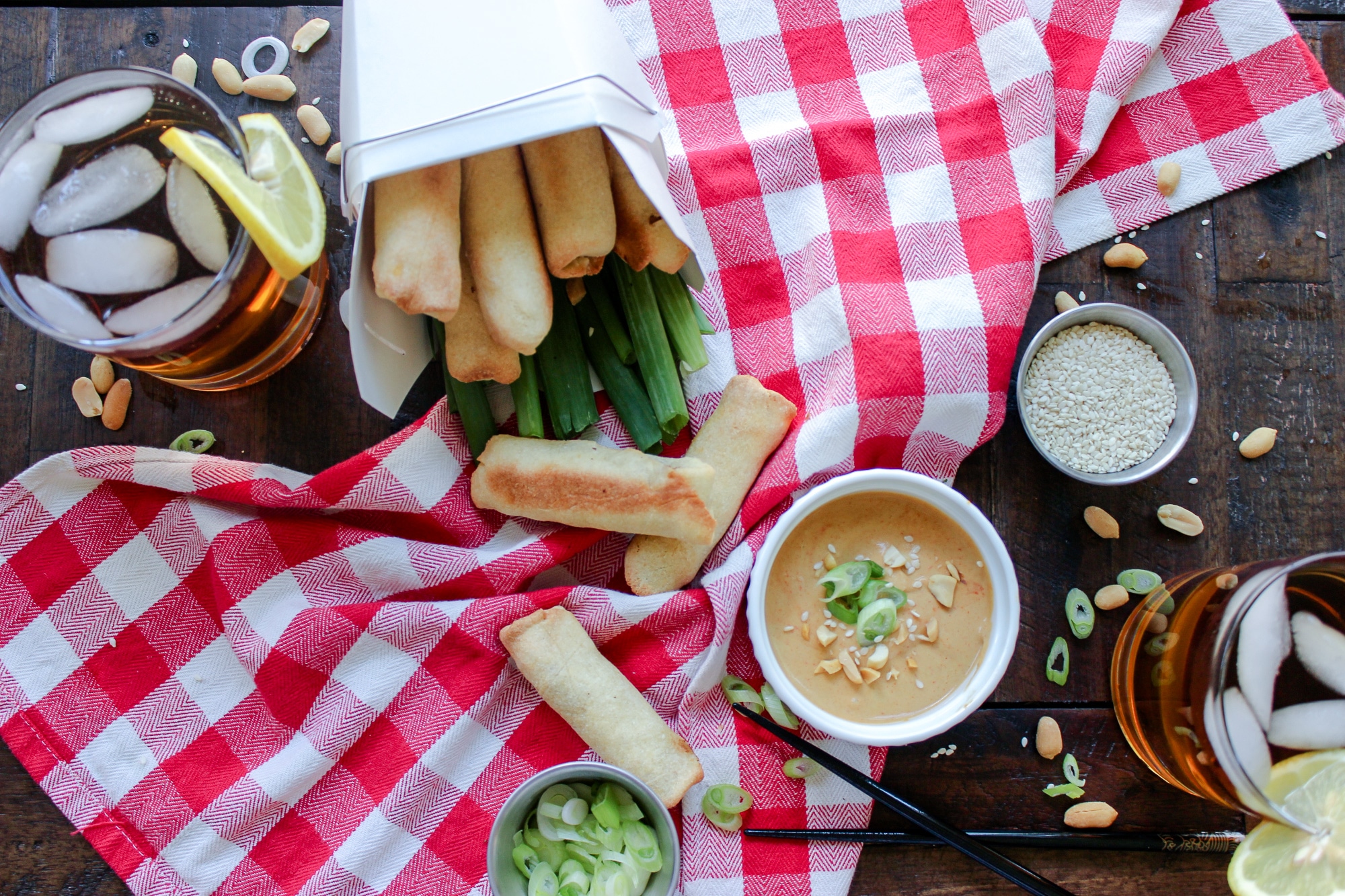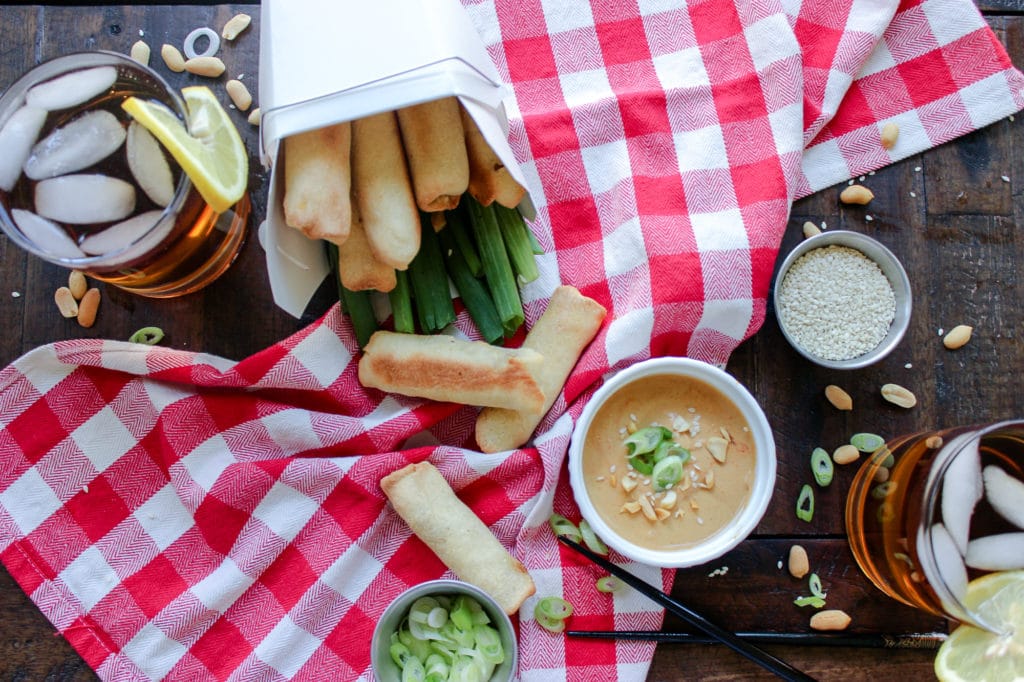 How To Roll Your Egg Roll:
Take each rolled out piece of dough and brush with a little bit of egg wash on one end. On the opposite side, place about a tablespoon of the filling horizontally across the dough. Start rolling like you would a burrito (albeit a tiny burrito), tuck in the sides, and place it seam side down.
Repeat this step on all 12 egg rolls. Brush each egg roll with a little bit of olive oil. Place on a baking sheet and bake at 425 degrees F.
I bake them until they get nice and crispy. While they bake, you gotta (just gotta) create the perfect spicy mustard dipping sauce. I take dijon mustard and some sriracha and mix and voila. Spicy mustard!
These are best right out of the oven, but will reheat best in the oven on a lower temperature.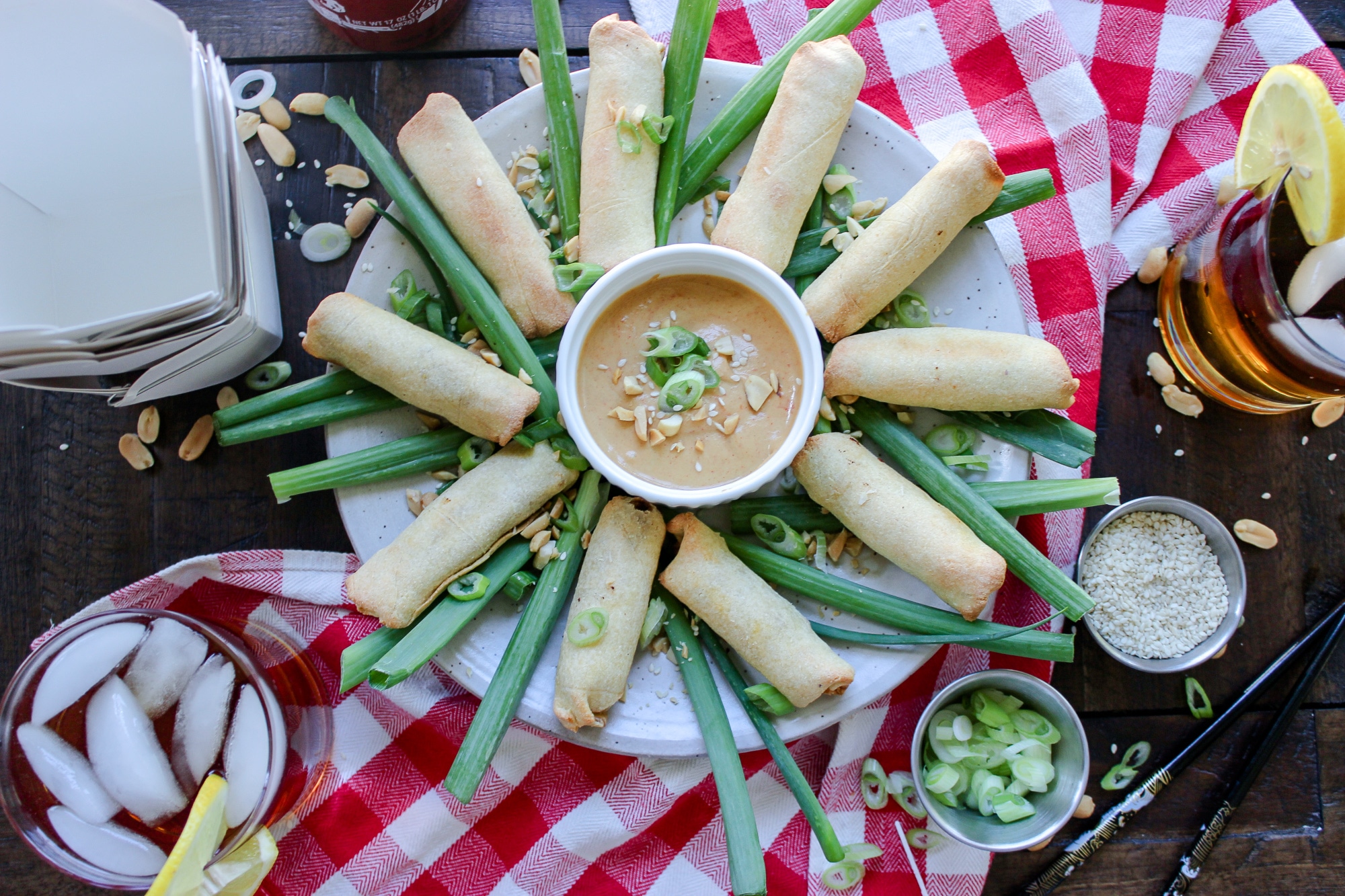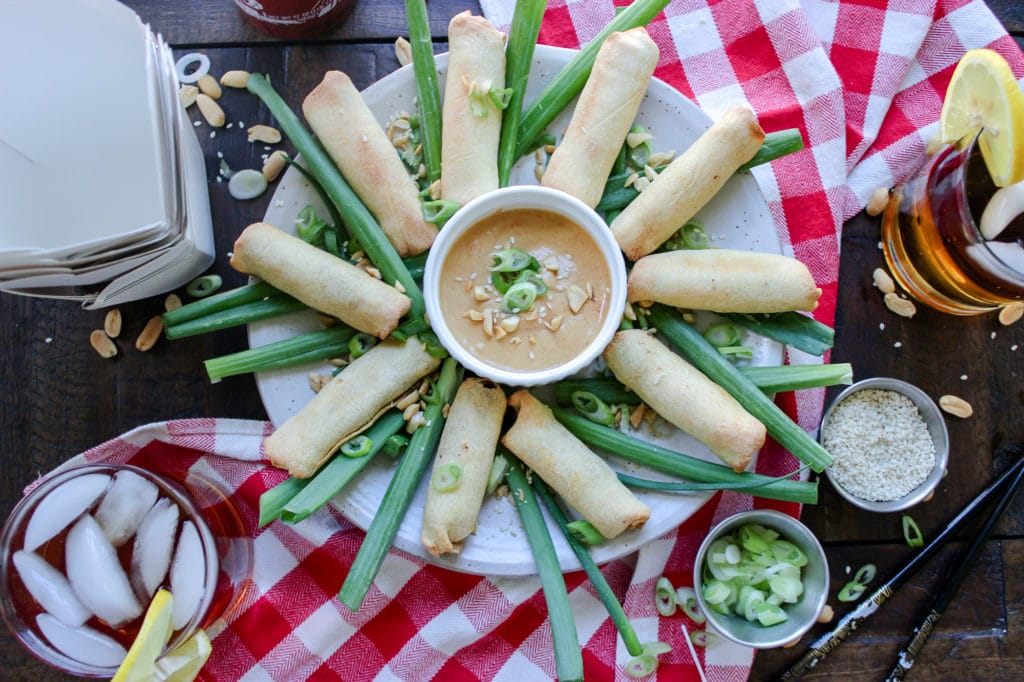 I hope you love these crispy Baked Keto Egg Rolls as much as me! Crab rangoon next? I think so….
If you loved this recipe make sure you check out how I made these Keto Tortillas too!
Bon Appeteach,
-L
Yield: 12
Baked Keto Egg Rolls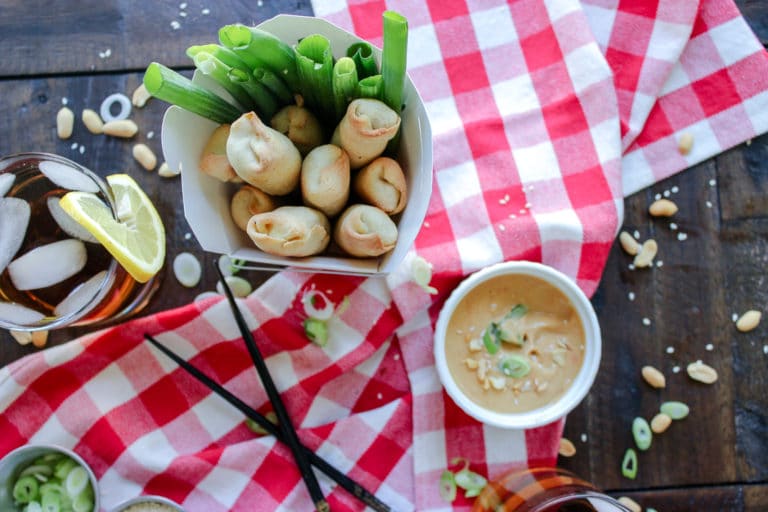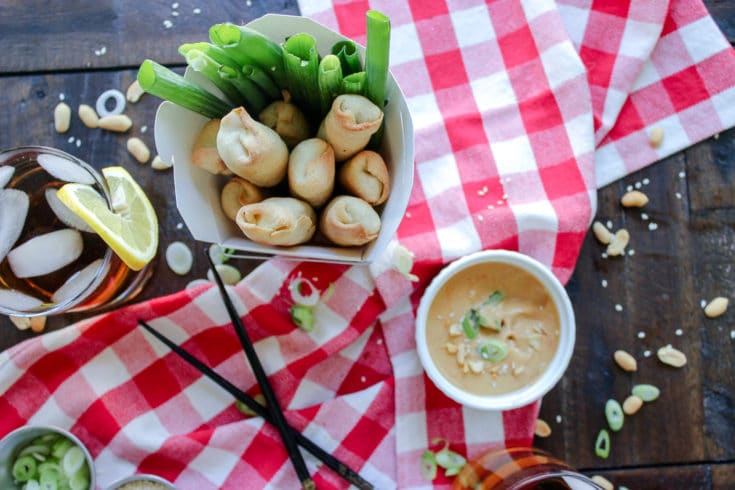 Easy to make, easy to bake! These keto friendly, low carb egg rolls are the perfect replacement for those Chinese take out cravings! 
Ingredients
Egg Roll Wrapper:
1 1/4 cups Almond Flour
1 1/2 tsp Xanthan Gum
1 tsp. Psyllium Husk Powder
1/2 tsp Salt
1 Egg
2 Tbsp. Water
1 Egg, beaten (for the egg wash)
Egg Roll Filling:
1 tsp. Sesame Oil
1 Tbsp Coconut Aminos
1 cup Cabbage Mix
1/2 cup Ground Meat (Pork, Chicken, Turkey)
1/4 tsp Fresh Ginger, minced
1 Garlic Clove, minced
1 Green Onion, diced
1 tsp. Peanut Butter
Olive Oil (for brushing over the egg rolls)
Sauce:
1/2 cup Dijon Mustard
2 Tbsp. Sriracha
Instructions
Preheat the oven to 425 degrees F. Prep a baking sheet with parchment paper and set it aside.
In a food processor, combine the almond flour, xanthan gum, psyllium husk powder, and salt. Pulse a few times. Add the 1 egg and the water. Pulse until the mixture forms a solid dough ball.
Remove the dough from the food processor and shape into a round ball. Place the dough ball in the center of a piece of parchment paper and gently press down to flatten it slightly. Place a second piece of parchment paper over the dough ball to make it easier to roll out (prevents the dough from sticking).
Use a 3" cookie cutter to cut out circles into the dough. You should be able to get 12 circles.
In a saute pan, cook the ground meat of your choice (I like chicken), then remove and set it aside.
Heat the pan to medium/high heat and add the sesame oil. Add the vegetables and do a flash fry. Add the ground meat back in and mix in the coconut aminos and peanut butter.
Remove the mixture from the heat and allow it to cool.
Take each circle of dough, and roll each one out between the parchment to make them slightly larger and slightly thinner if necessary. Each wrapper should be about 1/8th of an inch thick.
Place one tbsp of the filling at one end of the circle. DO NOT OVERFILL! Brush the top edge with egg wash (this helps seal the dough).
Roll the dough over the filling tightly, then tuck in the sides (like a burrito) and continue rolling. Set it aside (seam side down) and repeat.
Brush each of the rolled egg rolls with a little olive oil. Place it on the parchment paper and bake for 10-12 minutes (until crispy).
While they are baking, combine the dijon mustard with the sriracha. Adjust to your preference.
Serve the egg rolls hot! If you store them, reheat them in a preheated oven until they crisp back up!
Notes
I don't have an air fryer but I bet these would work wonders using this method!
Nutrition Information:
Yield:
12
Serving Size:
1
Amount Per Serving:
Calories:

115
Total Fat:

9gg
Saturated Fat:

1gg
Trans Fat:

0gg
Cholesterol:

23mgmg
Sodium:

30mgmg
Carbohydrates:

3gg
Fiber:

2gg
Sugar:

1gg
Protein:

5gg
Nutritional Information: Obtained using My Fitness Pal. I am not nor do I claim to be a nutritionist, so it is important to always verify the nutritional information as brands vary. I work hard to always provide the most accurate information as possible in hopes of making this easier for you, my readers!