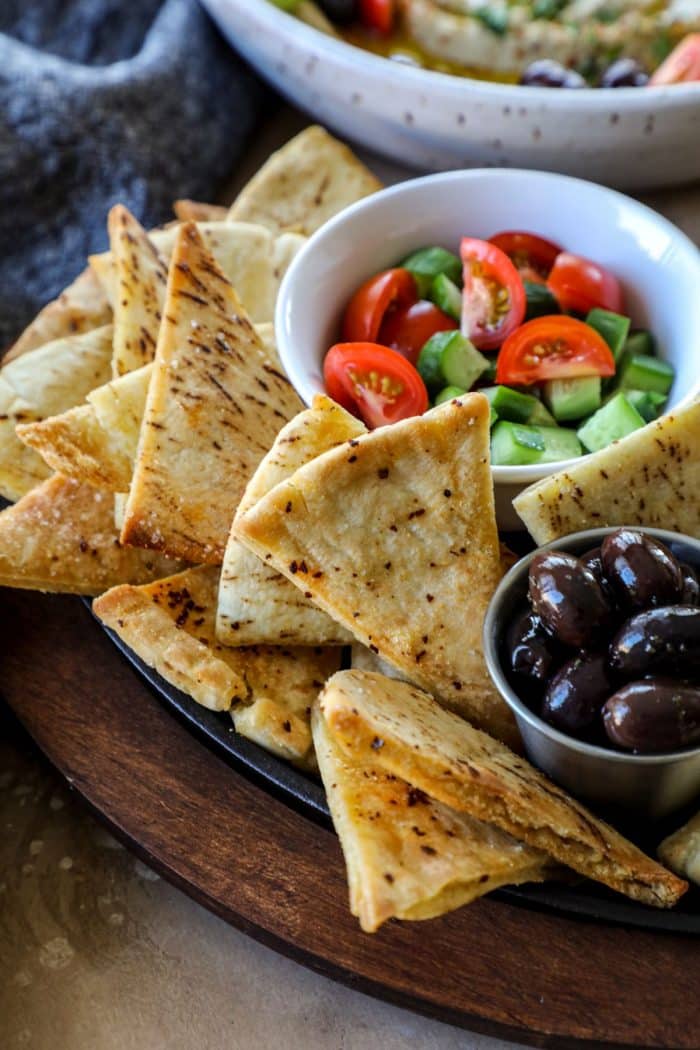 Learn to make your own pita chips using store-bought pita bread in the air fryer. A perfect snack you can make in minutes and pair with your favorite dip!
If you find yourself with leftover pitas that are about to go bad or maybe you're just looking to create the perfect healthy snack, then you're in the right place. This easy air fryer recipe will have you whipping up your own crispy pita chips in less than 15 minutes.
Once you've had freshly made warm pita chips easily at your fingertips, you won't be reaching for the store-bought brands any longer.
Below we break down everything you need to know about making these homemade chips, tips for seasoning, preparing, cooking instructions, and serving suggestions.
While we usually are a fan of dips themselves, having an extra tasty "vehicle" to enjoy your dip with is a must. Let's dive in!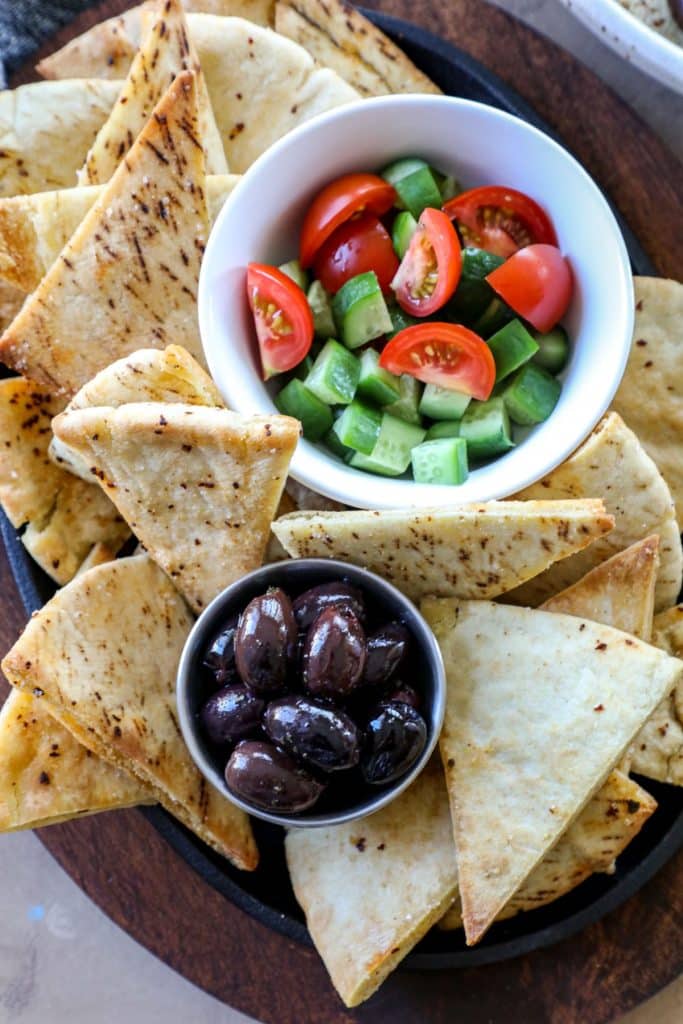 "School" Supplies:
Knife and Cutting Board (or pizza cutter)
Small Bowl
Large Bowl
Measuring Spoons
Pastry Brush
Tongs
Ninja Foodi Air Fryer (or other preferred air fryers)
"Class" Notes:
Welcome to my virtual classroom! Use the guided notes below where we answer commonly asked questions we get from readers and cooks just like you.
This information is meant to help you have a stronger understanding of this air-fried pita chips recipe and the process so you can find success all on your own.
Ready to begin cooking? Simply jump to the recipe card below and begin.
Ingredients:
Traditional or Whole Wheat Pita Breads
Extra Virgin Olive Oil
Butter
Onion Powder
Garlic Powder
Sea Salt
Black Pepper
Optional Red Pepper Flakes (or Aleppo Pepper / Cayenne Pepper) for some heat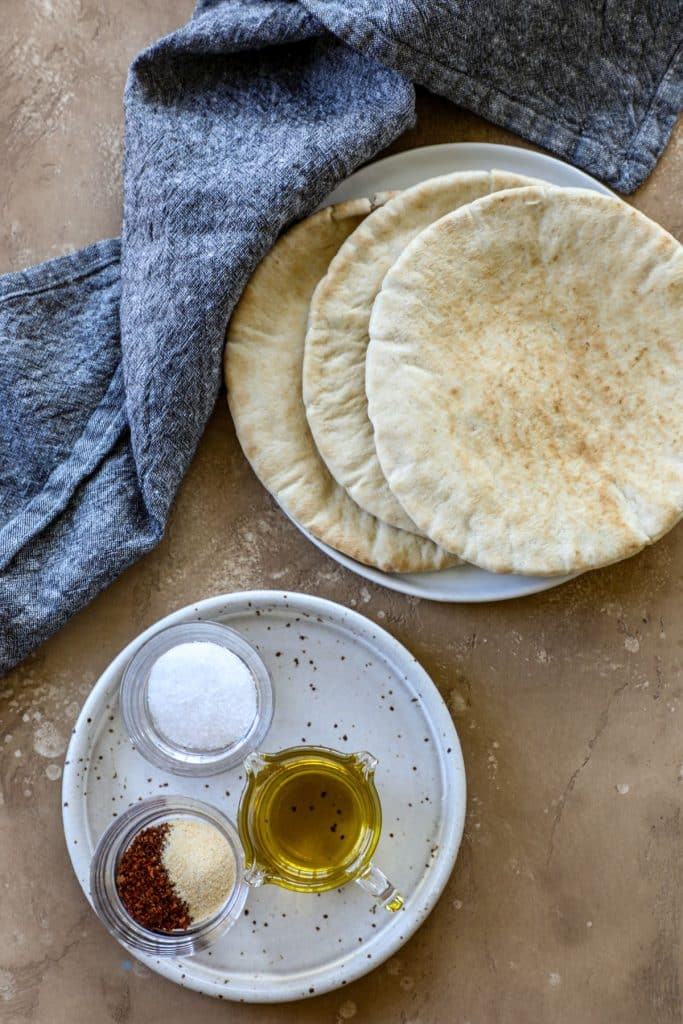 This recipe will also work with pita pockets (the thinner, low-calorie store-bought version) as well as these higher fiber low carb pita bread too. You may need to adjust the time on your air fryer as well if you are using thinner pitas.
Seasoning Variations:
Want to switch up the flavor profile to match the dip you're making? Here are some of my favorite seasonings to try out (both sweet and savory)
Italian Seasoning
Cinnamon Sugar
Pumpkin Pie Spice
Cajun Dry Rub
Smoked Paprika
Garlic Parmesan
Everything Bagel Seasoning
Chili Powder Seasoning
Use your favorite spices to create your perfect pita chip recipe!
Air Frying Instructions:
Begin by creating the classic pita chip triangles by cutting each bread in half and each half into fourths. You should get 8 pita wedges per pita bread.
In a small bowl combine the spices and set them aside.
Next, in a larger bowl add the sliced pita pieces, melted butter, and olive oil. Toss with tongs (or your hands) and thoroughly coat every piece entirely. We love the combination of both butter and oil to create the perfect golden brown chip. You can substitute other preferred oils (like coconut oil or avocado oil) or even use an olive oil cooking spray.
Preheat the air fryer to 350 F. Once preheated, place the seasoned pita chips into a single layer in the air fryer basket. You may have to work in batches if they don't all fit. For best results do not overcrowd them in the basket.
Air fry the pita bread pieces for 4-5 minutes. Flip them and cook an additional 4-5 minutes. Cooking time may vary slightly depending on the type of appliance you have, so watch them as needed.
Remove the pita chips when they are crispy and golden brown and sprinkle salt over the top when they are still warm. Transfer to a bowl and enjoy!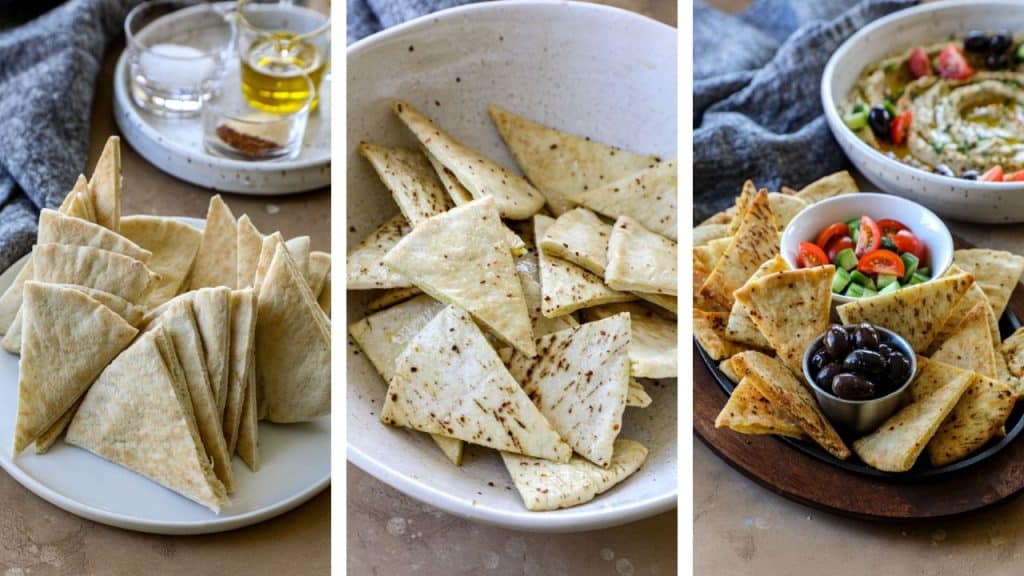 What To Serve With Air Fried Pita Chips:
I love using these chips for a variety of hot and cold dips. Here are some of my favorites:
They are great for charcuterie boards, eating with some sliced cheese, or as a base for these Greek "nachos".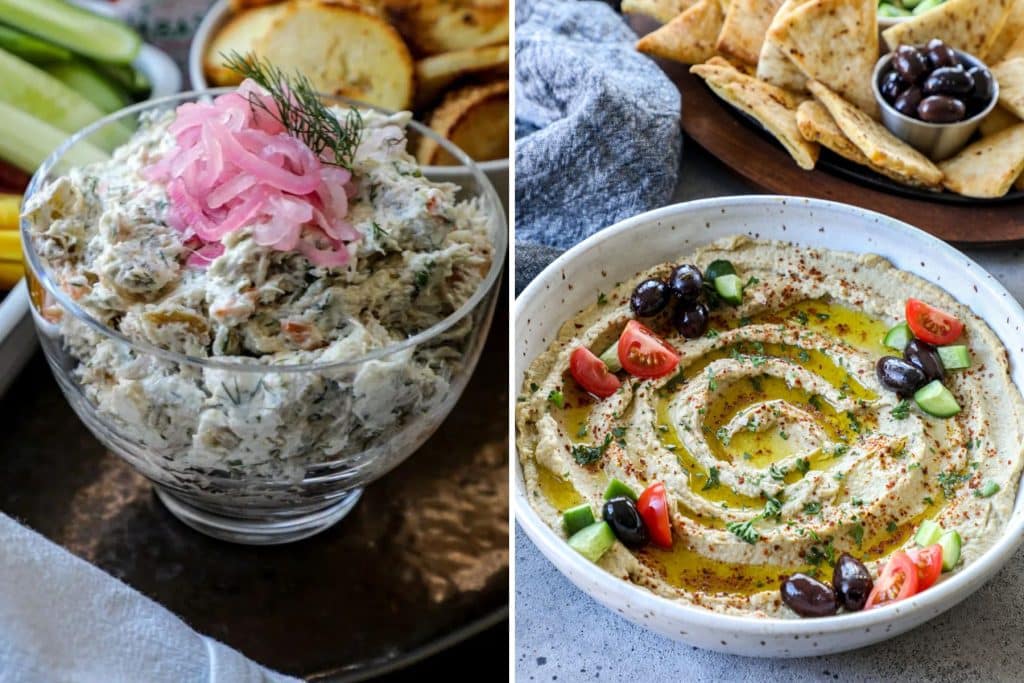 How To Store Homemade Air Fried Pita Chips:
If you find you have leftover pita chips, make sure to store them properly so you can continue to enjoy this delicious snack.
I would recommend storing them in either an airtight container or a ziplock bag. They may soften slightly when stored but you can easily crisp them up again for a minute or two in the air fryer before enjoying them once more.
The homemade pita chips are best when eaten within 1-2 days but should keep for up to a week without spoiling. This is truly a great way to use up leftover pita bread that may be slightly stale or going bad.
Did you try this recipe? Leave a rating and a comment below and share how you used this homemade pita chips recipe at your house by sharing over on Instagram and tagging me @Bonappeteach!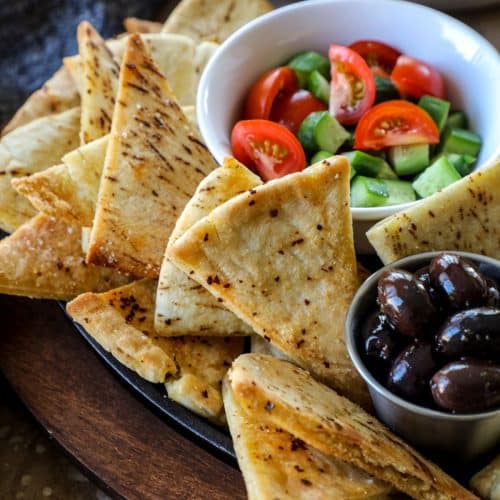 Air Fryer Pita Chips
Learn to make your own pita chips using store-bought pita bread in the air fryer.
Print
Pin
Rate
Ingredients
4

whole

Pita Bread

1

tbsp.

Melted Butter

1

tbsp.

Olive Oil

1/2

tsp.

Sea Salt

1/4

tsp.

Black Pepper

1/2

tsp.

Garlic Powder

1/2

tsp.

Onion Powder

1/2

tsp.

Red Pepper Flakes or Aleppo Pepper

optional
Instructions
Cut the pita bread rounds into 8 triangular pieces. This is easiest when you first slice in half. Cut each halve in 4 pieces.

Place all the sliced pita bread triangles into a large bowl.

Add the olive oil and melted butter. Toss the pita bread pieces into the mixture so they become fully coated and covered on all sides.

Mix the seasonings together in a small bowl. Add the seasonings to the coated pita bread pieces and toss again until combined.

Preheat the air fryer to 350 F. Place the pita triangles into a single layer in the air fryer basket.

Air fry for 4-5 minutes. Flip them over and air fry another 4-5 minutes or until desired crisp level. They should be golden brown.

Remove the warm air fried pita chips from the air fryer basket. Place in a bowl and season with any additional sea salt (if desired). Eat warm for a great snack or pair with your favorite dip!
Notes
Store leftover air fried pita chips in an airtight container or plastic bag. They are best when eaten within 1-2 days. They may soften slightly when sealed, warm them in the air fryer to re-crisp for 1-2 minutes as needed. 
Nutrition
Calories:
33
kcal
|
Carbohydrates:
1
g
|
Protein:
0.2
g
|
Fat:
3
g
|
Saturated Fat:
1
g
|
Polyunsaturated Fat:
0.3
g
|
Monounsaturated Fat:
2
g
|
Trans Fat:
0.1
g
|
Cholesterol:
4
mg
|
Sodium:
134
mg
|
Potassium:
10
mg
|
Fiber:
0.1
g
|
Sugar:
0.04
g
|
Vitamin A:
47
IU
|
Vitamin C:
0.1
mg
|
Calcium:
3
mg
|
Iron:
0.1
mg