The Grapes of Wrath- Classic Red Sangria:
"…and in the eyes of the people there is the failure; and in the eyes of the hungry there is a growing wrath. In the souls of the people the grapes of wrath are filling and growing heavy, growing heavy for the vintage."  – John Steinbeck, Grapes of Wrath
We are officially over half way through this summer's blog series, Bon Appeteach "Book Club". This week's feature is the classic novel, The Grapes of Wrath, by John Steinbeck. I have never read this novel, but I did see the play when I took a group of high school theater students (I wear many hats my friends) to a summer festival. This book looks at the hardship of life during the depression era and follows a family that was forced to move west in hopes of finding a better life. I wish I could say I remember a lot from this play. But after coraling 30+ students from Chicago to central Illinois for a weekend on a college campus…one tends to let a lot of details blurr. I also may or may not have taken a small nap during the performance. But, I will never tell…
Anyways, the book itself is actually quite beautiful and depicts the dire hardships that so many faced during this time period. This week's cocktail is inspired clearly by the title of this book. When I look at a Classic Red Sangria, I think of a refreshing summer cocktail that is very easy to make, fairly cheap (please do not invest in a very expensive wine here), but it takes time and patience for the final marriage of the flavors to fully come together. It is most definitely worth the wait. So, let's break down this weeks book inspired libation! Find the full recipe for this Classic Red Sangria below and read of for tips, tricks, and great food pairings too!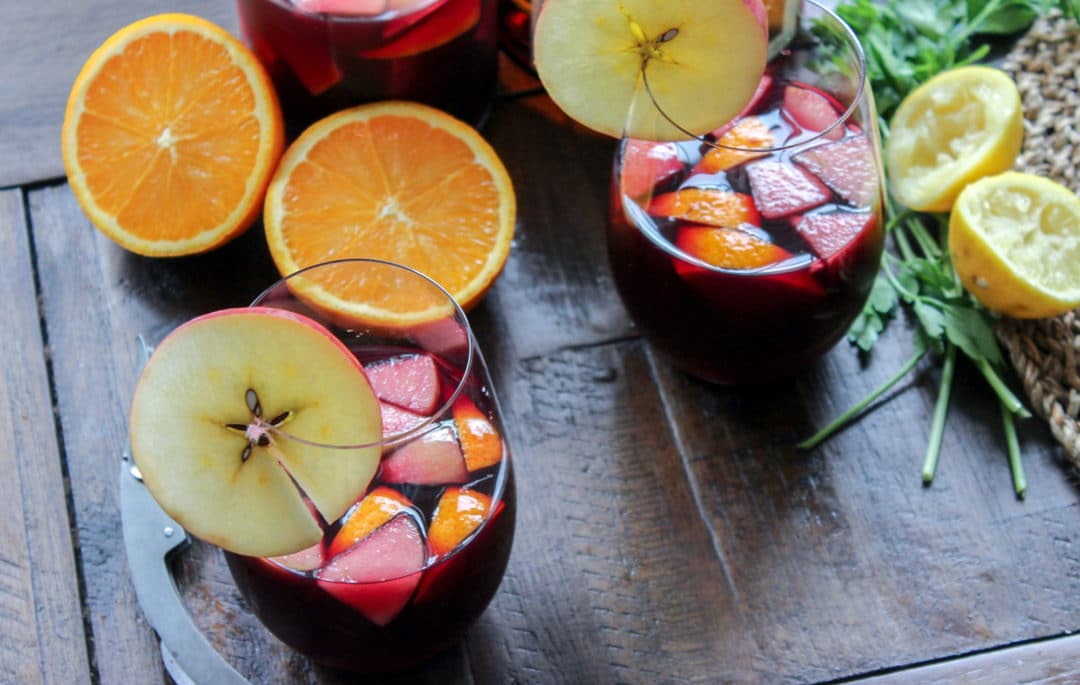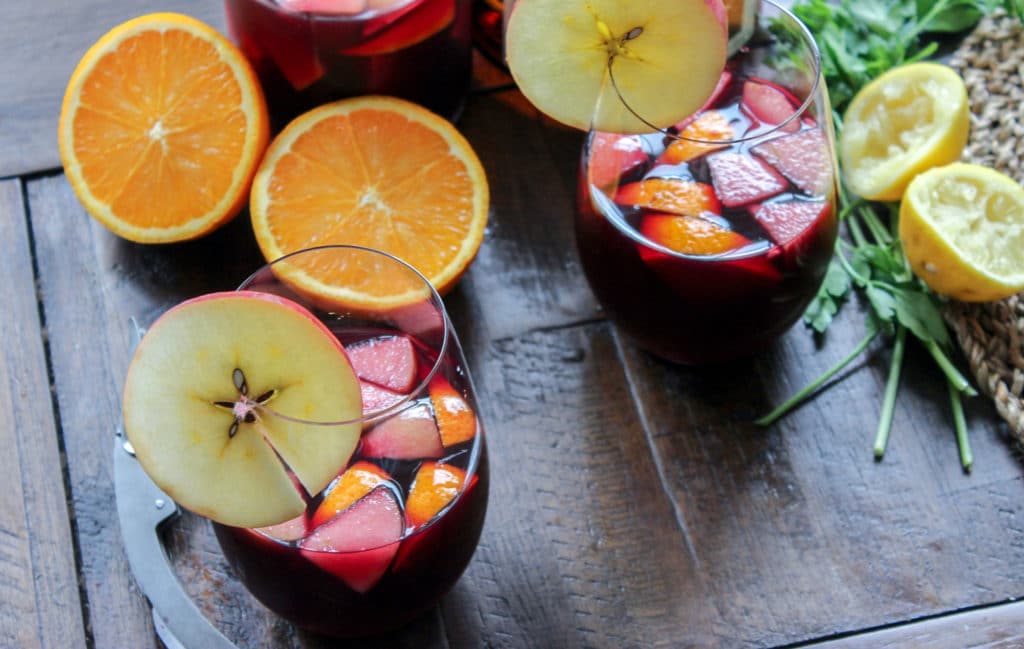 Classic Red Sangria:
1 Bottle, halfway decent red wine of your choice….
1/2 cup Cognac (I used Grand Marnier)
1/2 Orange, juiced
1/2 Orange, sliced into triangles
1/2 Apple, sliced into triangles
1/2 Lime, sliced into triangles
Not Shaken, Just Stirred-
Sangrias are so so easy to make! Even though you need to usually make this ahead of time before serving, it takes well under 10 minutes to pour everything into a pitcher, chop up some fruit, and pop it in the fridge. My recommendation for a Classic Red Sangria, is to keep it simple and let the favors do the work. When I make sangria, I typically find a bottle of red that I like, that's not too expensive, and isn't too sweet or too dry. I typically shop the shelves of my local Trader Joe's and have lately been enjoying a $6 Chilean Cabernet so I went with that this week. So, what I am trying to say is… get what YOU like, and DON'T spend a lot! Begin by dicing the fruit. I slice my citrus fruit and apple (keep the skins on) into slices and then into cute little wedges. I find they fit best in the pitcher this way. Add the wine, the cognac, and the 1/2 squeeze of fresh orange juice to a pitcher and pour over the fruit. Give everything a nice stir with a long wooden spoon and pop it in the fridge for a nice chill. You can easily make this in the morning and serve it in the evening. I love it the best the next day or after at least 8-12 hours of chill time. I personally, never add ice to my Sangria and prefer not to add soda water either. These are obviously optional to your preference. My preference is to not water it down and enjoy the mix of these bright, beautiful, and refreshing flavors.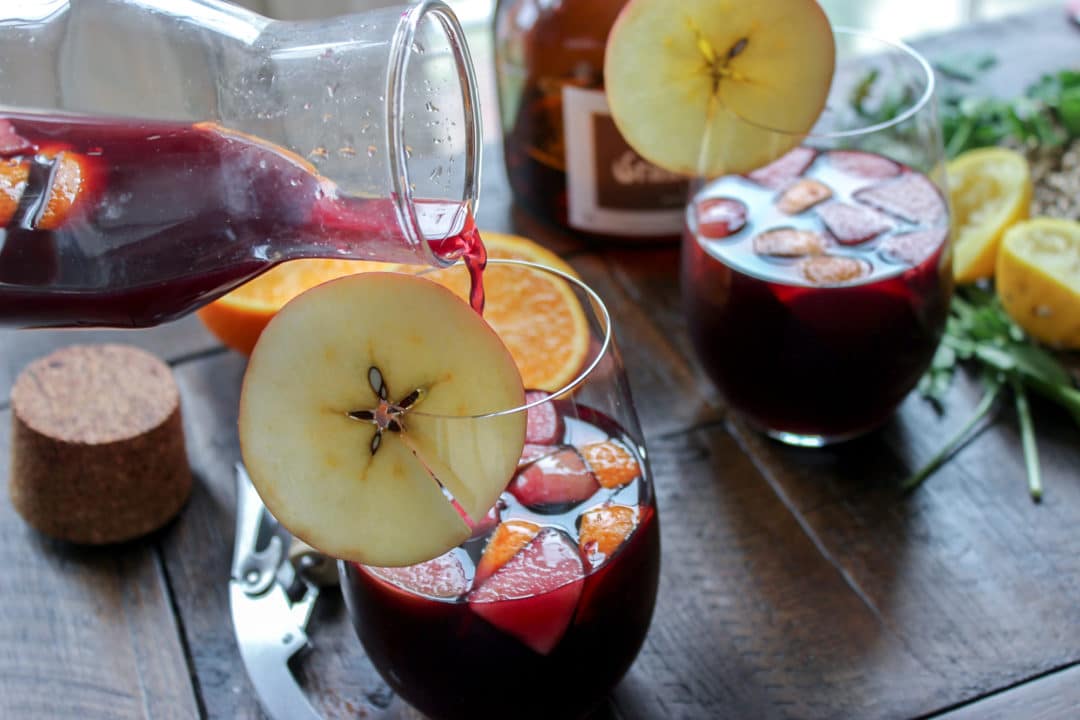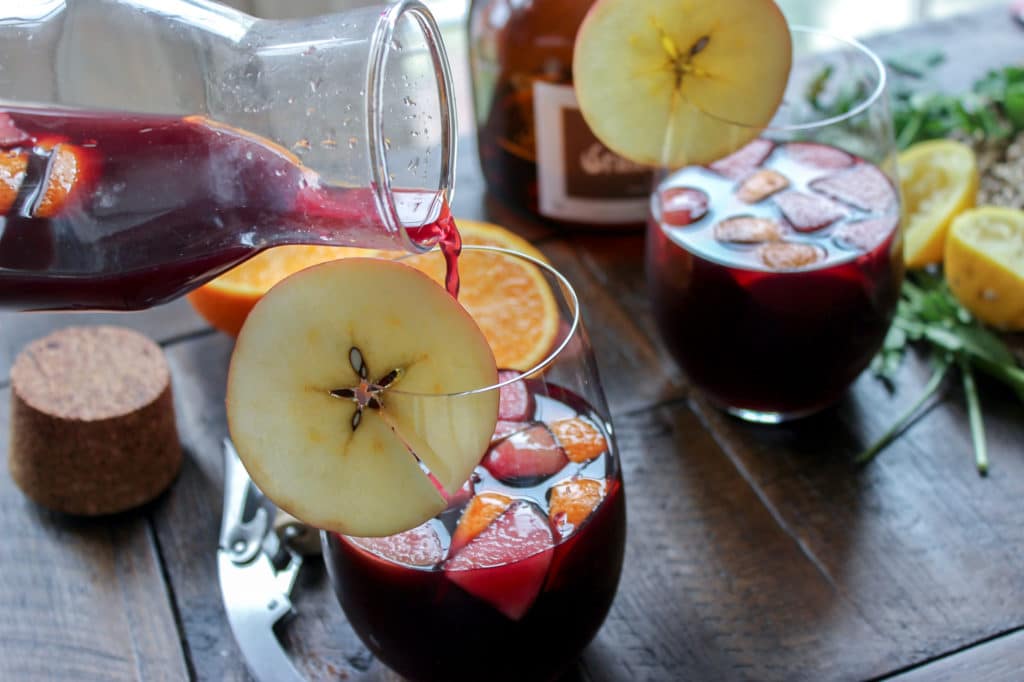 Food Pairings-
You have many options here, and chances are I have a food pairing for that! The classic go to with wine is without a doubt, Charcuterie. I made this insane, table size charcuterie for a Christmas party last winter that would be amazing for a crowd or even scaled down to serve for two! Looking for something a little more savory? These Steak Bites I made for my first Bon Appeteach "Book Club" food pairing would definitely blow your mind too! I wanted to do something a little different this week however. Summertime produce is my favorite and I am trying to get my fix before it's too late. This week, I made these A-M-A-Z-I-N-G Grilled Artichokes with Whipped Feta to snack on alongside my Classic Red Sangria this week. They take a few extra minutes of prep time, the whipped feta is absolutely addictive, and they go so well for a chill-at-home Friday night. Definitely worth checking out!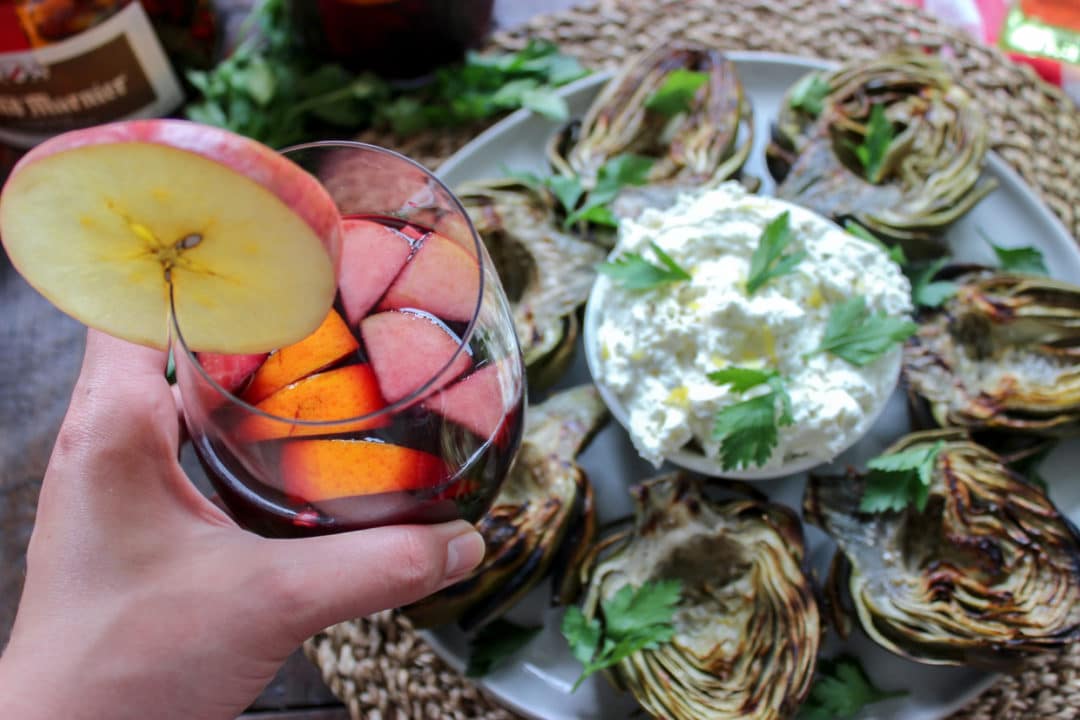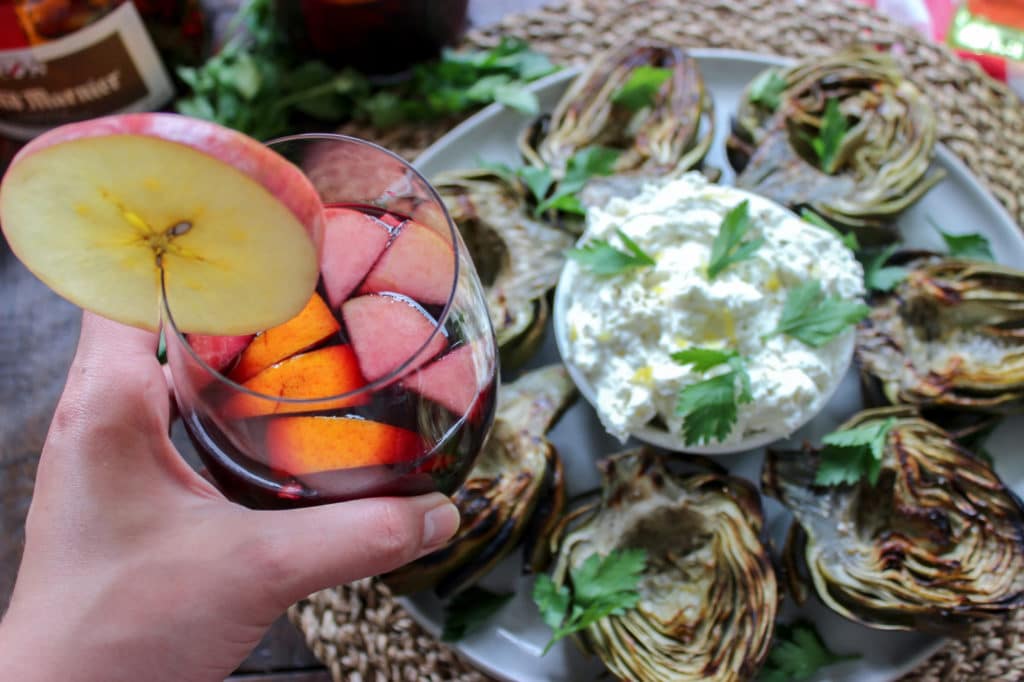 Thank you so much for joining me again this week for the Bon Appeteach "Book Club". Make sure you catch up on all the past week's Friday featured cocktails by checking out the "Book Club" tab at the top of this page. Want more "Book Club" inspiration? Head on over to my Instagram page where I make the cocktails each Friday for all of you "in person" and check out archived stories from previous week's as well.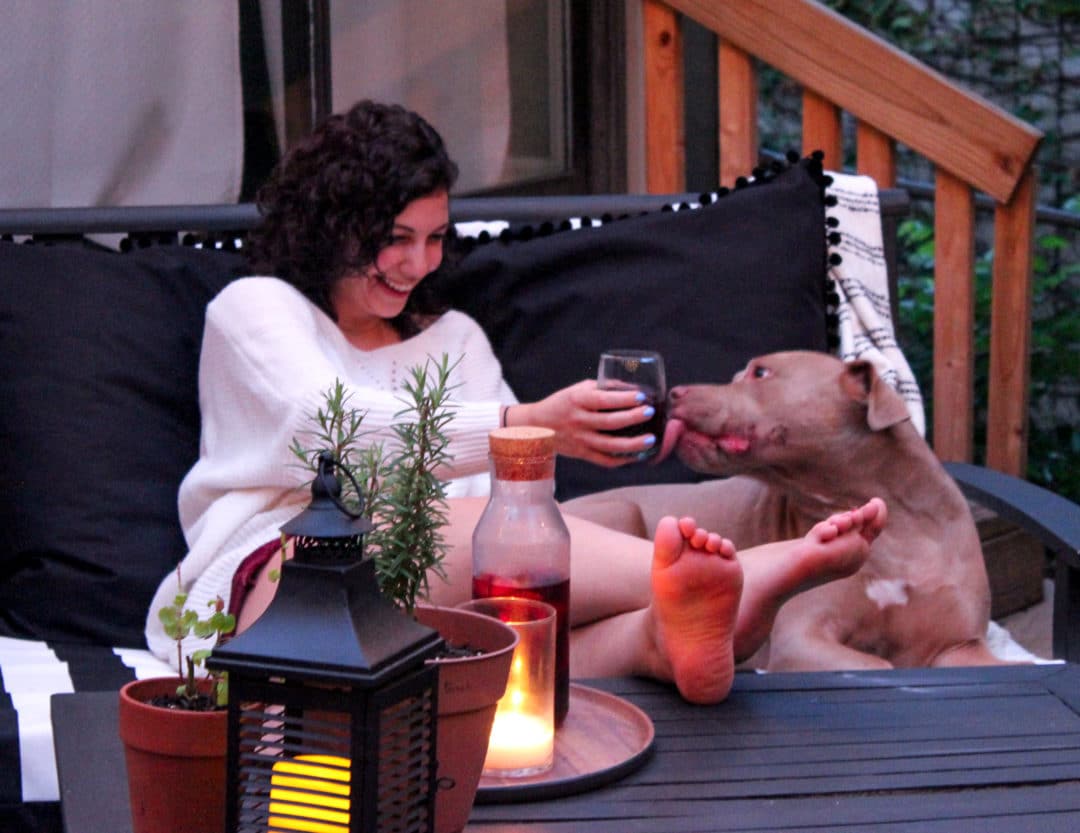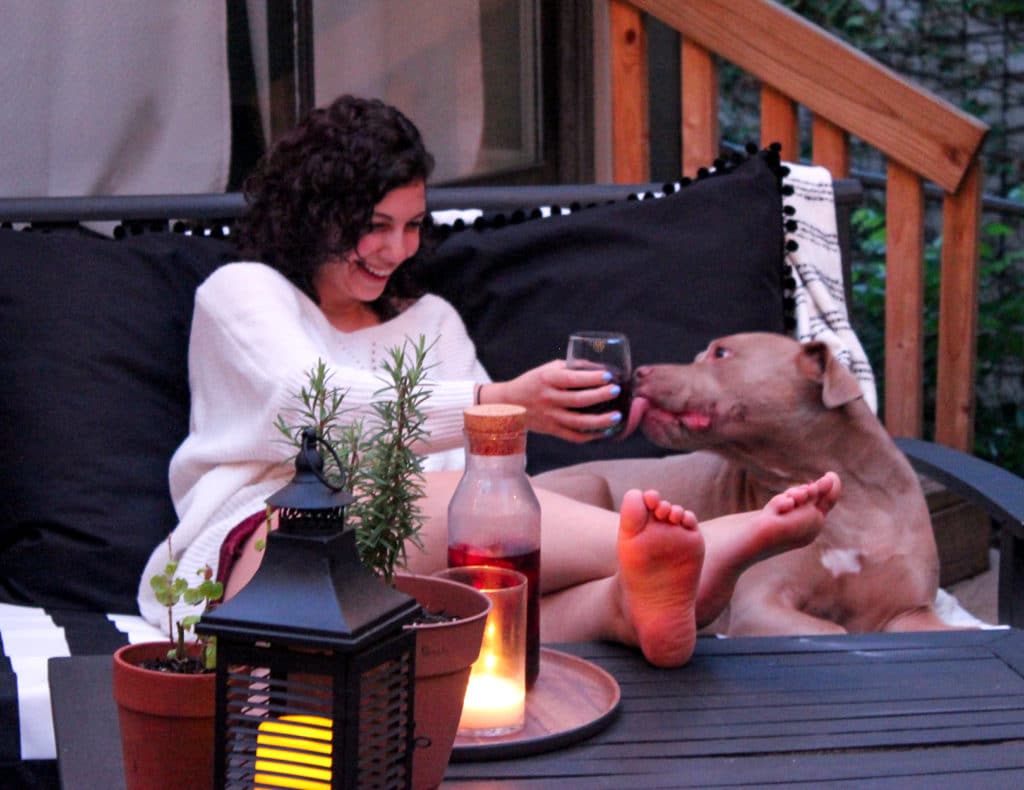 Bon Appeteach,
-L
Ingredients
1 Bottle, Inexpensive (but delicious tasting) Red Wine

1/2 cup Cognac (I used Grand Marnier)

1/2 Orange, juiced

1/2 Orange, sliced into triangles 

1/2 Apple, sliced into triangles

1/2 Lime, sliced into triangles
Instructions
1
In a pitcher, add the sliced fruit. Be sure to keep the skin on.
2
Pour in the bottle of wine, the cognac, and the 1/2 juiced orange. Give it a good stir.
3
Refrigerate for several hours to allow the flavors to blend and the mixture to chill.
4
Serve with and apple or orange wheel
5
OPTIONAL- Add a bit of club soda if preferred (I prefer to just drink it as is)