Steak with Cranberry Chimichurri Sauce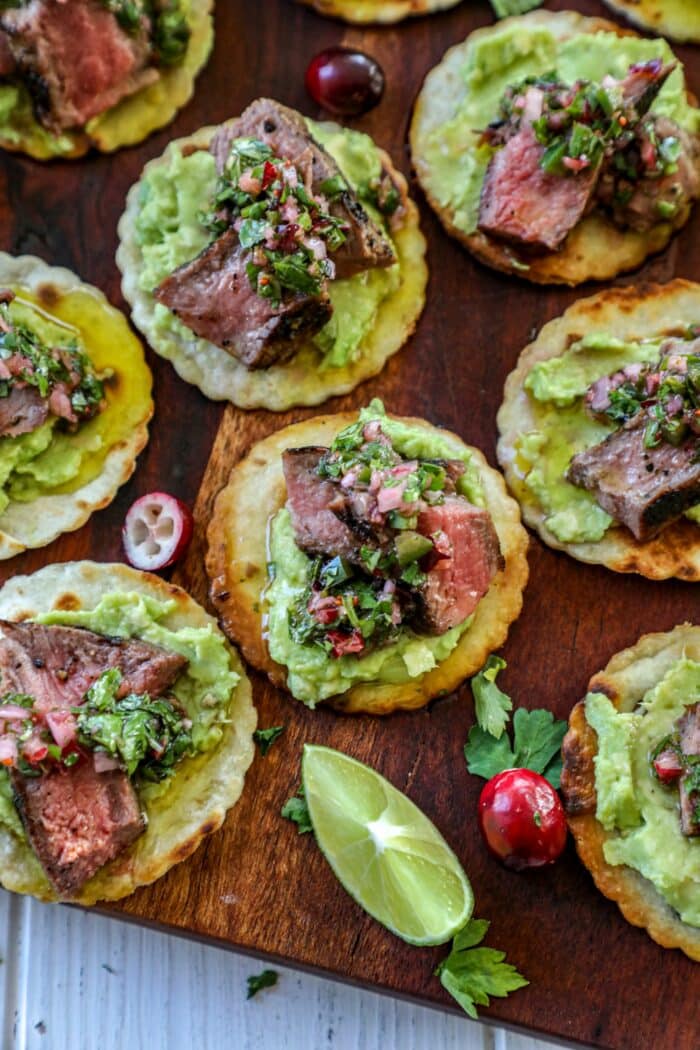 Steak and cranberry chimichurri is a delicious and flavorful sauce that combines tender, juicy steak with a tangy, herby sauce made from fresh cranberries and a variety of aromatic herbs and spices.
I would in general consider myself a steak purist. Meaning, that the only thing I ever add to my steak is salt and pepper (no steak sauce here).
There are however a few exceptions to this rule; chimichurri (or maybe this caramelized onion and blue cheese sauce)
Chimichurri is a sauce that originated in Argentina and Uruguay. It is made with a blend of fresh herbs, garlic, vinegar, and oil and is typically used as a condiment or marinade for grilled meats (most notably steak or cuts like this reverse seared picanha or on this coconut crusted salmon with chimichurri).
When fresh cranberries are in season, I love to add them as a sweet, tangy, and tart addition to this traditional recipe. It takes everything you love about this classic sauce and adds a little extra pop of color and flavor.
Why This Recipe Works:
Making fresh chimichurri is an easy and uncomplicated way to elevate grilled meats.
The fresh cranberries are macerated to break down and release their natural juices adding a little sweetness and tartness to the flavor combination you naturally find in this recipe.
A balanced combination of freshly chopped herbs, paired with the acidity in the vinegar and lime juice, and the richness of the olive oil create an incredibly versatile sauce you will love when served with grilled steak.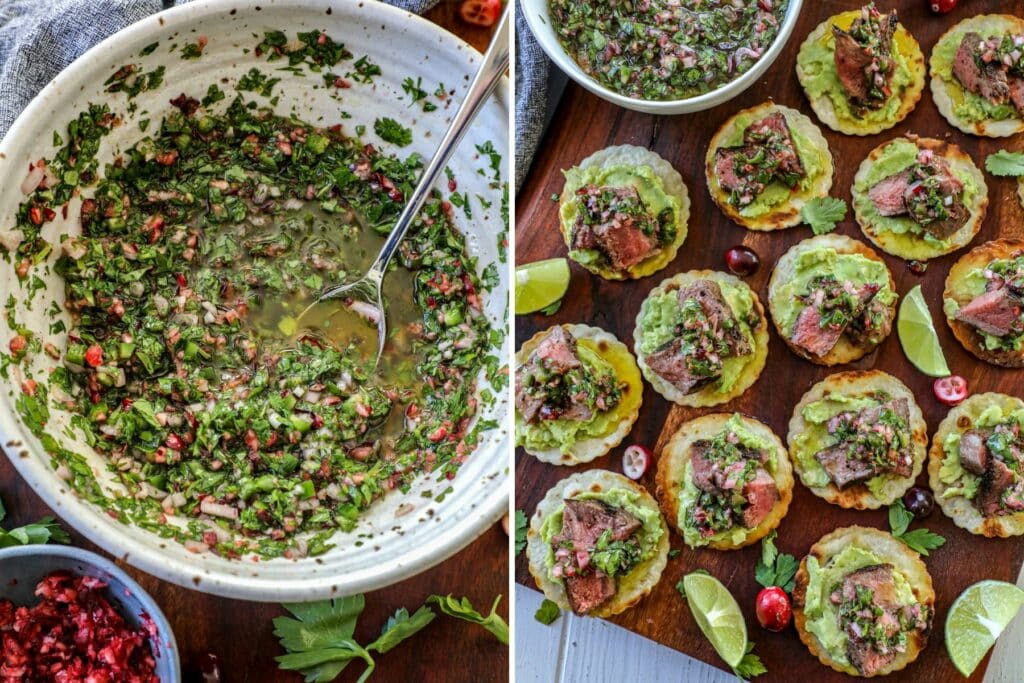 "School" Supplies:
Knife and Cutting Board
Small Blender or Food Processor (only for the cranberries, this recipe is best when made by hand)
Medium Mixing Bowl
Measuring Cups and Spoons
"Class" Notes:
Welcome to my virtual classroom! Use the guided notes below where I often answer commonly asked questions I get from readers and cooks just like you.
This information is meant to help you have a stronger understanding of this recipe and the process so you can find success all on your own.
Ready to begin cooking? Simply jump to the recipe card below and begin.
What Does Chimichurri Taste Like?
The flavor of chimichurri is typically dominated by fresh parsley and cilantro (always chopped fresh), which give it a bright and herbaceous taste. The garlic adds a savory and spicy kick, while the vinegar provides a tangy and acidic balance.
The olive oil helps to round out the flavors and gives the sauce a smooth and silky texture. Adding in the variable of fresh macerated cranberries adds texture, and a slight tartness, but comes out uniquely balanced overall.
Ingredients:
For the steak:
1 Lb. Steak (such as sirloin, ribeye, or flank steak)
Salt and Pepper, to taste
Olive Oil, for cooking
For the cranberry chimichurri:
1/2 cup Fresh Cranberries: Mashed or macerated in a food processor works best in this recipe for releasing the juices and getting the appropriate texture. Raw cranberries are very crunchy otherwise.
1/2 cup Fresh Parsley: I usually prefer flat leaf parsley for this recipe, but honestly either type will work. Rinse and remove the stems before finely chopping.
1/2 cup Fresh Cilantro: Using a higher ratio of cilantro in this version of chimichurri adds a nice flavor to pair with the lime and cranberry. Rinse, remove the stems, and finely chop as well.
1 Lime, juiced
1 Shallot, minced
3 Cloves Garlic, minced
1 Jalapeno: Seeds removed and minced.
2 tablespoons Red Wine Vinegar
2/3 cup Olive Oil
Salt and Pepper, to taste
Red Pepper Flakes (optional if you like some heat)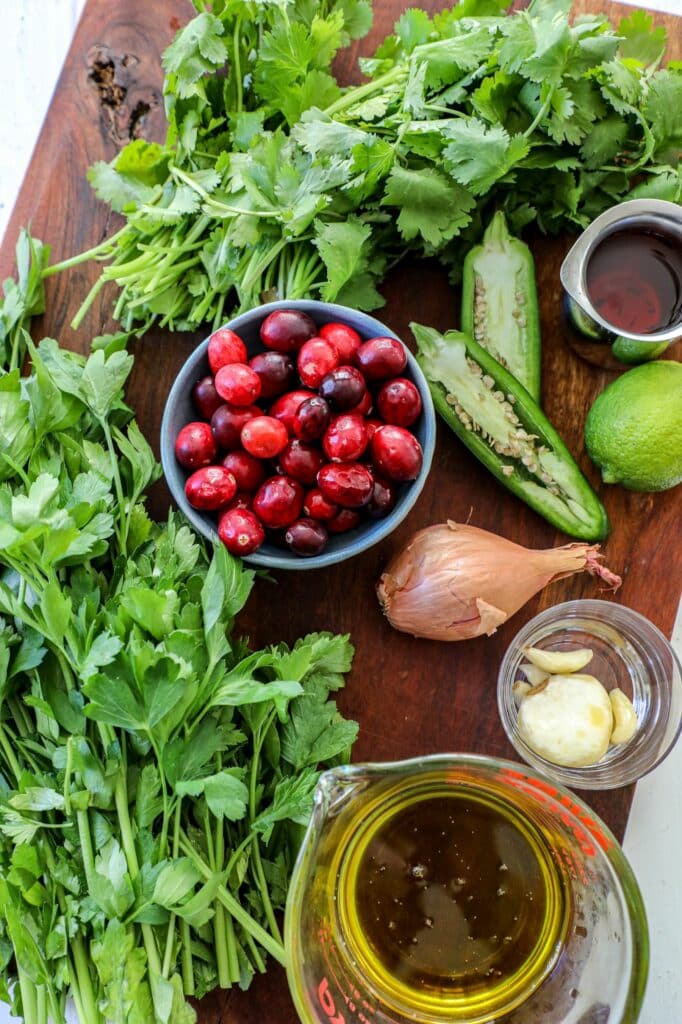 Preparation Instructions:
For the steak:
To prepare the steak, season it with salt and pepper on both sides and heat a pan over medium-high heat with a drizzle of olive oil.
Once the grill is hot, add the steak and cook for about 3 minutes per side for medium-rare, or until the desired doneness is reached. Once the steak is cooked, remove it from the grill grates and let it rest for a few minutes before slicing.
For the cranberry chimichurri:
To make the cranberry chimichurri, place the fresh cranberries into a small blender or food processor. Pulse a few times until minced and juices are released.
Finely chop the parsley and cilantro and add the herbs to a bowl. Add the cranberries, minced garlic, jalapeno, and shallot to the bowl as well.
Pour in the oil, vinegar, and lime juice. Season to taste and stir to fully combine.
Slice the steak against the grain into thin strips. Serve the cranberry chimichurri sauce over the top.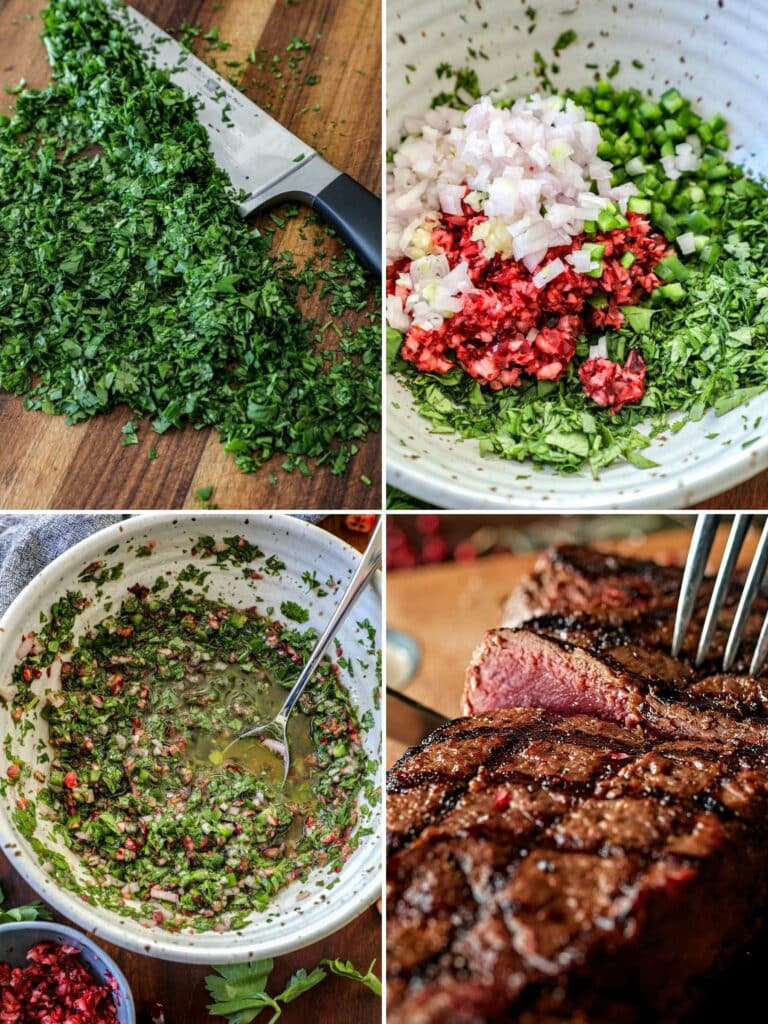 Expert Tips :
Never make it in the food processor!
The chimichurri sauce will develop more flavor the longer it sits.
Store in the fridge for up to a week but let it sit at room temperature for at least 30-45 minutes before using (the olive oil will solidify in the fridge).
Try this recipe for

roasted red pepper chimichurri sauce

too!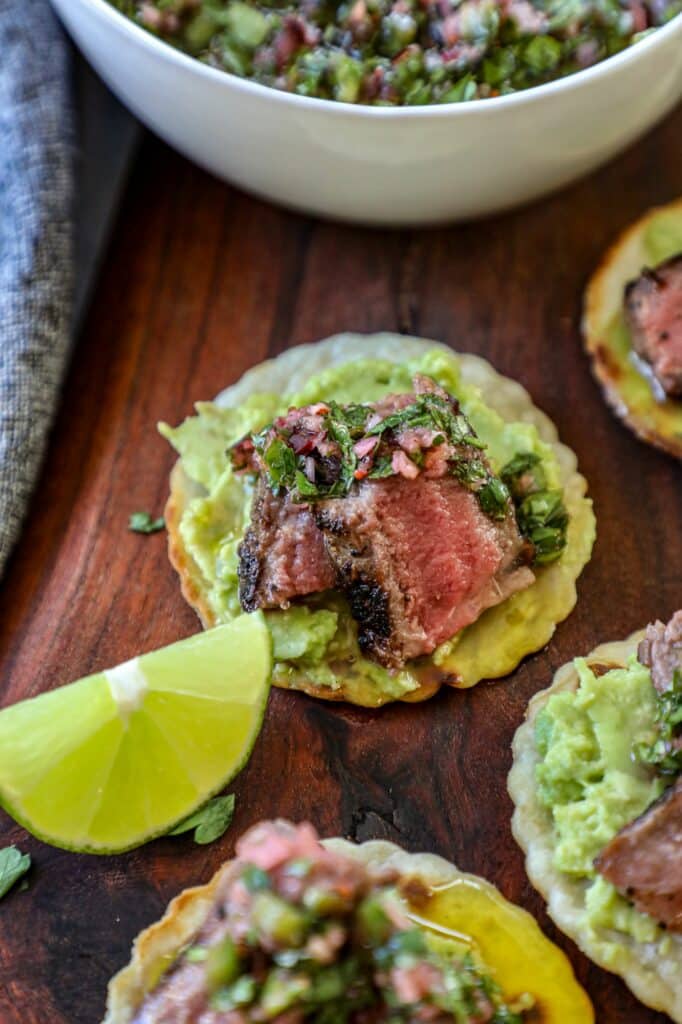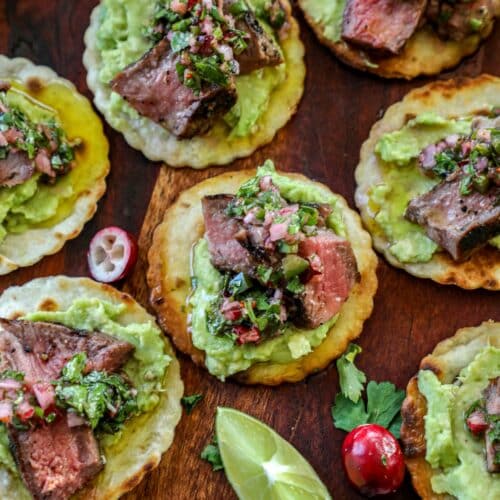 Steak with Cranberry Chimichurri Sauce
Steak and cranberry chimichurri is a delicious and flavorful sauce that combines tender, juicy steak with a tangy, herby sauce made from fresh cranberries and a variety of aromatic herbs and spices.
Print
Pin
Rate
Ingredients
For the Steak
1

lb

Steak

flank steak, NY strip, Ribeye, etc.

1

tbsp.

Olive Oil

Salt & Pepper
Cranberry Chimichurri Sauce:
1/2

cup

Parsley

minced

1/2

cup

Cilantro

minced

1

Jalapeno Pepper

seeds removed (optional) and minced

3

cloves

Garlic

minced

1

Shallot

minced

1/2

cup

Fresh Cranberries

macerated

1

Lime

juiced

2

tbsp.

Red Wine Vinegar

2/3

cup

Olive Oil
Optional
1

Avocado

mashed

4

Tortillas

I used low carb mission tortillas

2

tbsp.

Avocado oil for pan frying

optional
Instructions
Cranberry Chimichurri
In a small blender or food processor, pulse the fresh cranberries until minced and slightly macerated and the juices have released (do not blend anything else in the food processor).

Finely mince the parsley and cilantro and add to a bowl. Add in the cranberries, jalapeno, shallot, and minced garlic cloves.

Pour in the olive oil, vinegar, lime juice and season with salt and pepper to taste.

Stir the chimichurri sauce until everything is combined and set it aside to develop flavor.
Steak Insutrctions:
Preheat the grill to high heat.

Remove the steak from any packaging and pat dry with paper towels.

Lightly oil each side of the steak and season generously with sea salt and black pepper.

Sear the steaks 2-3 minutes per side or until you have hit a desired level of doneness (I pull around 125-130 F. for medium rare).

Let the steak rest 5-10 minutes before slicing thin pieces against the grain.

To make the crostini lightly pan fry tortilla rounds 1-2 minutes per side. Add a small amount of mashed avocado and a few slices of steak. Top with the cranberry chimichurri sauce and enjoy!
Notes
You can also place bite sized pieces onto a toothpick and serve with chimichurri over top or as a dipping sauce as well for a gluten free and even lower carb option!
Nutrition
Serving:
1
g
|
Calories:
112
kcal
|
Carbohydrates:
2
g
|
Protein:
4
g
|
Fat:
10
g
|
Saturated Fat:
2
g
|
Polyunsaturated Fat:
1
g
|
Monounsaturated Fat:
7
g
|
Trans Fat:
0.01
g
|
Cholesterol:
11
mg
|
Sodium:
15
mg
|
Potassium:
125
mg
|
Fiber:
1
g
|
Sugar:
0.3
g
|
Vitamin A:
149
IU
|
Vitamin C:
5
mg
|
Calcium:
8
mg
|
Iron:
0.4
mg