Southwestern Fiesta Salad With Avocado Dressing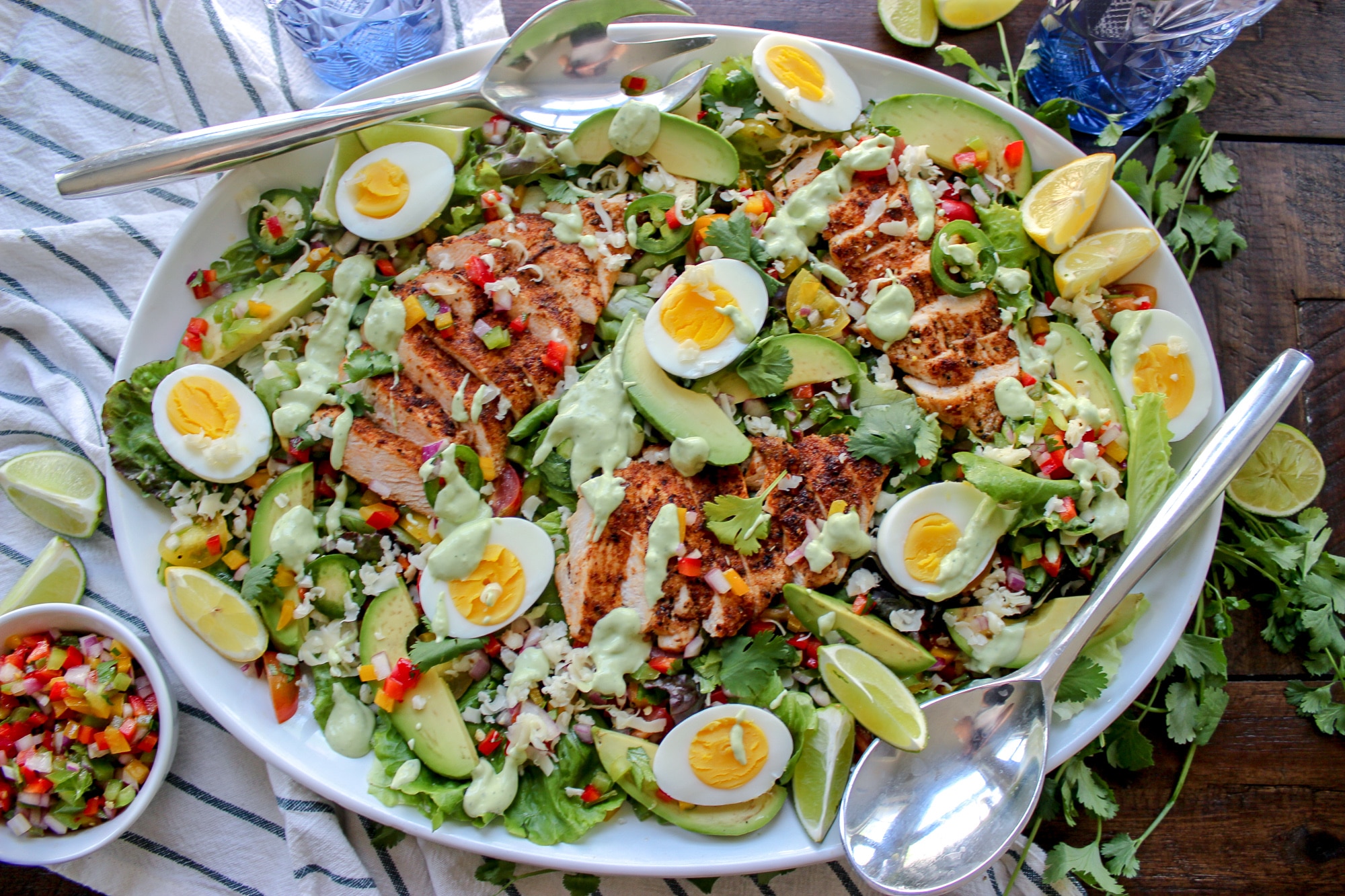 This recipe was inspired by my partnership with Hen House Markets. All opinions are my own!
Southwestern Fiesta Salad With Avocado Dressing :
Whether you're avoiding turning on the oven or just looking to eat clean (summer beach bodies and all), then salads might be a common go-to dinner for you this summer too. I know they are for me! This is the time of year when vegetables are aplenty and I cannot get enough. I am a firm believer in eating your veggies and cannot advocate enough for this (I have spent seven years teaching culinary arts and nutrition so I feel like I am a pretty good source of knowledge). I know many of my keto and low carb readers tend to avoid higher starch veggies (corn, potatoes, squashes, etc.), but I implore you to not miss out on all that summer seasonal produce has to offer. Get out and find a farmer's market or join a Community Supported Agriculture program. These are great ways to keep eating clean all summer long. In fact, my CSA with Hen House Markets (a local grocery store chain here in Kansas City) inspired this weeks salad recipe with the use of their green and red leaf lettuce. This salad was bright, flavorful, and honestly… I didn't feel like I was just eating a boring old salad. This, this was a meal! Top is all off with an easy creamy homemade avocado dressing and you will be feeling all the summer feels with this meal! Find the full recipe for Southwestern Fiesta Salad With Avocado Dressing below and read on for tips and tricks!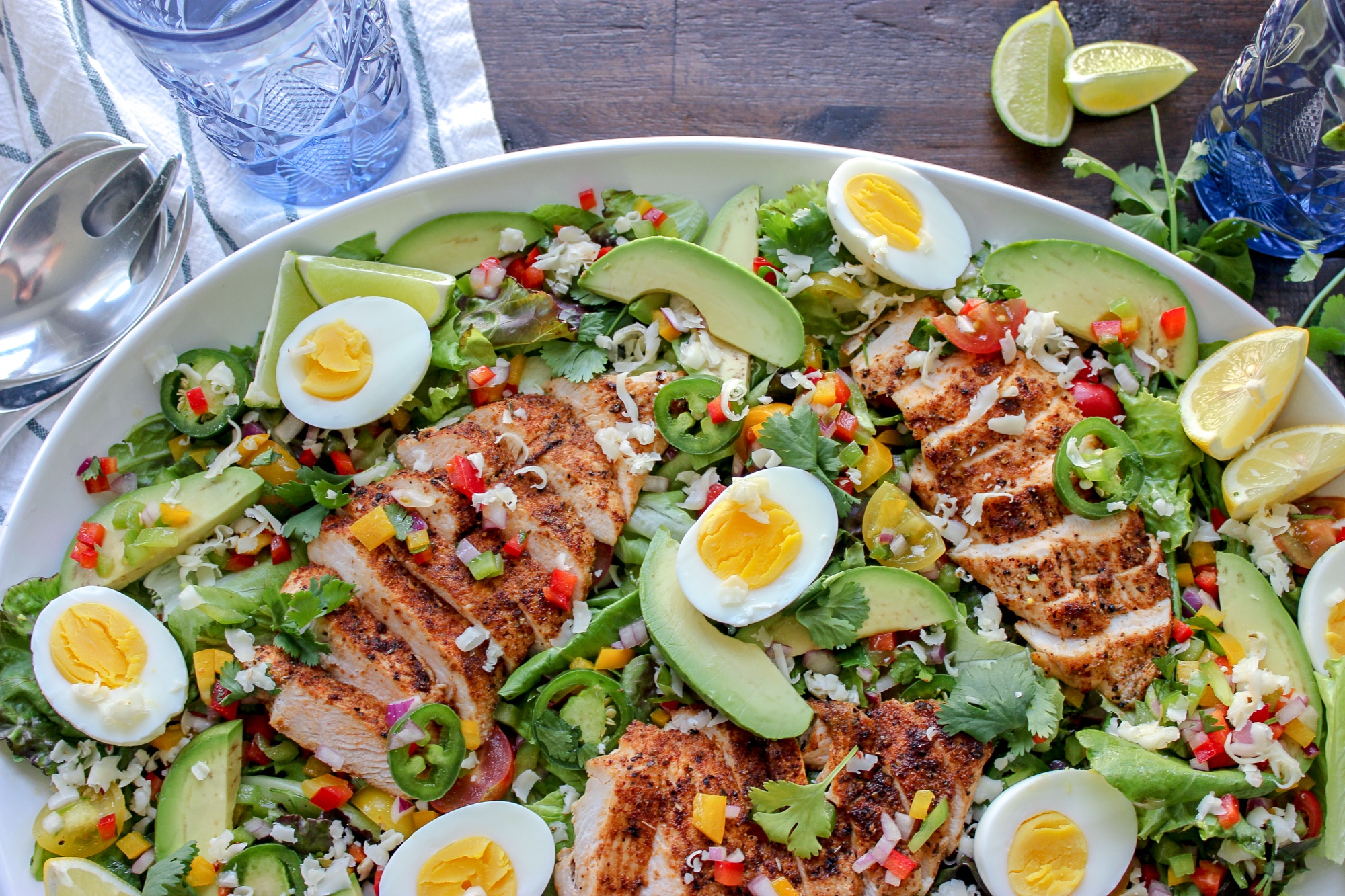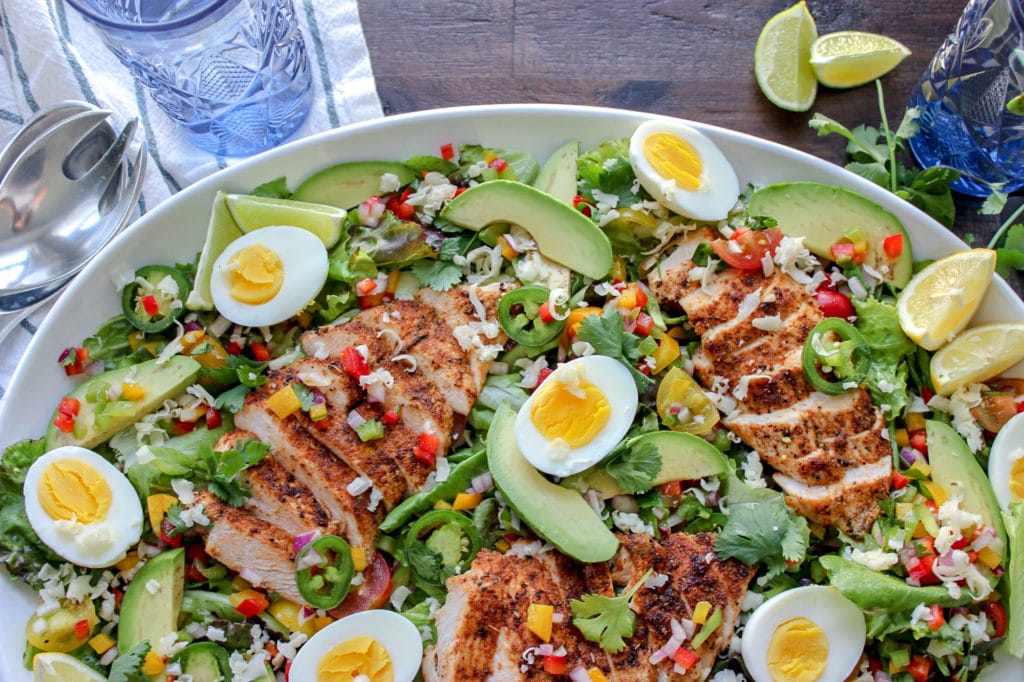 "School" Supplies:
Large Serving Bowl/ Platter
Tongs/ Serving Utensils
Knife & Cutting Board
Small Pot & Frying Pan
Food Processor/ Blender
Measuring Spoons
Mixing Bowl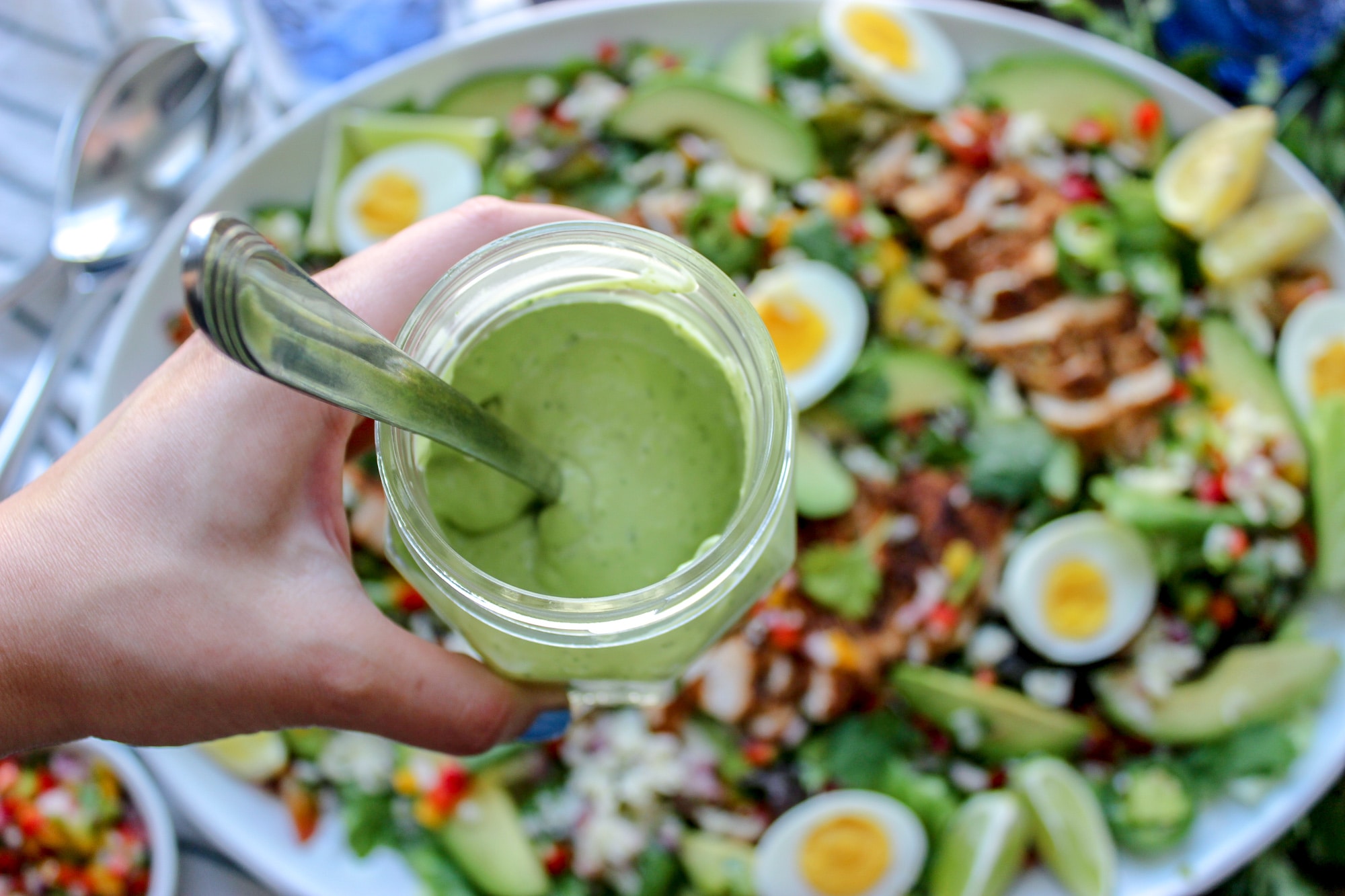 "Class" Notes:
Lettuce:
Ok, let's talk lettuce first. I'm going to go all culinary arts teacher on you for a second and talk to you a little bit about the do's and do not's of working with lettuce.
Do NOT: Chop your lettuce
Do: Tear your lettuce by hand
Why? Because lettuce is made up of tiny cells filled with water. When you cut the lettuce for your salad, you actually break open these "cells" and allow more moisture to be released from the lettuce. This isn't the end of the world if you plan on eat your salad right away, but long term, it will wilt faster and get soggy. This is a big "no-no" to all your meal preppers out there! By tearing your lettuce instead, you allow the lettuce to not break as many of these "cells" open. Plus, I think it allows you to make a pretty looking salad (in my opinion).
Do NOT: Use Iceberg
Do: Use medium to dark green leafy greens 
Why? Iceberg is essentially water. The lighter the lettuce the more water it contains (and the less nutrients it offers). I love a great romaine lettuce. It's crisp, flavorful and still mild (unlike our friend Kale…Kale is a tough chick). Look at what is in season. Seasonal lettuce is going to usually taste better and have more nutrients when it grows naturally and locally (I used green and red leaf lettuce for this salad from my Hen House Markets CSA).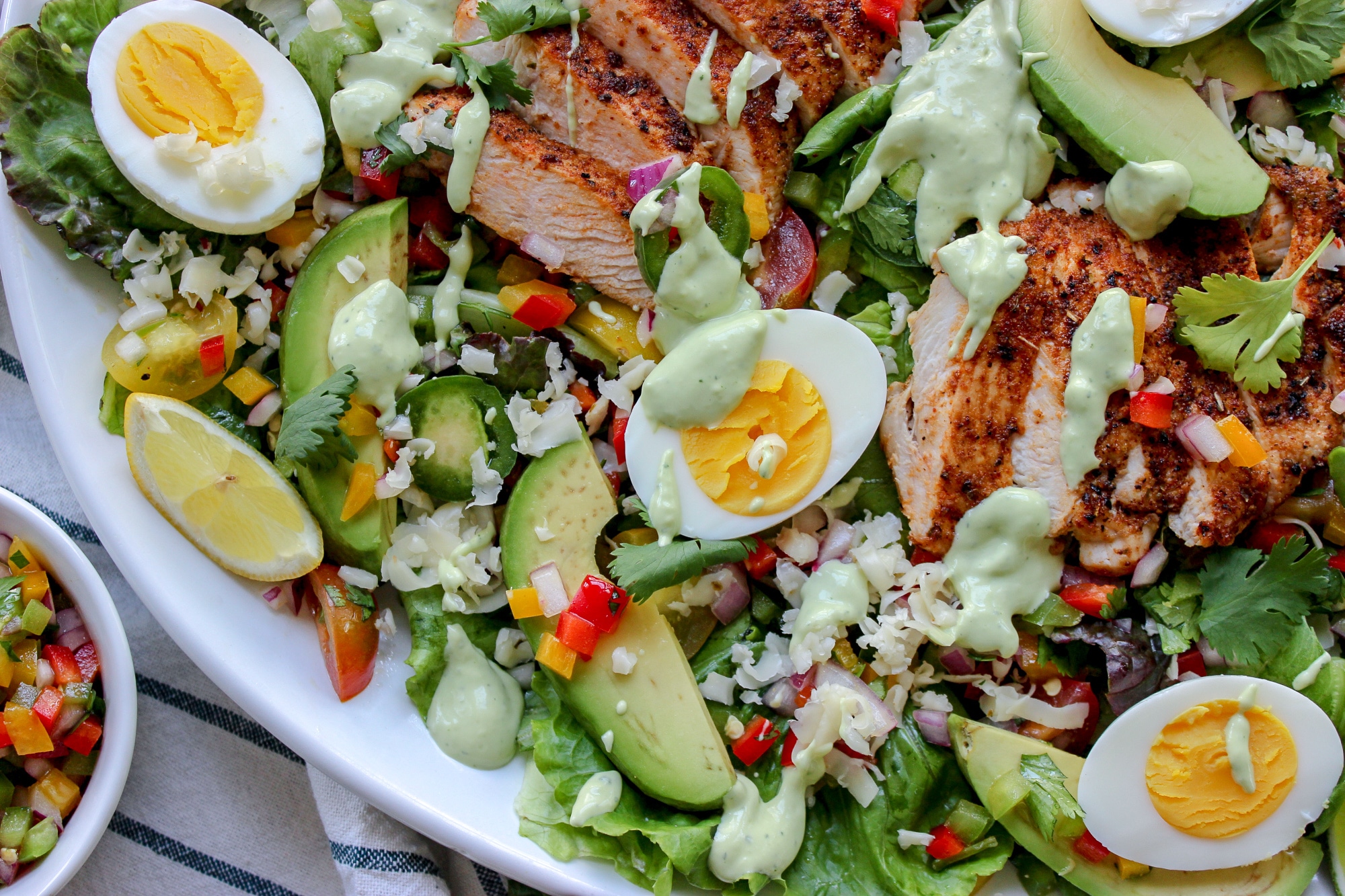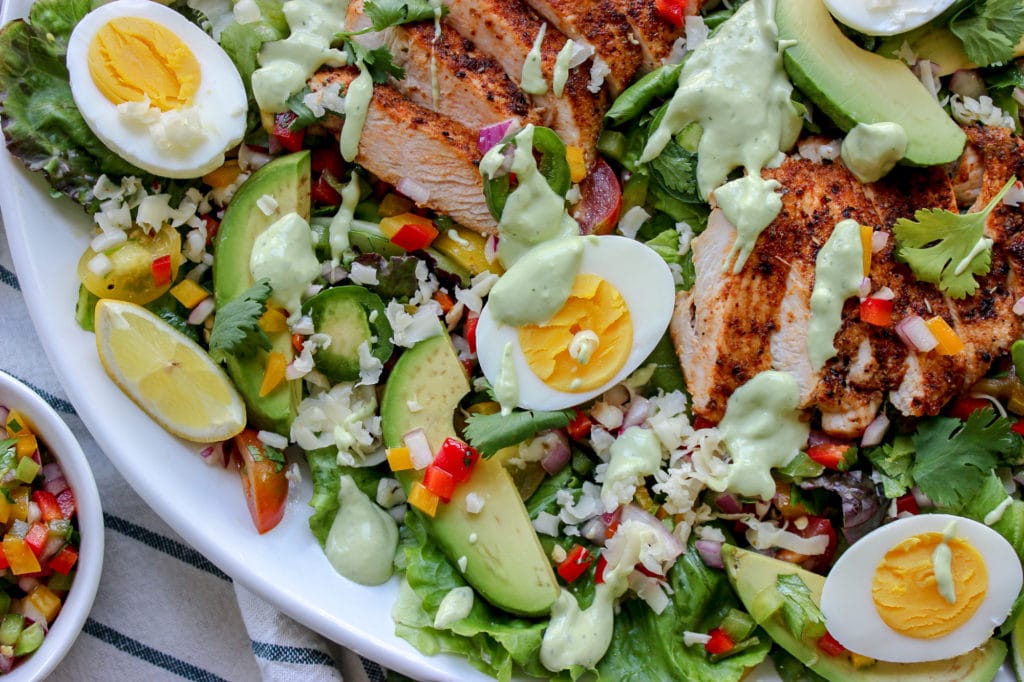 The Salad:
I want flavor and fulfillment from a salad. I don't want to be done eating and 30 minutes later feel like I need a second dinner. For this salad, I used chicken and hard boiled eggs for my protein. I pan seared some homemade blackened chicken (this is flavorful, spicy, and juicy) and boiled some eggs. The rest of the salad was inspired by a southwestern salsa my aunt used to bring to family parties. Her salsa was bright, colourful, and seriously packed with flavor. I did a rendition of this without the beans and the corn to keep the carbs low. However, if you are not a "low carb" eater like me, you could definitely add these for extra flavor and protein! I mixed fresh heirloom tomatoes, yellow and red pepper, some jalapeno, cilantro, and red onions together in a bowl. Add a bit of cumin, salt, lime juice, and a bit of olive oil to it all and let it hang out and marinate a bit. Place the lettuce down on your platter for your base. Sprinkle some of the southwestern fiesta veggie mixture over the top, add sliced blackened chicken and the halved hard boiled eggs. I sprinkled a little more of the veggie mixture over everything and topped with a little bit of pepperjack cheese I had left in my fridge. Place a few avocado slices around and arrange them sporadically over the top (do this right before serving so they do not oxidize).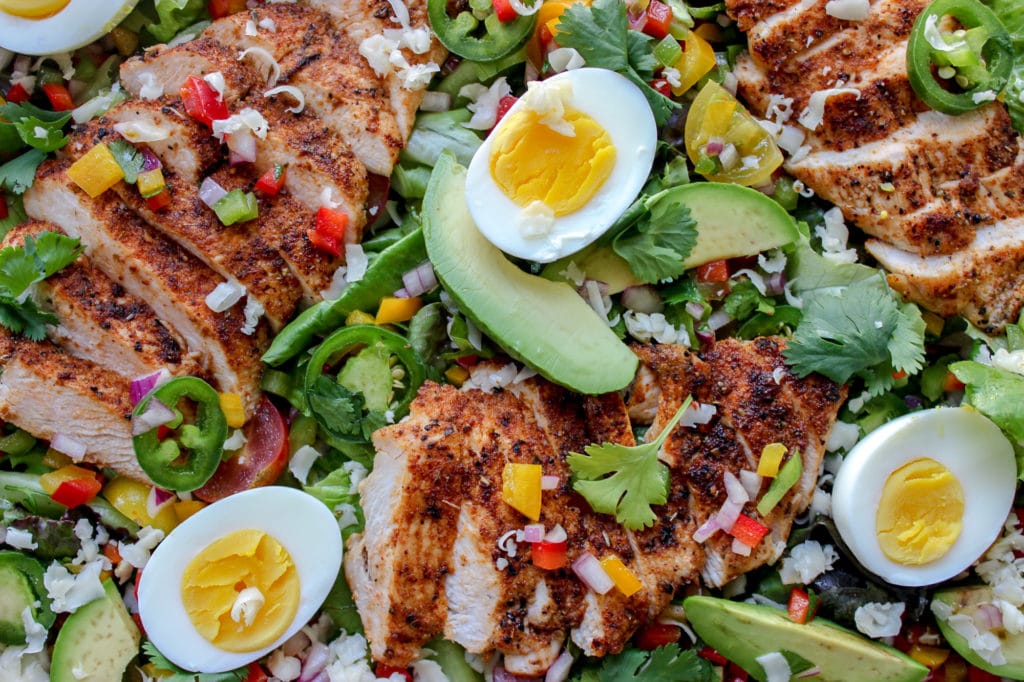 The Dressing:
The dressing is seriously beyond simple and very addictive! In a food processor or blender, combine one ripe avocado, mayonnaise (I use avocado mayo but regular works fine too), fresh garlic, salt/pepper, cilantro, and some lime juice. I blend till it's smooth and creamy. Give it a quick taste test and adjust to your liking! If you like it a little thinner, you can add a little water to it too to thin it out. I find this makes it easier to pour onto the salad!
I wrote a lot about this Southwestern Fiesta Salad With Avocado Dressing today, but it was that good that it deserved it! I hope you seriously love this salad. Definitely worth adding to your summer dinner meal rotation and meal prep!
Bon Appeteach,
-L
Nutritional Information- Obtained using My Fitness Pal. Please always verify with your own ingredients as brands vary.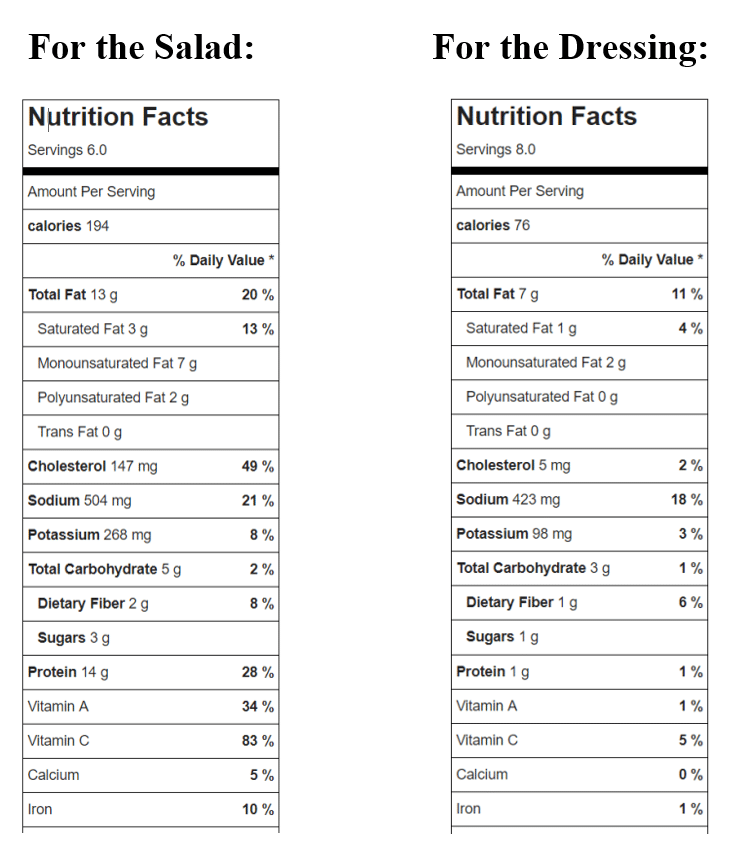 Southwestern Fiesta Salad With Avocado Dressing
Print Recipe
Ingredients
2 Chicken Breasts, butterflied

4 Eggs, Hard Boiled

For the Blackened Chicken:

1 tsp. Paprika

1 tsp. Salt

1 tsp. Black Pepper

1/2 tsp. Garlic Powder

1/2 tsp. Cumin

1/4 tsp. Cayenne

1 Tbsp. Olive Oil

2 Heads of Romaine, Green, or Red Leaf Lettuce (yields about 6-8 cups of lettuce)

1 Jalapeno, minced

1 Tomato, diced

1/2 Red Pepper, diced

1/2 Yellow Pepper, diced

1/4 cup Red Onion, diced

1/2 Avocado, Sliced

3 Tbsp. Fresh Cilantro, minced

1/2 Lime, juiced

2 Tbsp. Olive oil

1/2 tsp Cumin

For The Dressing:

1 Ripe Avocado

1/2 cup Mayo (I use avocado mayo)

1 tbsp. Mustard

1/2 Lime, juiced

1 Garlic Clove, minced

1/4 cup Cilantro, stems removed

1 tsp. Salt
Instructions
1
Begin by boiling the 4 hard boiled eggs. Immediately cool, peel, and set aside.
2
Butterfly the chicken breasts and combine all the seasonings for the blackened chicken. Season both sides of each chicken breast generously.
3
Heat a pan to medium heat and add a tablespoon of oil. Sear the chicken on both sides and cook through. Remove from the heat and allow it to rest before slicing.
4
In a bowl, combine the peppers, tomatoes, cilantro, 1/2 a lime (juiced), the cilantro, cumin, and olive oil. Mix well and set aside.
5
Using a large salad bowl or platter, tear your lettuce (this helps eliminate the potential for sogginess) and place it across the platter or in the bowl.
6
Sprinkle some of the vegetable mixture over the lettuce. Add your diced chicken, halved boiled eggs, and top with some sliced avocado pieces (do not add this until you are ready to serve to avoid browning).
7
In a blender or food processor, combine the dressing ingredients. If it is really thick, add a little water to it to help thin it out and make it easier to pour. Add the dressing over the top and serve!
Notes
Optional: I added a little shredded Pepper Jack cheese I had left in the fridge! Cheese is a great addition to salads for extra protein and added fats.