Smoked Pulled Pork Nachos Recipe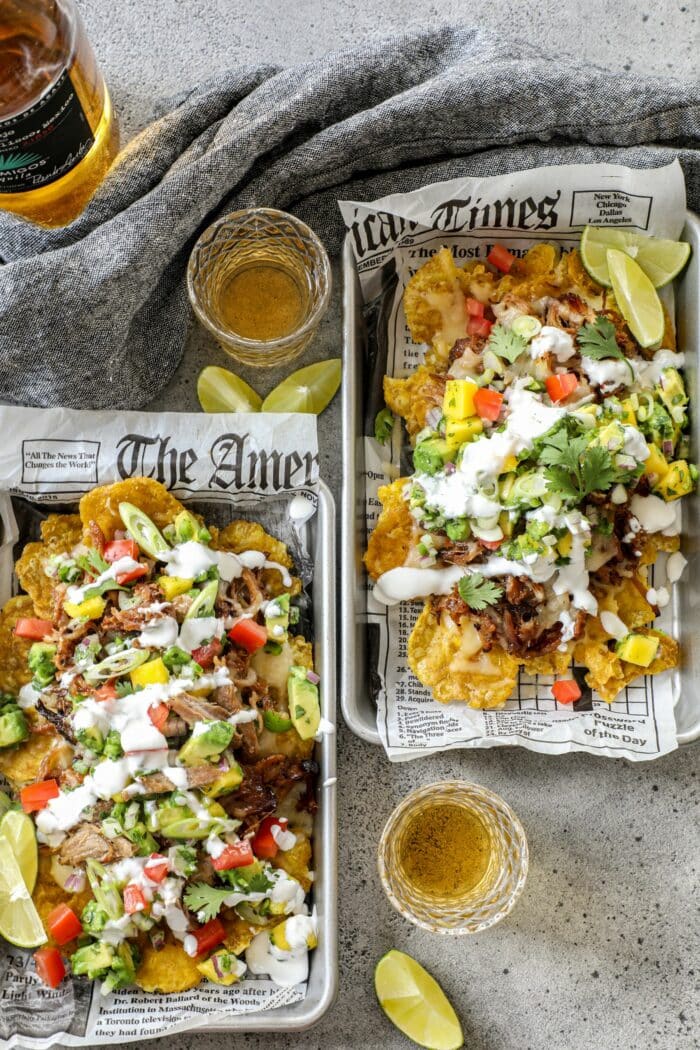 These smoked pulled pork nachos made with plantain chips are a dish that combines the smoky flavor of smoked and shredded pork shoulder with the crispy texture of plantain chips, topped with melted cheese, avocado and mango salsa, sour cream, and all your favorite nacho toppings.
If you have ever smoked a whole pork butt then I am sure you've seen the massive amount of food you often end up with after it's all said and done. While I am a huge fan of BBQ pork sandwiches, pulled pork tacos, or taquitos, I also love the idea of making some sheet pan nachos (this can be done on the smoker or in your oven too).
This is my favorite way to serve a large crowd for game day (hello super bowl Sunday anyone) or make an individual plate of nachos for a busy weeknight dinner. Either way, it's the best way to use up leftover meat and play around with different flavor combinations too.
Why This Recipe Works:
Smoked pork shoulder yields a lot of meat in the final product and this is a great way to utilize the leftover pulled pork in a unique and easy way.
The plantain chips and BBQ pork are very complimentary flavors especially paired with a mango and avocado salsa to bring out those Caribbean-inspired flavors to a traditional nacho recipe.
Nachos are a great recipe to serve for a large group if you're entertaining for a big game or hosting a party. They always seem to be a winning appetizer!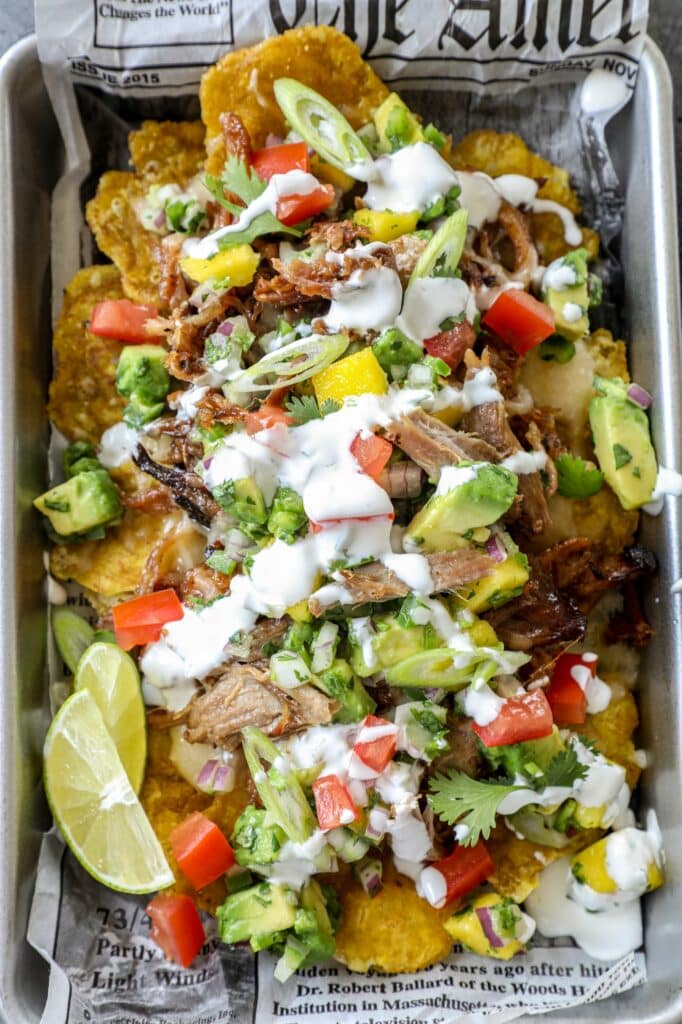 "School" Supplies:
Knife and Cutting Board
Pot and Steamer Basket
Tongs
Large Sheet Pan, Small Sheet Pan, or Cast Iron Skillet
Parchment Paper or Aluminum Foil
"Class" Notes:
Welcome to my virtual classroom! Use the guided notes below where I often answer commonly asked questions I get from readers and cooks just like you.
This information is meant to help you have a stronger understanding of this recipe and the process so you can find success all on your own.
Ready to begin cooking? Simply jump to the recipe card below and begin.
Ingredients:
Smoked Pulled Pork
BBQ Sauce (use your favorite sauce)
Plantain Chips or Crispy Tortilla Chips
Red Onion
Mango
Avocado
Cilantro
Jalapeno or Bell Peppers
Shredded Cheese (I like Asadero or Oaxaca for this recipe)
Optional Toppings (black beans, pico de gallo, green onions, sour cream, guacamole, etc.)
Reheating Smoked Pulled Pork:
Making smoked pulled pork is not difficult, but it does take a long time. While this pork recipe is more about building the nachos specifically with already cooked and reheated smoked pulled pork for an easy dinner or appetizer, you can get more in-depth details on how to smoke a pork shoulder or pork butt with this basic guide.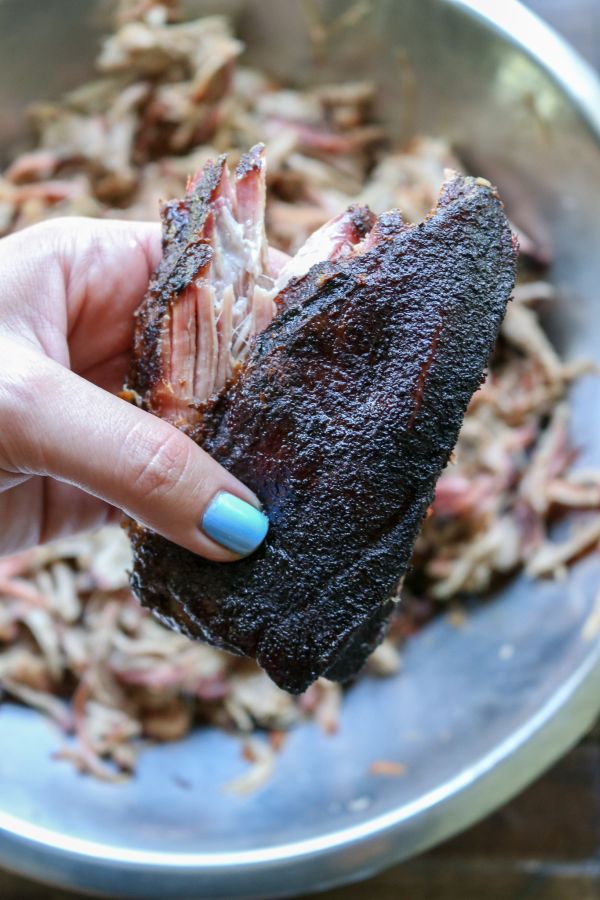 The trick to properly reheating any previously smoked meat (in this case pulled pork) is to actually steam it. We want to introduce moisture back into the meat by gently heating it through without it getting too dried out again when we heat the nachos up in the oven or on the grill. Here's what I recommend doing-
Use a pot with a steamer basket and matching lid. Fill the pot with a few cups of water and assemble it accordingly over the stove, fitted with a lid, and bring it to a boil.
Once the water is boiling and producing steam, carefully add the desired about of pulled pork to the steamer basket. Cover again and let it heat through.
Carefully use tongs to toss the meat after about 5 minutes to redistribute the meat as needed in the basket for even heating. Let it steam for another 5 minutes or so.
Remove the pot from the heat and carefully transfer the shredded pork into a bowl and toss with warmed barbecue sauce.
You could alternatively use sous vide to gently reheat pulled pork or even a slow cooker if you need to heat a lot of the meat through.
How To Build Pulled Pork Nachos:
Layer One – The Chips: Whether you're using a large baking sheet or a large cast iron skillet to build your nachos, the first layer is always chips. I do love plantain chips for this flavor combination, but you can also use corn chips if you prefer. Place a single layer of chips out across the surface so they are spread out evenly.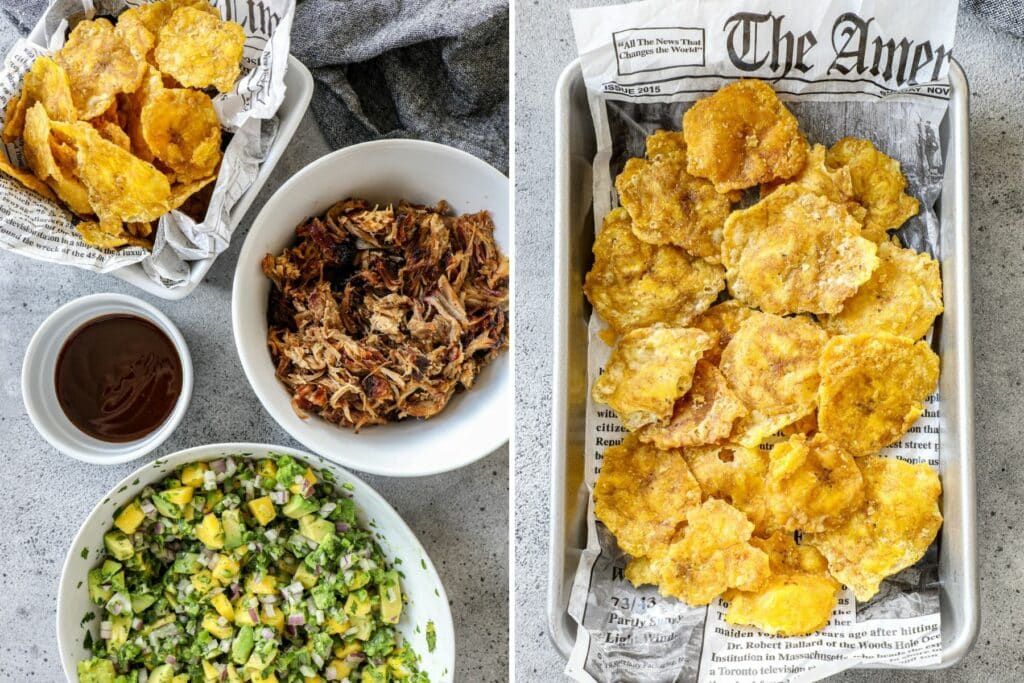 Layer Two – Pulled Pork: Add the steamed BBQ pulled pork over the chips along with a heavy sprinkling of the shredded cheese. At this point, you can bake or smoke the nachos to heat through until the cheese melts, or go back and add additional layers of chips, pork, and cheese if you prefer to stack the nachos. Once heated through, remove the plate of BBQ nachos to add the final layers.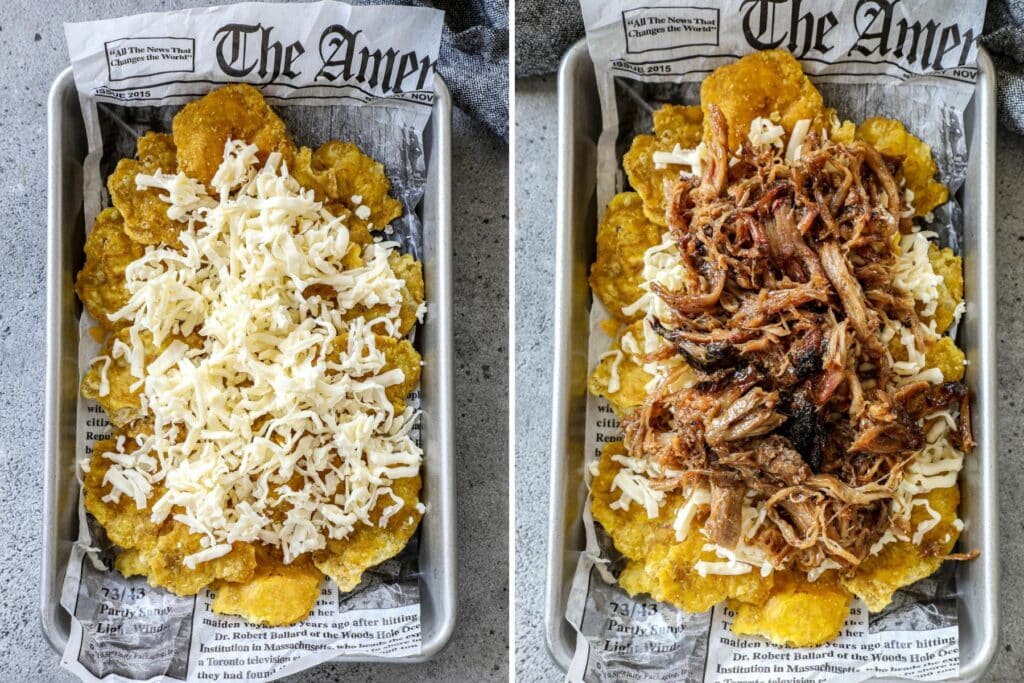 Layer Three- Salsa: While the nachos are heating through, mix together the mango, avocado, red onion, jalapeno, and cilantro to create a flavorful salsa. Season with some lime juice, salt, and cumin, and pile the salsa mixture over the top of the melted cheese when they come out of the oven. While I love fresh salsa, you can always grab something premade from the grocery store as well.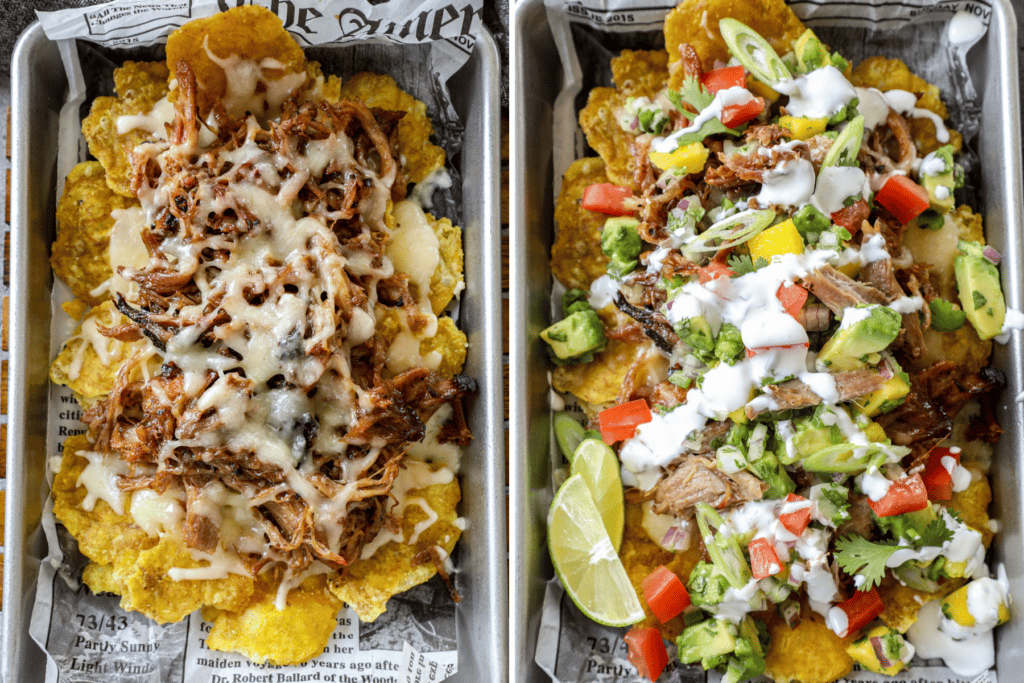 Layer Four- Garnish: Finish the pork nacho recipe off with any of your favorite toppings. Black beans, pickled jalapenos or onions, hot sauce, and sour cream would be a perfect combination with this recipe.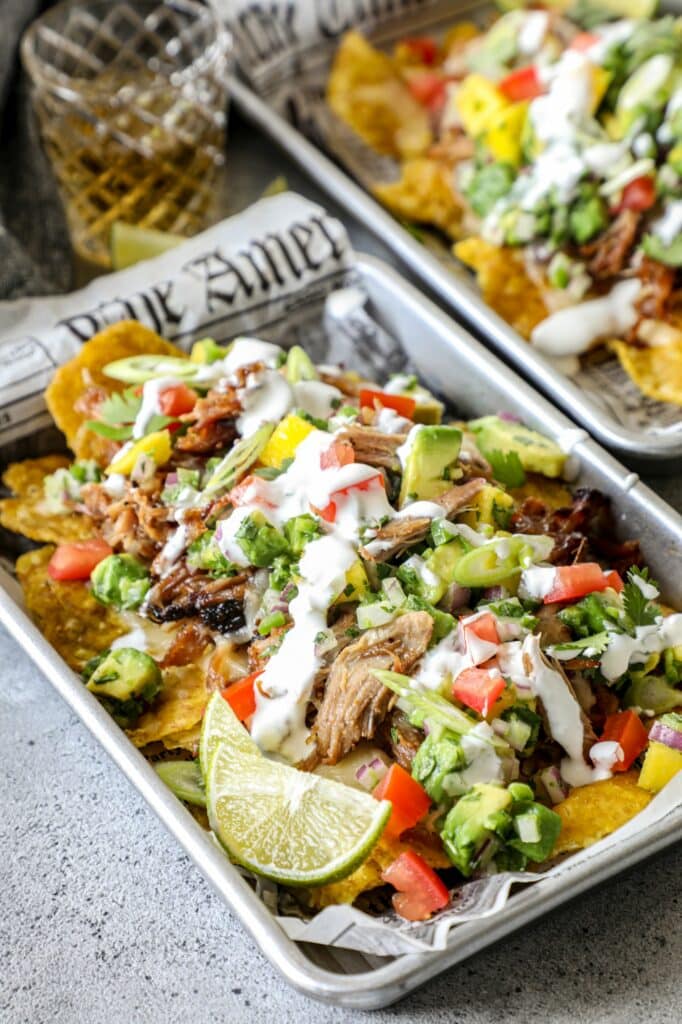 Expert Tips:
Start with high-quality chips: Use thick, sturdy chips that will hold up to the toppings without getting soggy.
Layer the toppings: Instead of mixing everything together, layer the chips, cheese, meat, and toppings so that each bite has a little bit of everything.
Use fresh ingredients: Use fresh, high-quality ingredients for the toppings, such as freshly diced tomatoes, chopped fresh cilantro, and homemade salsa.
Preheat the oven or smoker: Preheat your oven or smoker before heating the nachos so that the cheese can melt and the toppings can heat through quickly.
Top with sour cream or guacamole: Add a dollop of sour cream or guacamole before serving for an extra creamy, cool contrast to the warm nachos.
Be creative with toppings: You can add beans, jalapeno, olives, onions, or whatever you like to the nachos
Serve immediately: Nachos are best served hot and fresh right after they are heated and tend to get soggy the longer they sit. Make in smaller batches to ensure you have crispy chips and enjoy!
More Recipes To Try: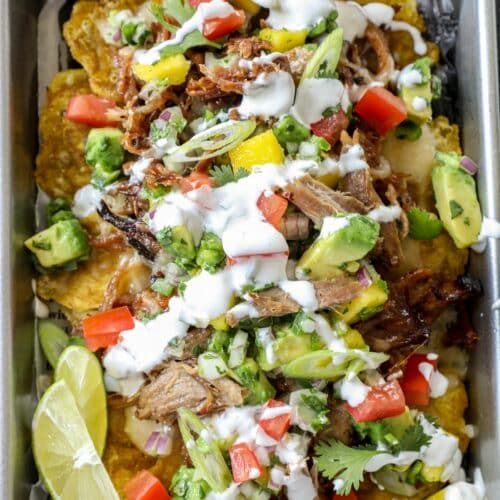 Smoked Pulled Pork Nachos Recipe
These smoked pulled pork nachos made with plantain chips are a dish that combines the smoky flavor of smoked and shredded pork shoulder with the crispy texture of plantain chips, topped with melted cheese, avocado and mango salsa, sour cream, and all your favorite nacho toppings.
Print
Pin
Rate
Ingredients
16

oz.

Plantain Chips

or Tortilla Chips

2

cups

Pulled Pork

1/4-1/2

cup

BBQ Sauce

3

cups

Shredded Cheese
Mango & Avocado Salsa
2

medium

Avocados

cubed

2

small

Mangos

diced small

1/2

cup

Red Onion

diced small

1

Jalapeno

seeds removed diced small

1/2

cup

Cilantro

minced

1

Lime

juiced

1/2

tsp.

Cumin

1

tsp

Sea Salt
Optional Toppings
Pico De Gallo

Green Onions

Sour Cream

Additional Cilantro
Instructions
Preheat the oven or a smoker to 350 F.

Reheat the pulled pork by using a pot on the stove with a steamer basket. Fill the pot with water and bring it to a boil. Place the leftover pork into the basket and steam for 5 minutes, toss and steam a few more minutes (as needed) until it's heated through).

Remove the pork from the steamer and toss with warm BBQ sauce and set aside.

Layer parchment paper over a baking sheet or cast iron skillet. Place the plantain chips (or tortilla chips) in a single layer across the bottom.

Add a layer of cheese and then the BBQ pulled pork and then more cheese on top.

Bake in the oven or smoke on the grill just until the cheese is melted, about 5-7 minutes.

While the nachos are cooking, prepare the mango and avocado salsa. Combine the diced avocado, diced mango, red onion, jalapeno, and cilantro in a bowl. Add the lime juice, salt, and cumin and fold to combine.

Layer the avocado mango salsa over the top of the BBQ pulled pork nachos. Add any additional desired garnished (pico de gallo, sour cream, green onions, etc.). Serve and enjoy!
Nutrition
Serving:
1
g
|
Calories:
735
kcal
|
Carbohydrates:
56
g
|
Protein:
38
g
|
Fat:
43
g
|
Saturated Fat:
16
g
|
Polyunsaturated Fat:
3
g
|
Monounsaturated Fat:
16
g
|
Cholesterol:
117
mg
|
Sodium:
2104
mg
|
Potassium:
810
mg
|
Fiber:
9
g
|
Sugar:
38
g
|
Vitamin A:
2201
IU
|
Vitamin C:
61
mg
|
Calcium:
525
mg
|
Iron:
3
mg