Every good party, needs a good dip.
Every amazing party, needs this smoked crab dip! Crab dip is a classic crowd pleaser and this recipe is never a disappointment (no worries about having leftovers). I love pairing this low carb and keto friendly dip with these delicious Keto Crackers or my Homemade Keto Tortilla Chips.
I love making this on the grill, but if the whether isn't permitting, you can definitely make this in the oven as well. Find the full recipe below and read through the post below for some helpful tips and tricks!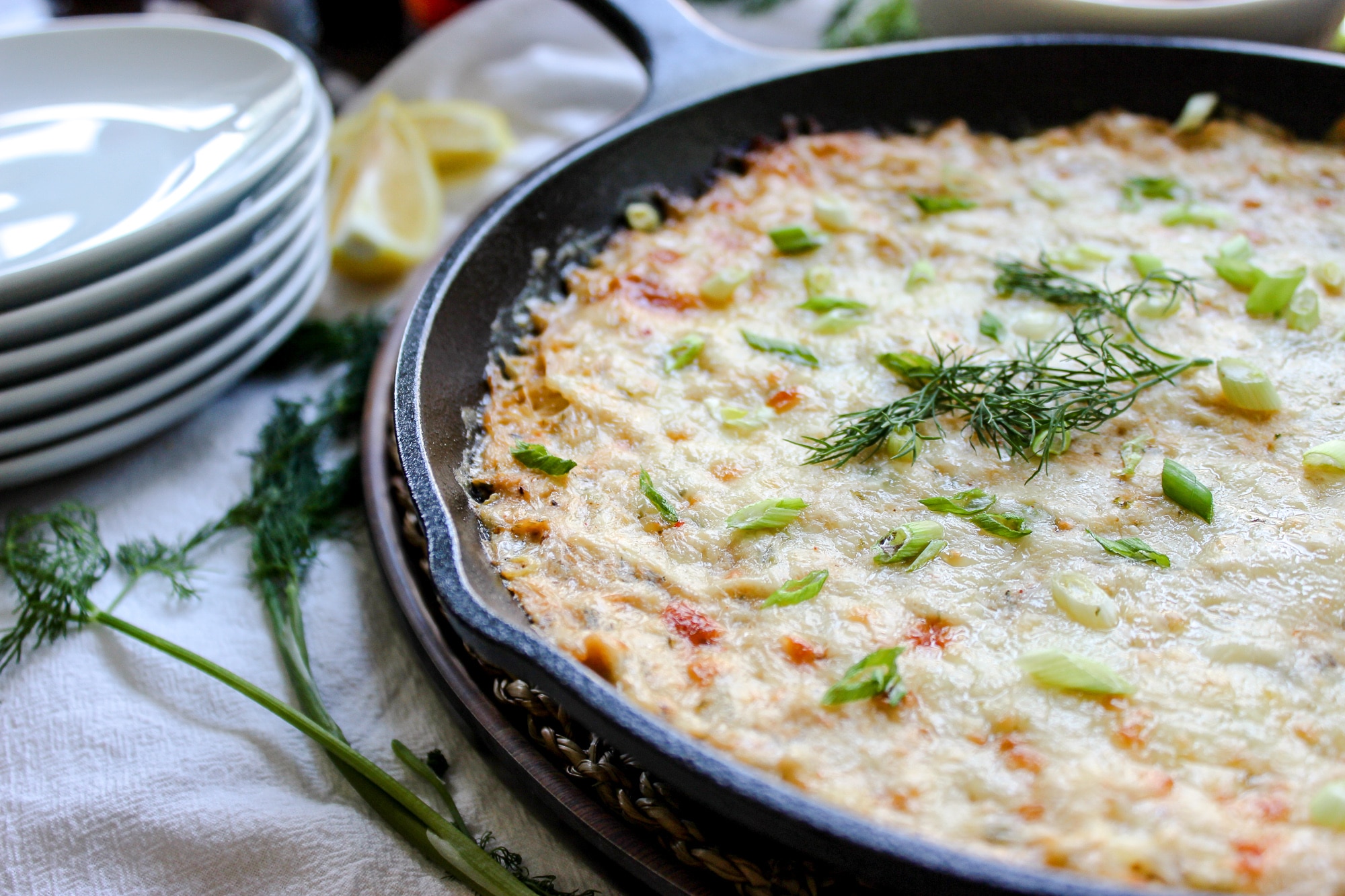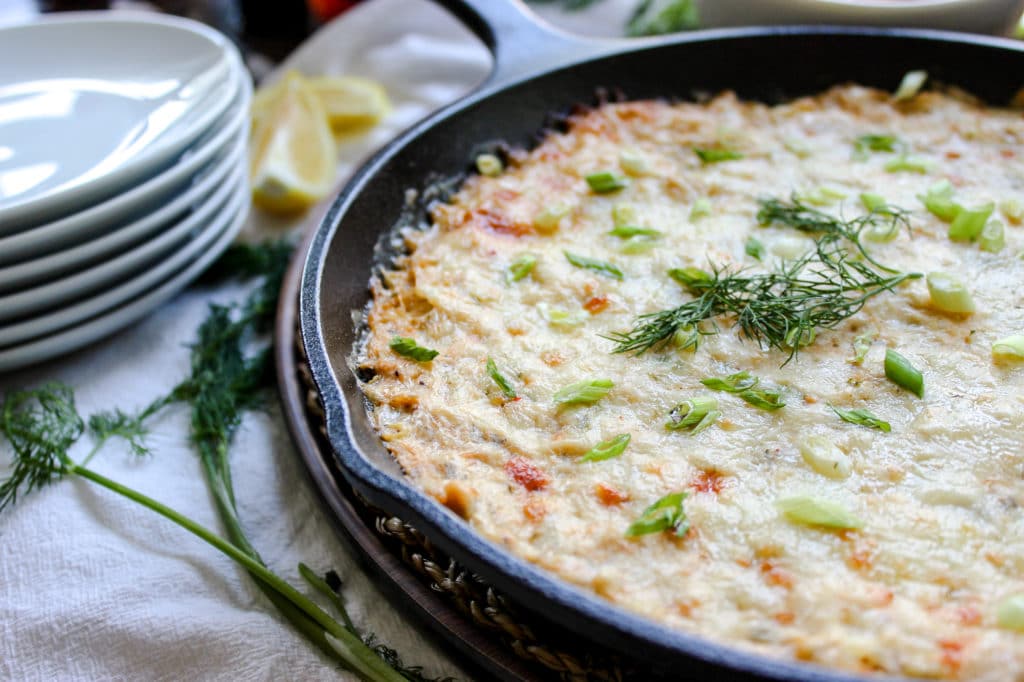 "School" Supplies:
Grill (can also be baked)
9″ Cast Iron Skillet
Mixing Bowl
Measuring Spoons
Rubber Spatula
Knife & Cutting Board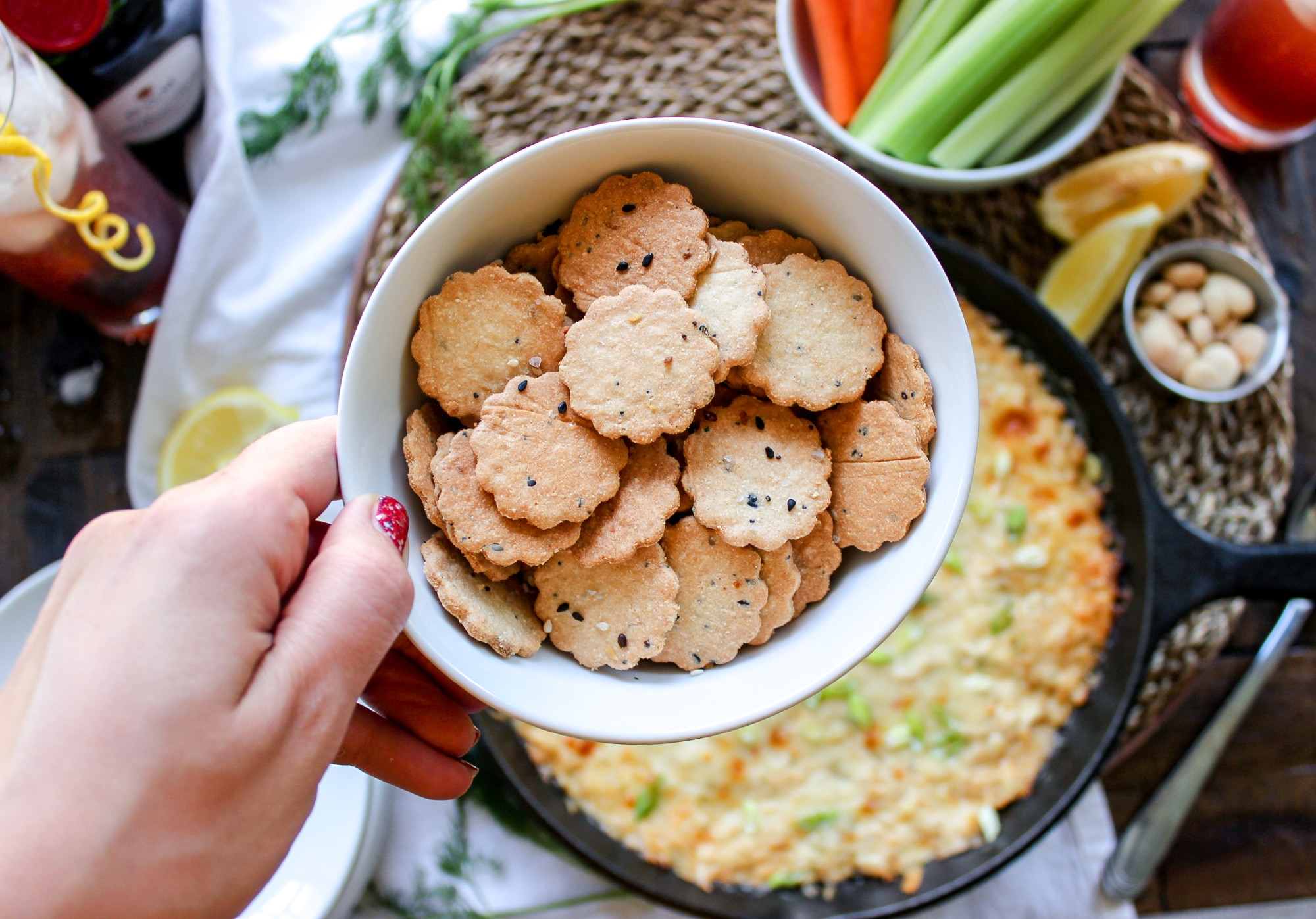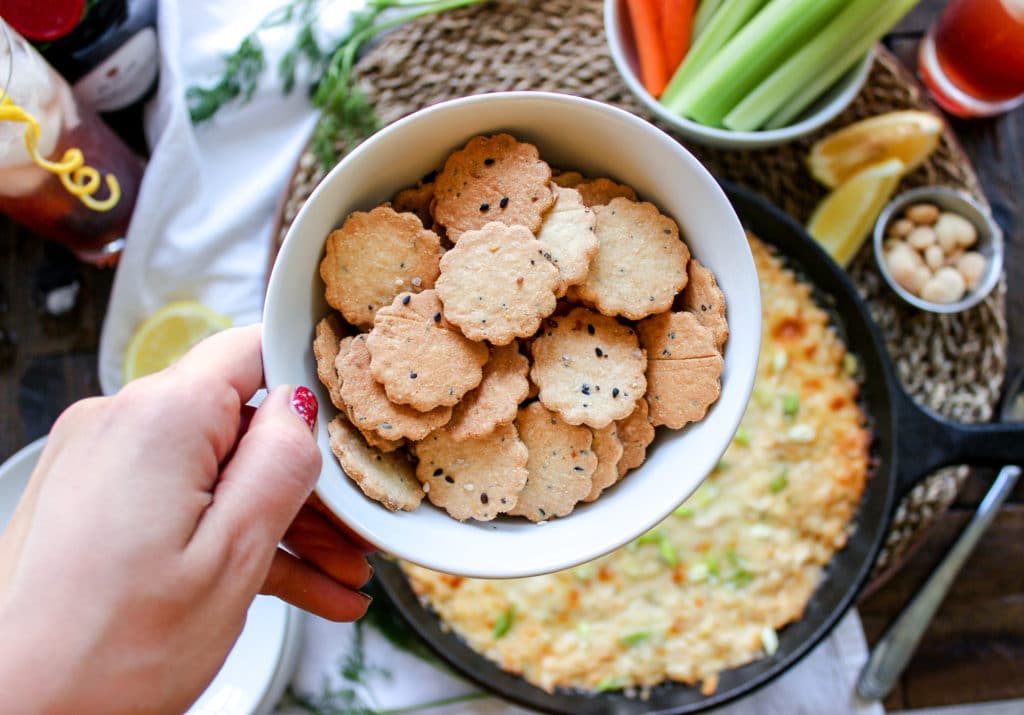 Class Notes:
This dip is really easy to throw together, especially for a summer party or get together. In a mixing bowl, combine the lump crab meat (be sure to check for shell bits prior to adding), garlic, green onion, and minced dill. Add in the softened cream cheese, sour cream, and grated pepper jack cheese.
I highly recommend always grating your own block of cheese as opposed to buying pre-shredded cheese from the store. Pre-shredded cheese typically has a coating on the outside that helps it from clumping together in the bag. This is great for not having clumpy cheese, but isn't so great for when you want a nice melted ooey-gooey dip.
Mix in a bit of seasoning and a little Dijon mustard and Worcestershire sauce. I chose to "bake" this on my grill to infuse some smoke flavor into the meat. I absolutely live for this when it comes to making seafood dishes. If you don't have a grill or have time to fire it up, add a bit of liquid smoke to the dish and bake it easily in the oven. 
I grilled my crab dip on indirect heat, covered with foil until it is bubbly. Then remove the foil and bump up the heat a bit to get that nice brown color across the top of the dip! Keeping this dish low carb? No problem! Serve with your favorite chips, Low Carb Naan Bread (pita chips), or veggies like celery sticks and crispy red pepper! If you aren't low carb/ gluten free this would taste amazing with some grilled french bread rounds or pita chips!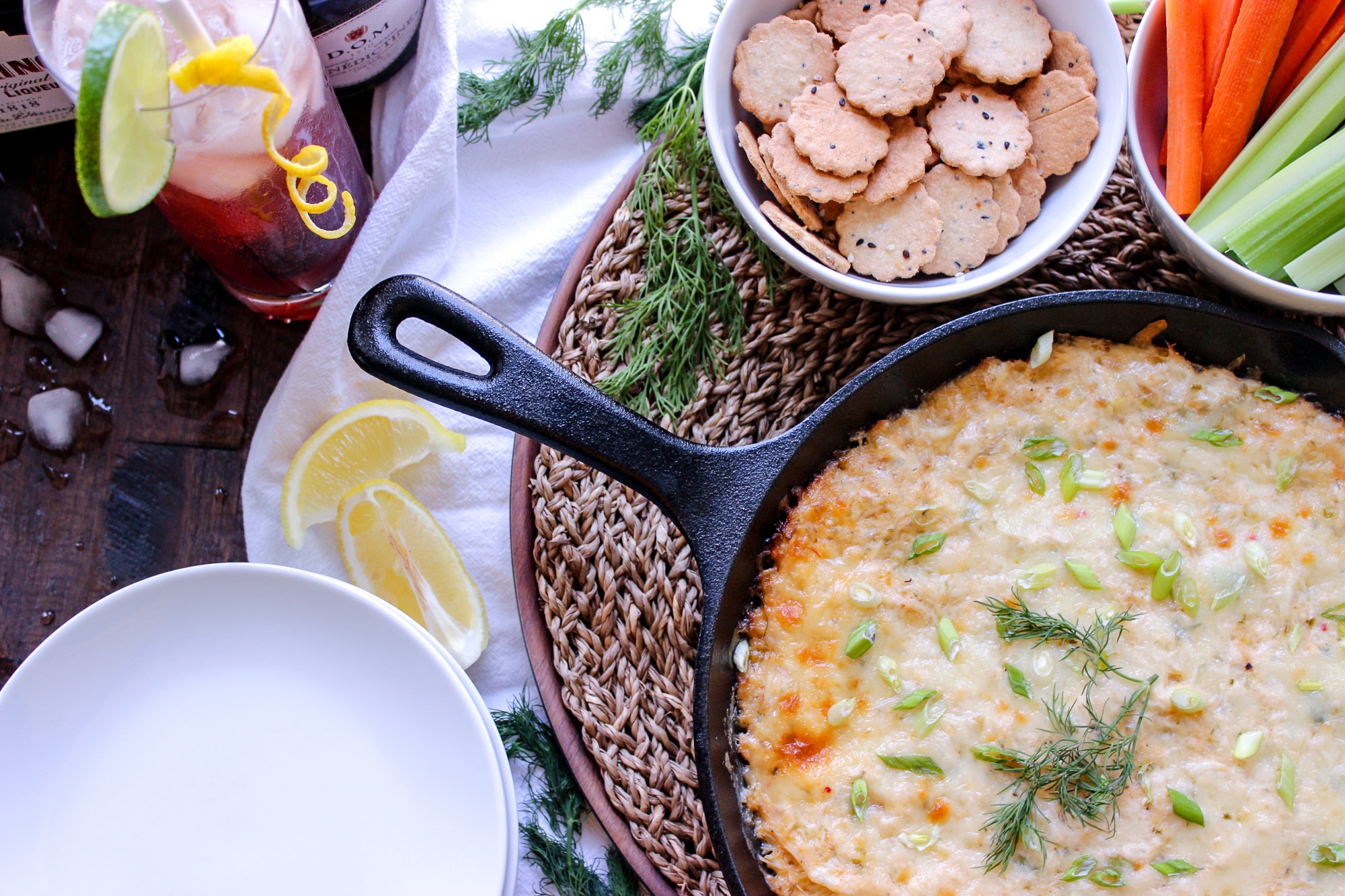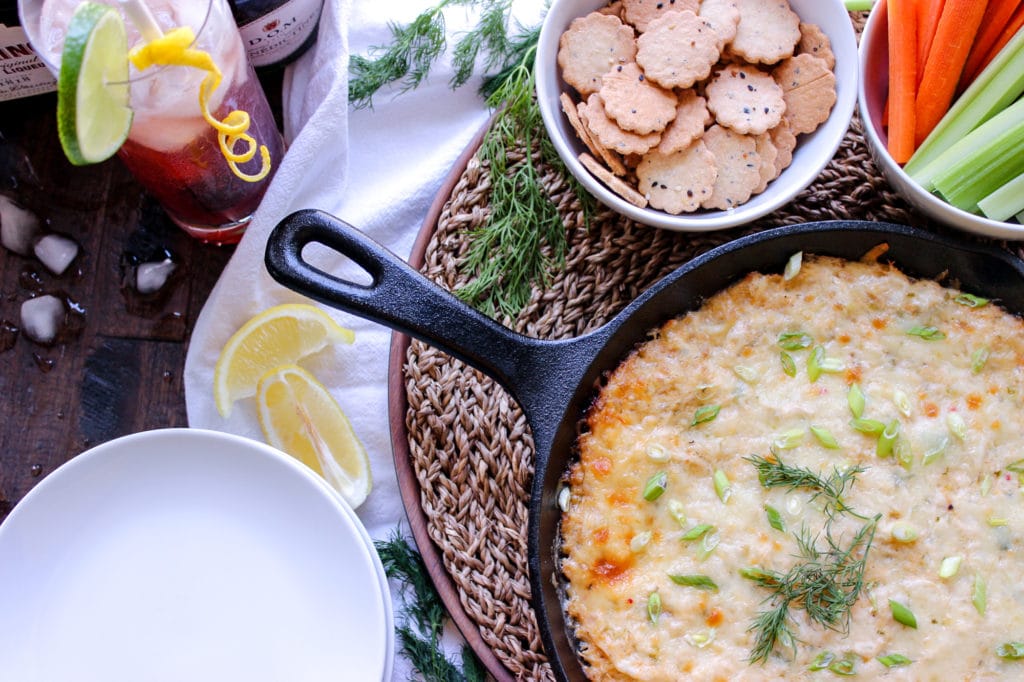 This Smoked Crab Dip is a huge party pleaser! It works so well for a fun date night or even if you feel like hoarding the whole skillet to yourself (I won't judge you)!  Dig in an pair with the Singapore Sling and you're well on your way to enjoying the weekend!
Bon Appeteach,
-L
Yield: 3 cups
Smoked Crab Dip
Ingredients
1 lb Lump Crab Meat
4 oz. Cream Cheese
4 oz. Sour Cream
1 cup Grated Pepper Jack Cheese
2-3 Garlic Cloves, minced
3 Green Onions, sliced
2 Tbsp. Fresh Dill, minced
1 Tbsp. Dijon Mustard
1 Tbsp. Worcestershire Sauce
1 tsp. Celery Salt
1 tsp. Black Pepper
1/2 tsp Paprika
1/4 tsp Cayenne
Optional- 1/2 tsp Liquid Smoke (if baking)
Instructions
1. In a mixing bowl combine, cream cheese, sour cream, grated cheese, Dijon mustard, and Worcestershire (and the liquid smoke if baking).

2. Add in the celery salt, black pepper, paprika, and cayenne.

3. Check the lump crab meat for shells, then add the drained crab meat. Add the green onion, minced garlic, and fresh dill. Mix well.

4. Once everything is fully combined, add the mixture into a 9" cast iron skillet. Top with a little more cheese and cover with foil.

5. Grilling- Grill on indirect heat at 250 F until the mixture is bubbly, 15-20 minutes. Remove foil and continue to cook until the top is lightly browned.

6. Baking- Bake at 350 F until the mixture is bubbly, about 20 minutes. Remove foil and continue baking for about 10 more minutes or until the top is lightly browned.

7. Serve with crackers, (keto) tortilla chips, (keto) Crackers, and veggies (low carb options listed above).
Nutrition Information:
Yield:
12
Serving Size:
1
Amount Per Serving:
Calories:

127
Total Fat:

9g
Saturated Fat:

5g
Trans Fat:

0g
Unsaturated Fat:

3g
Cholesterol:

61mg
Sodium:

394mg
Carbohydrates:

2g
Net Carbohydrates:

2g
Fiber:

0g
Sugar:

1g
Protein:

10g