Low Carb Romesco Sauce with Zoodles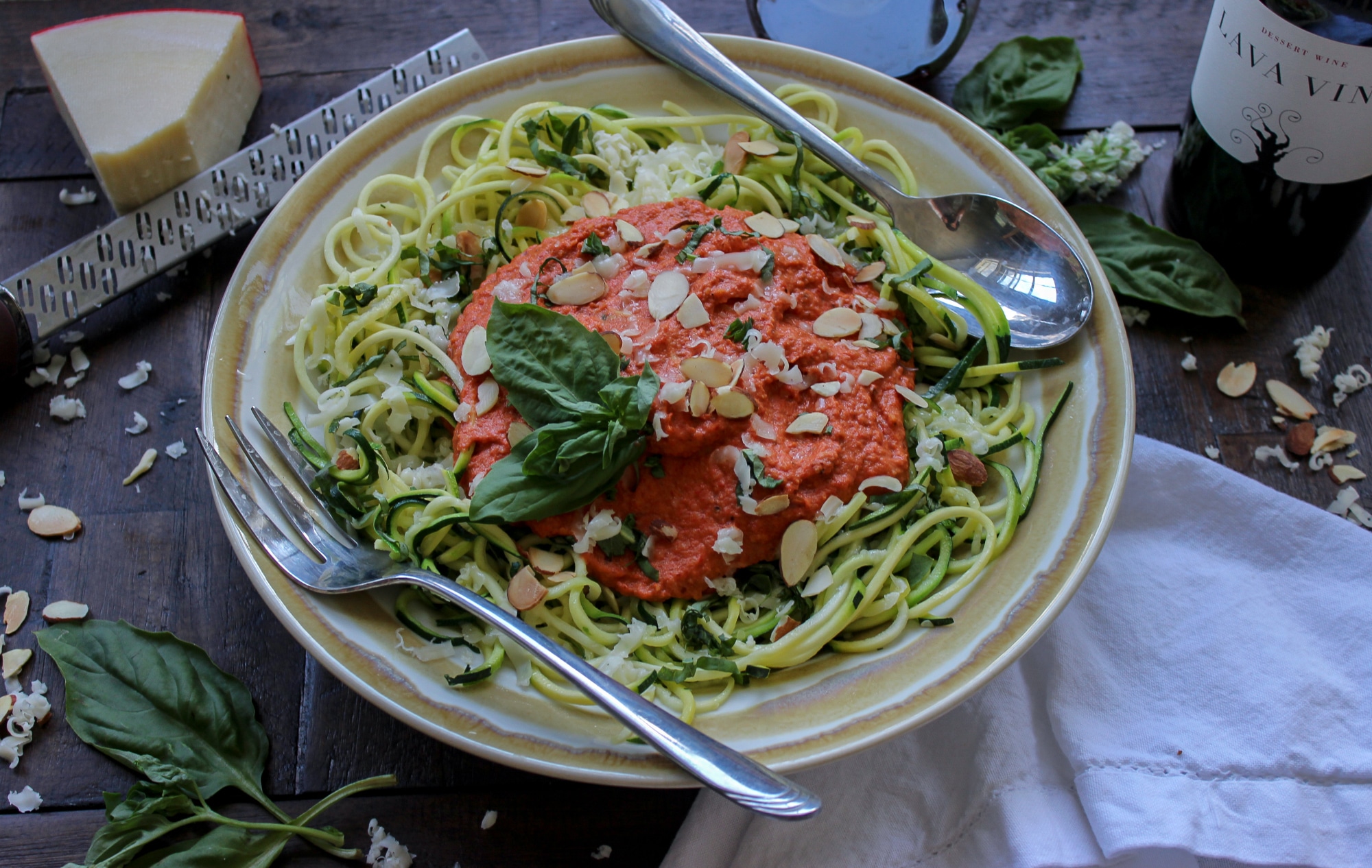 Low Carb Romesco Sauce with Zoodles:
If you have never heard of or tasted Romesco Sauce, stop what you are doing, scroll down to the bottom to check out this recipe, because your life depends on it! Whether you're low carb/keto or not… this recipe will give your tastes buds a serious bear hug of flavor (weird analogy… but I'm going with it). It's smokey, a bit spicy, creamy, and very filling. If you are feeling a little bored with a basic tomato sauce, you definitely need to switch things up with this perfect summer Low Carb Romesco Sauce with Zoodles! Full recipe is at the bottom of the page, read on for the tips and the tricks!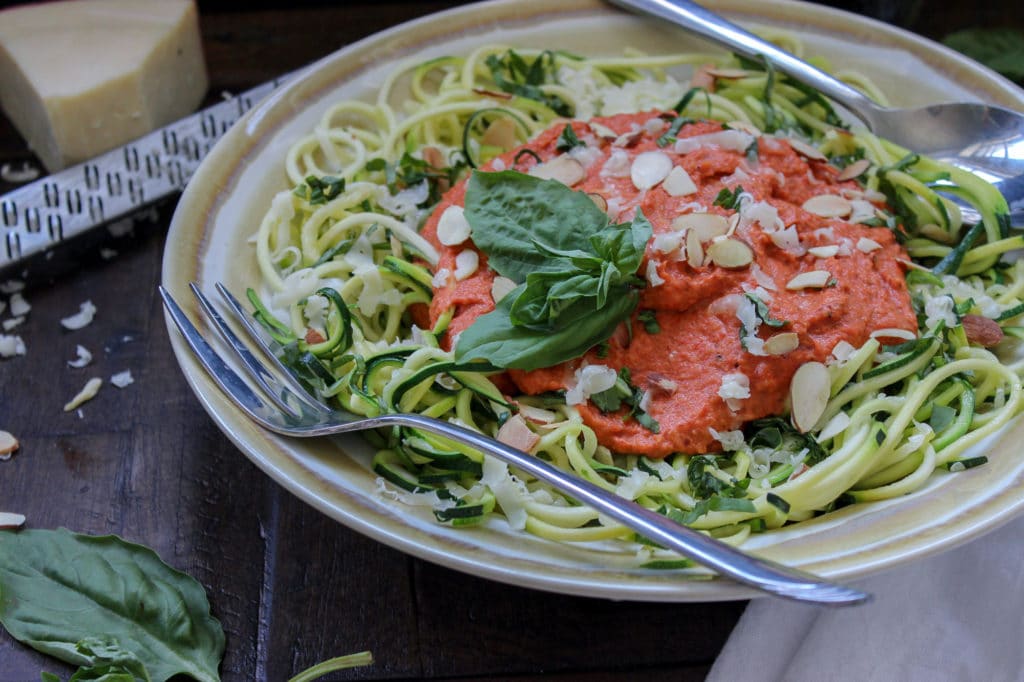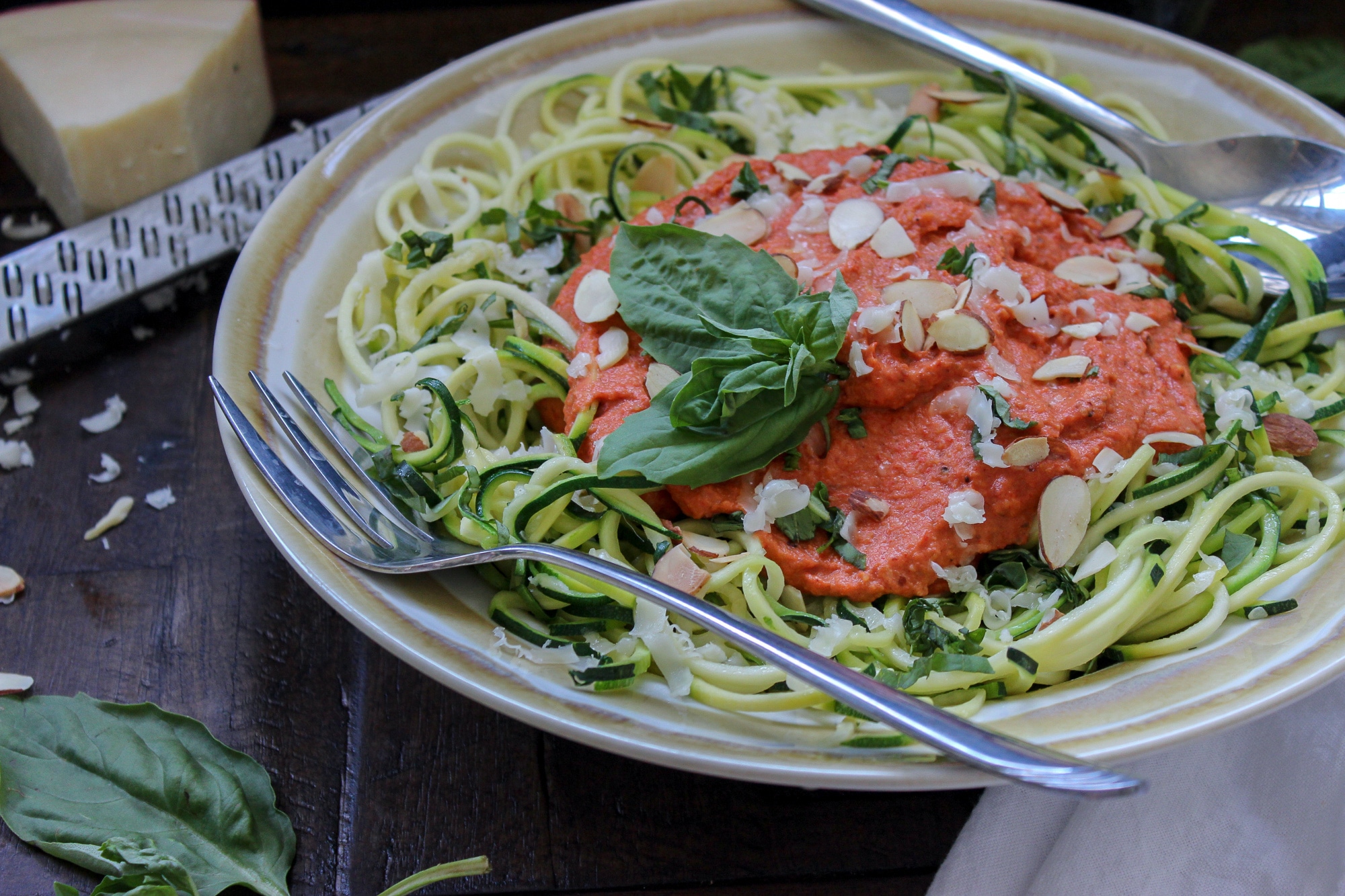 "School" Supplies:
Spiralizer or Peeler
Grill
Food Processor
Saute Pan
Tongs
"Class" Notes:
A romesco sauce is a Spanish based sauce made of roasted red peppers and nuts. This is so easy to make but tastes like you spent hours. It's absolutely a show stopper on the dinner table and literally can be used on everything. This week, I paired it with a nice al dente zoodle, fresh fontina cheese, and toasted almonds. It's a perfect dish for summer and elevates any meal. Start by roasting peppers. I have to advocate for grilling the roasted red peppers versus roasting in the oven. The smokiness of the grill really gives some serious flavor to this sauce. GRILL IT!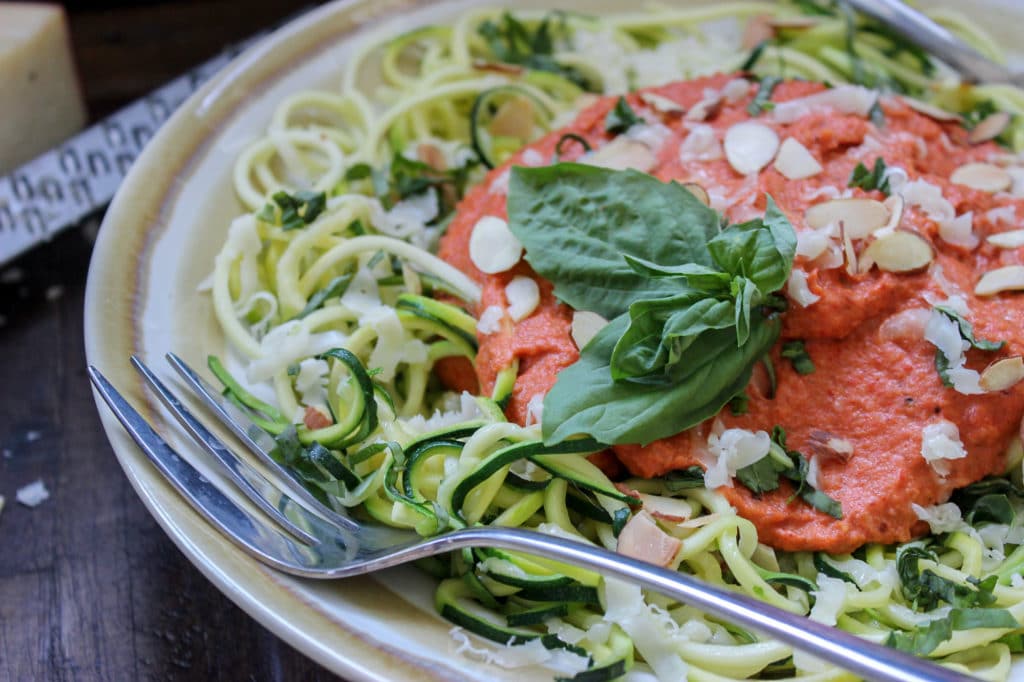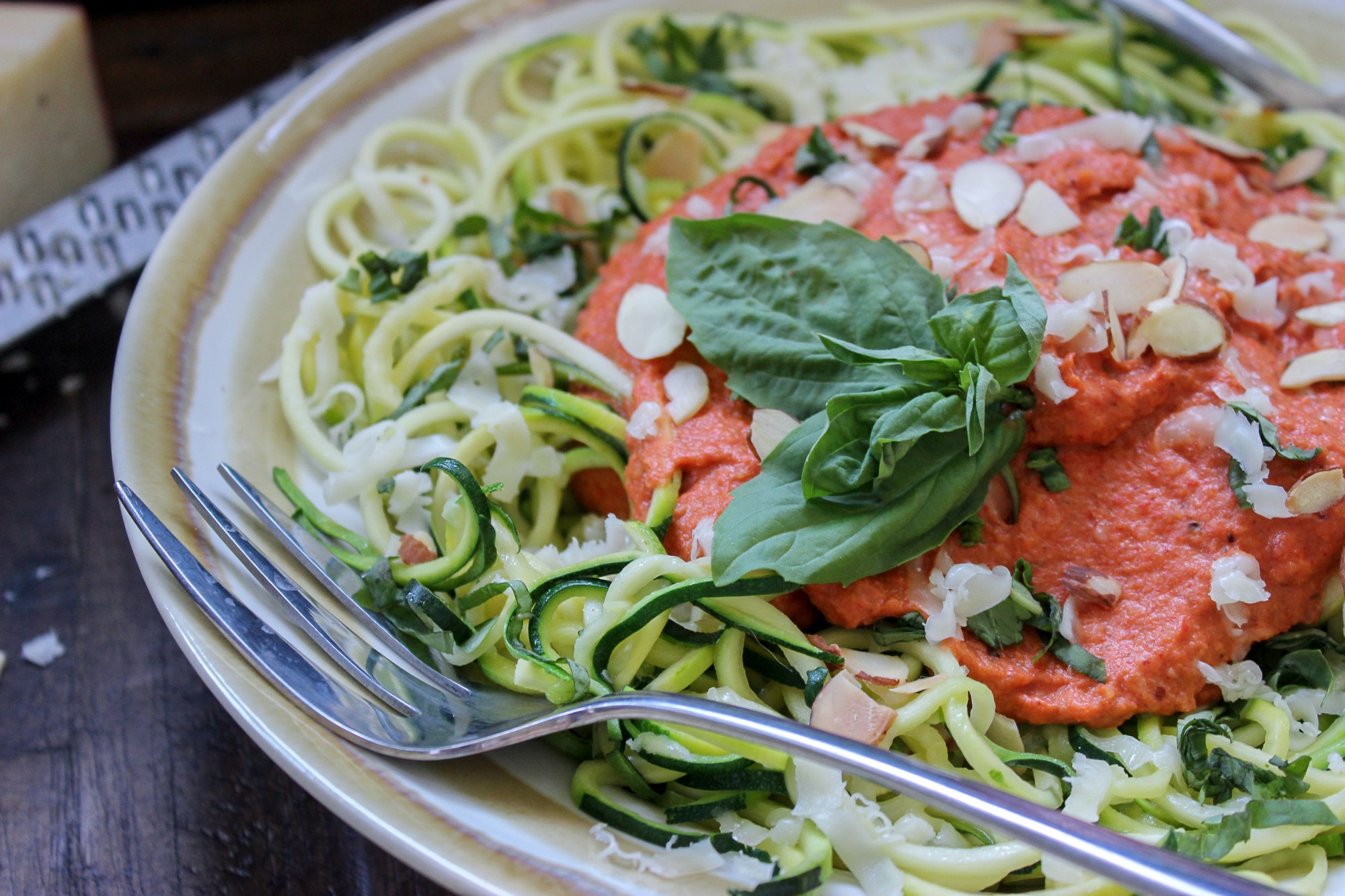 Once the red peppers are charred, I let them sit and steam a bit in a grocery bag. This makes the skin easy to peel and remove. While the peppers rest, toast the slivered almonds in the broiler. The richness from the toasted nuts really amplifies the creamy richness in this sauce. Remove the skin and seeds from the peppers and place in a food processor, along with the nuts, tomato paste, garlic, a splash of red wine vinegar and seasonings.  Pulse until smooth and creamy and set aside. Make the zoodles and lightly saute for a few minutes until tender in a garlic butter sauce. Serve the Low Carb Romesco over the zoodles and garnish with the fontina cheese and extra toasted almonds.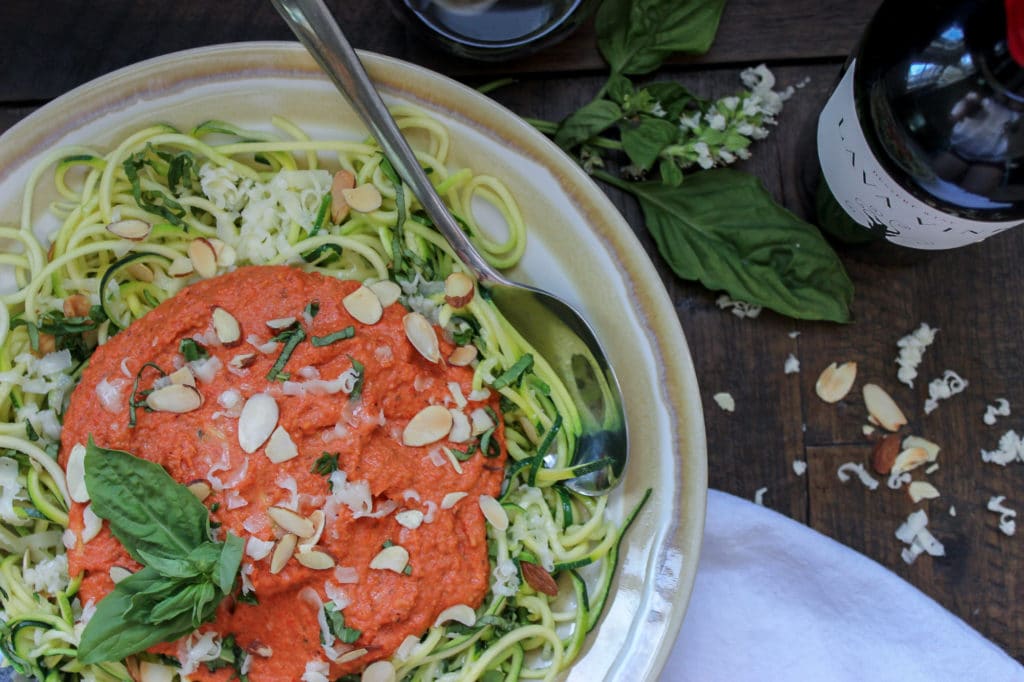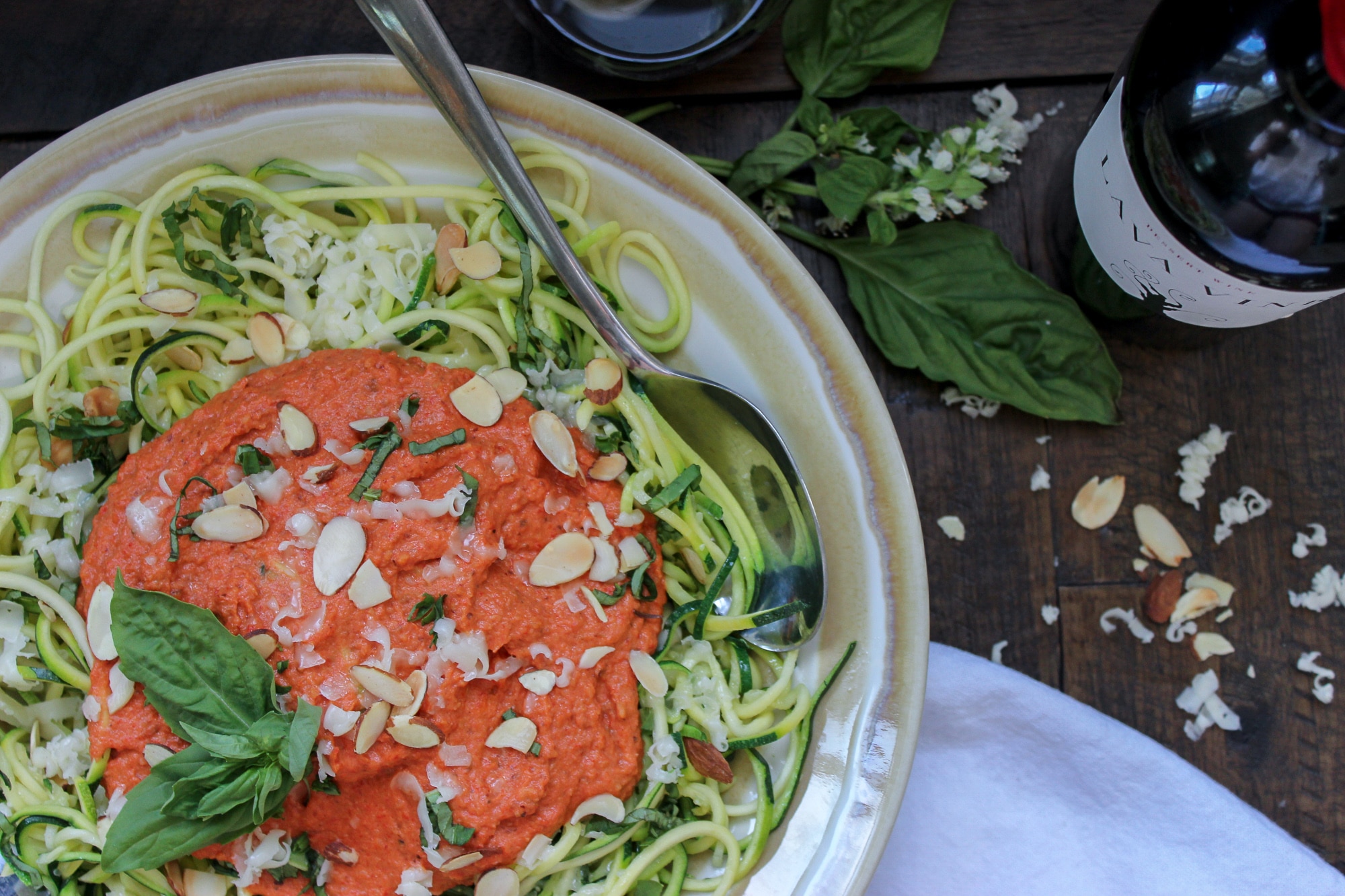 This Low Carb Romesco Sauce with Zoodles is phenomenal and a great summer dish. Need to add some protein? Pair this with some Easy Weeknight Roasted Chicken too!
Bon Appeteach,
-L
Nutritional Information:
Obtained using My Fitness Pal. I am not nor do I claim to be a nutritionist, so it is important to always verify the nutritional information as brands vary. I work hard to always provide the most accurate information as possible in hopes of making this easier for you, my readers!

Ingredients
2 Large Zucchinis

2 Red Peppers

2 tbsp. Tomato Puree

1/3 cup Almonds, slivered and toasted

1/4 cup Fontina Cheese

2 tbsp. Red Wine Vinegar

2 Garlic Cloves, minced

1 tbsp. Butter

1 tsp. Salt

1 tsp. Pepper

1/2 tsp. Paprika
Instructions
1
Over direct heat on the grill, roast and char the peppers on all sides. Remove and place in a grocery bag to all the skin to steam a bit (this makes it easier to remove). When peppers have cooled enough to be handled, remove the skin, tops and inside seeds. Dice into large pieces and place into a food processor.
2
While the peppers are resting, toast the slivered almonds in the broiler. Remove and add them to the food processor (set aside a few for garnish).
3
Add one minced garlic clove, the red wine vinegar, tomato paste, paprika, salt, and pepper. Pulse until smooth and creamy. If the mixture seems too thick, then add a tablespoon of water as needed to thin it slightly. SLIGHTLY!
4
In a pan, melt the butter and add the zoodles. Cook for 2 minutes. Add the other clove of minced garlic and continue to cook until the zoodles are just tender.
5
Place in a large bowl and toss with the romesco sauce.
6
Garnish with the extra slivered almonds and the shaved/crumbled fontina cheese.