Low Carb Philly Cheese Steaks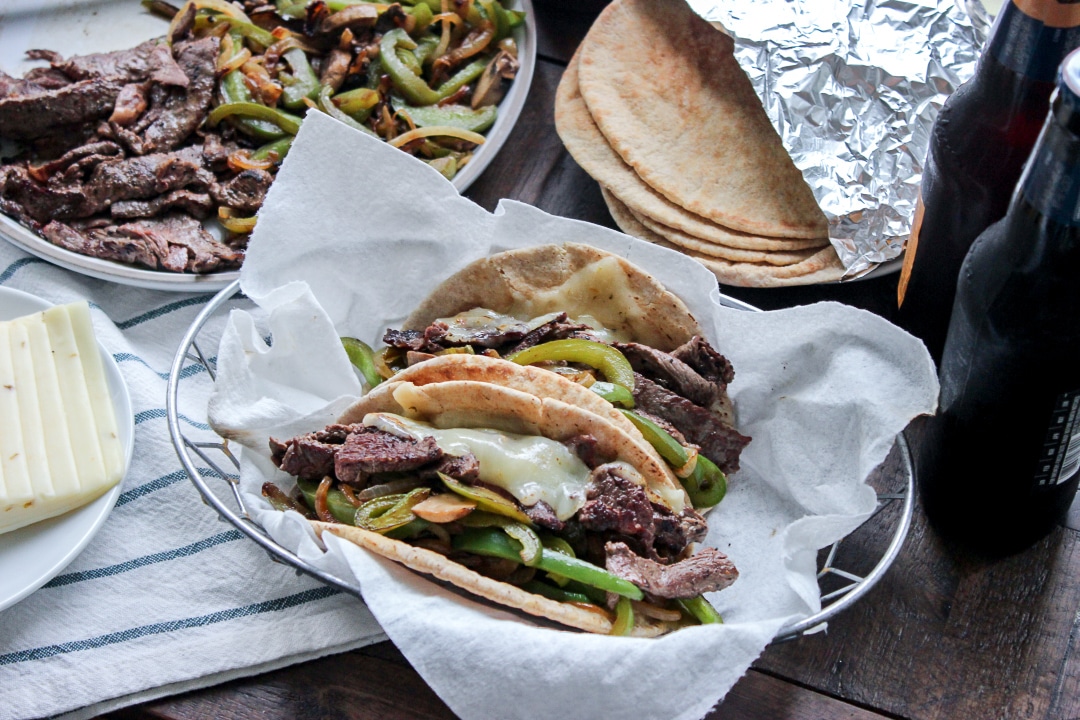 Low Carb Philly Cheese Steaks:
Ok. I need to get this out in the open first… I have never been to Philadelphia. I have never had a famous, real, genuine Philly Cheese Steak from Philly. Please don't sue me, mob me, or come after me with verbal pitchforks. I get it. If someone tried to say that they really new how to make a Chicago deep dish pizza but never had one, I'd think they were somewhat laughable. I however, have a few years of cooking on my side and tried to do my research. I also find this to be delicious (so authentic or not it is yummy). I tried thoroughly to do my due diligence to this dish and to create a low carb sandwich worthy of the word. So, scroll to the bottom to find the complete recipe and please enjoy this version of this delicious cheese steak that really wasn't made in Philly (but in a kitchen just outside of Kansas City).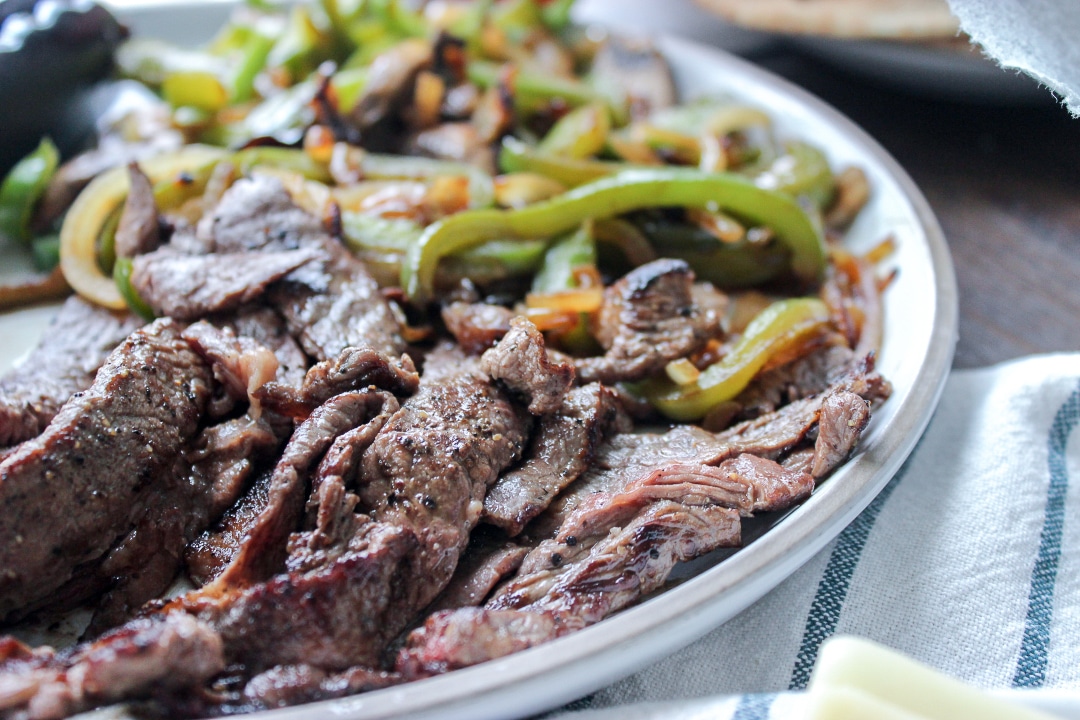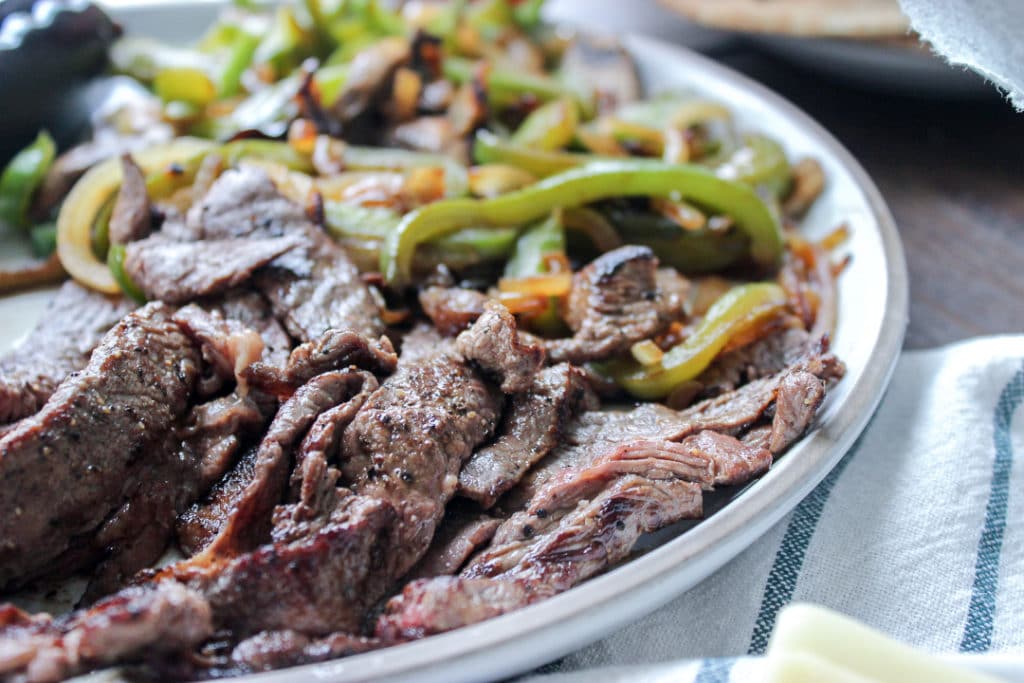 "School" Supplies:
Cast Iron Skillet
Carving Knife (super sharp)
Cutting Board
Tongs
"Class" Notes:
Cheesesteaks are easy to make and easy to customize. The trick to making a delicious cheesesteak is of course, the steak. The quality of your steak is important. I was lucky enough to find some ribeyes on sale so I purchased those for this recipe (my research shows this is the best cut for this dish). Looking for a cheaper option? Try a skirt steak or a top sirloin steak instead. The next trick here is in the preparation. I froze my steaks for 25-30 minutes and used a very sharp carving knife to slice the meat. I've use this trick in the past for other dishes and have mentioned how freezing the meat actually makes it much easier to slice thin. After you shave the meat thinly, I preheat my cast iron pan with a bit of oil. I find working in batches to be much easier in controlling the cook time of the meat and this allows for each piece of steak to sear properly.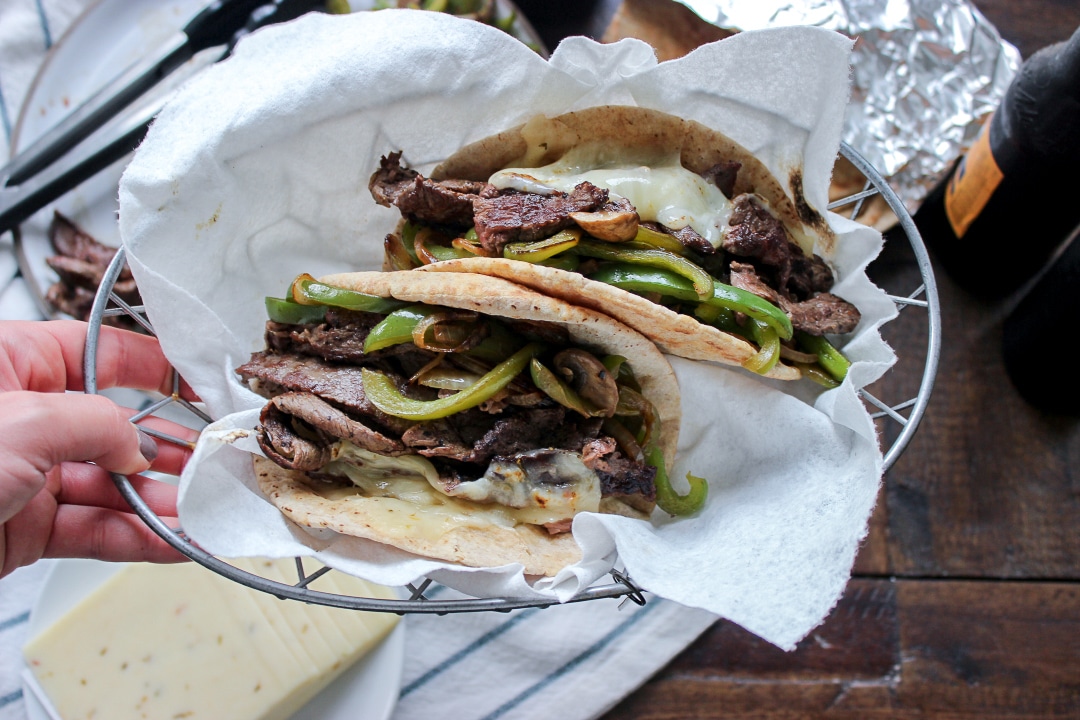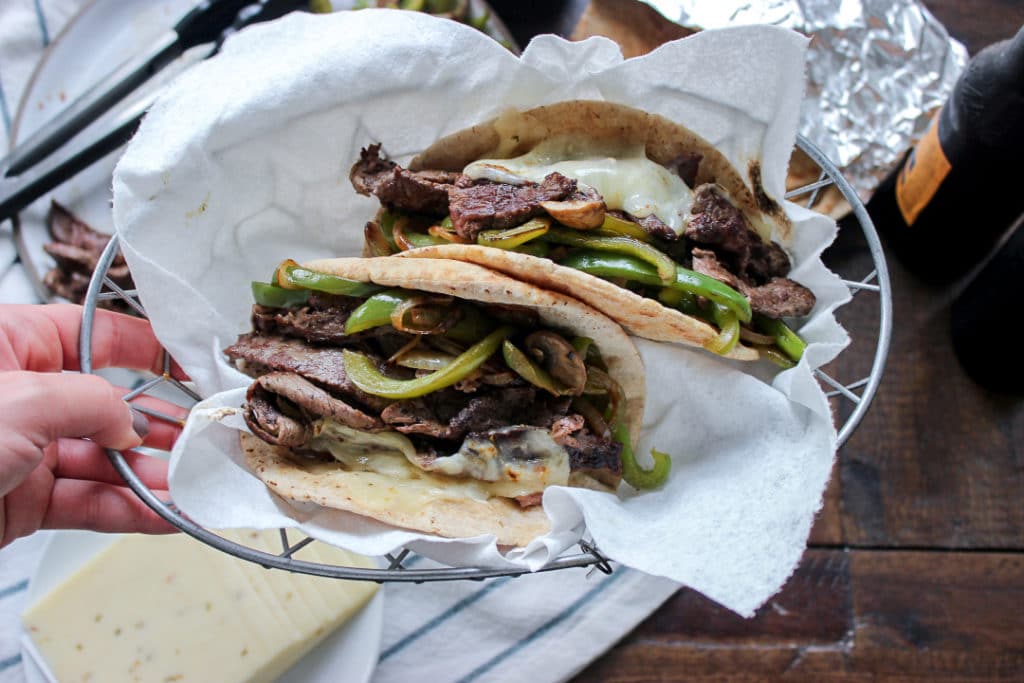 To make the sandwich, choose your choice of bread. A classic hoagie for the carb lovers, a low carb wrap, keto tortilla, or keto naan bread works great for the paleo and low carb crowd (pictured). I like to prep the desired toppings prior to searing the meat to ensure easy assembly. For this sandwich, I used sauted onions, green pepper, and some mushrooms. I used a pepper jack cheese (not classic for a philly but what I could find that I liked). I used a Keto Naan bread for my cheesesteaks and warmed it in a frying pan, added the cheese to melt, piled it with the cooked steak and the veggies. These were so comforting and really hit the spot! I bet these would be great to eat with a side of Sunday football too!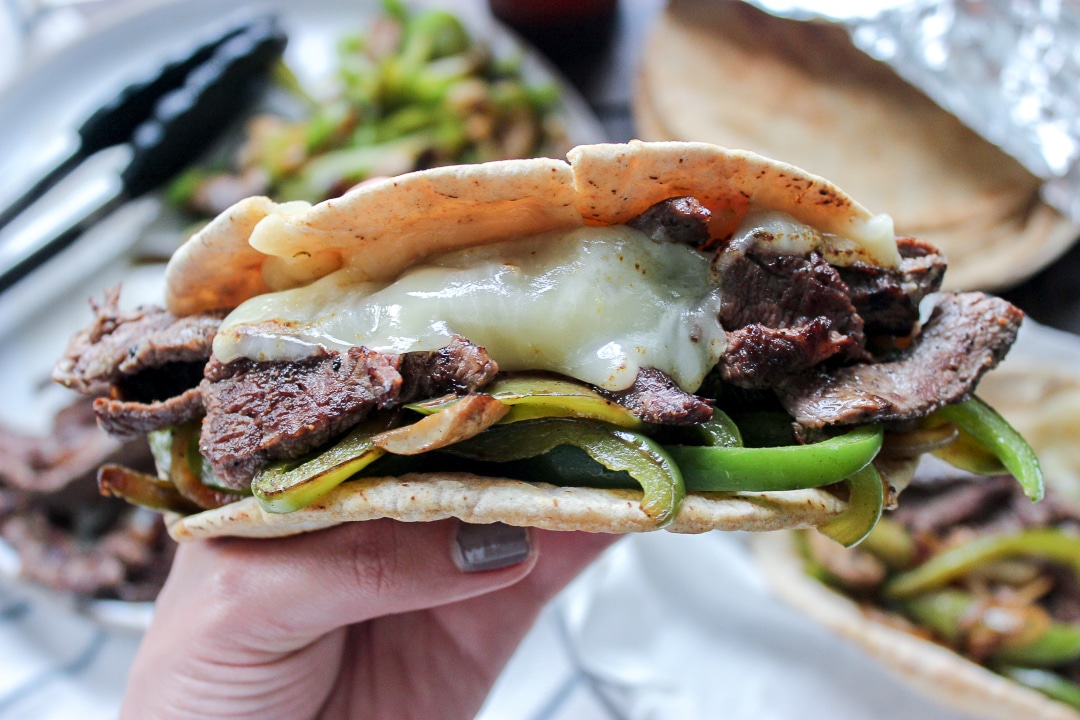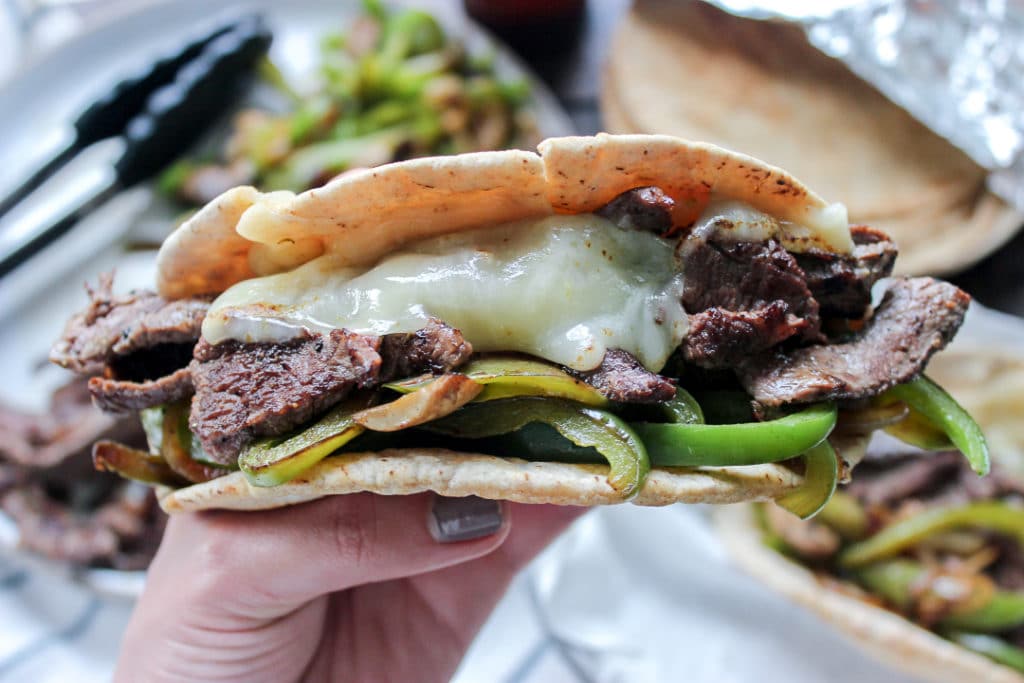 How do you like to eat/make your Philly? Leave a comment and tell me and find the full recipe and instructions below!
Bon Appeteach,
-L
Ingredients
2, 8 oz. Ribeye Steaks (or skirt steak or a cheaper option)

Salt & Pepper

Avocado Oil

1 Green Pepper, sliced thin

1/2 Yellow Onion, sliced thin

1 cup Baby Bella Mushrooms, sliced

4 slices Pepper Jack Cheese (or cheese of choice)

Optional- Low Carb tortilla, Naan, or wrap of choice
Instructions
1
Place the steaks in the freezer to firm up. I prefer at least 25-30 minutes. While the meat is in the freezer, slice your veggies and saute in a bit of avocado oil and set aside.
2
Remove the steaks, and using a sharp carving knife, slice ery very thin pieces of steak.
3
Preheat a cast iron skillet (preferred for a good sear) to medium high heat. Add a little avocado oil to the pan and swirl (avocado oil has a high smoke point and is good for this type of cooking).
4
Season the steak with sea salt and black pepper. In small batches, sear the meat on both sides quickly (30-45 sec per side if needed). You can always test a few pieces out to start to see how hot your pan is an adjust time/temp.
5
Once the steak is cooked, in a the pan warm a low carb tortilla or naan bread on low heat. Add the cheese, veggies, and meat. Let it cook till the cheese is melted and fold in half and serve.