Low Carb Armenian Inspired Boreg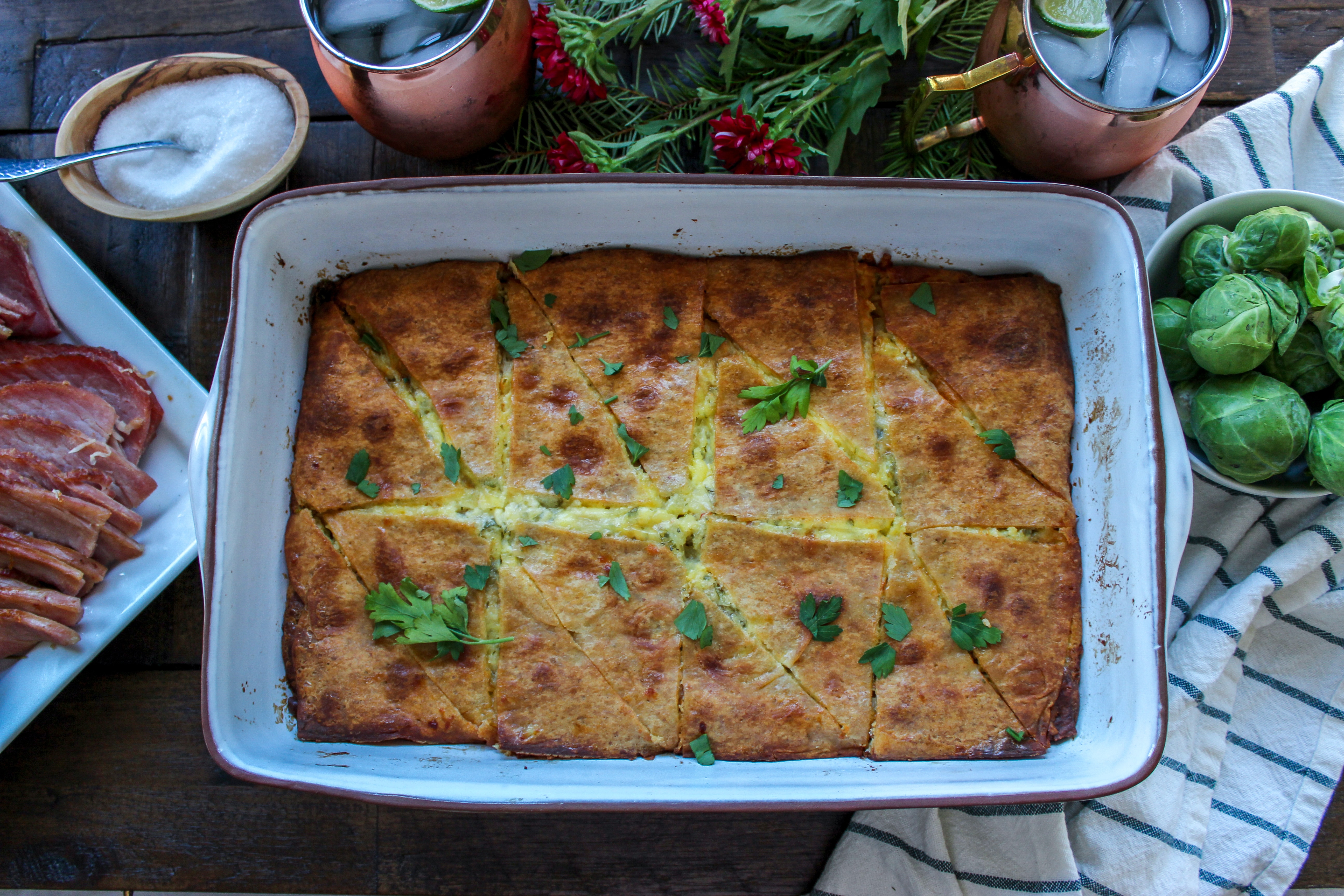 Low Carb Armenian Inspired Boreg
The holidays can be a difficult time to for those of us that follow a keto and low carb lifestyle. We all have those holiday favorites, family dishes, and foods we absolutely look forward too. For me, that's my family's Armenian dish called Cheese Boreg. There are a few different ways to make this, but we usually make it in one large giant pan so it can serve a whole group. This dish is literally made up of layers of buttery phyllo dough on the bottom, cheese and egg in the middle, and topped with more layers of buttery phyllo. Not exactly, keto or low carb however. To make this dish a little better for my keto diet, but still have a somewhat authentic taste, I used low carb lavash bread , instead of the phyllo dough. I was pleasantly surprised with how well this came out and loved it! So from my family to yours, I hope you all enjoy this dish as much as we did. Find the full recipe for Low Carb Armenian Inspired Boreg below and read on for all the tips and tricks!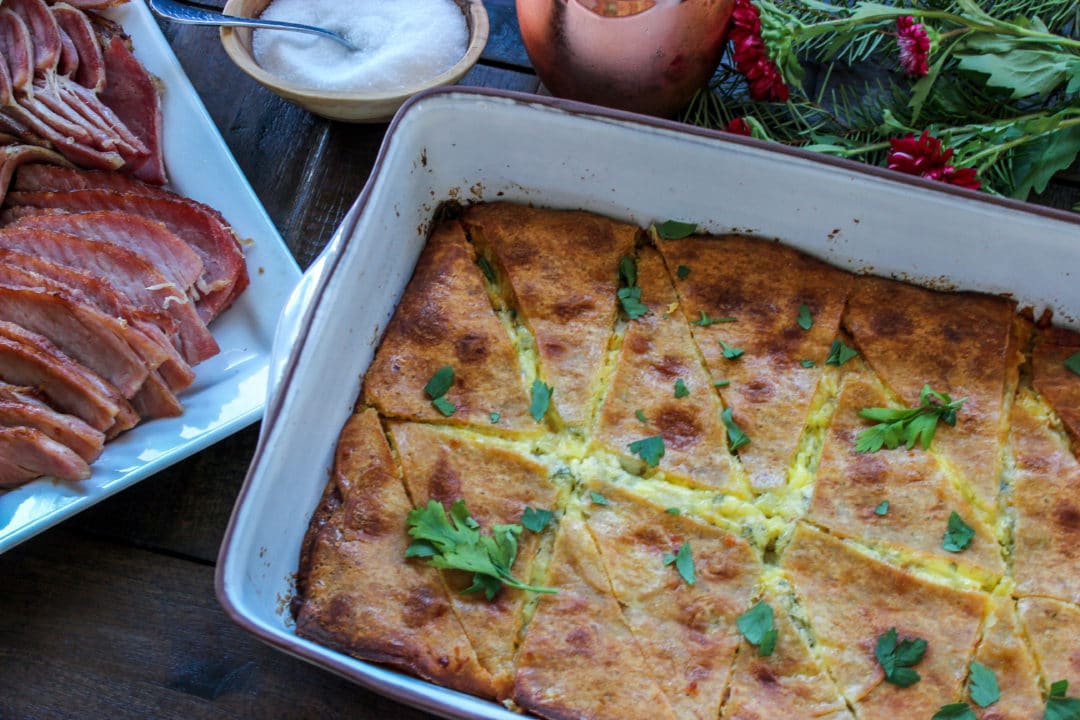 "School" Supplies:
9×13″ Pan
Mixing Bowl
Baking Sheet
Pastry Brush
Knife
Whisk
"Class" Notes:
Traditional pan based boreg is made with phyllo dough and is not exactly compliant with a low carb diet. To replace this crucial crispy buttery ingredient, I opted to use thin sheets of Joseph's Lavash Bread instead.  I chose the lavash bread sheets (10 net carbs per sheet) because it was the closest imitation to Armenian food that I could find that was premade (less work) and low carb (not gluten free however). The signature texture of traditional phyllo dough is light, crispy, flaky and buttery. Though you don't get the nice, thick, puffed up layers of phyllo in this recipe, the texture the crispy lavash layer provides, still adds flavor and structure to the dish. I used three layers throughout to help add texture and that signature crunch I like to get when I eat boreg. The filling is comprised of several pounds of shredded cheese (we love brick but that can be hard to find outside the midwest so sub for muenster), fresh parsley, and egg. Finish the top off with another lavash bread coated in butter and allow it to freeze for 15 minutes or so. This help solidify everything a little more so you can cut it before baking.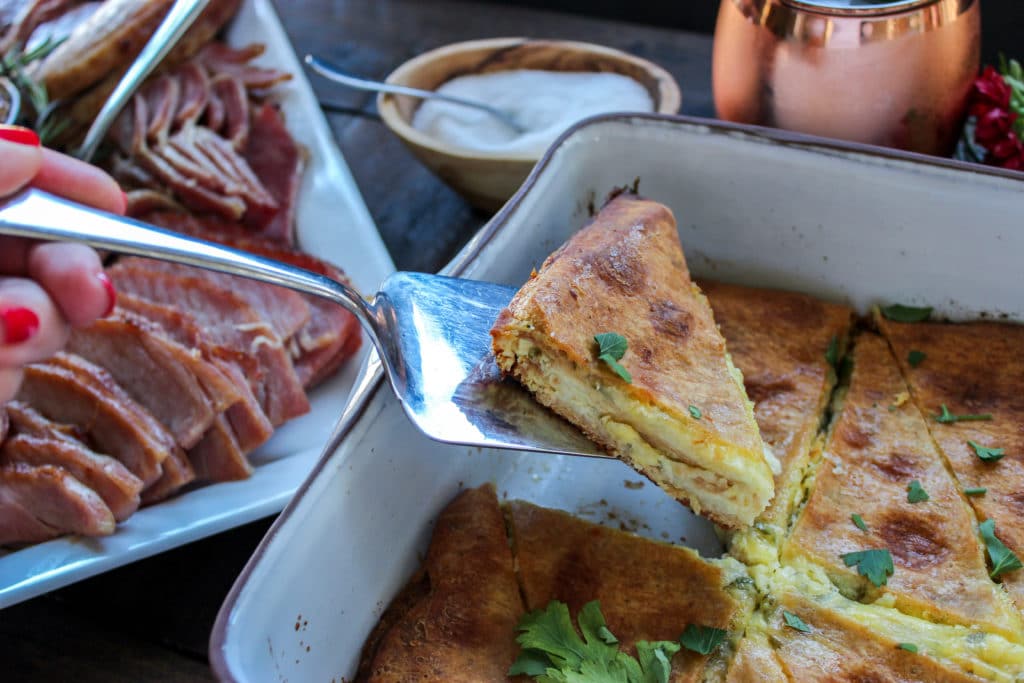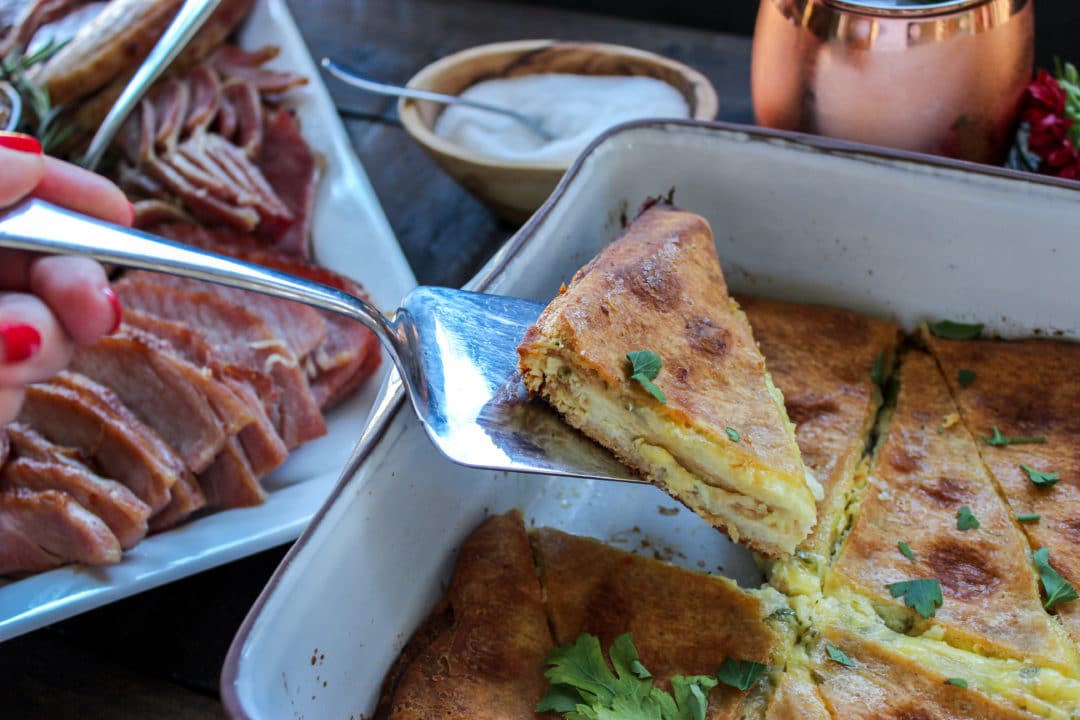 Cutting the boreg before baking is a crucial step. It allows for the added cream and egg mixture to be added and to seap down into all the cheesy layers. When it bakes, it puffs up nicely and makes it easier to serve. I was able to get 16 nice sized portions from this recipe. Traditionally, you cut boreg into diamond shapes or smaller triangles. You do this by first cutting normal horizontal lines into the dish (I did 4 even rows). Then cut on a diagonal. It's always easiest to start in one corner first so that it is even. There are many visuals of this online that you can also search for (similar to how Baklava is cut). You can also see how I made this recipe in my Instagram Stories Highlights sections as well. I save many of the recipes I make there to be a helpful point of reference.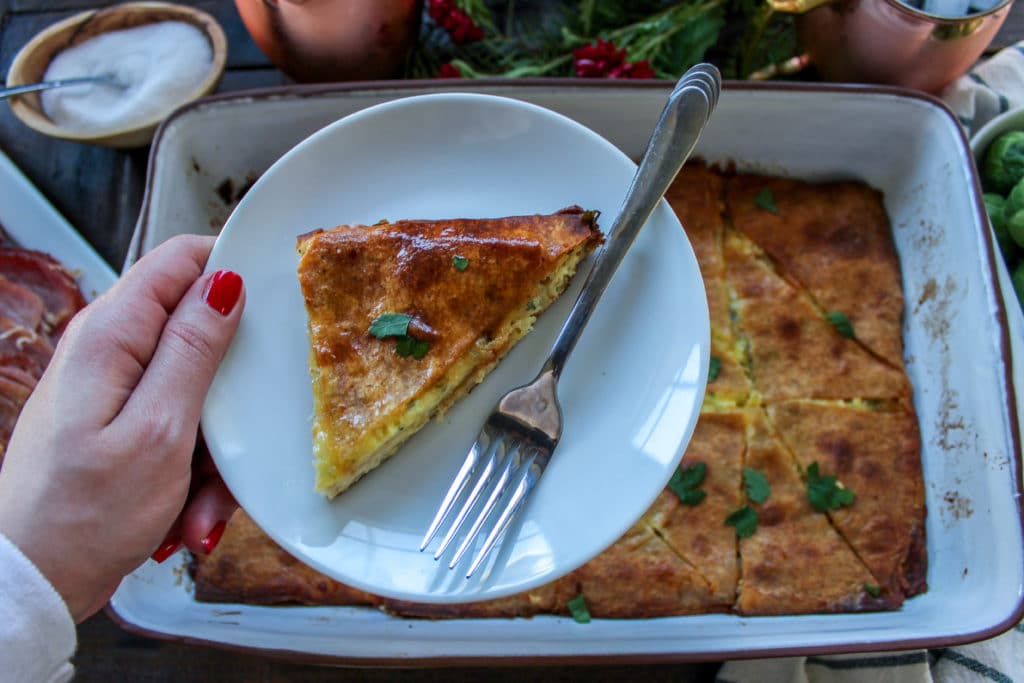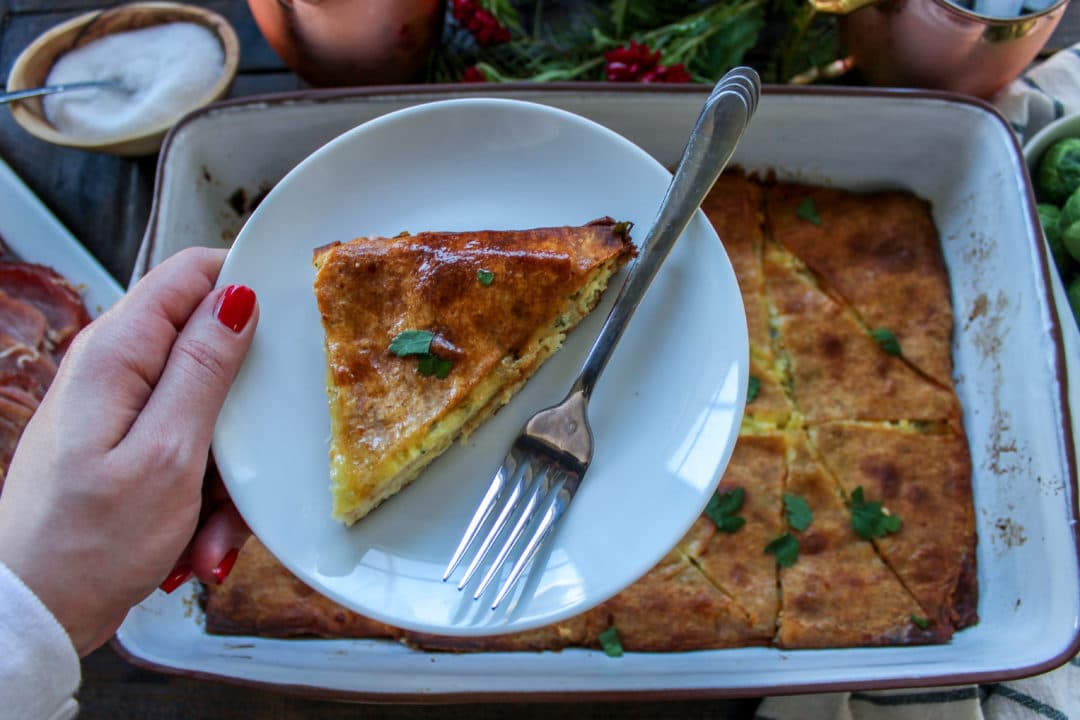 Low Carb Armenian Inspired Boreg is a unique side dish, but is so incredible. I really hope you take a chance on this dish and share it with your own families this holiday season! If you're looking for other great holiday sides, make sure you also check out my Keto Cornbread Stuffing with Herb Butter and my other favorite, Low Carb Green Bean Casserole too!
Bon Appeteach,
-L
Ingredients
3 Low Carb Lavash Sheets (I used Joseph's brand), trimmed to fit a 9x13" pan

1/4 cup Butter, melted

1/4 cup Parsley, minced

3 lbs Muenster Cheese, grated (can sub mozzarella or cheese of your choice)

5 Eggs

1/2 cup Heavy Cream
Instructions
1
Preheat your oven to 375 F. Start by melting the butter and brushing butter to coat both sides of two of the three lavash breads or low carb wraps you are using for the bread layer. Leave one layer (the top layer) alone for now. Bake the 2 coated lavash breads on a baking sheet for 5 minutes or so. You want them crispy and only lightly golden brown. Remove from the oven and set it aside. Reduce the oven temperature to 350F.
2
Grate the cheese into a large bowl. Add the parsley and 2 eggs to the mixture and mix well until coated.
3
To assemble the boreg, lightly brush butter in the bottom of a 9x13" pan. Place one crispy lavash on the bottom of the pan. Sprinkle half the cheese mixture over the top. Then, add the second crispy lavash bread and sprinkle on the remaining cheese mixture.
4
Finally, coat the third layer of lavash on both sides with butter. Place it over the top and put the pan in the freezer to solidify a bit for 15-20 minutes.
5
Remove from the freezer and cut the boreg into slices. I cut 4 vertical rows to start, then cut in a diagonal, starting from the left corner. You should end up with 16 total triangles. If you need a better visual see notes above in the post about how to cut.
6
Finish the boreg off by combining the remaining 3 eggs and heavy cream into a bowl. Whisk well. Pour the mixture slowly over the top layer of the cheese boreg, aiming for the areas where you cut. You want the mixture to seap down and into the layers and should not have a lot of liquid remaining on the top.
7
Bake for 35-40 minutes until the top layer is crispy and brown. Garnish with a little more parsley if desired.


Nutritional Information: Obtained using My Fitness Pal. I am not nor do I claim to be a nutritionist, so it is important to always verify the nutritional information as brands vary. I work hard to always provide the most accurate information as possible in hopes of making this easier for you, my readers!
Bon Appeteach is a participant in the Amazon Services LLC Associates Program, an affiliate advertising program designed to provide a means for sites to earn advertising fees by advertising and linking to amazon.com. I only share products that I use and stand behind personally.