Gluten Free and Keto Key Lime Tart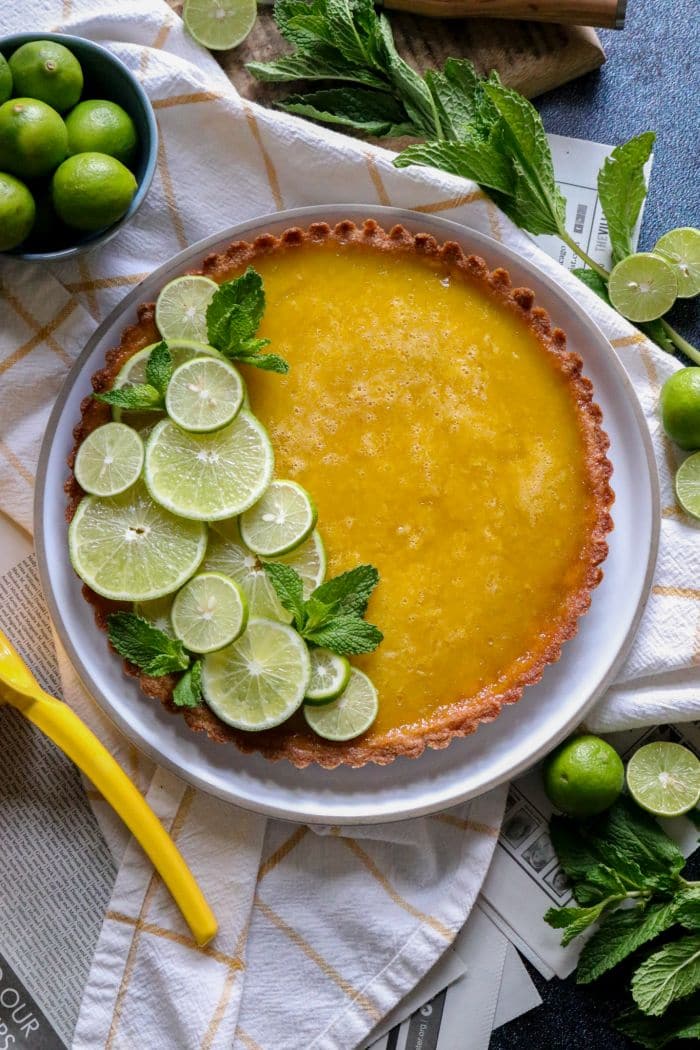 A low carb, sugar free, and keto friendly tart recipe that's easy to make at home. This key lime recipe celebrates the delicious tangy freshness of the traditional pie while keeping the carb count low!
This post contains affiliate links! These links are at no cost to you and help keep free recipes like this cooking along in the Bon Appeteach kitchen. Absolutely appreciate your support. Get more information regarding affiliate links here.
One of my favorite places to visit when I lived in South Florida was Key West. We would take the four hour drive on Rt. 1 there several times throughout the year and it truly felt like the perfect escape. Key lime pie is a well know staple within the Florida keys, and I quickly knew where my favorite spots were to hit up on the journey.
Though I haven't lived in South Florida since 2017, I do still find the love for key lime pie dearly to my heart. After being inspired by these popular keto lemon squares, I wanted to create a similar dessert featuring the key limes I love as well.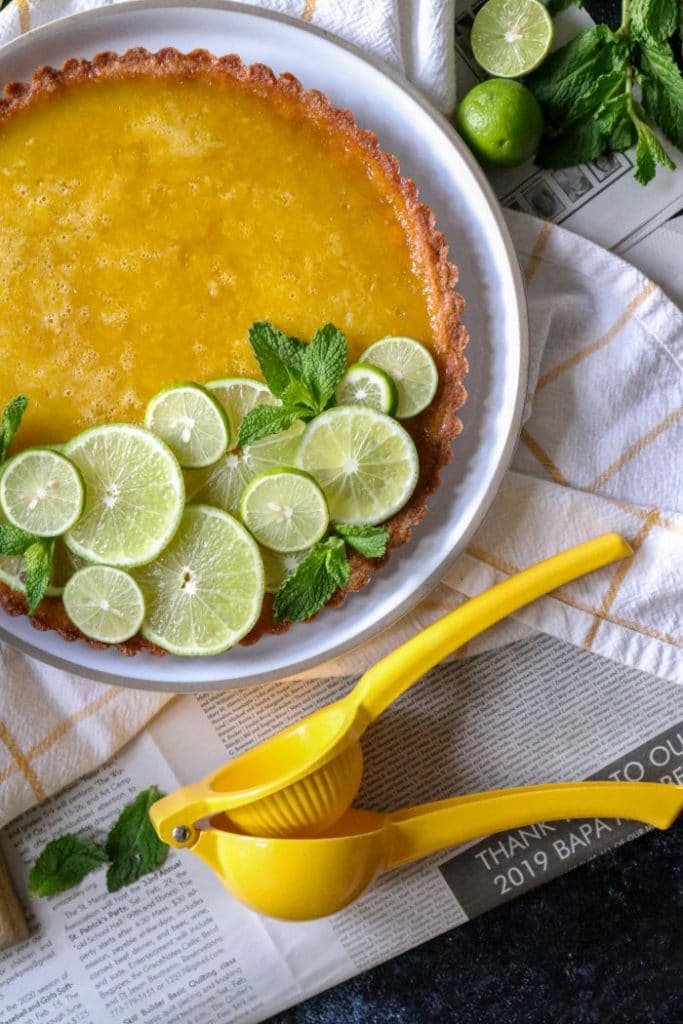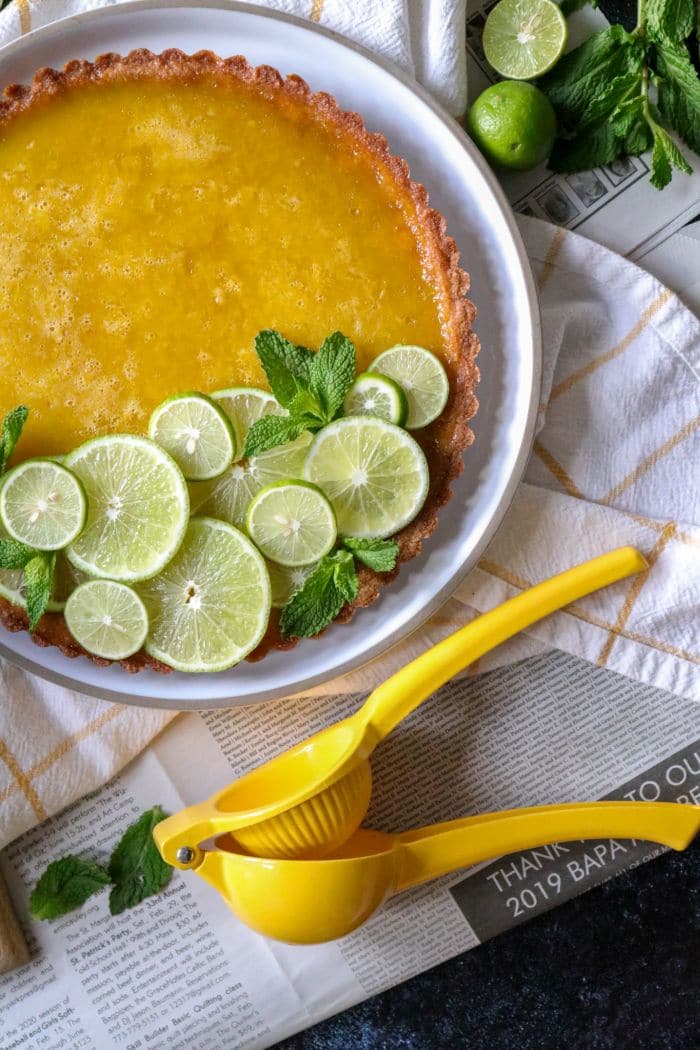 This recipe is pretty easy to recreate, but there are a handful of important techniques I wanted to note below to help guide you to keto baking success, as well as provide you with a handful of approaches to making this dessert work for you!
Get all the details below! Not ready to make this recipe quite yet? That's ok! Save it to Pinterest here!
"School" Supplies:
Small Pan
Food Processor
Mixing Bowl
Measuring Cups/ Spoons
Whisk or Hand Mixer

Tart Pan

or 9×9 Square Pan
Juicer (definitely makes like 100 times easier)
"Class" Notes:
This recipe is note going to give you key lime pie vibes 100% for the fact that there is NO sweetened condensed milk in it. While we could recreate a keto version, I wanted to keep this a little easier and to have as few ingredients and steps as possible for you to recreate at home.
That being said, it's a great way to get your key lime flavor fix without making life complicated in the process!Let's break down the components of this recipe!
Gluten Free Shortbread Tart Crust-
A traditional key lime pie recipe often uses graham cracker crust. While this version isn't using graham crackers, there are a few ways to create a great flavor using toasted almond flour and toasted unsweetened coconut.
Additionally, I created the base for this keto shortbread crust from my favorite Keto Shortbread Sugar Cookie and works so well in a tart pan or pie plate (see how I used it in these Keto Sugar Cookie Fruit pizza too). I find it easiest to make this in a food processor.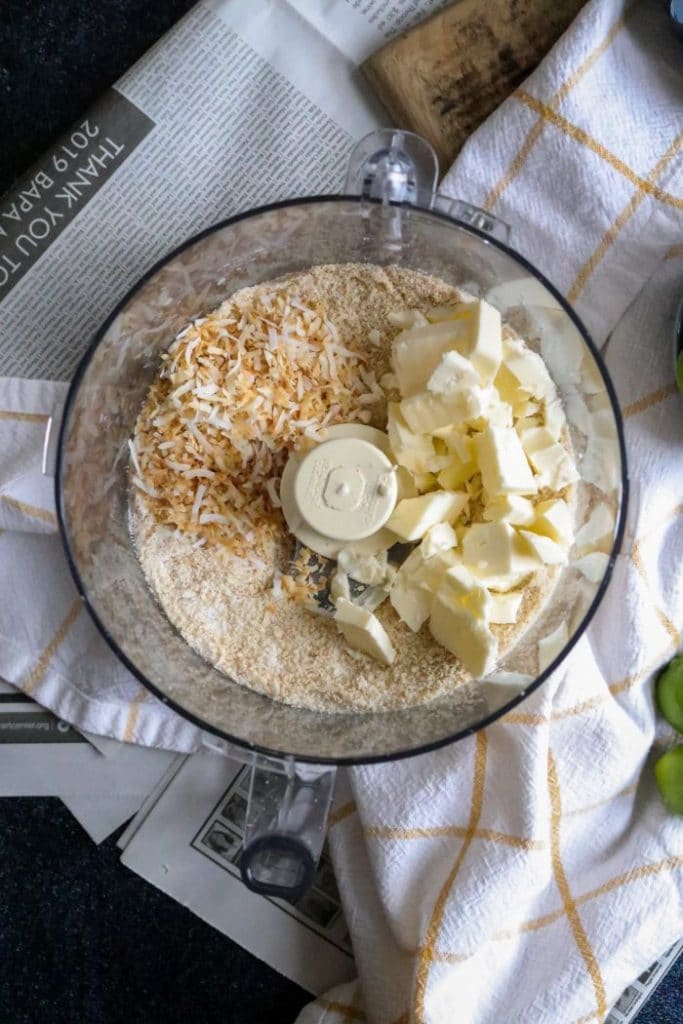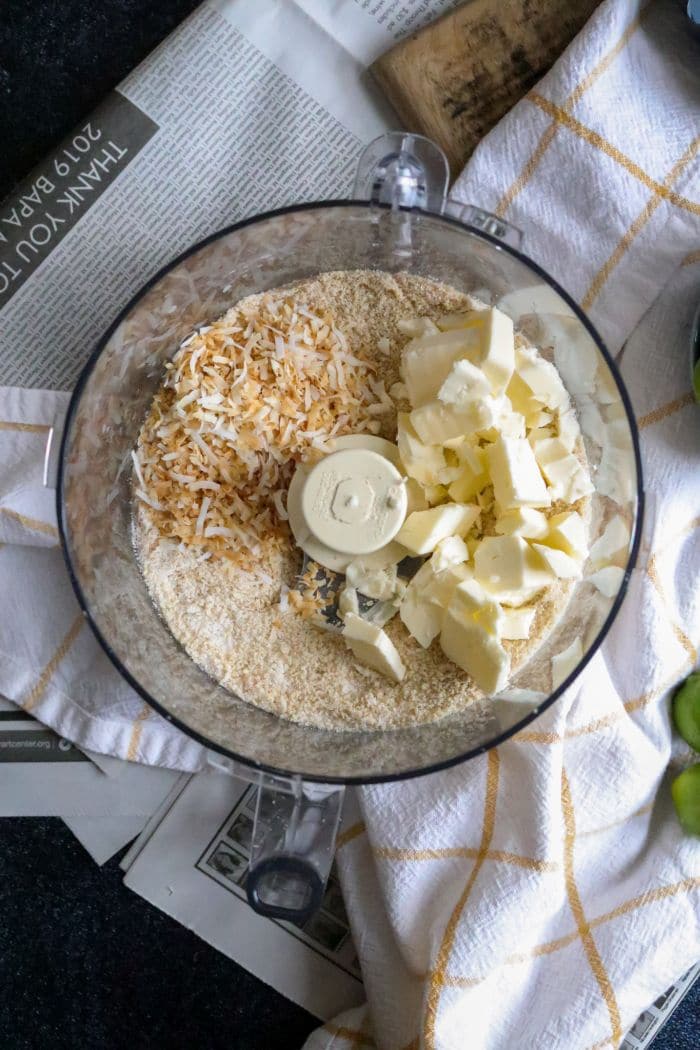 Why a food processor? This almond flour shortbread base is doable because cold butter is crucial, and cutting that cold butter in is what makes it taste like a traditional cookie or tart crust.
Can you make this without a food processor? Yes! But it may take a little longer and look a little more rustic. If you don't have a food processor, simply freeze your butter and use a cheese grater to grate the butter into the dry ingredients. This helps cut the mixture in and coat everything is fine, cold, pieces of butter.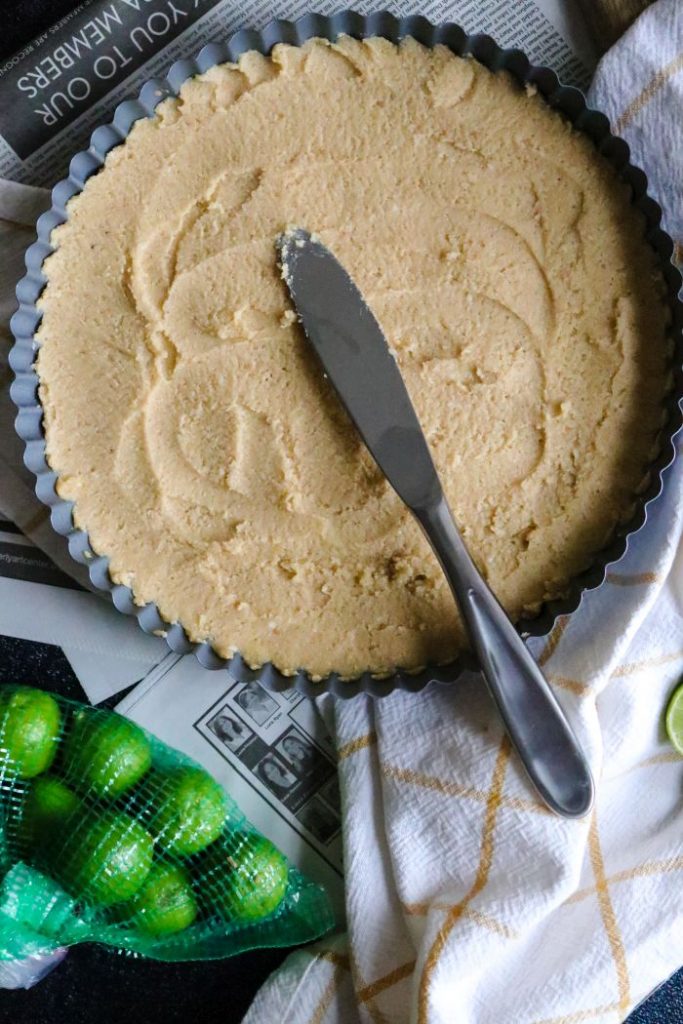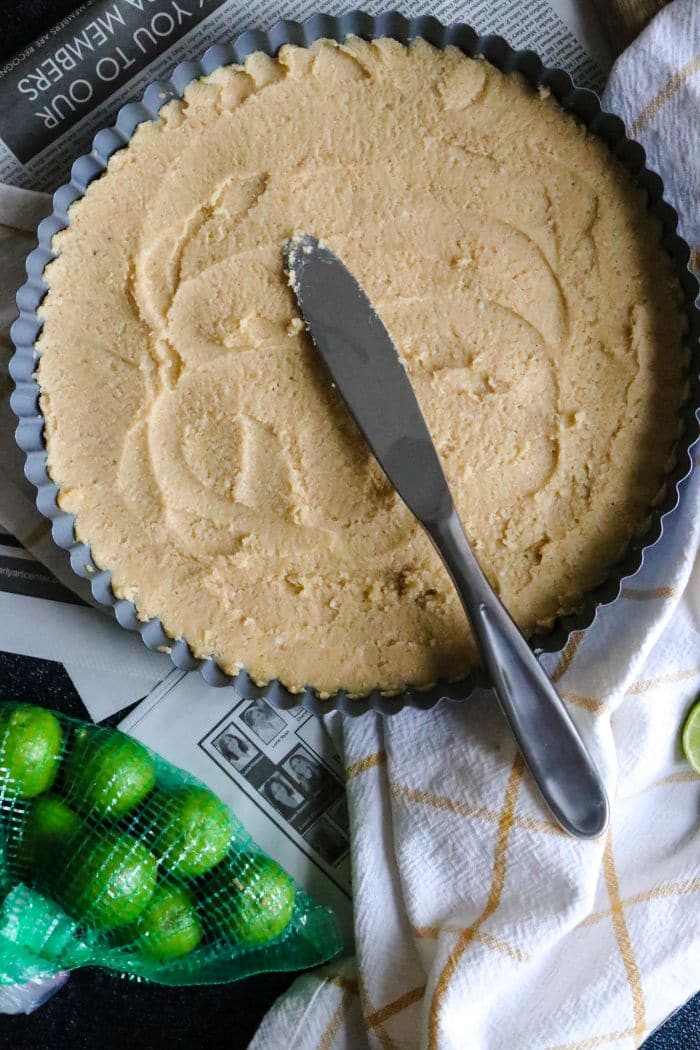 Once your crust comes together, pat it into a lightly greased tart pan (I use this one) or substitute for a 9×9 inch pan instead. Pat the dough in and slightly up the sides. It is VERY important to create a tight seal of the dough against the edges of whatever pan you use. Otherwise, when you pour the filling in, it could end up under the crust and make a huge mess if i goes into those open cracks/ grooves.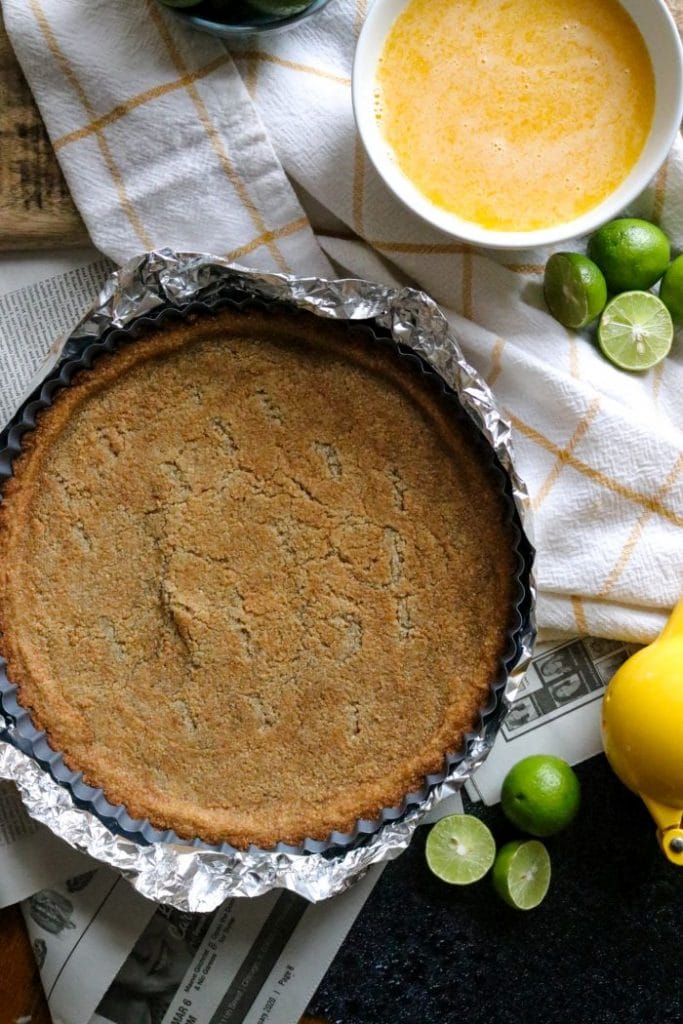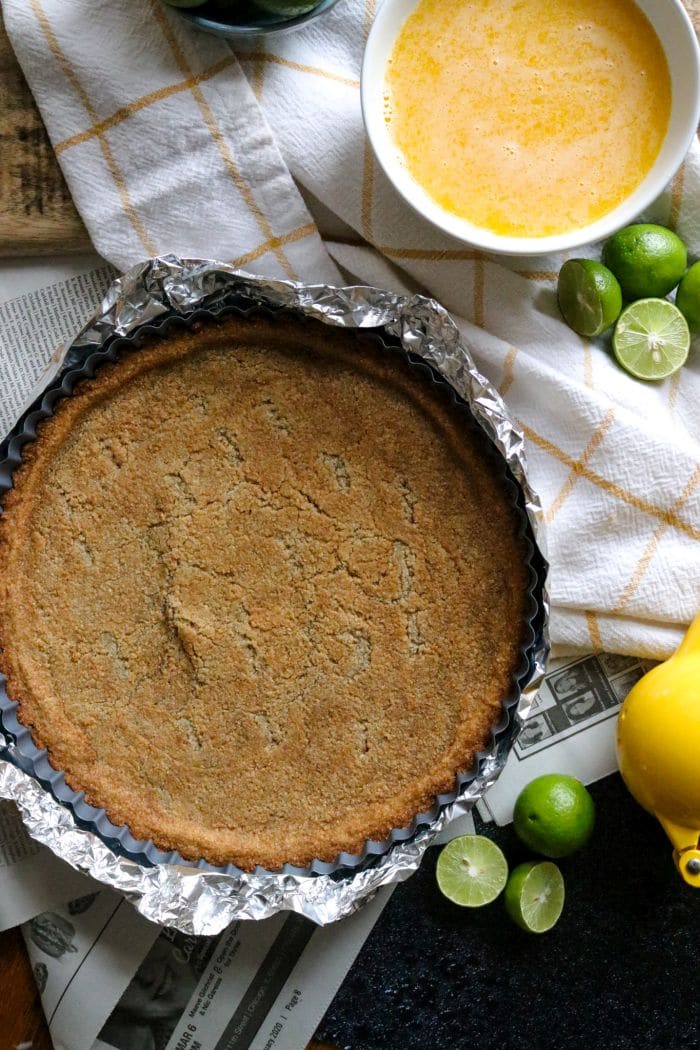 Finally, par-bake the crust. This gives it a head start before adding the filling and helps prevent some sogginess from occurring. Let it cool slightly before pouring the filling over the top of the crust.
Keto Key Lime Pie Filling-
The filling is really easy to make and just requires a handful of ingredients. The base of this recipe is eggs and the key lime juice. I also swear by the addition of a little xanthan gum to help with stability and thickening. A little goes a long way so do not add more than the recipe recommends!
What if I can't find key limes? What's the difference between key limes and regular limes?
While I will advocate for using key limes specifically for this recipe, I realize that may not always be possible based on availability and cost. In order to get enough juice for this recipe, you also have to use a lot of key limes (because they are so small).
Key limes and regular limes do have some differences. Key limes tend to be much smaller, are a little more yellow in color comparatively to the bright green of standard limes. The key lime also tend have a tarter taste and balance out nicely in sweet desserts. Use what works for you!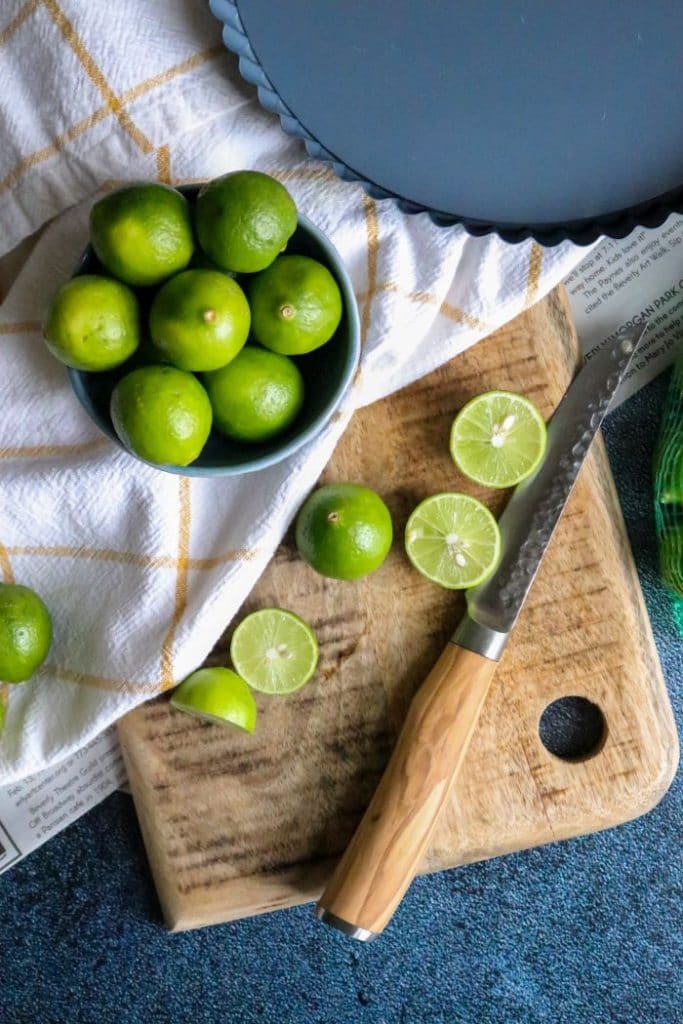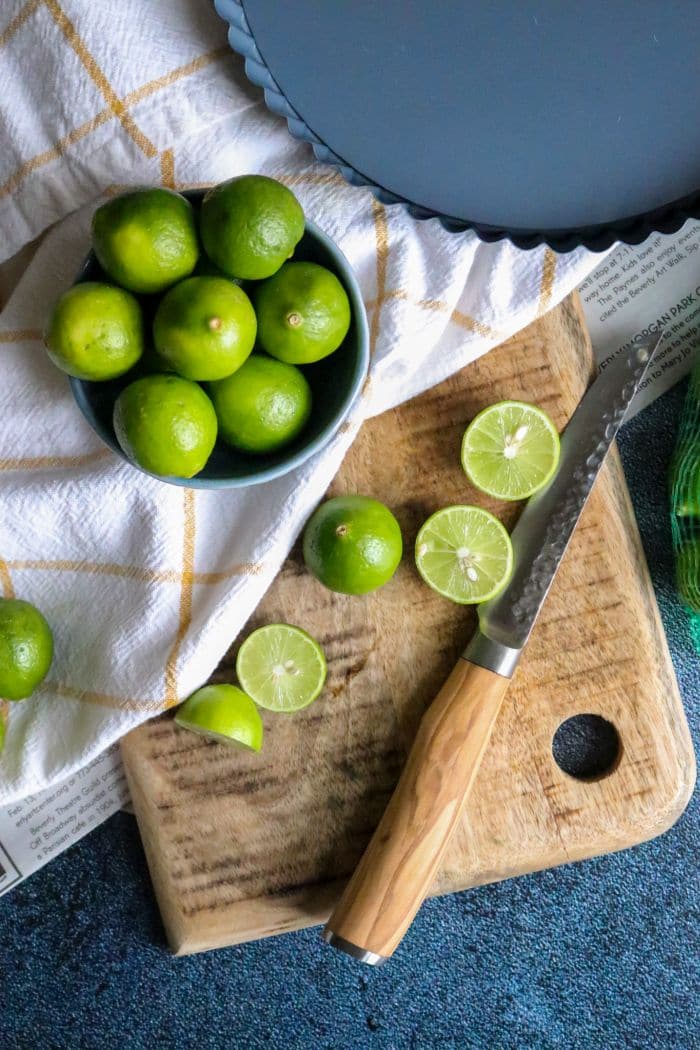 In a bowl, mix the eggs, key lime juice, xanthan gum and low carb sweetener together well with a hand mixer. I prefer an electric mixer over a whisk if possible because it's going to break down the eggs, help dissolve the sweetener better, and adds air for more volume.
For the sweetener, I find that allulose is honestly fool proof. It helps provide a nicer crust on the top as well, making the bars shiny and tasty! No allulose? Try Lakanto instead as an option.
Carefully pour the mixture into your partially baked shortbread crust. If you use the tart pan, it might be easier to place the pan on a baking sheet and transfer it to and from the oven this way without spilling. Bake for another 25-30 minutes or so for best results.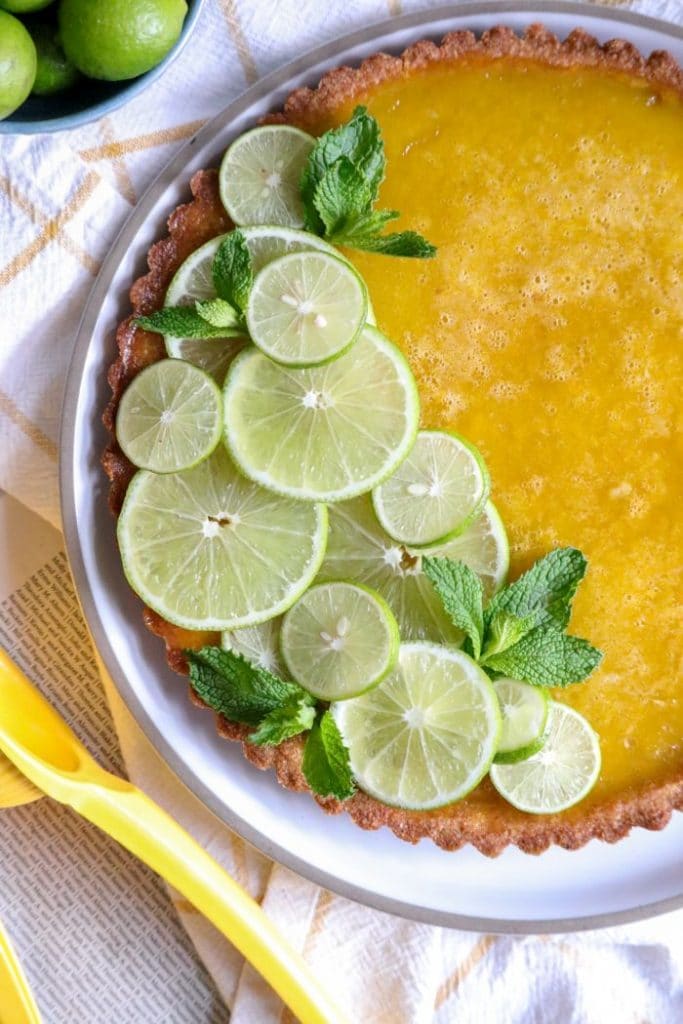 After you remove them from the oven, you will need to be patient! It will take at least 2 hours for the filling to completely set up! It will not look entirely set coming out of the oven. Please be patient, it's worth the wait, I promise!
Serving and Storing-
After the 2 hour mark, you could cut them but I find that a nice chill in the fridge is the best way to go. Really let the filling firm up enough that it makes serving the easiest.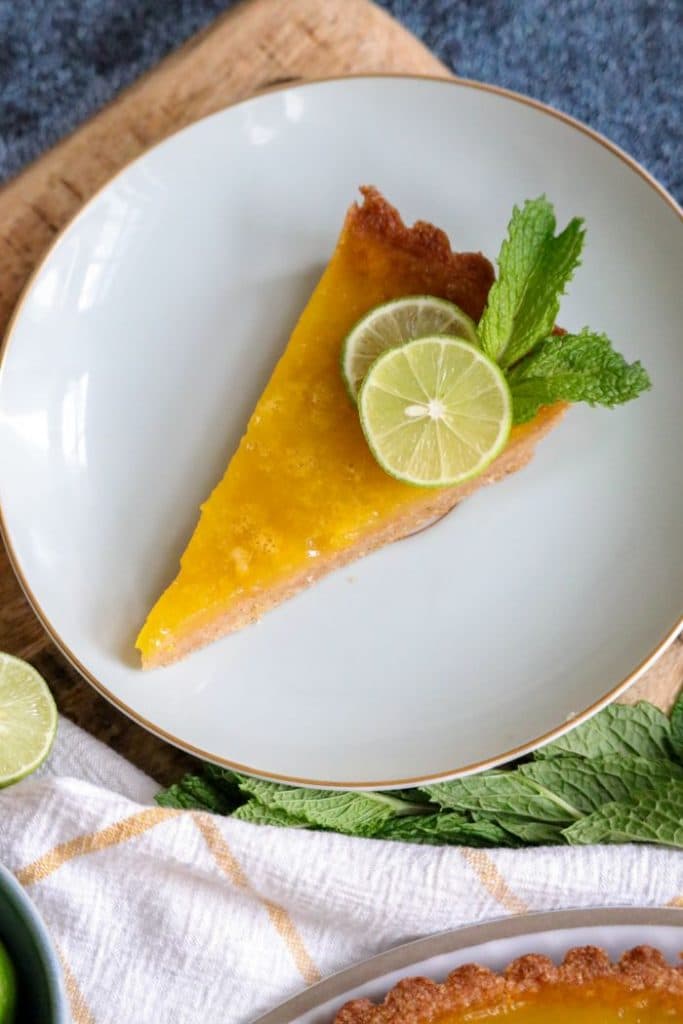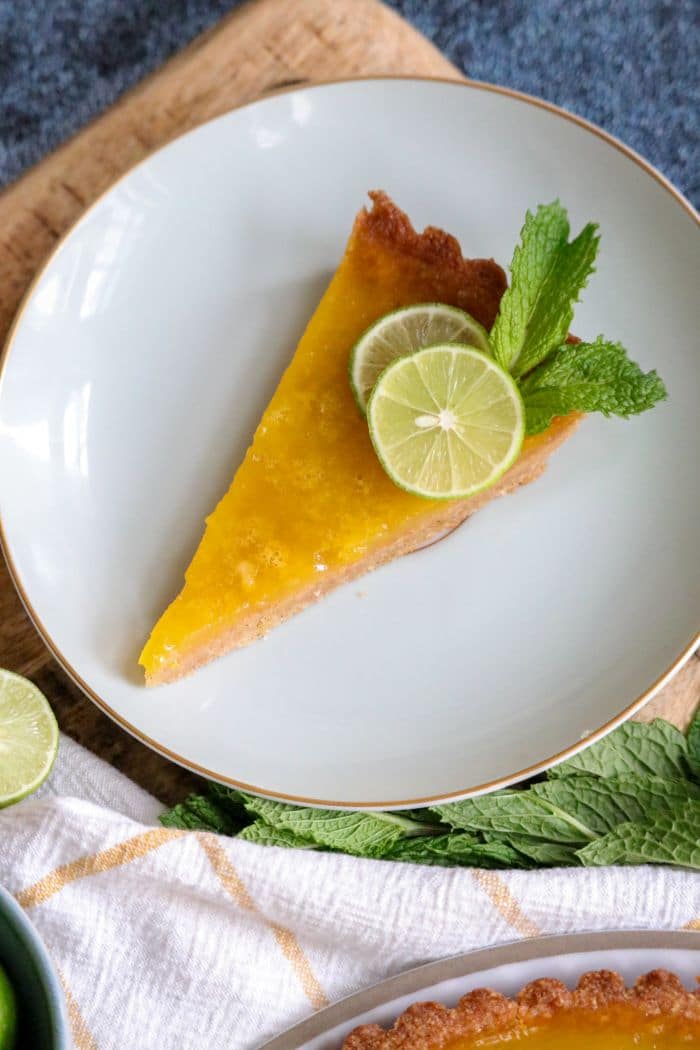 Decorate the top with powdered sugar, whipped cream, whipped coconut cream or coconut flakes, and or lime rounds if desired. Have fun with it and make it work the way you like it!
Store the remaining tart or bars in the fridge for 3-5 days for best results. The tart and or bars are good for up to 7 days however. Freeze individual slices for smaller servings and defrost in the fridge. Happy baking!
Bon Appeteach,
-L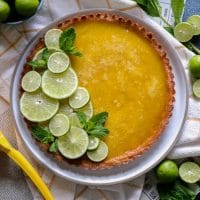 Keto Key Lime Tart
A low carb, sugar free, and keto friendly tart recipe that's easy to make at home. This recipe celebrates the delicious tangy freshness of a traditional key lime pie while keeping the carb count low!
Print
Pin
Rate
Ingredients
Keto Shortbread Base-

1 1/2

cups

Almond Flour

toasted

1/4

cup

Toasted Unsweetened Coconut

optional

3/4

cup

Low Carb Sweetener

I like allulose or lakanto brand

1

tsp

Baking Powder

1

tsp

Xanthan Gum

do NOT omit

6

tbsp.

Salted butter

diced and very cold

1/2

tsp

vanilla or almond extract

1

Egg

Key Lime Filling-

6

Eggs

3/4

cup

Fresh Key Lime Juice

1

cup

Low Carb Sweetener

I like allulose or lakanto brand

1/2

tsp

Xanthan Gum

Optional) Powdered Low Carb Sweetener
Instructions
Preheat the oven to 350 F. (please note you will lower the temperature when you bake with the filling) and grease a tart pan, pie plate, or 9×9 square pan.

In a small frying pan, lightly toast the almond flour until lightly golden and fragrant. Let it cool before adding into your dough.

To make the tart crust, use a food processor to combine the cooled toasted almond flour and unsweetened coconut, low carb sweetener, baking powder, xanthan gum together. Once mixed add in the cold butter and pulse until it resembles crumbles. Finally, add in the vanilla and egg, pulse again until it comes together into a ball of dough. See notes in the post above on how to make this without a food processor.

Press the dough down in and even layer into your chosen pan. Be sure to create a tight seal of the dough against the edge of the pan. This is important so the filling does end up underneath the crust. If using a tart pan or pie plate, place it on a baking sheet to make transfer to and from the oven easy. Par-bake for 15 minutes. Remove from the oven and let it cool for a few minutes.

Prep the filling by combining the low carb sweetener and eggs together into a bowl with a hand mixer. Add in the juice and the xanthan gum and mix well.

Slowly pour the filling into the par-baked crust (carefully) and then reduce the oven temperature to 325 F. Bake for another 25-30 minutes. The sides should look set but the center will be fairly jiggly still. That's ok! Remove it from the oven and let it cool at room temperature.

It needs at least 2 hours to set up. Refrigerate after its cooled down mostly to help it set the rest of the way before serving.

Serve with whipped cream, lime zest or rounds, or toasted coconut!
Notes
Store covered in the fridge for 3-5 days for best quality!
Nutrition
Serving:
1
g
|
Calories:
186
kcal
|
Carbohydrates:
6
g
|
Protein:
7
g
|
Fat:
16
g
|
Saturated Fat:
5
g
|
Polyunsaturated Fat:
10
g
|
Cholesterol:
124
mg
|
Sodium:
132
mg
|
Fiber:
2
g
|
Sugar:
1
g