Grilled Shrimp And Avocado Salad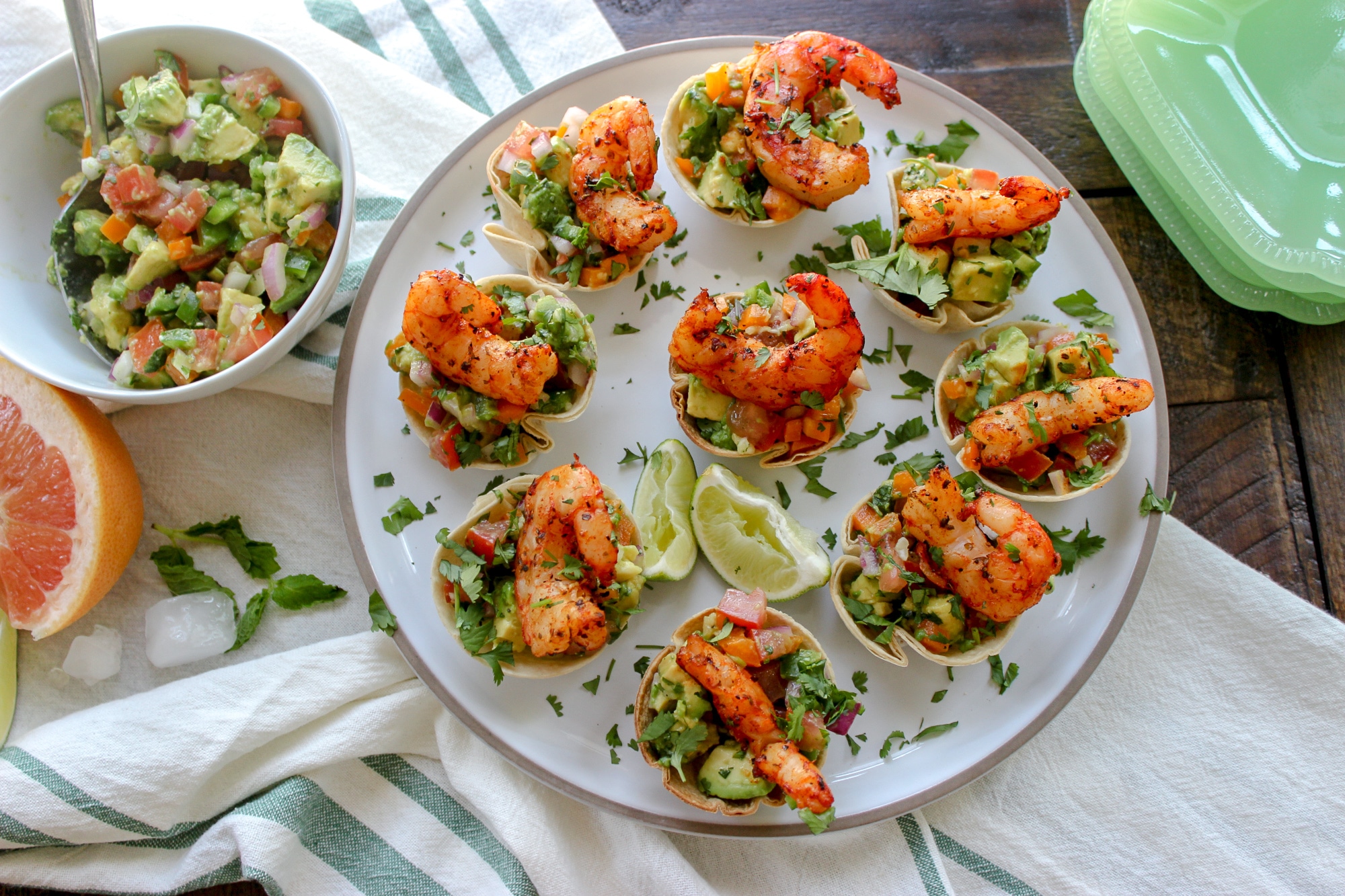 This recipe was inspired by my partnership with Primo Ceramic Grills. All opinions are my own.
Grilled Shrimp And Avocado Salad:
Well, it might not be "officially" summer, but if 97 degrees and a heat index over 100 degrees is any indicator…then I am pretty positive summer has very much arrive in Kansas City. I know, I know, we were all complaining literally two months ago about the snow we got. But, come one man! Can we get something in between??? One thing I can say, nothing is as hot as South Florida in the summer. Honestly, I can take the heat (I do literally spend everyday of my life in a kitchen), but the humidity is another story. This hot weather however, had me in the mood for some delicious ceviche. Ceviche is a raw fish that is "cooked" using the acidity from citrus fruits and almost resembles a salsa of sorts. There is ceviche aplenty in good ol' SoFlo but the lack of fresh high quality fish here in KC left me a bit weary to remake this for you all. Instead, I busted out my brand new fancy Primo Grill and grilled up some shrimp and made this delightful cooked rendition of my favorite ceviche. Find the full recipe for this Grilled Shrimp And Avocado Salad below and read on for a few tips and tricks!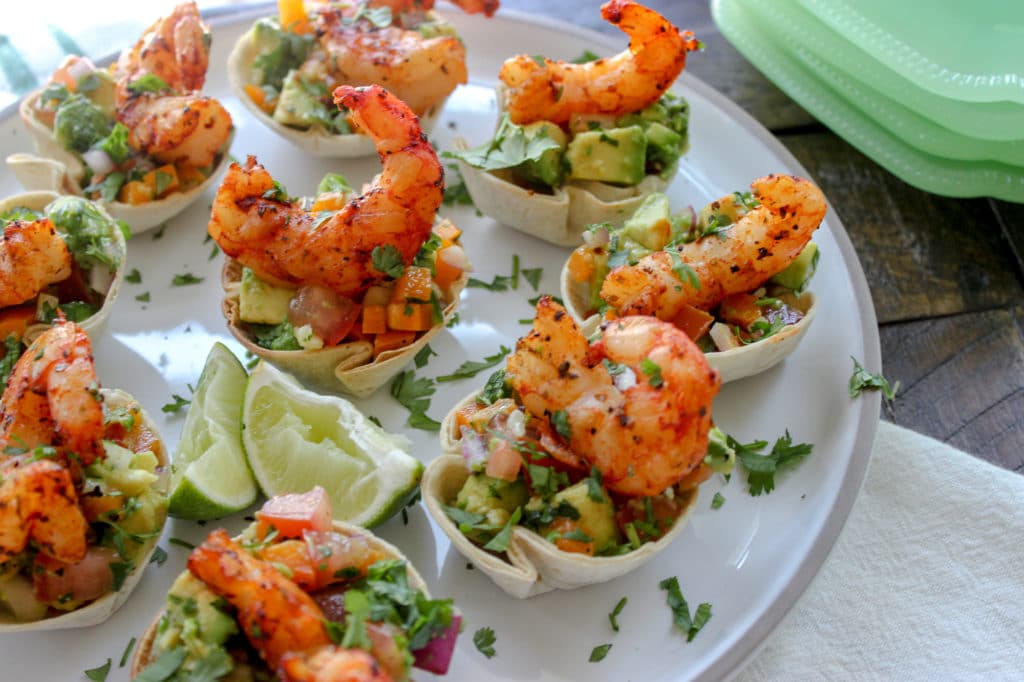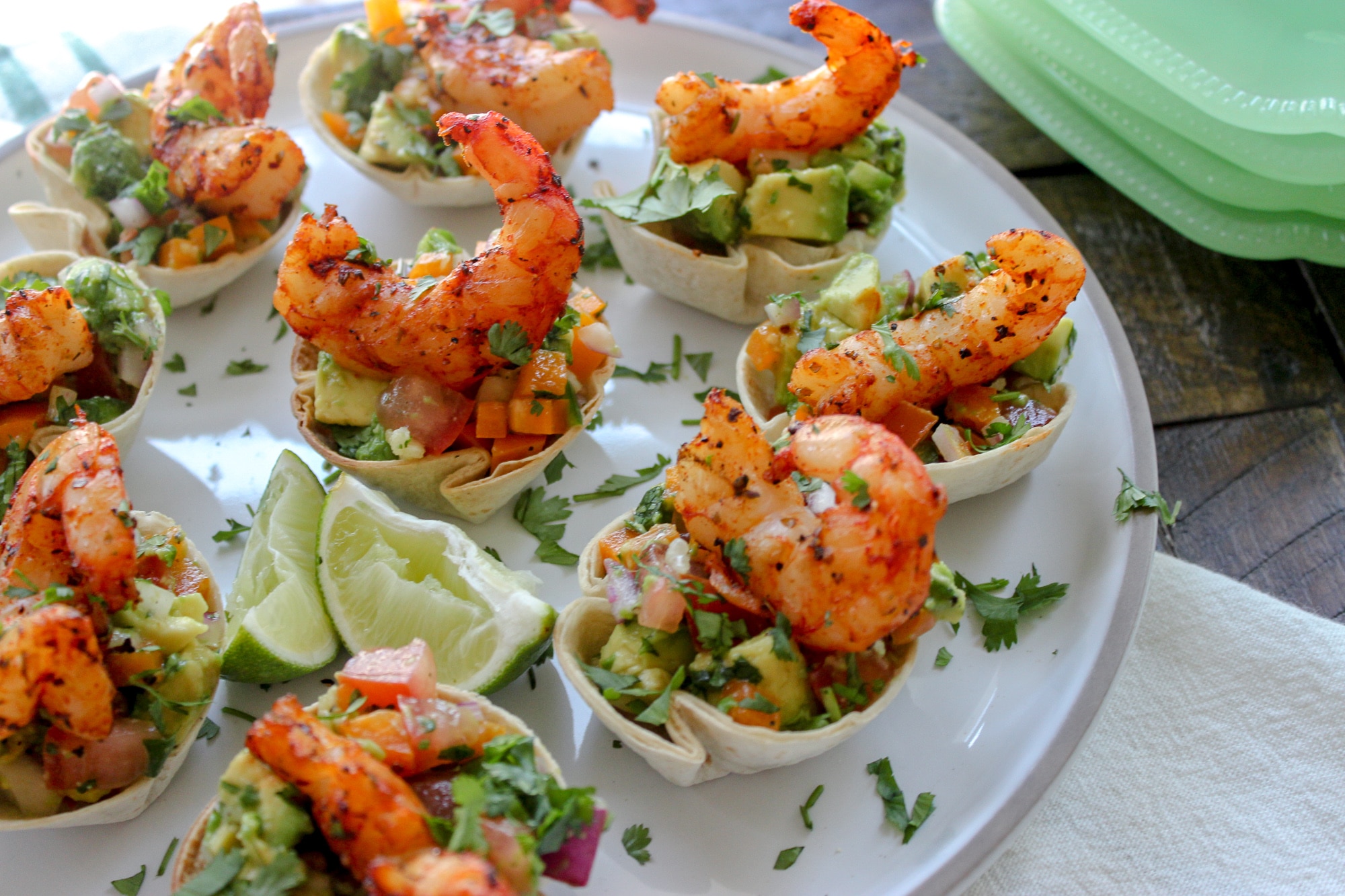 "School" Supplies:
Cutting Board & Knife
Mixing Bowl
Grill
Skewers
Tongs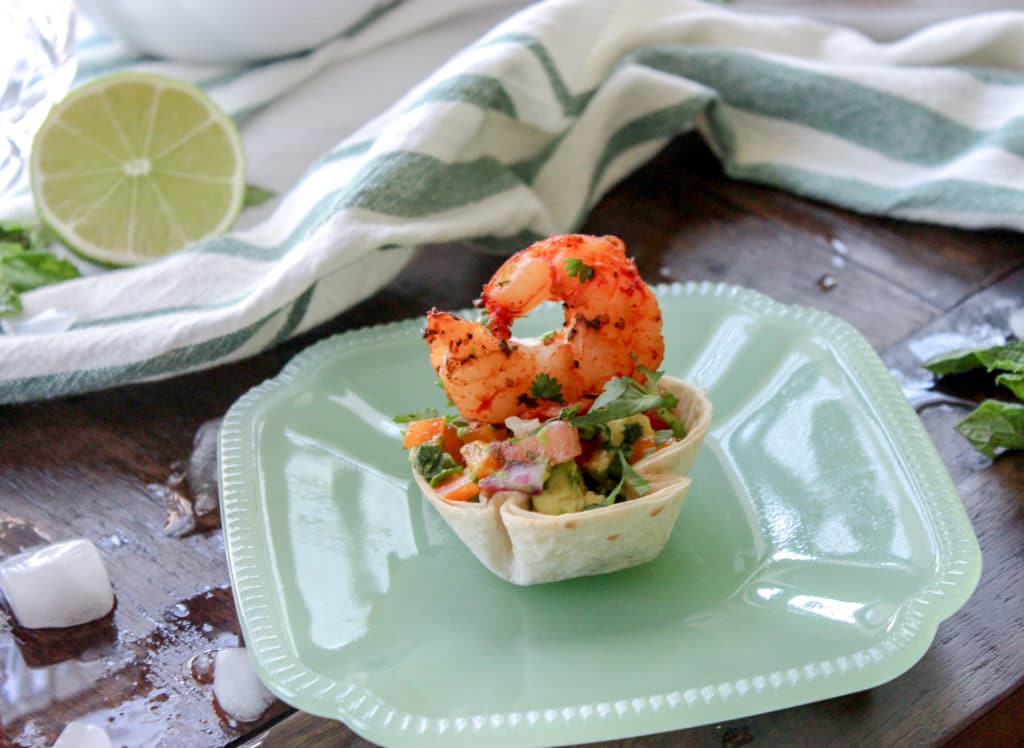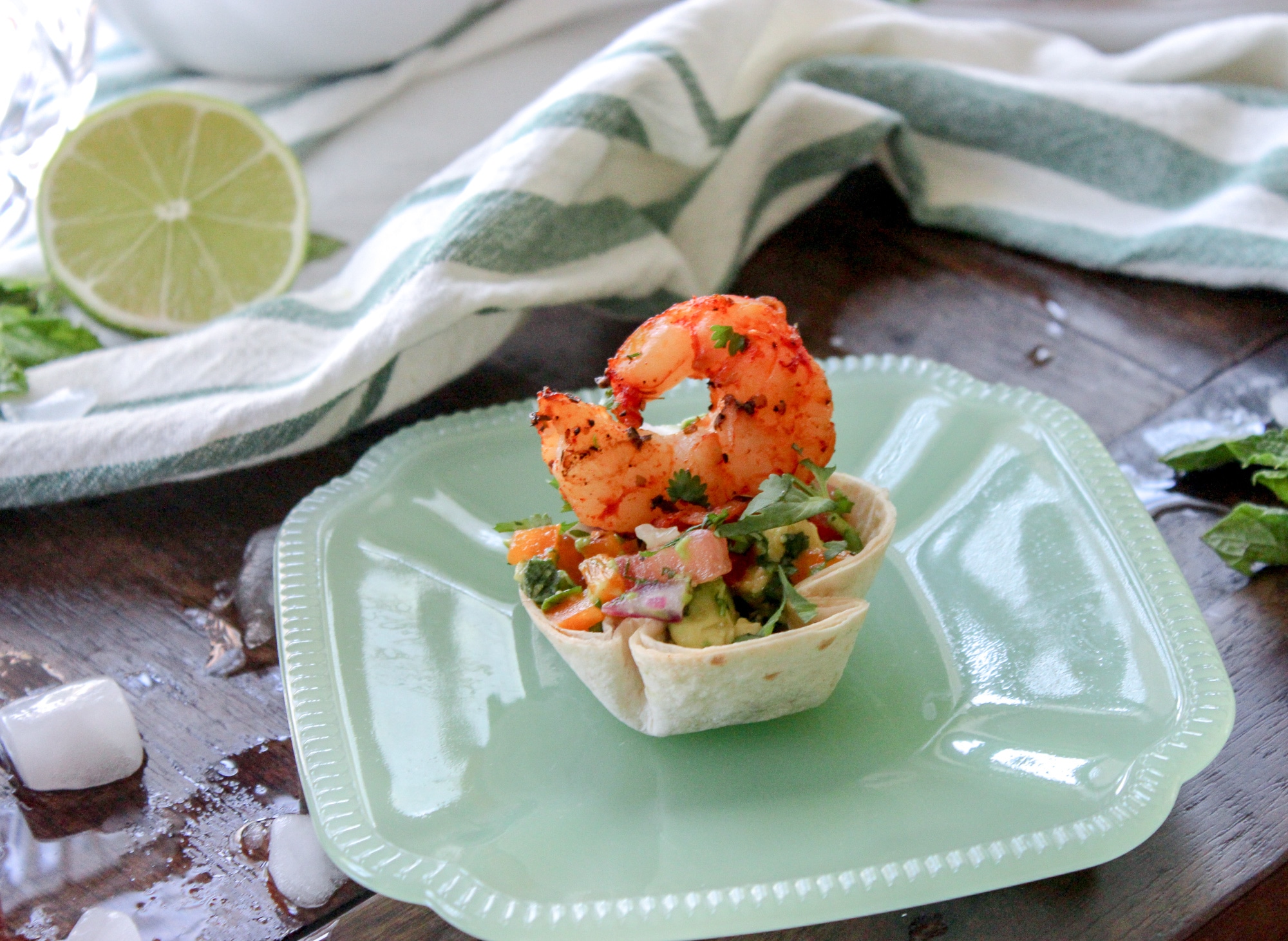 "Class" Notes:
When it comes to shrimp and summer time, I am all about firing up the grill. I like to marinate the shrimp in a little olive oil, cilantro, and a mixture of seasonings. Toss them on the grill and get a nice sear. When I grill shrimp I actually like to use two skewers to hold them in place. It makes it easier to flip and control the shrimp when grilling. Once the shrimp come off the grill, you can leave them whole and set them aside or dice them up and toss them in a bowl full of avocado, peppers, tomatoes, cilantro and lime juices. You can eat this Grilled Shrimp and Avocado Salad in a few ways! This week, I cut out low carb tortillas into rounds, popped them into a muffin tin and threw it on the grill to get smoky and crispy. Additionally, I sometimes like to use keto tortilla chips or pita chips to serve. Better yet, place in a lettuce cup or stuff it in a sweet pepper. Let me know how you like to eat your Grilled Shrimp & Avocado Salad by leaving a comment below or by tagging me on Instagram @bonappeteach.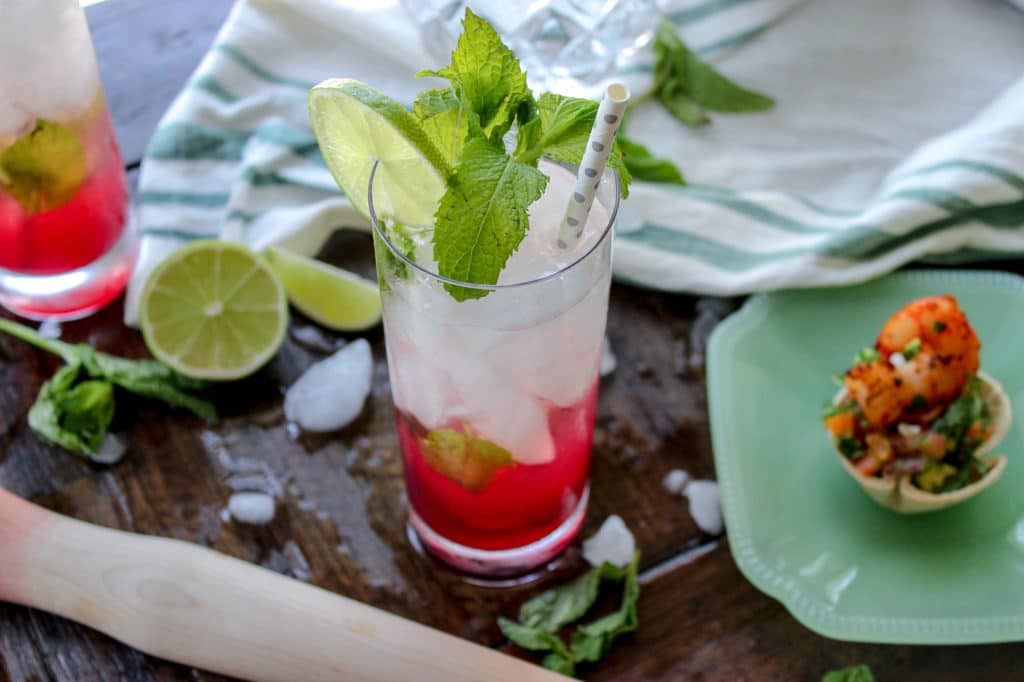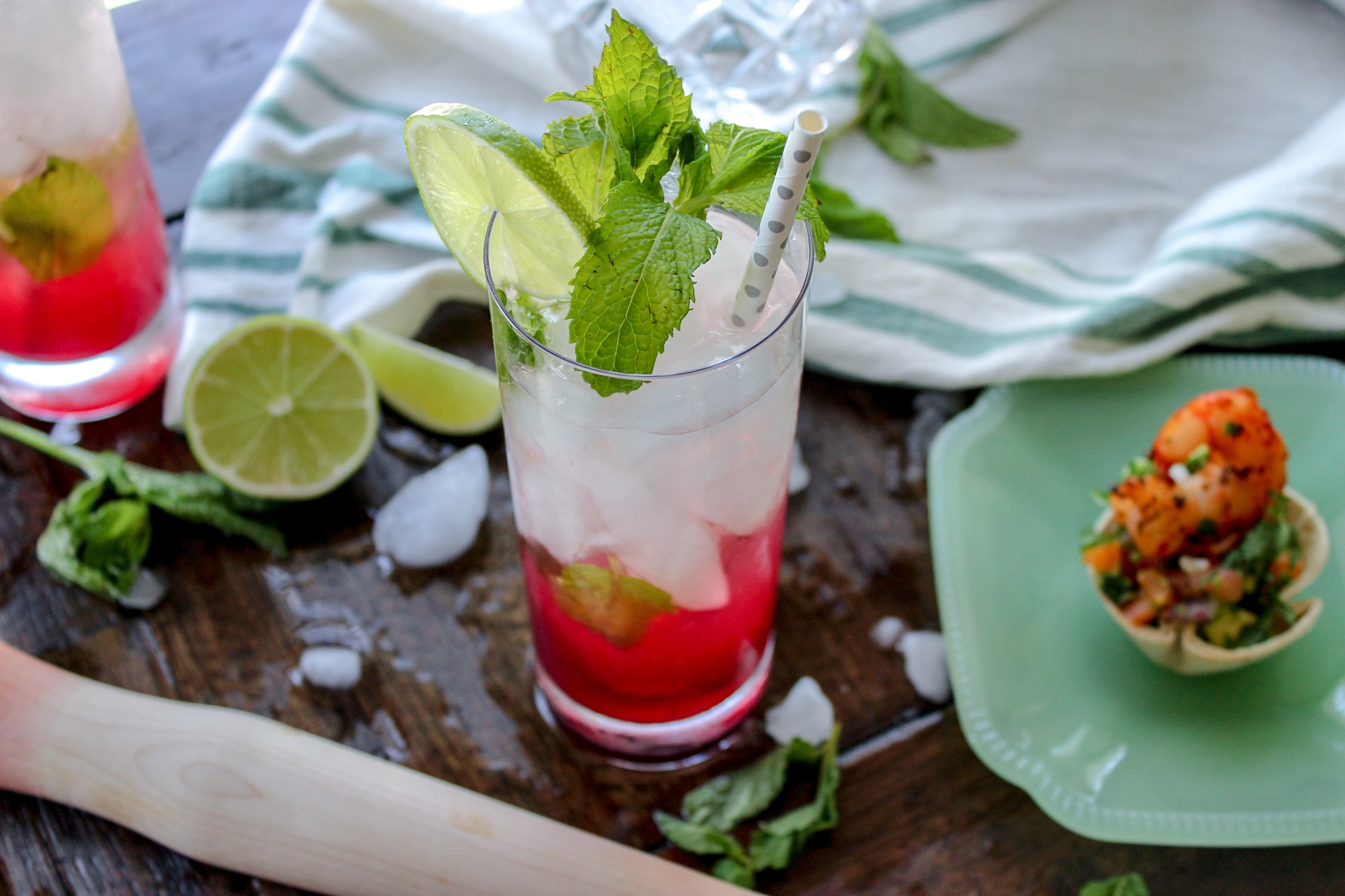 I hope you enjoy these Grilled Shrimp And Avocado Salad! Try pairing it with this delicious low carb Sea Breeze Mojito inspired by this week's Bon Appetech "Book Club".
Bon Appeteach,
-L
Nutritional Information- Obtained using My Fitness Pal. Please always verify with your own ingredients as brands vary.
This information is based only on the Grilled Shrimp & Avocado Salad mixture (you will need to calculate the tortilla/ lettuce cup/ etc.)

Ingredients
1/2 lb Shrimp

1 Lime Juiced

1 Tbsp. Olive Oil

2 Tbsp. Cilantro, minced

1/2 tsp. Cumin

1 tsp. Oregano

1/2 tsp. Corriander

1 tsp. Black Pepper

1 tsp. Salt

2 Avocados, Diced

1 Tomato, Diced

1/2 Red Onion, Diced

1 Jalapeno, Diced

1/2 Red Pepper, Diced

1/4 cup Cilantro, minced
Instructions
1
In a bowl, combine the raw shrimp, 1/2 lime juice, olive oil, 2 Tbsp. cilantro, cumin, oregano, coriander, black pepper, and salt.
2
Place the shrimp on the skewers and grill until cooked. Remove from the heat and set aside.
3
In a bowl, combine the avocados, tomato, red onion, jalapeno, red pepper, and the 1/4 cup of cilantro. Juice the other half of the remaining lime over the mixture. Season with salt and pepper and stir to combine.
4
Dice the shrimp or leave them whole (I leave mine whole when I make the "tortilla cups or lettuce cups" but like to dice them if I serve with a low carb tortilla chip (kind of like a salsa).
5
Garnish with a little more cilantro and serve with a Sea Breeze Mojito!