How To Make Grilled Sausage Antipasto Style Kebabs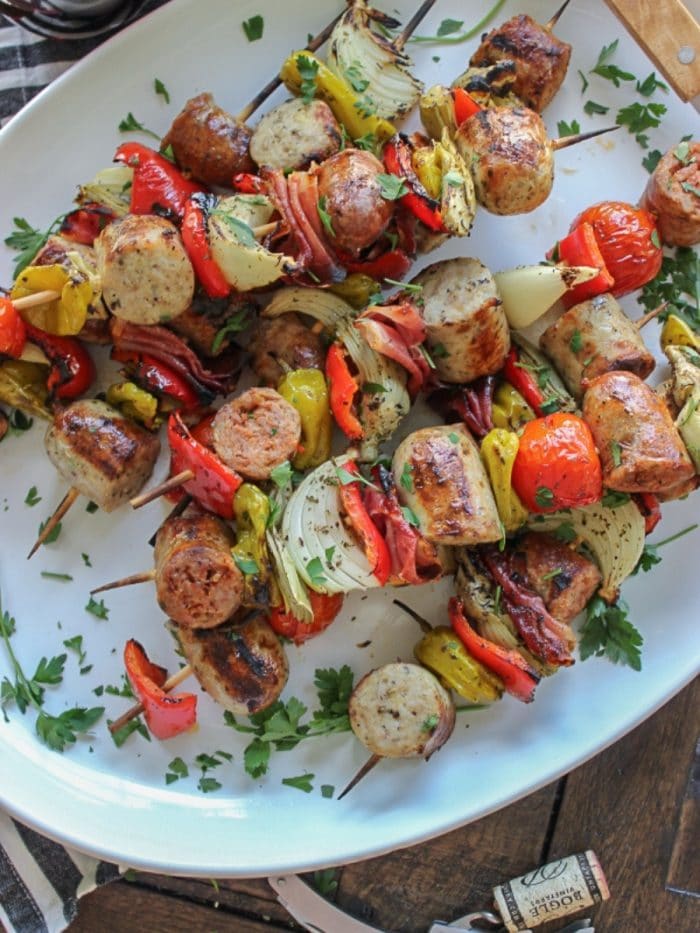 If you love a great antipasto salad, try switching things up this summer and make this easy, grilled, sausage antipasto inspired kebab that's perfect for a weeknight or entertaining friends and family!
This recipe was created in partnership with Sprouts Farmers Market. All opinions are my own.
If you're looking for a quick and easy weeknight recipe or something to serve a crowd, these kebabs need to be added to your recipe rotation. I particularly love how easy the kebabs are to assemble, versatile to make, and are a fun way to serve up for dinner any night of the week.
My friends over at Sprouts asked me to create a fun recipe on the grill featuring their variety of sausages, I knew I wanted to create something that would be easy to replicate for any grill skill level as well as do something that isn't your "typical kebab".
If you don't have a grill you could also roast in the oven or make this as a sheet pan meal instead.
They say variety is the spice of life, and "they" would be correct! Sprouts offers a variety of flavored pork and chicken sausages in their deli. For my Antipasto inspired kebabs I went with a classic hot Italian sausage but also chose to use their parmesan chicken sausage as well.
Use whatever sausage you prefer (pork, beef, chicken etc). This is an easy recipe to modify and customize for your diet, lifestyle, and flavor preference.
Keep reading for all the tips and tricks on how I made this super flavor, easy, low carb dish that's perfect for any time of the year.
"School" Supplies:
Knife & Cutting Board
Mixing Bowl
1 Large Pot
Skewers
Tongs
"Class" Notes:
I took inspiration from a classic antipasto salad for this dish. If you're not familiar with antipasto, it's typically a variety of Italian meats, cheeses, and marinated vegetables combined together or served charcuterie style, or in this case grilled and on a kebab!
For this dish, my proteins were my two Sprouts brand sausage links. I opted to go with the tried and true Hot Italian Sausage, but also wanted variety and tried the Chicken Parmesan Sausage link as well.
This helps if not everyone your serving is a pork eater and allows for some fun and variety in the kebab.
Besides the two sausages I chose, Sprouts has a lot of other great sausage flavors to pick from and really great produce (something for everyone)! I enjoyed finding a variety of veggies to pair with my sausages for these antipasto style kebabs and came up with a mix of red peppers, onions, quartered artichokes, and pepperoncini peppers too.
Just to keep things extra delicious I also added in some prosciutto, because I'm not sure anything is more delicious than crispy grilled prosciutto. Just saying.
Grilling the sausage raw is possible, but can be challenging if you plan on cutting it (for a kebab for instance) or to cook it along with other foods (like the veggies). For those reasons, I start the dish by parboiling the sausages first before grilling.
Parboiling will allow you to use both direct and indirect cooking methods on your grill, making it easier to cook both the veggies and sausage at the same time. Ultimately, it's an easier way to take a lot of the guesswork out of cooking your veggies and meats at the same time.
Once the sausages cool from boiling, cut them into quarters so they can be skewered. Next, prep your veggies by cutting them into roughly large two inch pieces (I left the pepperoncini and tomatoes whole) and coating them in a little oil and Italian seasoning and salt and pepper for flavor.
Be mindful of packing the skewers too tightly with the food or you may end up with some undercooked veggies.
They cook fairly quickly over medium heat. Start with the direct heat and get the sausages brown and some color on the veggies. Rotate them a few times as needed to get a nice color on them.
Once they have browned a bit, remove them from direct heat (like I mentioned above) and place on the cooler side of the grill and allow the kebabs to continue to cook until the veggies are al dente.
Serve them on the stick on a platter or remove all the meat and veggies and place in a large serving bowl! I hope you enjoy this easy weeknight (or any night) dinner kebab!
If you love kebab style recipes, be sure to also check out these broiled beef shish kebabs, my favorite grilled butter chicken kebabs, or these flavor packed grilled Greek chicken kebab platters too.