Grilled Garden Veggie Salad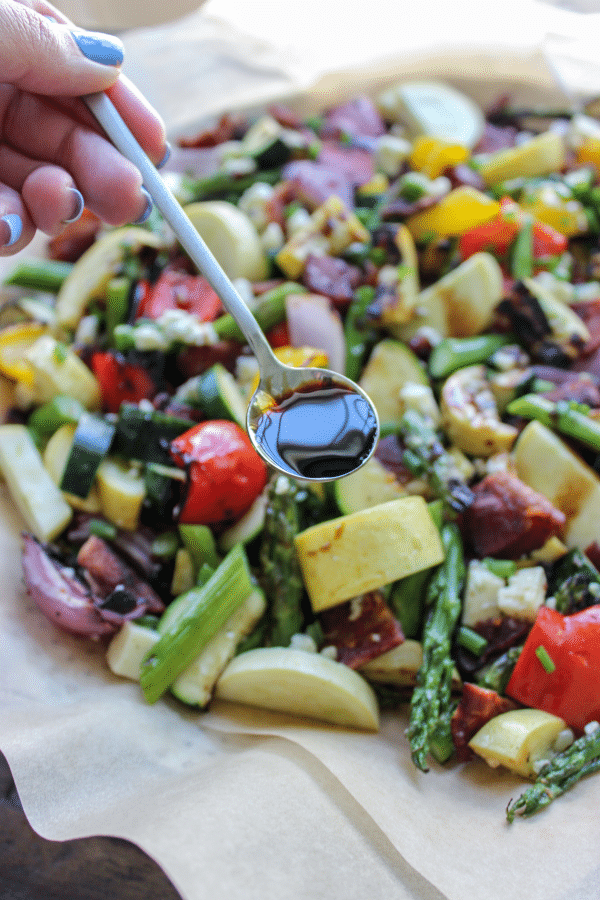 Grill up all your favorite veggies to impart flavor add is some blue cheese, bacon and balsamic and you have the perfect summer salad!
I'd like to say I grew all the vegetables featured in this recipe. 
But, I literally have the worst luck with growing anything.
I literally kill mint, and mint is basically a weed.
So, I won't sit here and try and give you all the tips and tricks this week on how to create the perfect garden, but I will give you the perfect end of summer and early fall recipe (or if you're like me and have a ton of produce left in the fridge…oops) that helps utilize all those great homegrown vegetables.
Check out the full recipe for this Grilled Garden Veggie Salad below and read on for a few helpful tips and tricks for cooking on your grill.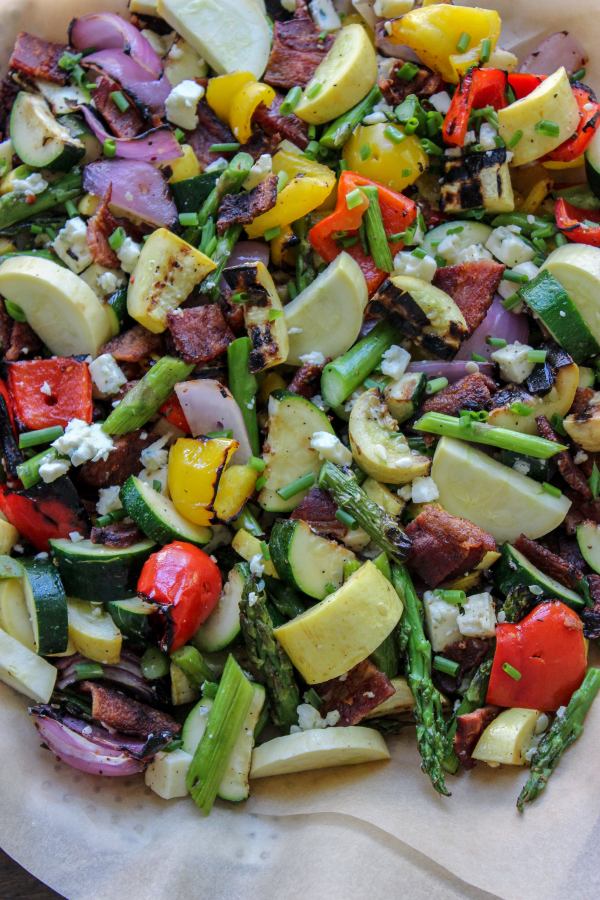 "School" Supplies:
Knife & Cutting Board
Sheet Pan
Skewers (optional)
Tongs (not optional)
Mixing Bowl
"Class" Notes:
Start with the veggies here guys. Grill em up and then add some bacon, your favorite crumbly cheese (I like the blue kind), chive it up a bit or add a lil bit of the green stuff (parsley) and serve.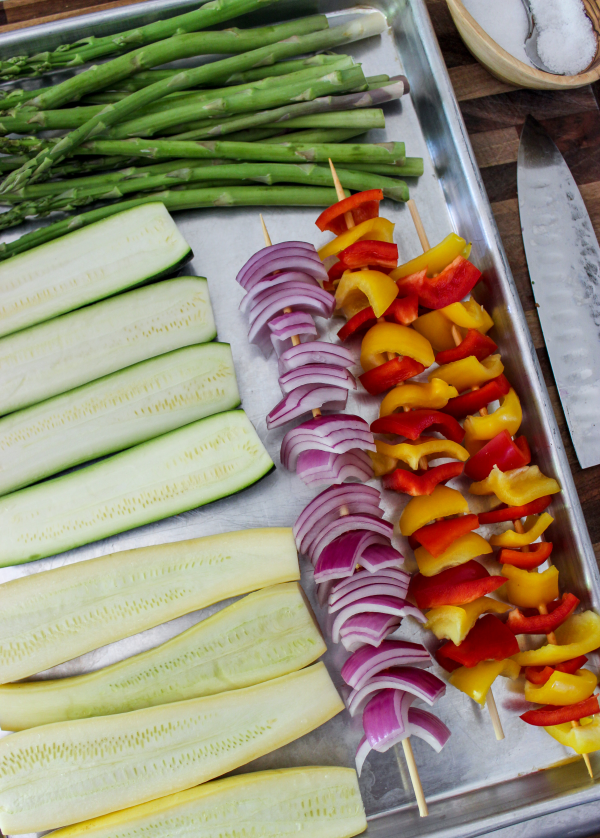 That's the recipe summed up in a sentence. But lets talk grilled veggies for a second.
The trick to this salad is keep your veggies separated and utilizing two zone cooking (I learned this from my good friend Matt over at Grillseeker.com).
A lot of mistakes I see people make on the grill, is usually just lighting it up to a really hot temperature and burning the outside, while the inside is still under cooked.
While grill marks definitely make the veggies in this salad look pretty, utilizing both direct and indirect heat will ensure all your veggies are cooked.  
Because more fibrous veggies like peppers and onions take longer to cook to become tender, I prefer to pre-cut them prior to grilling and to place them spaced out on a skewer. Pack the veggies too tightly and again, the cooking time takes much longer.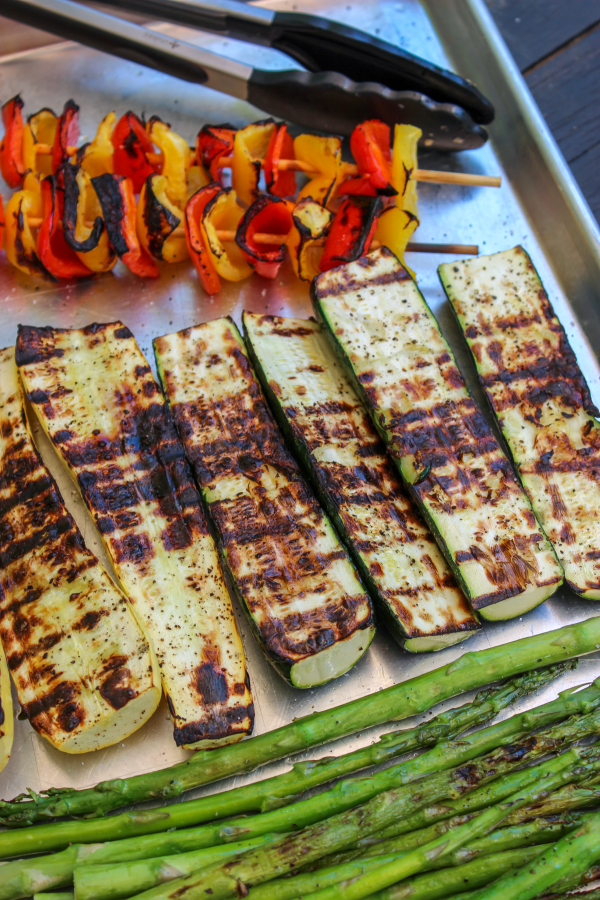 I like to start these first on indirect heat and allow them to begin to get tender, then finish them off over direct heat to get some color and slight char.
For soften vegetables like the squash, zucchini, or the asparagus, I prefer a more direct heat method only but just right towards the end of the cooking process.
This ensures all the veggies are done around the same time and makes it easy to get everything on and off the grill. I leave the zucchini and squash halved for grilling and then dice them into pieces easier for eating prior to adding them into the salad.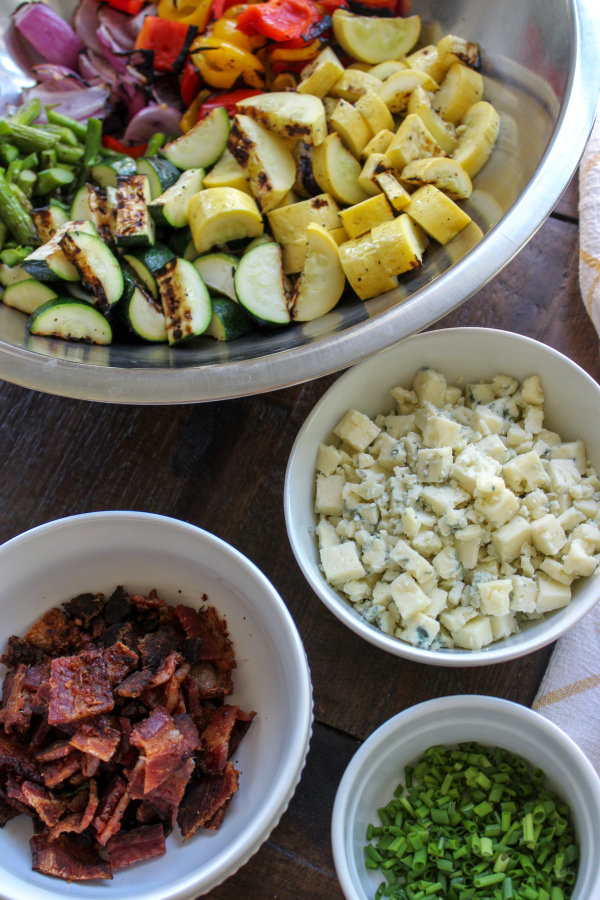 The veggies are great as is and mixed, but I really love the addition of bacon here. Because it's bacon. Seriously.
I bet a crispy prosciutto would work well too! 
The diced crispy bacon adds a nice little crunch to the texture of this dish, and I also love adding in a crumbly cheese like feta, cotija, or blue cheese as well. Drizzle with a little olive oil and balsamic and give it a good toss.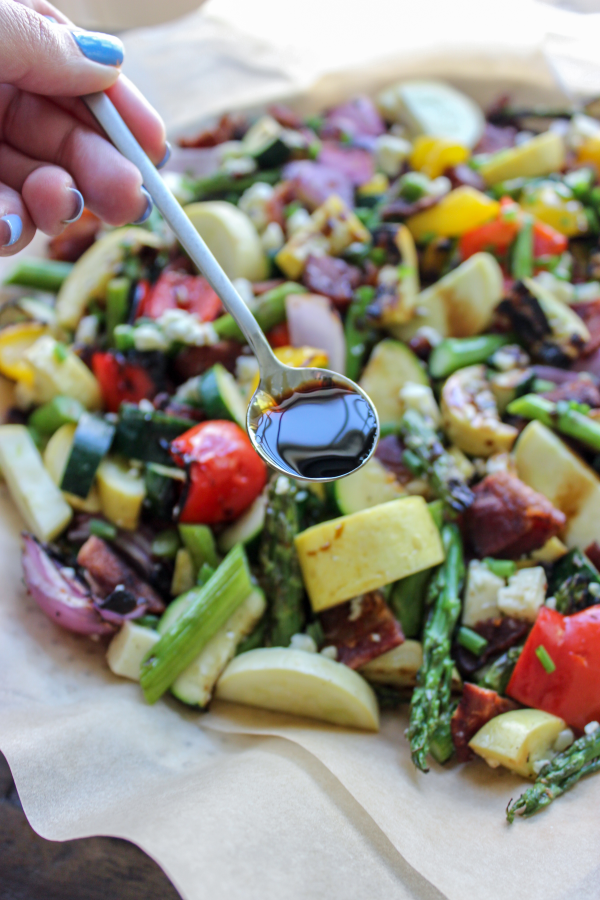 I enjoy garnishing with a little bit more cheese or maybe some garden grown chives too!
If you love this grilled side dish, pair with these easy crispy grilled chicken quarters or my keto friendly cherry baby back ribs!
Bon Appeteach,
-L
Grilled Garden Veggie Salad
Looking for a way to use up the extra vegetables you grew this summer in your garden? Or maybe you just have a lot of extra produce left in the fridge? Make this easy grilled veggie recipe that will get everyone eating their daily serving.
Print
Pin
Rate
Ingredients
1

Red Pepper

diced into 1″ pieces

1

Yellow Pepper

diced into 1″ pieces

1/2

Red Onion

diced into 1″ pieces

8

stalks of Asparagus

2

Small Zucchinis

halved

2

Small Yellow Squash

halved

6

Thick Cut Slices of Bacon

chopped

1/2

cup

Crumbly Cheese

feta, cotija, blue

Balsamic for Drizzling

Olive Oil

Salt

Pepper
Instructions
Prep your veggies and coat everything a little lightly in olive oil and season with salt and pepper.

Set the grill to medium heat and set it up for two zone cooking.

Grill the peppers and onions on skewers over indirect heat and finish with a light char on direct heat.

Grill the squash, zucchini, and asparagus over direct heat.

Remove all the veggies from the heat. Dice the squash, zucchini, and asparagus into bite sized pieces. Combine the veggies, bacon, and cheese into a bowl and mix. Place on a platter and drizzle with some balsamic and serve.
Nutrition
Serving:
1
g
|
Calories:
58
kcal
|
Carbohydrates:
5
g
|
Protein:
3
g
|
Fat:
3
g
|
Saturated Fat:
1
g
|
Polyunsaturated Fat:
2
g
|
Cholesterol:
6
mg
|
Sodium:
102
mg
|
Fiber:
1
g
|
Sugar:
2
g