Easy Keto Strawberry Cheesecake Bars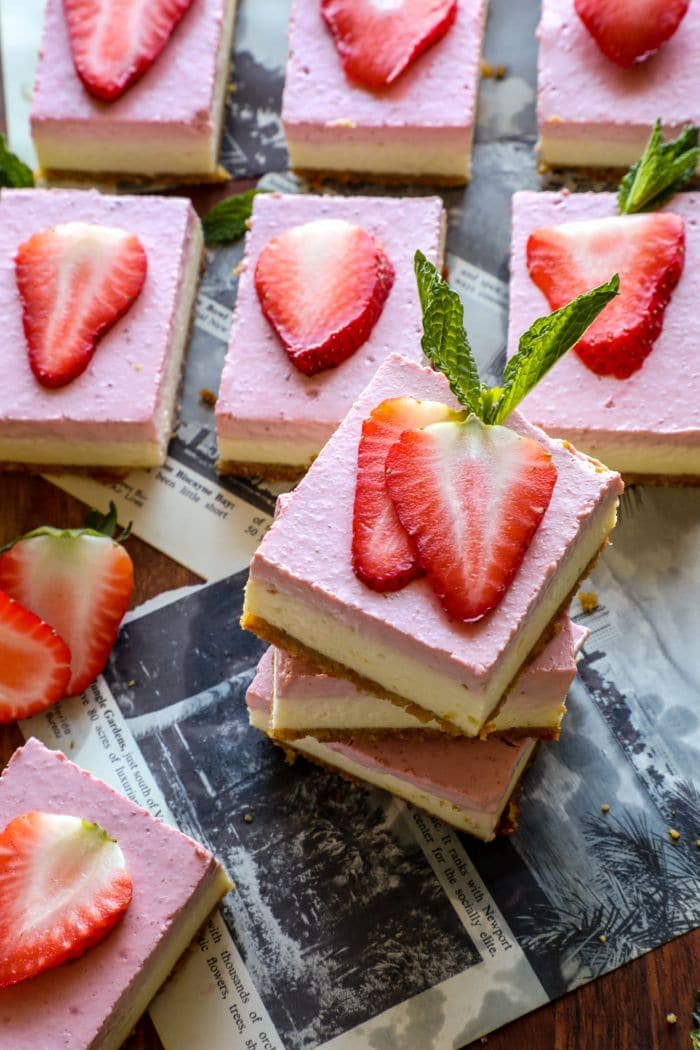 These easy keto strawberry cheesecake bars are the perfect gluten free, refined sugar free, low carb friendly dessert recipe that's perfect for any occasion anytime!
Bon Appeteach is a participant in the Amazon Services LLC Associates Program, an affiliate advertising program designed to provide a means for sites to earn advertising fees by advertising and linking to amazon.com. I only share products that I use and stand behind personally, have used, and would buy myself. Thanks for the support!
Cheesecake is one of my favorite desserts since I was a child, but not something we made often or indulged in. It really was reserved for special occasions like Christmas or my birthday if requested.
Surprisingly, I did not have a keto cheesecake recipe on my blog (except for these strawberry cheesecake quesadillas) and I knew I needed to remedy that problem ASAP. I loved the idea of making a keto cheesecake bar for smaller portion sizes and so it would be easier to eat.
I was also inspired by my popular Keto Sugar Cookie Fruit Pizza recipe as well as a non-keto version of this recipe from America's Test Kitchen and wanted to make it keto and low carb friendly!
This recipe uses my popular Keto Graham Cracker Crust recipe for the base. The bars are layered with a classic style cheesecake filling made with low carb sweetener and strawberry sour cream puree over the top. You will love these bars even if you do not follow a keto diet!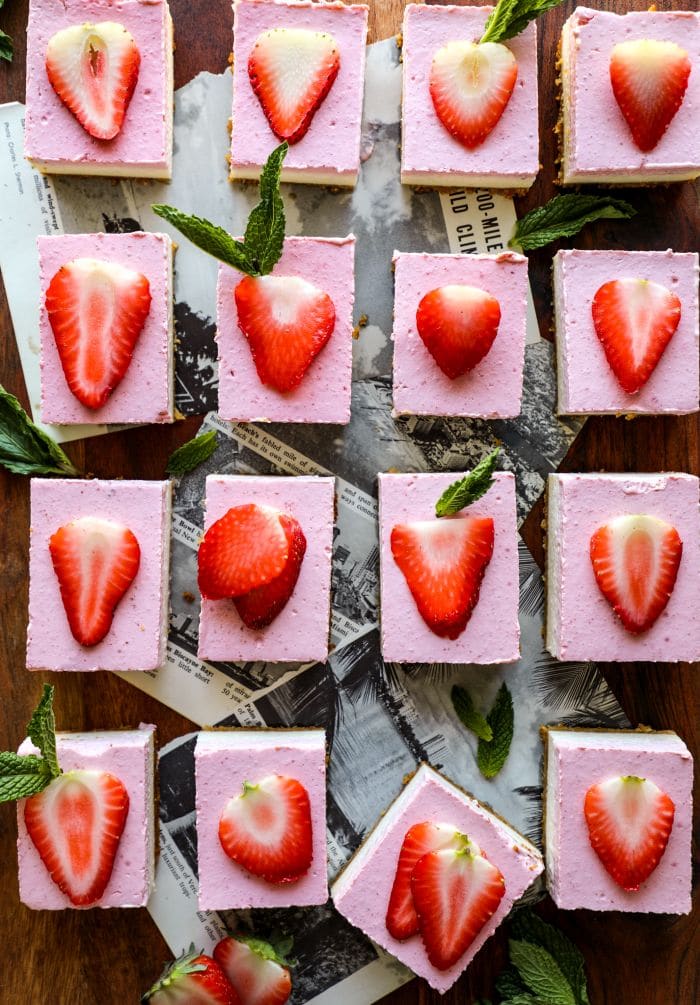 Grab all the recipe details below and read through for additional baking tips and techniques, as I dive deeper into this decadent keto dessert.
"School" Supplies:
Measuring Cups / Spoons
2 Mixing Bowls
Electric Mixer (or Stand Mixer)
9 x 13 Inch Pan
Small Blender Bottle or Food Processor
Foil or Parchment Paper
"Class" Notes:
Below you will find helpful information to help you have the best experience with making this low carb cheesecake recipe from baking the crust to finishing off the final layer.
Keto Cheesecake Ingredients:
Keto Graham Cracker Crust- This crust recipe is a only five ingredients (toasted almond flour, low carb sweetener, salt, melted butter, vanilla and cinnamon) and is super simple. You will want to par-bake it first to allow it to set and avoid becoming crumbly.
Fresh Strawberries- A portion of the strawberries will get mixed into a puree for the top layer. I also like reserving a few and slice them thin for garnishing the top of each bar and adding a pop of color and flavor.
Softened Cream Cheese- Let the cream cheese come to room temperature for a few hours before using. This helps it become smooth enough to be whipped together
Low Carb Sweetener- I prefer

allulose

or

monk fruit sweetener

as my go-to. Granulated low carb sweetener works perfectly fine here as well, but you could use a powdered form. You will need sweetener for both layers and a little for the crust as well.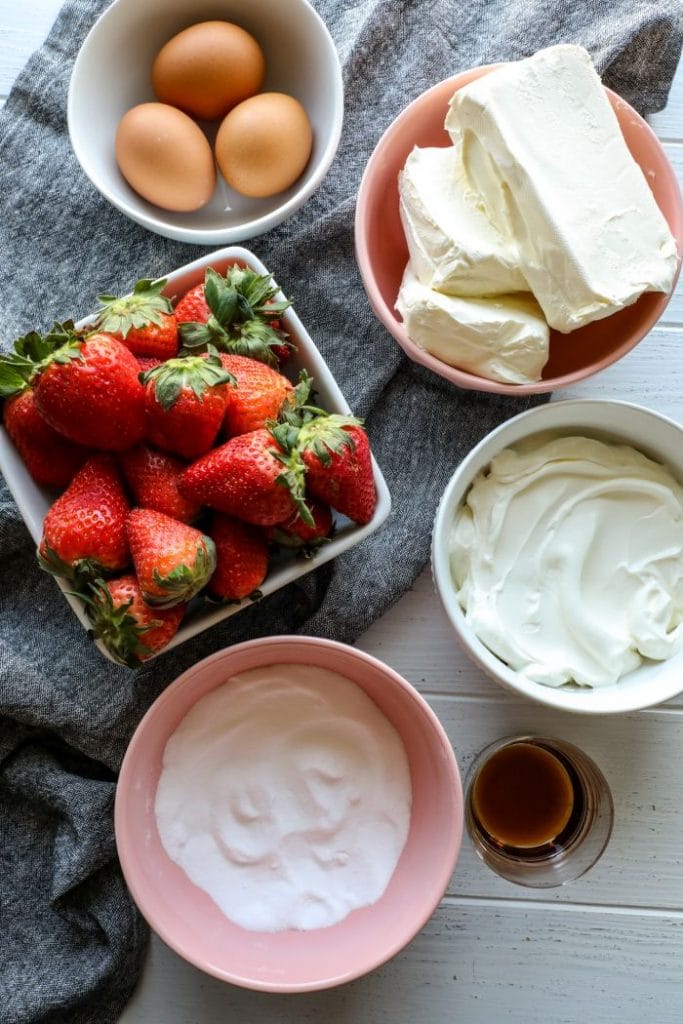 Sour Cream- I use this to make the low carb strawberry puree mixture that gets poured over the vanilla cheesecake layer. Sour cream is a bit thinner than cream cheese and cooks nicely. You can substitute for mascarpone cheese too.
Eggs- Room temperature eggs work best.
Vanilla Extract- Adds flavor to the cheesecake filling.
Prepping Your Keto Cheesecake Crust:
I got into great detail into making a keto friendly style graham cracker crust in the post I've linked already (and will link here again). The crust is made up of only five pantry staple low carb ingredients and comes together really easily.
Tips for making the crust for your cheesecake bars-
Line your 9×13 inch pan in foil or parchment so the bars and crust do not stick.
Spray the foil/ paper with non-stick spray.
When adding the crust mixture, press it down securely into the pan. I use a spatula or the bottom of a measuring cup to make sure it's even and covering the bottom and edges completely.
Bake the crust in a 350 F. oven for about 6 minutes. Let it cool slightly before filling.
Making A Keto Cheesecake Filling:
Honestly, the nice thing about cream cheese is that is definitely fits a low carb keto diet already. By making a few changes with the crust ingredients and using the right low carb sweetener, you can have a perfectly delicious cheesecake everyone will love.
To make a perfectly smooth cheesecake filling, you need room temperature ingredients for the best results. Leave your cream cheese out on the counter to soften for 3-4 hours (this is still considered safe for cold foods).
If you don't have time to wait for the cream cheese or even your eggs to warm up you can soften the cream cheese blocks in your microwave on half power. Sometimes I'll also run the eggs under warmer water as well (cold eggs into the cream cheese can also make it less smooth).
Other tips for making your filling:
Lower your preheated oven temp after baking the crust (it's at 350 F.) to 300 F. Lower temperatures help bake the cheesecake slower and can help prevent cracking and over-browning.
Beat your eggs in one at a time until it's fully incorporated into the whipped cream cheese.
When pouring the vanilla cheesecake layer into your pan, be sure to spread it up against the sides of the foil or paper before baking. This will help to prevent the strawberry layer from falling down the sides.
Bake this layer first so it is almost cooked and set. The sides should not wiggle, but the center will a bit.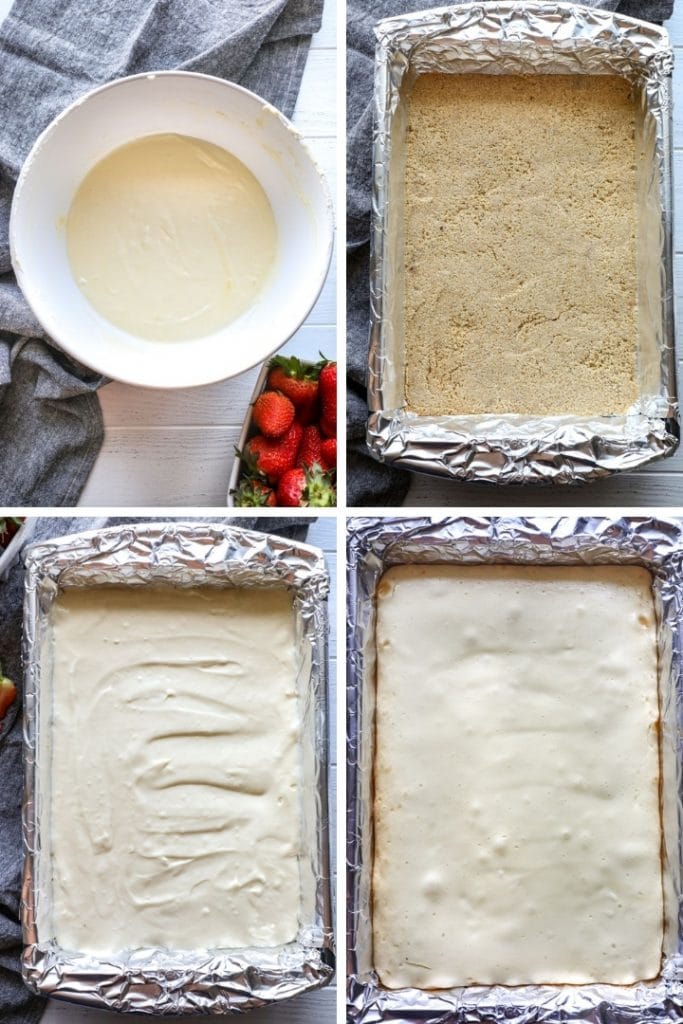 Making the strawberry puree topping:
I made this mixture by first blending up roughly 6 strawberries into a smoothie blender with the allulose sweetener. Then blend again with the sour cream. This works really in the smoothie blender since the sour cream isn't as thick as traditional cream cheese.
Pour this layer carefully across the top of the mostly cooked vanilla layer. It will be fairly thin, but still make sure it's even across the top. Place it back in the oven for 10-15 minutes to finish baking.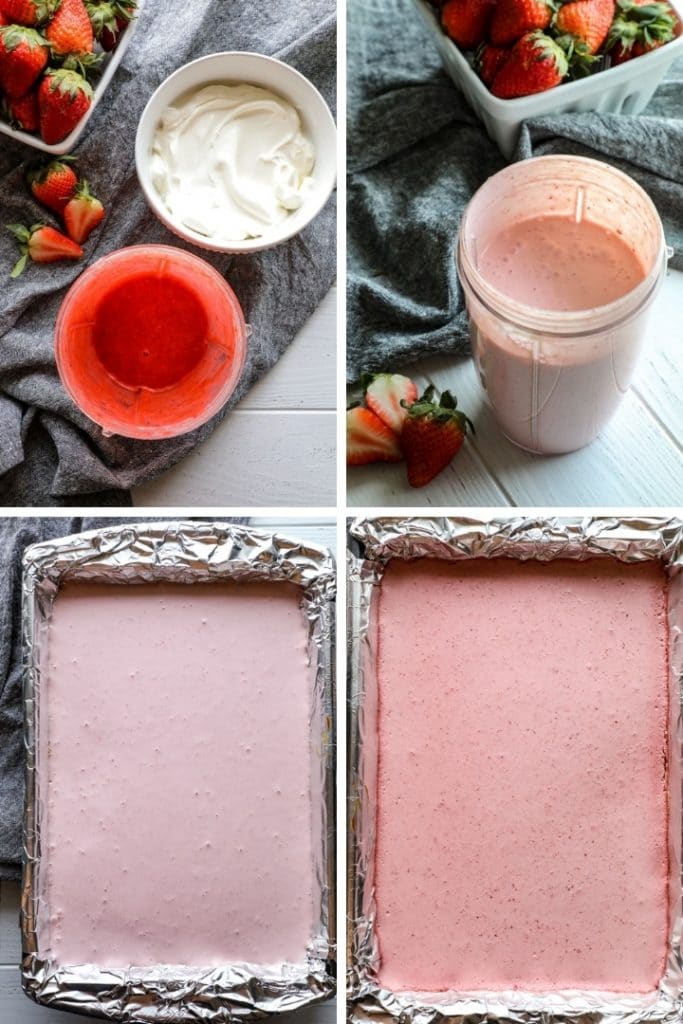 How Do You Know If Your Cheesecake Is Done:
After you have added the top layer, it's a little harder to tell if the second layer has set. Some indicators that it's fully cooked are the sides will look a deeper shade of pink and the center will be set but still jiggle.
Do not let the cheesecake overcook and brown. The sides will not move as much as the center, but it should not look wet or uncooked.
Cooling, Cutting, and Garnishing Your Cheesecake Bars:
The cheesecake needs to cool first outside of the oven on the counter, then for at least four hours or more in the fridge (I like to let them sit at least a day or so). Place them in the fridge to cool uncovered or place the plastic wrap directly onto the top of the cheesecake carefully to prevent condensation droplets.
Cut the cheesecake into 24 bars for serving. Then slice a handful of strawberries and place one into the center of each bar. They work best served cold, right out of the fridge.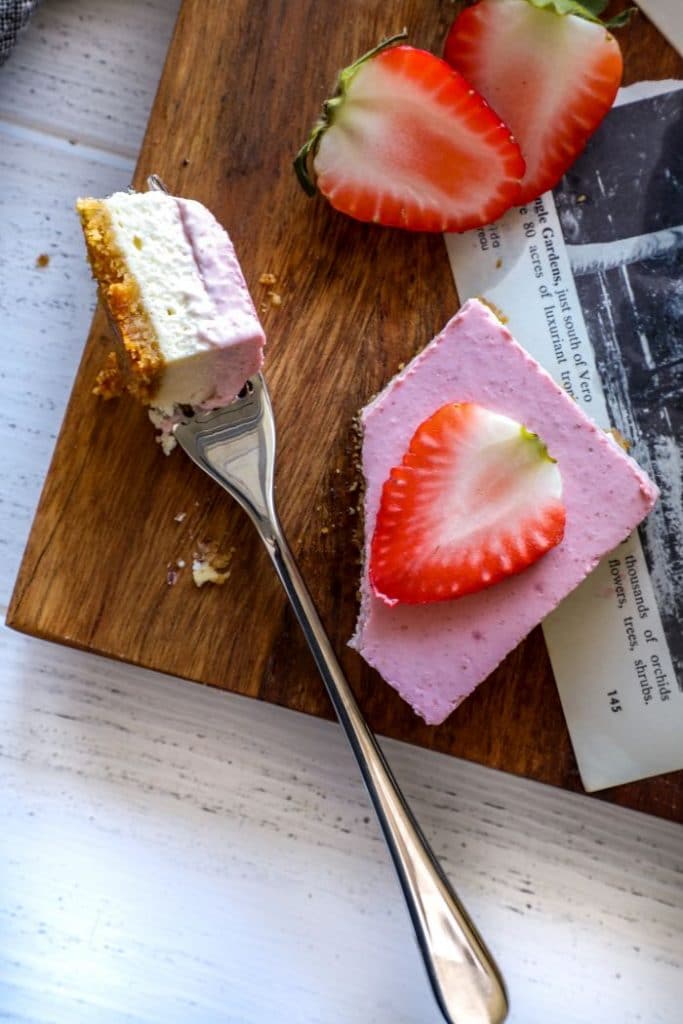 Freezing and Defrosting:
You can easily freeze your bars and defrost individually as needed. To freeze them, place them on a small tray or baking sheet over parchment paper. Let them set for at least an hour in the freezer, then transfer them to a freezer safe bag so they do not stick.
Defrost by leaving them in the fridge for 12-24 hours or by letting it rest on the counter for 15-20 minutes or so before eating.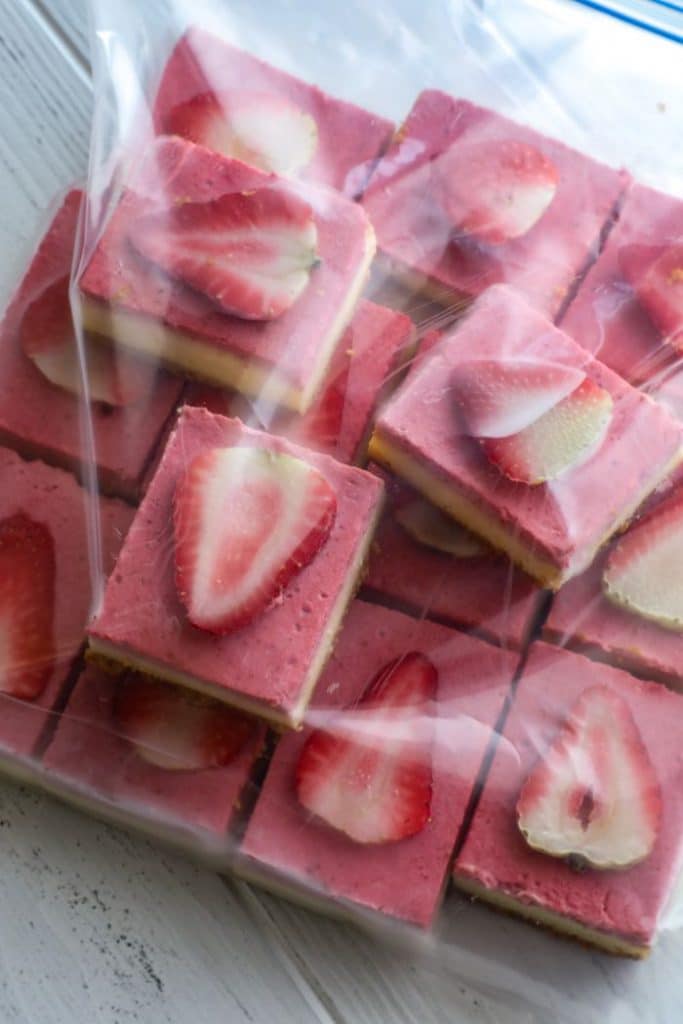 Serve this recipe up on a hot summer day with some extra Smoked Strawberry Sauce or even for a special occasion like Easter, Christmas, or even as a little extra treat to get you through the week!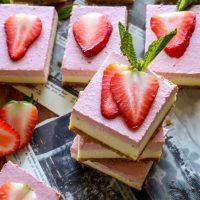 Easy Keto Strawberry Cheesecake Bars
These easy keto strawberry cheesecake bars are the perfect gluten free, refined sugar free, low carb friendly dessert recipe that's perfect for any occasion anytime!
Print
Pin
Rate
Ingredients
3

packs of Cream Cheese

softened

1

cup

Sour Cream

or Mascarpone Cheese

[1 1/4 cup Low Carb Sweetener

divided]

3

Large Eggs

room temperature

2

tsp.

Vanilla Extract

12

Strawberries

divided
Instructions
Preheat your oven to 350 F to start (for the crust). Line a 9×13 inch pan with foil or parchment paper so there is excess on all sides (this will make cutting the bars so much easier, don't skip this step). Spray the foil/paper with non-stick spray as well.

Make your crust according to the directions, pack it evenly into the bottom of your pan and bake it for 6-8 minutes. Remove from the oven and let it cool while you make the filling.

Once removing your crust from the oven, reduce the oven temperature to 300 F.

In a large mixing bowl or stand mixer, beat the cream cheese and 3/4 cup of preferred low carb sweetener together into a bowl. Make sure you cream cheese is softened enough so that there are no chunks or lumps.

Add one egg into the mixture at a time and let it mix for at least a minute or so to fully incorporate. Repeat with each additional egg, scraping down the sides of the bowl as needed. Finally, mix in the vanilla extract and set the bowl aside.

Grab your pan with the baked crust and carefully pour the base layer over it completely. Use a rubber spatula to smooth it out as needed. Bake this for about 30-35 minutes. The sides should look more solid and the center should still jiggle a bit.

While the first layer bakes, use a smoothie blender bottle or other similar tool and combine the remaining 1/2 cup of low carb sweetener and about 6 whole strawberries (stems removed).

Blend this mixture first into a puree. Then add in the sour cream mixture and blend again. The mixture will look like a pink smoothie.

After the base layer has set and is mostly cooked, carefully pour the strawberry layer over the top, evenly across the pan.

Return to the oven and bake an additional 10-15 minutes until the sides are set and the center looks cooked but still jiggles.

Remove it from the oven and let it cool a few hours on a cooling rack before letting it finish fully setting and cooling in the fridge (at least 4 hours, but best the next day).

Cut your bars into 24 servings. Take your remaining strawberries and cut them into four slices each and place one slice onto each bar.

Serve directly from the fridge as needed and enjoy!
Notes
Want to freeze these bars? Place each bar first on a small plate or baking sheet and place this in the freezer for about an hour to set. Once they are set, transfer the individual bars into a freezer safe bag and put them back into the freezer. This helps prevents them from sticking and makes it easier to defrost each bar as desired.
Nutrition
Serving:
1
g
|
Calories:
47
kcal
|
Carbohydrates:
2
g
|
Protein:
1
g
|
Fat:
4
g
|
Saturated Fat:
2
g
|
Polyunsaturated Fat:
1
g
|
Cholesterol:
33
mg
|
Sodium:
26
mg
|
Sugar:
1
g